Mosaic tiles outstand with their extraordinary designs. Different from regular square, fish scale and rhombus patterns, shapes combined is getting more and more popular in mosaic tile design. Inspired by what exist in the nature and our daily life, designers obtain nutrient for creative exploitation. Today's style selection mosaic is one of the distinctive examples. In the post MM-Mosaic is about to introduce a star-cross matching magic. You will find it incredible if used on feature wall, splashback, decorative background, etc.
Without doubt, you will fall in love with this gradient grey porcelain mosaic tile, which features matt rough surface and star-cross pattern. Even though it is unfit for floor paving, there are lots of reasons for you to choose this for wall decoration. Just like any other mosaic tiles, it is consist of small chips and usually attached mesh on back for easy installation. Made of premium porcelain, this product is wear resistant and long lasting. It has low water absorption which decides it can be used in wet places without being affected with damp after a period of time. With long-service quality, MM-Mosaic's products deserve taking up a seat for commercial/residential construction.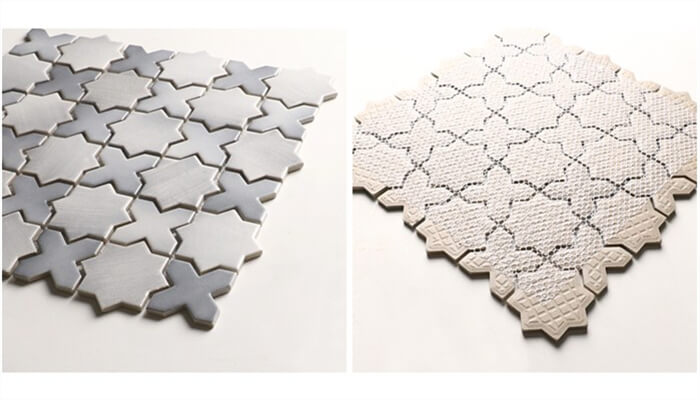 star cross design mosaic tiles grey CZO033A

As for the interesting star-cross design, we recommend you using it on kitchen backsplash. As we all know, cooking place is easy to get stains and water on wall. If you ignore the practicability of wall tiles and mosaics, you will beyond all question suffer a lot from the future that plastered walls plump up, peel off or get damp. For aesthetics, this porcelain mosaic tile is a good option as well. It can enhance the artistic hue and create Nordic Style with its simplicity and low key.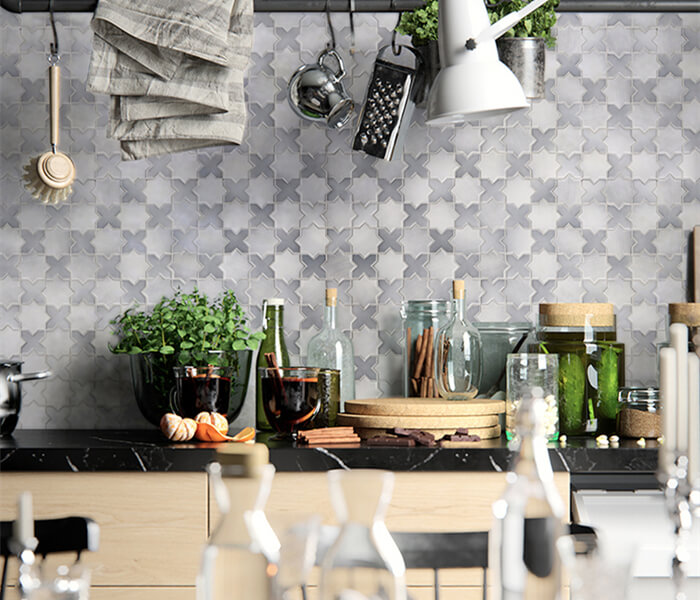 When it tiled on a large scale like background wall in living room, cool grey color echoes with the surrounding furniture such as the white couch, the white chairs and the hanging sketches. All of these design elements integrate well together, providing a peaceful atmosphere for you and your family members. Imagine when the sun is shining brightly, having a chat with your friends or playing with your kids couldn't be better.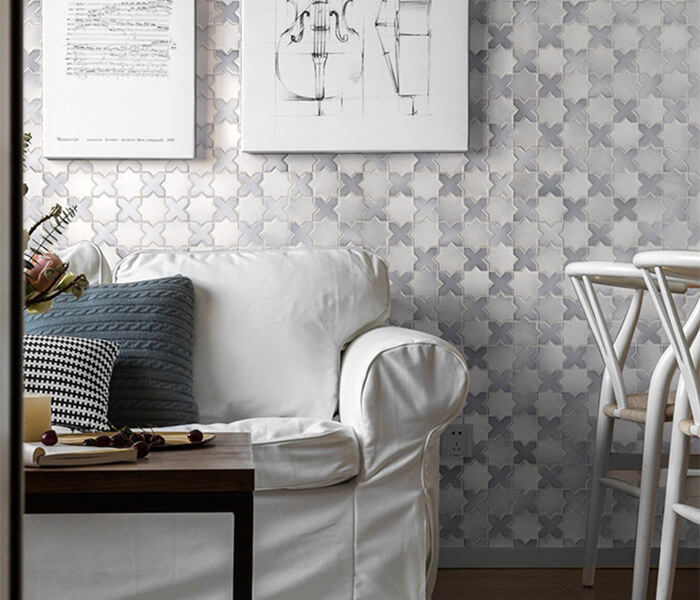 Depending on your taste, our experienced staff can help you find exactly what you are looking for to match your individual style, just like the star-cross porcelain mosaic introduced above. Now and in the future, you will find more because we really take emphasis on mosaic tile design and creation. Welcome to visit our website and leave a message for a free quote and decoration advice. MM-Mosaic is a mosaic tile supplier who has been dealing in tile supply for over 10 years. Here we have a great variety of tiles made of ceramic, porcelain, glass and stone. We are so honored to bring beauty to your life by our characteristic mosaic tile products.