Mosaic tiles have been popular for several years, there are different uses of this building materials, and different spaces requires different mosaic tiles. Mosaic tile provides wide choices in shapes, colors, sizes, textures and styles. MM-Mosaic is a premium mosaics tile company from China, we keep innovation on our mosaic tile lines and bringing latest designs to you. And what's new for today? Today we are introducing our newest strip tiles to you. Scroll down and get ideas about this surface pattern.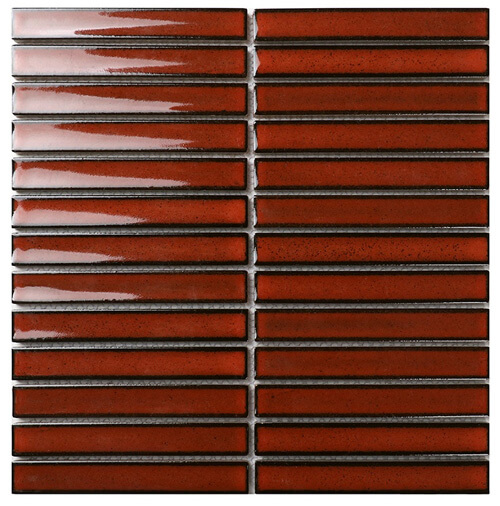 Featured product: 20x145mm stack bond porcelain long strip mosaic tiles

Undoubtedly, you will fall in love with this porcelain mosaic tile at the first sight due to its special vermillion color. The color is not pure and produced vermillion with dot, closed to rust color, a bold and vintage color. The surface is not plain and give a good touch, with high gloss, it is reflective to light and easy to clean. Made of durable porcelain, the product is wear-resistant, scracth-resistant and long service life. Each mosaic strips are mesh-mounted on back, which makes your installation simpler and easier.

For its application, I would highly recommend to use it for backsplash and wall cladding in both residential and comemrcial space. And this retro porcelain mosaic tile can really work perfectly in commercial projects, refreshing any stores and making it more inviting.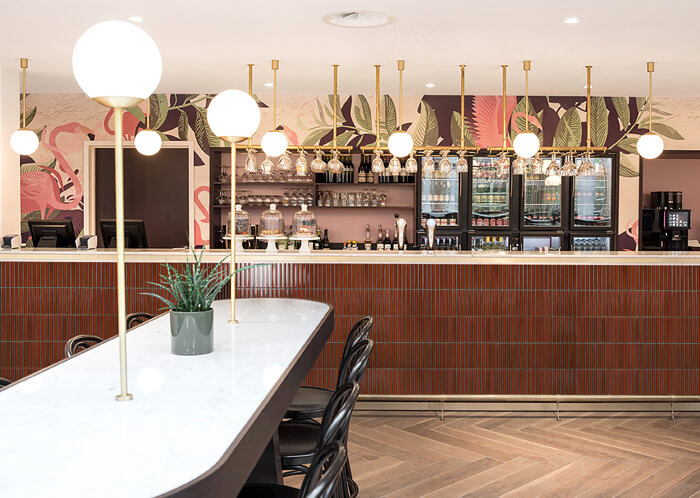 Take a look at this cafe, the bar counter finished with the mosaic tile strips make a stylish statement the store. the combo of artistic wallpaper, copper round light and wooden flooring creates a warm atmosphere, making the place more welcoming and display the great taste of shopkeeper.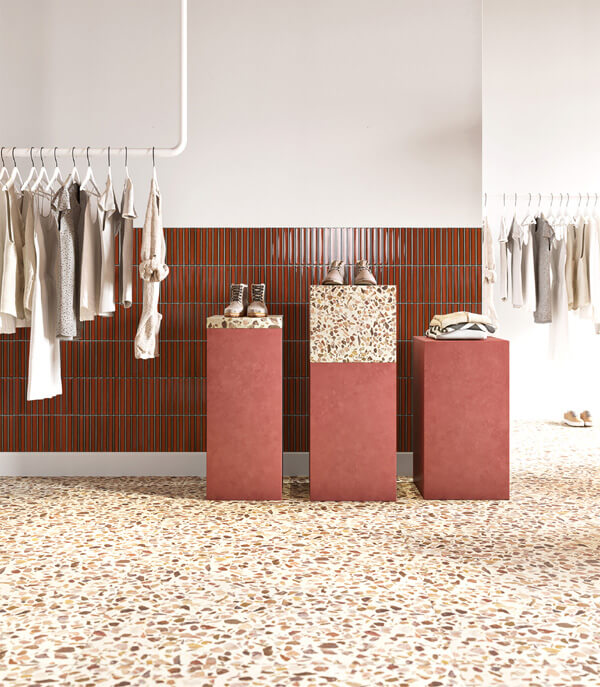 When it is taken into the fashion store, the surface pattern produces a delicate and unique style. The strip porcelain mosaic tile works seamless with the free irregular mosaic tiles to incorporated all things together. The spceial tile color has enhanced the shop style and make an antique look.
If you love this mosaic tile pattern and want to take it for next commercial project, welcome to contact us for best pricing. These porcelain mosaic tile sheets offer 8 colors to choose, including vermillion with dot, light yellow, deep yellow, dark blue, peacock green, light blue, light grey with dot and dust grey with dot. Sample can be provided for quality check. For more mosaic strip wall tile options, chat with us today.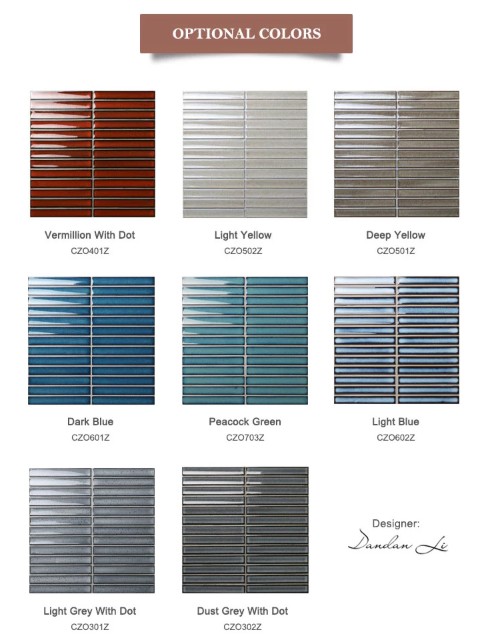 MM-Mosaic has into wholesale mosaic tile supplies for many years, we are committed to offer best products and service to all customers from all over the world. We are looking forward to establish long-term business relationship with all wholesaler, distributors, interior designers, architects and chain shop, etc.