Interior design inspirations and tile trends are constantly evolving, which is encouraging the ultimate expression of creativeness and imagination. We have seen the geometric tiles such as rhombus mosaic tile, which will break the boundaries of originality, artistry, and self-expression. Therefore, we are preparing to highlight these special tiles, which not only has three different finish and 3D visual effectiveness in attractive interior design but also has the ability of the variable combination to brisk your DIY home decoration.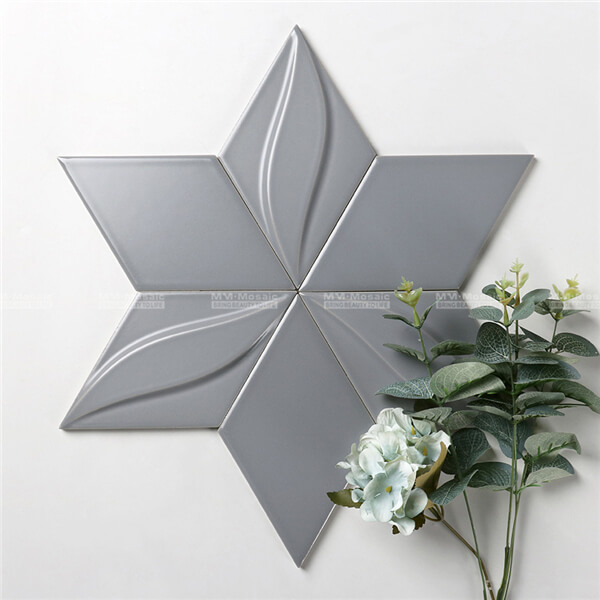 Featured Product: Glazed Matt 3D Super Rhombus Mosaic CZM323D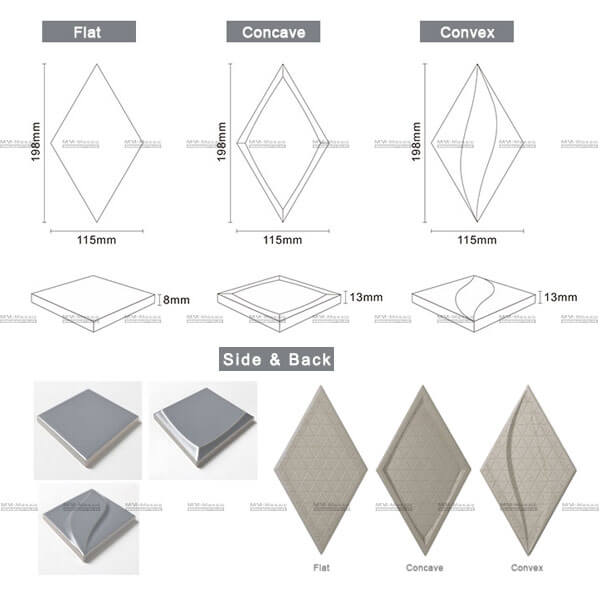 The fascinating movement, versatile and energetic surface of the 3D super rhombus mosaic, which creates a chance for you to make a statement in your house space. Don't be deceived by their mini size and common appearance, they are not just the addition of the whole interior design, to be honest, they are the point of the design. Rhombus-shaped mosaic is one of the geometric tiles so the possibilities are continuing and timeless. Here are some extraordinary examples for your reference, and you might know how to use rhombus tiles to reach their full potential.
KITCHEN BACKSPLASH
Creating an eye-catching kitchen backsplash is at the top of many homeowner's wishlists. Rhombus mosaic tiles come in multiple designs and inspirations. They not only can be flat, concave and convex but also can change diversiform shapes from parallelogram to hexagon or various colors as your personal like.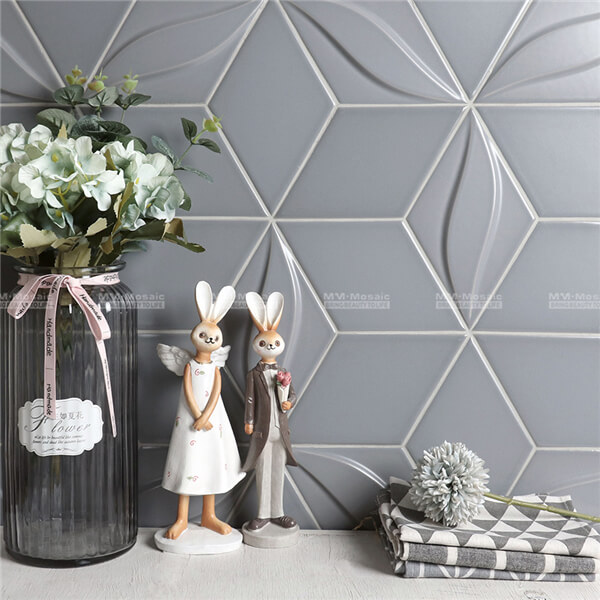 In the below design, the dust grey rhombus mosaics combine flat surface with convex finish are laid on this backsplash, which enhances the dimensionality, interestingness and ornamental of the space. After all, stunning backsplash tiles can change the feel of an entire kitchen room. Why not DIY your space with these funny tiles?
LIVING ROOM IDEAS
The heated summer is approaching, it is a suitable time to make a change! This cool and fresh diamond wall tiles can bring the effortless cool feeling for you during this summer holiday. Paired well with the dark grey linen fabric sofa and the deep brown herringbone wooden tiles, this living room is a perfect design example of form meeting function. We also love the colorful back cushion, which echoes well with these wall tiles.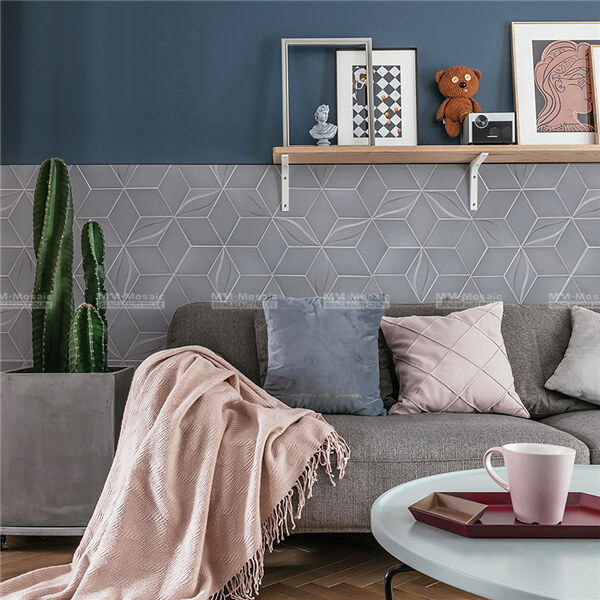 What's more, if you a diamond shape enthusiast, combining them in pink shape is another way to use our rhombus mosaic. Inspired by diamond the woman's favorite, we combine the elegant shape and pink as well as incorporate it into interior design. It is an excellent way to add energetic color to a monotonous space.
BEDROOM INSPIRATION
With classic grey, it's not just about the color itself, changeful shapes and optional surfaces allow you to make the most of this trend without ever feeling overpowering. Furthermore, the popular rhombus tiles in the minimalist color of dust grey.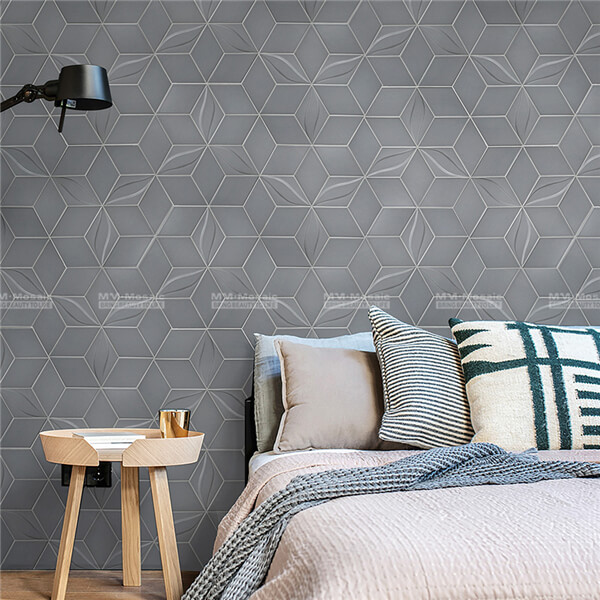 This amazing bedroom mosaic tiles design makes full use of these two surfaces, which is subtle enough to stand the test of time.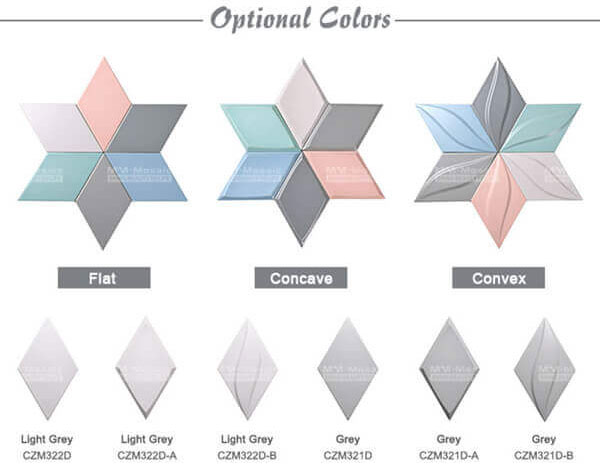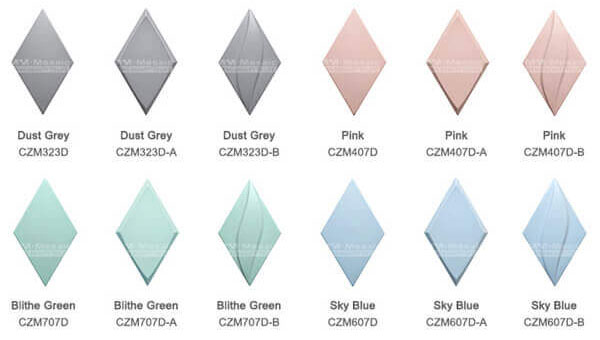 There are so many colors to go with your space. If you have any problems with the color combination, here is an article to help you choose the suitable summer tiles color combination: Mosaic Classroom: How to Choose Your Summer Color Theme Tiles >>>
Interested in knowing more about the unexpected rhombus combination? Get some design inspirations? Inquire us for this funny mosaic tiles samples! MM-Mosaic, with more than ten-years of mosaic manufacturing experience, will provide premium products with reasonable price and satisfactory services.