Take advantage of the latest, state-of-the-art technology in tile production! Inkjet Porcelain Tile authentically re-creates some of the most stunning, desirable, appealing surface materials. Now you can install these materials, enjoying the character and warmth of the real thing – putting any worries, high maintenance, and extra costs behind you.
Inkjet printing technique can create new patterns never seen before, digital technology prints on tiles with high definition, pattern variation, and vivid coloration to produce extremely realistic results. These tiles are then glazed to enhance and protect their finish. Today we are sharing our new design made with ink-jet digital printing tech - travertine look hexagon tile design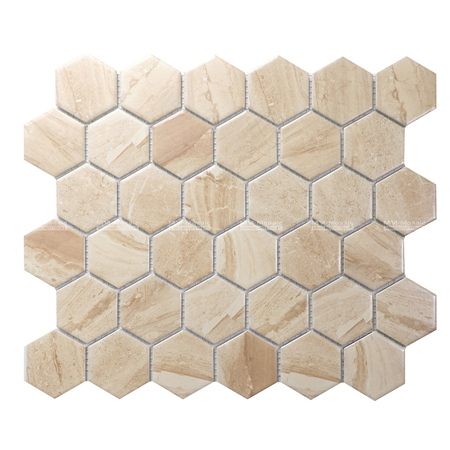 Featured product: Lvoire travertine porcelain hexagon tile sheets CZO926Y
If you are looking for travertine look porcelain mosaic , this tile is absolutely site for you. With high tech and strict quality control, the tile sheet looks different and eye-catching with its realistic texture. Lvoire tile perfectly create attracted surface with matte glazed, it is suitable for wall as well as floor decor. This material of porcelains is long lasting, Wear-resistant and low water-absorption rate. Mesh back design makes your installation much more easier and save you lots of energy and time. Why don't you try to use this tile for your kitchen, bathroom, living room, restaurant, bedroom, etc.
Delight Your Kitchen Backsplash
Lvoire is absolutely an outstanding background color, which make the room delightful and brighter. Example is as below, it show the good taste of kitchen owner. When you open your honeycomb tile kitchen with long bar counter. It is absolutely provide a cozy dining environment, which is committed to festive family site. Decorating in light hue is still possible to create simplicity. As people love to decorate kitchen in simple light tone, meanwhile, they are worried about whether it is boring, then choosing this pattern kitchen tiles can perfectly solve this problem. All eyes will be drawn to the tile and travel with the flow of the design after your guests enter into your kitchen. Following below picture, you will fall in love with this neat backsplash and your cooking time is no longer boring.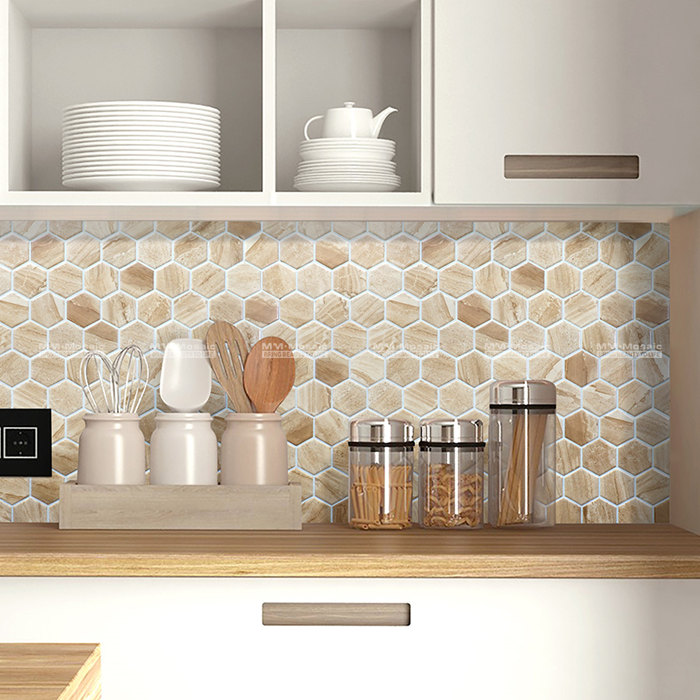 Make Your Living Space Modern, Cozy
The tone you set for your living room is an important part as this is a place for relaxation and friends gathering. So, you should choose the right tile color at first. There are more and more stylish and nice design mosaic tiles born in our life, because people has higher and more specific requirement when choosing tile for living room design. The lvoire color gives a sense of warm and comfort, which is an ideal choice for modern living room decoration. Example as below, no one won't have a good time in the room.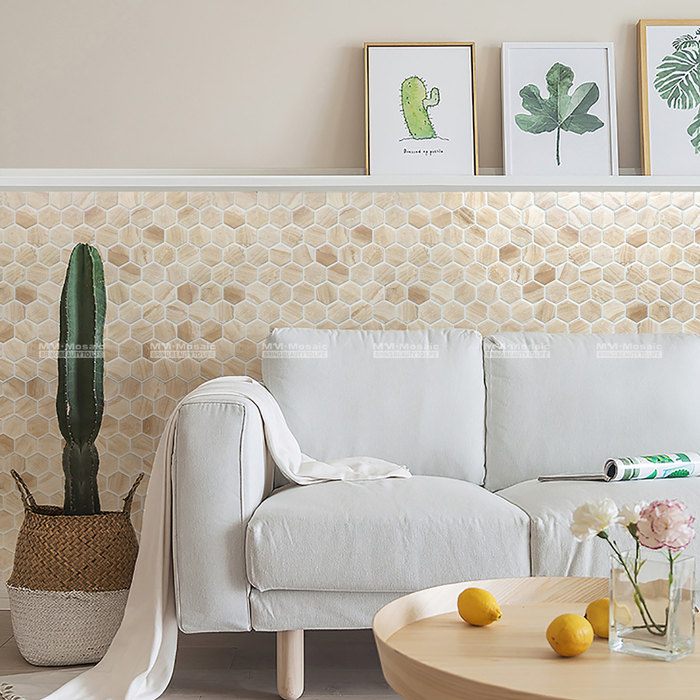 Here we offers 2 classic and individual colors (Ivoire and Morning fog) to suit your home style, if you have got inspiration and be interested in our 2 inch small honeycomb shape tile, please feel free to contact us for more details and best pricing as soon as possible. Samples can be provided for you at best quality.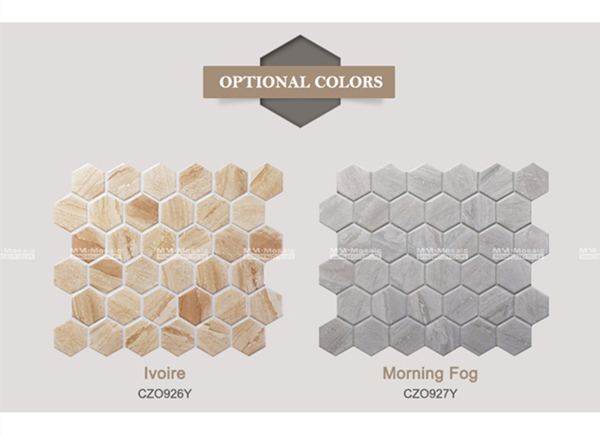 Mosaic tiles has various styling in interior decoration and provides endless possibilities than you think. MM-Mosaic, one of the most professional mosaic tiles suppliers from China, is keeping innovation on the line of high quality mosaic tiles for all clients from all over the world. We are glad to establish long –term business relationship with you NOW!