Recently most homeowners are busy in renovating their interior rooms with a Spring decor theme. Choosing a right mosaic tile pattern for your project plays a really important role, for which will affect the whole appearance of your house decor theme. Today we are going to recommend you a tile design at MM-Mosaic, new-designed and unique, ideal for bring a breathe of Spring into any spaces. Read on and explore more.
Take a look at the post for more inspiration for Spring decoration: Follow the Seasonal Trends: Now is Spring Touch Mosaic Kitchen Tiles >>
Star x Cross Tile In Green Color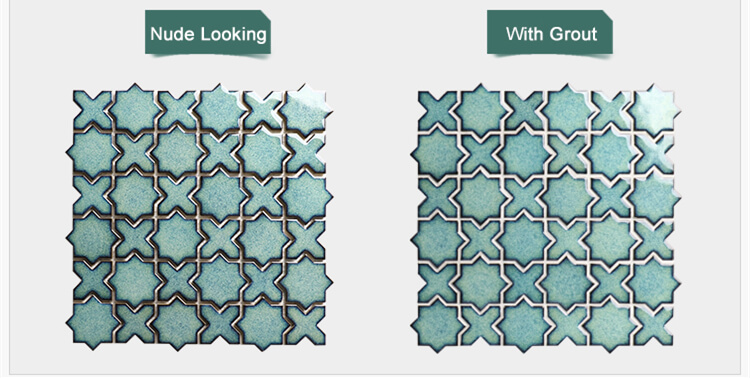 Featured product: star and cross tile green porcelain mosaic CZO732A
Mosaic tiles in green color must be the most popular choice for Spring decoration, which can easily refresh and liven up your room. The green color of variation provides a much more naturally solid color. Star blended cross chips structures an impressive tile sheet, is suitable for those who are seeking for tile for featured wall installation. The surface is high-gloss and easy to clean, made of premium porcelain, it is durable, wear-resistant and waterproof for kitchen and bathroom use.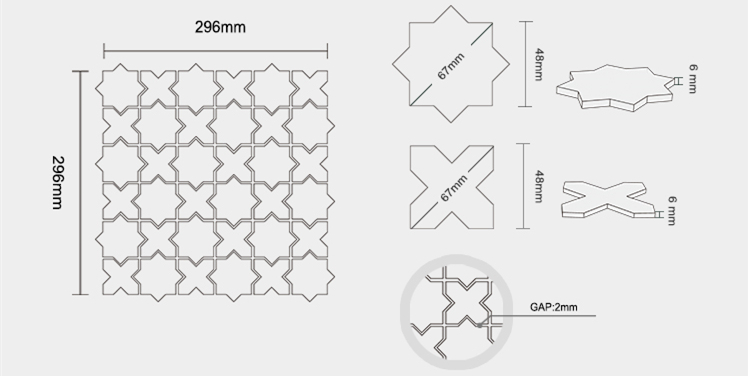 Product specification: chip size: 67x48mm; working size:296x296x6mm; gap: 2mm;
Mesh mounted technique makes your installation simpler.
Optional color: the star x cross mosaic tile comes in dark green, green, white, dark blue, sky blue and pale blue to choose from and fit various interior design styles.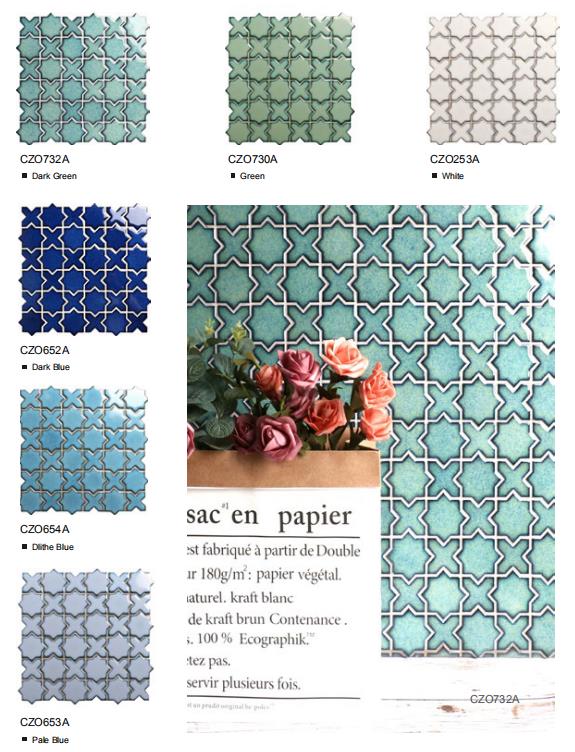 How can you go with this tile design? Following are some great examples for inspiring you in home decoration.
1. Install A Stunning Backsplash
When it comes to decorating backsplash for kitchen or bathroom, the mosaic tile you selected should look beautiful and work functional. Look at the star and cross tile backsplash below, undoubtedly, it has make a great difference to your kitchen design, the featured backsplash is blended seamlessly with the green-painting wall and shelf, the combo creates a comfortable cooking area to you and you won't be tired of cooking any more.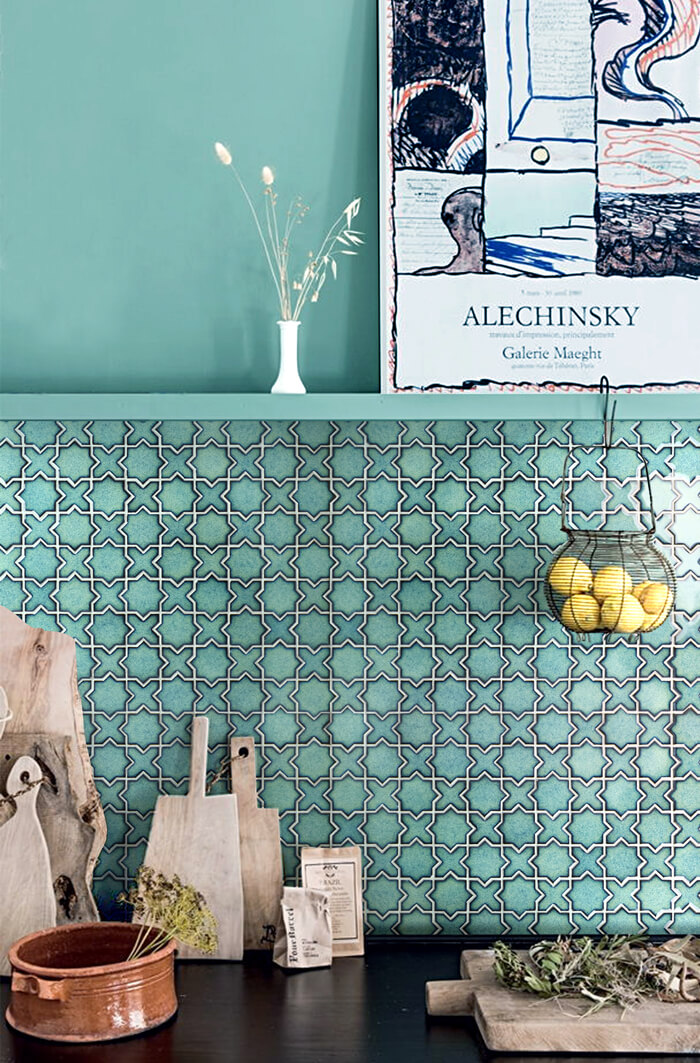 If you have no idea to choose right kitchen backsplash tile, find answer from this post: 8 Top Recommended Kitchen Tile Backsplash Ideas >>
2. Add Personality To Your Store
Bold design mosaic tiles now is getting common used in commercial spaces, because these mosaic tile designs can help to enhance the store style and show owner's personality perfectly. The star and cross tile wall makes a statement to the restaurant and bring a sense of nature to the space. Example like below.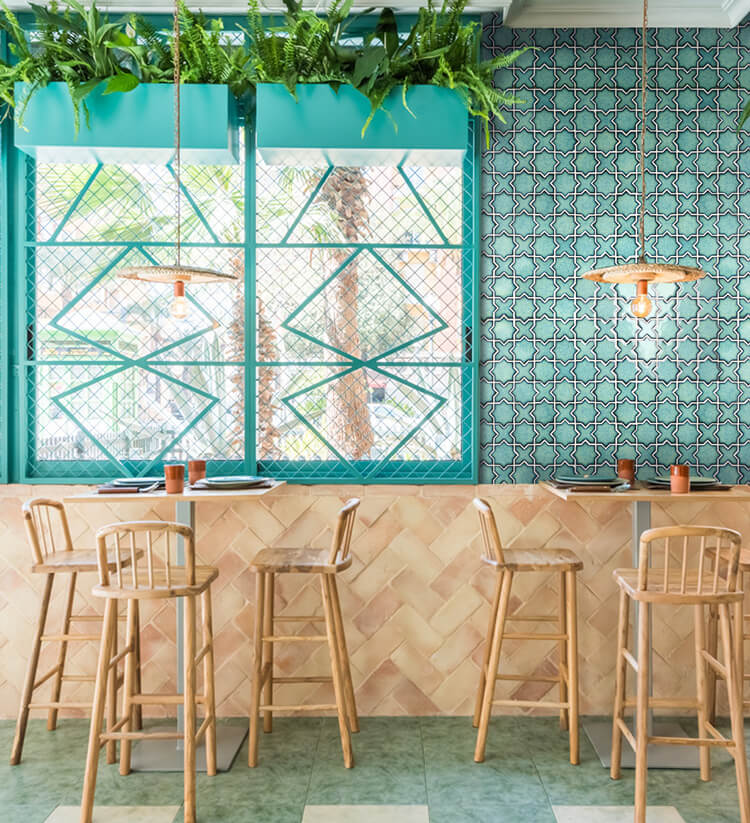 3. Build A Small Chic Garden
Take good use of your backyard and don't let it left unused, it is a good way to build a small garden if you have no plan to start your backyard remodel. The star and cross ceramic mosaic wall tiles can distinguish your garden zone in subtle way. Next, plant some flowers you like, and you can get a private place for relaxation. Moreover, the gorgeous garden will add values for your house resale.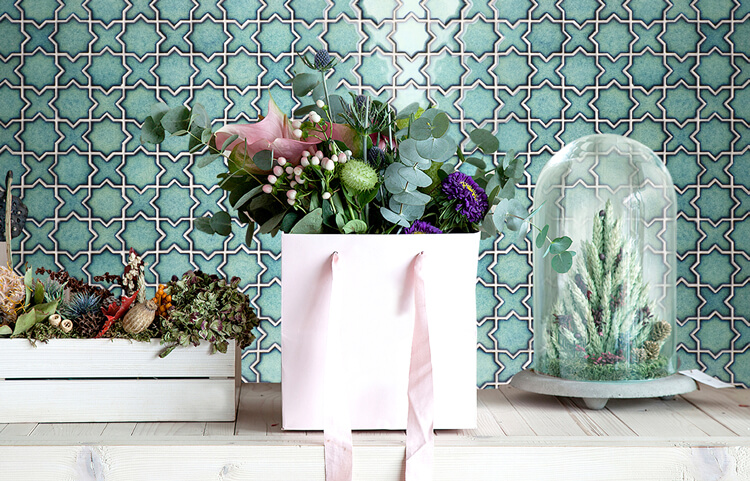 If you love this green star x cross tile design, you would also love the hand-crafted gray one: Style Collection: Interesting Gradient Grey Star Cross Porcelain Mosaic >>
Have you got ideas from this green mosaic tile sheet and its application in different spaces? Welcome to share with us and comment below.

MM-Mosaic is a mosaic tile company from China with over 10-year experience in export service, we are in main line of porcelain mosaic tiles production, if you are in market for our products, do not hesitate to contact us now.