Pink is an elegant and lovely color in home decoration, especially popular in girlish room. Inspired by the trend and satisfy more our customers, MM-Mosaic here introduces our newest design - 28mm Jumbo round pink ceramic tile for you, it is a beautiful design and well-received by our regular customers. Read on and take a closer look at this pretty pink mosaic tiles design.
Penny round ceramic tile continues to be a staple for application in wall and floors, providing a fresh and refine look. While not as popular as hexagon tile, penny round also endures the twist of mid-century to present styling. It makes endless possibilities to interior design. The reason why we choose to produce the pink color is not just to meet the market demand, but also, pink makes people happy! And we hope that this tile pattern will create you a happy living space.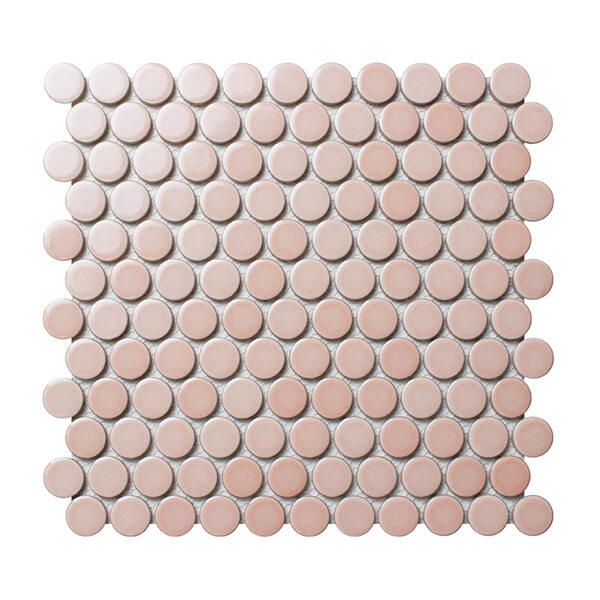 Featured product: 28mm Jumbo circle mosaic tiles pink CZO421A
Coming in 28mm jumbo penny chips, the tile can create a much more spacious installation. The color is gradient pink with fambe effect, that makes the pink unique, it won't be tasteless. 2mm gap is great for those who want to take it for floor decor, many gaps makes it less slippery. Mesh backing design helps your installation easier and simpler. Made from premium ceramics, it is scratch-resistant, waterproof, wear-resistant, versatile in use and styles.
If you want to make your home stand out, then add pink, this color will pick a big effect for any space. Following are some great ideas to do with this product to get a timeless look.

Girlish Room
Pink is mostly used in bedroom. Each girl has a dream of princess, they are surely to decorate their bedroom in pink. Try to tile the space instead of painting it can add more features to the space. The backsplash wall finished with pink tile round will create a chic space you will never want to leave.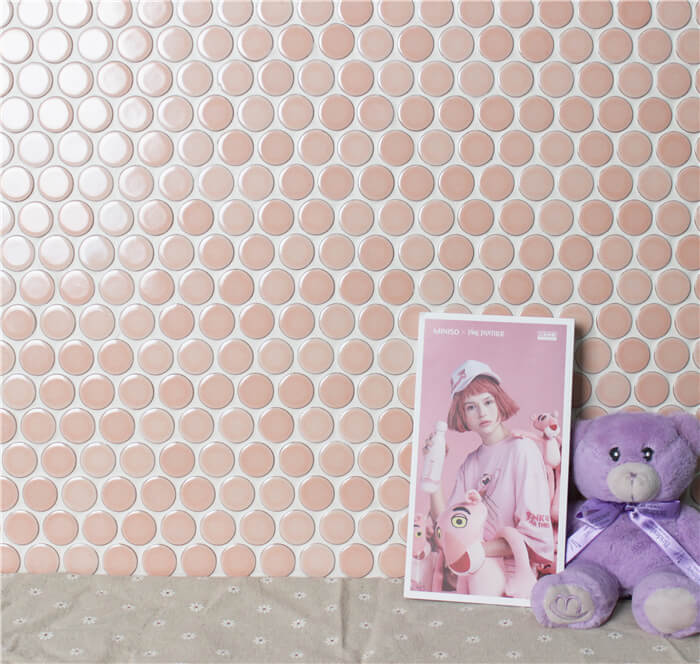 Pink Wall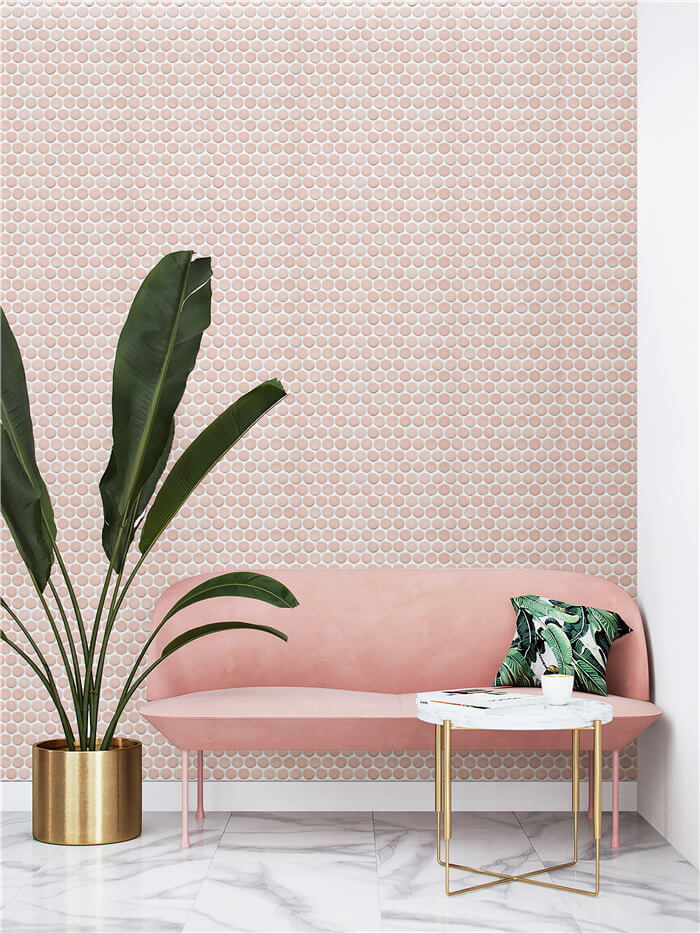 Adding a statement to your living room with a bling pink wall is a great idea in decor. The penny round shape brings more characters and interest to the space. The combo of pink wall, sofa and marble flooring makes a hot Ins Style to your home.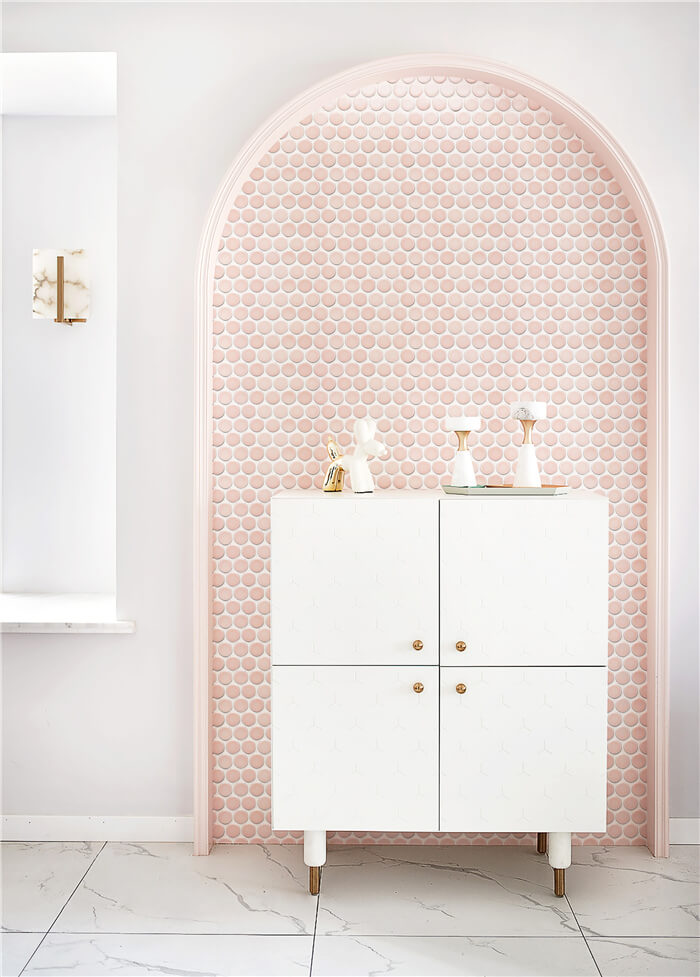 Pink walls matching with pure white cabinet gives a clean and modern touch to your hallway.

Various Colors for Option
Addition to pink, this 28mm jumbo round tile also provides other beautiful colors including white, beige, khaki, green, teal blue and pale blue, etc. If there is one color fitting your style, please feel free to get a quote from us now.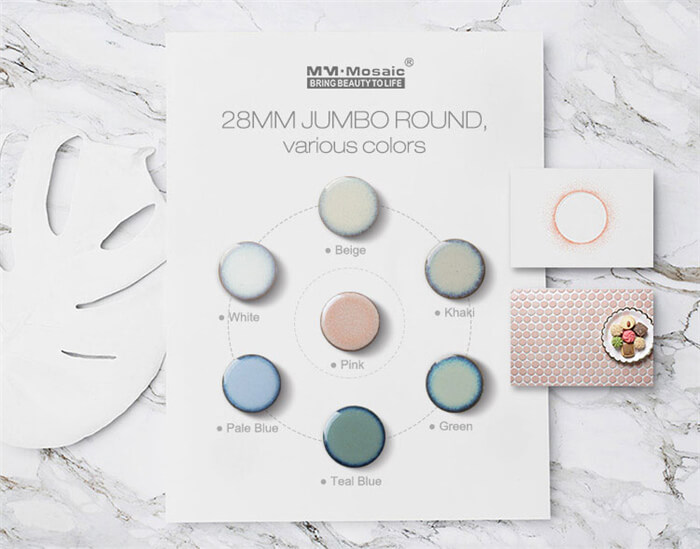 To discover the latest penny tile design at MM-Mosaic, click to read this post: 2018 Newest 10 Penny Round Tile Designs
Feeling Inspired?
If you got inspired from this pink circular tile, welcome to comment below to share what you think. MM-Mosaic supplies wide range of penny round tile designs at various textures and sizes of good quality. Get a bottom price for large quantity now.