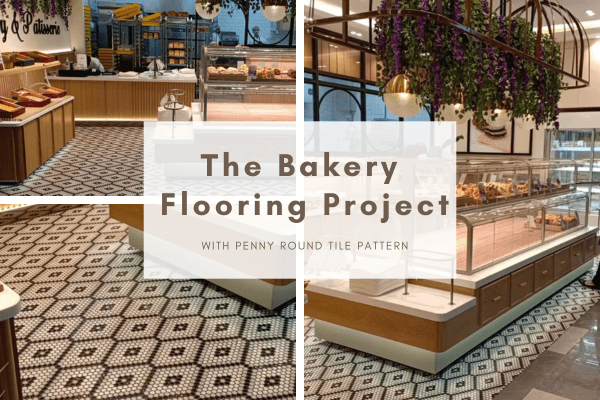 The bakery, known for its artisanal bread and pastries, sought to revitalize its interior and create a warm, inviting atmosphere that would make customers feel right at home. We knew that the choice of floor mosaic tile would play a crucial role in achieving this goal, as it needed to be both aesthetically pleasing and functional to withstand the high traffic of a bustling bakery. Welcome to our blog, where we embark on a delicious journey into the world of bakery design. In this article, we will unveil the enchanting story behind a recent flooring project for a charming bakery that captured our hearts and taste buds.
#1 The Magic of Penny Round
Our journey with Jane began in early 2023 as we embarked on the exciting endeavor of designing the flooring for this bakery shop. Looking back, Jane fondly recalls how this adventure started with an impromptu tour of our studio when completing the space still felt like a daring dream. Taking on a project of this scale, we understood that great things require time, patience, and unwavering determination. That's why we rolled up our sleeves and delved into the task at hand, infusing a touch of magic through the art of mood boarding.
Mood boarding is a captivating tool we employ in our custom design process, allowing us to visually convey and develop ideas with our clients while creating a unique atmosphere or style for their space. It involves curating a collection of penny round tiles, exploring a variety of shapes, colors, and patterns, and gathering inspirational images that encapsulate the essence of the project. Collaborating closely with Jane, our talented tile consultants embarked on a journey to create a direction that perfectly captured the magic of "Penny Round."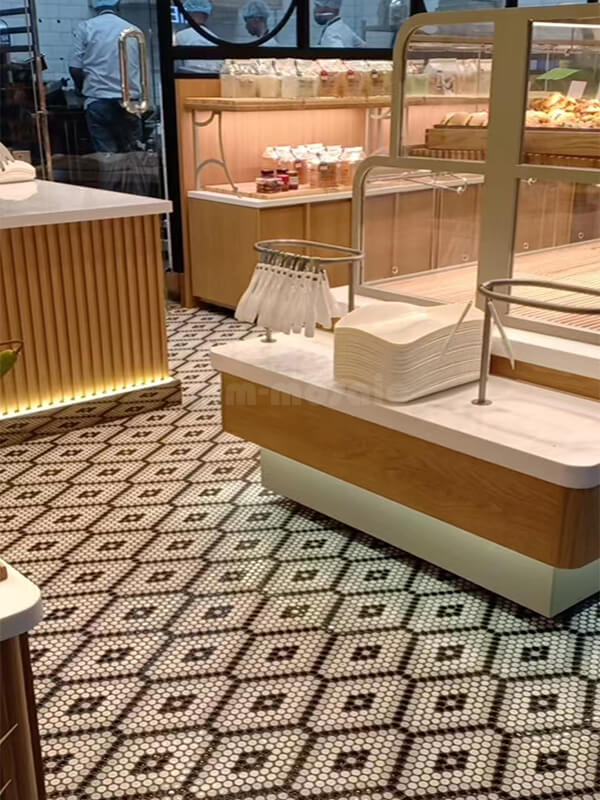 Through the medium of mood boards, we embarked on a visual storytelling process, weaving together elements of design and inspiration to bring Jane's vision to life. The playful and timeless charm of penny round tiles took center stage, offering endless creative possibilities for the bakery's flooring.
The magic of penny round tiles lies in their ability to transform spaces, whether it be a bakery, bathroom, or any other area in need of a touch of elegance. Their versatility allows them to adapt to a range of design styles, from vintage and retro to contemporary and minimalist.
#2 What is Minimalist Eclecticism?
Completely captivated by this self-proclaimed design aesthetic, we asked Jane to describe what Minimalist Eclecticism means to her. Let's delve into the essence of this style by exploring its roots! Minimalism embodies simplicity, functionality, and clean lines, while Eclecticism reflects the practice of deriving ideas, styles, and elements from a diverse range of sources. Combining these concepts, I find inspiration in the principles of minimalism, the art of decluttering and creating space, and the fusion of various design influences.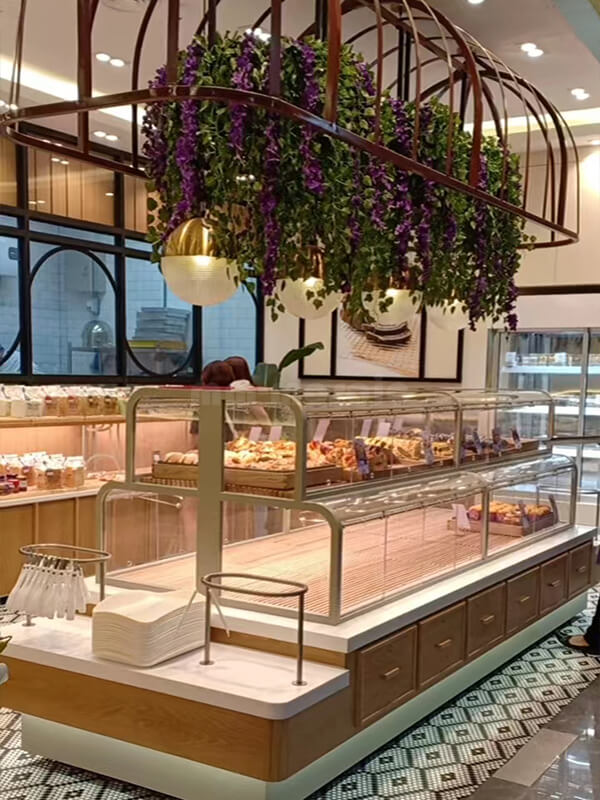 To create a minimalist eclectic environment, I draw inspiration from various sources, including modern farmhouse design, mid-century modern furniture, and contemporary art. The focus lies in creating a harmonious balance between simplicity and eclectic elements. I often incorporate statement pieces, such as bold artwork (like the vine motifs on the bakery's ceiling) or unique furniture, to add character and intrigue to the space while maintaining an overall clean and minimalist aesthetic.
#3 The Design Direction
Collaborating with Jane to bring her minimalist vision to life has truly been a dream come true. Our tile consultants work closely with our clients through our personalized process to ensure their vision is fully realized. As the bakery exuded a charming farmhouse style, incorporating elements such as vine motifs on the ceiling and a warm wooden color palette, we saw an opportunity to create visual balance by deviating from contrasting shapes like small hexagons or squares. Instead, we envisioned a special pattern using neutral colors of black, white, and gray in the form of penny rounds, harnessing the power of simplicity while adding distinction and movement.
Next, we wanted to explore Jane's love for neutral and minimalist colors, a passion that permeates not only the design of the penny round pattern but also her personal style.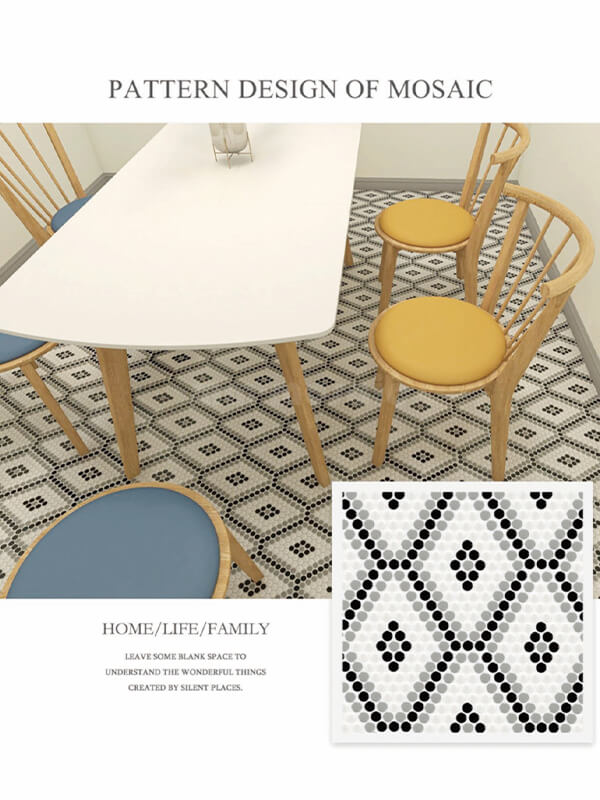 "Reflecting on my affinity for minimalist color palettes, I found a way to incorporate black, white, and gray into every design I create (as a reference, my own bathroom features a black and white hexagonal floor pattern). This color combination speaks to me on a visceral level," Jane shared. Each shade of black, white, and gray has its subtle differences, and the selection process was truly a dream. Every color stands perfectly on its own, even our black and white splashes! As a proud lover of mm-mosaic, I've spent years collecting samples—I didn't realize I was learning and preparing for this moment. Mission accomplished.
The choice of a neutral color palette not only reflects Jane's personal style but also creates a soothing and timeless ambiance within the bakery. The black, white, and gray penny rounds form a harmonious symphony, allowing the baked goods and rustic farmhouse elements to take center stage. The simplicity of the design speaks volumes, elevating the overall aesthetic and creating a cohesive visual experience for customers.
#4 The Result
We are in awe of the final outcome of this custom flooring project. The combination of the bakery's farmhouse style with the vibrancy of our penny rounds is a match made in heaven. We always love to ask our designer friends for their tips and tricks after completing our handmade tile designs. Here are three pieces of advice from Jane for those selecting tiles for their own spaces:
1. Assess your commercial space: Consider the shapes, patterns, textures, colors, and/or design styles that are visible to you, and ask yourself - do you want to complement or contrast with what surrounds you?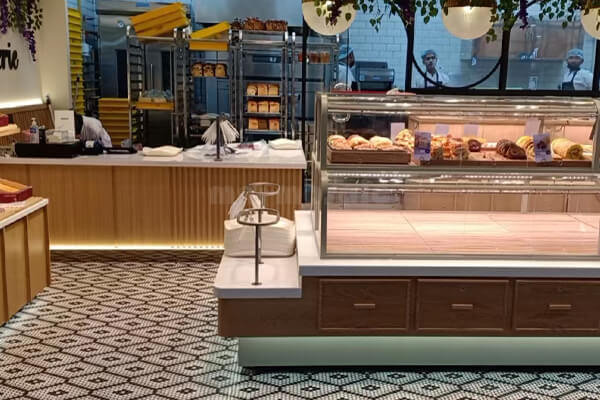 2. Create a mood board: This step helps capture your design aesthetic and the accompanying shapes/patterns/colors that inspire you the most. Whether you're creating a farmhouse-style space, curating a rustic cottage vibe, or perhaps going for a countryside retreat, having a design direction will give you clarity and help eliminate shapes that may have initially seemed fitting (like small hexagons or squares). While adorable (yes, I'm still obsessed with both shapes, just not for this particular space), no other shape could precisely achieve my desired vision like penny rounds.
3. See your final choice in your space: Seeing your ultimate selection in your actual space allows you to determine whether you've got a style star or if a round of revisions is needed. When you know, you know.
Get Inspiration
Ordering samples of our penny round tile is a wonderful way to explore the possibilities and potential of our product. By experiencing the texture and quality of the mosaic tiles firsthand, you can gain a better understanding of their unique character and fall in love with their beauty.
MM-Mosaic, as a well-established tile manufacturer with 17 years of experience, is always inspired by the creative ideas of our customers when it comes to home decor projects. We are eager to hear more about what inspires you! Regardless of whether you're looking to enhance your kitchen island or bathroom backsplash, our tiles can bring beauty and personality to any living space.
For those seeking mosaic pattern inspiration, we encourage you to peruse our blog post highlighting "New Things: Hexagons & Penny Rounds with Custom Pattern" We hope these examples will help stimulate your creativity and give you some ideas for starting your own project. So why wait? Let's begin transforming your vision into reality. Contact us today and share with us your future plans, and we'll work together to find the perfect tiles to meet your specific needs.