Last week our staff had a wonderful National Day Holiday. Most of them opted to spend the whole vocation on travel. Surely, people love seeing new things and meeting new friends in new places. There are always plenty of surprises waiting for us in the journey, whether happy or troublesome. MM-Mosaic are delighted to get the happy side. We have received many tile design inspirations and their unique applications from our staff. They caught the moment by telephone when they found some latest decoration trends living in the streets, hotels and resorts. Following passages are the zoom-in details. Hope there are good surprises for you too.
Belle went to a lovely inn. There has a small but cozy bathtub. Water is warm and the small water injection set behind your back cannot be great any more. Belle said she would rather sitting there all day than climbing a mountain for the final stunning scenery on the top. Well…so we know everyone has her own aspiration. For belle, physical activity truly kills her. By the way, have you noticed the gray white decorative tile border that wraps around the bathtub? It really highlights the bathing area. As you can see in the attached picture, bathroom is designed in white tone, which is simple and honestly a little bit tedium. Decorative ceramic tile, which has intricate and exotic patterns, undoubtedly makes this bathroom delicious.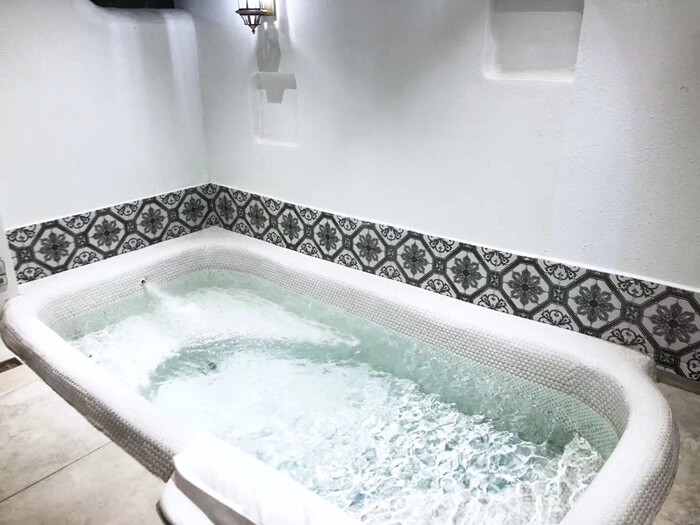 Recommended product: decorative ceramic tile PZM902FD-F
John came to a five star hotel which has many Moroccan style bathrooms. Each of their rooms seems to have different customized design themes. Some are taking the aura of natural plants, and some are set against the seaside. John chose a Moroccan style room as he really loves its elegant style. Of course he wants something more special. It is common that moroccan tiles are in blue color, but this time John took the blue one, which is put on the wall of the shower inside aligning with grey moroccan tiles. The tiles are dressed up with glittering glaze and beautiful ice crackle patterns, which look splendid especially in the dim light of the shower.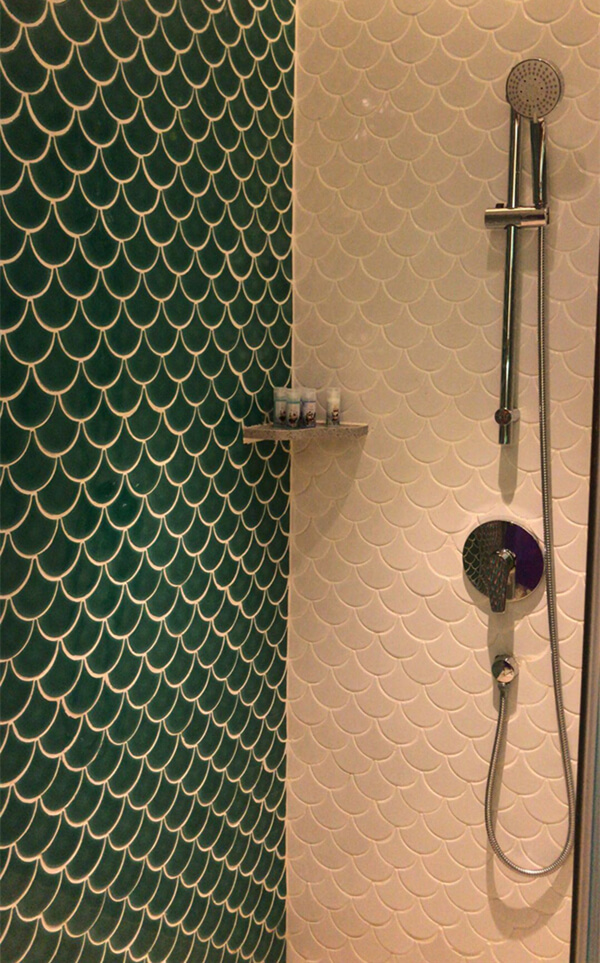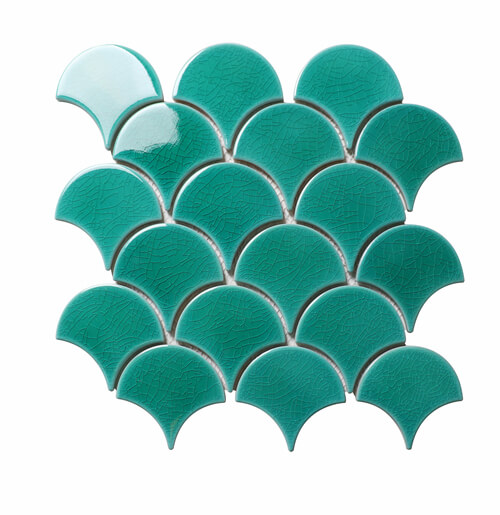 Recommended product: green moroccan style CZB718X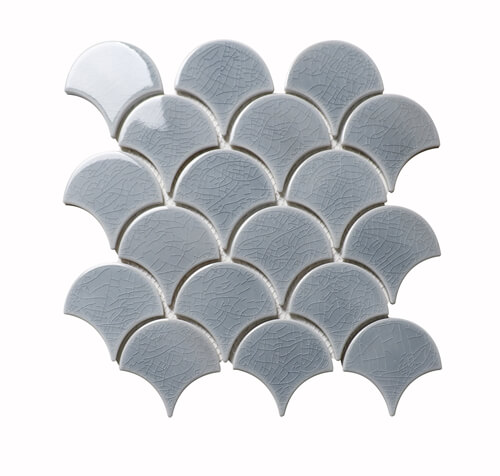 Recommended product: grey moroccan tiles CZB319X
Peter took his family to Chimelong Ocean Kingdom. His little boy had a very pleasure time there. Particularly when he knew the whole family was going to enjoy a sweet night in Penguin Hotel, he can't wait to finish the rest afternoon events in the amusement park in order to check in as soon as possible. Peter said penguins are everywhere in the hotel – lobby, hallway, cafeteria, etc. And there are even real penguins in the cafeteria! Real! Peter and his family sat for a dinner with the penguins only separated by a transparent glass screen. That was the most exciting moment for his little boy he guesses as he barely ate his meal. For peter, he appreciates the design of the shower most. As you can see in the picture attached below, there are penguin photos hanging on the wall and mixed blue decorative tile strips installed.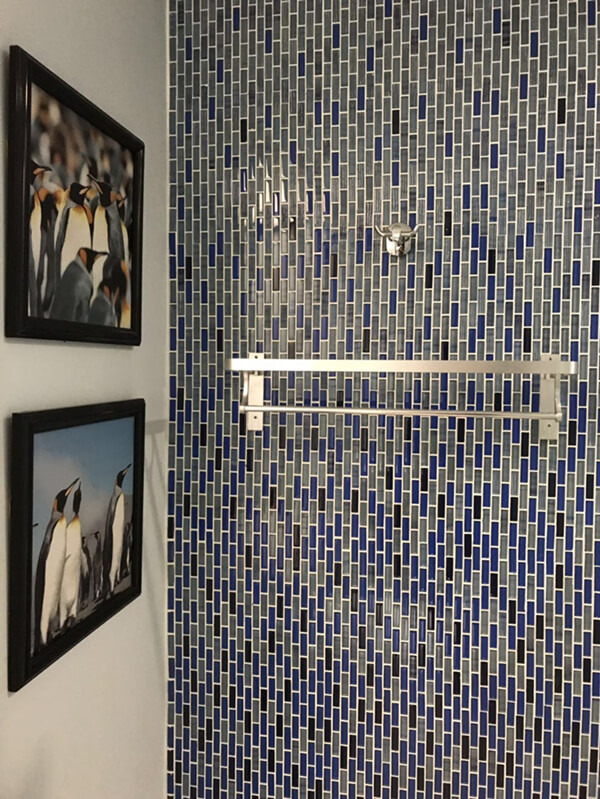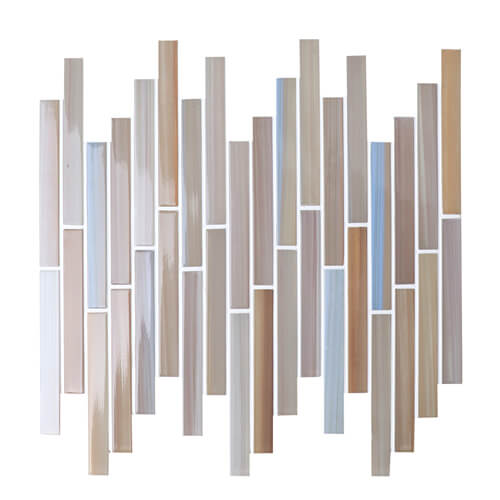 Recommended product: decorative tile strips RZG016MT
David is a food lover. Tasting cate all around the world is his mission. This holiday he went to drink store which is ranked top in the online reviews. The store is mainly selling milk tea and scented tea, and has diverse flavors. David ordered a cup of hot milk tea in peach blossom flavor and enjoyed a wonderful leisure time chatting with his girlfriend. Drink is great and how about the environment? This is another experience David thinks a lot of. He gives us a photo, as shown below. Generally, the design is simple and neat. White ceramic subway tile and black penny round floor tile work well together and create a balanced and functional design.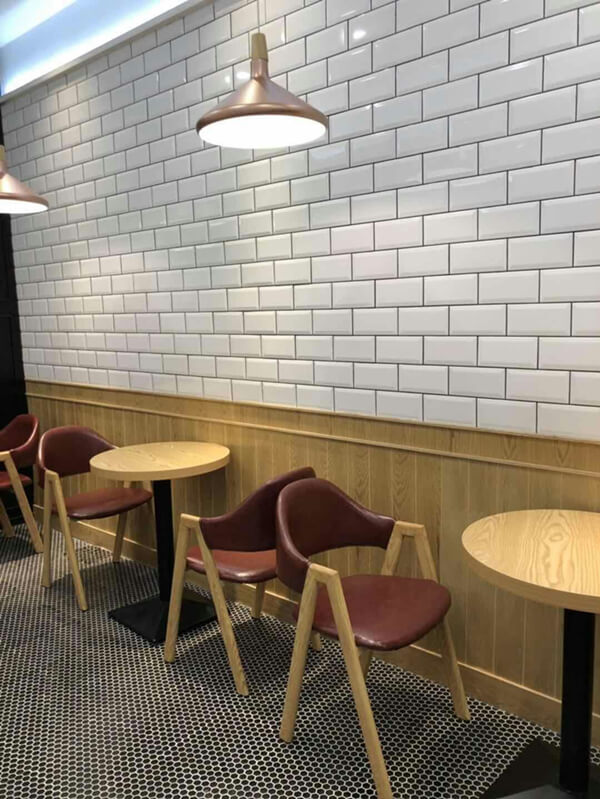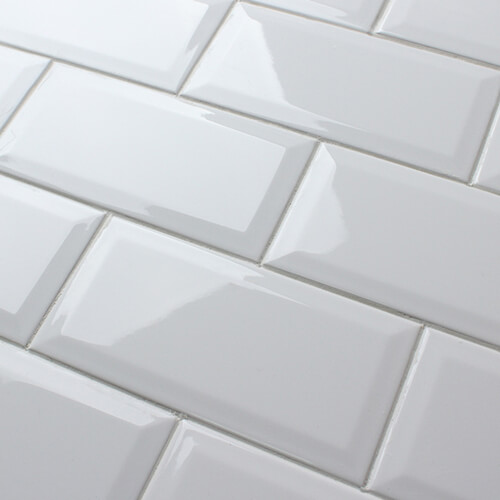 Recommended product: 3x6 white subway tile CZG201MDQ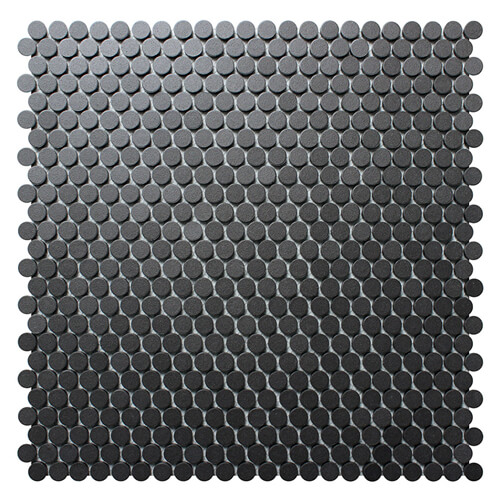 Recommended product: black penny round floor tile CZO137B
Linda is our fashion icon. She has a hot pursuit of fashion. She often hangs out at the shopping mall, by no exception during this 7-day vocation. She decided to visit a new mall that she had never gone to. All the other staff can't stand to hear her talking about this new mall any longer. We are all grateful motherland saved us and made her dream come true. WC is a good place for ladies to fix their make-up. Linda said it should be neat and delicate. She doesn't like the WCs in this shopping mall because of the old-fashioned look, but the small hex tile is impressed indeed. The gradient beige hexagon mosaic fills up the lower half of the wall, which is an ingenious way to decorate the washing area.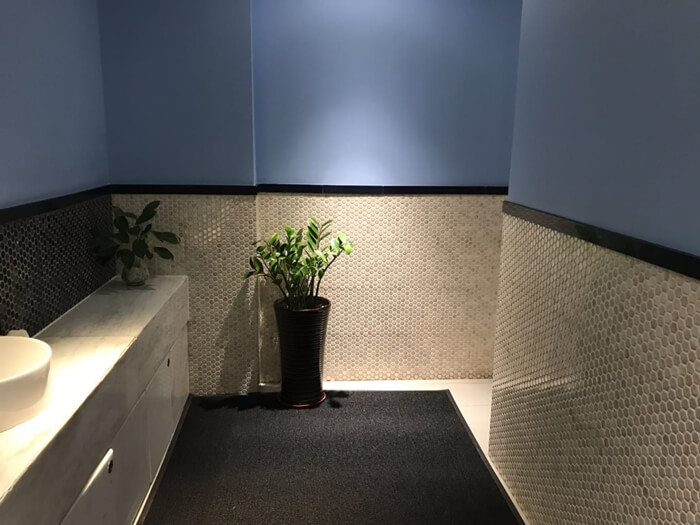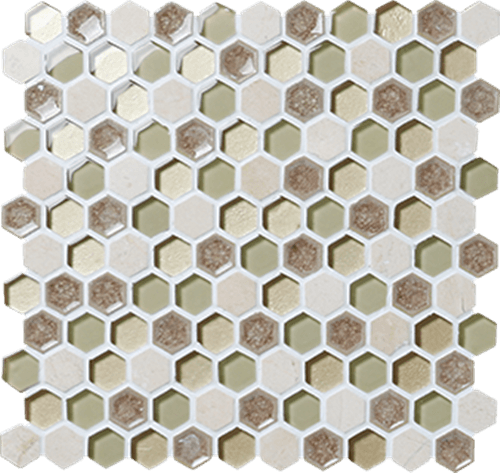 Recommended product: small hex tile HZH037OYG
Paul chose to go abroad. All the things he was gonna to do in a day is wandering among ancient and modern streets. He love the process of encountering different possibilities and finally one or two coming to him. He found a store really has its own idea on architectural design. See the step before the storefront? It is surprising to see it use black and white victorian floor tiles and make them in a specific shape. Paul appreciates the way they are not tiling the whole surface but just some part. The design really catches the eyes of passerby. What's more, a stone veneer wall drew Paul's attention too when he was on the way home. It is a mass stone veneer wall that standing on the platform of a hotel. As a manager of product development, Paul has a keen insight on stone veneer and found out the stone wall is actually made of cement. The hotel takes concrete stone veneer that look like real ledge as construction material and build this wall, which is at a lower cost and ensure the vivid look.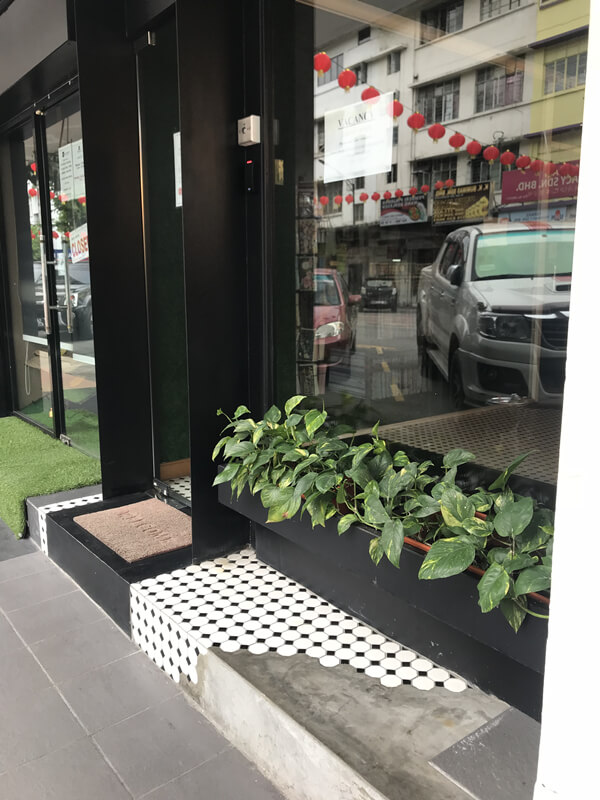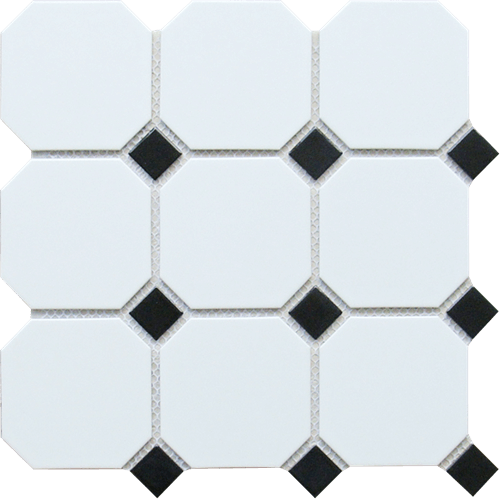 Recommended product: black and white victorian floor tiles CZH006B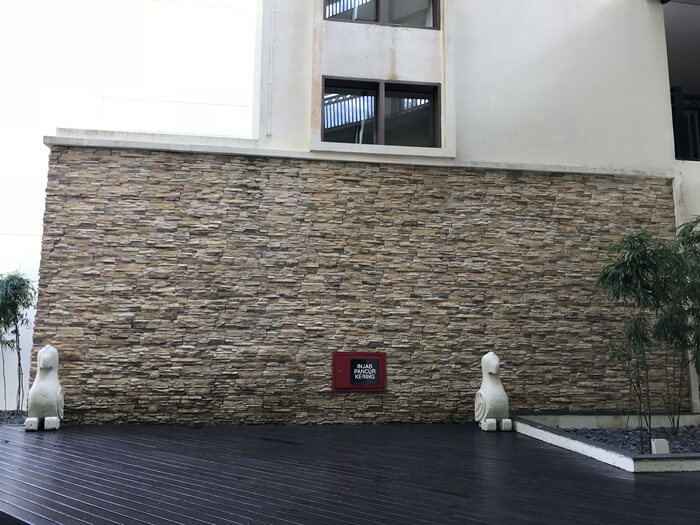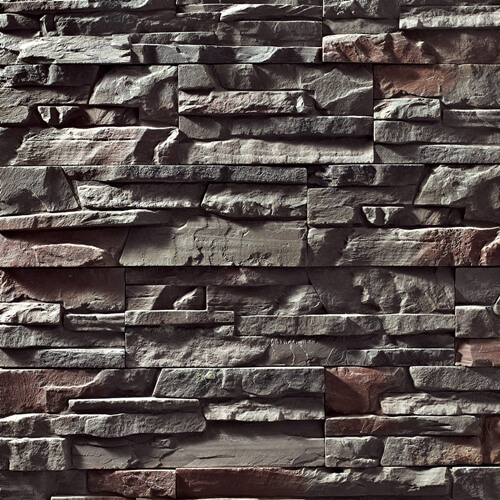 Recommended product: concrete stone veneer KZ016MY
Besides wall tile and floor tile, many of our staff have seen beautiful mosaic tile art applied in hotel lobby. For example, the attached glass mosaic designs take the theme of flower and other geometric patterns. It is subject to mosaic tile medallions, which are popular in residential and commercial decoration. They are great for a tile flooring if you don't like a rug in the entrance way.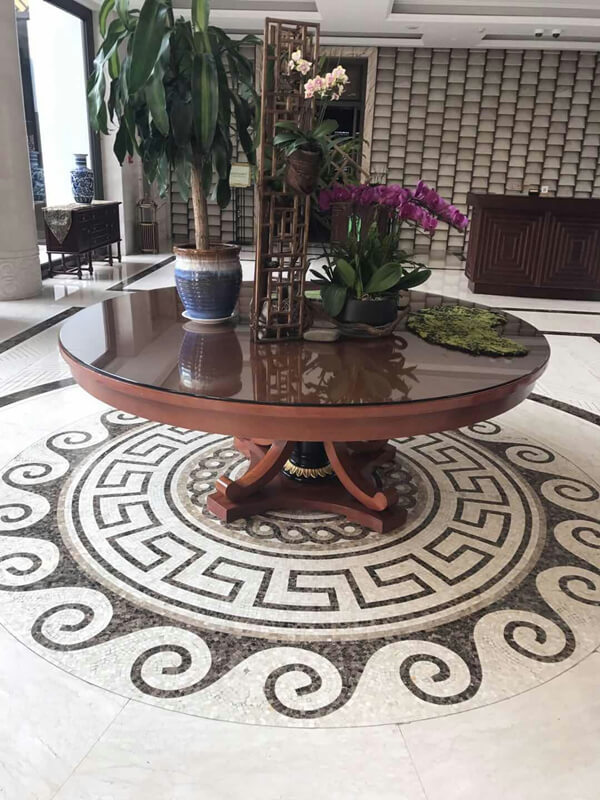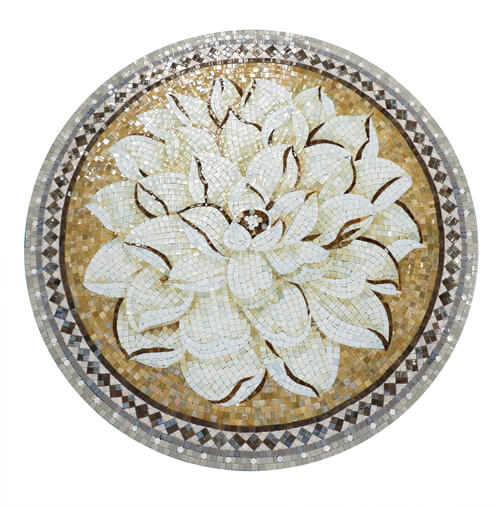 Recommended product: mosaic tile medallions OZO047YM
That's all for our achievements in the holiday. There are many beautiful things around us, if only we observe carefully. MM-Mosaic will take a humble mind and acute sense of touch to find out more tile design inspirations in our living too. Life is always the inspiration source for us. We will be happy to create variety of innovative tile products that meet our customers' requirement.