Many property owners at the very start when planning interior decorating overlook the possibility of using stone mosaic art. Some of them may think it is old fashion; some worry it is not durable and others care about the budget. In fact, stone mosaic murals have far more benefits than you think. In this article MM-Mosaic is going to show you the reasons why consider having stone mosaic designs in home and give you some inspiring references.
Stone mosaic has a long history of being used as decorative art since ages, and today is added with modern elements and redefined by giving personalized taste. With the application of different designs, your interior spaces like kitchen, bathroom, bedroom and reception room can be converted from ordinary to impressive look. Now talented mosaic artists take advantage of the properties of stone to create designs that have more charming appeal. Craftsmen use nipper and adhesive to create marvelous piece of art. Stone mosaic chips are hard stuff and can meet the requirements of durability and wear resistance for plenty of space applications covering from common rooms such as hallway, living room, reception room and dinning room to wet rooms like bathroom and kitchen. With its varying colors and patterns, stone mosaic can highlight the part that you think it is the focal and add taste and brightness to the overall design. Mosaic offers numerous ways to decorate the interiors. You can use it as a screen with a matching frame rather than building a plain wall to divide space.
Plants and flowers are always taken as the design theme of mosaic tile art. They have a widespreading popularity. As you see in the following stone mosaic designs, there are many that adopt this theme. The blooming flowers and leaves look vivid and catching. The overall design creates a unique artistic aura and add natural element to your space which also makes you feel like being surround by natural world.
Featured Product: Stone Mosaic Designs Blossom KZO025SKS

Bet you may tell the name of this flower in the below stone wall mosaic. Yes, you are right. It is calla lily. Instead of showing them in a vase, the designer has decided to highlight the top where calla lily are staying in an elegant posture and placed deliberately to form a spraying look. It is a nice pattern for dinning room decoration as calla lily is peaceful and tranquil, which help to create a pleasing dinning atmosphere for you.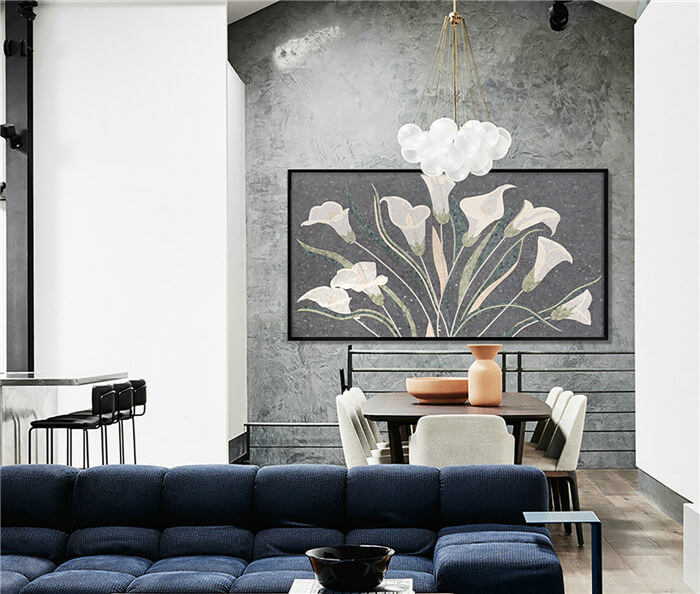 Featured Product: Stone Wall Mosaic Cally Lily KZ007SKS

There is a house furnishing trend that has arisen these years, that is, urban home owners are more and more willing to use rustic style in their properties. They are tired of the dazzling and luxurious things in the city and want to return to simple life style so that unadorned style is their top choice. As you see on the stone mosaic patterns, there shows a pattern of a beautiful countryside in which as though you can see people lead a happy life.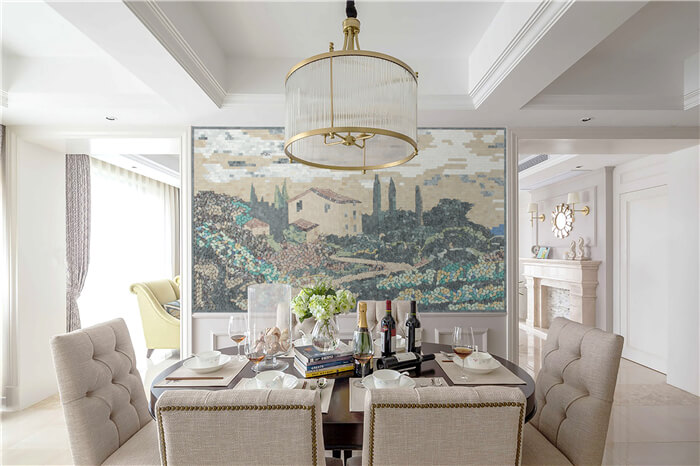 Featured Product: Stone Mosaic Patterns Country KZO023SKS

Next you will see a natural stone mosaic that highly fits in the kitchen as it is a pattern of some wine bottle and bowls and other cooking utensils. This mosaic is full of life and familiar to everyone because the designer adopts some things we use in daily life. As you see, the mosaic perfectly blends in the kitchen in terms of the material of the backsplash and the surrounding decors such as the raw bricks and the antique ceiling lamp.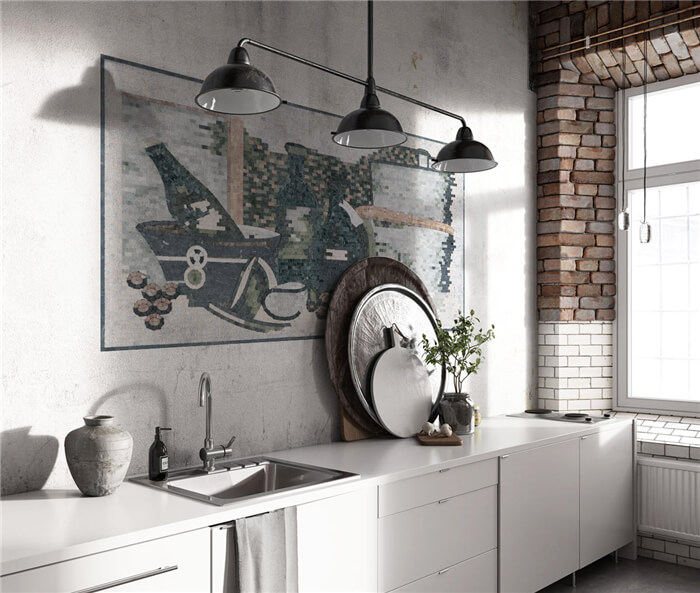 Featured Product: Natural Stone Mosaic Wine CabinetKZO026SKS

Last, we will introduce a mosaic stone art that can be used on the floor. Many people may overlook the possibility. However, it is a trendy and popular application especially for those who want their halls and entrance look more appealing and impressive. Mosaic flooring has an advantage of attracting people's eyes when the they step on the floor. It feels so good to walk on the artistic beauty.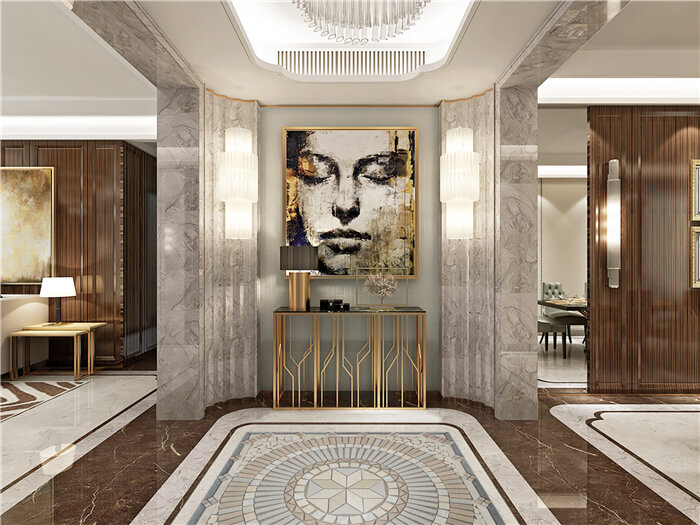 Featured Product: Mosaic Stone Art Vintage Style KZO020SKS

Go beyond your imagination and get stunning customized mosaics from MM-Mosaic, a mosaic company that has 10-year experience in offering stone tile mosaics, ceramic mosaic art, glass mosaic tile art, mosaic tiles and other tile related products. We would be so honor to hear your dream home being well furnished with MM-Mosaic's stylish mosaic tile products.