Hi friends, as 2018 is coming to the end and we countdown to 2019, it's time to make a year-end summary on your work as well as life. And today we are looking back to our best mosaic tiles products of 2018, with so many new-launch and classic collection to choose from, there are some mosaic tile designs that we are really fond of, it is a challenge for us to pick them out. Now, join us and discover the best 10 items, well-received by our clients worldwide due to its premium quality, cost-effective price and nice design.
1. Fish scale + ice-crackle texture
Fish scale design, also called fan shaped pattern, most people love these tiles, that makes them become one of our most popular and best selling items. Tiles are always the good choice for home decoration, and using an interesting pattern can get your space in a fun way. Fish scale is apparently the most eye-catching one. Our fish scale tile in blue color adds movement of rolling ocean to the bathroom and shower, the single cracked texture makes the surface pattern more unique and attractive, creating a beautiful and striking look to the space. We believe that you will fall in love with this fishy pattern.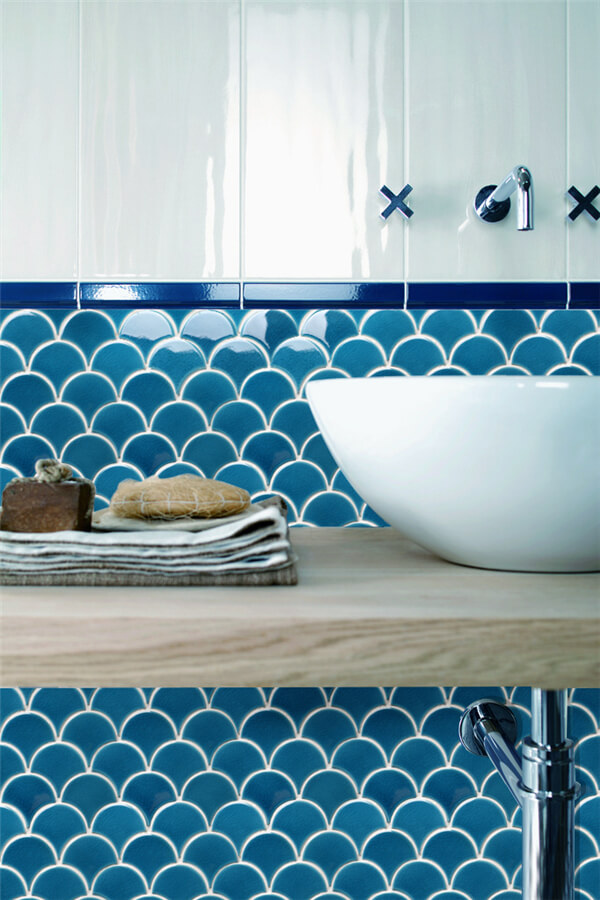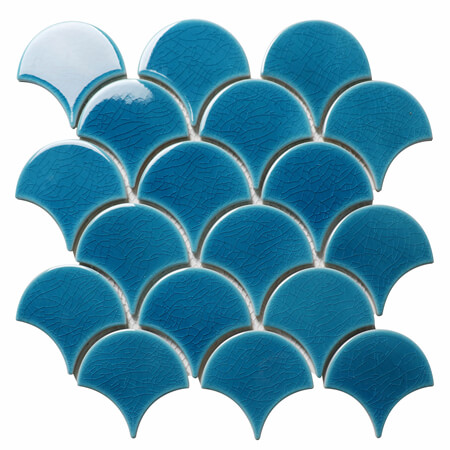 Featured product: blue crackle fish scale ceramic tiles CZB613X
For more ideas about the fishy pattern, click to read: Crackle Finish Mosaic Tile-The Combination of Antique and Modern Style >>
2. Finger + stack bond
The combo of strip shapes and stack bond design produces a classic tile sheet, these slim fingers are definitely the hottest trend this year. The dark green color brings a feel of vintage to any rooms, you would love the variation of its surface. You don't need to covering your entire space with this pattern, for this bold green color may cause a overwhelming result if not used in proper way. It is a good idea to use it to highlight one part of a room or separate your room for different uses. Example as below, the tile sheet works functionally and beautifully in the bathroom, which makes the shower area distinguishable and become the focal point in the space. Actually I do appreciate that it structures a neat, fresh area.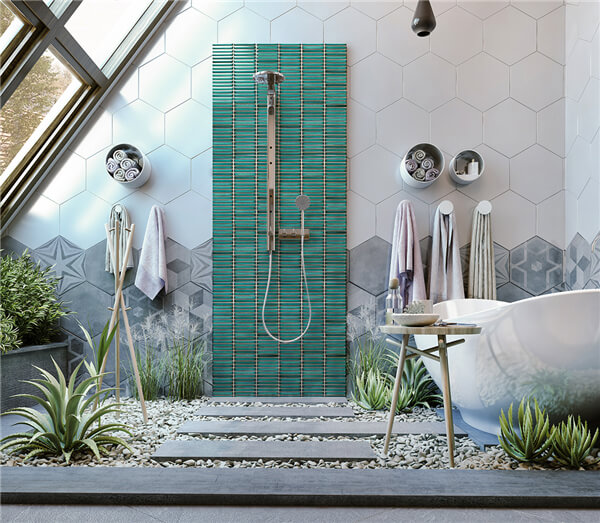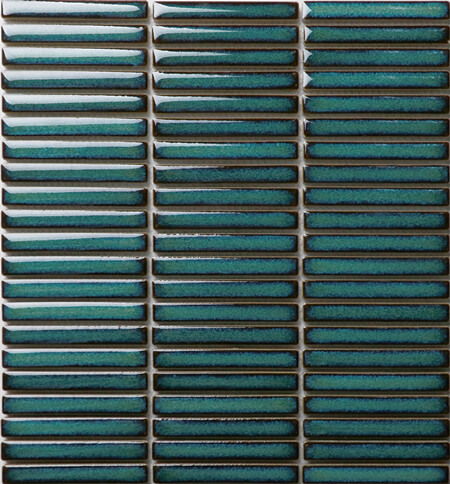 Featured product: stackbond finger strip mosaic tiles CZO949A
For more inspiration about the strip tile, you would love this post: Style Selection: Turquoise Green Finger Stackbone Strip Tile >>
3. Jumbo round + fambe effect
Penny round tile has become the staple in both residential and commercial space, you can opt it for making a vivid and exquiste style you want. The variation of the pattern is natural, the color is a shade between blue and green which makes the tile eye-catchy in apperance. It is a jumbo round shape in 28mm-diameter chip size, smaller size makes a delicate look, while if you want a more contemporary style, the jumbo one is a better option for you. The penny tile works perfectly for wall and backsplash, while when you pick it for floor, it brings the magic!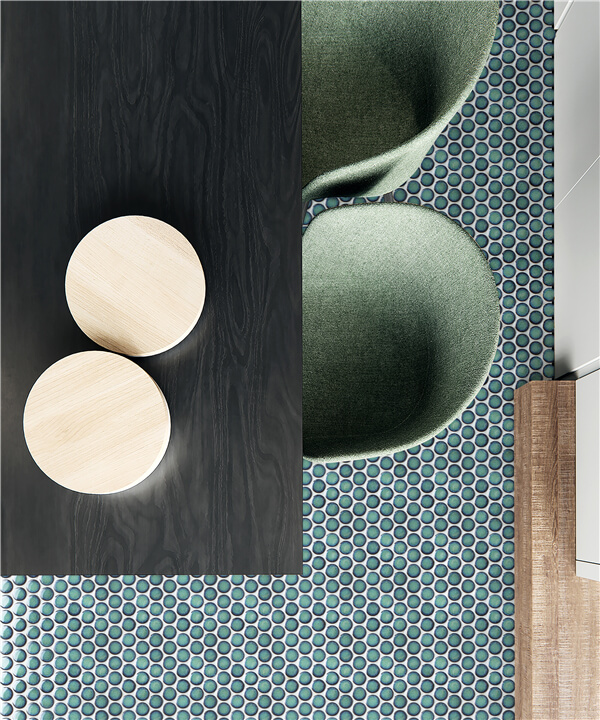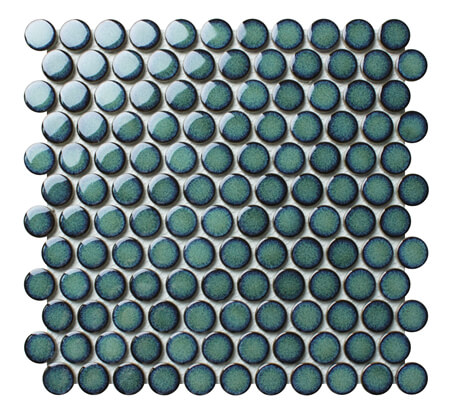 Featured product: 28mm green jumbo penny round mosaic tile CZO938A
Want more round patterns choice? Click to our penny mosaic series >>
4. Jumbo round + lovely pink tone
Pink makes a comeback this year in many fields including fashion, interior designs, etc. Pink is often associated with charm, sweetness and romantic, it can make people feel happy and warm, it is also the reason why most people love it. MM-Mosaic manufacture our pink mosaic tiles in classic round shape for satisfying our clients who are a pink-lover. Take a look at our pink penny tile application, the combination of pink round tiled wall and marble white floor creates an elegant and innocent space.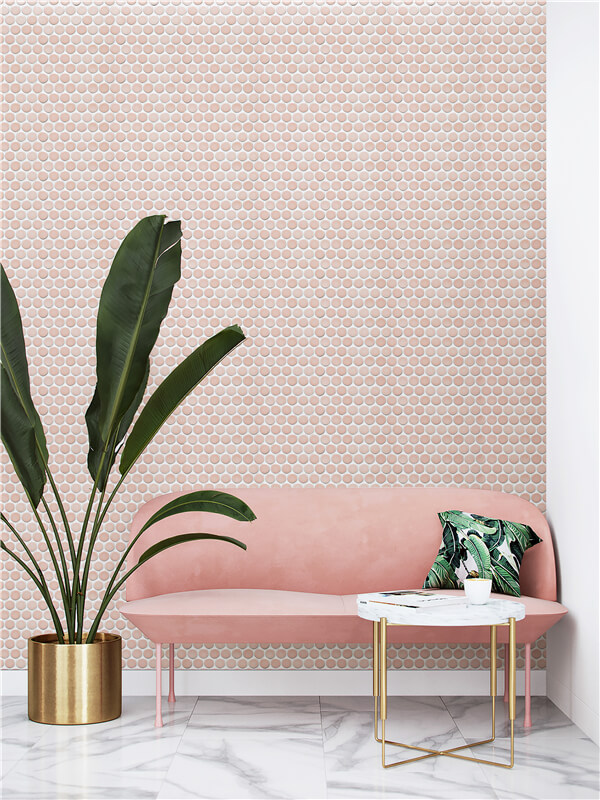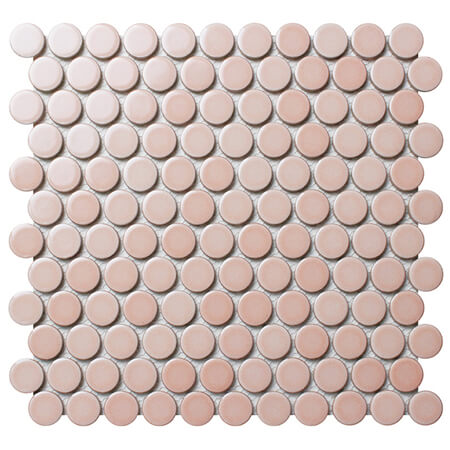 Feature product: 28mm jumbo penny pink mosaic tiles CZO421A
To find how this pink tile spruce up other space, you should not miss this post: Style Selection: 28mm Pretty Pink Penny Round Ceramic Tile >>
5. Herringbone + fambe effect
Herringbone tile pattern as a historic pattern looks modern and classic, it is widely used in beautiful kitchen backsplash and wall cladding. The white herringbone mosaic sheet with subtle texture install a modern backsplash for your kitchen like below. It is incorporated seamlessly and harmoniously with white cabinet and black countertop, producing a timeless kitchen environment.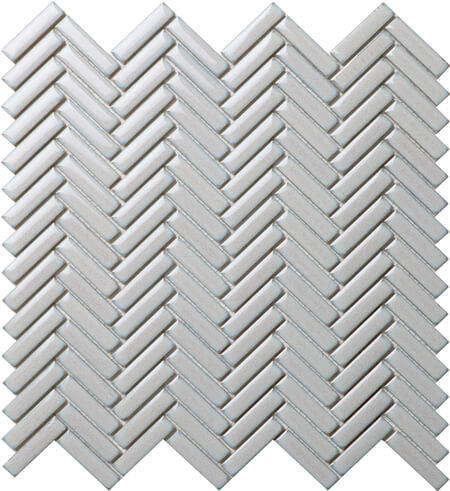 Featured product: ceramic herringbone mosaic CZO352A
If you have passion for herringbone pattern, you would like this post: For Those Who Love The Timeless Beauty Of Herringbone Mosaic Tile >>
6. Fishbone + classic white
Fishbond is also called chevron, the zig-zag pattern can add movements to any spaces, it is the crucial point to distinguish from herringbone. The "V" shape is another popular design to add characters to enhance your home style. Look at the living room below, the white fishbone tiled wall gives a voice to your home, the grey grout color makes the fishbone shape stand out and install a featured wall. The overall grey-white tone makes a scandinavian vibe for comfortable living and lasting home style.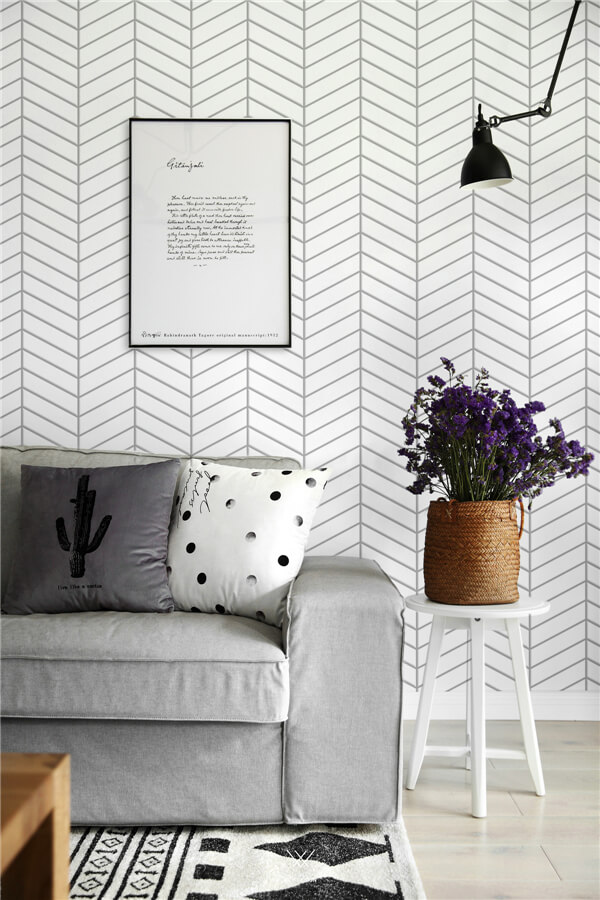 Feature product: white fishbone tiles CZM242B
Want more details about this product? Click to read the post: A New Take On Glazed White Herringbone Tile >>
7. Subway + bianco carrara marble texture
The combination deisgn of mosaic tiles and marble texture is getting trendy these days, especially bianco carrara and calacatta textures. You can find them come in various shapes such as subway, herringbone, hexagon, strips, geometric, etc. Our porcelain tile that looks like carrara marble in subway design well done in wall, backsplash and floors. This product works nice as a floor tile to keep the bathroom space lighter, brighter and larger. Differ from other mosaic tiles with mesh back design, this tile sheet is manufactured in dot joint design, which makes your installation simpler.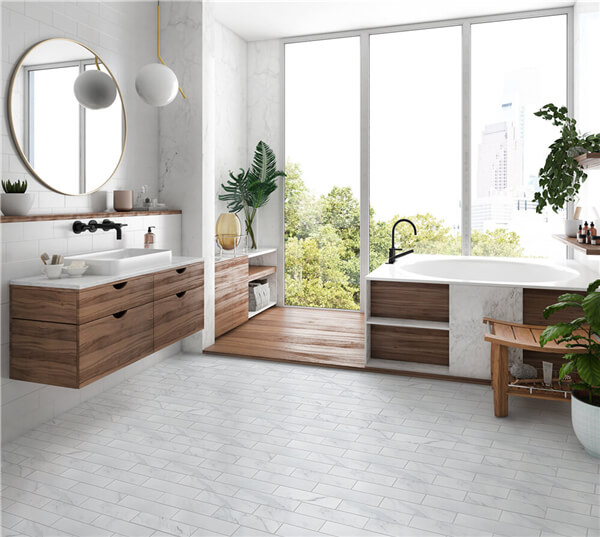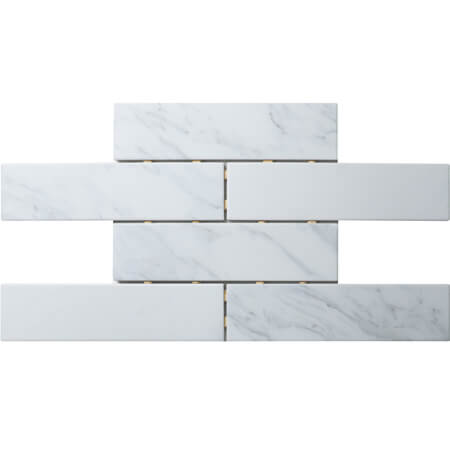 Featured product: carrara porcelain subway tile CZM901B-B
Why carrara tile so prevailing? Find answers from: Go Neat with Carrara Porcelain Tile >>
8. Hexagonal + carrara
Hexagon tile has a long history and this tile has been gracing wall and floors for more than a century. This classical pattern is traditionally used as a white and black combo, and when it meets carrara marble texture, this pattern makes a upgrade in styles and appearance. Like the example below, these tiles give an unfinished wall background a striking apperance and free style. Thanks to the tile in mesh mounted design, it is easy to install and convenient to cut to finish the look you like.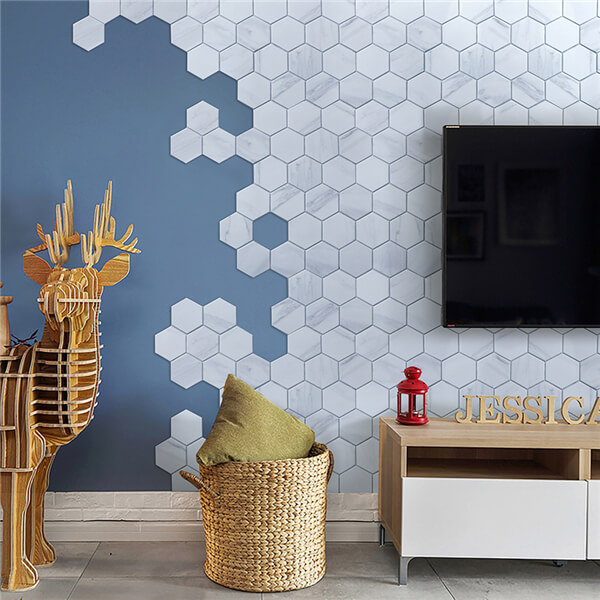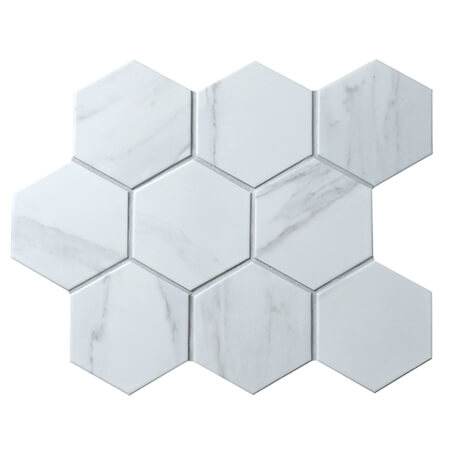 Featured product: carrara white hexagon mosaic tiles CZM932Y
For more marble like mosaic tiles, take a look at our marble look series >>
9. Lantern shape + moroccan style
Arabesque tile, having the shape of lantern, this tile sheet has an undulant and interlocking design, which feels subtle and captivating in interior decoration. These surface patterns can completely distinguish any floors, wall, backsplash from other elements around it. It is a seperated one and not mesh mounted on back, that makes your installation free and more possibilities. You can mixed several colors to install a wall with characters. Like the example below, the combo of black and white arabesque tile evokes the modern and classic look for the shop window.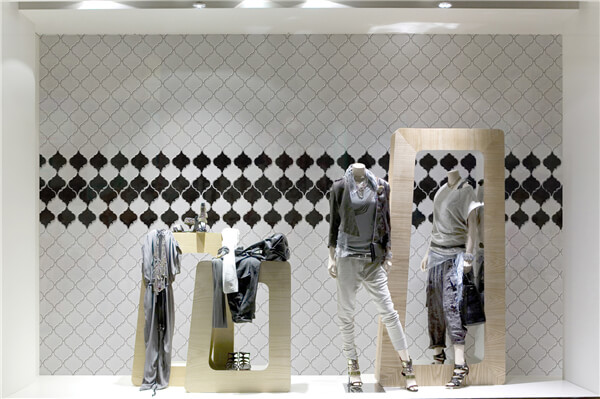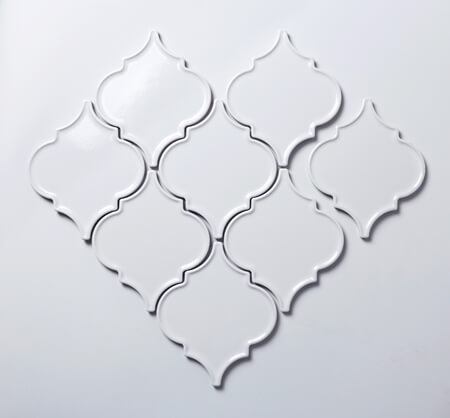 Featured product: white lantern arabesque tile CZG211X
Take a closed look at our arabesque series for more options >>
10. Mosaic art for personality
One of the best tile choice to show your personality is mosaic murals, that can be customized as your request. A stunning mosaic picture can bring a new life to your space. Our mosaic mural supply comes in wide range of pictures and designs made of ceramic, glass and stone for option, you can find one to fit your decoration and create an unique one for yourself. Like the glass murals with tulips pattern, the sparkling flower adds shimmers and luxury beauty to the living room, each mosaic chip is selected strictly to ensure a life-like effect.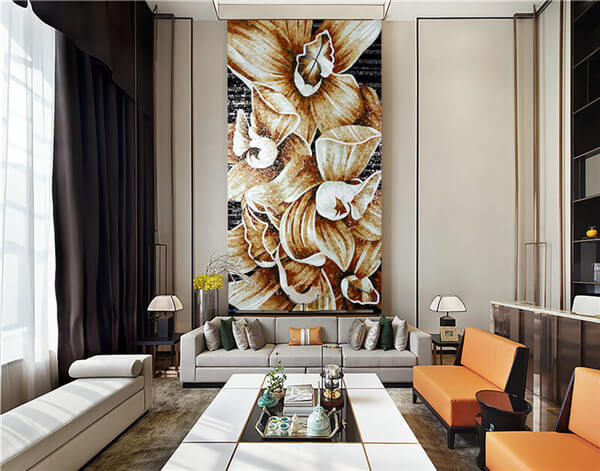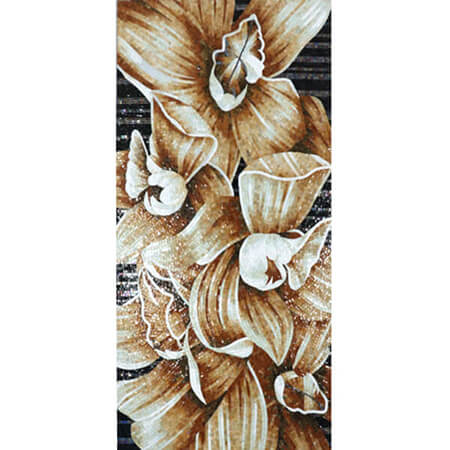 Featured product: Blooming Tulips glass tile mosaic murals patterns KZ003ST
Want to renovate your kitchen with mosaic art, this post gives your great ideas: Beautiful Mosaic Art To Fresh Up Your Kitchen Design >>
Feeling inspired?
If you have a hard decision on buying MM-Mosaic's products, having trouble in choosing which pattern you want, hope you can get inspiration from these top 10 mosaic tiles. Or if you are one of our regular customers, welcome to share the product you like best with us.

MM-Mosaic has into mosaic supplies wholesale for over 10 years, we are committed to supply high quality and most professional service to all customers all over the world. Do not hesitate to contact us for best pricing and more details if you are in market for our products.