Basic Knowledge of Glass Mosaic Tiles
The developing processing tech offers endless possibility for the innovation of building materials in terms of size, shape, color and pattern. The materials used to make glass mosaic tiles is no exception and can be shaped into hundreds of thousands of styles. What's more, glass mosaic tiles have a very broad spectrum of application because of its impermeability. Glass has an excellent performance on water resistance. Industry specialists call it a material of zero water absorption rate. Unlike other materials which are sensitive to humidity and temperature, glass has stable chemical property, making it free from any shrinkage or expansion issue. For these reasons, glass mosaic tiles have general application in outdoor design and special environment such as moist shower rooms and water-filled swimming pools.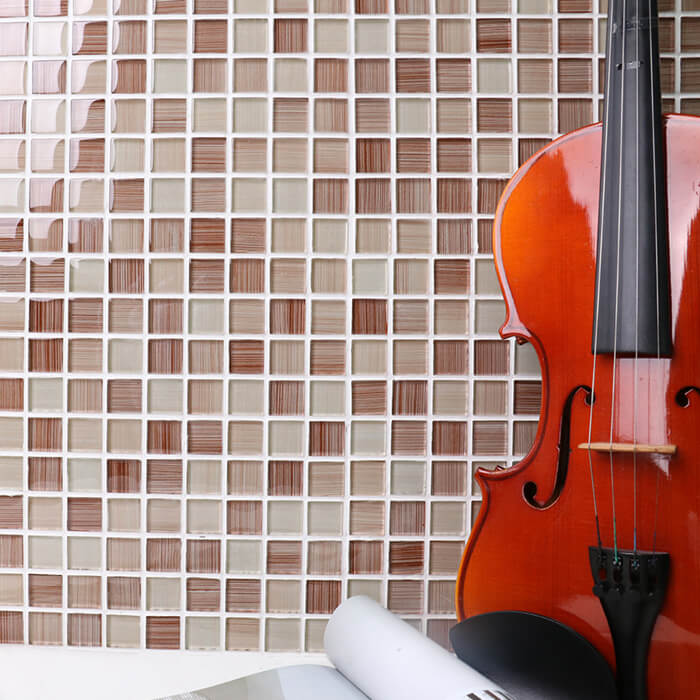 Glass mosaic tiles can add aesthetic value to your property and have no limitation in the place to be used in. Kitchen tile backsplash, bedroom flooring, living room wall and glass tile pool waterline, you can have the wildest brain storm and tile the mosaics on any surface to create a unique style. Appropriate use of glass mosaic tiles is a splendid décor to highlight your home design and enhances it to a higher level.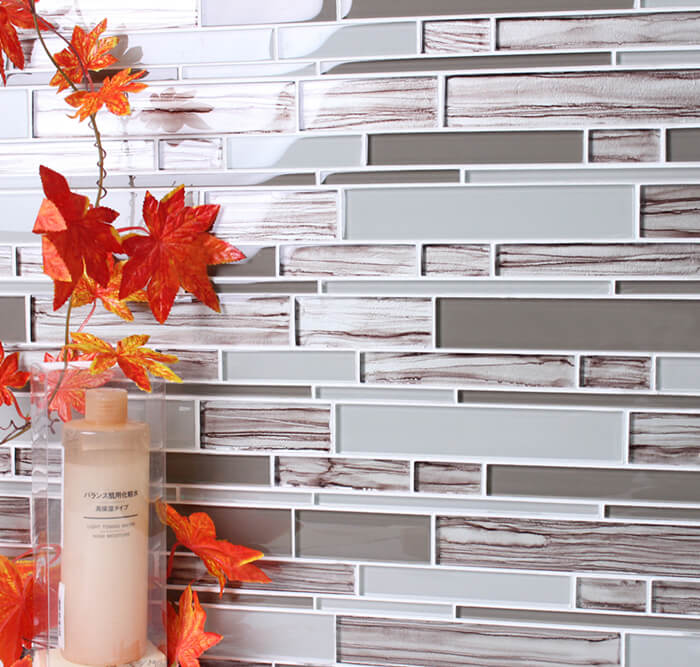 decorative glass strip mosaic RZH004AL
At the very beginning, there are few types of glass mosaic. Vitreous glass mosaic is the typical one, which is generally used in swimming pool tiling. As the industry workmanship develops, there occurs many more types:
Crystal glass mosaic, just as the name implies, this is a see-through type, which can present glossy color if back painted.
Iridescent glass mosaic, which have a iridescent coating on the surface, can reflect different spectrums and colors, the type that is best for dance club, karaoke and other entertainment places.
Metallic glass mosaic, which is a very special type in which the color is melted into the glass at extremely high temperature rather than painted on the surface, so it hardly loses the color.
Van Gogh glass mosaic goes through the similar processing steps as metallic glass mosaic does. One of the distinguishing features is that Van Gogh shows its texture like oil painting's.
Stone glass mosaic is another kind of popular decorative building material. Craftsmen think outside the box and blend glass and stone into stone glass mosaic, which turns out a no better beautiful design. In fact, glass-travertine mosaic and glass-metal mosaic are also creative match that have a nice visual effect.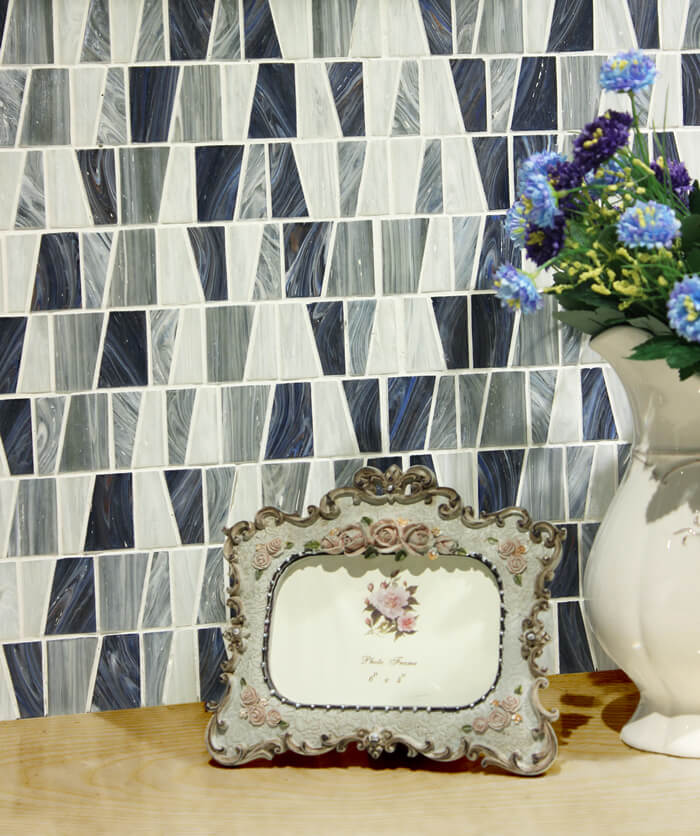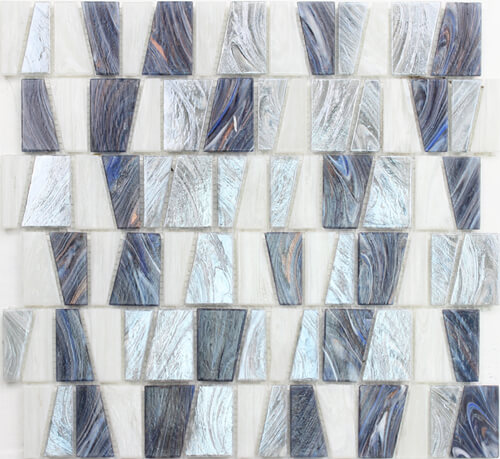 trapezoid mosaic tile in glass GZO037L
How to Calculate the Quantity of Mosaic Tile You Need?
To know some simple measuring and calculating methods can help you decide how much tile you will need to prepare before the project breaks ground. If you are going to buy tiles online, this will help you know about the cost; if you are planning to hire an installer or let the contractor take charge, this will help you estimate the installation quote and beat a bargain if it exceeds your budget. The following measuring guideline is applicable to all kinds of mosaic tiles, including ceramic, porcelain, glass, stone, shell, etc. Spending time to measure and double check the data will make your cost and time more effective.
Make a draft on paper. It is highly suggested to start with some separated sketches of the areas you are going to put the tiles on. Use graph paper would be better because it has printed small squares on which you can sketch the area more specific. If you think it is much more convenient working on APP program, then use it and its powerful functions can be helpful too.
Measure the whole area then blank the space where need no tiling such as doors, windows and other functional or decorative features. If you are decorating the walls with border mosaic tile, then settle down its measurement first and subtract the area just mentioned as the above. Be careful and double check the data, make sure there is no fault in the measurement.
Add another 8% -15% to the amount of mosaic tiles you have calculated in order to adjust for mistakes, cuts and waste during installation and future maintaining needs such as discolored and broken tiles. Moreover, it is always the best to order all the tiles you require at once. Even you can replenish from the same mosaic tile manufacturer at the second time, color shade or texture of the tiles might have little difference due to possible variables in each batch.
MM-Mosaic brings over 15 years of experience in providing premium mosaics and commercial and residential tiling ideas to enhance the space of style and atmosphere. We are endeavoring to help you create living room, kitchen, bedroom, bathroom where you are proud to share with your family and friends. Visit us TODAY at https://www.mm-mosaic.com/.