Across the ages, black and white is by no means inferior than the other color matching. No matter classic or stylish, black and white can achieve. Aesthetic versatility is the biggest reason why designers love binging this element into interior decoration. Each detail behaves house owners' sense of taste, and black and white reveals their pursuit for things that are timeless. Ask yourself whether you really want iridescence for attention calling before making a decision about adding what colors to the interiors. Read on this article if you still cannot make up your mind. You will have a satisfying answer from MM-Mosaic.
Most bathrooms are paved with large floor tiles, while there are other options, mosaic floor tile. It is consisted of small pieces in a specific shape, such as square, round and hexagon with mesh on back. Small-chip combination is also the reason why mosaic flooring somewhat has anti slip quality, which makes itself very suitable for wet room paving. The attached bathroom design is a great example. The black mixed white hexagon mosaic floor tile serves as the focal part and really highlights the original bathroom.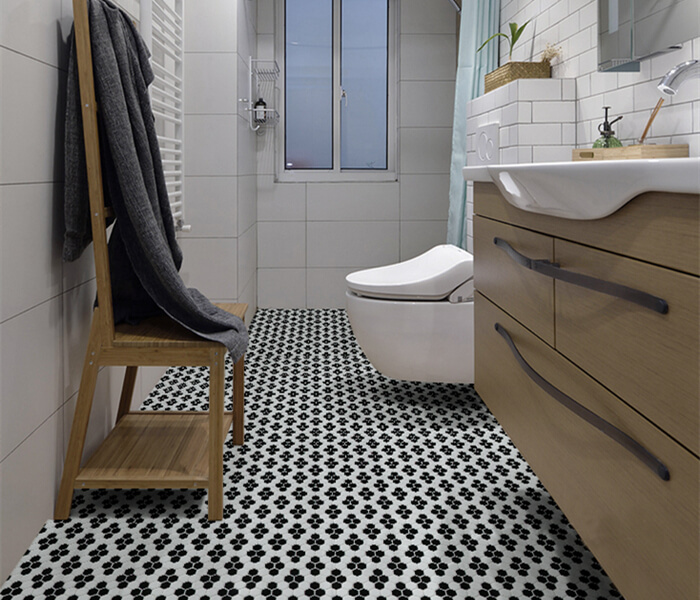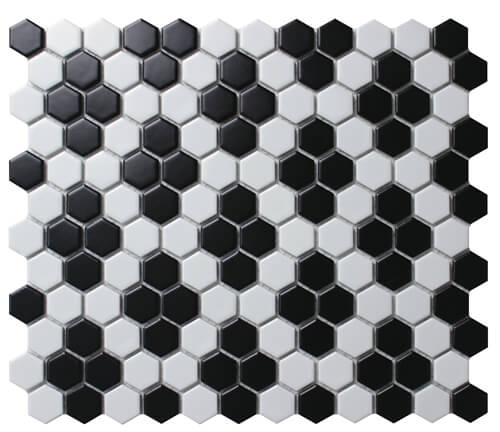 black white hexagon mosaic floor tile shower CZM059Y
You will find out black and white element is the design theme of this bathroom – black and white geometric wall, black textured marble washstand and the black white hexagon mosaic floor. All these elements combine well together and make the bathroom simple yet significant. As shown below, this glazed ceramic mosaic tile reflects light and shows a sparkling appearance, which manifests it is covered with quality glaze and processed in a accurate temperature.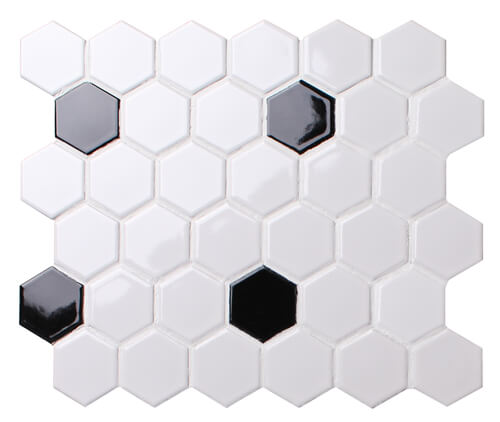 black & white glazed ceramic bathroom tile CZG056Y
Arrow shape is a nice looking geometric pattern that has fluent lines. Black and white rhombus chips interlace together exerting a contrasting effect. The pattern is many rhombuses placed at 45 degree as if wheat growing upwards. So it is a great decoration for room that does not have a high ceiling. Just install this rhombus mosaic tile, often called as diamond backsplash tile, you will see its magic of enlarging your living room visually just as the attached picture shows.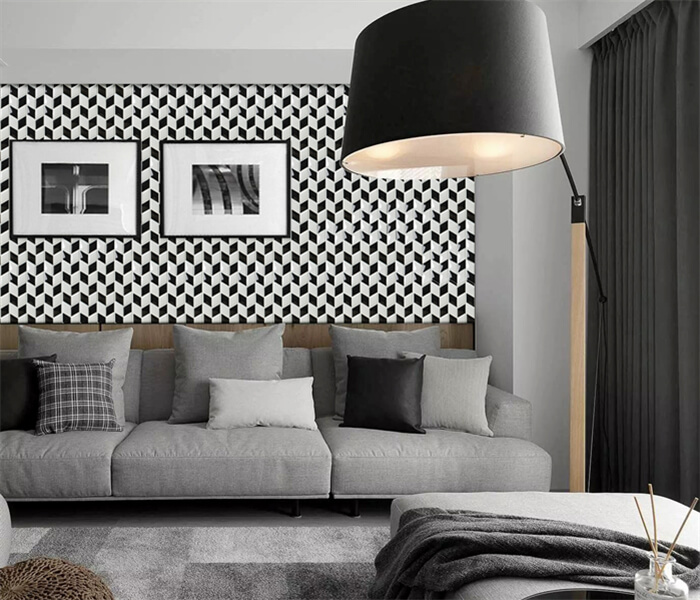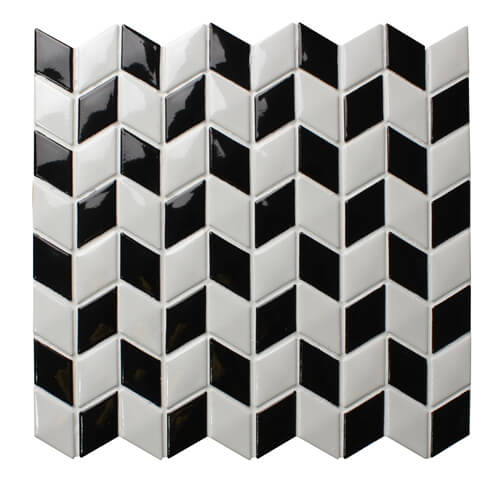 black white diamond rhombus backsplash tile CZG057ML
Fish scale shape shares a similar vision principle to rhombus. It has a upward curve on the top and a cusp on the bottom so if many combined, there will come out a surprising visual effect. As shown in the attached reception room, the backsplash is set between a set of white furniture – top is a white cabinet and bottom is a white long table. Imagine if the backsplash is left blank, then it will become a sterile design that has no highlight. Instead, if this is a black and white fish scale tile backsplash, the entire design will be greatly enhanced.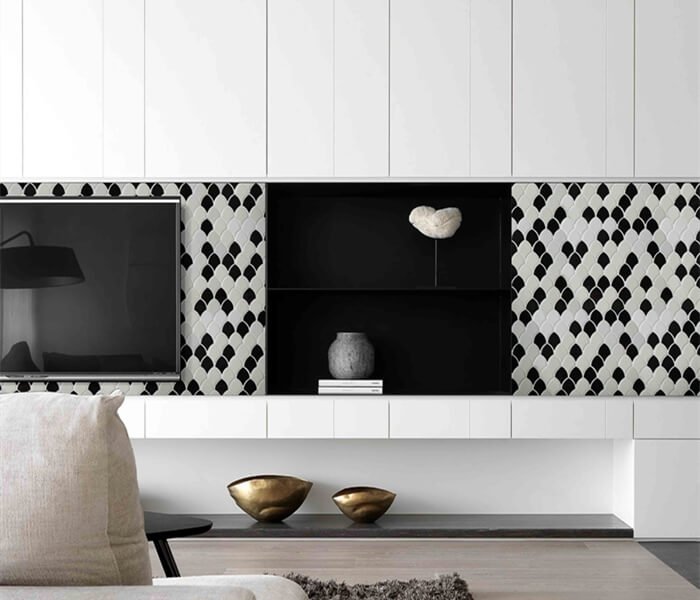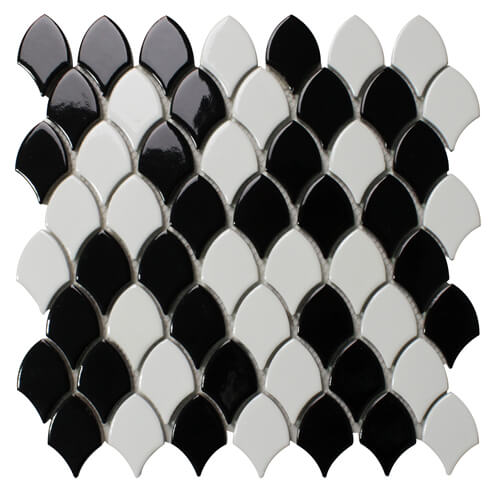 random black white fish scale backsplash tile CZG054ML
White octagon design has eternal appeal, particularly matched with square black chips. This bathroom has received amazing effect by using octagon mosaic floor tile. It has a matte surface, though most ceramic tiles have reflective covering. Matte surface gives a restful look while other design elements of the room may appear glossy like the white glazed subway tile on wall and the shiny white pedestal toilet. For this bathroom design, black and white is used to create a simple yet modern style.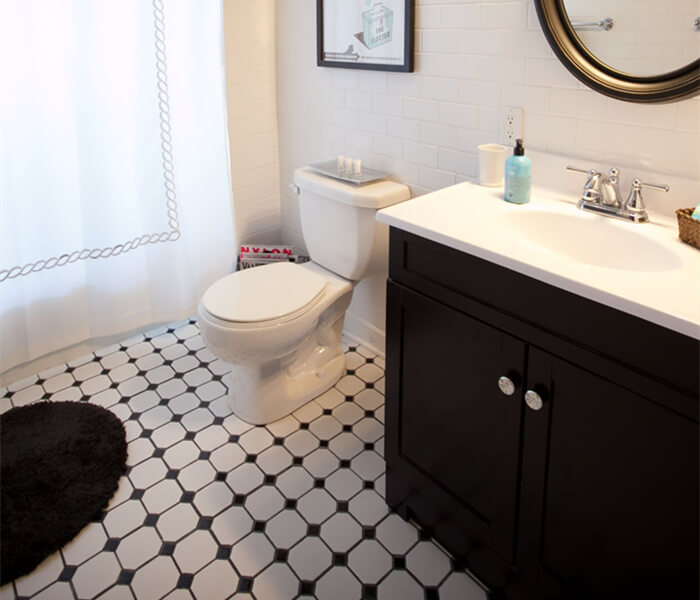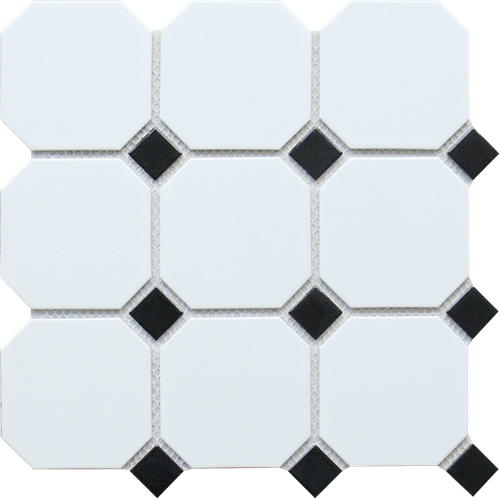 modern black & white octagon mosaic tile CZH006B
A simple flower pattern is created by this uncommon shape of the tile – penny round, which is mellow and mild. Several black dots are finely arranged among the other white dots. They are spreading towards six different directions like blossoming flower. When many white mosaic tile sheets with black flower pattern put together, there will come out an elegant decorative backsplash. Bedroom that installs with this tile on wall will break the two-dimensional layout, catching an impressive beauty.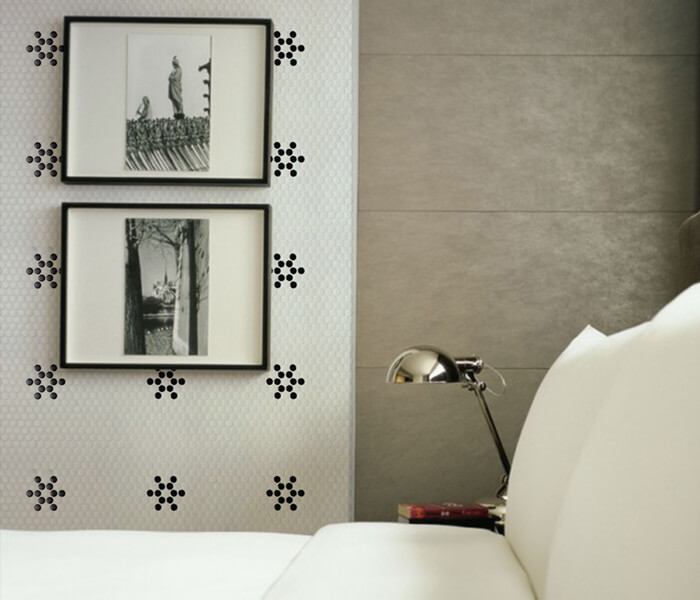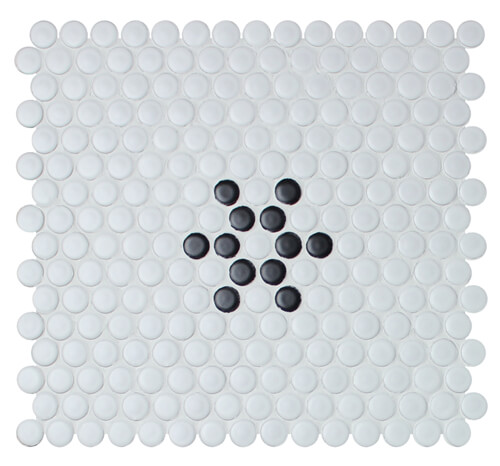 black & white bedroom backsplash penny tile CZM039B
It is a great chance to add interesting element to your cloakroom. Inspired by jigsaw puzzle, this interlocking ceramic floor tiles does its own way to enhance the room. In order to balance the tile design, color scheme cannot be too complicated. Otherwise, if uses bright colors like red and yellow for example, the tile is very like to ruin your design. Instead, black and white is not only acting harmoniously with each other but also make the room integrated. It is a recommended match for chic yet not dramatic room design.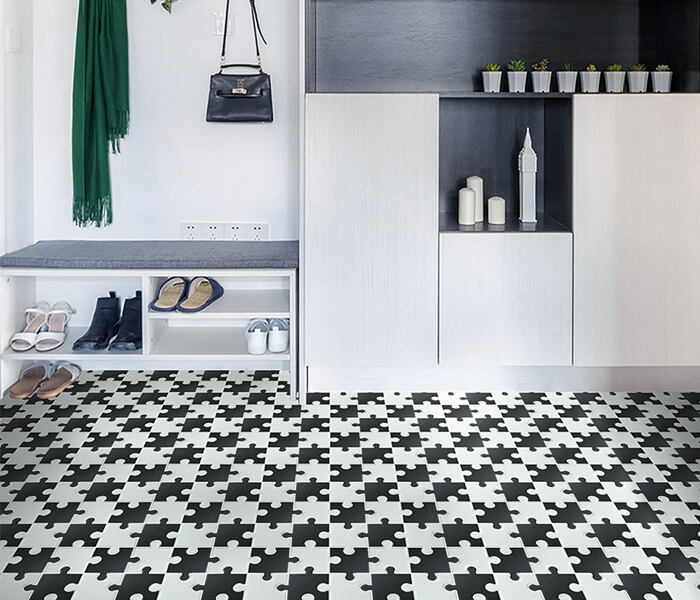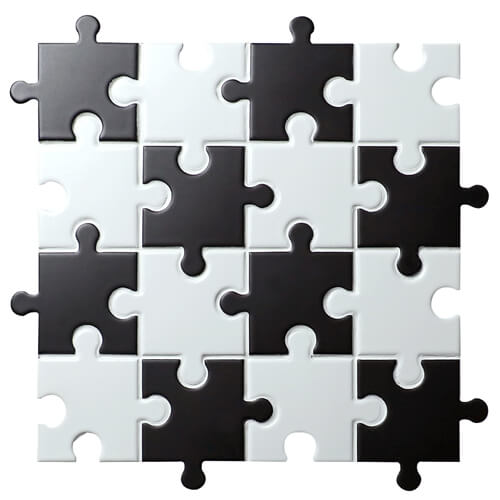 puzzle design interlocking ceramic floor tiles CZG008JM
Ink jet printing technology is put to full use in this black and white pattern tile. It is digitally printed on some geometric patterns like square, hexagon, round, cross, etc. This tile is not suggested being used in large part due to the complicated pattern. Or else the room will become too dazzling. There is a good example for you about how to blend this tile perfectly in room while make all the elements balanced. As you can see in the attached corner of a reading groom, host installed this tile just on the one third part of the wall below and hid some section behind the bookshelf. The gray wall and the gray flax couch are matching to the tile.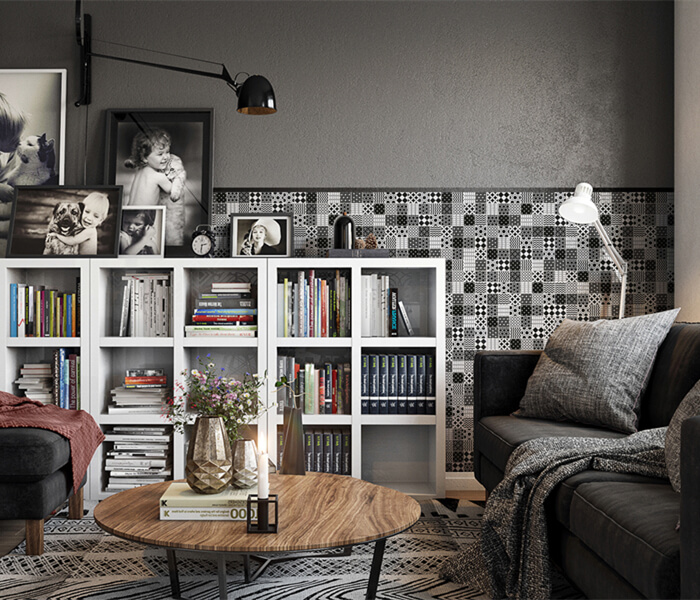 black and white geometric pattern tile CKO051JY
Of course there is also a far more artistic option of black and white decoration. This star pattern mosaic tile art is simple but delicate. With just two colors can it achieve a splendid effect. White grouted wall is a little bit dull for a spiritoso design. Why not install a star patterned mosaic tile mural? Your living room will get improved as the attached interior design shows. It is eye pleasing and can add aesthetic value to your house.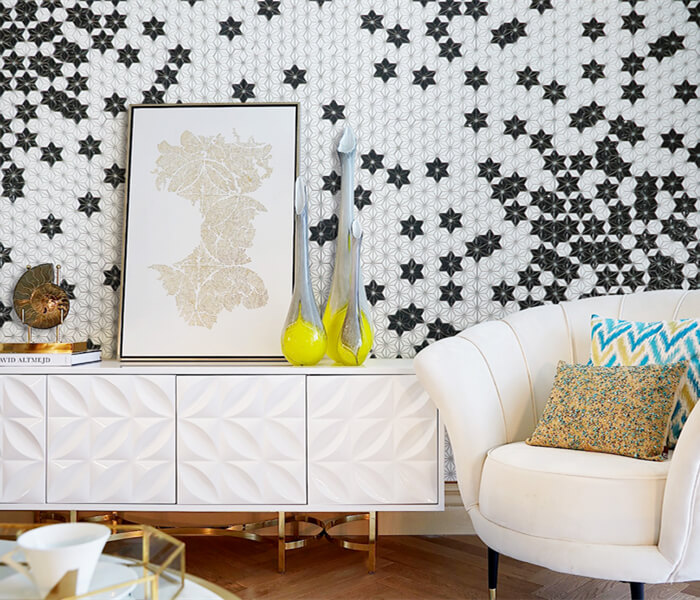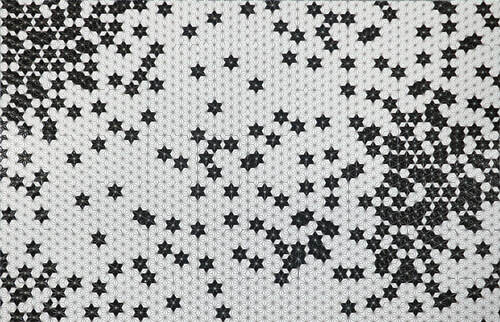 delicate star pattern mosaic tile mural KZ011ST
Making color choices can be a tricky process. Black and white has enduring charm. No matter tiles and mosaics, if you so prefer, come in black and white patterns. Find more backsplash tile ideas from MM-Mosaic, one of the tile manufacturers in mainland China that devote to offer different kinds of tile products.