If you are about to install a new fireplace, it is time to think how to finish the surround of your fireplace. Whatever the fireplace style is, you need to select one kind of material to decorate your firepalce aesthetically. Homeowners have many choices of materials, and I prefer to stone veneer that can blend in perfectly with a fireplace. Following you will find some reasons to install manufactured stone veneer on fireplace.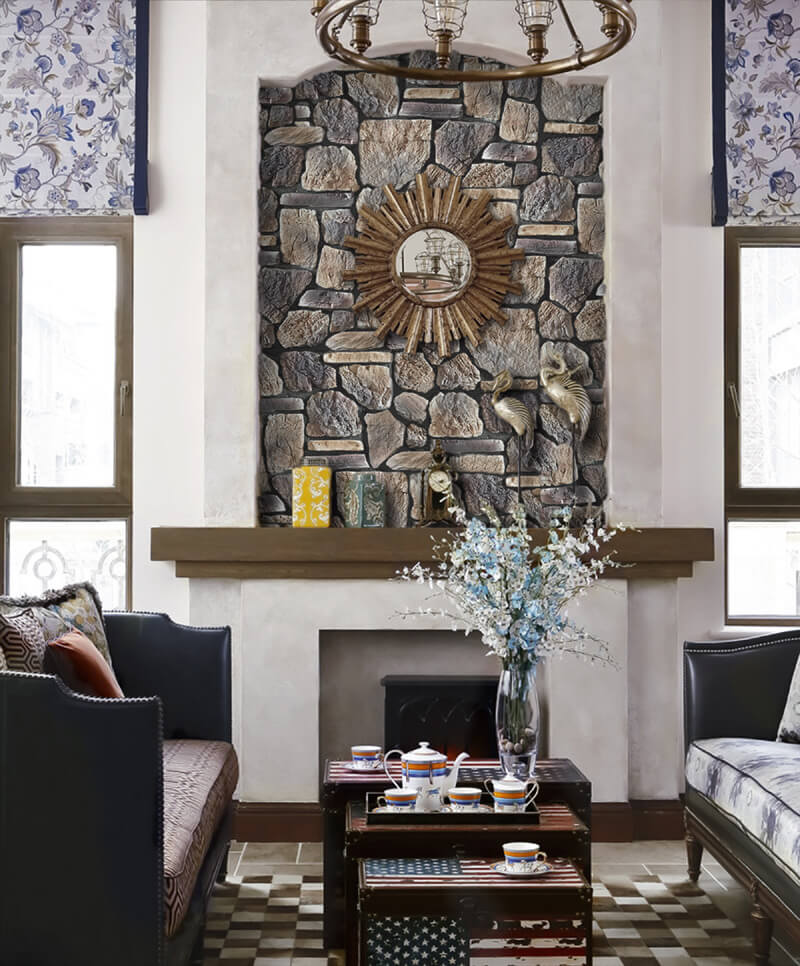 Featured product: Cottage mixing stone veneer OZO036YM
1. Resistant to Heat
It is great to think of an open fire if you want to get warmth , but not good if your internal wall is not designed to take radiant heat. So, installing manufactured stone cladding are easily and totally resistant to heat. These artificial stone is made of concrete, which has the thickness and density, ideal for protecting the internal wall.
2. Uninflammable
Flammability is a vital concern when choosing the building material for fireplace. Faux stone veneer is non-combustible and safe for fireplace, it features zero fuel and make no smoke.
3. Hard Quality
Stone veneer siding features a very hard material by compose of high quality cements. It is really hard and impact resistant, you can be confident with it and your installed fireplace will be hard wearing. This means that your fireplace will keep new looking and good condition as years to come. You cannot deny that nothing would be worse than broken ceramic mosaic tiles used on a fireplace that has been knock during use.
4. Easy Cleaning
Wear and tear is unavoidable in a house everyday, requesting regular maintenance and cleaning. The surface of artificial stone cladding is non-porous and waterproof, that is convenient for you to wipe down and clean the surface. It takes you few times and energy to do it and you don't need to worry about it getting stains. You and me both want our stone veneer being pristine, never being spoilt in its look with unwanted stains.
5. Outstanding Style
Let's look at another benefit of fake stone veneer, the interior design qualities it has. Artificial stone cladding is the true replica of natural stone, that means you can get the affordable style, the look and feel that natural stone has and spend less cost for your firreplace with this manufactured product.
6. Make a Stunning Feature
By cladding your fireplace with manufactured stone veneer to create a stunning feature. Let it be the focus in your living room and talking piece amongst your guests. Manufactured stone cladding offers lower price and lightweight benefit, so you can install more manufactured stone to your fireplace than natural stone on the same budget, making a striking effect to the fireplace.
7. Light Weight
This rock veneer weighs much less than natural stone, that can provide amount of savings in shipping and labor fees, as well as reducing the structural reinforcing.
8. Simple Installation
Due to the lightweight and flexible shapes and size, you can also install the product on your own. What you need to do is to follow the supplier's instructions and pay attentions to those basic precautions.
9. Color Can Be Customized
Artificial stone veneer supplies wide colors for option, that is a big advantage for home decoration. You can get the colors and shades you want to achieve the best interior decor. Manufactured stone veneer can be produced in any colors you want, this flexibility cannot be provided by natural stone. You can get the unique color and the unqiue fireplace, that's perfect.
So, if you are going to start a new fireplace project or remodel a older one, manufactured stone veneer would be an awesome choice. MM-Mosaic here can supply you premium quality stone veneer in different style, check out our Stone&Brick series to find the one to fit your taste. Feel free to contact us for best price and sample details.