The front entryway is the first impression guests get from your house. Intentionally or not, it sets the whole hue for what's to come from the rest of your interior space. Therefore, you want to make sure that it represents your taste just as much as your other room.
Fortunately, all it takes is a few key decorations to make an entrance feel welcoming, look trendiness, and be fully functional, no matter how incommodious it is. When it comes to dressing up your entryway, the secret is to make the layout of the space guide your inspiration.
Pink Inspiration
For example, if your entryway is more of a hallway just like the below design of our England customer, considering adding a vivacious penny round tile with "YOU LOOK GOOD" to guide guests inside to the main areas of the house.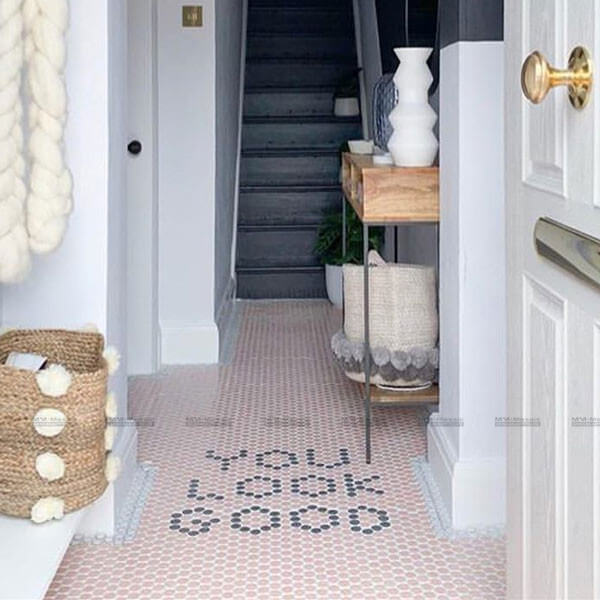 The delicate linen waste is just the thing for any common entryway, which is large enough to make a statement to make your space look clean and organized. As a whole, not only is the design entirely on-trend with all kinds of details and natural material, but it's also practical.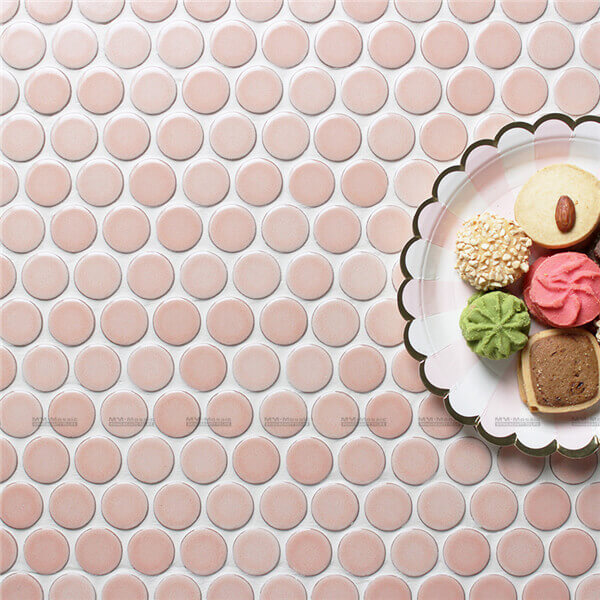 Featured Product: 28mm Jumbo Penny Round Pink CZO421A
Besides being used this porcelain mosaic on the floor, it can also be used on the entrance wall.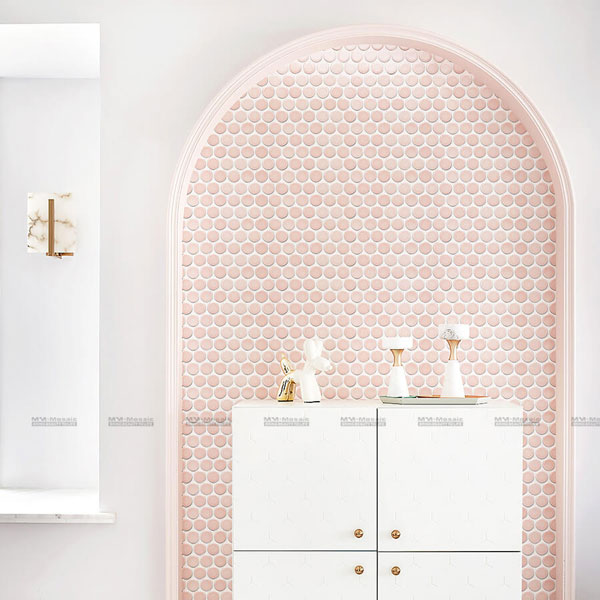 Trend Hue
However, if all you have is a small corner, you might want to source a simple-style wall mirror to create the illusion of more space. In order to complete the look, we choose to put a black minimalist table under this large mirror. What's more, installing the same style wall hook or placing a chic basket can keep your entryway from feeling cluttered and create a place to hang bags and clothes when you finishing work in after a long day.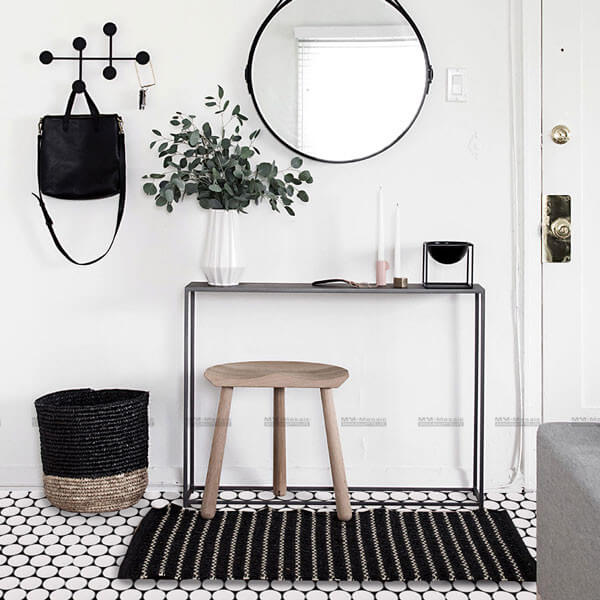 Featured Product: Cookie Circle Ceramic Mosaic Matt White CZM241D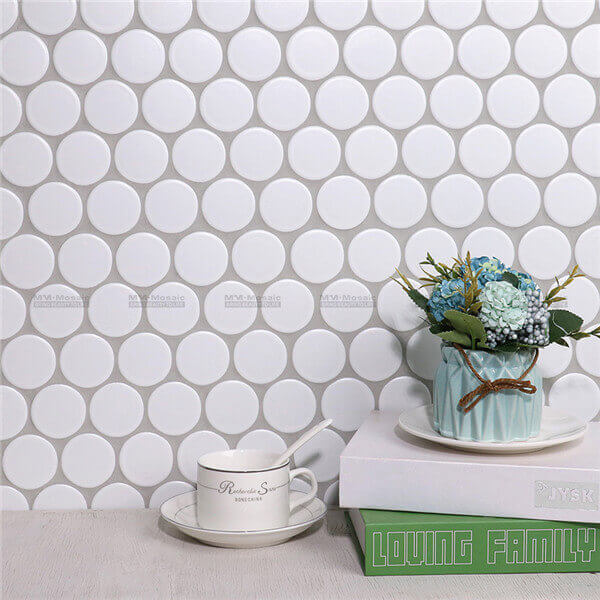 Fantastic Texture
In spite of your floor space is limited, you can place a wooden single storage cabinet or long wall hook, which keeps your stuff tidy. Putting emerald green potted plants on the bench will refresh your entrance air. And, what is even more important, the penny round mosaic serves as a finishing touch of this design. Not only the elegant tone brights space, but the irregular texture creates a subtle sophisticated contrast between the pure color of other furniture appearance.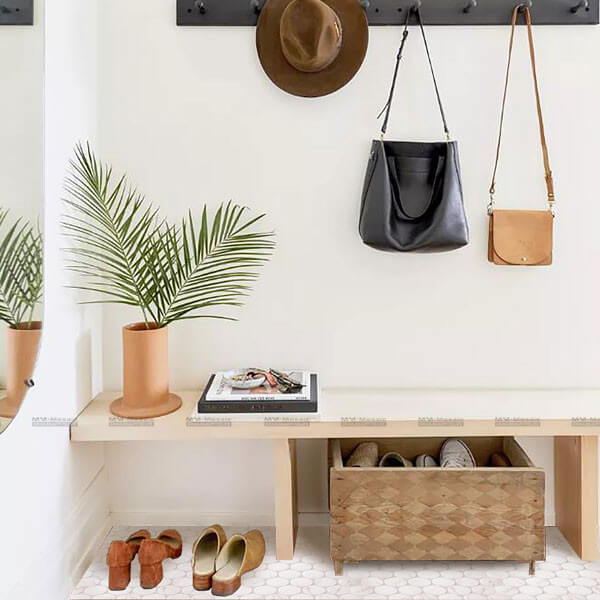 Featured Product: Cookie Circle Ceramic Mosaic Carrara CZO901D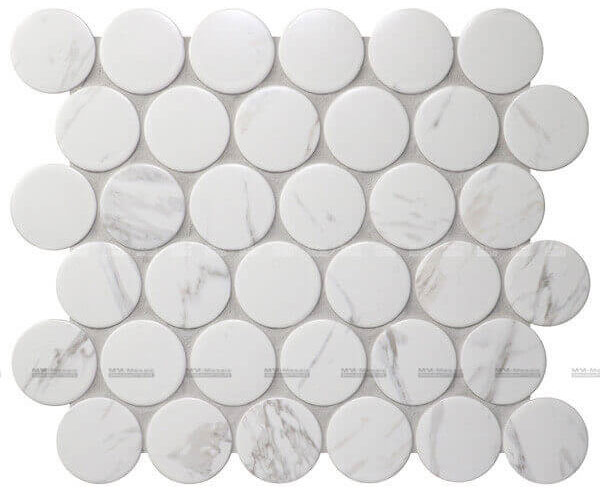 Normcore Space
Stunning pure black penny round mosaic might catch your attention at the first moment. For most men, the simple and normcore look might appeal to them. If someone prefers the more minimalist space but still keep the functionality of a bench, a bench without storage can be accepted, which have the ability to combine other decor and the look of the entryway together and can go a long way towards warming up your entrance.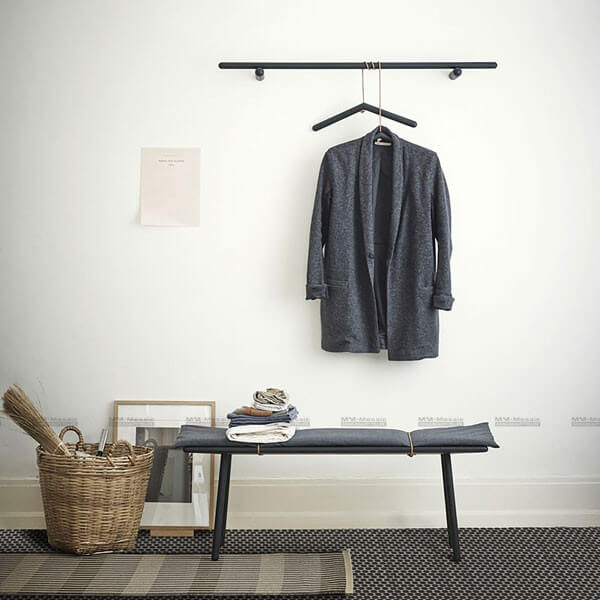 Featured Product: 12.7mm Unglazed Penny Round Black CZO137B
Get any entryway inspiration? Inquiry us for more samples to touch, appreciate and be attracted by our premium mosaics in person. Wishfully, our entryway design can give some thoughts for your home projects. MM-Mosaic is interested in hearing what inspires you!