Carrara marble mosaic tile is one kind of elegant and natural tile style which is trendy in today's residential and commercial interior projects. Made of natural marble stone, they are versatile in wall, backsplash as well as floor covering, bringing a timeless natural beauty to any spaces. If you are looking for a carrara white marble mosaic pattern for your upcoming remodeling project, and still have no idea to choose which tile pattern, then you should not miss the following 3 surface patterns, they are so classical and popular among our customers. Read on and discover more about them.

1. Hexagon Carrara White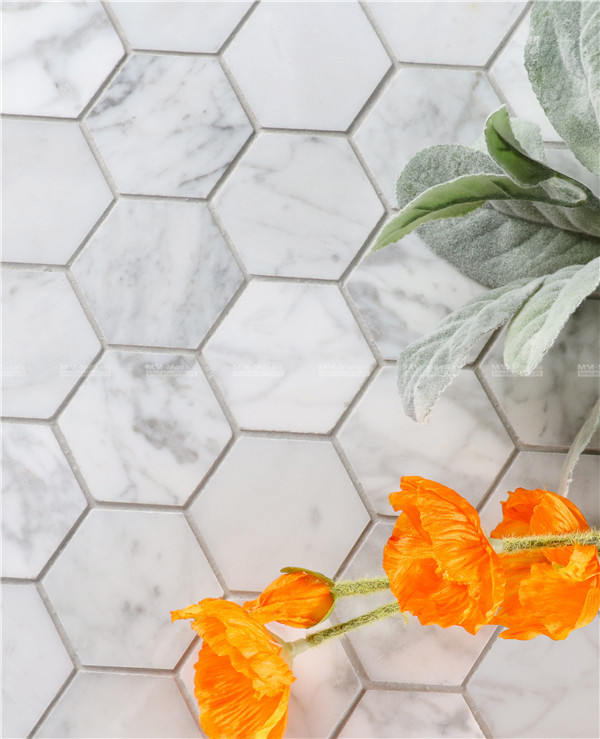 Featured product: 2" hexagon carrara marble tile ZOE5902
The Bianco Carrara white waterjet marble 2" hexagon mosaic tile is an exclusive marble pattern that is one of the best-selling marble stone mosaics due to its classical hexagon shape and exquisite white and gray veining. The surface pattern is polished, wear-resistant and skid-resistant, suitable for both walls and floors.
Manufactured with water jet cutting technique, this tile pattern has precise shapes and smooth lines. It is mesh-mounted on back, that makes it easy to cut to fit any corners and simpler to install. With 8.5mm thickness, this product provides a touch of strong quality, it is not easy to get scratched and break, working wonderfully with long service life.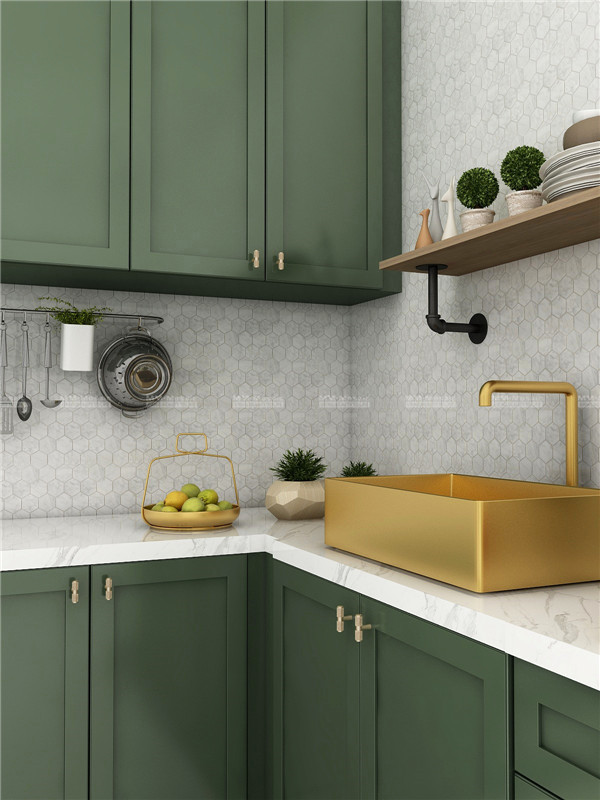 Undoubtedly, the 2" hexagon carrara tile works beautifully as a perfect backsplash tile for kitchen or bathroom. Take a look at the above kitchen, tiling the back splash area to the whole wall, it creates a neat space comfortable for food preparation. The tile is easy to fit different home styles, paired seamlessly with the vintage green cabinets, marble countertop and copper wash basin, and structures a modern kitchen that won't go out of date.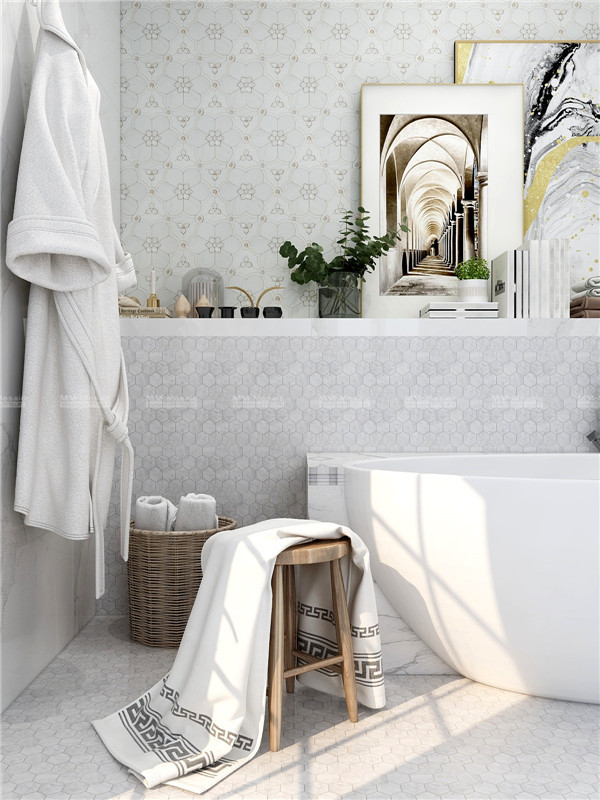 If you are seeking a tile pattern that are workable for your bathroom wall and flooring, consider this hexagon carrara marble pattern. Let this tile go floor-to-wall, it will make a statement to your bathroom and break your old opinion on tiling way. Here you can find a fascinating shower area, composed of big-size bathtub, carrara hexagon tiling half wall to floor, artistic waterjet flower tiling wall, hanging picture and some small decorative items. It goes at a minimalist neutral tone, a very popular solution for brightening any small bathroom spaces.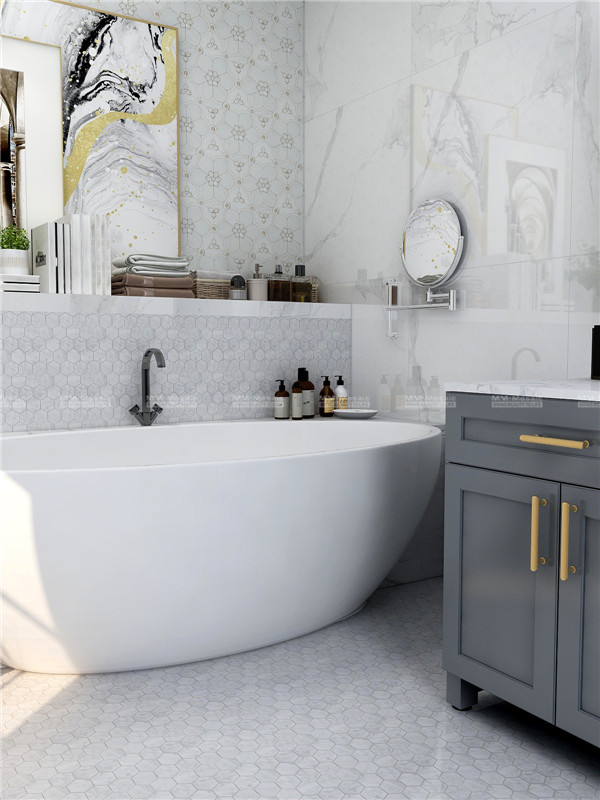 Tile shown: 2" waterjet marble carrara hex mosaic tiles for half wall-to-floor + water jet flower mosaic tile for upper wall cover + big size calacatta porcelain tiles for the size wall
2. Arabesque Carrara White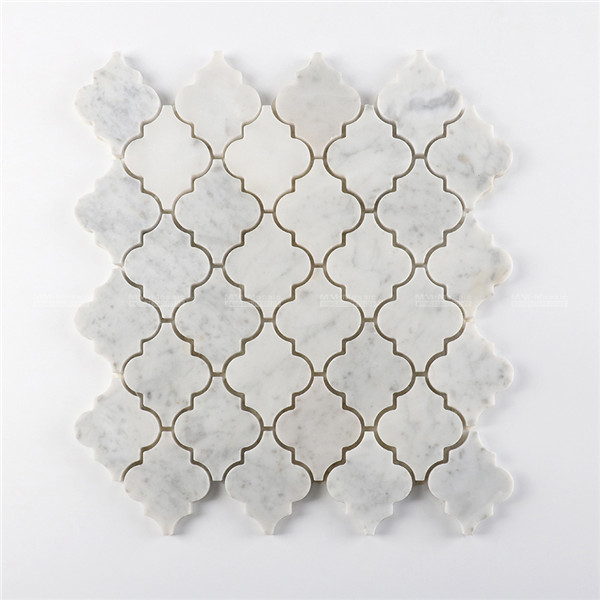 Featured product: Italian marble carrara white arabesque waterjet tile ZOE5903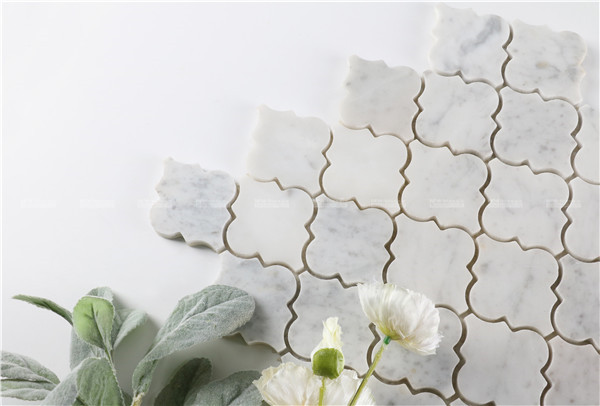 This waterjet arabesque mosaic provides a stuninng white appearance for both residential and commercial project, it has a classic color of endless beauty, extremely elegant touch, subtle and smooth textures.
3. Leaf Shape Carrara White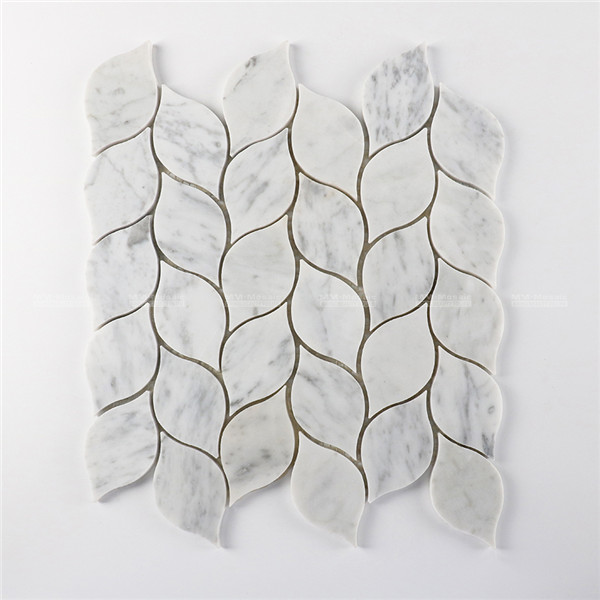 Featured product: Italian marble bianco carrara leaf mosaic tile ZOE5901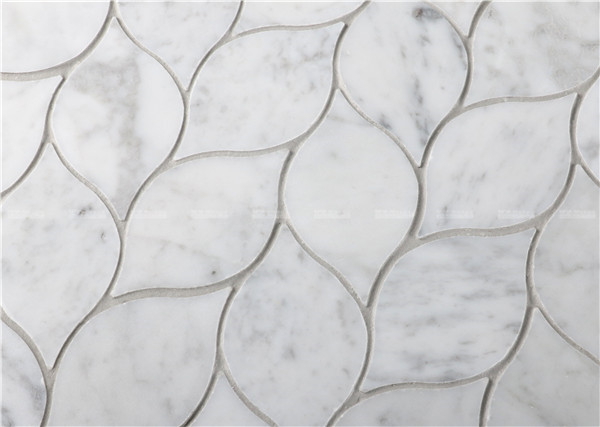 This leaf marble mosaic in classic bianco carrara white color can certainly provide a strong visual effect and make a striking look for your kitchen backsplash, wall and floor design. The leaf shape and lines is solid by using waterjet cut tech.
These 3 Bianco Carrara marble mosaic patterns are ideal picks for modern simple interior decoration, widely used in kitchen, bathroom, shower, living room. Good news that they are in regular stock and can ship within 7 days. If you are in market for these surface patterns or need a sample, contact us now >>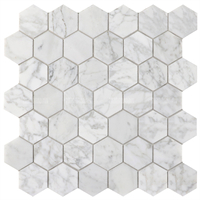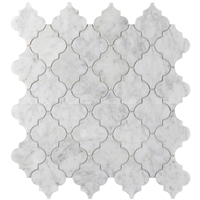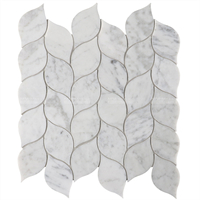 1. ZOE5902 / 2. ZOE5903 / 3. ZOE5901
If you are bold enough and want more creative waterjet marble patterns, you would like to read: 5 New Distinct Design With Waterjet Marble Mosaic Tile >>
For more water jet mosaic marble tile for sale, please do not hesitate to contact MM-Mosaic for catalog details. MM-Mosaic is a premium mosaic tile company from China, with wide range product collections and considerate services, we have cooperated with wholesalers, distributors, retailer, supermarket, interior designers and architects worldwide for many years. And we are looking forward to working with you now!