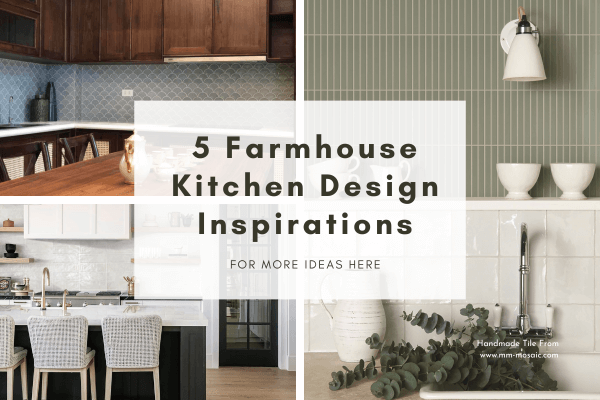 Indulge in the warmth and charm of a modern farmhouse kitchen, where every meal preparation becomes a delightful experience. Drawing inspiration from the simplicity of farmhouse life, this style combines rustic elements with a touch of contemporary refinement. The result? A space that exudes a repurposed and comforting country vibe while embracing modern design sensibilities.
Our versatile handmade tiles are designed to seamlessly complement any style! Get ready to be inspired by our curated collection of kitchen tile design ideas that embrace the captivating essence of a modern farmhouse aesthetic. We believe these ideas will ignite your creativity and empower you to envision the kitchen remodel you've always dreamed of. Let's embark on this exciting journey together and transform your kitchen into a space that reflects your unique style and brings your dreams to life. Here are 5 modern and chic ideas...
#1 Classic Subway Tile
One iconic feature of the modern farmhouse style is the use of exposed brick. However, for a creative and contemporary twist, we suggest replacing the brick with subway tile. Whether installed in a traditional layout or arranged in a herringbone pattern, subway tile offers the same aesthetic appeal while providing added convenience. With its ceramic material, this farmhouse backsplash for kitchens is not only visually appealing but also much easier to clean. Embrace the charm of the modern farmhouse style while enjoying the practical benefits of subway tile in your kitchen design.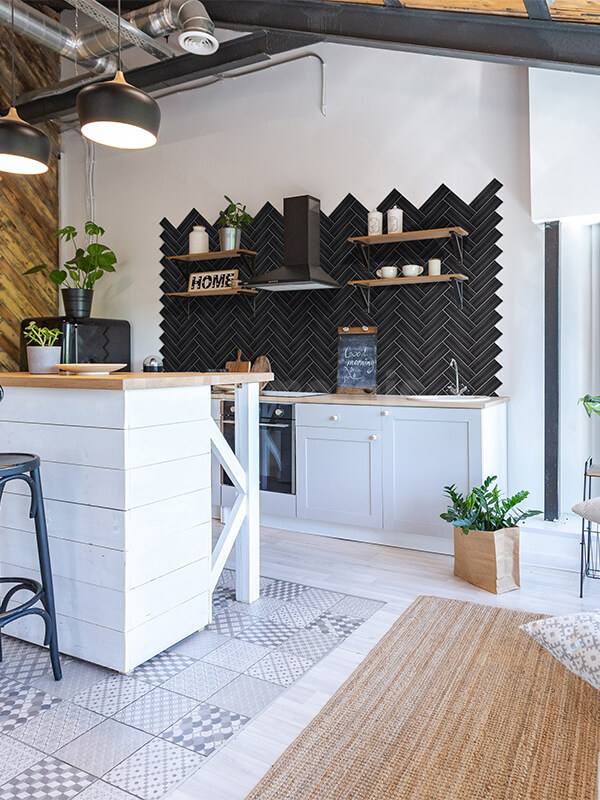 Featured Product: premium metallic glazed bamboo style porcelain subway tile ZOD9903
Add a touch of sophistication and visual intrigue to your farmhouse kitchen with the timeless elegance of black subway tiles. But why stop there? Take it a step further and create a captivating design by arranging the tiles in a herringbone pattern. The result is a striking and dynamic farmhouse kitchen backsplash that effortlessly combines classic charm with a modern twist.
The dark hue of the black subway tiles adds depth and richness to the space, while the herringbone layout injects a sense of movement and energy. This unique arrangement elevates the overall aesthetic of your kitchen, creating a focal point that draws the eye and sparks conversation.
#2 Neutral Tones
When it comes to farmhouse style, practicality is key, especially when selecting colors for your kitchen. Opting for neutral shades ensures a timeless appeal that effortlessly complements any decor. However, to add a touch of intrigue and visual interest, we recommend selecting a glaze with more variation.
Neutral colors provide a versatile foundation for your farmhouse kitchen, allowing you to experiment with different design elements and accessories without worrying about clashing hues. Shades like soft whites and natural light green create a serene and welcoming atmosphere that stands the test of time.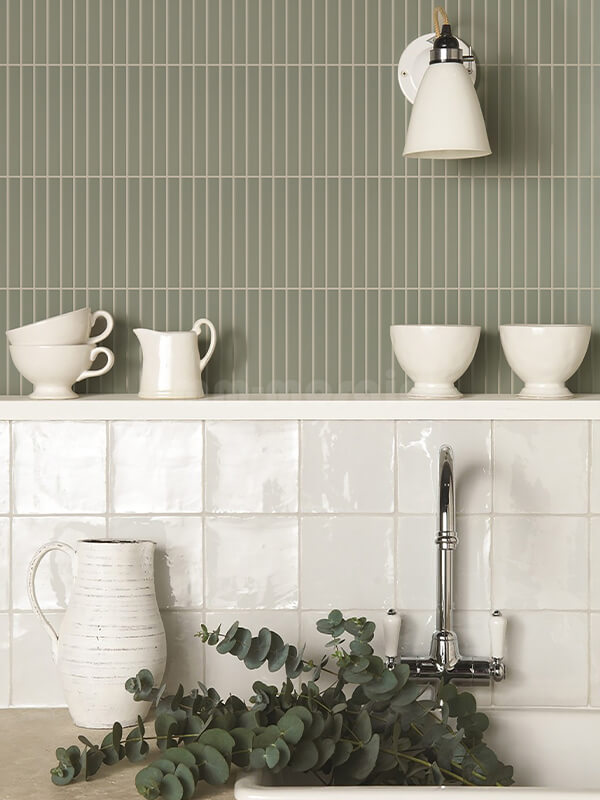 Featured Product: glazed matte finger shape mosaic tile celery ZMA2603
Featured Product: 4x4 square glazed ceramic wall tile white TGF3201
This farmhouse kitchen backsplash, with its combination of low-saturation light green porcelain kit kat tiles and pearl-glazed square tiles, strikes the perfect balance between rustic warmth and refined aesthetics. It brings a sense of nature-inspired tranquility and adds a touch of elegance to your culinary haven.
Embrace the beauty of this unique tile pairing to create a farmhouse kitchen backsplash that is both visually captivating and harmonious. Let the subtle green and lustrous pearl tiles transport you to a serene oasis where modern design meets rustic charm. It's time to create a kitchen that embodies the essence of farmhouse living and reflects your personal style.
#3 Floating Open Shelving
Open shelving is a delightful addition to your kitchen, infusing it with charm and character. Whether adorned with vintage accessories or neatly organized plates and glasses, open shelves offer a captivating display that showcases your personal style. What makes this option even more appealing is the way the tile backsplash peeks through, adding a touch of beauty and ensuring that your open shelves always make a stunning statement.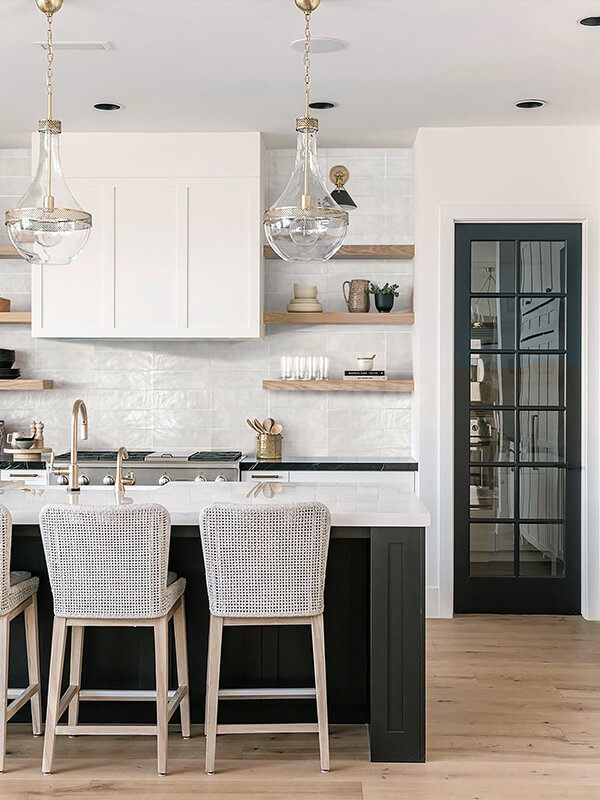 Featured Product: 65x200mm glazed subway tile white ZGF3201
The vertical subway tile backsplash behind the open shelves serves as a striking backdrop, elevating the visual appeal of your kitchen. As light filters through the shelves, the pearl-glazed handmade subway tiles' exquisite design and color palette are accentuated, creating a captivating interplay of textures and hues. This adds depth and visual interest to the space, making your open shelves a focal point that effortlessly catches the eye.
#4 Wood Elements
To recreate the cozy ambiance of a rustic barn, incorporate plenty of layered wood accents throughout your kitchen. These natural elements add warmth and character to the space, creating an inviting atmosphere reminiscent of a countryside retreat. For a modern twist, explore a range of wood finishes, favoring warm and deeper tones that bring a contemporary touch to the design.
The choice of wood finishes plays a significant role in enhancing the appearance of the fish scale tile in your kitchen. The interplay between wood and fan shape mosaic tile creates a captivating contrast that adds visual interest and depth. Consider the image below, where wood cabinetry is featured instead of the original color. This alternative choice highlights the transformative power of cabinetry color, as it dramatically influences the overall look and feel of the fish scale mosaic tile.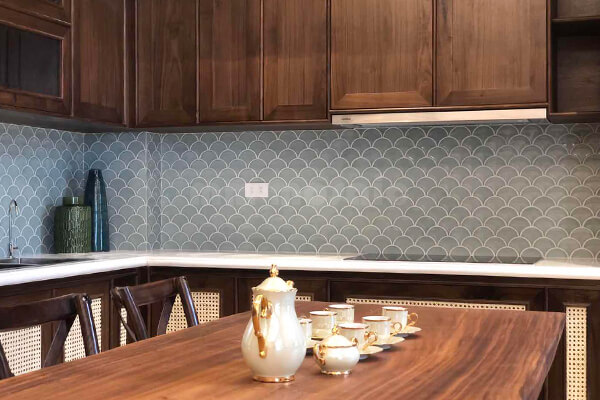 Featured Product: premium glazed porcelain fish scale mosaic tiles steel gray ZGA2302
#5 Antique Fitting
Living on a farm meant finding purpose in repurposing, and this ideology extends to creating an authentic farmhouse kitchen. Seek out vintage and antique items to incorporate into your kitchen, infusing it with rustic charm and nostalgia. By integrating these unique pieces, you can create an atmosphere that exudes the true essence of farmhouse living.
Just as vintage and antique items add character to your kitchen, the pearl-glaze color of your handmade tile can also play a significant role in capturing the farmhouse aesthetic. Consider opting for a weathered look with our selection of simple colors, which provide a sophisticated and timeworn finish.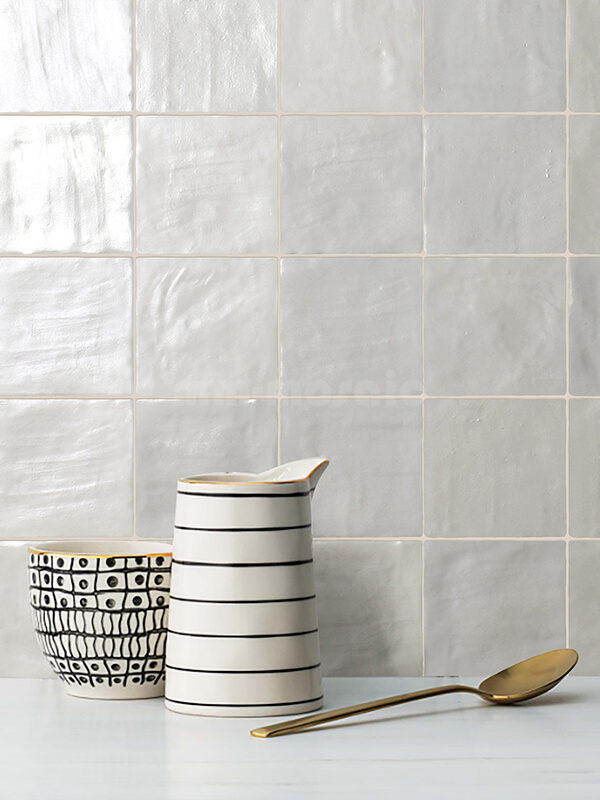 Featured Product: 4x4 square glazed ceramic wall tile white TGF3201
Seeing is believing, and we want you to fully immerse yourself in the beauty of our handmade tiles. That's why we invite you to order tile samples and have them in your hands, where you can truly appreciate their craftsmanship and allure. Let the textures, colors, and patterns speak to you, as you explore the possibilities and envision them in your own space.
To learn more about handmade tile ideas, visit our blog "Mallorca Tile in a Variety of Styles"
Share your inspiration with MM-Mosaic and let us be part of your creative process. Together, we can turn your vision into a reality that exceeds your expectations. Contact us to order free tile samples and let's begin transforming your space into something truly extraordinary.