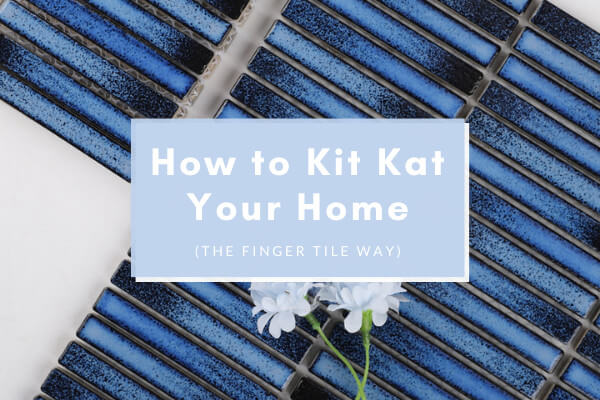 Surfing the internet looking for the perfect Kit Kat Tile interior space ideas for your next remodel can quickly go from fun and exciting to downright daunting. With all of the incredible tile options these days, how are you to choose? Okay, how about with a bit of inspiration to get your creative juices flowing?
Finger tile, stacked tile, pencil mosaic... These are just some of the many names for this signature shape we call Kit Kat Tile. There is a reason for this finger shape glazed handmade tiles' popularity: Emulating the funny kit kat candy, they have the magical ability to transport you to your favorite vibes, evoking feelings of joy, interesting and pleasant. Looking to add Kit Kat Tile into your own space? Here are some ideas to do it the right way with our new arrival tile collection.
1. Short, Long, or even Longer?
First, determine what size shape is perfect for your space. At MM-Mosaic, we provide various different sizes of Kit Kat tiles: Short, long, and even longer. In general, the size of your space should inform the size of the handmade tile you pick. For larger spaces like a shower or accent wall, we suggest choosing the longer tile choice. If you're working with a space that's under three square feet or even less, a short tile will make a large impact. Here is what we suggested but anything possible in the right setting:
Short Kit Kat Tiles
Use for: Space under 5 feet.
Project ideas: accent pieces, tabletops, shower niches.
Long Kit Kat Tile
Use for: Spaces over 5 feet, and under 20 feet.
Project ideas: Small backsplashes, stove splashes, accents.
Even Longer Kit Kat Tile
Use for: Spaces over 20 feet.
Project ideas: Large kitchen backsplashes, large shower walls, bathroom vanity walls.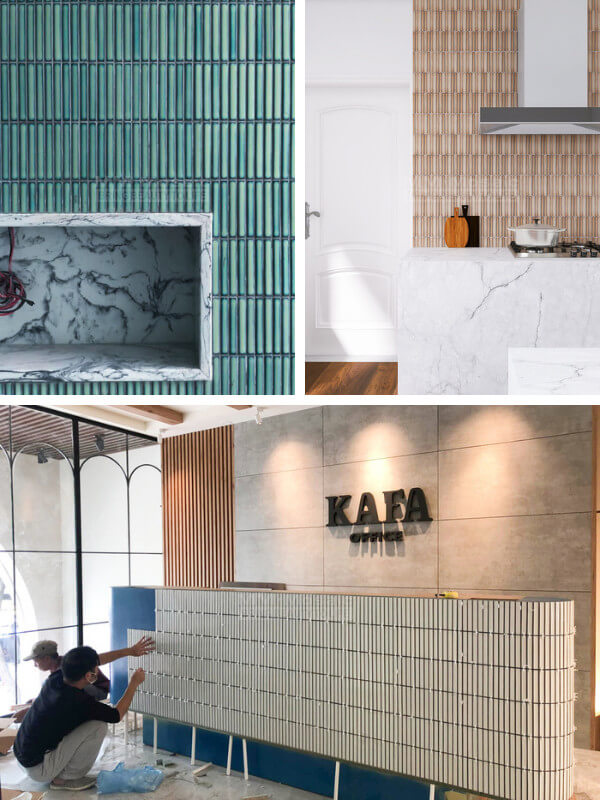 Featured Product: Kit Kat Tile CZO949A / Kit Kat Tile White, Custom / Antique Strip ZMH3905
2. Take Grout into Consideration
You will also want to take the grout colors and lines into consideration while picking a size. While gorgeous, choosing short Kit Kat Tiles in a larger space can be too busy for some, unless you pick the current grout color. Selecting a grout color that's similar to the handmade tile color makes the grout lines less apparent, creating a space that looks larger.
For more Kit Kat Tile Projects, visit our blog "Project: Kit Kat Tile Makes Fun in The Bathroom"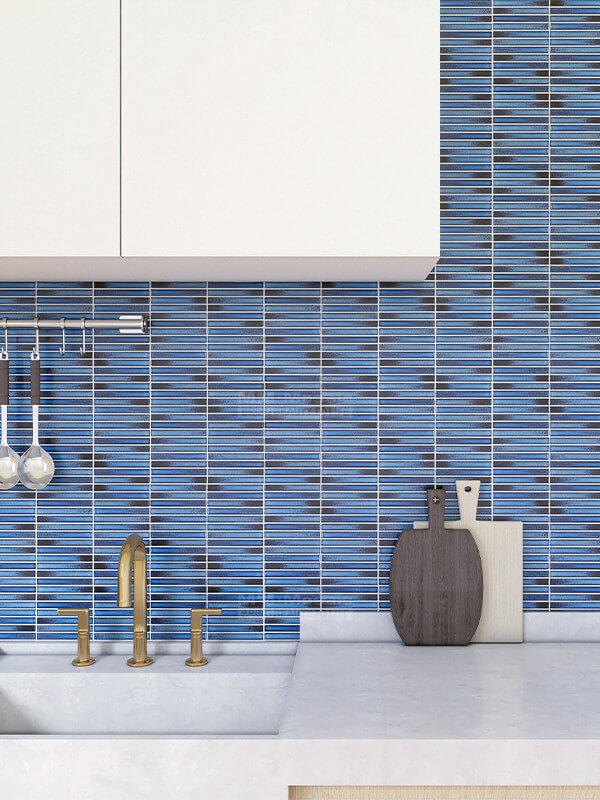 Featured Product: Stackbond Kit Kat OGE9601
3. Kit Kat Tile Orientation
Once you know the size and the grout you prefer, you might order the Kit Kat Tile in sheets, that are mesh-mounted. This makes the process of installation more convenient. Another design choice is tile orientation. The most popular orientation for Kit Kat tile is to place the tiles with the stacked pattern, with all the handmade tiles facing the same upwards direction. Such as vertical style and horizontal style.
Though facing the same orientation, there are various options, too. Like the custom pattern. This is a combination of different colors that creates a mountain appearance. The custom style is a gorgeous choice that looks best with our mixed-color Kit Kat Tile.
For more Kit Kat Tile ideas with our blog "Kit Kat Tile: 6 Palettes to Rock the Look"
Featured Product: Stack Bond CZO251A / Crystal Glazed Finger ZOB1701 / Custom Pattern
4. Color and Surface
Ultimately, you may want to pick a color and surface. It's no surprise, but turquoise green shades tend to be a favorite with the Kit Kat tile since it resembles a forest, mountain, grassland. We have found that natural colors with a glossy glazed surface tend to open up space because the glossy surface reflects light. Darker palettes and a matte surface will conversely absorb the light, making your space feel tranquil and cozier.
For more Kit Kat Tile inspiration with our blog "Projects: Green Hues or White Tones?"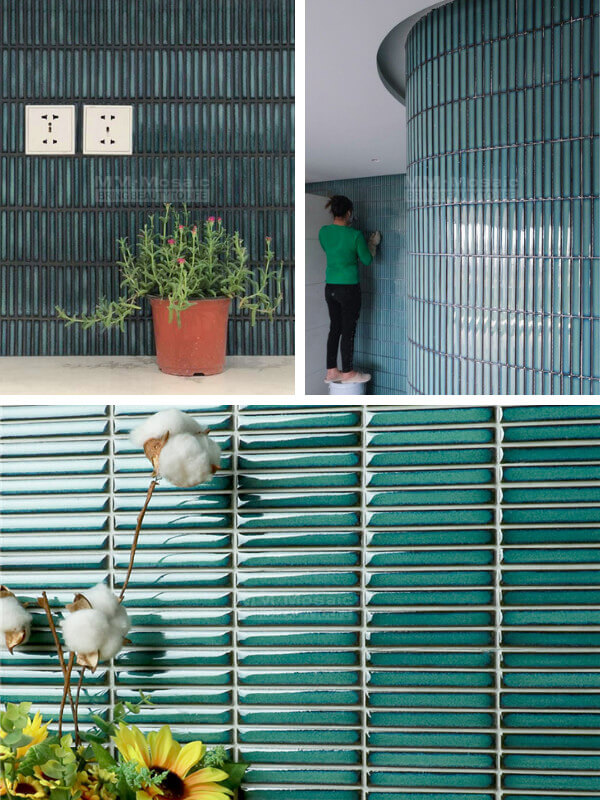 Featured Product: Kit Kat Tile CZO703Z / Strip CZO949A
Get Inspired?
Whether you're looking to add Kit Kat Tile to your entryway accent, shower, or kitchen backsplash, MM-Mosaic is here to help you along the way. Why not tell us with your design ideas and visions, and we will get the kiln fired up and ready to go. Order Kit Kat Tile samples to see and touch right now! You might fall in love with our exquisite handmade tiles and we're so happy to hear what inspires you.