Although the bathroom space might not seem like the most exciting space to decorate, it's a fundamental room that deserves as much attention like the living room and kitchen in your interior space. It's where you prep for the day and relaxing for the evening and whether you have a regular space or irregular room, there are plenty of ways to make it feel like an outstanding retreat. If you're seeking a bit of bathroom wall inspiration, look no further than our Instagram posts and our recent project blogs.
Today, we are going to share a turquoise tone oasis style bathroom design, and keep on reading this blog: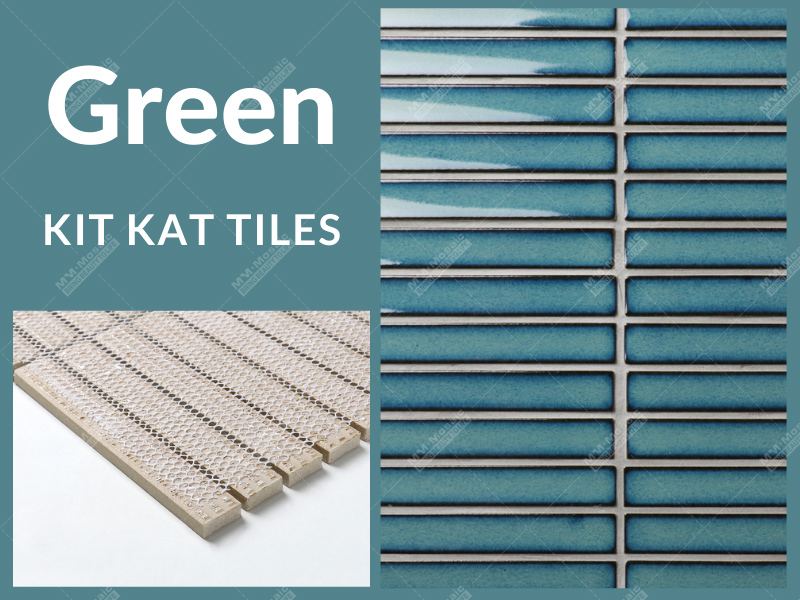 Are you torn between complicated and simple? Don't worry about that! Our Kit Kat Tiles pack properly the current amount of style into their slender silhouette. With their stunning speckle and chic kiln glaze, these are the kind of tiles to gather compliments aplenty and you won't get tired of looking at the accents. Made from porcelain, their turquoise finger mosaics will bring finesse to any room, from a relaxed country backsplash to a Southeast Asian-style bathroom. What's more, lay vertically for a more contemporary surface, just like this project show.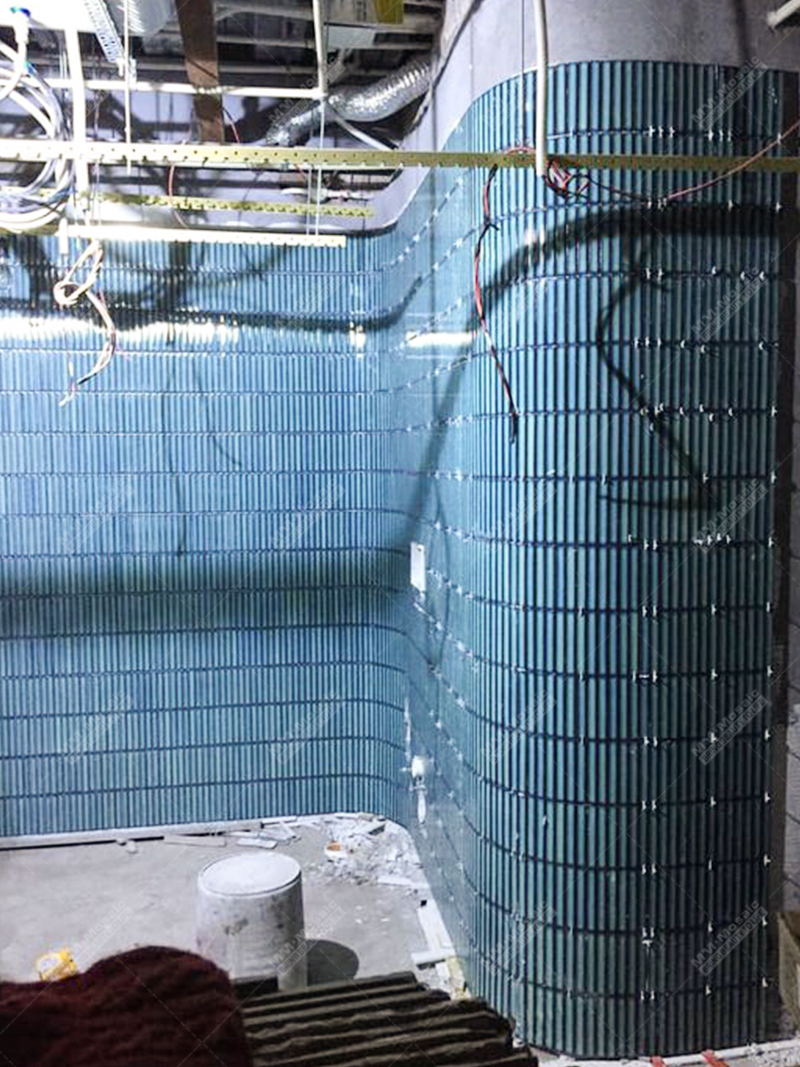 Featured Product: 20x145mm Kit Kat Porcelain Mosaic, Green, CZO703Z
If their small and understated look doesn't immediately catch your eyes, their attractive and natural turquoise-green hue is sure to. It's so fascinating and dreamy, yet easy to live with. Inspired by traditional Chinese pottery, the finished glazing appears darker towards the tile edges, bringing visual interest without overpowering. This Kit Kat tile makes them a wonderful choice for feature curved bathroom walls in this space, and you will pick up plenty of compliments.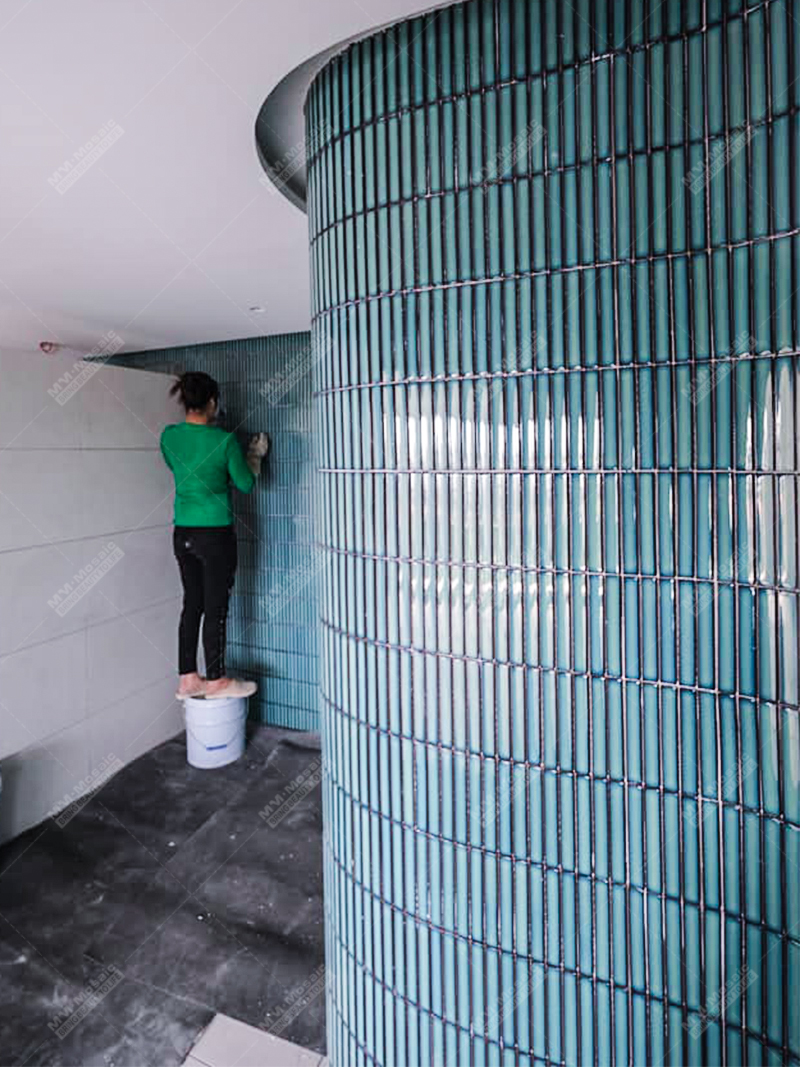 Look at this curved wall and turquoise tone, make you feel like in the oasis! Unimaginably thin, yet a spectacular tile design idea, our kit kat wall tiles are turning shower walls, kitchen backsplashes, and any room into remarkable works of art. Our unique tile-inspired kit kat or finger mosaic tile is perfect for a larger bathroom, particularly for the curved feature walls, giving this bathroom design the great visual centerpiece of the space.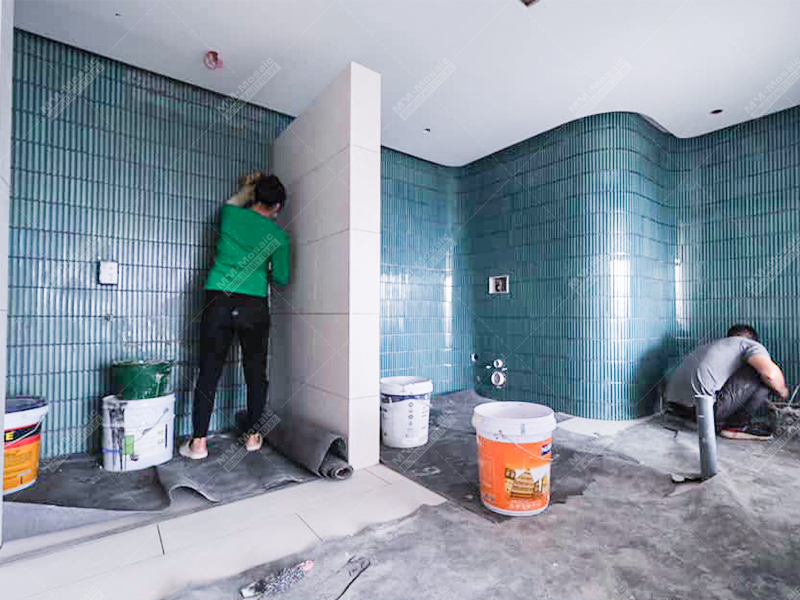 Maybe you don't know that finger mosaic is the kit kat tile, they're the same thing but they're called different things. They are renowned for their long and slender appearance adding beautiful visual effectiveness without being overpowering. Ideal for creating natural and eyeful colors into intimate spaces to adding that extra touch of individuality with tranquil turquoise-green hues.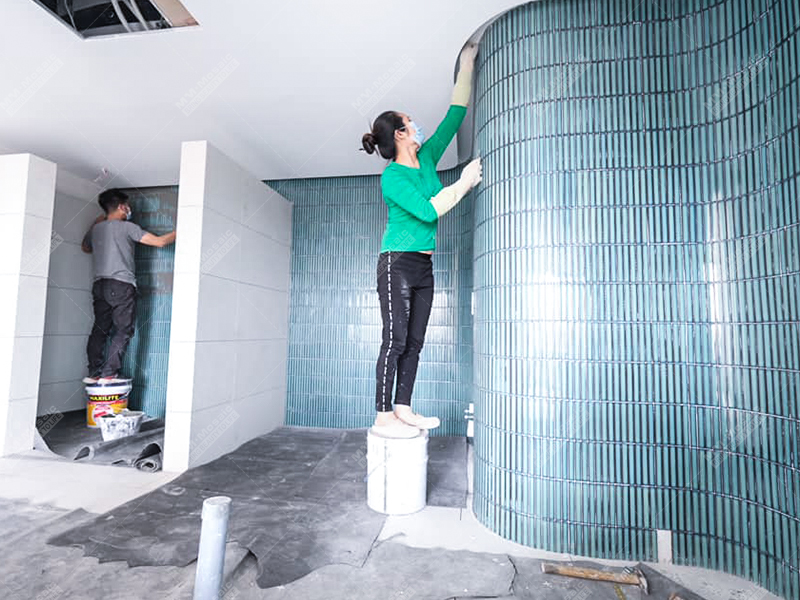 To successfully elevate this bathroom, it was about bringing in a traditional rectangle layered with smooth touches. We wanted the wall to have the care of an artisan's hand. With walls covered in awesome kiln kit kat tile details: glossy finish, finger shape, grounding dark green edge color, which will highlight it to be the focus of this bathroom.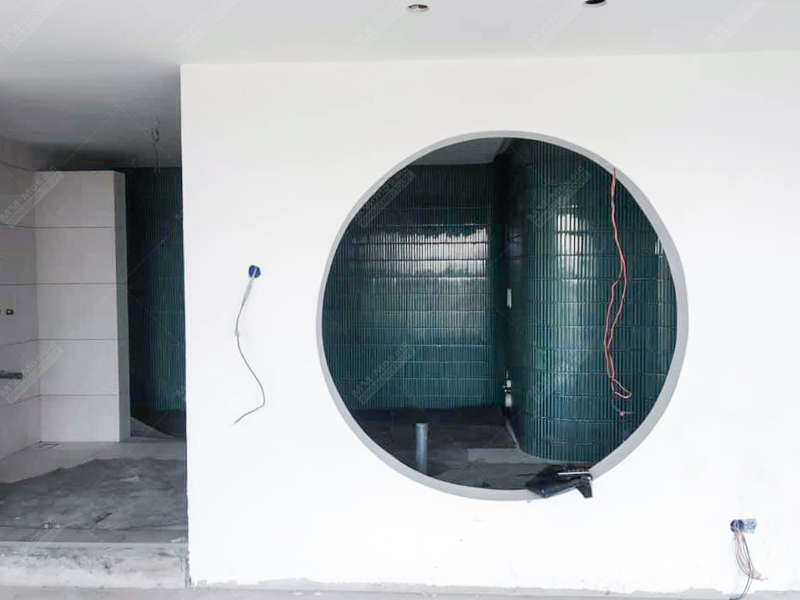 It's impossible not to feel the calming ambient rolling off this bathroom retreat outfitted in a turquoise hue bathroom. The large circle window design creates layers that are soft on the eyes.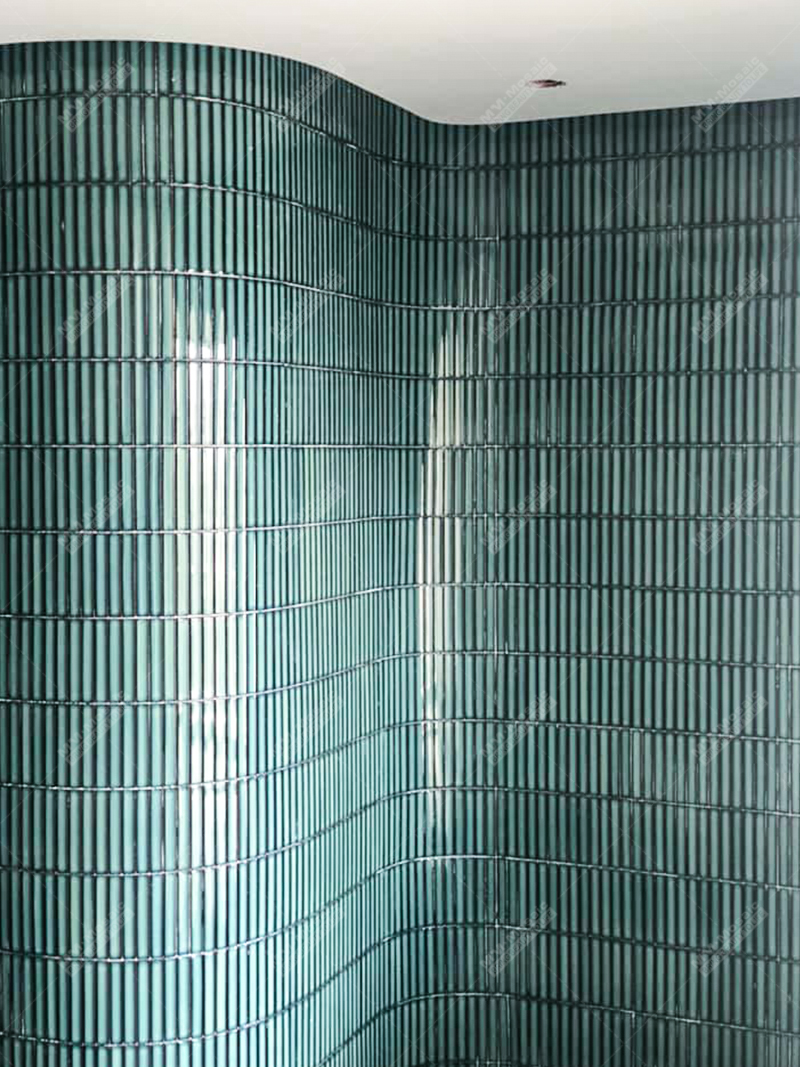 If you prefer to make a statement with your finishes, balance things out by enhancing the color volume. While the fixtures in this bathroom's curved feature walls are as sleek and modern as they come. An oasis dark green color palette keeps the overall atmosphere soft, smoothing, and absolutely mysterious.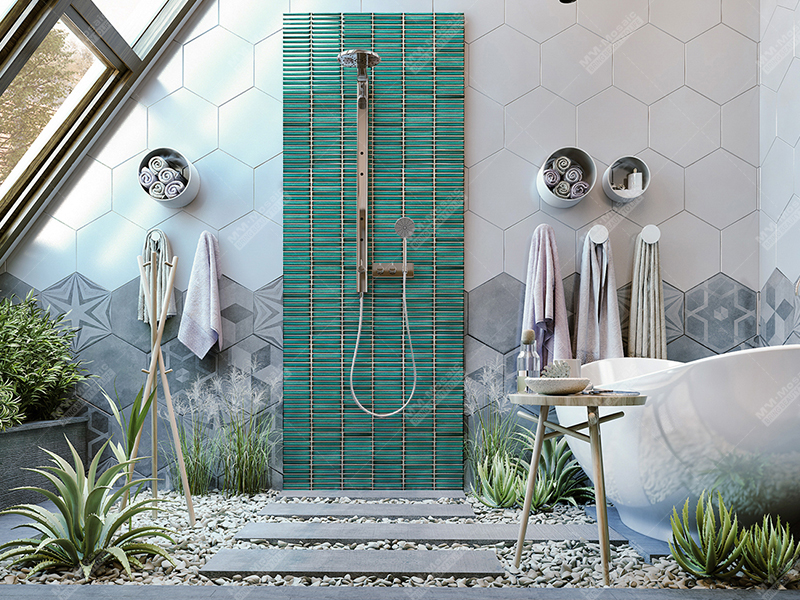 Here is another outdoor shower design with horizontal kit kat tiles, we think it might inspire your future project. Believe it or not, it's possible for a room to feel too light and airy, at least for some homeowners. This eyeful green tone bathroom incorporates oasis elements to ground the space - a large bathtub, wood stool, green oasis plants, and even the bright window bring it back down to the oasis. By the way, the large window perfectly frames a free-standing white bathtub with refreshing vibes, which is the ideal place to unwind and breathe in the fresh air.
For more bathroom design ideas, with our blog: Get Point - Why This 14 Outdoor Shower Ideas Will Change Your Life?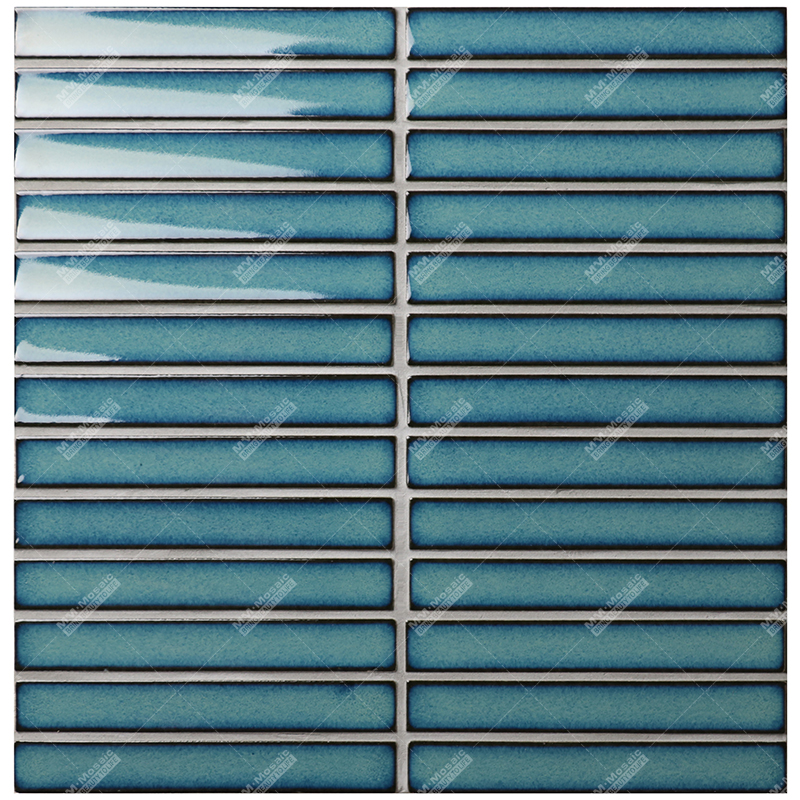 Before final selections are made and the kit kat mosaic tile order is sent over to production, we advised living with the tile for a while. That is the reason why we always suggest our client to ordering tile samples. See and touch, you might fall in love with this character of KIT KAT TILE. We pleasantly help you with tile samples all the time.
Get Inspired?
Fascinated this shower project? Love our tiles? Why not order tile samples right now? Let's see, touch and feel this appealing pink tile and tell us your future project ideas. Not only that, but you can also share your ideas about tile shape, color, size, and anything else you want to share. MM-MOSAIC will get back to you immediately and support you with your home or commercial remodeling plans.