Inspired by the bird feather, we recently designed these glossy feather shape tiles with different shades of pink, green and olive. What we all know is the application of color in interior design is just like the world of Farbe in fashion icon. The prevalence of various shades waxes and wanes as feels change and currents come and go. Therefore, the welcome color for one year is rarely on top of the list for a long time. This might be the good thing, due to it makes the trend keeps moving all the time as well as ensures that we can change our style momentarily and won't live with the unitary style for long. However, each now and again a color experiences a genuine moment or, more accurately, we are experiencing a moment with it. Instead of making it the focus of a short-lived tendency we come to a completely new way of taking a fresh look at a color, rethinking of it, and applying it in our spaces.
How about this feather shape porcelain tiles combine with various color? Let's keep going:
Timeless Vogue Pink
With the rise of the female market, that's accurately what's been continuing for the last couple of years with peach powder. Maybe you have observed that it's everywhere in interior design recently. Whether the name of peach powder making you feeling goosebumps, its effectiveness is the same from a decor standpoint: the pink is in vogue. Just presenting a new look at our old friend petty pink, what's different, what's trendy now, and what's will look more fashionable in your space.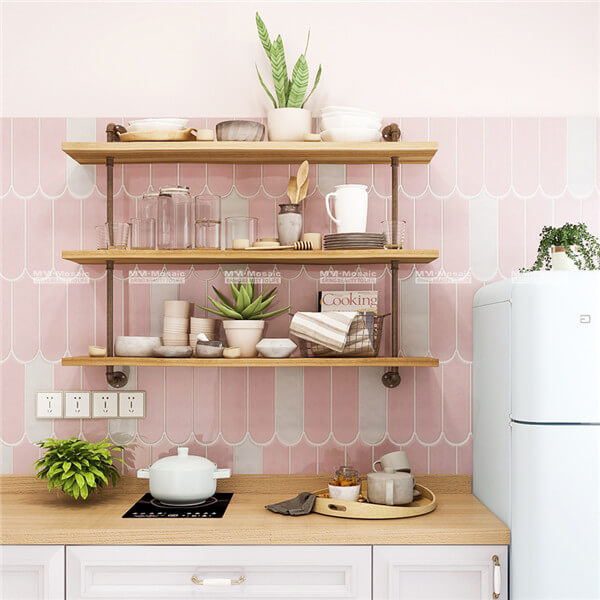 Featured Product: Feather Shape Porcelain Tile ZOY1402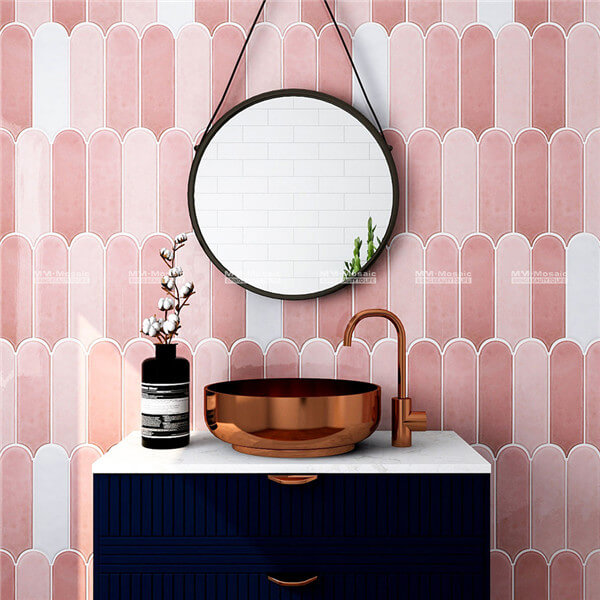 The pink palette just like our adolescence color, which presents the happiest and most innocent age colors and it's suitable for a bright accent wall in an entryway or a shower room. All our design mix the different shades of pink, which visually adds endless color combinations and turns into an instant focal point in your space. Or laying it near a single pink couch in this minimalist living room to give a spice of characteristic or put some beautiful green potted plants to adorn the whole space.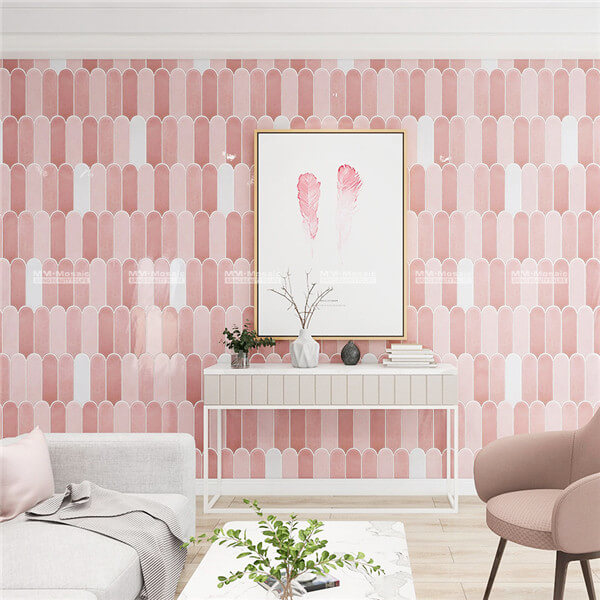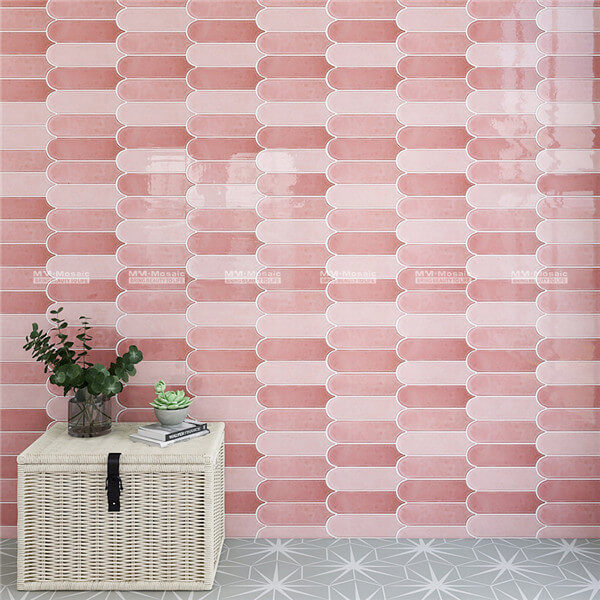 Marvelous Green
Nobody says that accent walls must be dark. Green is a refreshing color that has the ability to brighten any space. No one is immune to this vibrant accent wall and it's a better option if you would like to maintain your surrounding white walls or prefer to using a lighter neutral tone but still want some dramatic color to vivid the wall. Utilizing this sparkling color in an entryway or an all-season sunroom for a shaft of brightness.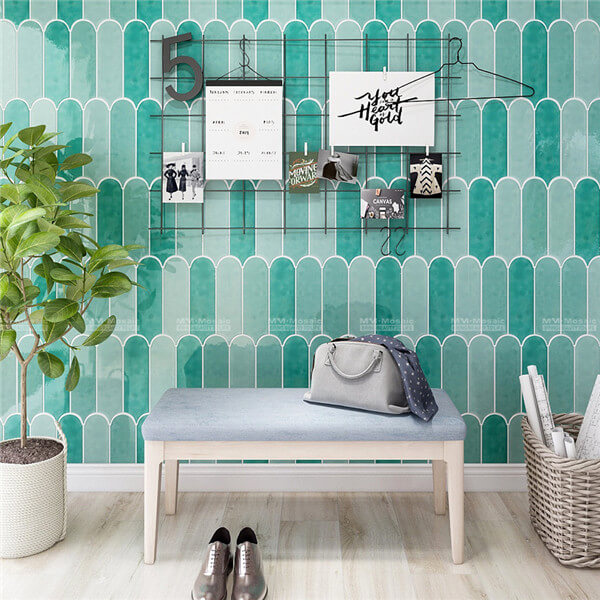 Featured Product: Green Feather Shape Glazed Porcelain Tile ZOY1702
Emerald green can do more than create an eye-catching feature. They are just as charming while they're allowed to take over the whole backsplash. This comfortable space makes perfect use of dark green combining with white paint wall, which mixed the shade faultlessly with the marble cooking hearth and the light gray cabinetry, even mixing with the lovely green succulent plants showing off the multifunctionality and style of this deep emerald color.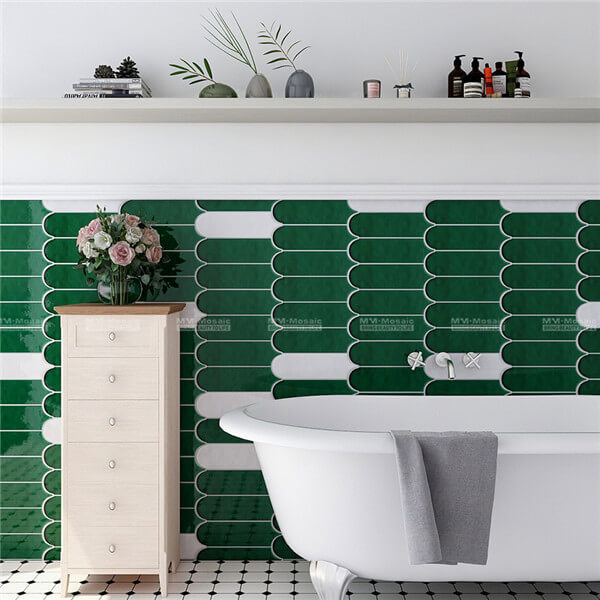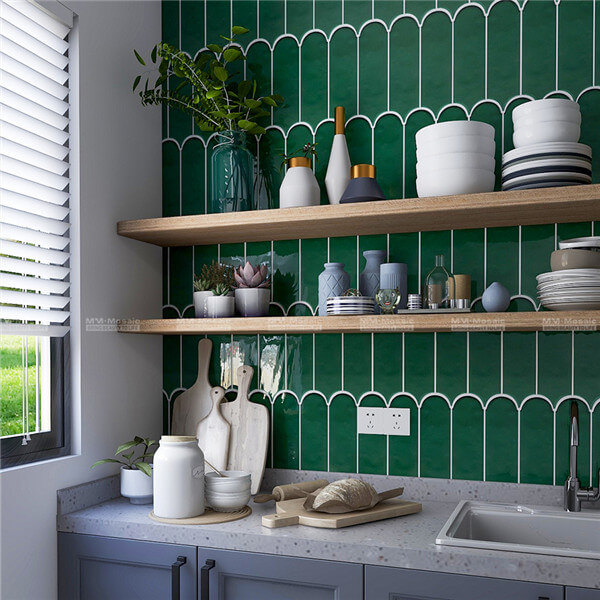 Olive World
These breathtaking olive green spaces bring a complicated and tranquil sensibility. The mellow and arboreal color has an incontestable appeal that can both tone down or jazz up space.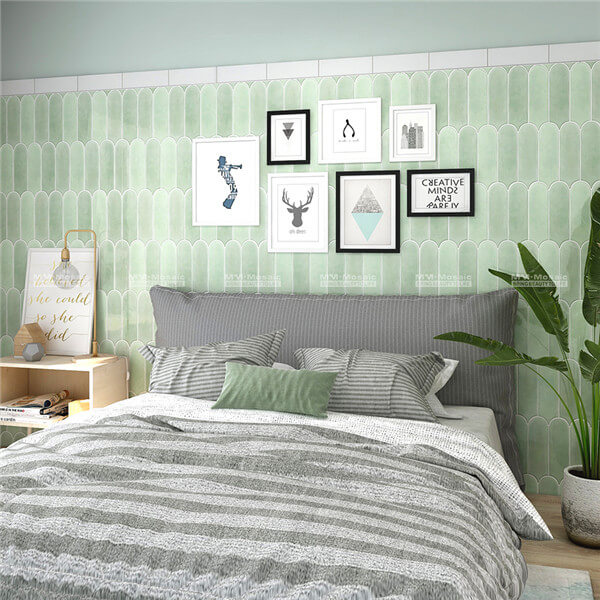 Featured Product: Wear-Resistant Feather Shape Porcelain Tile ZOY1702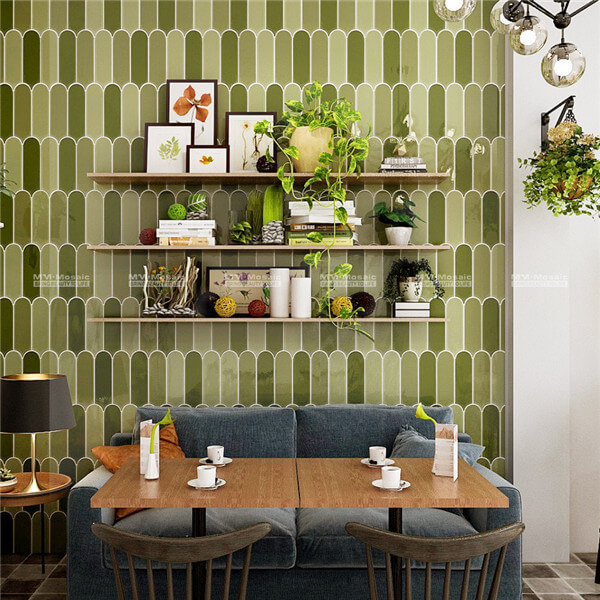 If you're a Mid-Century style enthusiast, the olive palette can make a splash in your space. As we know that, olive is a rare green that can be utilized in decorating a home wall, which not only can be identified as a neutral color but also paired with a wide variety of colors. Maybe, you're not sure that you can live in an all olive-green room, feature olive tiles would be a voguish choice as an accent wall.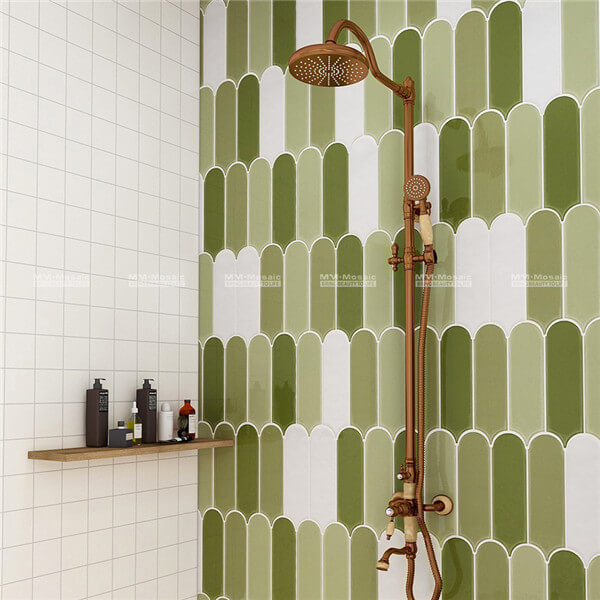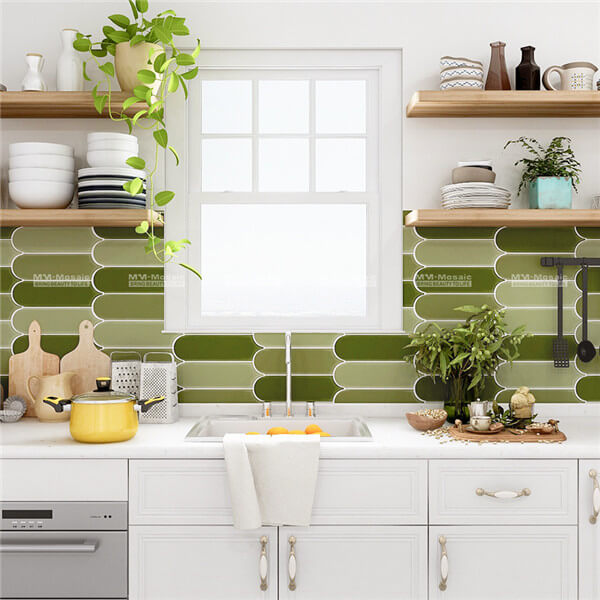 Classic White Hues
White is a traditional choice for any space, but contrary to popular belief, there are virtually endless shades of white to choose from. Depending on what your space natural daylight and current hues, each white will has a different appearance on your walls.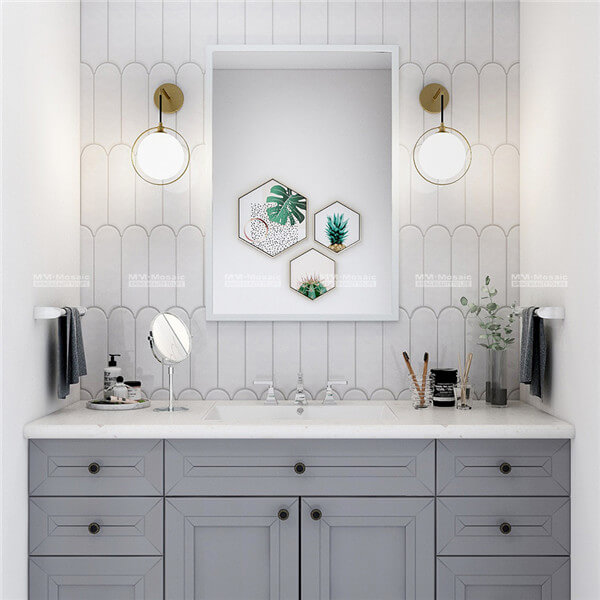 Featured Product: White Feather Shape Tile ZOY1202
Similar to the sheep's wool white, our unique feather white is the color that somewhere between white and gray and is an ideal choice for washstand areas and living room walls. This silent white-gray screams sophistication and is a consummate porcelain tile to create a peaceful space. Combining it with a wooden table and the same tones furniture for utter dandyism.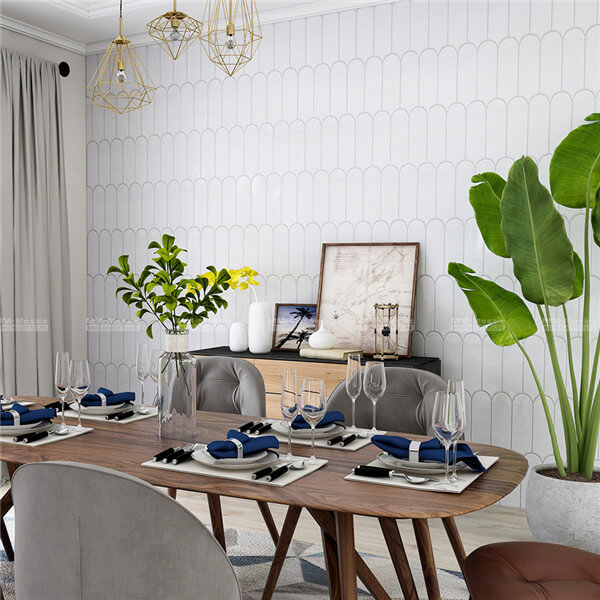 Here are 19 optional colors of the feather tile collection for your reference: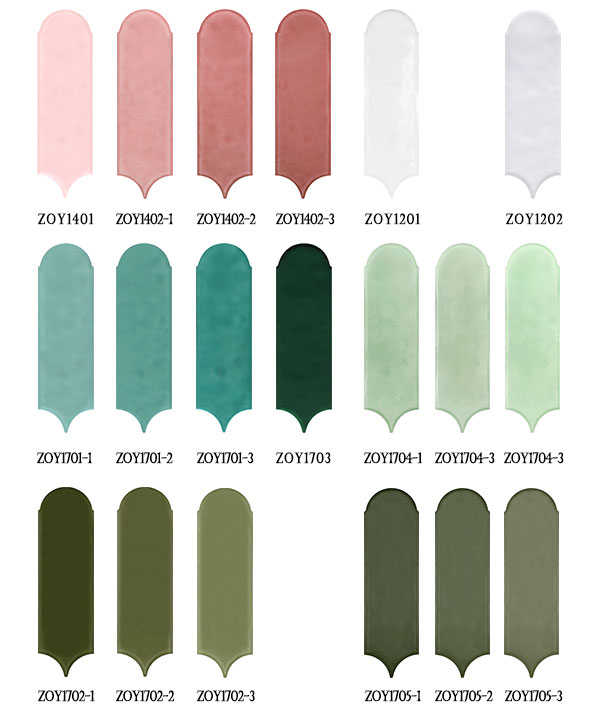 Get any inspiration? Contact us for this attractive feather tile samples to find out more amazing combination! MM-Mosaic is committing to producing and improving more trendy tile shape, such as feather, fish scale, arabesque and so on. We're waiting for your creative interior plans.