Looking to take on more DIY home renovation or hotel wall projects? With this amazing and easy-to-install PVC Composite Peel and Stick Tile, redecoration and remodels just got easier! These appealing modern self-adhesive tiles add a vintage and rustic surface design wherever you'd like to install them - think a marble peel and stick backsplash for your kitchen area, a contemporary pattern for your tile accents, or anywhere else that could benefit from this elegant white and rustic brown wall tile design!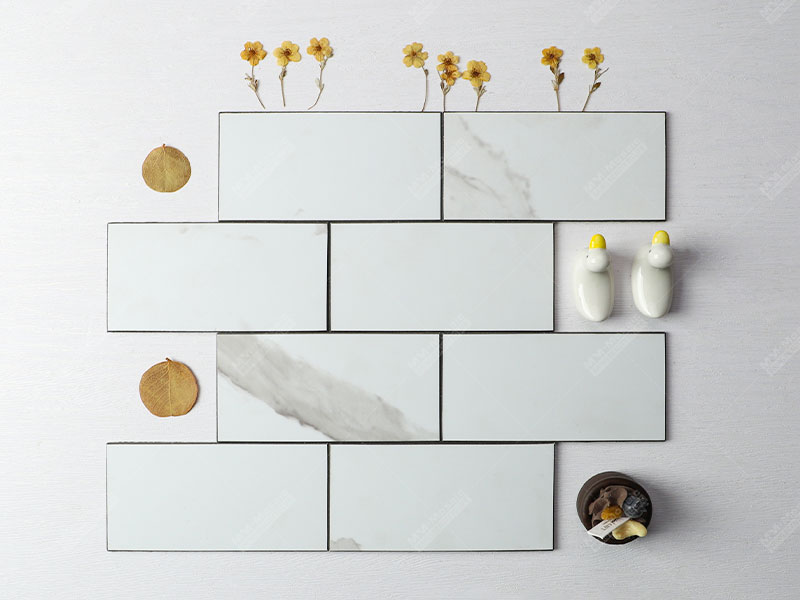 The ease of our new arrival PVC Composite peel and stick tile means you can enhance a chic detail anywhere you'd like! These aluminum-plastic composite tiles are lightweight and so easy to install, which is ideal for a DIY decorator, or even a rental hotel or homeowner. Minimalist marble patterns and stone tones combine in this Subway, Strip, and Square pattern tile to create an attractive design element anywhere you can think of! Let's read on our new peel and stick tile series for more!
Subway Style

When it comes to choosing wall materials for your house that will serve the rest of the time marble element tops our list of traditional home must-haves! Whatever you're designing a timeless interior space and want to install a long-wearing yet wonderful material on the walls, making a statement in your luxurious kitchen backsplash, or want to give your entryway wall a stunning focal point, you can never go wrong investing in chic marble elements.
Featured Product: PVC Composite Subway ZOM8022
Just peel and stick to any flat finish. No need for cement or grout. Subway Peel and Stick Tiles are made from an aluminum-plastic composite material that is easy to cut so you can work around tricky spots, spaces, and corners. Installing self-adhesive tiles reduces your installation time by over half.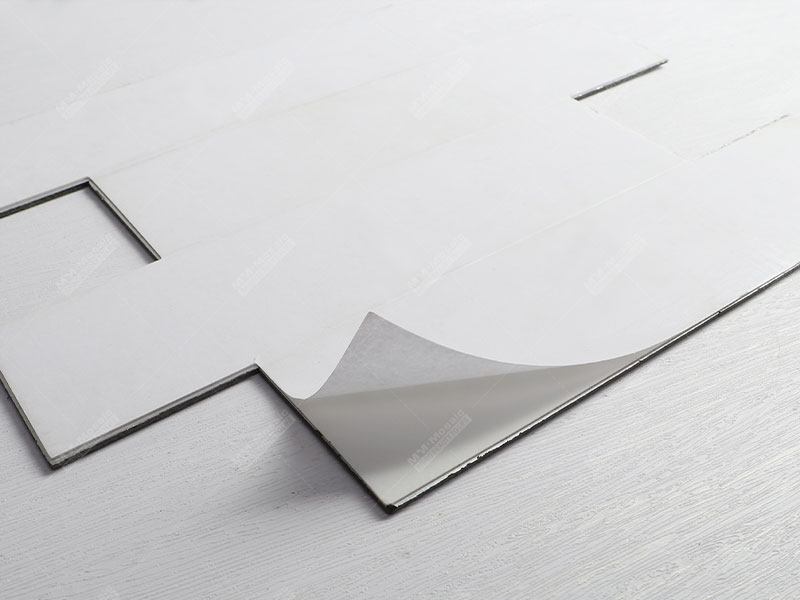 These peel and stick wall tile sheets are so thin enough to be cut with tin snips, which means this is a breeze and everyone can complete this wall renovation work well. The sheet size is 292x297mm, with an adhesive backing that can withstand interior wall application. These peel-and-stick Subway Tiles blend metallics are a perfect way to decorate your space without adding mess.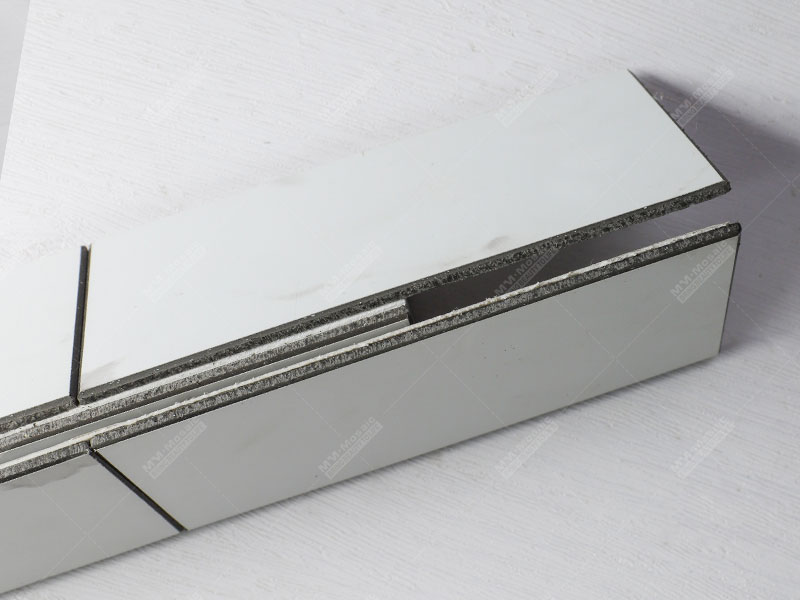 Because the purpose of a backsplash is primarily functional, the main deal of thought and planning goes into the choice of materials and the design of the finish. Realistically, backsplashes protect the wall against moisture that can lead to mold growth, stains, heat, and impact from daily activity, which ensures that your house remains stays strong and stylish for years to come.
For more peel and stick tile in the kitchen, visit our blog: 9 Inspiring Ideas for Peel and Stick Tiles on the Wall >>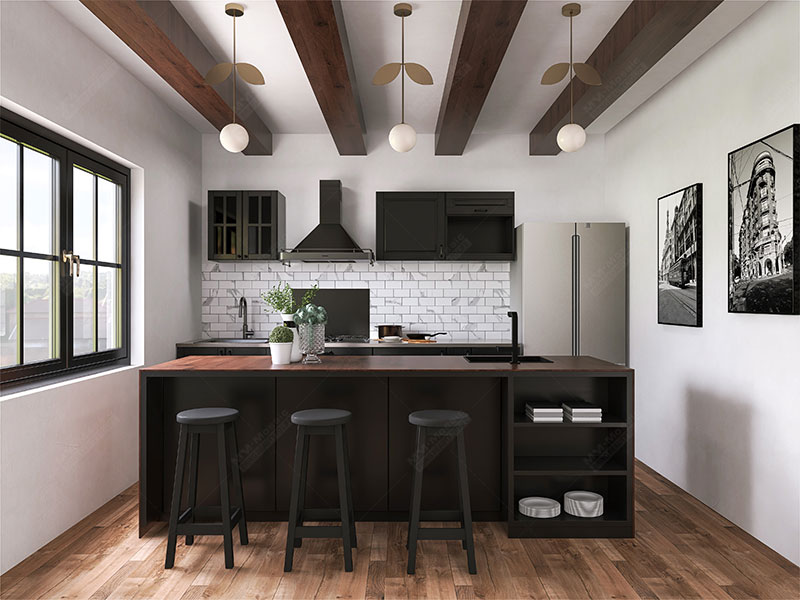 Due to its modern natural elegance, marble pattern kitchen backsplashes symbolize permanence and strength and are a natural option that appeals to many homeowners. When choosing marble pattern wall tile for your kitchen or bathroom vanity, there is so much variation to consider. Like our kitchen space, simple white marble's natural veins add to its timeless elegance, cleanness, while the wood countertop brings an earthy touch that's full of personality and depth.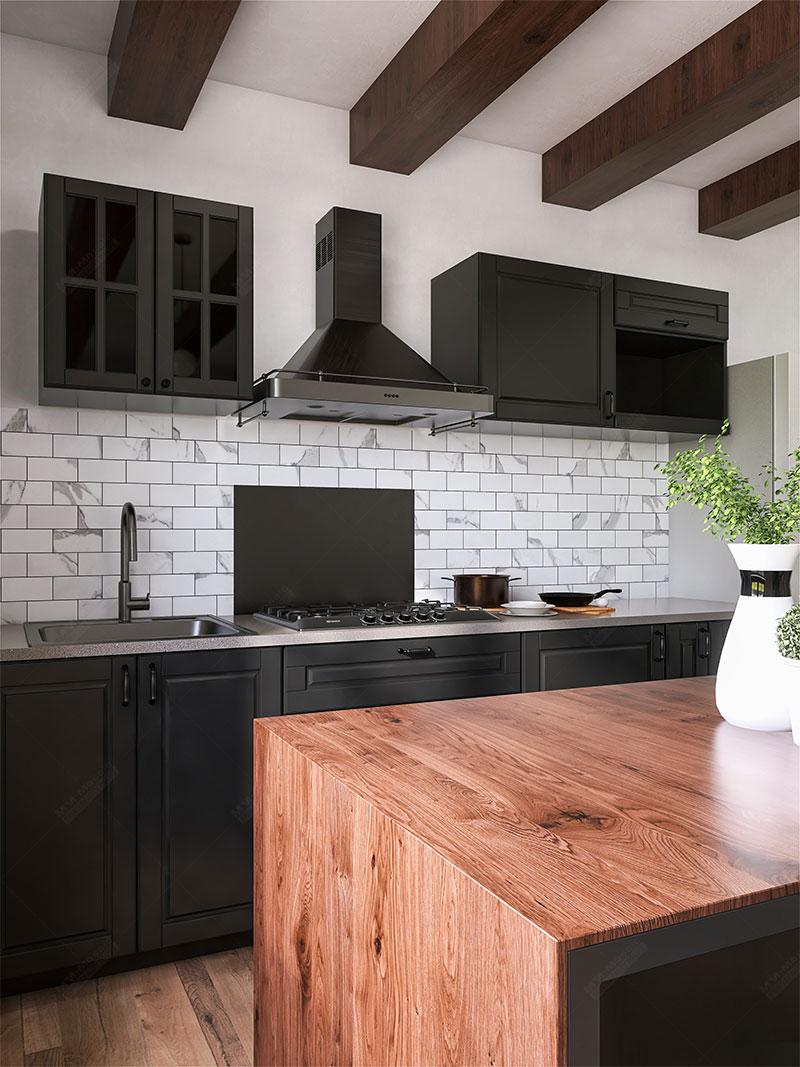 Carrara pattern is one of the most sought-after elements in architecture for centuries. The reason is obvious: it is durable, elegant, and features a sophisticated color palette that is expertly refined by nature. The elegant environment created by Carrara marble imbues your house or hotel with a classic ambiance that will stand the test of time. As a matter of fact, a carefully maintained marble pattern will keep spellbinding you with its unmatched beauty.
For a more interior design with self-adhesive tile, visit our blog: 17+ Environmental Aluminum Plastic Peel and Stick Tile for Wall Decor >>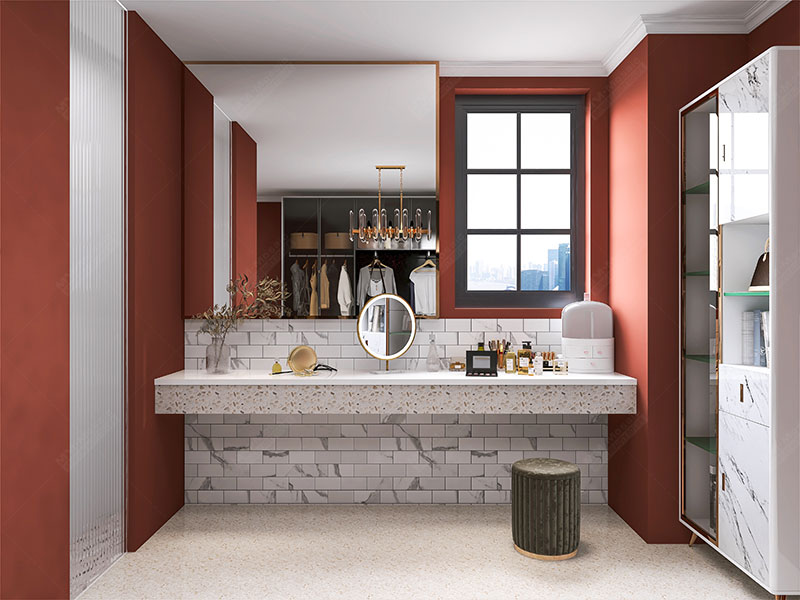 Carrara pattern is known to have a softer, finer look compared to another white marble pattern in the stone pattern world - it carries the light and spaciousness of white stone pattern while providing a touch of distinction with linear veining that's distributed over the finish. Its soft background works as an elegant canvas for any interior aesthetic - the neutral shade does not interfere with other decorative elements, making it a safe bet when combining with trending or seasonal interior design elements of any color or style.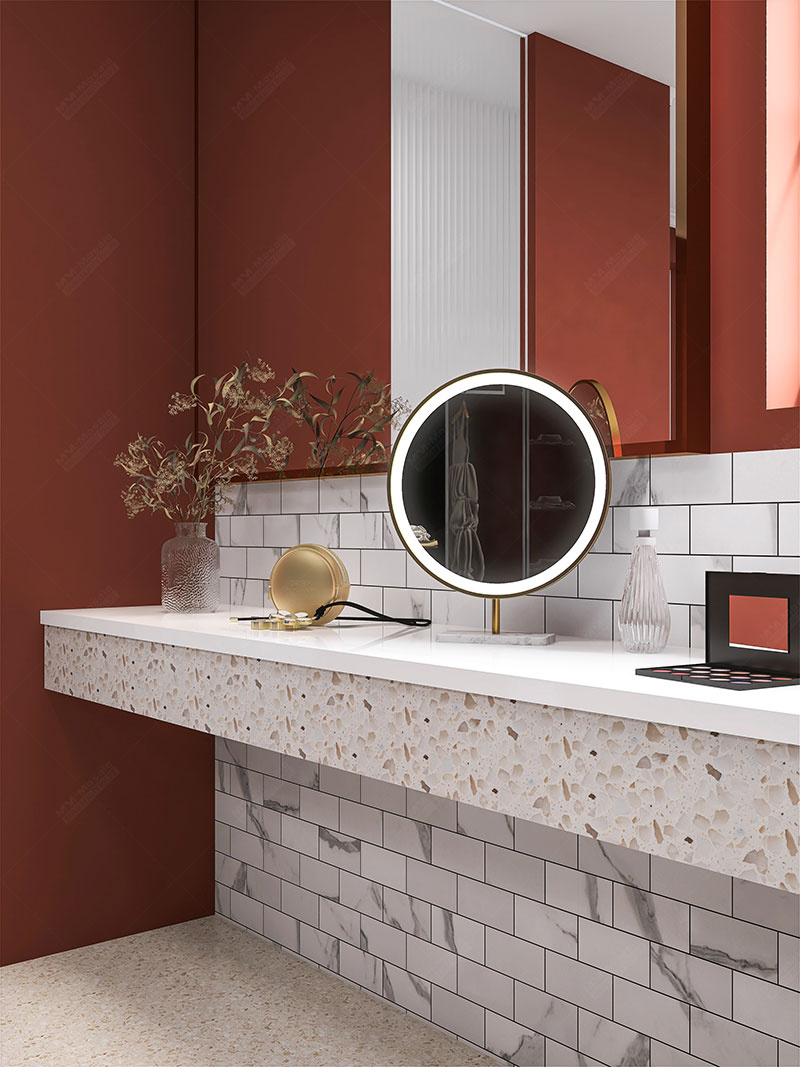 Love the appearance of strip tile but don't want to spend time on your tile layout and installation? These elegant marble pattern peel and stick tile sheets make it so easy to create this beloved pattern! These luxury PVC Composite peel and stick tiles have a contemporary look that adds an elegant feeling to any space.
Strip Style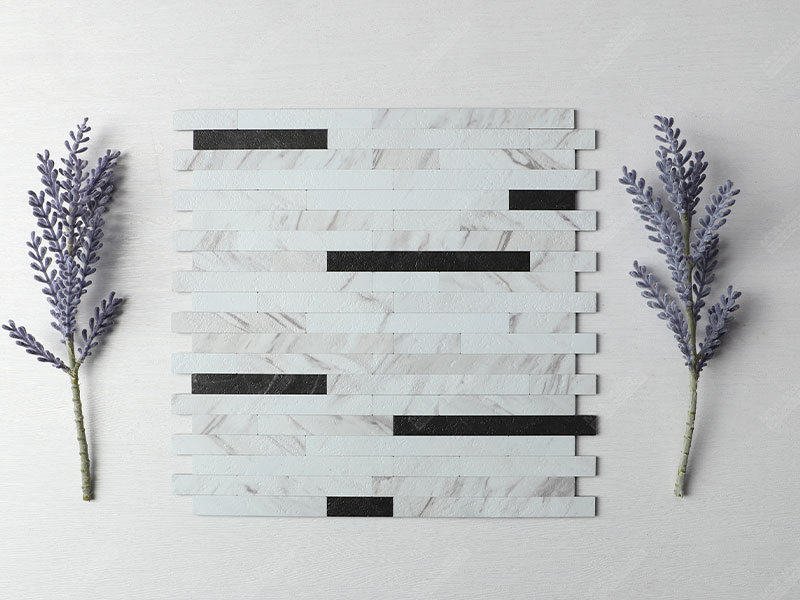 Feature Product: PVC Composite strip ZOM8025
The thin aluminum and plastic self-adhesive tiles blend metallic surfaces gives a marble look that creates minimalist to any interior space wall. The pattern surface of the marble strip peel and stick tiles can be dressed with accenting marble details to create an industrial-style kitchen backsplash tile.
For more peel and stick tile styles, visit our blog: Decor Your Home With 3 Styles Peel and Stick PVC Panel >>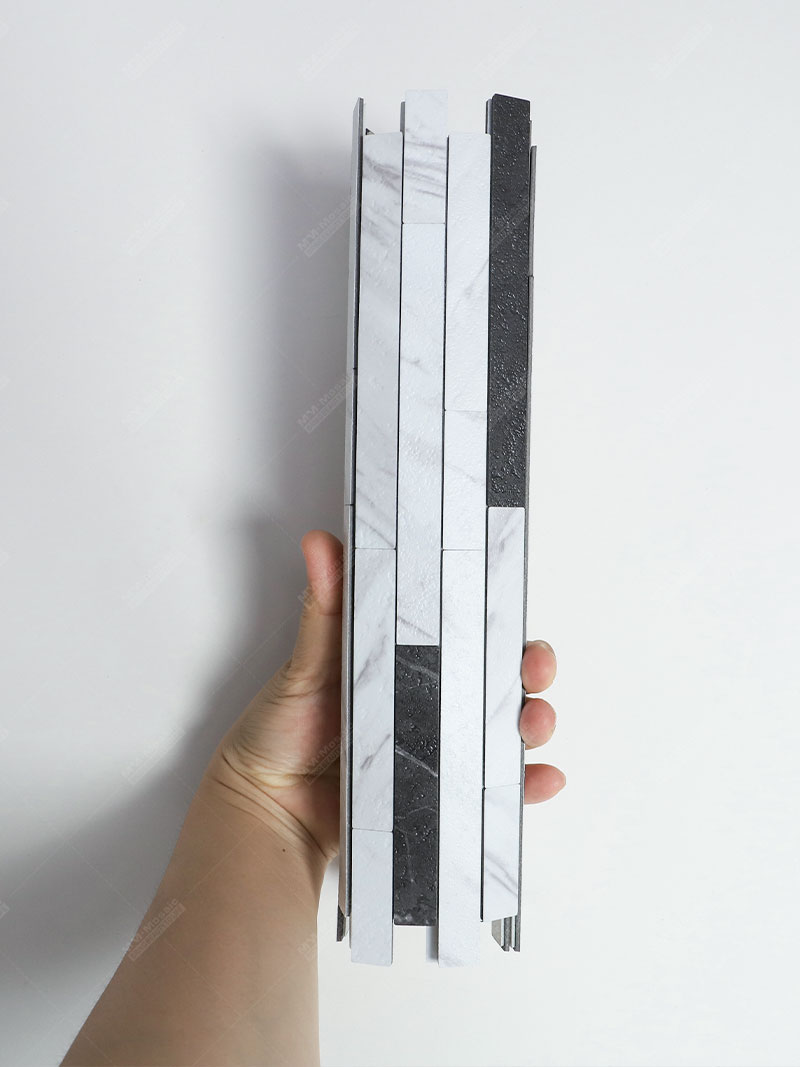 The PVC Composite peel and stick tiles are made of eco-friendly aluminum-plastic composite material, resistant to heat and moisture, Easy to wipe to remove stains. Perfect for smooth and clean finishes. Stick to the flat wall without extra glue.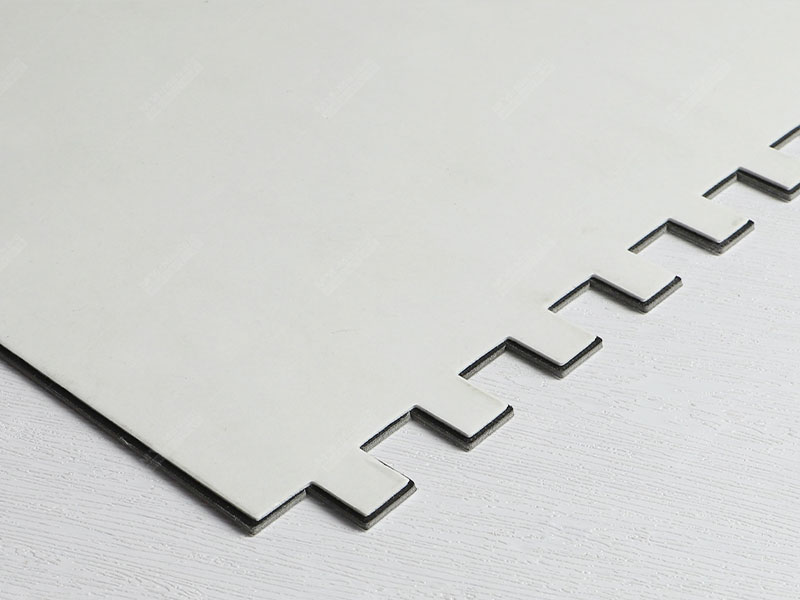 This new arrival square peel and stick tiles are recommended for interior space use only, like kitchen backsplash and bathroom dry area wall, and accent walls, offering a convenient, quick, and easy way to change these spaces without overspending on tools, supplies, and labor costs. What's more, self-adhesive tiles can be as permanent or as temporary decor as you want them to be, and are lightweight enough to be applied almost anywhere!
Square Style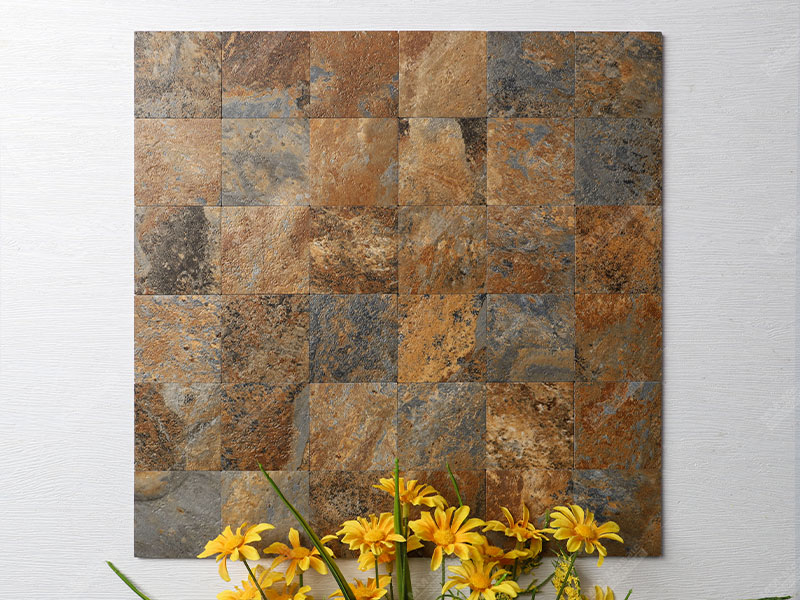 Feature Product: PVC Composite Square ZOM8019
Whether you want to transform a temporary living space, redecorate your home with cost-effective materials, or stay current with popular design styles, square peel and stick wall tiles are a fast and affordable way to transform any interior space. Not only are there several benefits to self-adhesive tiles for kitchens, bathrooms, and entryway walls, but we have multiple material and style options to select from as well. All you will need to do is find the peel and stick tile that speaks to you.
Consider the colors and appearance designs used elsewhere in the room when choosing the backsplash. You will find a wide range of peel and stick tile look backsplash choices featuring the look of subway tile or strip tile, but you can also find stone or wood-look backsplashes. Make sure the design you choose complements other home accents in your interior space. Don't select a backsplash without thinking about how it will look with the rest of the space's items and decor.
For more modern and timeless peel and stick tiles with our blog: The 3+ Best Peel And Stick Mosaic Tiles >>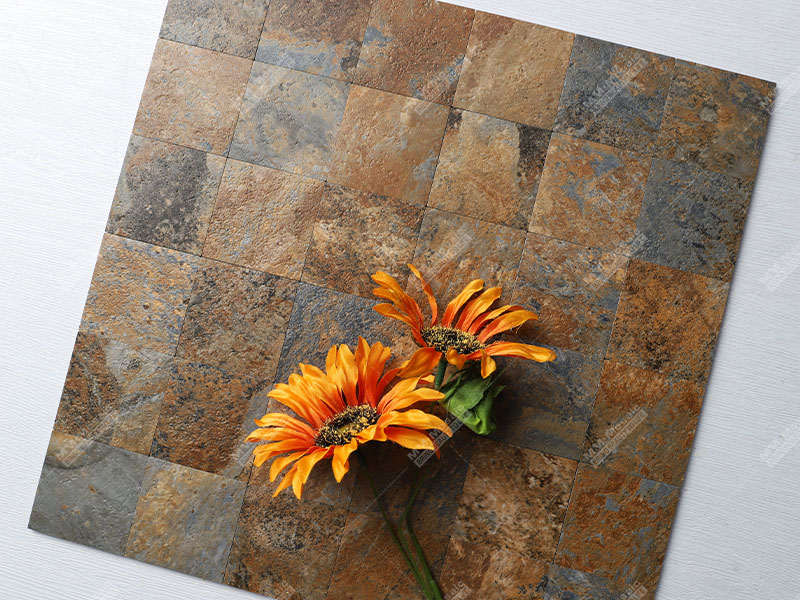 Let's spend an afternoon on this creative DIY home improvement to create a unique entryway or amazing bathroom vanity wall, or design your own characteristic backsplash to give your kitchen a charming modern atmosphere. Add a vintage facing to your study room wall, or give your interior a stunning accent with a feature wall that can be accomplished at the house. Just measure, cut, peel and stick!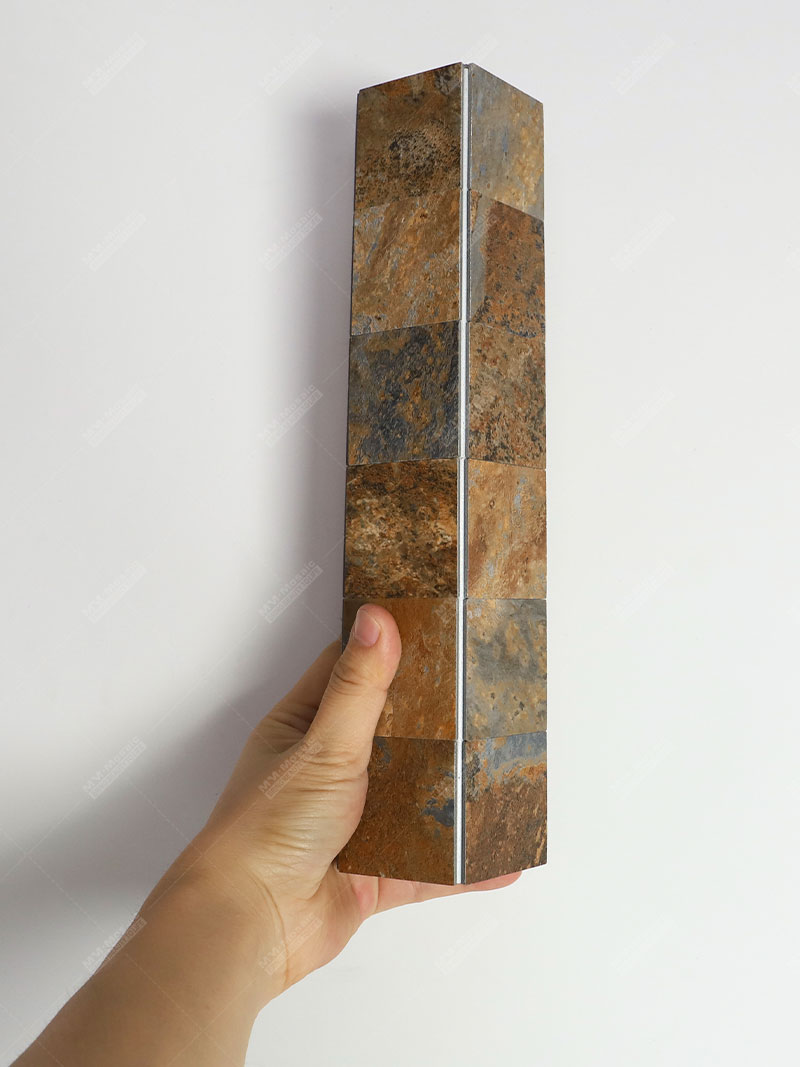 Get Inspired?
Falling in love with our PVC Composite? Inspired by our interior design with new things? Order peel and stick tile samples to see, touch and feel in person. We're so excited to hear your ideas about our new things. MM-Mosaic will design more chic and fun tile for your future projects!
Shop New Things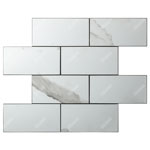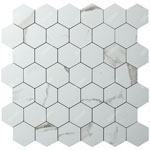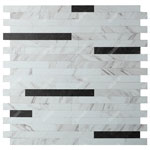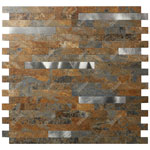 ZOM8022 / ZOM8024 / ZOM8025 / ZOM8021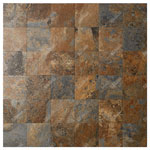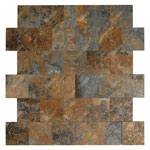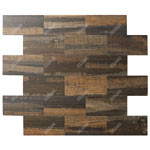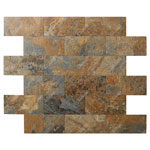 ZOM8019 / ZOM8019-B / ZOM8023 / ZOM8027