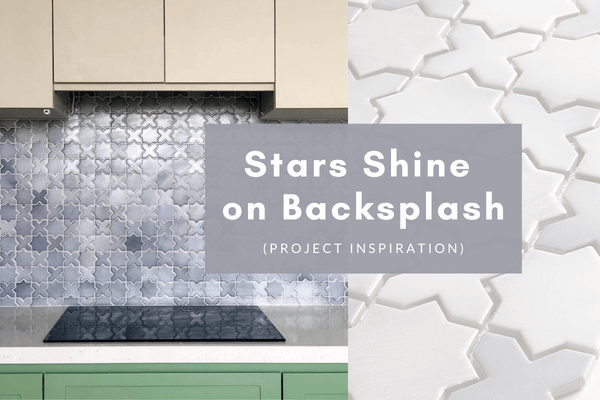 Do you love your house so much that it's hard to leave at the weekend? Now imagine how much harder it would be if you also had this appealing Star & Cross kitchen backsplash to stare at all day! At this kitchen remodeling project in Vietnam, they do and we must show, it sure is a swoon-worthy kitchen backsplash if we ever saw one. Keep reading to learn how we turned an understated space into a statement with the help of a few dusty tones of ceramic handmade tile.
The Inspiration
The inspiration can from this beautifully bold and chic kitchen backsplash we worked on with our design team. There are a few key elements to this project that have together proven to make some amazing stunning interior designs.
1. The Color palettes
The Stat sky covers all the kitchen backsplash and has high color variation, making them twinkle, twinkle, twinkle under the light. They quickly become a customer favorite. The glaze colors are a blend of our most popular neutrals in a gradient of gray to white. While these glaze colors are tried and true, we have seen this wall tile beautifully executed with other colors as well.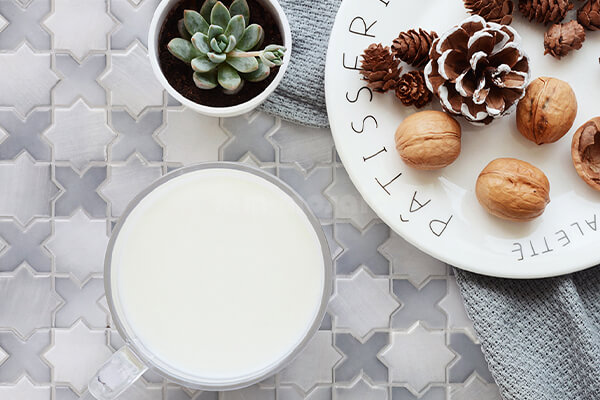 2. Mixed Tile Shapes
We combine a Star shape with a Cross shape and find that they pair perfectly with each other. It adds an extra visual effect that makes the new tile sheet design look like a piece of art. The way the gray tone perfectly fits into the new handmade tile is dreamy and eye-catching.
Aiming to add more personality to an already dramatic color scheme of grays and silver whites, we thought, why not mix shapes? Mixing shape is one of our new favorite tile design inspirations. The way the star shapes fit perfectly into the cross shapes takes the overall design to the next level.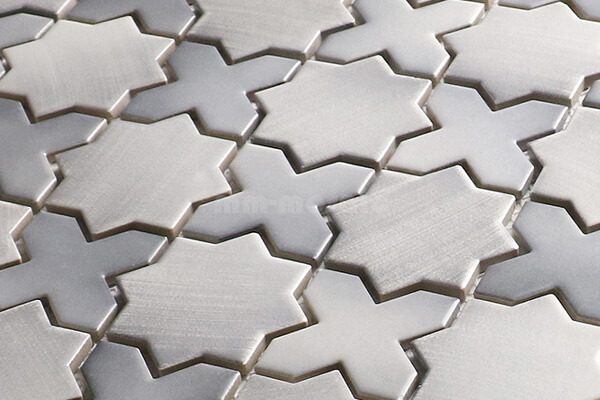 Star & Cross
Our Star & Cross is one of our most beloved shapes. Similar to the midnight sky, they are mysterious and fascinating. Could there be a better way to brighten your life than with a little star? Well, Star & Cross sure are a versatile tile too. Whatever your style, there is a way that these Star & Cross can be designed to fit into your design vision. From Maximalist to Minimalist or Art Decor to Modern - these are the chameleon shapes that will match your space style. Simple tweaks to color will create your Star & Cross project to match your character perfectly.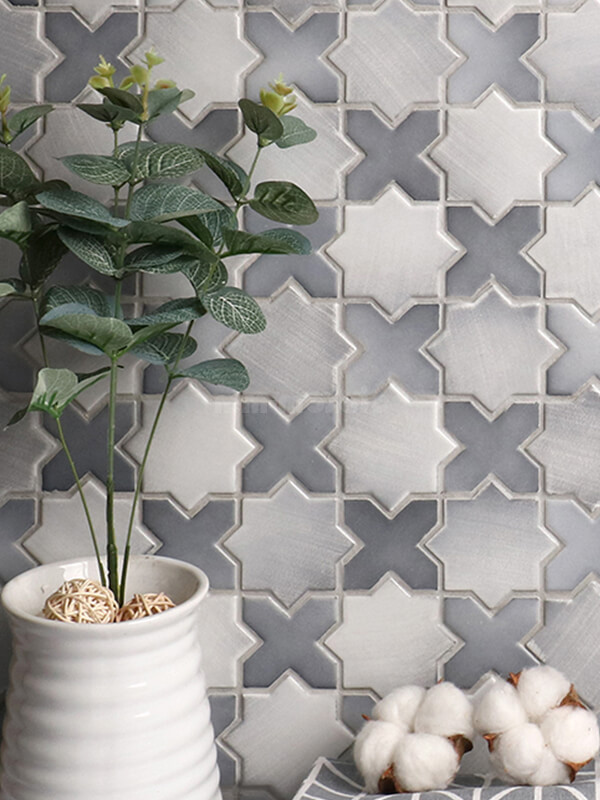 Featured Tile: Star Cross CZO033A
An Artful Take on Kitchen Tile
The homeowner of this kitchen, Mike, has style. His condo is modern and understated with some personal decoration, a silver accent wall in the living room and pops of midnight stars decor. His appreciation for handmade items drew him to our Star & Cross tile for his kitchen remodel project. Our artisan process of creating the handmade from start to finish was the perfect fit for his contemporary house filled with personal art.
We love the way this photo is. The beautiful contrast of gray-glazed to the white-glazed tile for the contrasting "midnight sky". The way that tile floats effortlessly from the stove hood across the backsplash for movement. The way white marble countertop reflects the kitchen tile in this light-filled kitchen. Every detail was executed wonderfully, just like the rest of Mike's house.
For more kitchen remodeling project ideas, visit our blog "Project: Green Forest Place Custom Kitchen Backsplash"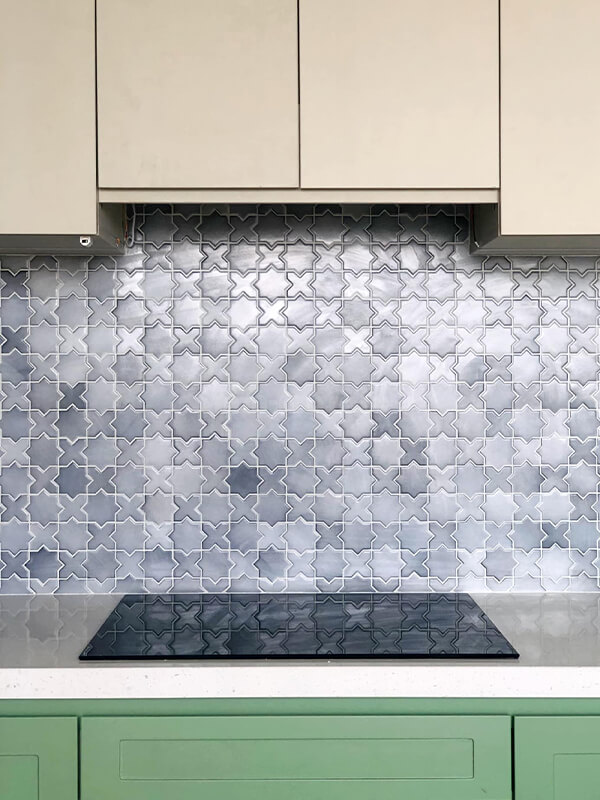 How to Add Handmade Tile to Your Wall
While beginning a project, particularly a custom plan, with us, you will talk with someone from our sales team who will help you transform your dream ideas into a reality. Your remodel plan doesn't need to be finished all by yourself, because we love working together to find something that combines well with the rest of your home. And then, once we got to know Mike, we knew he needed something with a personality that also matched his personal style. For him unique stars backsplash we designed based on the existing dimensions of the kitchen, for an installation that really belongs in the space.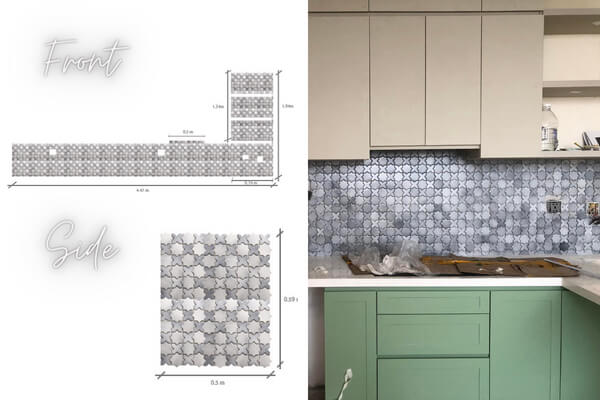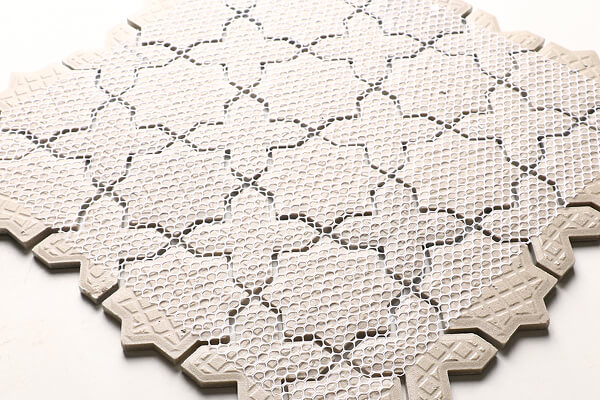 We all know that a kitchen backsplash like this looks like an intimidating process to design and install, however, we have been doing this for over 16 years and have simplified the process to make artisan tile possible for your house too. After we receive measurements of your kitchen backsplash, our designer will mock up the unique layout for you to approve. And once we get all of the handmade tile created in our factory, our layout team worker glues the tile onto mesh sheeting so that something this project is just as easy to install as any other project.
The Tile Details
The finished project provides a stunning range of silver whites and grays in a subtle ombre reminiscent of the natural midnight sky that covers sparkling stars. Each glaze color we chose has high color variation, so it looks like they have a wide range of glaze colors but in reality, we only used three. The Star & Cross shape always makes a statement and their star appearance look beautiful with an organic edge around it. This unique handmade tile choice paired with the modern feel of the kitchen resulted in a kitchen that's both dreamy and chic.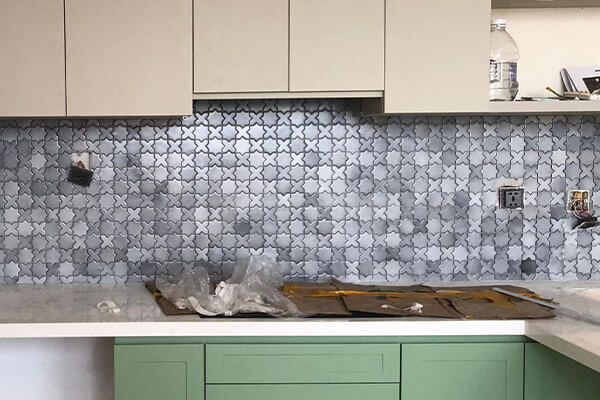 The Finish Touching
The final remodel project is a wonderful result. The local design team truly amplified the impact of the special Star & Cross tile by decorating with simple white cabinetry throughout and white floating open shelving. We all love open shelving because it shows off more of the appealing wall tile and gives you fun ways to style your kitchen backsplash. The entire space breathes the mystery and dream of the midnight sky, and we are so proud to be a part of our client's home!
Know more about kitchen backsplash ideas with our blog "Projects: 6 Trendy Backsplashes Awaken Your Kitchen"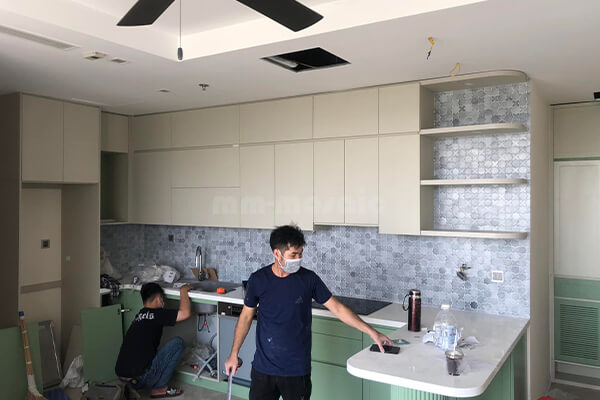 Get Inspired?
We all agree that no two personalities are the same so why should their spaces be? MM-Mosaic is on a mission to break the barrier of bland handmade tile, as well as give our clients accurately what they have been dreaming of. So we want to know - What does your personal kitchen backsplash? Check out below and feel free to contact us for free tile samples to see and touch right now!