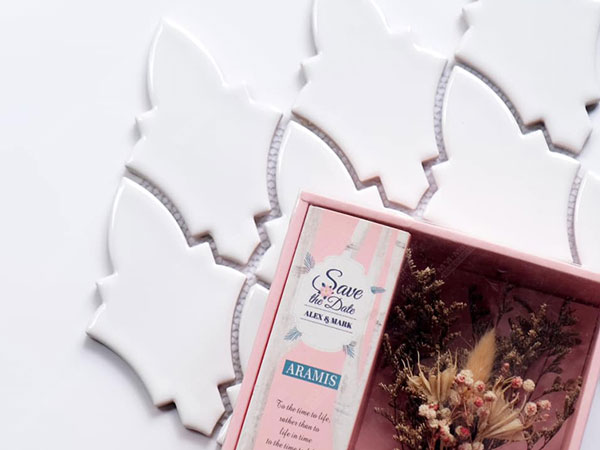 Do you like things simple and minimalistic, white and glossy? When it comes to our unique shield tile, we have design ideas for whatever your style may be! The kitchen is arguably the most important room of the house. What's more, Kitchens are one of the ideal rooms to play around with interior design styles. From the appliances, cabinetry, decor, and most significantly the backsplash, there are so many ways for you to embrace your personality throughout the room. In this blog, we're showing off 6 of our favorite projects that our tile can improve your kitchen style from Southeast Asian Style to Scandinavian Style. Read on to see 6 creative kitchen backsplash ideas for your style.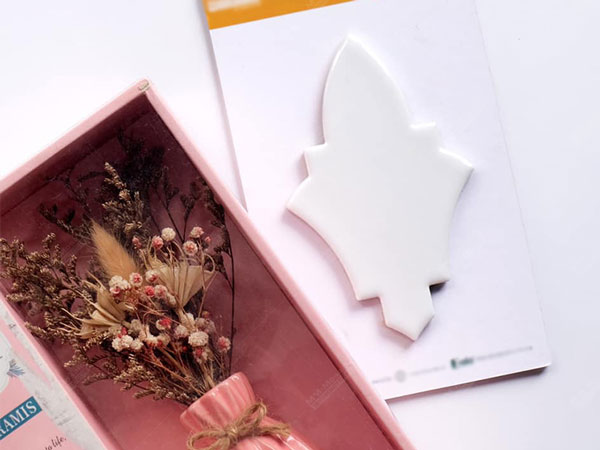 Featured Product: Shield Shaped CZG202Z
Create an unforgettable ambiance with simple white tones like Vietnam Homes did with our white Shield Shape Tiles. When using a unique and understated color, such as pure white, you can open up and transform any room of your house. Head over to our blog "Style Collection: 268*222 MM Glazed Shield Shape Porcelain Mosaic" to browse different ways to use our white tone shields and check out for more hues.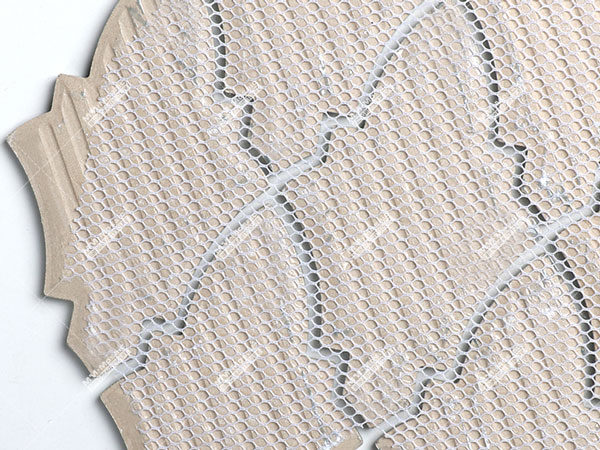 Our Shield tile is inspired by the shield used in battle! A classic and charming wall tile, these polygonal and creative shapes will grace your space for time to come. With the back-mesh design, you can install the shields easily and save you more time as well as money.
Style No.1
Shields may be a soldier's best friend, but these white shields can be everyone's best friend! This bold tile shape is gaining ground in the tile design world and with good reason. By using multiple tones you can create a unique geometric tile pattern. Focus on one color like simply white for a modern and minimal look.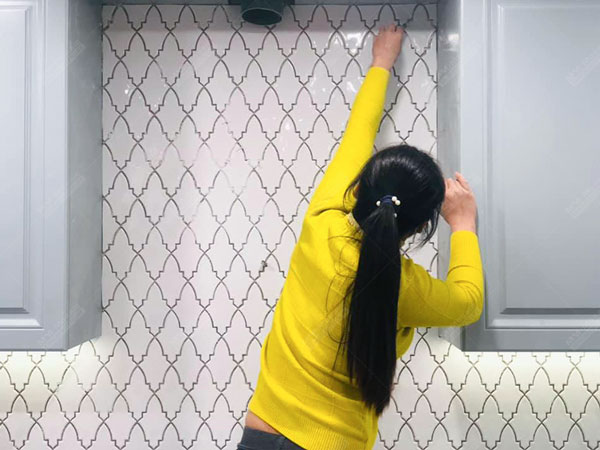 We love this project because the simple white color choices work so well together. These kiln-glazed Shield Tiles in a glossy clean white brings so much brightness and energy to this large kitchen space.
For more white-style kitchen design, visit our blog: 10 Projects That Show Monochromatic White Stand Out >>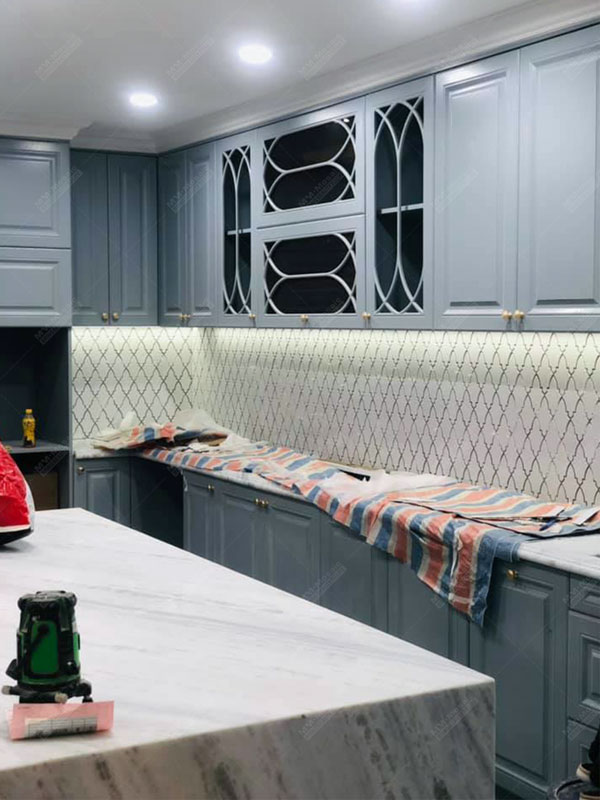 Style No.2
We are loving the movement towards orderly tile shapes and these extraordinary shields are just too cute! Aside from being cute, they are also helpful in making the kitchen backsplash appear larger. It plays as an optical illusion: the more orderly tiles your eye sees the more surface area it attributes to the wall. Kiln shield tile is a more delicate approach to stacked tile because the grout lines are closer together, seeming less harsh and more integrated.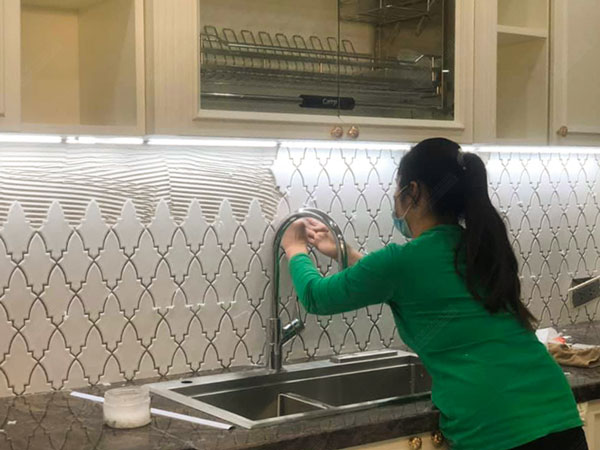 Oftentimes interior designers will overlook an all-white backsplash due to it might appear to be a bit underwhelming, but that's only because they haven't met our kiln white glaze yet. Filled with character, personality, and variation that you just won't see in other tiles, we would like to formally introduce our "Shield Shaped CZG202Z"
For more ways to use this white glaze color, visit ou blog: White Stacked Subway Tile For Kitchen Backsplash >>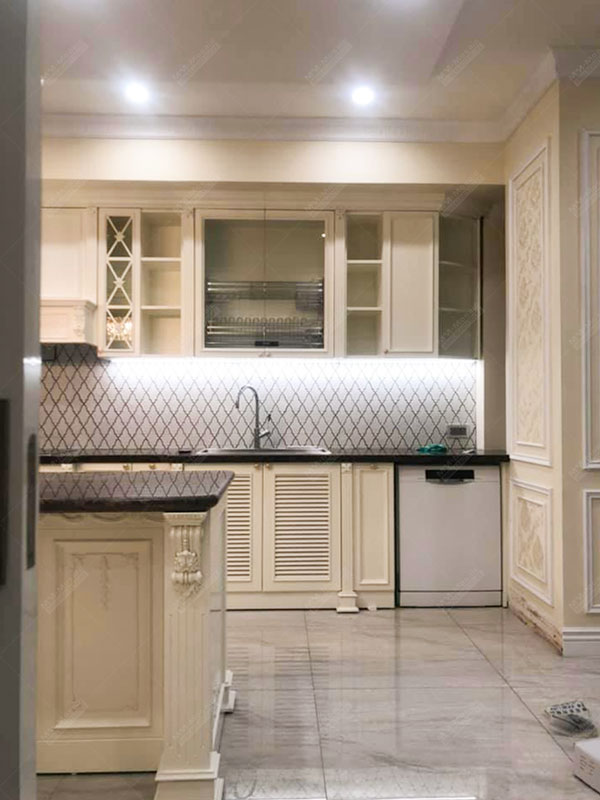 Style No.3
The pleasure room in any house is usually the kitchen, and this playful palette of White Shields exudes that in spades. Minimalistic and full of simpleness, this plain backsplash adds a charming touch to a classic-looking kitchen. The white is expected, and comfortable in this space. The whole white tone makes the open kitchen brighter and cleaner. Adding the white splashback throughout the kitchen ties the room together, and let's face it, is totally adorable.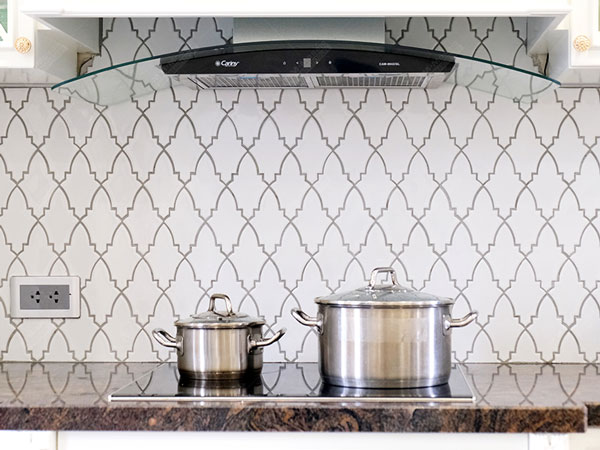 Sometimes the perfect way to showcase our White Shields to just let them shine. This pure white showstopper checks all of the right boxes - it's contemporary, dynamic, clean, and just plain beautiful. The geometric grout lines give dimension to the wall, while the open mix closed shelving breaks up space, balancing the elegance of the color and design. The matching marble island and silver fixtures add a simpleness only matched by our exquisite Shield Tile.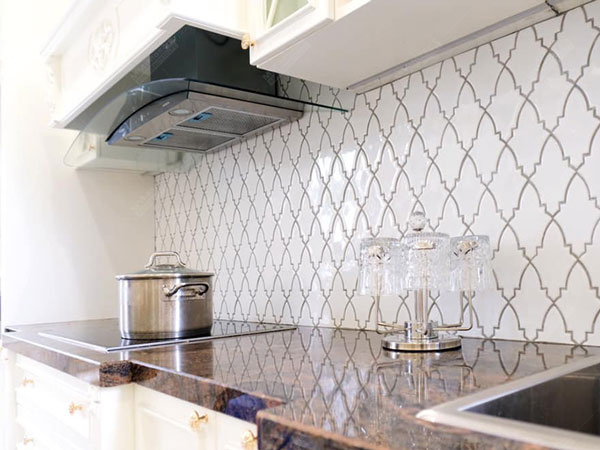 Clam, peaceful, collected: this thoughtful open kitchen project provides a modern and clean space for making meals while pushing the boundaries of design. The beautiful tile pattern made of the white shield is a refreshing take on the backsplash design. The plain color makes the room look bigger. The sunlight filtered through the window, which makes the white backsplash attractive.
For more trendy kitchen backsplash ideas, visit our blog:7 Decorating Ideas To Make The Most Of Diamond Tiles >>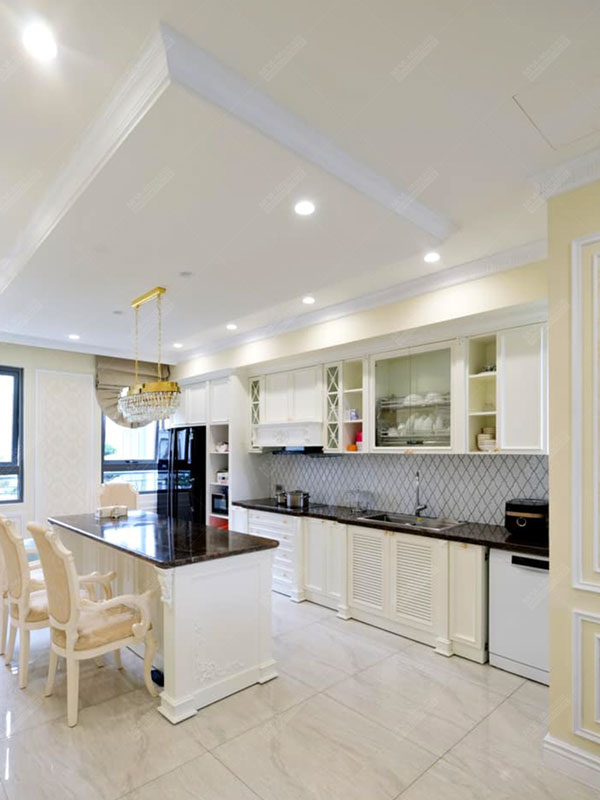 Style No.4
Natural wood has become a huge trend in kitchen woodwork, and with it comes a simple look. This is a wide term that includes multiple styles such as Rustic Farmhouse, Modern Mountain, and Cabin to name a few. The goal of nature is to emphasize the rustic. The kitchen backsplash below nailed the look with the naturally occurring shape of Shields in a placid and plain white glaze.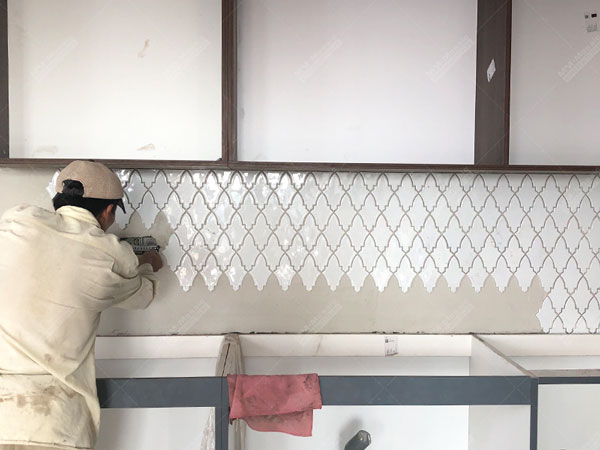 One of our favorite tile shape options for a creative kitchen design is Shield. This shape has stood the test of time and adds instant elegance to any room. While you could opt for bold, we love the look of this in a neutral color, like in the kitchen backsplash below. If going more minimalistic, reduce some decor items that match that popular color and keep the whole space neutral bright white.
See more details of this stunning and appealing project, visit our blog: Creative Vietnamese Backsplash Inspired By Shield Shape Mosaic >>
Style No.5
Using shades of whites in your kitchen is another way to add a calming feeling to this high-traffic area. Particularly when used in a space with a great amount of natural light, white can bring a sense of tranquility that promotes health, healing, and peace. We are completely in love with this bright and airy Vietnam-style backsplash!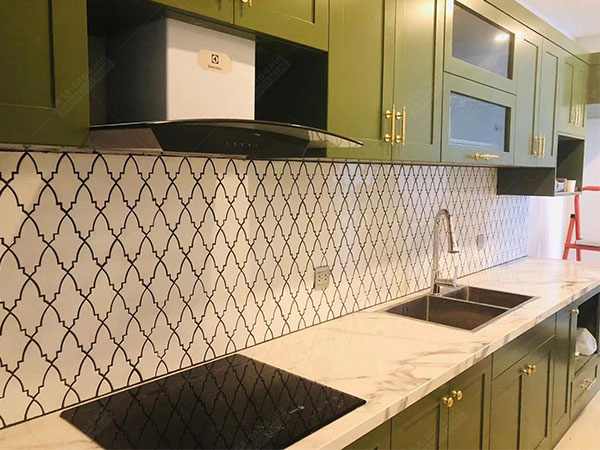 Green is the color of nature and brings a tranquil atmosphere to any room. Here, the forest green cabinetry is the perfect contrast to the bright and simple white shield backsplash and elegant marble countertop of this amazing kitchen. It adds a gentle sense of drama while providing a whole calming effect to the room.
For more backsplash inspiration, visit our blog: Trends - Top 10 Residential Interior Projects of 2020 >>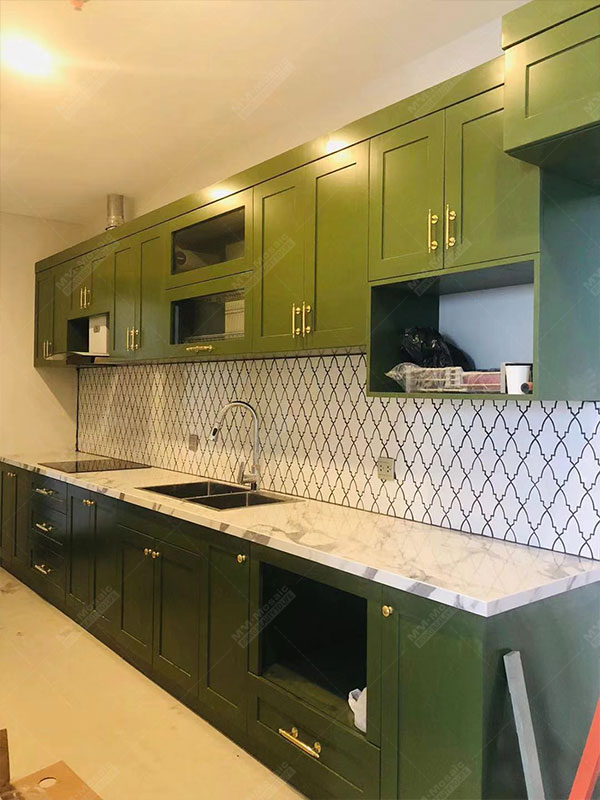 Style No.6
Using a palette in your kitchen doesn't have to define the space through simple and bright tones. This pure white natural-toned Shield design is a more accessible way to bring the minimalistic color into your home through the use of a kiln surface, subtle variation glaze.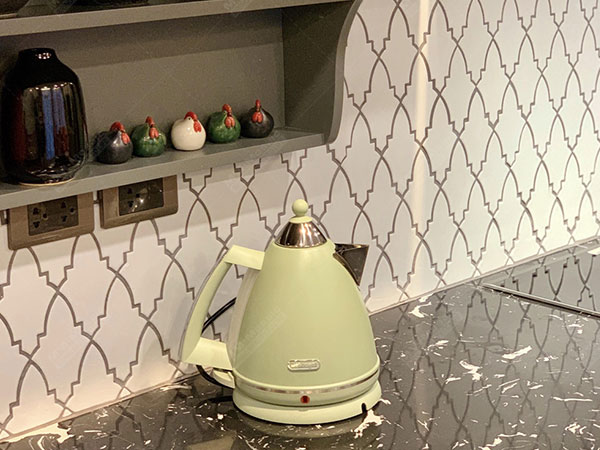 You don't need to go large with color to be able to add some brightness to the kitchen space. Our unique Shield shape tiles are the ideal wall option for any kitchen backsplash. You can customize the color and make them your own. Here we have neutral gray cabinetry that ties in the kitchen color, making this room perfectly balanced.
For more on unique backsplash ideas, visit our project blog: How Green Glaze Plays in Cafe Shop and Rest Room >>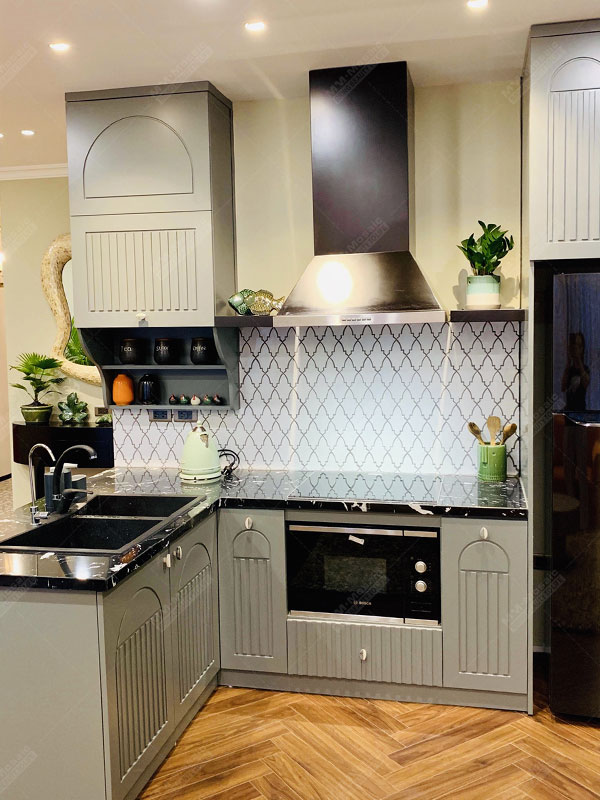 Get Inspired?
Obsessed with our Shields? order tile samples to see, touch and feel this appealing tile and tell us your future project ideas. Not only that, but you can also share your ideas about tile shape, color, size, and anything else you want to share. MM-Mosaic will get back to you immediately and support you with your home or commercial remodeling plans.
Shop The Shields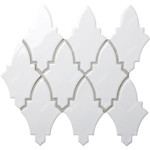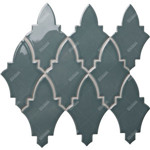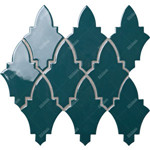 CZG202Z / CZG301Z / CZG202Z