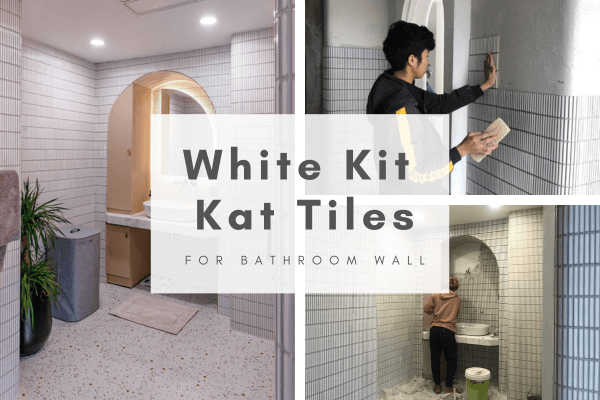 When it comes to designing a bathroom, choosing the right mosaic tiles can make all the difference in creating a space that is both functional and aesthetically pleasing. The white Kit Kat tile is one such tile that stands out for its minimalistic yet captivating qualities. Not only does it boast a bright white hue, but it also has a unique ceramic texture that sets it apart from other tiles. In this blog post, we'll explore why the white Kit Kat tile is such an inspiring addition to any bathroom design.
Creating a Visual Inspiration Board
If you're looking to embark on a custom kit kat tile project, we're thrilled to assist you in getting started! To kick off your project, we recommend gathering inspiration for your kit kat tile design. Consider the colors and sizes that capture your interest, and assemble images to create a mood board. Take a look at our color palette and kit kat tile sizes on our online shop, and determine which combinations align with the aesthetic of your space. When seeking inspiration, Ben, the interior designer behind this project, recommends exploring kit kat tile lines, original shapes, favorite colors, and sizes possibilities.
If you're unsure how to bring together all of your sources of inspiration, don't worry - we've got you covered! Our team of Design Consultants are experts in creating mood boards and enjoy helping you focus your design direction.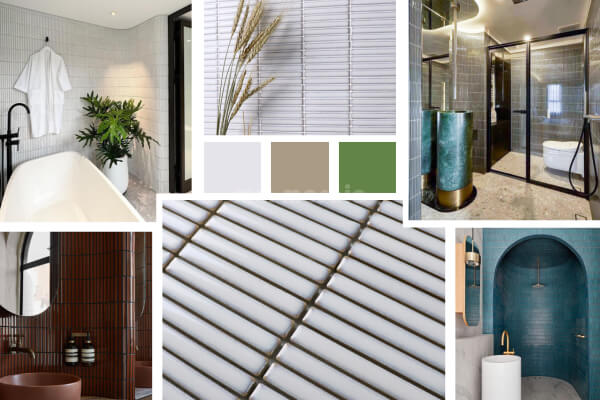 Making the Bathroom Project
In this project, Ben was drawn to a bright, minimalist, and natural atmosphere, just like the mood board displayed. The natural wooden storage cabinets, stainless steel silver hardware, arched doorway design, and refreshing green plants perfectly complement the ambiance, along with the simple kit kat tile wall. Ben wants the kit kat tiles to flow seamlessly from one end of the wall to the other, opening up the small space even more. We landed on a trendy 12*92 size kit kat tile paired with our favorite minimalistic white glaze. After finalizing the design direction, our team will work with you based on your specific measurement values to complete computer-aided rendering. In these drawings, we will consider the variation of the tiles as well as grouting recommendations to fully visualize the design for you.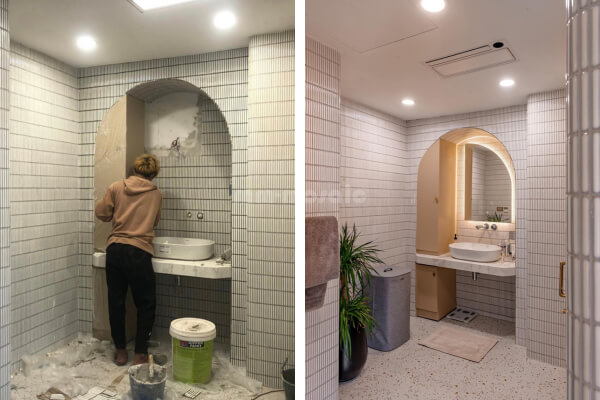 Why Choose 12*92mm Kit Kat Tile in White
Using 12x92mm kit kat tiles in white for a bathroom wall can provide several benefits. Firstly, the tile 12*92mm size can make a small bathroom feel larger by reducing the number of grout lines and covering more wall space. The white color of the kit kat tiles also creates a clean and bright atmosphere, making the space feel more welcoming and spacious. Additionally, installing the tiles vertically can create an illusion of higher ceilings, further enhancing the sense of space. Finally, the unique shape of the kit kat tiles can add visual interest to the bathroom design and be used to create interesting patterns or designs on the walls. Ultimately, the choice to use these kit kat tiles will depend on personal preferences, budget, and the desired design aesthetic for the bathroom.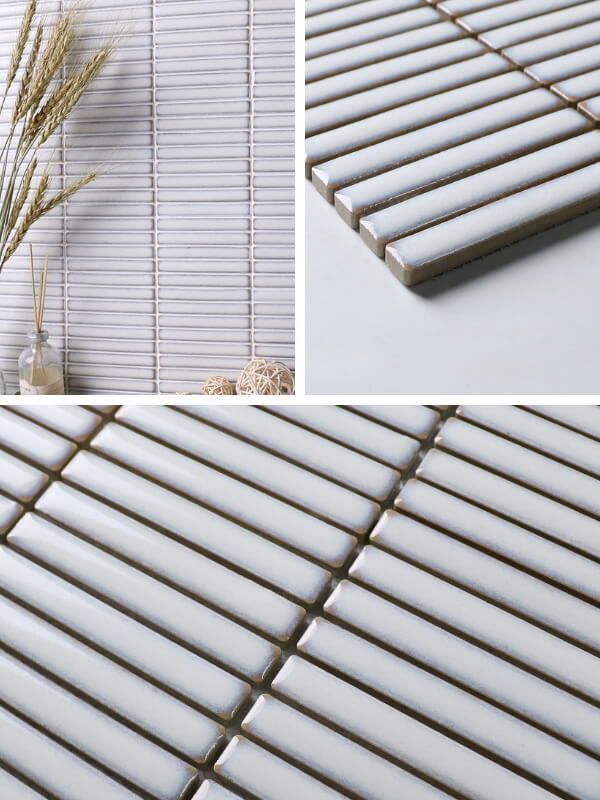 Featured Product: 12*92mm white ceramic kit kat tile CZO251A
The Installation Process
When installing White Kit Kat tiles on a curved wall surface, there are some important things to keep in mind. The main difficulty is cutting the tiles at an angle to fit the curve of the wall. To do this, you will need to make precise measurements and use a tile cutter that can make angled cuts. It's also important to use tile spacers to ensure that the tiles are evenly spaced apart.

Installing white kit kat tiles on an arched surface, especially on the curved portion of the arch, can be a bit more challenging than on a straight or flat surface. To install the tiles on the curved portion of the arch, you will need to use a tile nipper to trim the tiles to fit the curve. It's important to work carefully and take your time when trimming the tiles, as it can be easy to break them if you apply too much pressure.
In both cases, it's important to use a high-quality tile adhesive and grout to ensure that the tiles adhere properly and create a cohesive, water-tight surface. With proper preparation and attention to detail, you can achieve beautiful results when installing White Kit Kat tiles on curved or arched bathroom walls.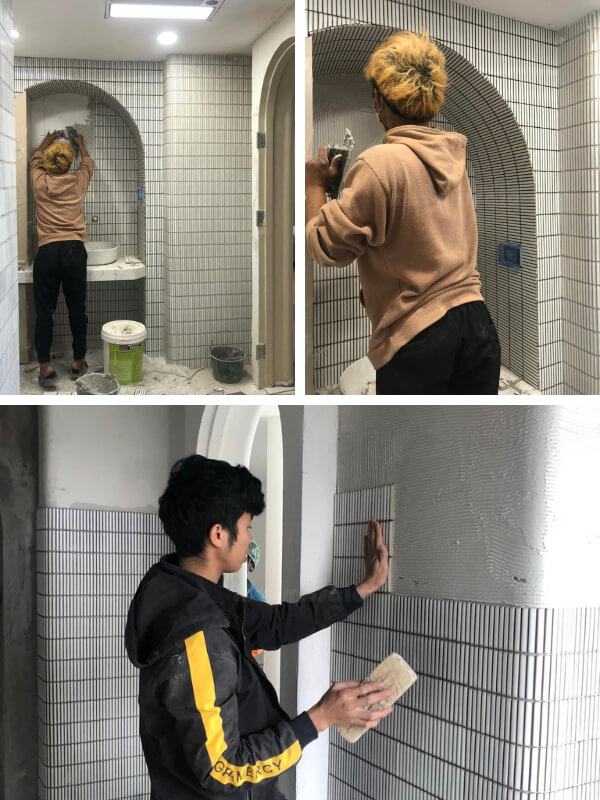 Focus on This Bathroom
One of the standout features of the space is its use of curved elements. The arc-shaped door, storage cabinets, and mirrors were all intentionally designed to complement one another and incorporate a sense of flow into the space. This creates a cohesive design that is visually striking and unique.
Another notable aspect of the design is the flowing, curving shape of the walls. By using this shape, the space feels more dynamic and intriguing, while also creating a sense of movement throughout the area.
The addition of green plants within the space brings a refreshing touch of nature to the interior design. The plants not only add aesthetic value but also serve as natural air purifiers, enhancing the overall ambiance of the room.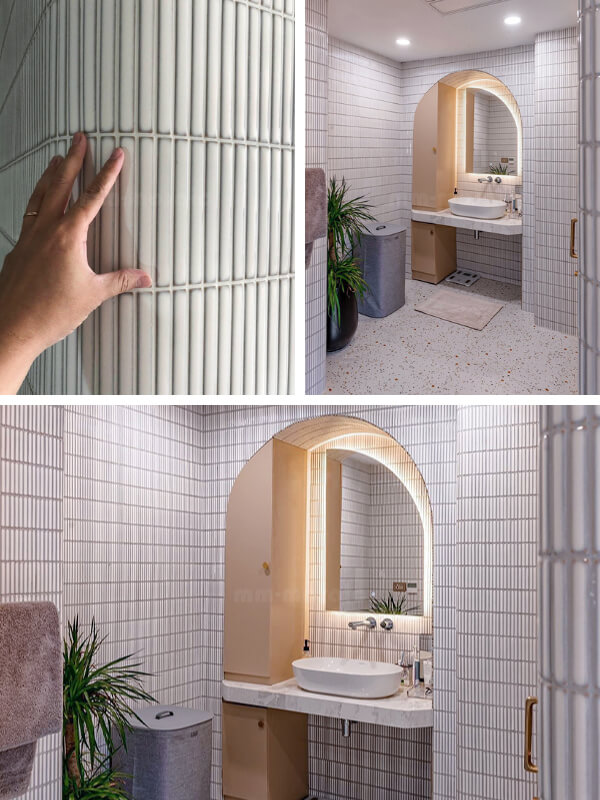 Furthermore, the warm yellow ambient lighting adds a cozy feel to the space, making it an inviting and comfortable place to be in. This type of lighting creates a relaxing atmosphere that calms the mind and soothes the soul.
Finally, the use of terrazzo tiles in a soft beige tone on the floor is a perfect match for the entire aesthetic of the space. It complements the other design elements seamlessly, creating a harmonious and balanced atmosphere.
Love this bathroom design with kit kat tiles? See other inspirations by visiting our blog "How to Pick Kit Kat Tile Color"
Get Inspiration
Ordering samples of our kit kat tiles is a wonderful way to explore the possibilities and potential of our product. By experiencing the texture and quality of the tiles firsthand, you can gain a better understanding of their unique character and fall in love with their beauty.
MM-Mosaic, as a well-established tile manufacturer with 17 years of experience, is always inspired by the creative ideas of our customers when it comes to home decor projects. We are eager to hear more about what inspires you! Regardless of whether you're looking to enhance your kitchen island or bathroom backsplash, our tiles can bring beauty and personality to any living space.
For those seeking inspiration, we encourage you to peruse our blog post highlighting "9 Island Ideas with Kit Kat Tiles You'll absolutely love." We hope these examples will help stimulate your creativity and give you some ideas for starting your own project. So why wait? Let's begin transforming your vision into reality. Contact us today and share with us your future plans, and we'll work together to find the perfect tiles to meet your specific needs.