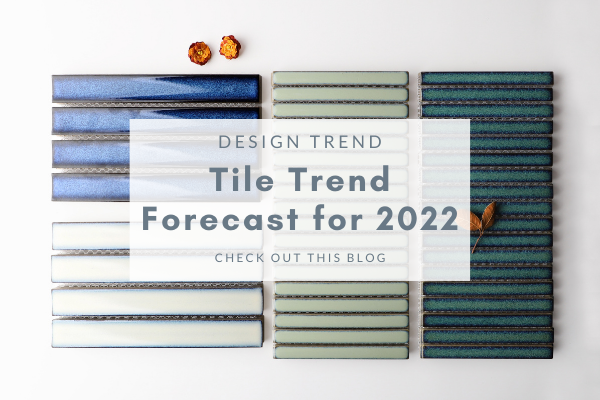 Considering any New Years Remodeling? From interior space installations to creating the wonderful finishing touch, the MM-Mosaic Forecast has got the scoop for what you will be seeing in catalogs, our showrooms, commercial and residential space. We're counting down the 8 tile trend forecast for the next year.
New 2022, new design. As we turn the page on 2021, we're expecting a year of feeling relaxed, energetic and refreshed. And there's no better way to set the tone with our forecast of the tiles to inspire interiors in the year to come. Let's read on to see our 2022 tile trend forecast!
8 2022 Forecast: Kit Kat Tile
Kit kat tiles are versatile wall decor for any space. While this tile shape is known for symbolizing finger and balance it can also represent orderliness. We like to think that by highlighting the textures and variations of our kit kat tiles that it transforms into a charming look rather than a dull finish. By creating modern and unique spaces with different styles of kit kat tile, our handmade tile can make any space feel like a dreamland!
For more Kit Kat Tile ideas, visit our blog "Kit Kat Tile: 6 Palettes to Rock the Look"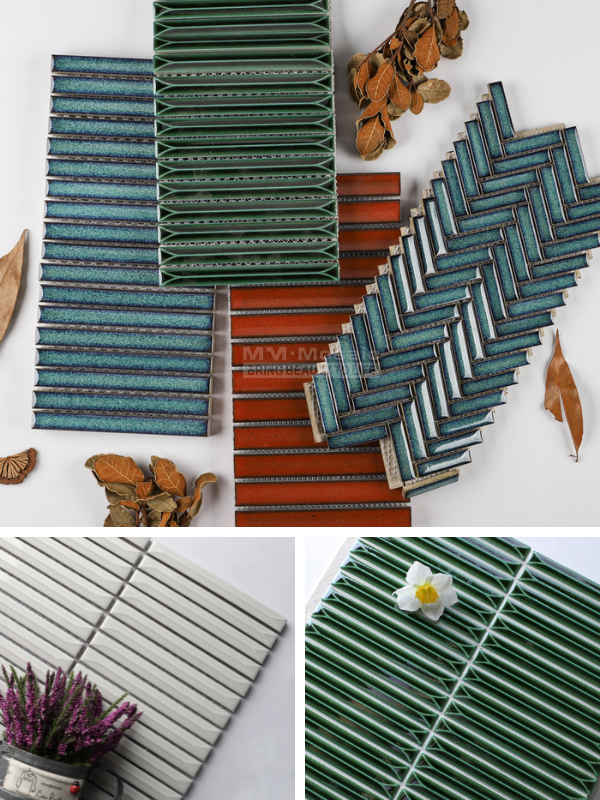 7 2022 Forecast: Simple Never out of Style
White glaze color represents simplicity in many ways and white is the color that completely nails it in the versatility category. If your goal is to turn your bathroom into a minimalist Scandinavian dream, look no further than these simple white in fish scale shapes. When using all one glaze color, try to get creative with the design and overall flow of the wall tile. Laying out our Fish Scales in the horizontal pattern makes these space seem like this wall go on for miles.
For more ways to use our white glazed tile, visit our blog "Trends: 8 Ways to Awaken White Ceramic Mosaic Tile"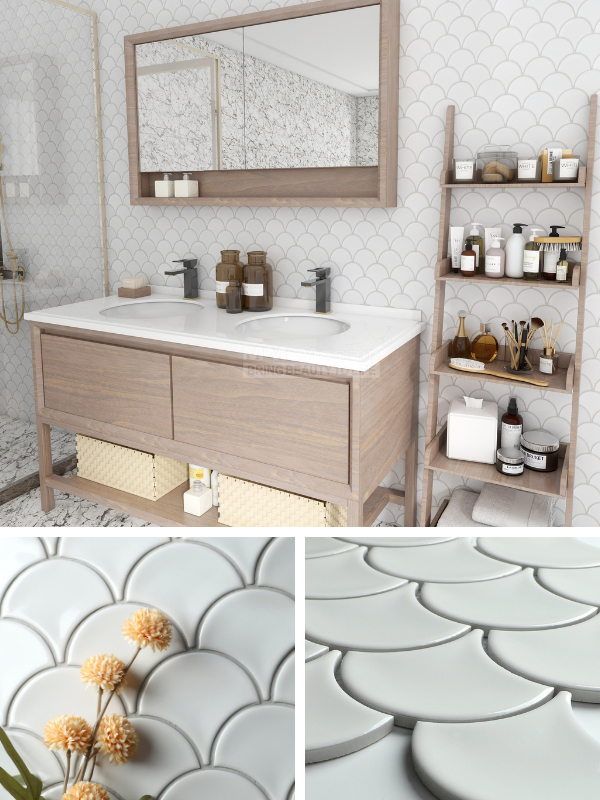 6 2022 Forecast: Meet the Natural Vibe
If we had to choose one tile shape for every space remodel, it would be our Leaf Shape Tiles. This shape automatically turns any wall into a natural space. We're used to seeing clients flock towards these refreshing tiles for their space, usually in our leaf tile, but love this spontaneous splash of natural color. This accent statement wall is one of our favorites. It shows that you can bring dark greens and fresh colors into a space and still give off "forest" vibes.
For more on how to use our leaf tile, visit our project "Tranquil Dark Green Leaves At Cafe Shop Entrance"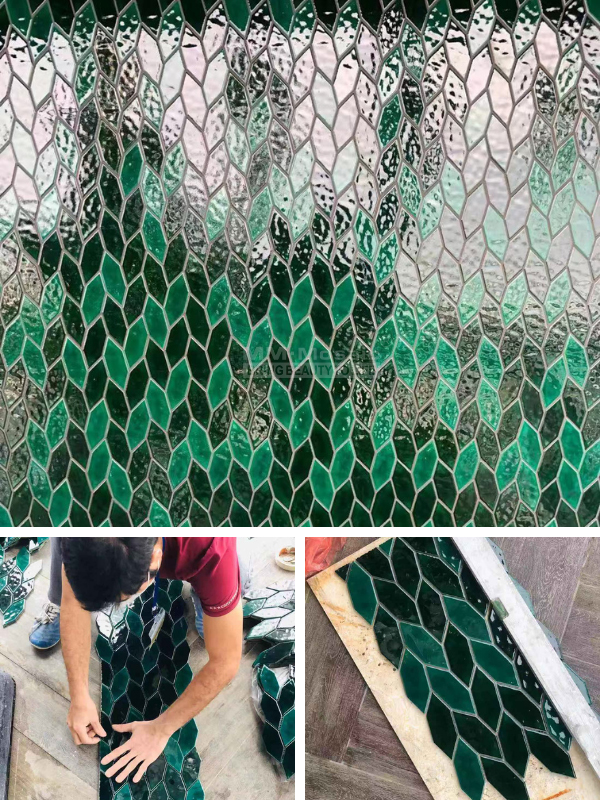 5 2022 Forecast: Shades of Blue
It isn't difficult to envision why Pantone chose "Very Peri" as the color that inspires hope during this time. Blue classically evokes feelings of warmth, calmness, and happiness. When used thoughtfully, blue color glazed wall tiles can be a soothing and perfect choice to awaken your space, whether commercial cafe shop or residential space.
For more on happy-hued tile, visit our blog "11+ Mosaic Tiles To Bring Pantone's Classic Blue Into Your Space"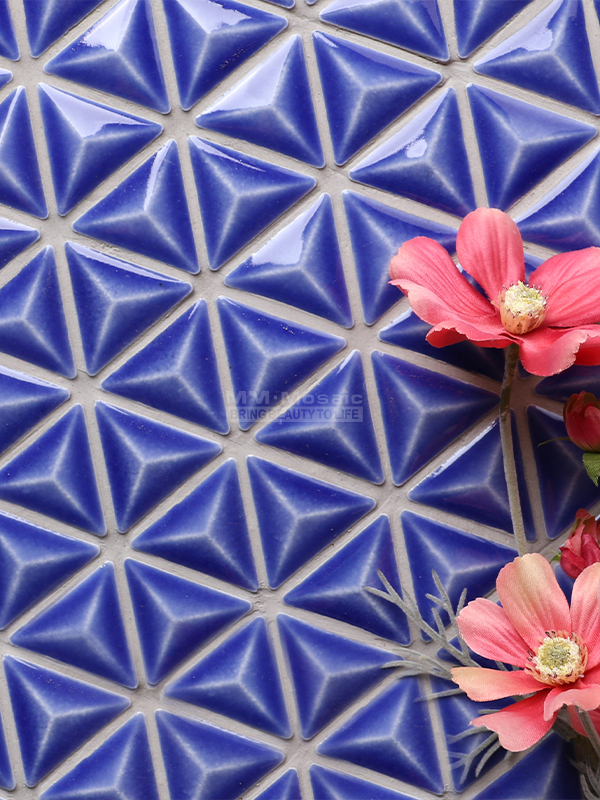 4 2022 Forecast: Peel and Stick
Available in any shape, color, and pattern, our peel and stick tile always takes the prize in the chic and modern category. Finding an easy trendy peel and stick mosaic tile DIY redecoration for your 2022 kitchen or bathroom project? Our PVC Mosaic Tile Collection could be an ideal option for you. The versatile wall tile can come in many designs, even you can make your personal design with our designer!
To see more peel and stick mosaic tile, visit our blog "PVC Mosaic Tile of the Patterns: 5 Styles to Inspire"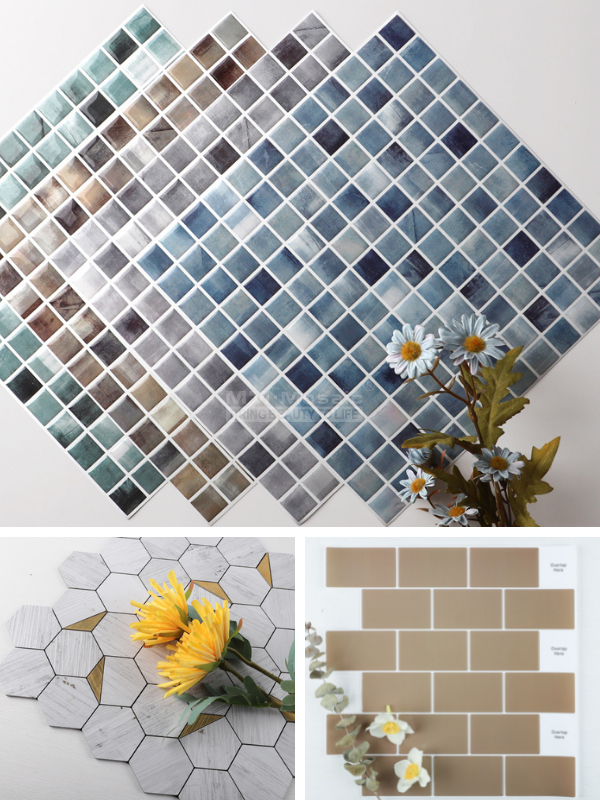 3 2022 Forecast: Focus on Patterns
Looking ahead to this year we are expecting to see more tile applications with patterned surfaces - from ink-jet pattern to 3D touch feeling finish. We anticipate that play of this concept to show up on small and large tile finishes. Additionally, we're going to see classic shape tiles making a comeback - Squares and Hexagons, creating canvases to add outstanding patterns to the spaces while designing. These hexagon tiles like delicious chocolate will create moments to lay in more pattern for visual breaks throughout any space.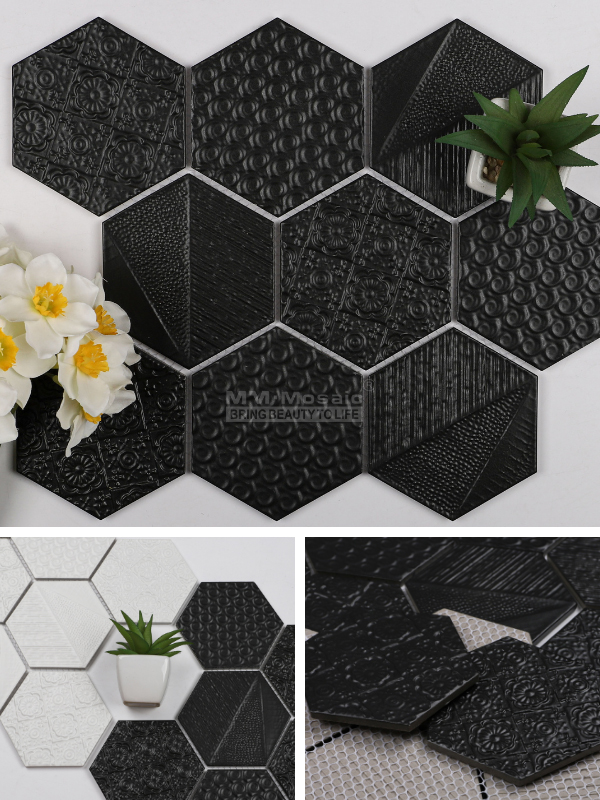 Featured Product: Mould Surface Jumbo Hexagon ZOA2102
2 2022 Forecast: Subway Tiles
Subway tile is probably the most welcomed of all due to its versatility. The bar space is the perfect place to play around with the Subway Tile layout. With choices like staggered, stacked, pinwheel, or crosshatch, the sky is the limit when it comes to getting creative with subway tile. This bar accent wall is one of our all-time favorites because it checks all the right boxes: rainbow iridescent Subway Tile, a fascinating wall, and a perfect stacked pattern!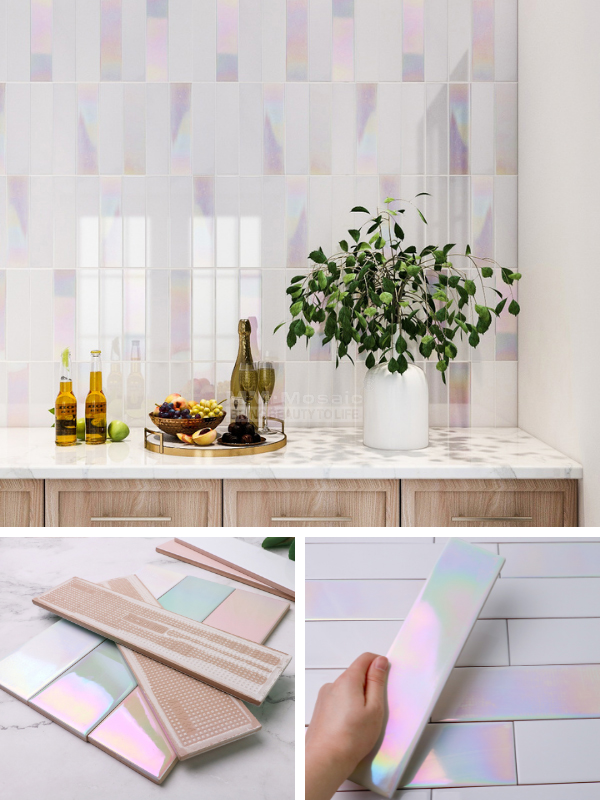 Feature Product: Iridescent Subway ZOE9902
1 2022 Forecast: Tile of Art
Finally, one of the most important things we hope to see in2022 is the resurgence of mosaic art. This mosaic art collection features any customized pattern that is the ideal decor for hallways, bathrooms, hotels, spas, pools, and even outdoor spaces. Generally, mosaic art pieces are largely made from glass, because glass materials bring emphasis to richer hues and color tones. Mirror glass will be a trend in mosaic art design! For more details check out our blog "Trends: Chic Mosaic Arts Decor Your Space"
In addition to this, tabletop mosaic is a trendy and stylish way to bring a marvelous visual feel to your indoor and outdoor entertaining and dining. If you're interested in exquisite mosaic art and want to renovate your table, our tabletop mosaic art collection might appeal to you.
Visit our blog for more tabletop mosaic art ideas "4 Mosaic Table Top Projects to Inspire"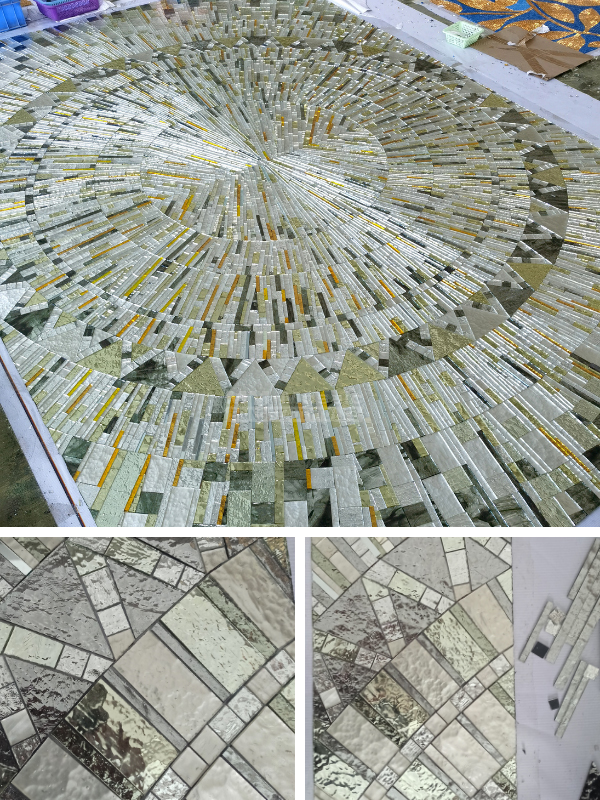 Get inspired?
We can talk tile trends 2022 until we are blue in the face but the only reason they exist is that someone decided to do things their way and transform the conversation. One of our favorite things at MM-Mosaic is seeing all the inspiring ways designers and clients use our chic tile and after many years, people still surprising us. Why not order tile samples to see and touch right now? You might fall in love with our tiles!