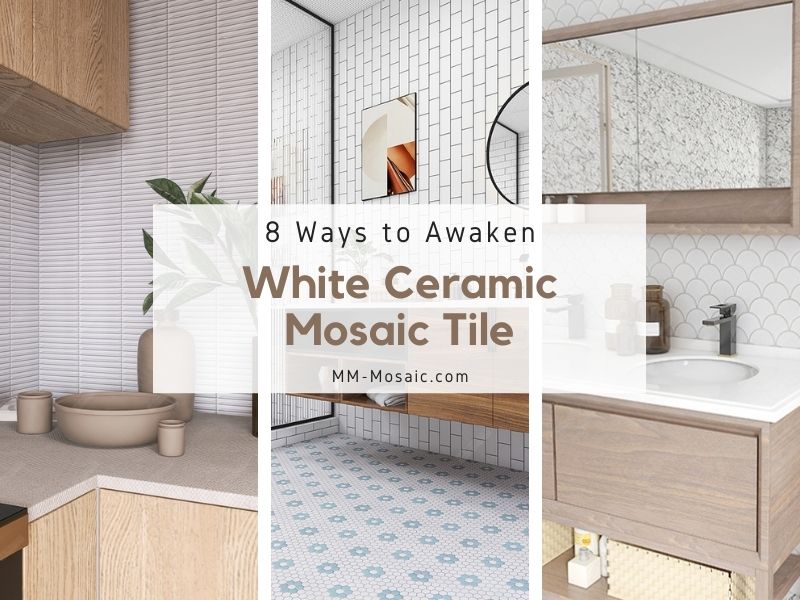 The white tone is a classical color and is known for being simplistic, minimalist, and breeze. We all love when our clients get inspiration with their mosaic tile, particularly when it comes to playing around with the white glaze hue. There are various ways you can spice your interior space up without things getting boring. Keep on reading to see 8 ways you can incorporate white mosaic tile in your house in unique and chic ways.
1 Fresh Oval Fingers
First on the list are these lovely and glamorous oval finger tiles! Bring a fantastic tile shape can change the mood of the wall in a snap, particularly with a tone like white. This accent wall includes eye-catching kiln white glazes and a fresh oval finger shape adds a subtle visual effect. By the way, these white porcelain mosaic tiles are ideal for making small spaces look larger.
For more inspiration on oval finger tiles, visit our blog "Style Collection: The Glamour Of Oval Porcelain Mosaic Tile"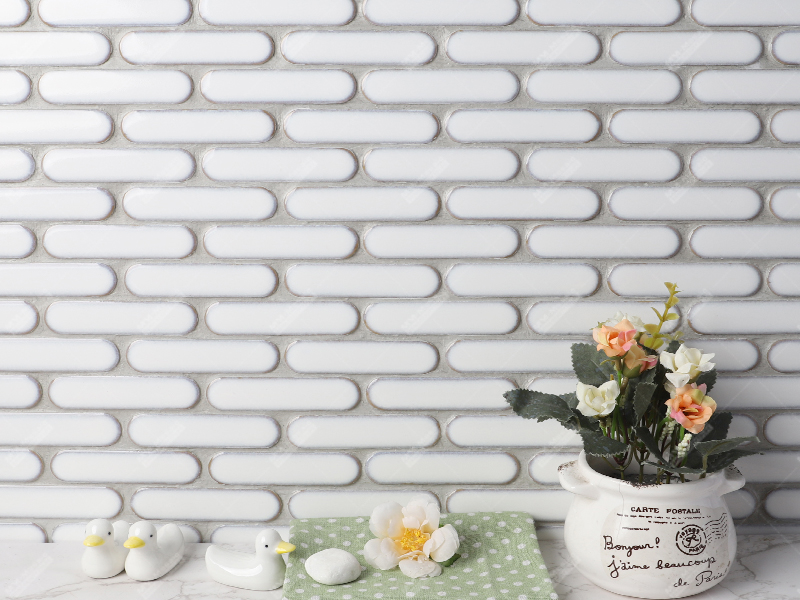 Feature Product: Premium glazed long oval porcelain mosaic white ZOB1205
2 Fish Scale Statement
Moroccan-style fish scales are a wonderful addition to any interior space, particularly for bathroom wall renovation projects. Their unique shape has such a vivid and fantastic design that draws everyone's eyes to it. This wall uses our warmer hue white which creates an airy and soft mood. Each of our Fish Scale has its personality which adds vitality to any room it's install in.
For more Fish Scale projects, visit our blog "Projects: How Moroccan Fish Scale Plays With 6 Commercial Space"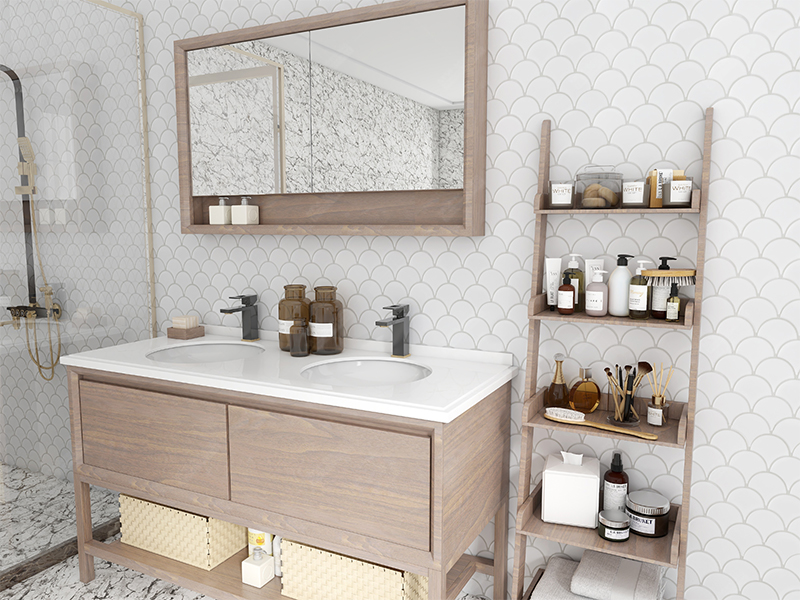 Feature Product: Fish Scale ZGA2201
3 Chic Herringbone
Look at this fun wall now! An individual twist on a classic shape, the herringbone tile pattern is the ideal way to let your creativity shine with standard subway tile. Each of these white herringbone tile is sized and glazed by our professional worker, giving it unrivaled depth, variation, and gloss. Herringbone mosaic tile is highly versatile - turning subway tile 45 degrees and then turn the classic herringbone tile 45 degrees can completely transform the look of a bathroom vanity wall.
We could go on and on about the creative interior design, check out this blog "Trends: Top 10 Residential Interior Projects"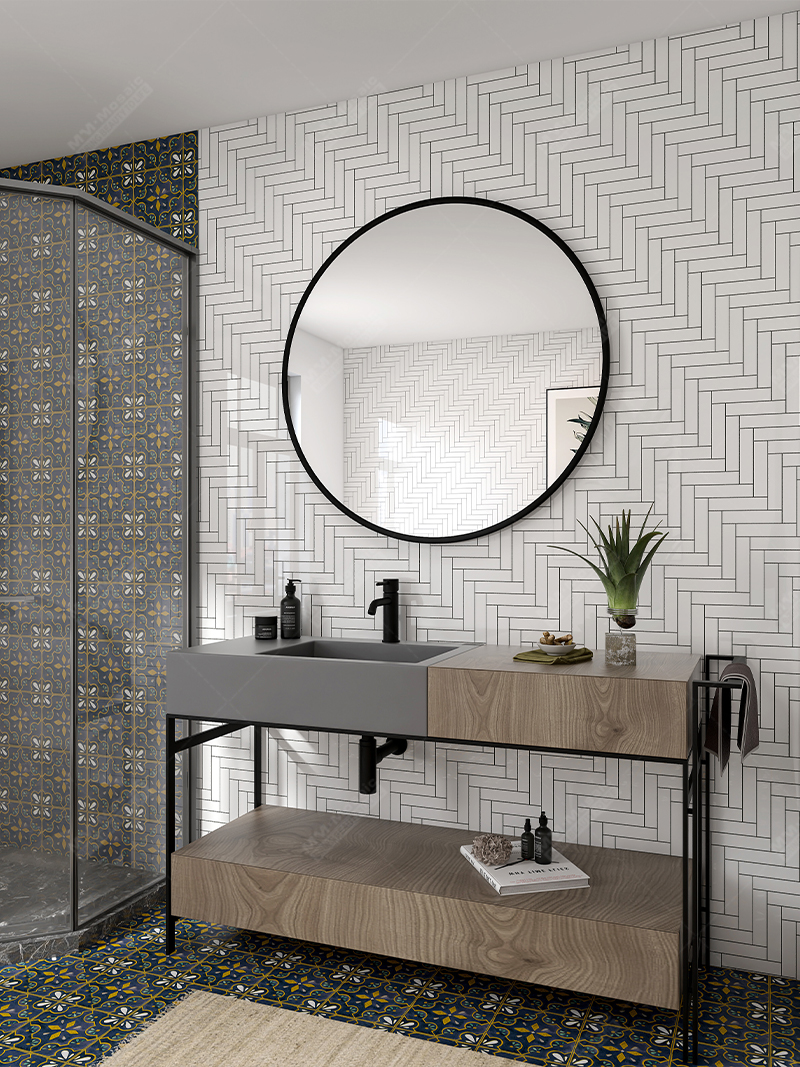 Feature Product: Herringbone ZMA1201
4 Black, White, and Gray Penny Rounds
Let's start with a classic: the hexagon flower design. This mosaic floor tile pattern adds various charm with little sophistication. It's clean, not too busy, but can make a bathroom floor stand out from an all-white style design. While sky blue and white tile in this pattern is a classic appearance, try experimenting with different colors. Select your glazes according to your taste or use the classic black and white combination to liven up your bathroom.
For more white-style bathroom project ideas, visit our blog "Projects: Green Hues or White Tones? "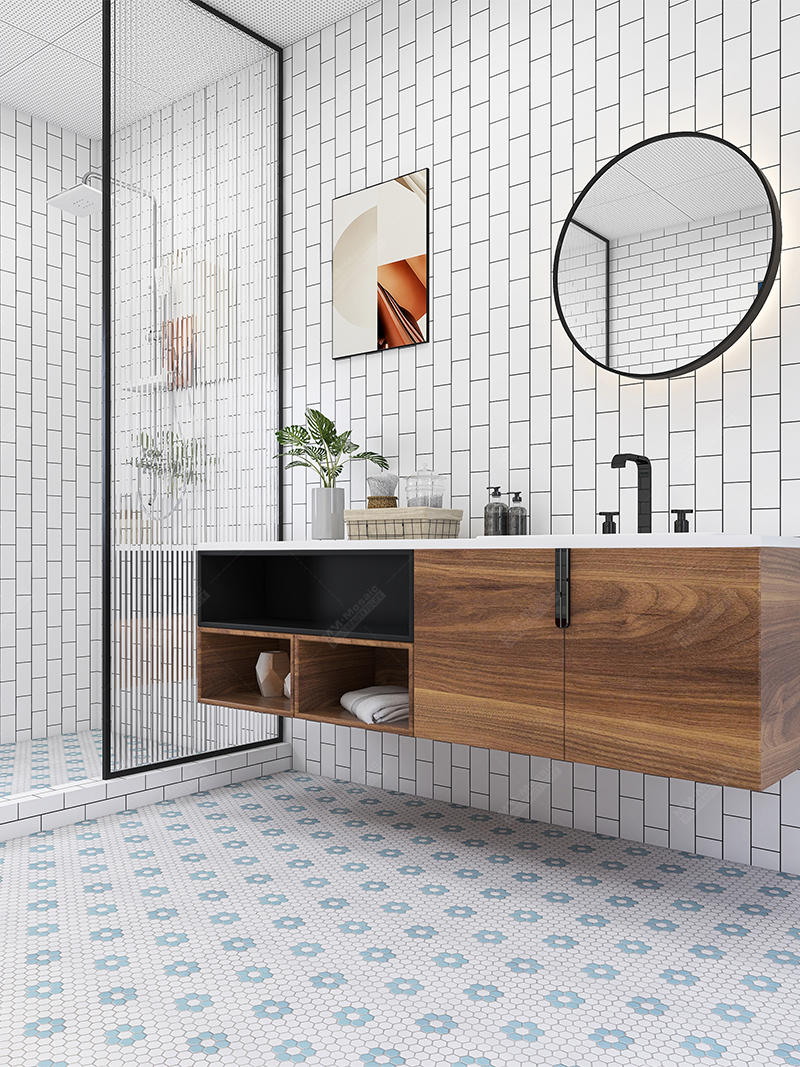 Feature Product: Hexagon CZG053Y
5 Stacked Backsplash
White tone kitchen backsplashes are always a popular favorite, and this kitchen takes a twist on the classic. Combining a 3D moulding finish white stacked finger tile and wood cabinetry is perfect for those who still want a minimalist kitchen without all the white. Moreover, our pure white glaze brings a trendy look that is special to this space.
To see more details of these tiles, visit our blog "New Things: Versatile Finger Tile Series Decor Your Walls"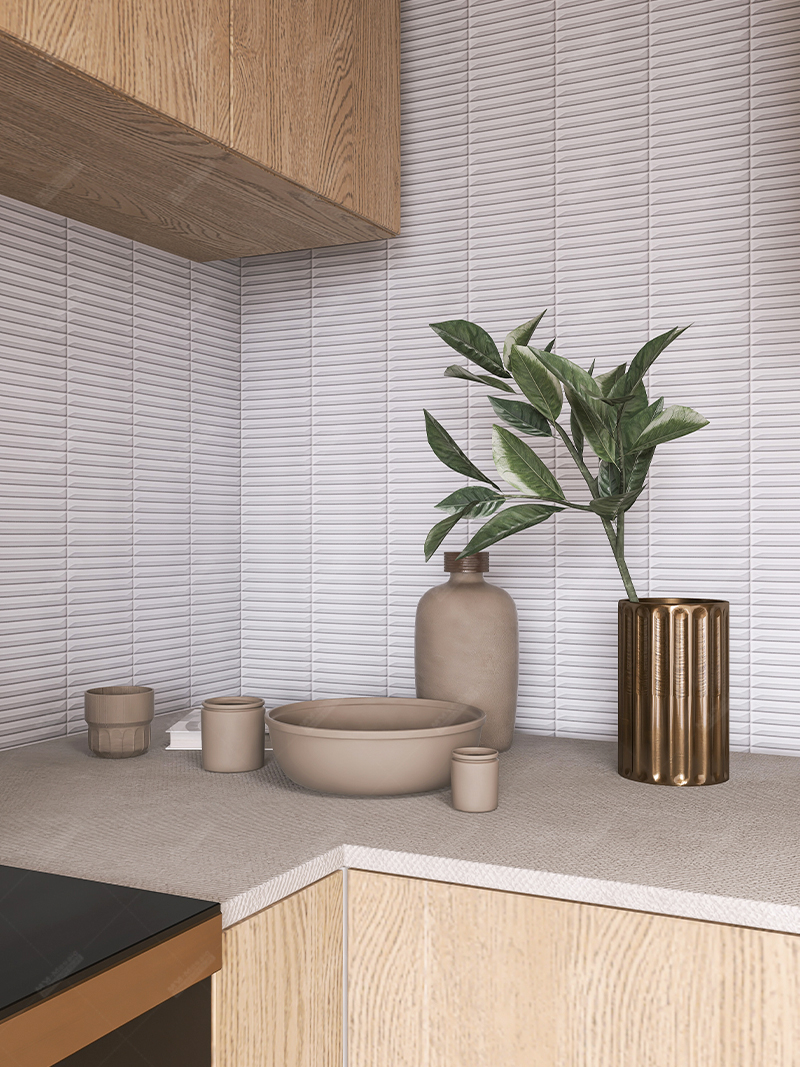 Feature Product: Moulding Surface Strip ZOB1210
6 Minimalist Unique Leaves
Another way to spice up the white glaze is by combining tile shapes, just like this leaf shape tile! White and wood element is a pair made in heaven, so this wood panel and white porcelain mosaic tile wall is a dream come true. One thing that makes this wall outstanding for others is the originality of the tile shape.
For more original mosaic tiles, browse our blog "New Things: Hexagons & Penny Rounds with Custom Pattern"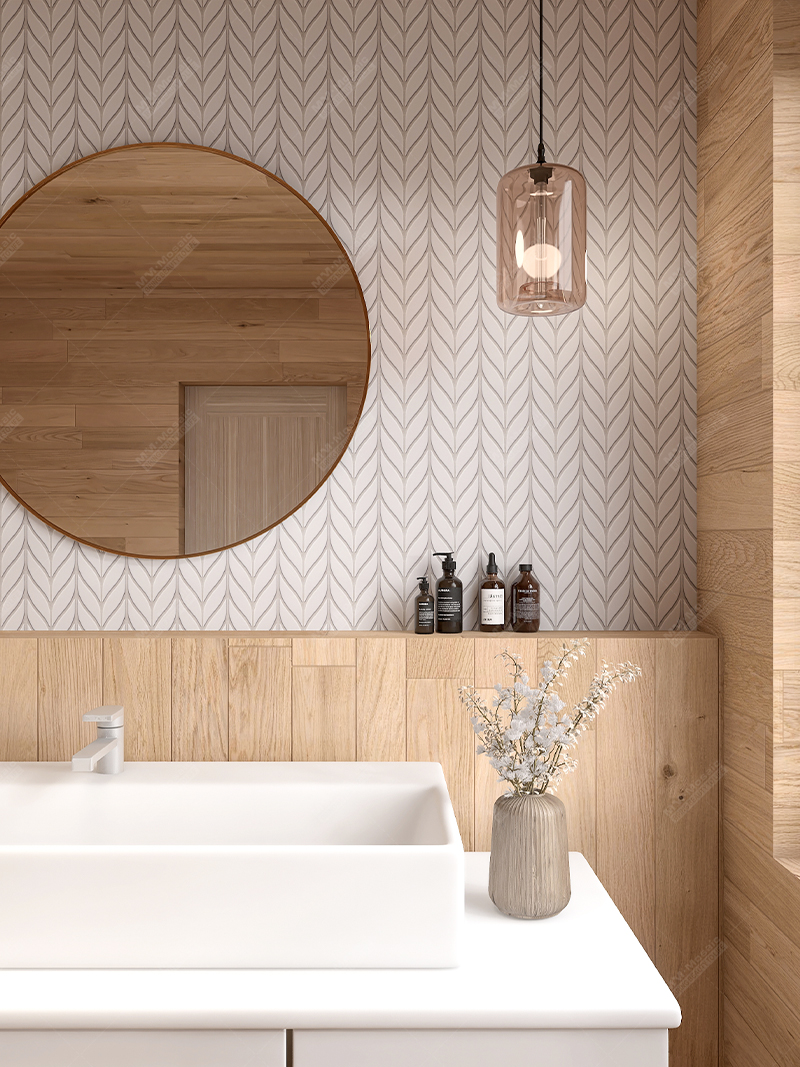 Feature Product: Leaf Shaped ZMF3201
7 Creative Shields
Bright and bold while staying minimalistic. With a kiln glossy color and creative shield shape, this charming white wall is perfect for making a statement. The best part about working with simple white tile is that you can play around with the natural wood elements, like the open shelves and the wood bathroom locker, without the background clash. Try a white shield tile kitchen backsplash or shower for another chic option.
For more ideas of this creative tile, visit our blog "Style Collection: 15+ Tunnel Series Tiles Make Your Space Pop"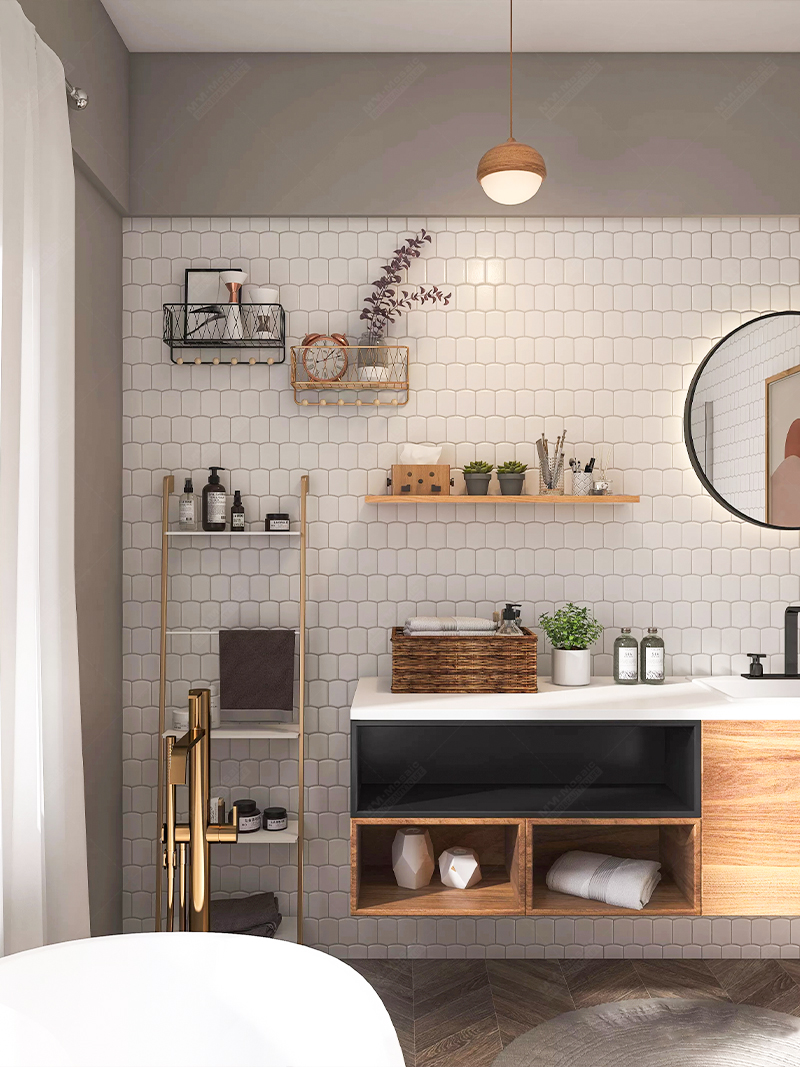 Feature Product: Irregular Tunnel ZMB1201
8 Subway Pattern Shower
Monochrome tones can be just as exciting as a colorful tone, and this shower proves it. Bringing a statement piece like this white porcelain mosaic tile backsplash is a point to keeping things flowing and upbeat while using one palette. All attention is drawn to the vertical subway tile pattern which is created using our premium white glaze. Are you obsessed with them?
For more standout interior design ideas, visit our blog "7+ Festival Interior Projects For The Coming Holiday"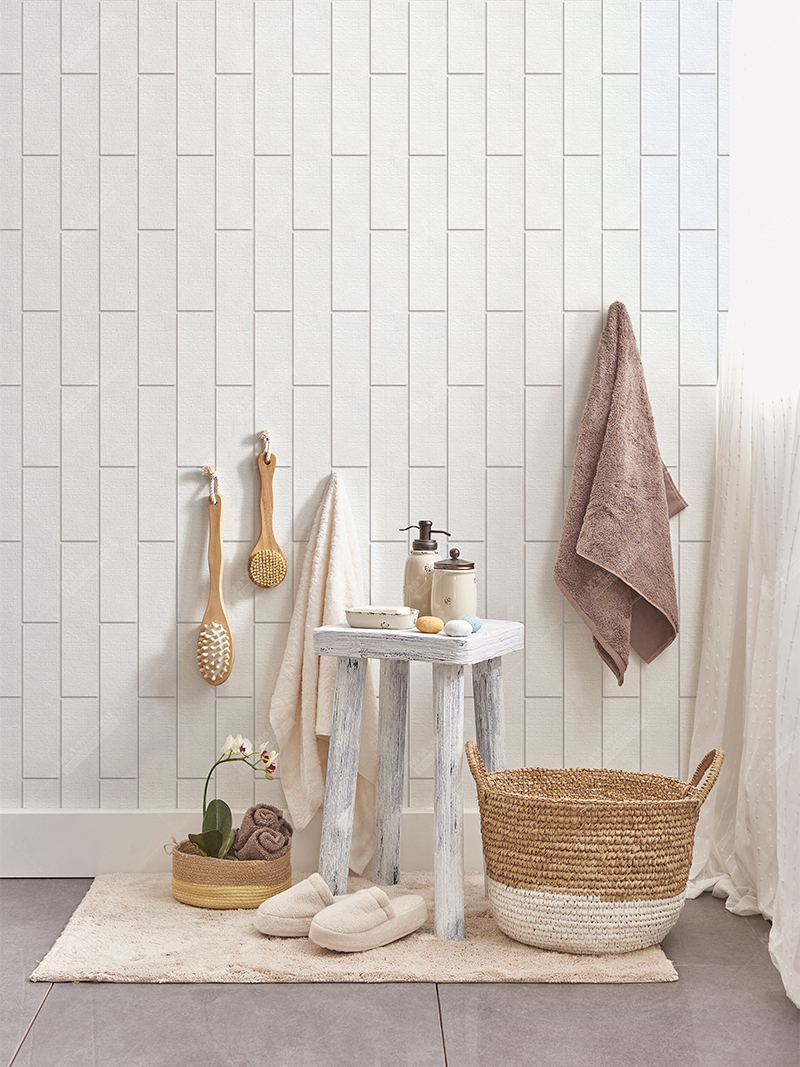 Feature Product: Subway Glazed ZOA2201
Get Inspired?
Love our interior design ideas and our tiles? Why not order tile samples to see and touch in person or share your ideas? MM-Mosaic will be your interior design partner all the time and we're excited to hear what inspired your future projects! Contact us to share your ideas with us immediately!