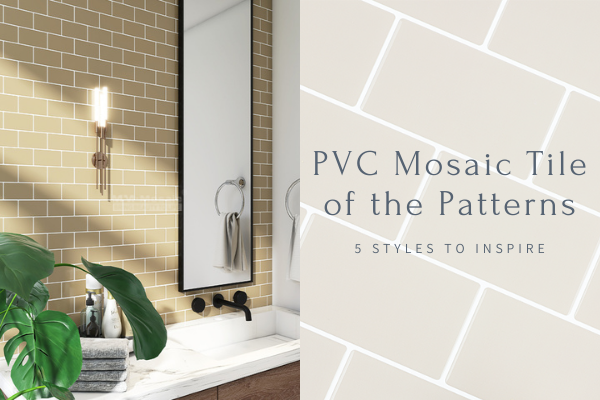 We spend most of our lives at home. Therefore, making a space in your home that inspires and relaxes you has never been more significant. Here at MM-Mosaic, we encourage our clients to show their own style and characteristic through this modern PVC mosaic tile. Not only peel and stick tiles are suitable for personal projects, but also PVC mosaic tiles are perfect for commercial projects, for example, the cafe shop renovation. This marriage of PVC mosaic tile and unique pattern is an exciting way to make an outstanding wall in your space. Continuing reading to see 5 of our new arrival PVC mosaic tiles that will make you feel beautiful!
1 Play with Subway Tile
First on the list of our popular patterns is Subway Tile. Make your kitchen backsplash, shower wall, entryway accent never out of style. Combine with PVC materials, this wall tile is the perfect way to add a welcoming splash of the pattern without overwhelming the space. Just peel the back paper, and then stick your tile on the wall, so easy!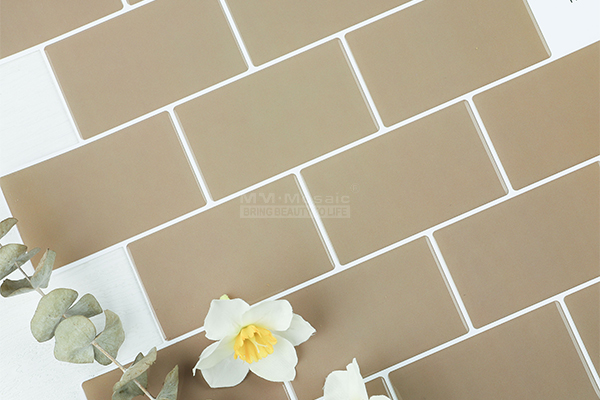 Featured Product: Peel And Stick Subway ZOF9901
Make washing hand time more exciting with a PVC mosaic tile that keeps things upbeat and interesting. This earth-toned subway tile has solid color and smooth surface and is easy to install and clean. One perk of PVC mosaic tile is that you can see the beauty of subway tile patterns, especially with this natural tone, which adds a touch of charm.
For more bathroom design ideas, visit our blog "Get Point: How to Realize This 13 Small Bathroom Inspirations?"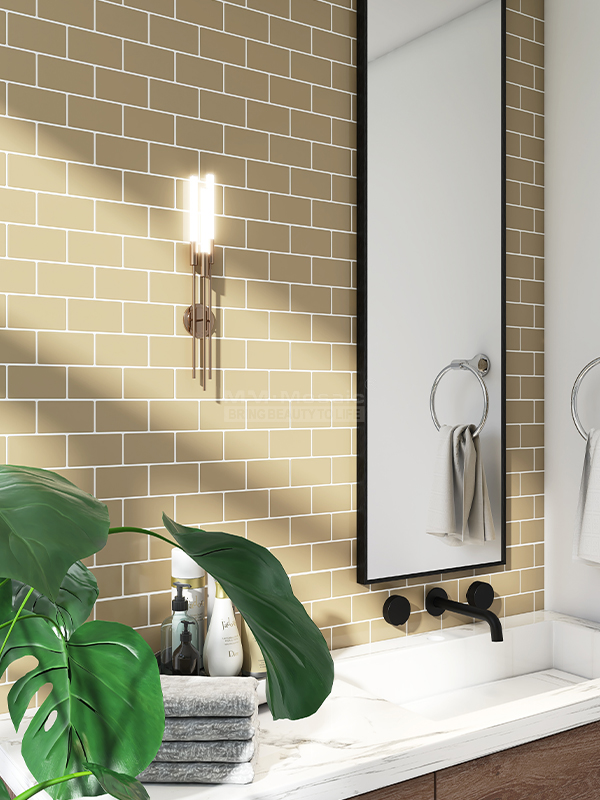 Modern and stylish perfectly describes this kitchen backsplash. The earth-toned wall is a great example of how our peel and stick subway tile, when installed in a kitchen space, looks stunning and charming. Sunlight is the focus, making the backsplash more airy and contemporary!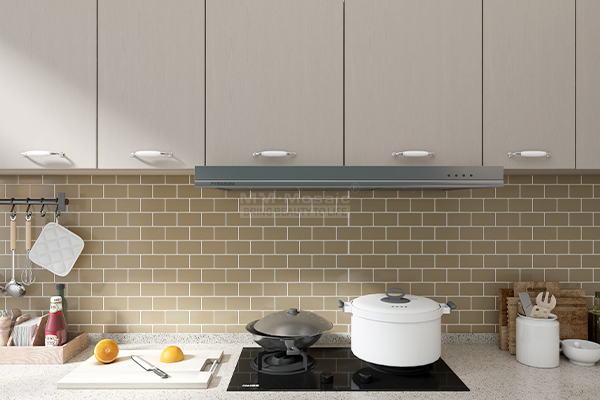 2 Add Some Marble Elements
Your space is sure to shine with these marble look subway tiles! We add the marble pattern to the surface of this peel and stick tile, and they come together in a perfect mosaic tile backsplash or bathroom vanity pattern. This pattern design gives a natural, modern, and impressive look.
For more PVC mosaic tile design inspiration, browse our blog "New Things: 8+ PVC Composite Peel and Stick Tiles"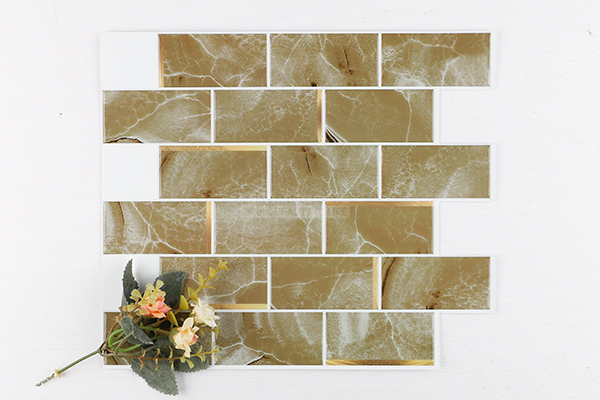 Featured Product: Peel And Stick Subway ZOF9915
Mix sunlight and a natural vibe by adding our marble pattern PVC subway tile to your kitchen backsplash. While subway tiles date as far back as the previous century, they add a modern and classic touch to a standard patterned kitchen.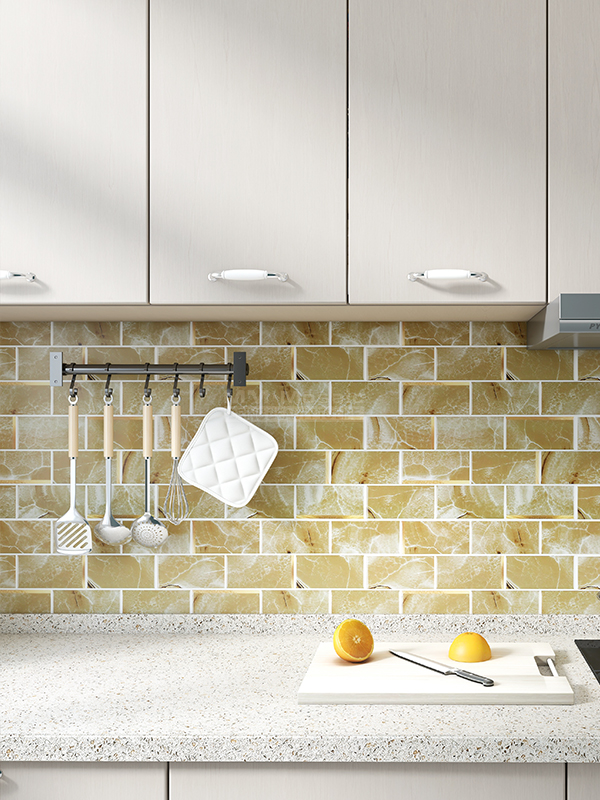 Looking for more convenient bathroom vanity wall tile? When peeling the PVC mosaic tile back paper and just sticking it to the wall, you can get the modern and outstanding look at once! Therefore, it's the perfect wall tile option that offers vintage and contemporary yet glossy feel to honor your style.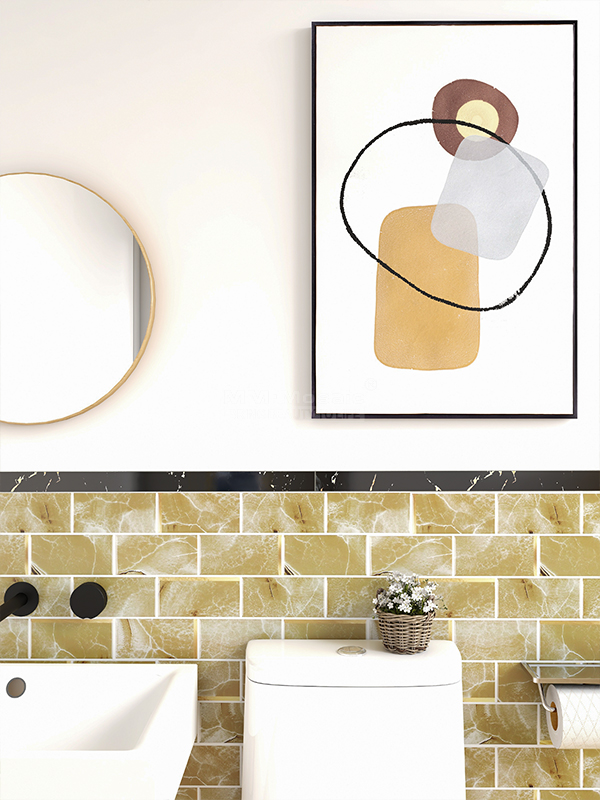 3 Hexagon: a Little Pop of Gold
Let's start with a trend: the hexagon shape with golden elements. This mosaic tile pattern adds a lot of charm with simpleness. It's not complicated, elegant, and can make a wall stand out from a more monotone design style. While the marble hue and golden color in this pattern is definitely a stunning look, try experimenting with different shapes. Choose your own patterns according to your taste or just use this design to liven up your walls.
Know more about PVC mosaic tile with our blog "New Things: 9 Inspiring Ideas for Peel and Stick Tiles on the Wall"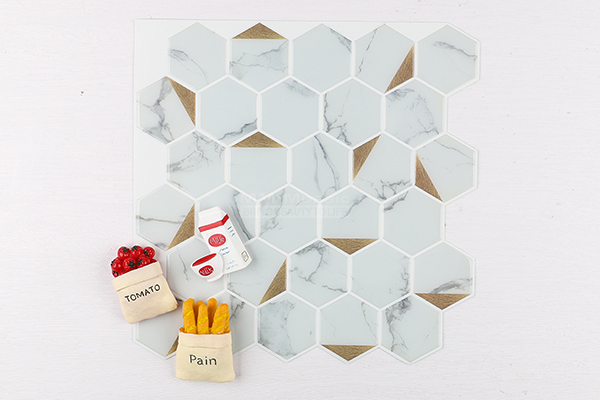 Featured Product: Peel And Stick Carrara ZOF9908
We love combining our peel and stick tile with different patterns to create a chic and inviting space. Here our hexagon tile mixed golden tone gives off an elegant vibe. The simple kitchen backsplash was also perfectly styled with natural wood open shelving and cabinetry to create the vintage look.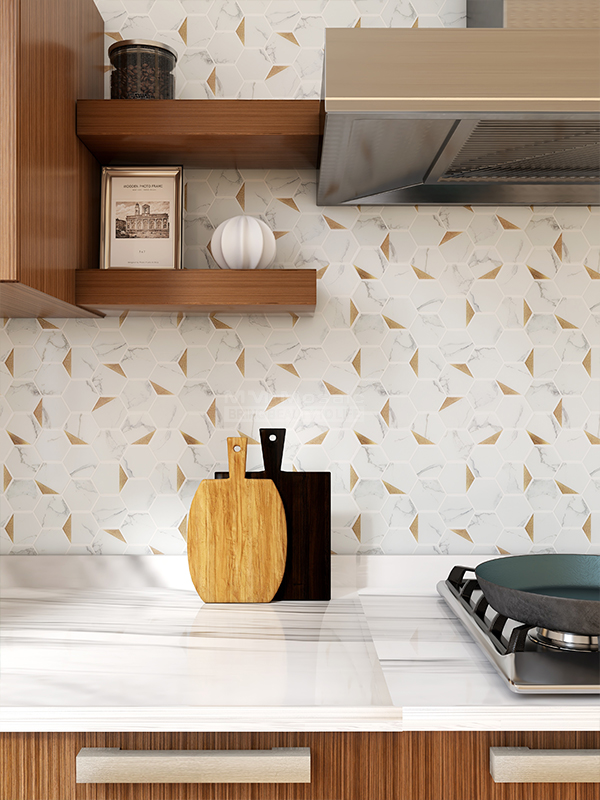 What's more charming than wood-open shelving? Though bar space is small size, adding PVC mosaic tile to the bar backsplash makes the wood open shelving stand out in the home. The peel and stick tile in a classic hexagon shape, a natural marble pattern, and little golden elements enhance the bar space style.
For more bar space designs, visit our blog "Get Points: 7 Attractive Bar Wall Tiles Inspirations"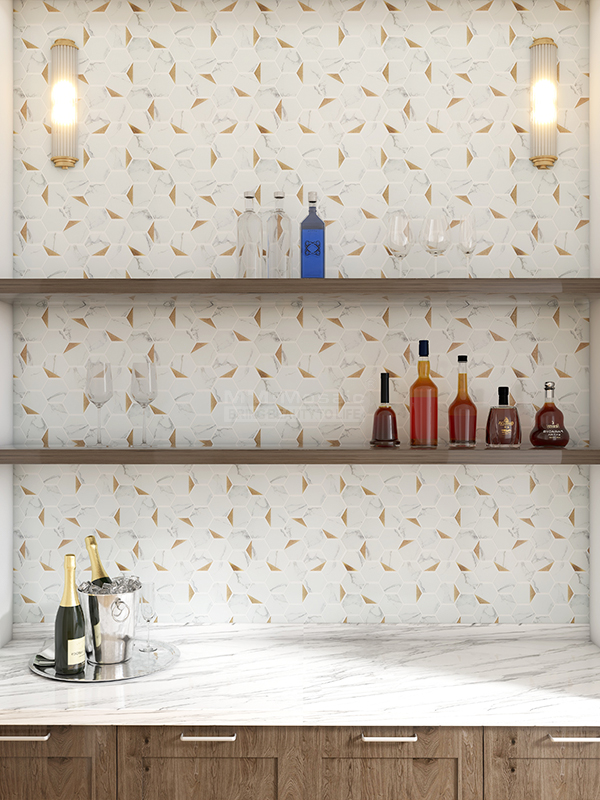 4 Chic Triangle!
We would like to formally introduce you to the welcomed member of our MM-Mosaic tile family! A geometric favorite, our triangle shapes work well with the PVC material, which gleams energy into any room they surface. These beautiful triangle patterns are ideal for making an individual backdrop for your kitchen backsplash, bathroom wall, cafe shop island, and more.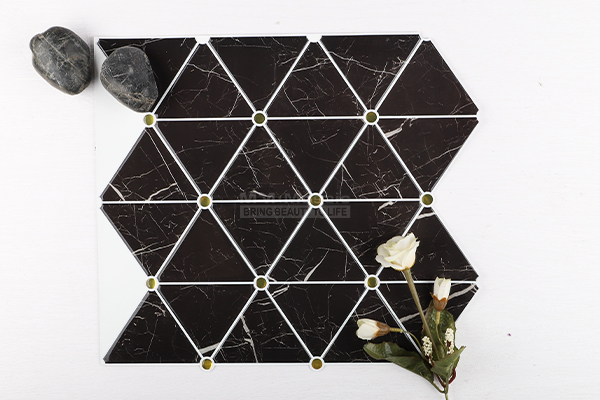 Featured Product: Peel And Stick Marble ZOF9905
Go modern and cold with a geometric shape and natural marble patterns. With this bathroom wall design, we used our Triangle shape tile to create a glamour design pattern. Choose as many or as few marble patterns as your heart desires from our pattern scheme to make your bathroom wall uniquely yours.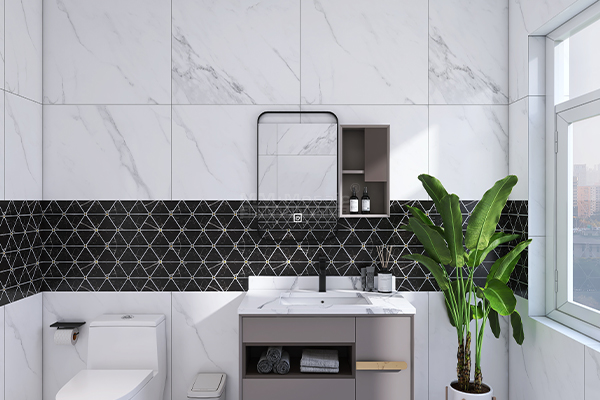 We're kicking things off with this Triangle pattern bathroom wall decor. This marble pattern black color PVC mosaic tile is perfect for those who want a little change while keeping it elegant and trendy. Pairing a marble pattern black PVC mosaic tile with a fun tile shape or pattern, like this horizontal layout, is a masterpiece!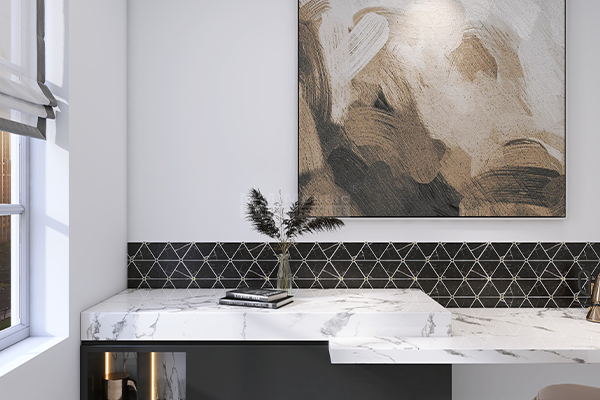 5 Classic Square
Last but certainly not least, our Classic Square! Sometimes more is more and that's definitely the case with our pattern square tiles. One of the easiest ways to change a common square tile is by adding patterns to the tile surface. So if you're looking to make some differences to your square wall tile look no further than these artistic, yet functional beauties. The customized personal pattern is available!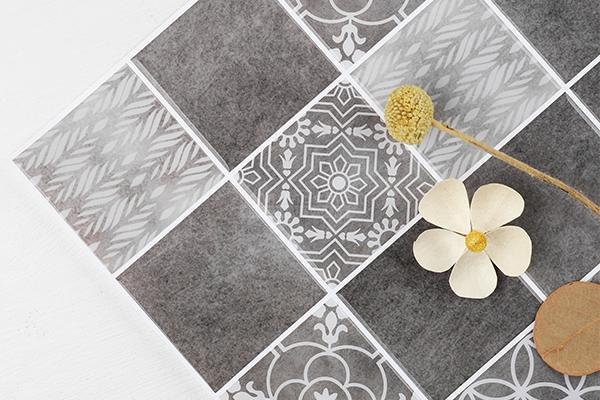 Featured Product: Peel And Stick Square ZOF9917
The kitchen backsplash honors the house's modern style by featuring our patterned peel and stick tile in a special surface pattern design that consists of black, white, and grey tone. By playing with different patterns of PVC mosaic tile, we are able to add a subtle amount of depth to the kitchen space.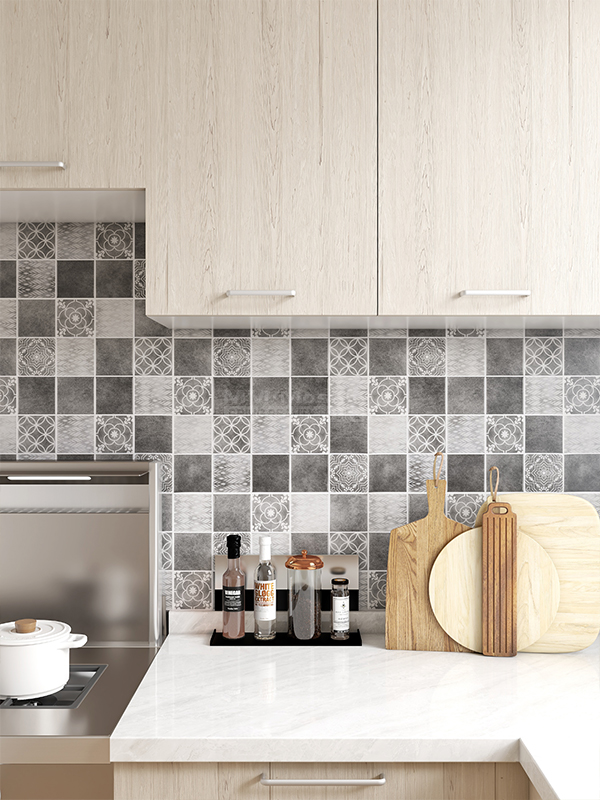 Neutral tones for the win! Pattern PVC mosaic tile doesn't have to be just on one toned, it can have blended hues like this one below. Ranging from retro blacks and pure white, it's an ideal option for those with a monotonous wall who love the industry style around the space. Moreover, it makes for an amazing bathroom vanity wall.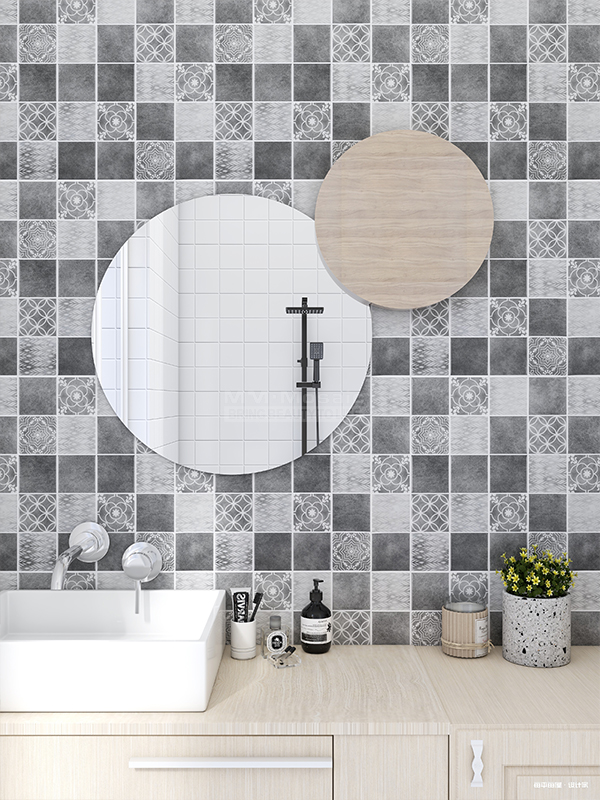 Get Inspired?
Peel and stick tile will be a trend, easy to install, and stylish! Sometimes a unique tile pattern is all you need to thoroughly change a style. For the above inspirations, PVC mosaic tiles are perfect for any space, and they become masterpieces! Ordering tile samples to see and touch right now, you might fall in love with them. MM-Mosaic is excited to hear your ideas for the future project!