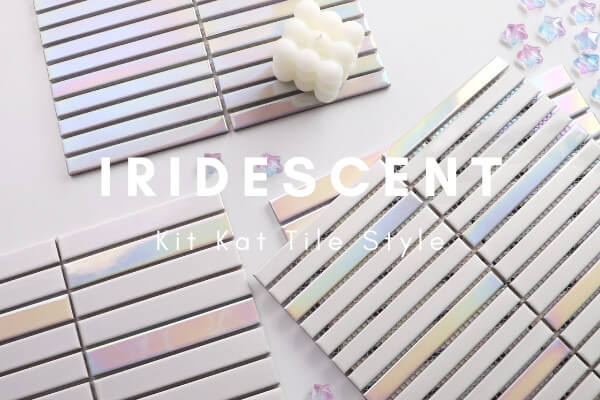 The bright and breezy interior trend has taken over recent social media. The cozy feeling decoration is all about romanticizing charming color, incorporating ornamental elements, and adding iridescent effects and high color variation to create a dynamic and vivid look. This minimalist trend is also about going popular so we introduce a new 4 styles of chic and beautiful tiles to inspire your next remodeling plan.
The Lovely Shape - Kit Kat
There is something so satisfying about our Kit Kat tile shape. We love rectangle shapes, but none seem to go together as well as our constricted rectangles, also called Kit Kat. We created this shape by shrinking the rectangle as a kit kat shape and stacking each kit kat in a sheet. This tile-stacked pattern comes together in a perfect mosaic style. We love this style for a modern, airy, and minimalist look.
For more Kit Kat tile ideas, visit our blog "How to Kit Kat Your Home (the Finger Tile Way)"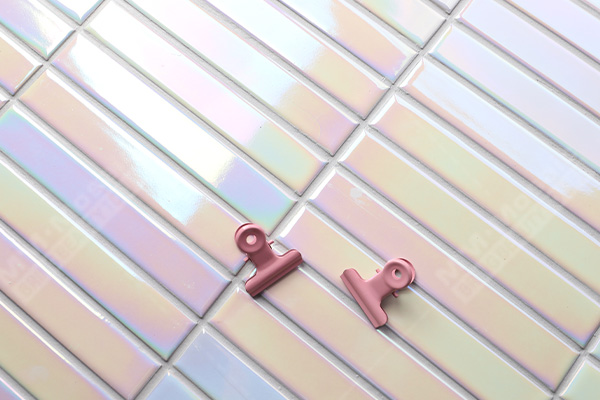 The Iridescent Glaze Palette
First of all, we want to give our glamour iridescent glaze a little much-deserved attention. This glaze palette is unlike any we've seen before. It is not your average big box pure white tile nor pink nor blue or purple. It is completely in its own lane and yet pairs well with so many designs. What makes it totally unique? Maybe it looks like a wonderful rainbow!
Ceramic handmade tile comes with many perfect imperfections. Our experienced workers cut, glaze, and fire every mosaic tile by hand and kiln so it only makes sense that each one is slightly different from the next. You will get variations in glaze color, and a whole lot of bought character to your wall. Our unique mixed-color glaze encompasses all of these nuances. It is a beautiful artwork with slight pink undertones featuring a glossy surface and high variation. Iridescent Kit Kat is the perfect option for every client who loves the dreamy tones tile trend but wants a creative tile shape.
For more iridescent tile designs, browse our blog "8 Unique Ways to Make A Iridescent Space"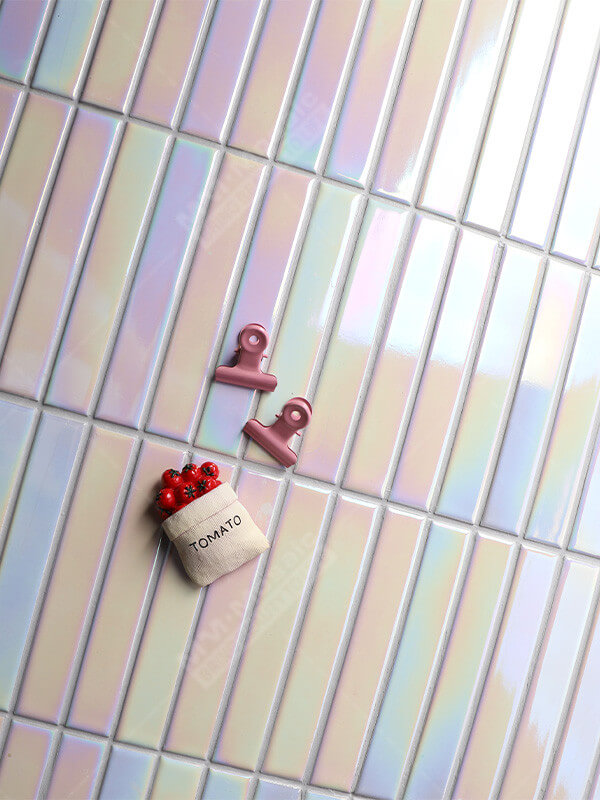 Pattern No.1 - All Iridescent
Love these dramatic and colorful colors! It is a significant factor in the mixture. Here at MM-Mosaic, we have a variety of glaze colors on our color chart that would be a perfect fit for this tile style. From slight pinks to mild light blues to light greens like this tile pattern, the iridescent colors are multitudinous to create a stunning wall.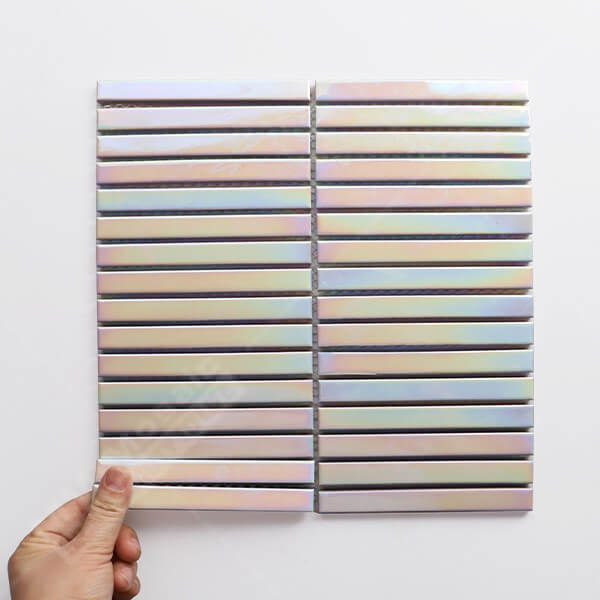 Featured Product: 15x145mm gradient iridescent glazed mosaic tile ZOH9901
Pattern No.2 Less is More
If you don't like all the iridescent mosaic chips in a sheet, this pattern might meet your dream. Using 7 iridescent mosaic chips mix 25 white glaze chips, can highlight the iridescent chips even more. Adding this mosaic tile to a high-traffic area might be a great idea, bringing a calming feeling. Particularly, when used in a space with a good amount of sunlight, iridescent chips can reflect the light and offer a sense of vividness that promotes the space's vibes. We are totally in love with the bright and lively wall decor!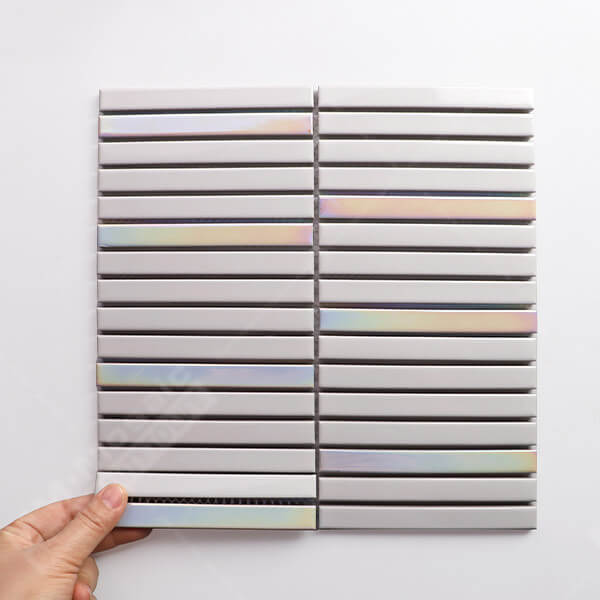 Featured Product: 15x145mm gradient iridescent glazed mosaic tile ZOH9902
Pattern No.3 Larger Kit Kat Chip
Nothing is quite beautiful than the rainbow, but our signature iridescent glaze might come close. This past year as many people settled into their spaces, we saw them she away from minimalist interior designs and embrace bold iridescent blends as a way to bring characteristics and comfort into their spaces. We are excited for more vibrant blends whether it's this specific iridescent blend palette.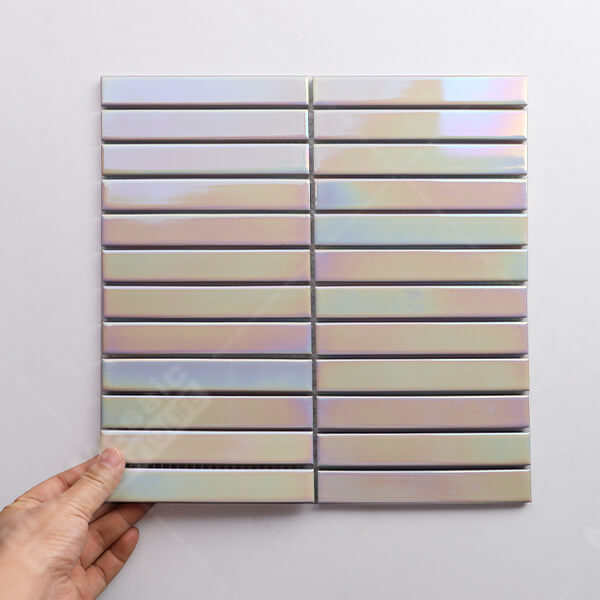 Featured Product: 22x145mm gradient iridescent glazed mosaic tile ZOH9903
Pattern No.4 Kit Kat Iridescent
With the previous tile pattern, our designer had an idea in mind to create a larger size iridescent vibe. Loving this blended style, we paired 5 iridescent chips with 19 white glaze mosaic chips and we found that it's an amazing combo! Picking and choosing exactly how many chip combinations our designer want, they landed on the dreamiest even mixture of whites and iridescent. How beautiful the glaze color palette is for this tile pattern!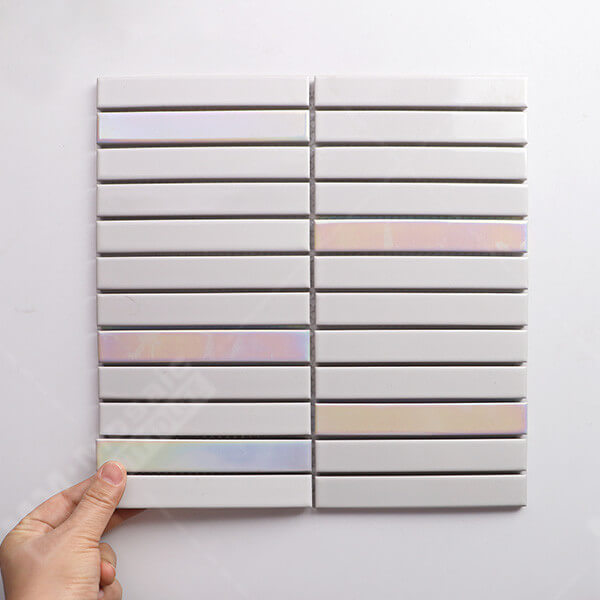 Featured Product: 22x145mm gradient iridescent glazed mosaic tile ZOH9904
Welcoming Iridescent Backsplash
One thing we are excited about for a weekend is all the over-due dinner parties and if a handmade iridescent kit kat tiled backsplash isn't the perfect conversation starter, we have no ideas what is! This iridescent kitchen checks all the correct boxes in a beautiful, appealing, and modern backsplash. Organic edging, natural stone countertop, and iridescent tones make this attractive backsplash first on the list of inspiring projects.
For more kitchen backsplash projects with our blog "Project: Green Forest Place Custom Kitchen Backsplash"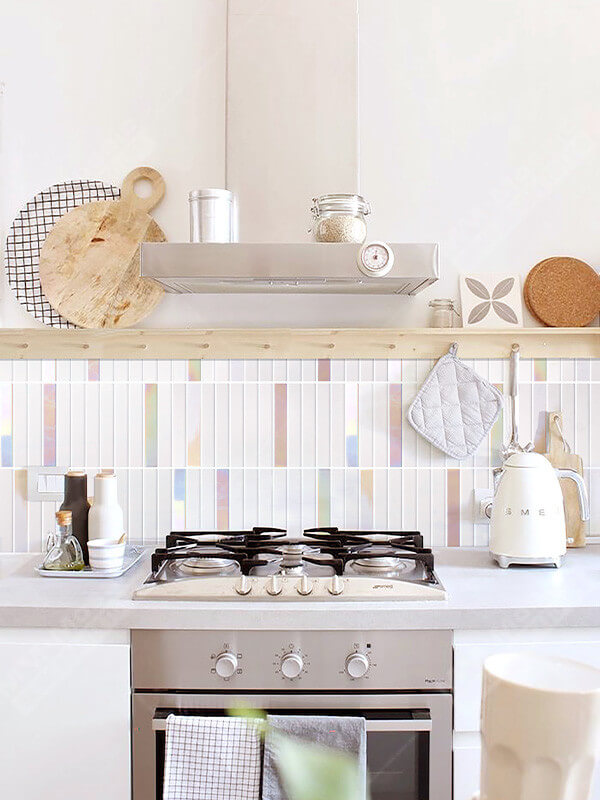 Stacked Pattern Backsplash
This contemporary and bright kitchen takes floating shelves to the next level. These spaces show that you can make multiple statements in a single space. Bold tones don't always have to be loud and this kitchen proves it. The richness of this sparkling and outstanding iridescent glossy glaze works perfectly with the wood floating shelves and the half-round backsplash!
Get more creative backsplash projects, visit our blog "Project: White Stacked Subway Tile For Kitchen Backsplash"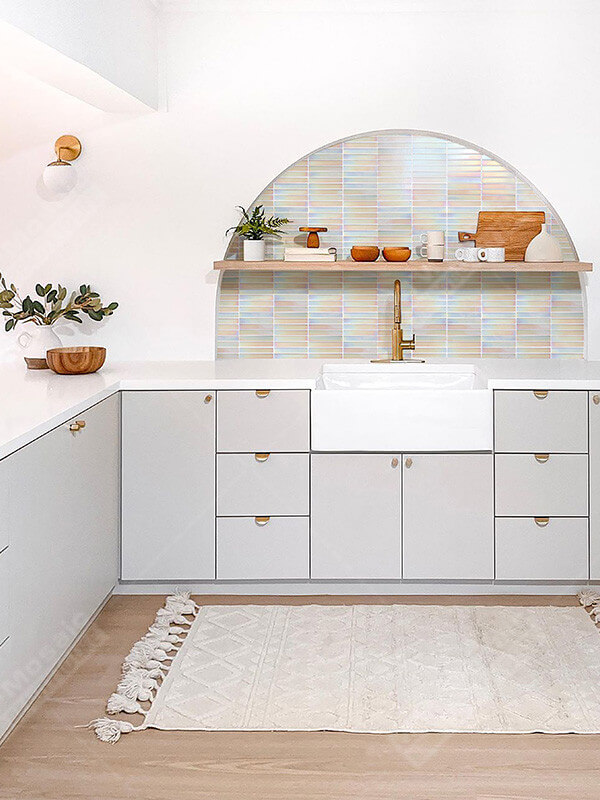 Get Inspired?
Whether you are looking to add iridescent Kit Kat Tile to your entryway accent, shower, or kitchen backsplash, MM-Mosaic is here to help you along the way. Why not tell us your design ideas and visions, and we will get the kiln fired up and ready to go. Order tile samples to see and touch right now! You might fall in love with our exquisite handmade tiles and we're so happy to hear what inspires you.
Shop The Tile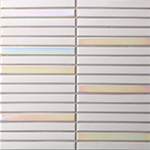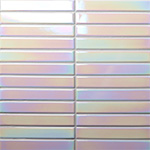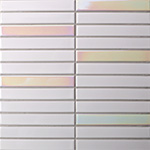 ZOH9901/ ZOH9902 / ZOH9903 / ZOH9904