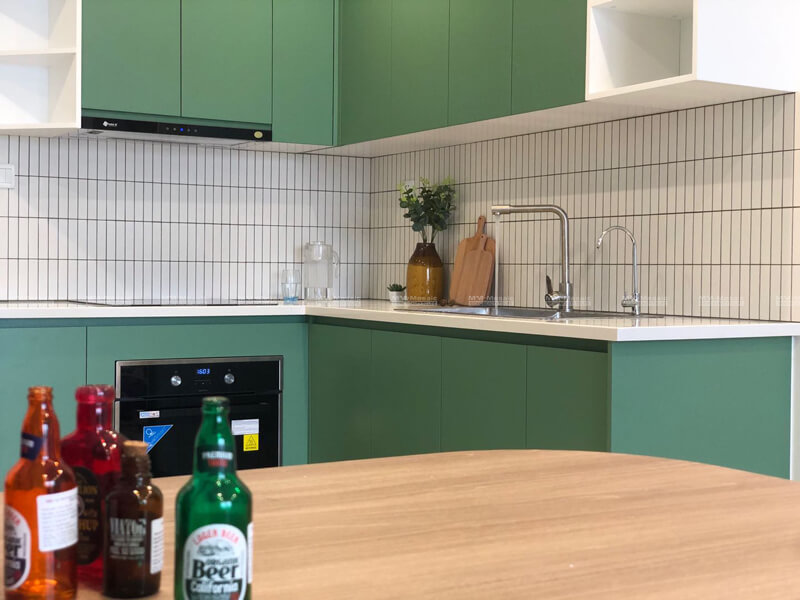 As we move into autumn and started considering the cooler winter to come, we find some inspiration from this kitchen project - Contemporary Style. Characterized by an open kitchen space that is clean, bright, minimal, and filled with natural decors - it's ideal for snuggling up inside.
If you're invested in kitchen backsplash tiles, why not give it the love it deserves by helping it look its best. Of course, our subway tile creates a unique style enough to stand on its own, but just a little bit of design decorating can make it to the next level! We've been learned more things from this backsplash renovation project and prepared some ideas for your future remodel job. Keep on reading to see our 6 design inspirations and learn how to make the most of your kitchen right now:
1.Stack Bond Style Subway Tile
The combination of Scandinavian style white subway tile and subtle natural colored accents makes this open kitchen feel so cozy and welcomed! Our simple pure white glazed palette is an ideal option for a modern stack bond subway tile look. Due to our tile is handmade style, there is a wonderful and presentable range of hues in the subway tile - especially with our white glaze. A custom stack bond style in this project. Each tile was placed sparingly throughout the design to create a clean and tidy feeling. Our matte stacked bond subway tile designs are the perfect idea for those who are searching for a contemporary look with extra personality. Autumn could be the ideal season to spice up your kitchen backsplash!
Head over to our blog for more kitchen backsplash design ideas: Projects - 10 Projects That Show Monochromatic White Stand Out >>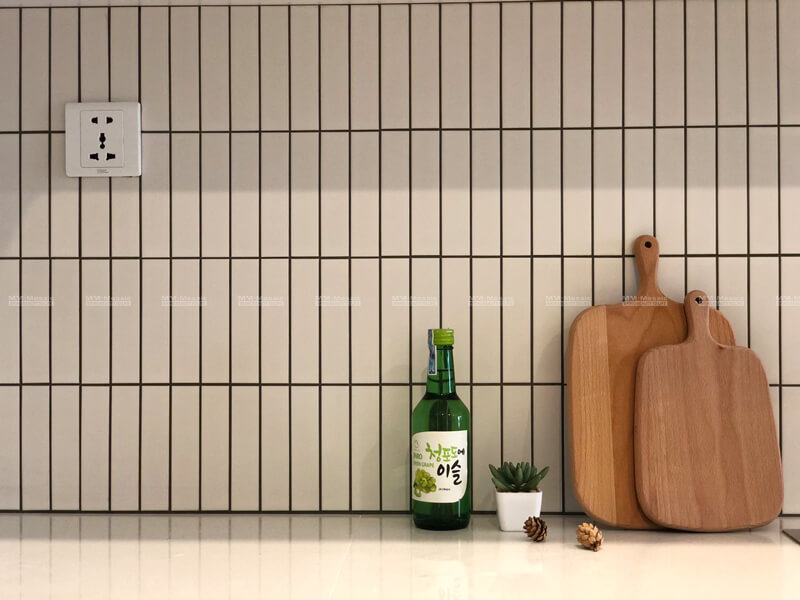 Featured Product: Brickbond White CZM243B
2.Follow a Vertically Theme
How about taking the vertical style into consideration? Just give the classic and simple subway tile a bold and creative appearance with a vertically stacked layout. This minimalist choice really stands out as a statement due to the continuous strong black grout lines. Outstanding black grout color not only make it chic even more by utilizing a grout color that's either much brighter or darker than your backsplash tile for contrast. This pure white beauty was featured in our online shop - isn't your love?
Learn about more chic and tasteful subway tiles, check out our blog: Style Collection - Ice Crackle Pattern And Bamboo Style Subway Tile >>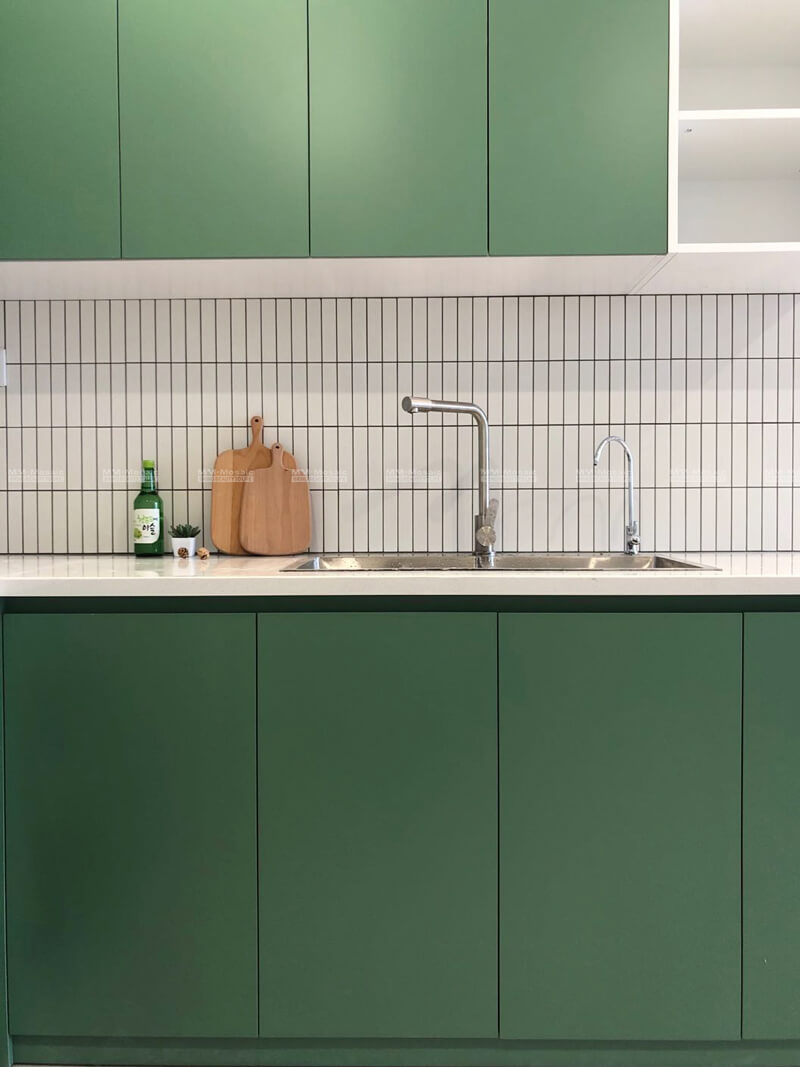 3.Always Use The Natural Color Cabinetry
We think there's nothing more eye-catching and seductive than embracing your kitchen space and filling your cabinetry with the natural green color! Except for the backsplash design, we've observed kitchen cabinetry color design becoming more and more of a place to express the owner's taste than play it safe. We see this playing itself out in the use of more untraditional colors, like this green tone. Anyway, any palette that makes your space more appealing, we support you to do it!
Learn more about modern kitchen design with green cabinetry project: Project - Creative Vietnamese Backsplash Inspired By Shield Shape Mosaic >>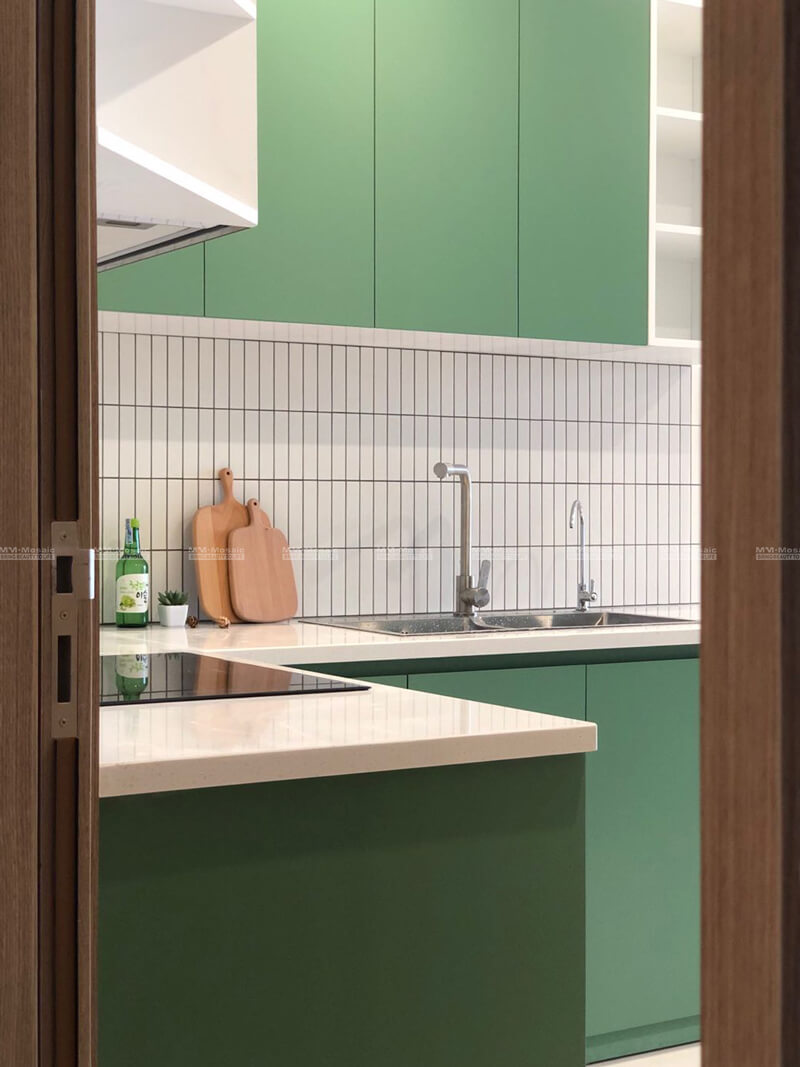 4.Let Your Kitchen Wood Style
We adore using wood color decor or furniture in the kitchen decor. Not only does it offer the natural and cozy styling options for your open kitchen space, but it's also a stunning way to get the most out of your backsplash tile tone. By using a wood cutting board and a wooden dining table, you can balance the natural vibe. Green cabinetry, wood table, and simple white stack bond tile. They will help open up your kitchen and create more visual space and a stylish aesthetic.
For more kitchen remodel project ideas here: 7 Decorating Ideas To Make The Most Of Diamond Tiles >>
5.Take Your Outlet Into Consideration
Have you taken your outlet design into consideration while you design the backsplash? We always suggest to our customer that when you start your kitchen remodel job, you must consider the details of the outlet. We've been seen many examples of success or failure in outlet design. By the way, there is a various exquisite and creative design for your choose from. Or maybe you will fall in love with this project design:
Learn more about the stunning backsplash design with our blog: Project - How Green Glaze Plays in Cafe Shop and Rest Room >>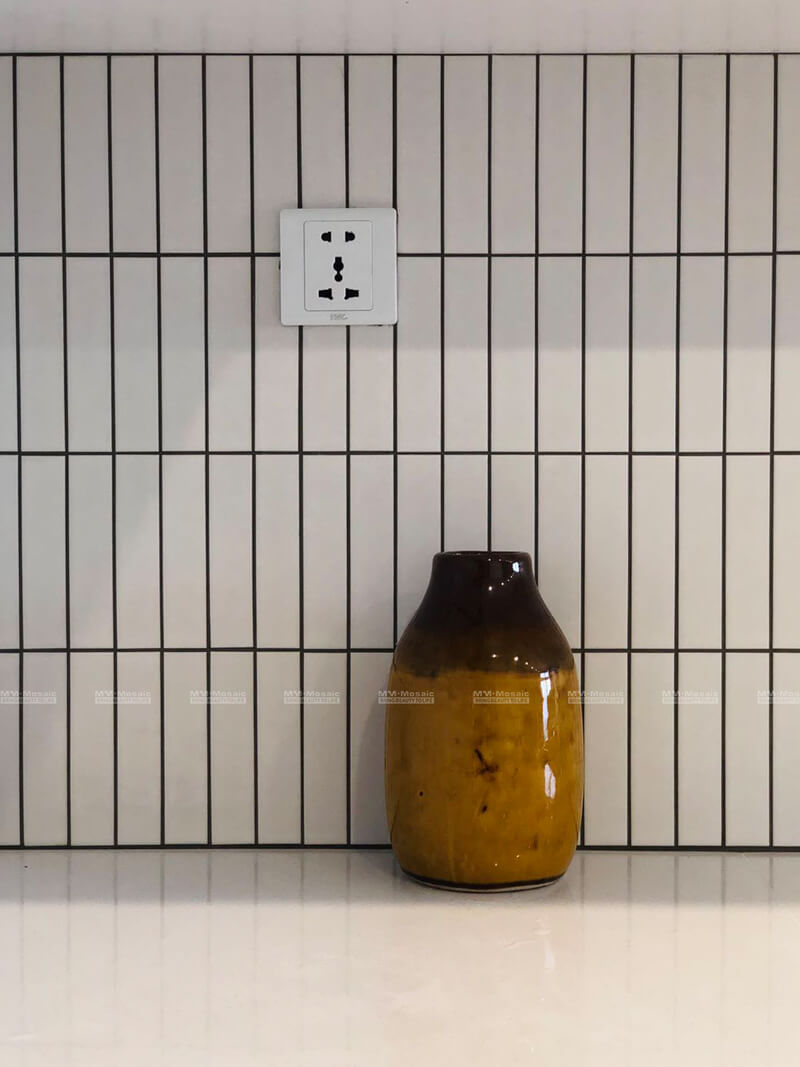 6.Add Greenery Decor
Neutral hues like white and wood are overwhelmingly popular when it comes to kitchen design. However if you're looking to truly enliven your cooking area, consider a vibrant shade of green. The soft green tone of the kitchen cabinetry complements the little greenery decor while adding to the sense of being surround by nature. So why not use the greenery elements to enliven your open kitchen? Just like our client's kitchen shown below.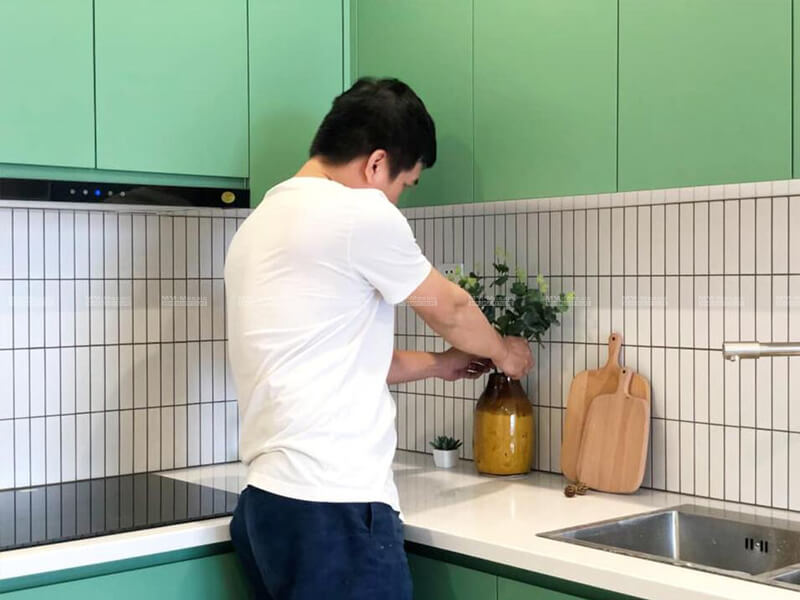 Get Inspired?
Are you get inspired by our kitchen remodel project? Or fall in love with our matte white stack bond subway tile? Why not order it to see and touch in person? Contact us for more trendy kitchen renovation ideas or chic tile design right now! MM-Mosaic will be your honest partner on your interior design job.