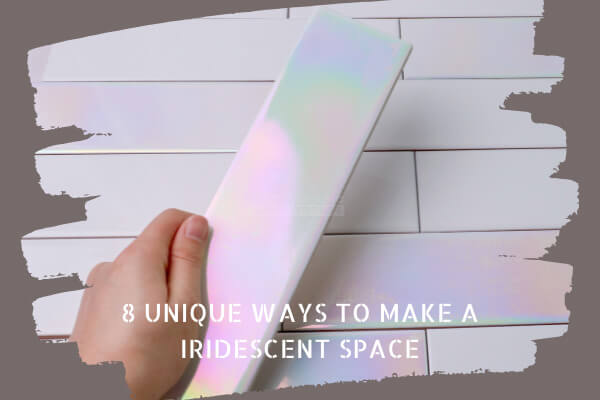 One of our favorite ways to enhance an extra level of dimension to your remodel plan is by adding a pop of iridescent elements. We're seen our craftsman flawlessly execute this design time and time again so we thought we would share some of our favorite iridescent inspiration. Here are 8 ways to completely implement the touch of iridescent palette trend with handmade tile.
1. Go Bold with Uniquely Iridescent Subway Tile
If you're really looking to think outside of the box, our new arrival iridescent glaze may be a great palette for you. Not usually seen as a typical color choice for tile, this iridescent hue is a soft and pleasing option for an accent wall, backsplash, entryway accent, or even a shower.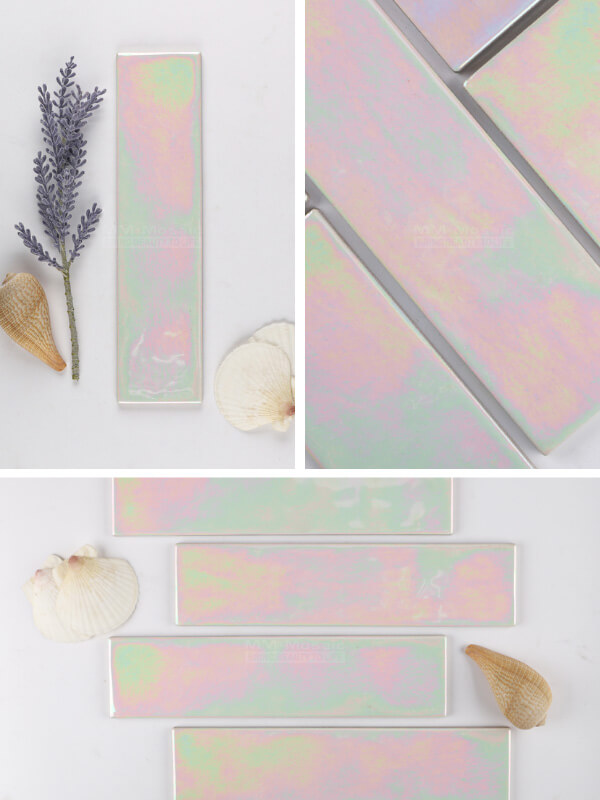 2. Obsessed with Squares
Selecting a pastel hue with high variation might be another way to safely add a palette into your space. This charming iridescent glaze has a rustic quality that keeps it from being over-the-top. Moreover, again, the high variation brings a textural quality that creates personality and dimension.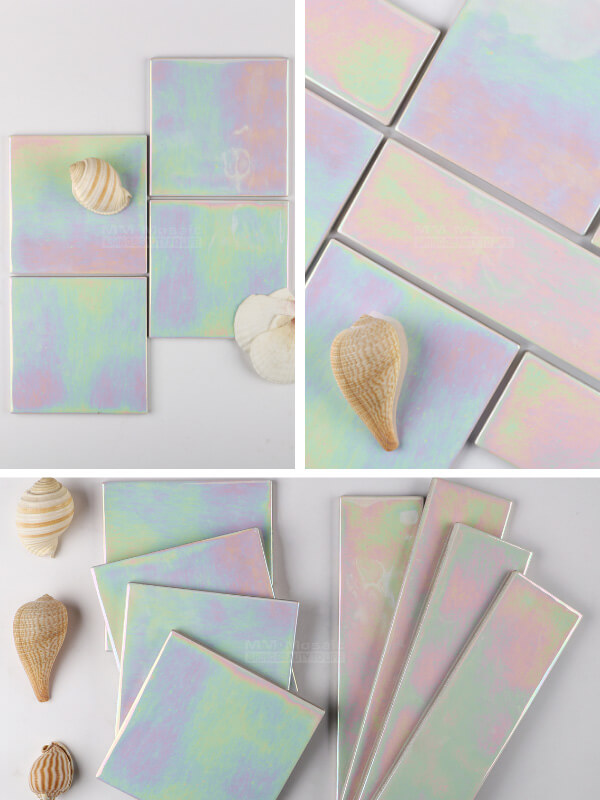 3. Shape is Key
The shape is key when it comes to a handmade tile design. By choosing a Feather shape with iridescent glaze, we can make a statement in your space. They say that Feathers are creative and that definitely holds true with our iridescent glaze. These geometric beauties are as whimsical as they're bold. This Feather shape works with a variety of styles but this combo is specifically suited for a modern remodeling project.
For more Feather shape tile ideas, visit our blog "Interior Design: How to Utilize the 87X305X9MM Feather Shape Tile"
4. Dreamy Subway Tile Bar Backsplash
One thing we love about this bar backsplash is that the dazzling pink iridescent tiles are not only used as a stove backsplash, but also as a beautiful accent backsplash for the corner bar space. The combination of iridescent subway tile with wood cabinets and natural greenery makes this space so appealing and unique.
For more bar design projects, visit our blog "Get Points: 7 Attractive Bar Wall Tiles Inspirations"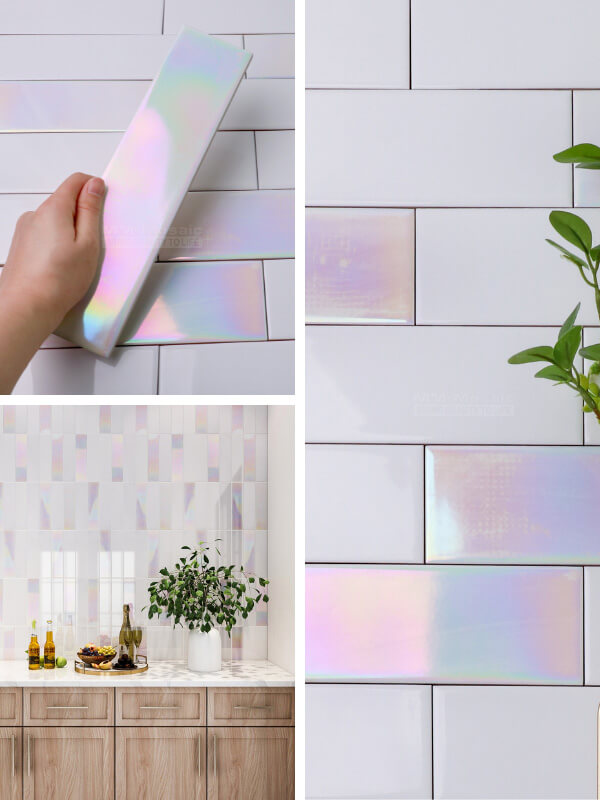 Featured Product: Iridescent Subway ZOE9902
5. Sweet Pink Blend
This outstanding living room accent made it on our list of favorites because it's a wonderful example of a blend that was made particularly for the vibrant family. As a building block, the designers started with our shades of the white blend but soon came to realize that the living room space of our client needed a bit more special design to suit their styles. Combining with our client's ideas, our designer used the sweet pink iridescent subway tile and herringbone pattern to give the accent wall of this living room, pancake breakfasts, and delicious dinner the attention it deserves.
For more sweet pink tone projects, visit our blog "Pink Palette Finger Stackbond Mosaic Makes Dreamy Wedding Dress Shop"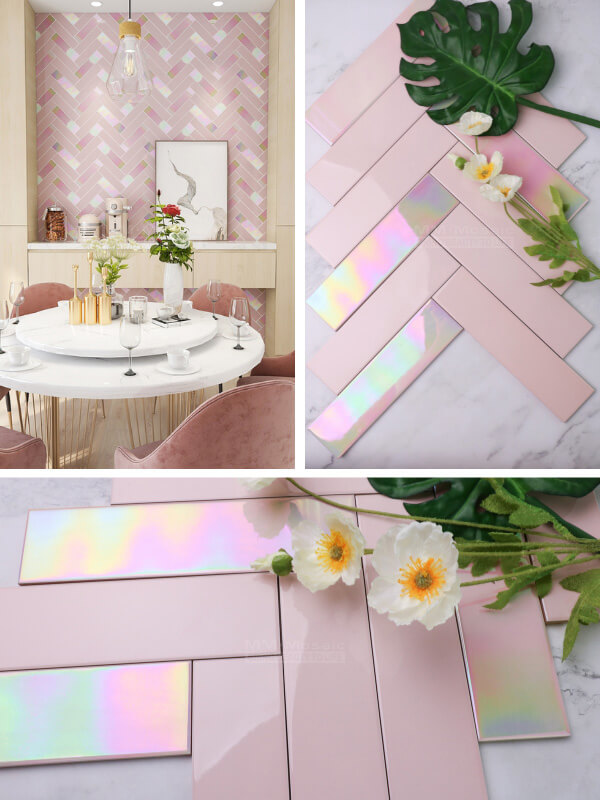 Featured Product: Iridescent Subway ZOE9903
6. Turquoise Coastal Oasis
Bathroom space is the best place to unwind, particularly after a long day at the office. This tremendous coastal bathroom idea is the definition of quietness and relaxation. The subway tiles work perfectly with the iridescent surface which will make everyone fall in love. The bright and charming palettes remind us of clear ocean water on a summer afternoon day making a relaxing oasis.
For more oasis vibe design, visit our project blog "Green Forest Place Custom Kitchen Backsplash"
Featured Product: Iridescent Subway ZOE9901
7. Chic Backsplash
Look at this Mid-Century kitchen backsplash design is known for its clean lines, and classic shapes making this understated kitchen a perfect fit. Mixing glossy iridescent glaze and solid glaze color with accents of pure white colors brings out the iridescent effect of fun. This is a perfect example of how monotonous color accents within a simple design can bring a lot of characteristics to your space.
For more on simple kitchen design with our project "White Stacked Subway Tile For Kitchen Backsplash"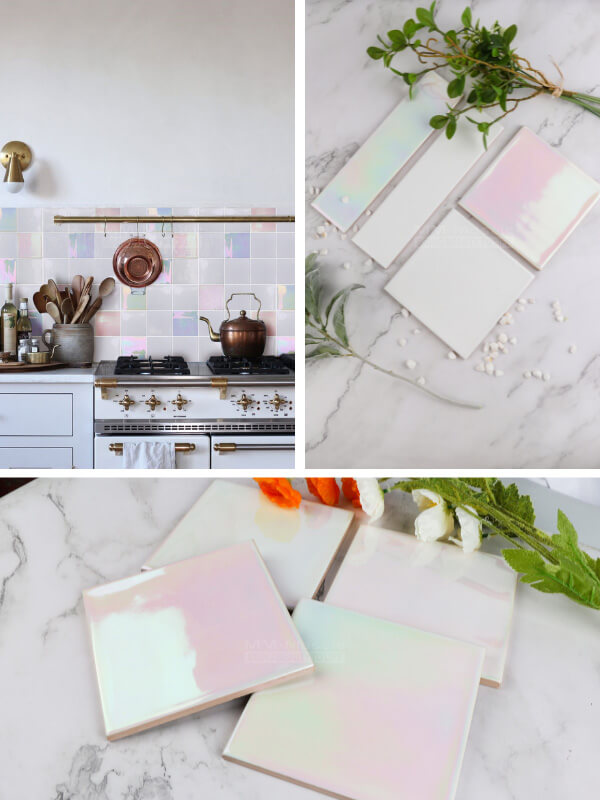 Featured Product: Iridescent Square WOE9901
8. Fabulous Square Backsplash
Ceramic wall tiles are a must due to their easy maintenance and durability, so why not make them stand out? By combining glamour iridescent surfaces, you can pair square tile with other surface designs such as adding patterns to create a marvelous kitchen backsplash. This kitchen backsplash uses a balanced mix of iridescent glaze surface and unique textures to create a fabulous wall tile design, ready for any and every reason.
For more on backsplash remodel, visit our project blog "14+ Minimalist Kitchens to Inspire Your Next Project"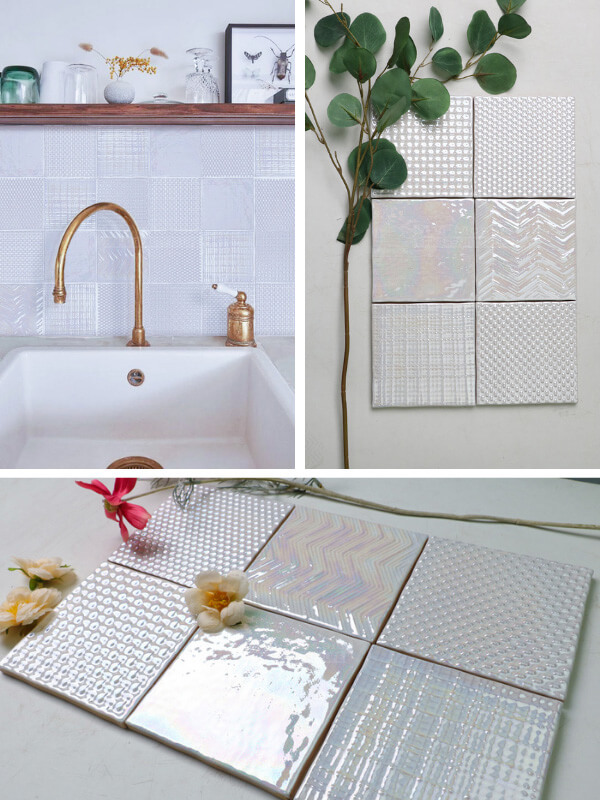 Featured Product: Moulding Surface ZOC8202
Get Inspired?
Undeniably timeless, the iridescent tile effortlessly elevates your space. This unique iridescent effect surface design adds bright and airy vibes to your space. If you're loving these chic handmade tile looks, hop over to our Product or Tiles & Accessories pages to pick out the tile that works for your iridescent tile. Order free tile samples right now and you may fall in love with our high-quality tile. MM-Mosaic is excited to hear about what inspires your future project!