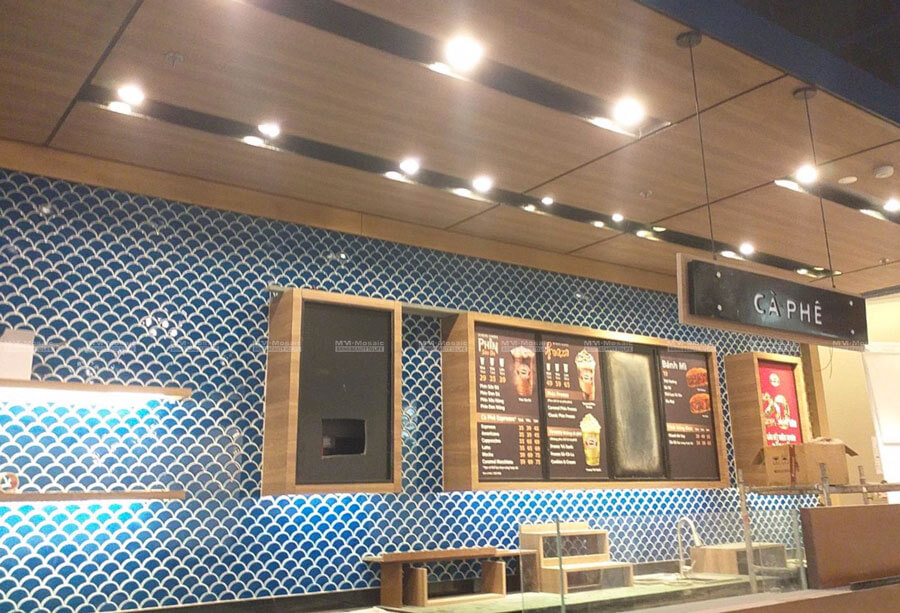 A cup of coffee, a piece of cake and amazing scallop mosaic tiles? What else can you think of? The Vietnamese Cafe shop made all of our dreams of Moroccan style tiles come true with different paving ways. Walking into their three different style shops to feel the magic of tiles.
Be Fond of scallop Shapes
Creative scallop shape tiles are one of our most welcoming shapes. Just similar to coffee, they're globally popular. Could there be a better way to awaken your every day than with a cup of fragrant coffee? Well, glossy scallop shape porcelain mosaics can shine your eyes every day too. Whether your commercial space style, there are various ways that these beautiful scallop tiles can be designed to suitable for your design plan. From warm tones to cool hues or sophisticated style to minimalist - these are the diversiform options that combine well with your space. Ice-crackle pattern, glazed colors and paving orientation will make your commercial decorating project match your design vision perfectly.
For more Moroccan fish scale tiles inspirations, check out our blog "Fantastic Uneven Fish Scale Porcelain Mosaic"

Featured Product: 90.5x83.5mm Crackle Glazed Surface in Blue Tone CZB613X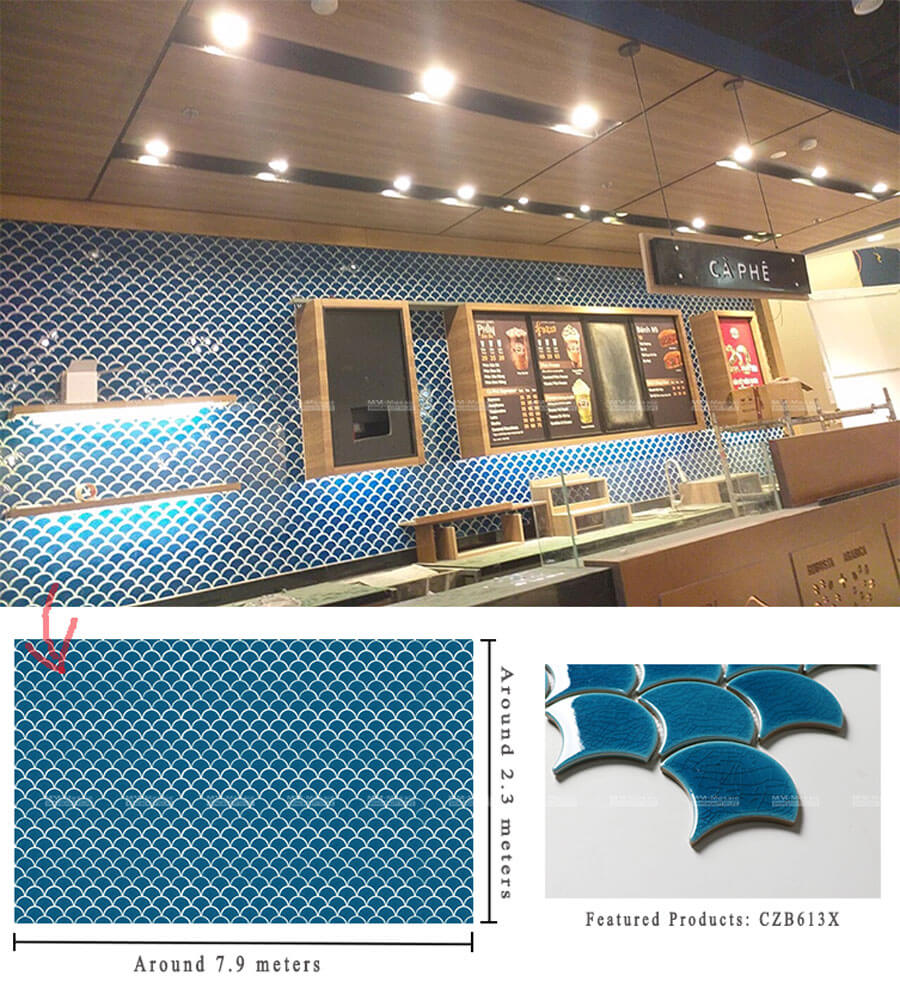 The Story of Cafe Shop
We've known this cafe shop for a long time, and we've tasted their good coffee when we went to Vietnam. Starting in 2018, we received an email about their cafe renovation plan and ideas. After finishing the email, we all love their special story and we got that they loved our fish scale series, including the smooth glossy surface, wonderful ice-crackle pattern and various stunning colors. With their aim of making the local Vietnamese falling in love with the cafe and our goal of making the global people feeling the wonder of mosaic tiles, we've tried to combine our two brands to design some attractive commercial space.
Featured Product: 90.5x83.5mm Wave Pattern Crackle Fish Scale CZB618X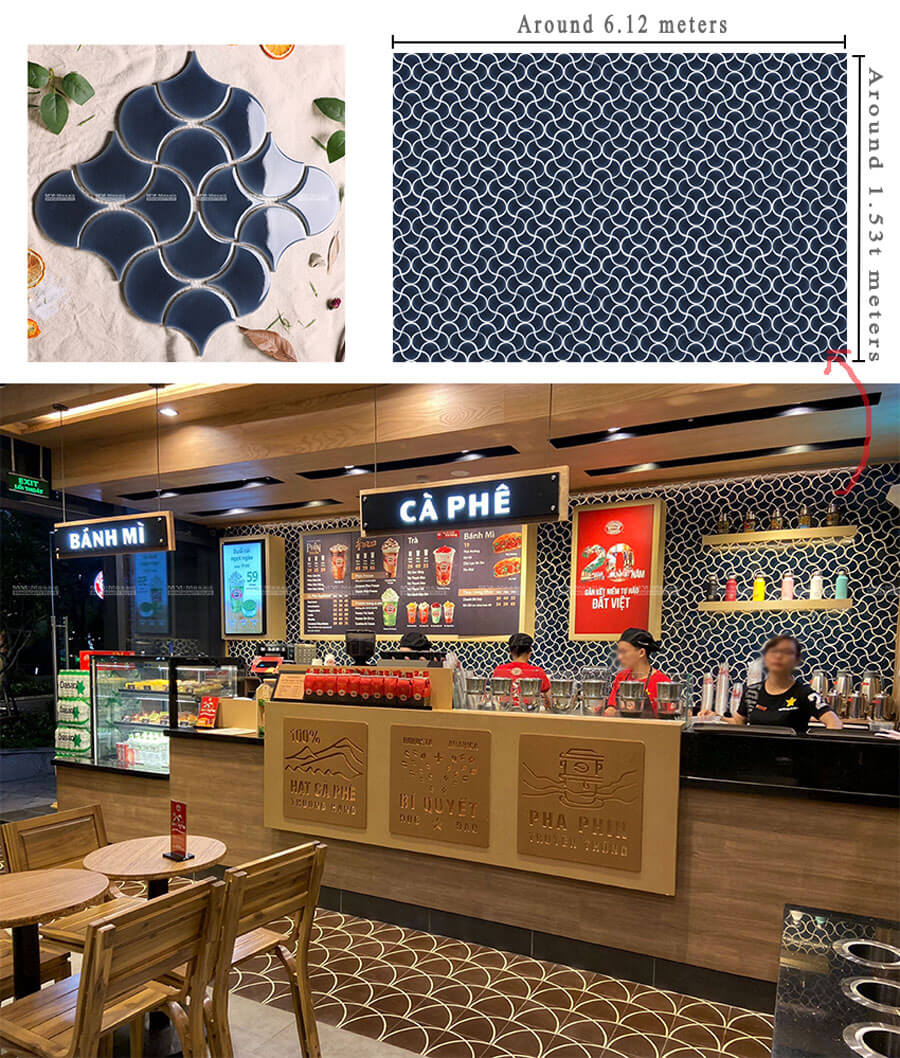 Three Characteristic Design
Maybe our personalized Moroccan fish scale tiles paired well with their delicious cafe, they are ready to open a third store this year. They've used cool dark blue tone and ocean blue tone as the backsplash for the previous two shops. Additionally, we've adopted the wave pattern paving the way and vertical set for them.
For these new shops, we choose the fresh green tone and make the fish scale tile rotating 180 Degrees. This paving way not only shows the aesthetics and layering feeling but make the tiles more similar to the true fish scale! Moreover, our tiles all have the back-meshed design so that they can be installed easily and speed up the completion.
To read more Moroccan style coffee shop design, head over to our blog of another project "Voguish Mosaic Designs Inspired By Our Vietnam Customer's Store"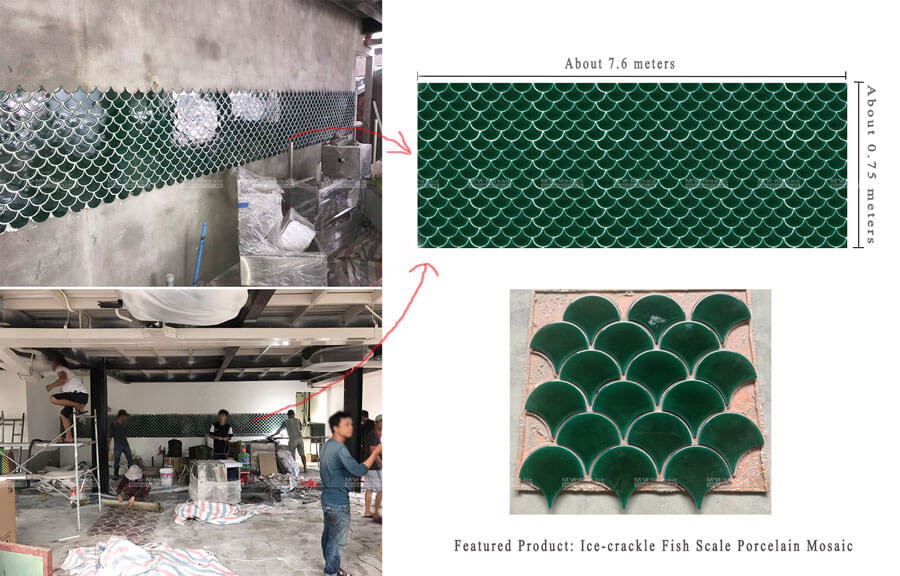 The Results
We're all looking forward to the completion of the new cafe shop! Like the previous cool-tone shop and the Mediterranean style shop, the actual effects are more beautiful than we ever could have imagined! We hope that they can achieve their aim to share the good coffee with every local people as well as wait for the next shop building plan!
Wanna know how fish scale tiles combine with bar countertop, check out our blog "How Mosaic Goes From Bathroom To Bar Counter"
Get Any Ideas?
Why not contact us for Moroccan style fish scale tiles to feel and touch immediately? We're eager to hear what inspires your plan and hope this Vietnamese cafe shop story and project will give you some ideas. As a professional tile manufacturer, we won't stop making high-quality mosaic tiles and sharing creative ideas globally.