As we all know that, mosaic tile is becoming the pop materials for wall and flooring for interior space since it's not only waterproof but easy to install and clean. The number of options available for interior space tile is multitudinous. Mosaic tile comes in innumerable shapes, patterns, materials, and colors. Your projects can achieve any look with mosaic tile, from retro style to trendy and unique look.
The classic hexagon shape is one of the most welcome mosaic tile choices for the interiors. Recently, we just launched new designed ice-crackle mix glossy finish hexagon mosaic tile and their many spaces you can install them.
Charming Hexagon Never Out Of Style
Why hexagon tile never out of style? Because the hex has six sides and fit together faultlessly to make a cohesive shape. The hexagon became sought-after in cottage-style houses at the beginning of the 90s, and many traditional homes are still proud of their original tile. Neutral tones like black and white were the most fashionable choices for hexagonal tiles back then, and one of the most popular patterns was the flower pattern, characterized by various flowers mix simple geometrical lines pattern. Hexagon mosaic tiles develop to nowadays, there are unnumbered ways that combining hexagon tiles with interior design.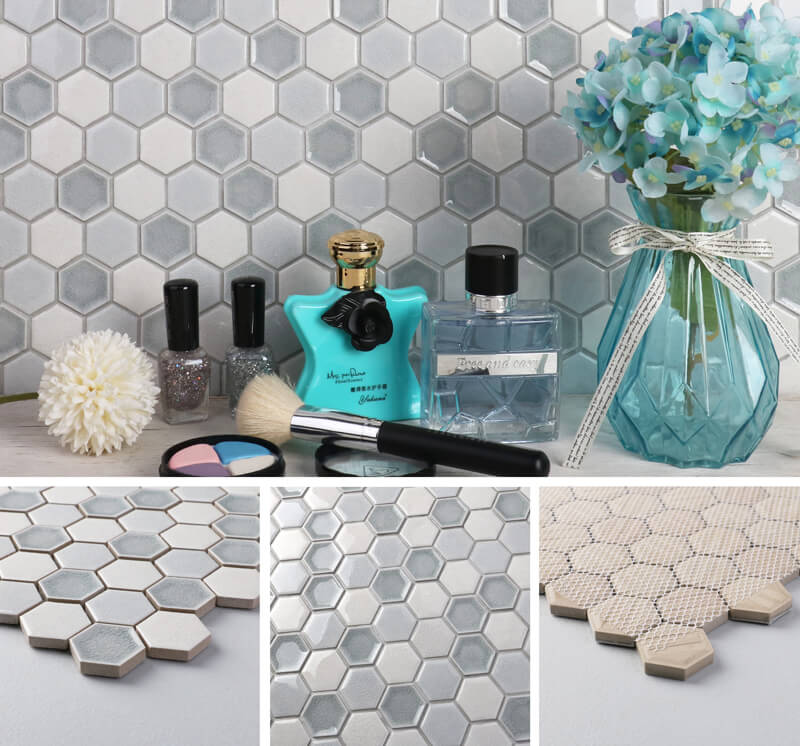 Featured Product: Ice Crackle Mix Glossy Hexagon Mosaic Tile ZBC6001
Farmhouse Kitchen Backsplash Ideas
Original farmhouse kitchens are back to the interior design zone. Simple, neutral hues and inviting decorations to draw you in and make the farmhouse style kitchen most inviting room in your home. Cozy tones, clean lines, and wooden countertop are defining elements of this appearance. Lovely palettes like pinks, exposed light pink dishes, pink storage jar and silver barrel bring the look together to finish this natural and farmhouse style appeal.
-Traditional Farmhouse Elements
Little design elements bring the charming to the kitchen and create a popular space, such as the natural wooden cabinet with white paint and the faded color cabinet door handles. The interesting element in this space.
Versatile ice-crackle mix glossy honeycomb hexagon tile has become a mainstay in this kitchen backsplash design. There are many traditional elements, such as the little retro vase and the small rose-red flowers. Where the unique farmhouse design is brought in are in the minute details, such as a pink rag hanging from an old gold color handle and the small backboard. Pops of the pink rose leaves are brought in through the transparent glass jars.
-Bare Copper Fittings
The dramatic appeal of the bare copper sink and water faucet immediately draws you in as you look at this kitchen. The design maintains the farmhouse style with simple pure white cabinetry and black hardware.
-Black Metal Details Make Everything Different
The trendy farmhouse is known for creating a warm and inviting atmosphere. Our designer has remedied this problem by catching the eyes downward with simple black metal hardware. The cool black metal in contrast with the light tone backsplash to the cabinetry helps keep that inviting feel.
Here are 6 attractive projects of our customers, including beautiful kitchen backsplash: How Moroccan Fish Scale Plays With 6 Commercial Space >>>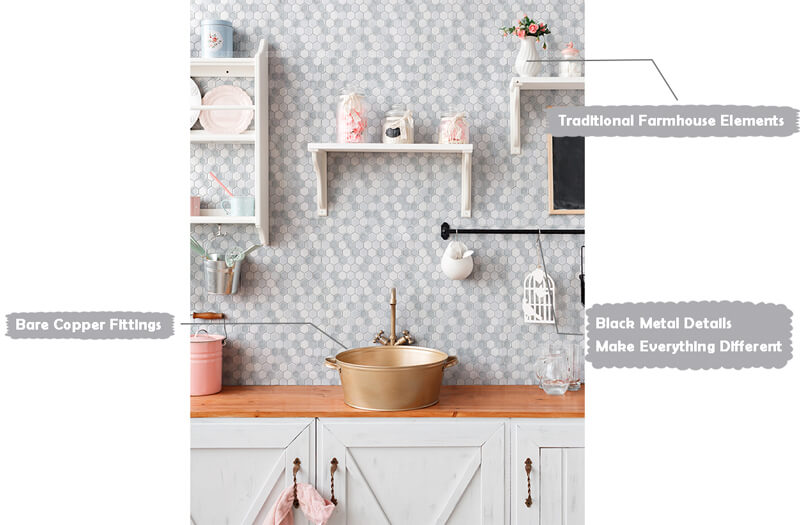 Accent Wall In Leisure Area
With the prevalence of minimalist style, neutral colors like black, white, gray are perhaps the most common palettes when it comes to hexagon tiles. But you certainly aren't limited to these stiff colors. Hexagon mosaic tiles come in abundant colors, meanwhile, they're also performing well with aesthetic surfaces and particular patterns. One great appearance for the leisure space is ice-crackle mix glossy finish like this hexagon mosaic tiles in mix colors. An appealing surface brings a sense of minimalist and a bit of Scandinavian style. Know more about how Scandinavian people decorate their Christmas here: Top 9 Trendy Colors Scheme For Christmas Party >>>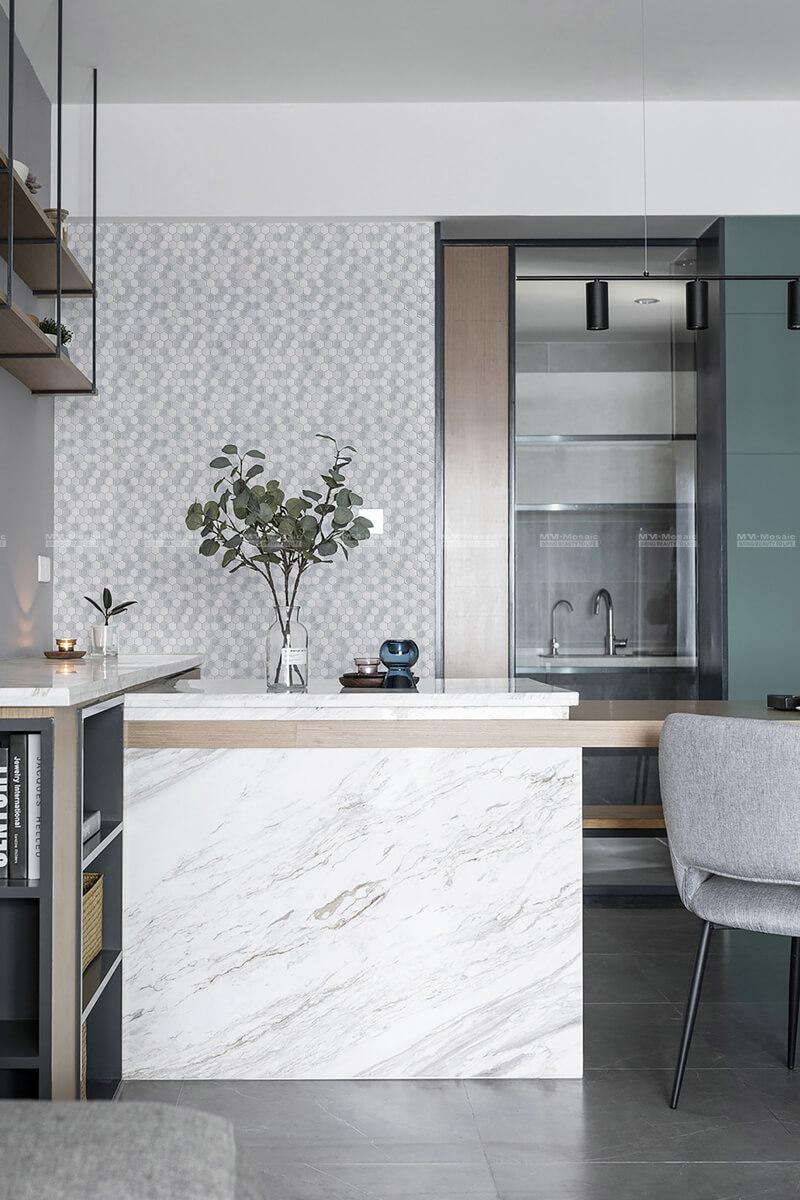 Get Any Ideas?
Are you get inspirations from this farmhouse style kitchen with a cozy backsplash? If you or your friends want to renovate the house, which style would you choose? Please leave your comments below and tell us your plans. We are so glad to see your ideas!