When it comes to Moroccan style, you might think of fish scale tiles for the first time. That's true! The scallop shape has been available in the market for a while, which is an outstanding option for home decoration or commercial space, such as cafe shops, bars, dessert shops, hotel resorts, bakeries and restaurants where an eco-friendly and stylish option is desirable.
Though they have the same shape, there are no two projects are precisely similar due to versatile palette! If you're looking for some inspirations of fish scale, here are 6 creative projects ideas. Keeping reading on these artful spaces and you will definitely want to get these looks!
Coffee Shop Backsplash - Three Style
Say hello to Moroccan style by evenly exposing a horizontal line of fish scale tile tips. This idea creates a lifelike pattern that is both an aesthetic feeling and particular. For different cafe styles, we use three different colors including fresh green, ocean blue, and dark blue. Experiment with wave pattern, upside down 180 degree and vertical paving ways, just like we did below design:
Get more design details of these projects with our blog: Coffee Shops with Amazing Scallop Backsplash >>>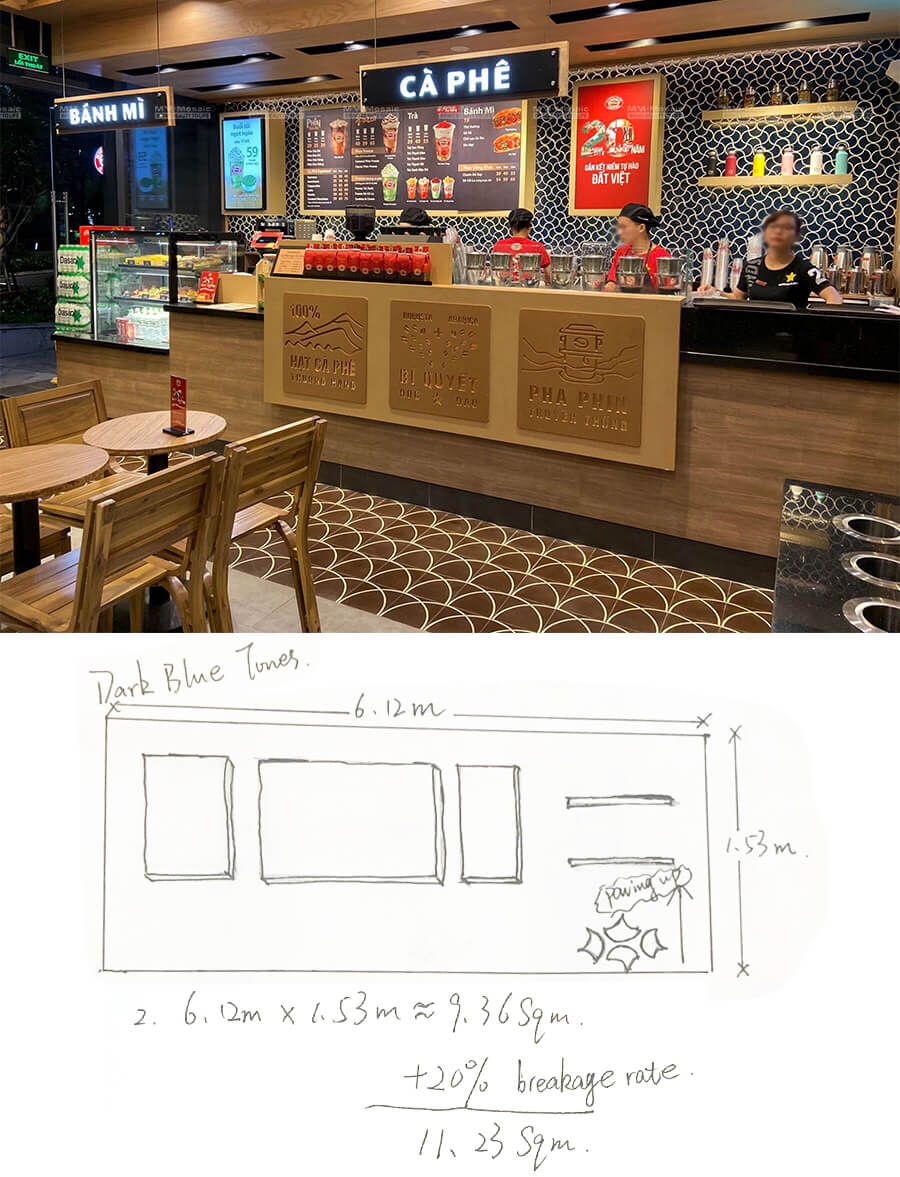 Dark Blue Wall Area = 6.12m wide x 1.53m high
Quantity: About 9.36 square meters, including 20% breakage rate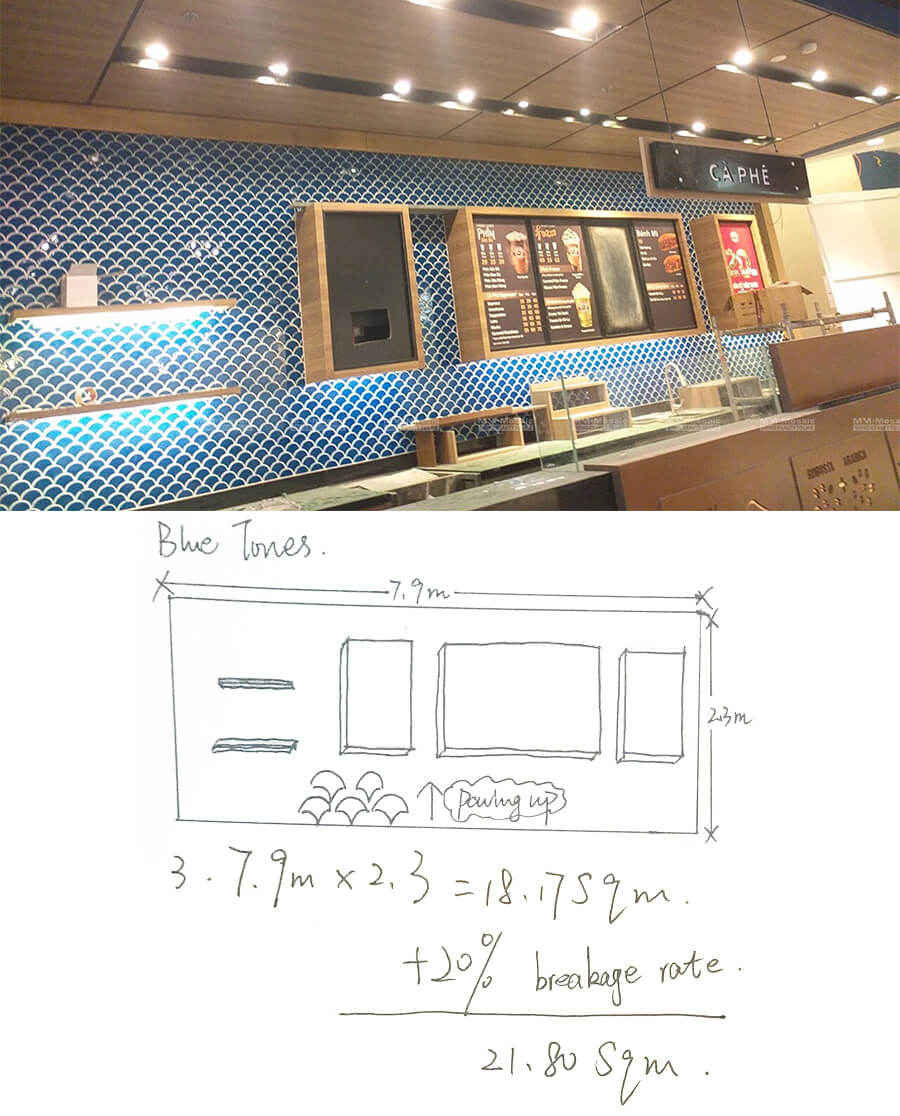 Blue Wall Area = 7.9m wide x 2.3m high

Quantity: About 21.8 square meters, including 20% breakage rate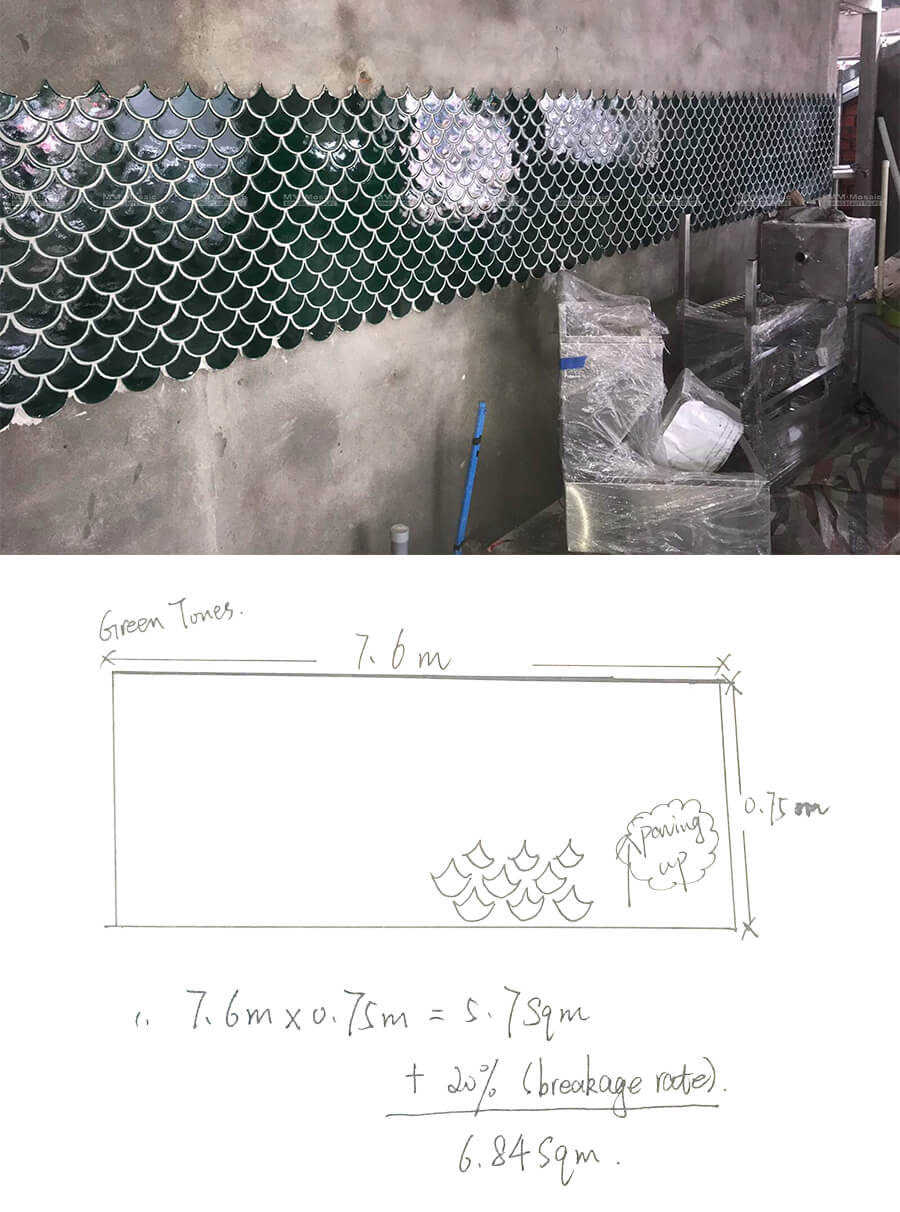 Emerald Wall Area = 6.12m wide x 1.53m high
Quantity: About 9.36 square meters, including 20% breakage rate

Store Stair Wall - Mix Color
Did you know that three different palettes chip creates a large fish scale? There are quite a few interesting ways to play with this accidental combination. Looking at this playful stair wall, we use emerald green, pure white and heavy ice-crackle blue tones to finish the wall decoration. Those who go up the stair will full in love in this design because the running stream of fish scale tiles star at the base and visually flowing up with the raising of stairs.
Check out our blog for more beautiful space in this creative store: Voguish Mosaic Designs Inspired By Vietnam Store >>>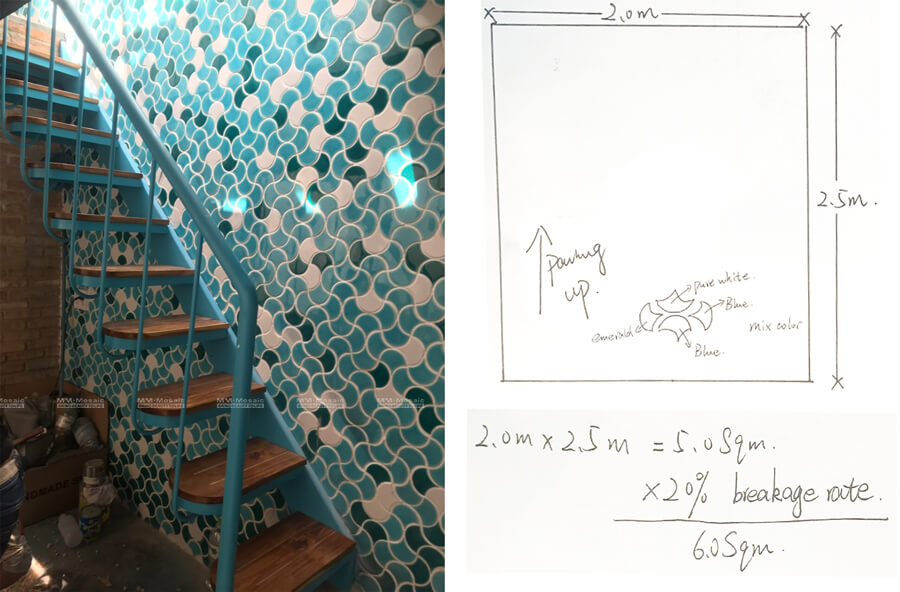 Stairs Wall Area = 2.0m wide x 2.5m high
Quantity: About 6 square meters, including 20% breakage rate
Restaurant Kitchen - Gray Tones
From a unique design standpoint, we love the individual characteristics you can find in every chip, something only seen in natural materials. The high oil resistance of mosaic tile, plus the fact that it immediately enhances the style of the restaurant kitchen when installed. The other space of the restaurant is bright, airy and full of cozy hues. So we decided to design a kitchen that fits in perfectly with the other space of the restaurant. The soft color scheme is one that we always lean towards, gray tones fish scale mix white cabinet can create light and airy kitchen, which pairs well with the whole space.
Know more about the ice crackle gray scallop here: 90.5x83.5mm Crystal Glazed CZB319X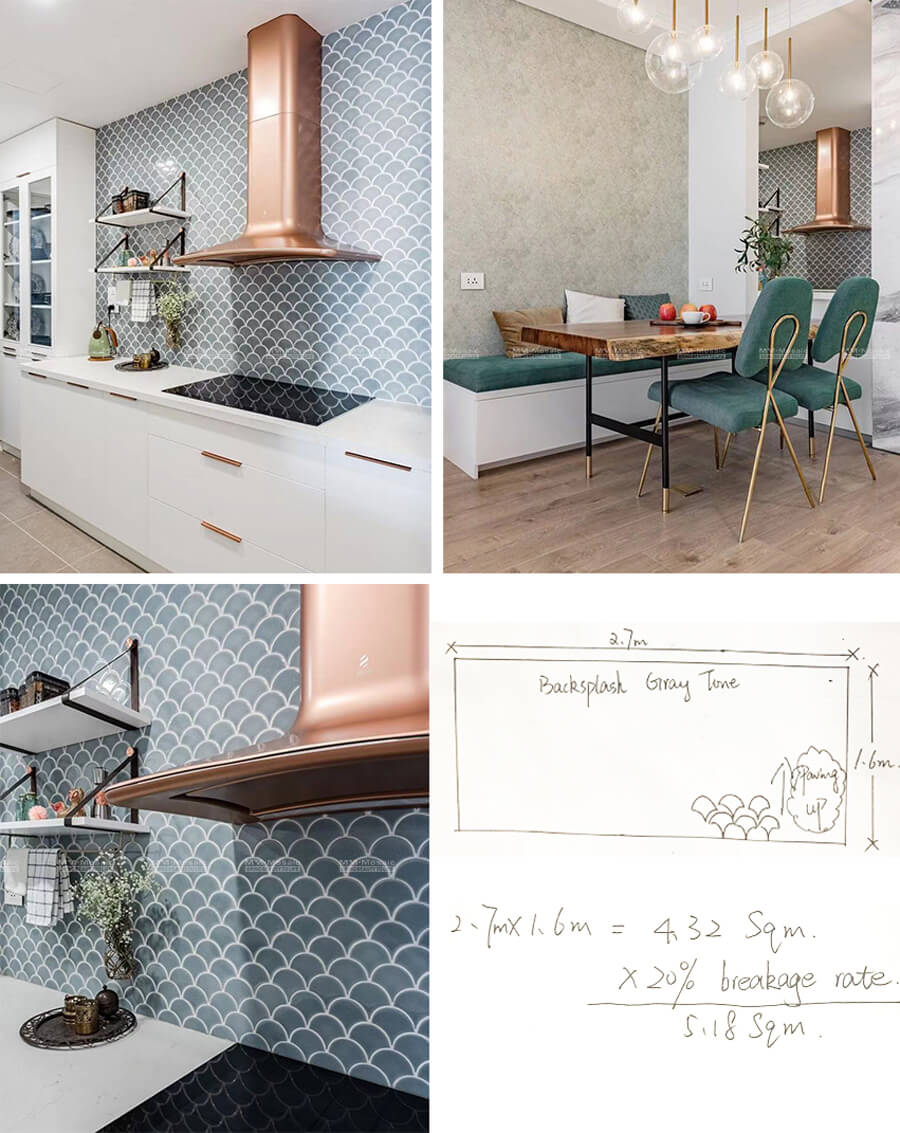 Backsplash Area = 2.7m wide x 1.6m high
Quantity: About 5.18 square meters, including 20% breakage rate
Dessert Shop - Emerald Wall
Full of emerald hues, this feature wall with two arch-like wooden frames to complete the style. We all prefer to adopt an emerald glossy glazed surface against a monotonous white wall for showing the contrast.
Don't worry about how to paving too large space, every sheet has the back-meshed design and usually, each sheet has 18 chips. Therefore, the smart design saves you much paving time.
Wanna get more color scheme ideas with our blog: How to Combine Warm Hues With Cool Tones in Mosaic Interior Design >>>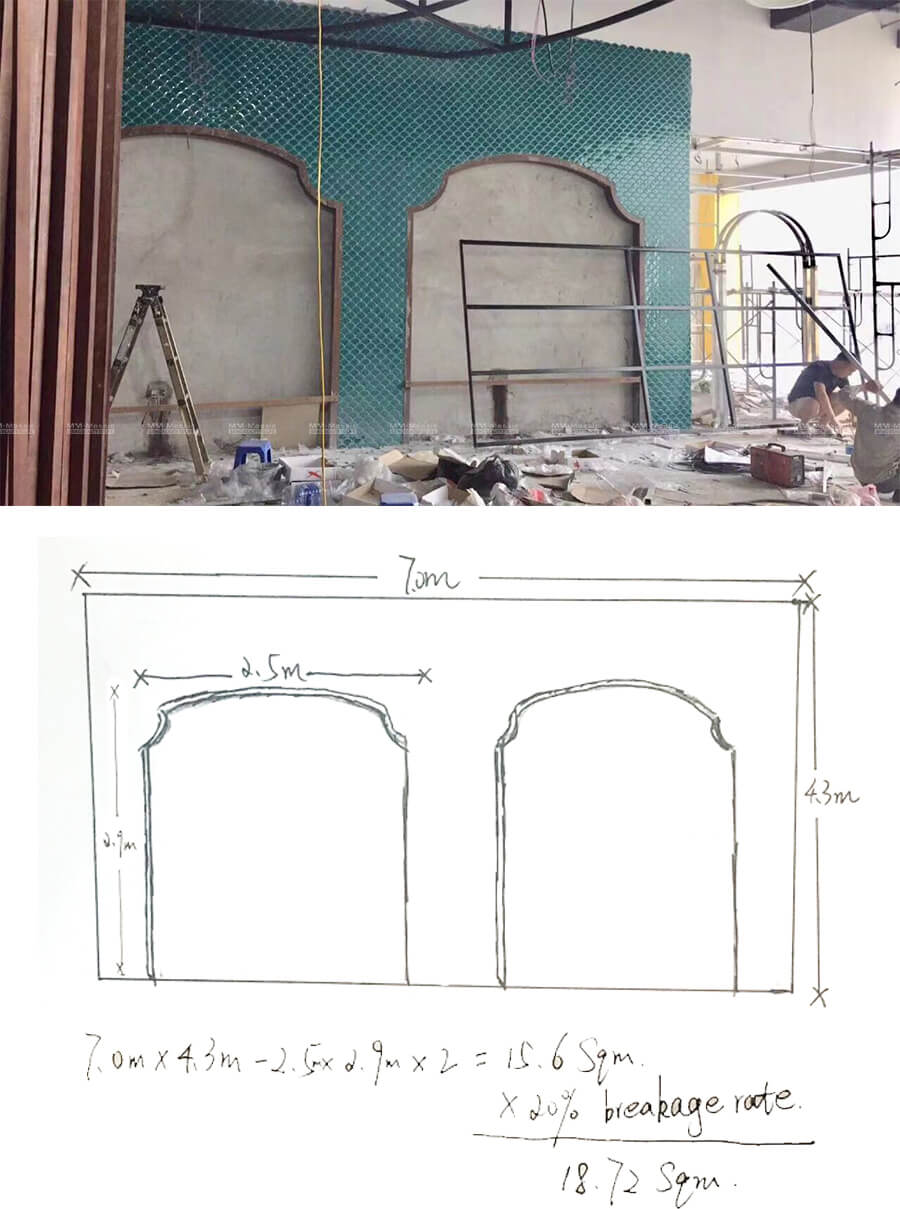 Feature Wall = 7.0m wide x 4.3m high △ (Minus the area of the two arches)
Quantity: About 18.72 square meters, including 20% breakage rate
Hotel Shower - Variable Black Hues
Creative, stylish and simple, this shower feature wall incorporates our special fambe black tone fish scale tiles cusp down. Here is a unique design that using an organic edge at the top instead of cutting the border directly. We kept the fish scale whole and edge-glazed exposed to create a smooth half-round edge.
And we didn't cover the whole floor with the same tiles, sometimes leave little white space can also make a statement. According to the outline of the bathroom dry area, we've designed the smaller area as the same outline and paved with variable black scallop.
Learn more about how Moroccan style blend into interior space, check out our blog: Fantastic Uneven Fish-scale Porcelain Mosaic >>>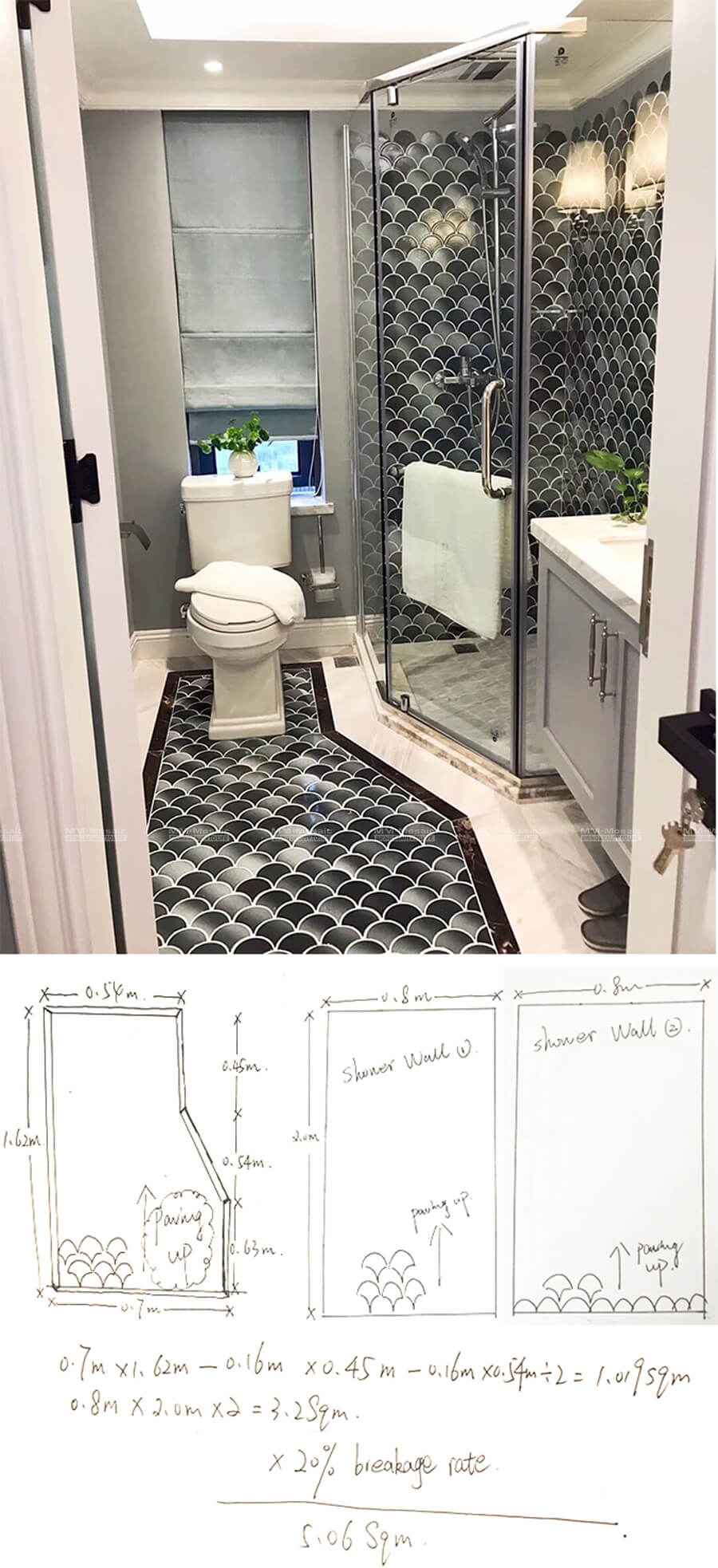 Two Shower Walls = 0.8m wide x 2.0m high
Floor Area = 1.019 Sqm (Details have been showed above pic)
Quantity: About 5.06 square meters, including 20% breakage rate

Bar Countertop - Fresh Green Fish Scale
Our scallops are making their way into mainstream hotel&resort space, especially bar countertop! This finished project gives a charming range of blues in a subtle. Each glossy chip we chose has the heavy ice-crackle pattern, so it looks like we have the real crack but in reality, it just the pattern. Adding the modern and personal style on the countertop, Moroccan fish scale tiles can always outstanding because their half-rounded tops look smooth. This monochromatic blue tone choice combines with a bar countertop resulted in an ultramodern drink area.
Learn more about this project by reading our blog: How Mosaic Goes From Bathroom To Bar Counter >>>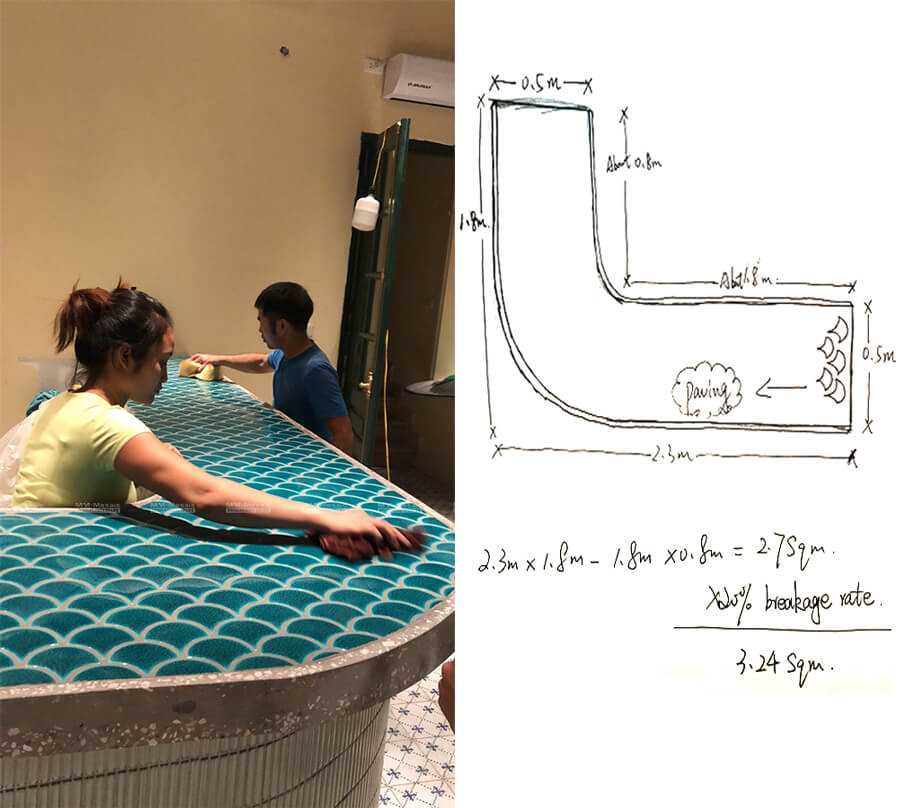 Bar Countertop Area = Irregular shape 0.5m wide ( Counting precess have been showed above)
Quantity: About 3.24 square meters, including 20% breakage rate

Get Ideas?
Surprised? Moreccan fish scale tiles can perform well in any space, why not order some samples to combine them in person?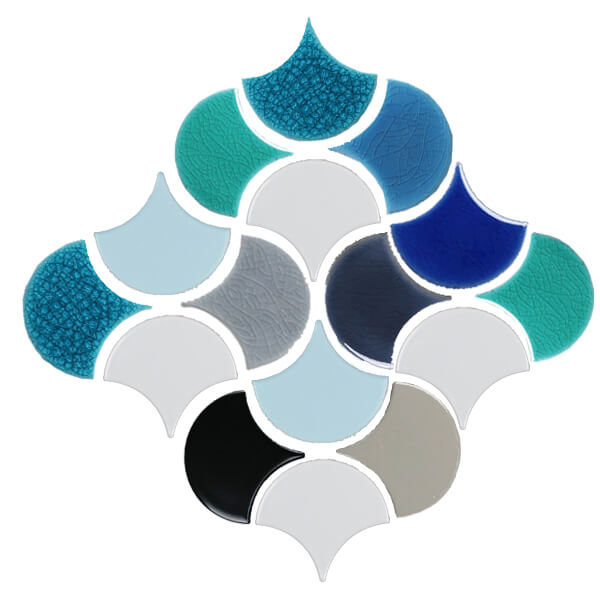 As project materials supplier, MM-Mosaic will keep on sharing the global stunning projects with our readers. We also glad to receive your interesting ideas for your future plans! Why not leave your comments below or ask for different tones of fish scale tile samples to see and feel how beautiful they are?