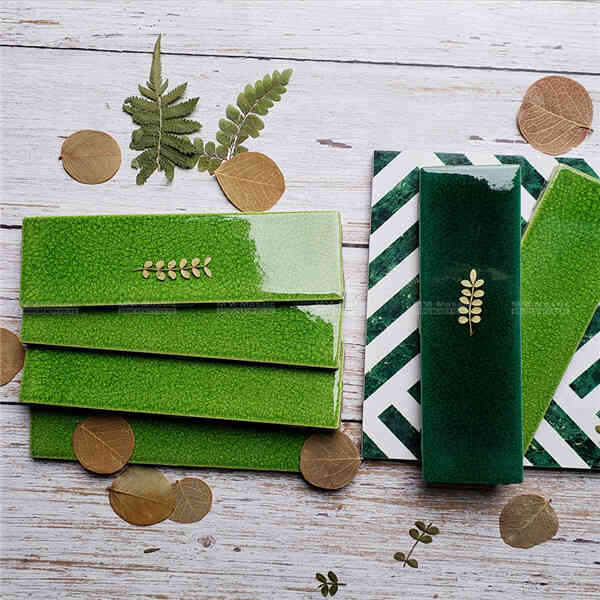 Nowadays, chic subway tiles are much more of a style statement, but that doesn't mean they aren't still practicable and modern. Many interior designer love them for this classic shape. However, there are more styles than ever to consider so knowing what's right for you can be confused, such as glazes, patterns, surfaces and etc.
We're so pleasant to share our new arrival subway tile series with you. Stylish and beautiful subway tile will transform any interior space or swimming pool into a piece of tile heaven. With smoothing glazed finish, exquisite ice-crackle and bamboo style look and stunning color scheme, the new porcelain subway tile will be the focus in your home. Read on to explore some of our favorite right now:
New Ice Crackle
This refreshing and eye-catching light green is the wonderful accent to a bright and clean backsplash. These herringbone pattern pair perfectly with the dark green and light green palettes. Ice-crackle textured finish makes this wall outstanding and while not the most bold palette choice, fresh green porcelain subway tile is an ideal choice if you are looking to add color to your interior design.
Featured Product: 60*200mm heavy ice crackle subway tile ZOM5701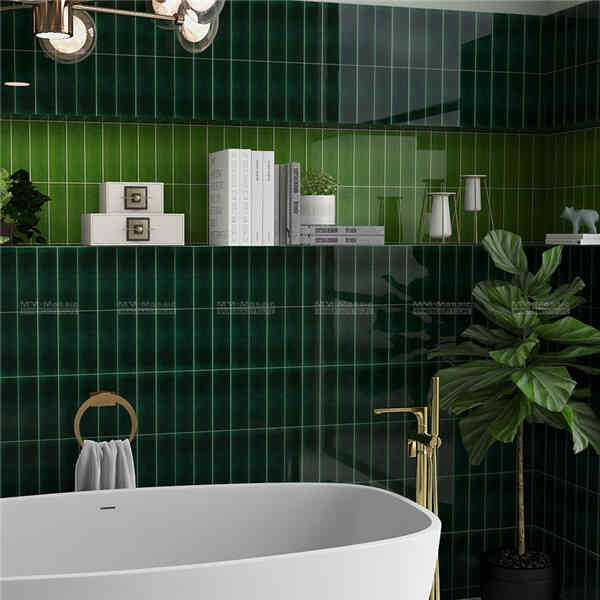 Green World
Choosing a deep green color with ice-crackle pattern may be another way to safely bring color into the bathroom space. This high-quality deep green glaze has a understated feeling and rustic quality that create the natural atmosphere space when you taking a bath. And again, the appealing crackle pattern adds a textural quality that adds personality.
Know more green tone interior design ideas here: 16+ Dark Green Palette Refreshes Your Space >>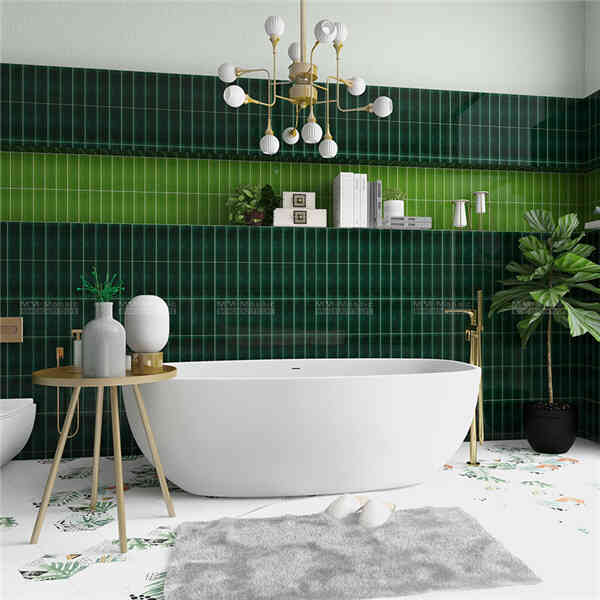 The Breezy Backsplash
Using color as kitchen backsplash is the perfect idea to balance the space tone. These 60x200mm size wall tiles give a rich trend of color to the marble countertop and neutral color cabinetry. Notice the attractive backsplash of our unique new design deep green glaze that have ice-crackle textures of surface, giving off a cozy atmosphere to this interiors.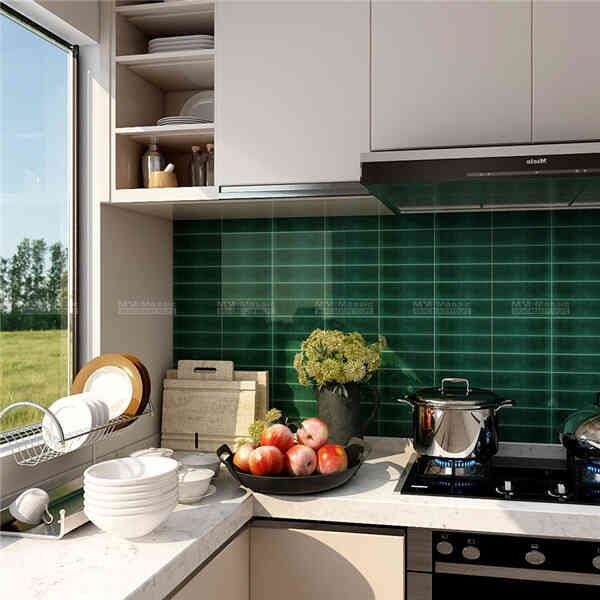 The Chic Glazes
Pairing a breezy color with handmade tile is another way to tie in a stunning color choice into your interior space and pools. Checking out our new green collection right now, lifelike leaf shape, classic subway tile and refreshing square wall tile are large enough to handle the whole wall of your home, and the beautiful pattern in the surface offsets it wonderfully.
If you're interested in tile glaze, visit our blog: Premium Glazed 3D Mini Star Porcelain Mosaic >>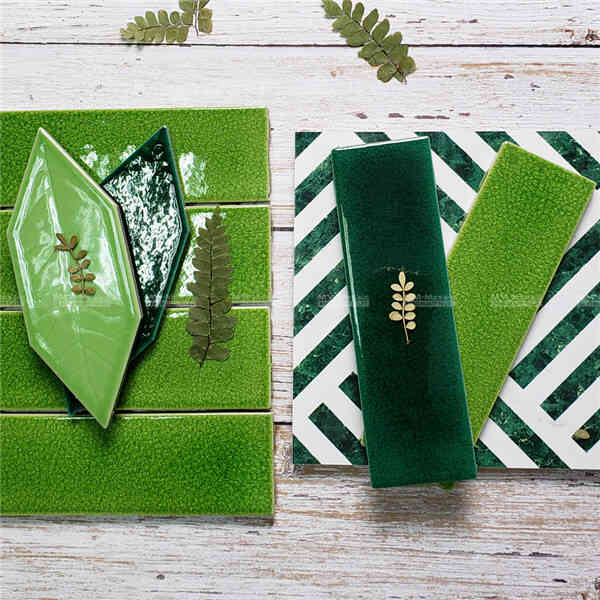 Breath Blue Tones
Nothing says relaxation time like classic subway tile in ice-crackle pattern! The ocean blue color in this wall tile will give your shower or kitchen backsplash a contemporary ocean ambient. The variation in this glaze adds interest and personality to a breezy tile design. Let's combine the ice-crackle pattern ocean blue with subway tiles to create a outstanding accent wall.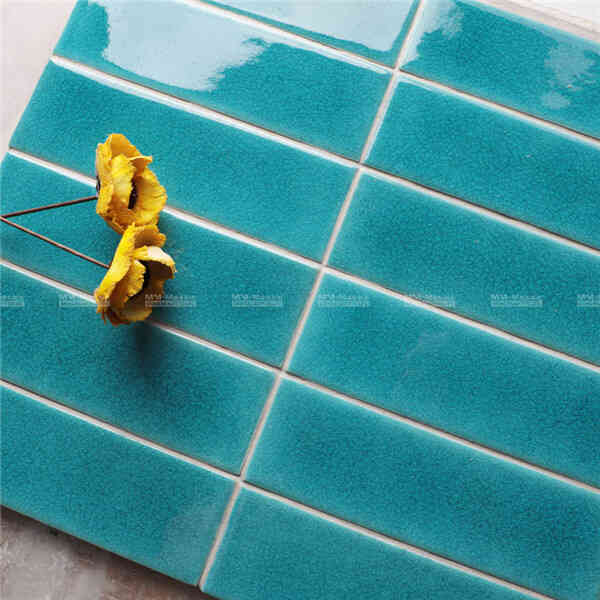 All In The Details
Push the chic ice-crackle mood of subway tile with our natural tone glaze colors. The pine green, sky blue tone, the glacier hue and heavy ice-crackle pattern will turn any space into a earthly atmosphere and make a dream interior space. Subway tile can be install in various patterns, let's search more creative inspirations right now!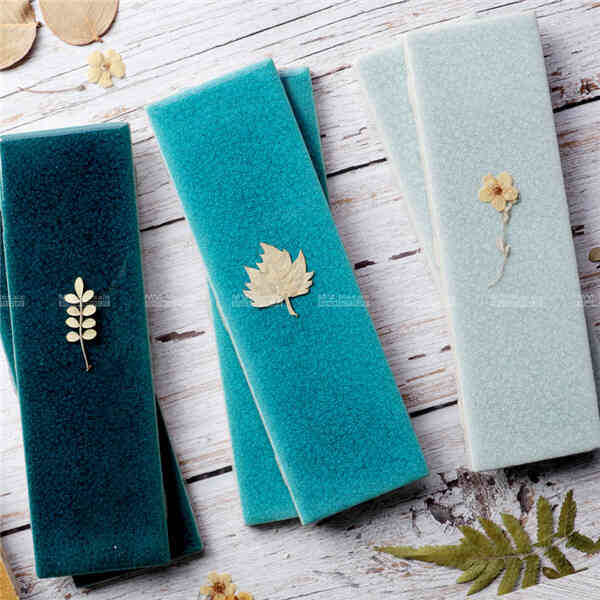 Pretty In Subway Tile
Daring palettes don't always have to be loud. Here, we design a autumn style, natural soil hue and warm brown with a smooth touching finish as well as charming ice-crackle texture that adds a abundant aesthetic feel to any retro appearance space. It's ideal hue color to combine the wood furniture, such as wood open-shelving, wood dining table and etc.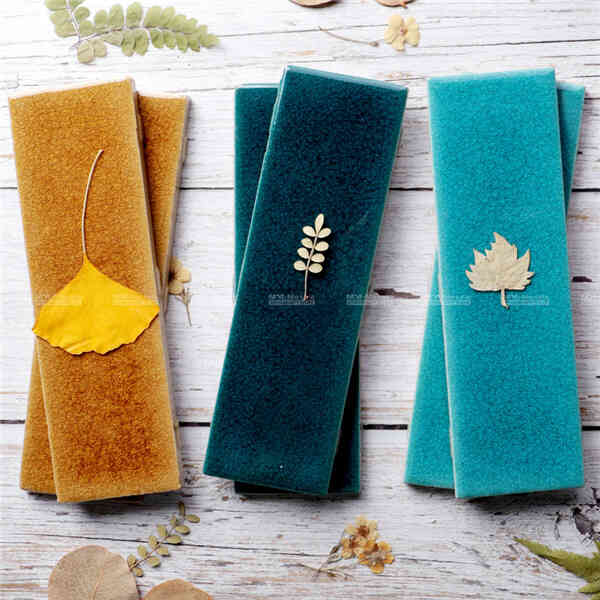 Featured Product: 60*200mm heavy ice crackle subway tile ZOM5902
Dreamy Palettes With Ice Crackle Pattern
Subway tile doesn't have to be only for minimalists. Why not try to embrace your maximized style and go bold by utilizing sparkling and eye-catching glazes mix beautiful ice-crackle texture for your porcelain wall tile. From deep green tones to neutral gray, our new 60x200mm subway tile will make any style to suit your personal taste.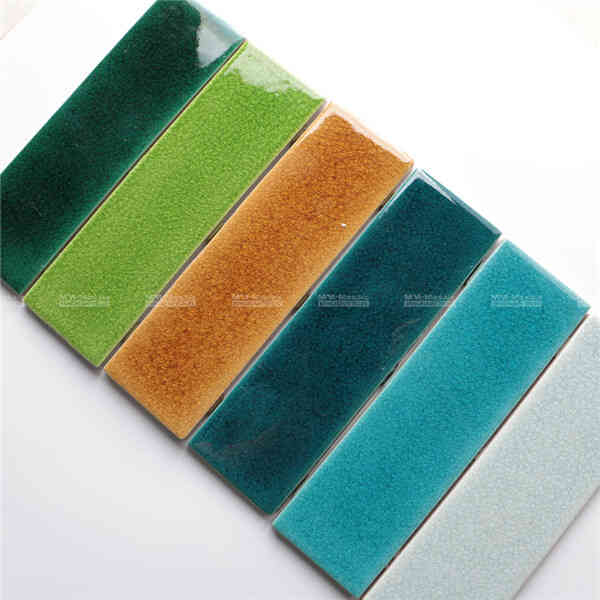 Handmade Bamboo Style Tile
From square to trapezoid shape, to new bamboo style, our high-quality kiln colors are timeless and never out of style. When working with a pattern such as subway tile or herringbone, this appealing kiln glaze palettes also works well. It's ideal opt for kitchen backsplash, shower wall, living room feature wall and etc.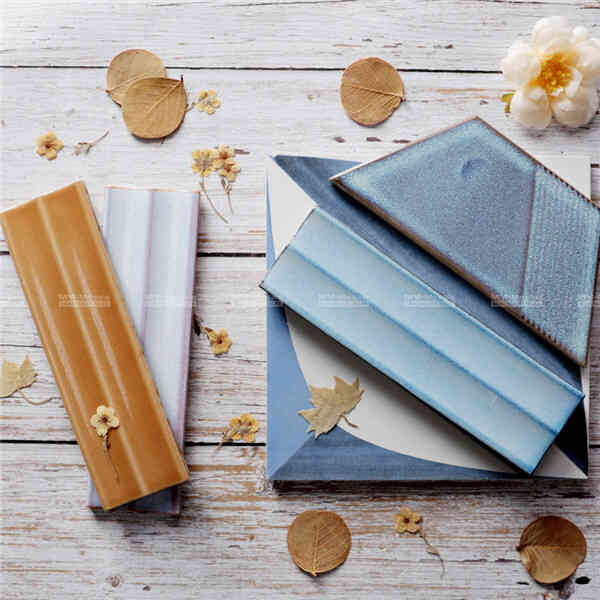 Featured Product: Premium glazed bamboo style porcelain tile ZOD9901
Cozy Feature Wall
These newfangled blue bamboo style wall tiles come out of the kiln ranging anywhere for smooth touching ocean blue to sky hues. With a glossy and 3D design surface, these tiles are unbeatable. We've seen this nice glaze and subway tile combo be perfectly executed time after time so we decided to add interesting and Chinese plant bamboo elements in our new tile design. Just like the below accent wall showcasing: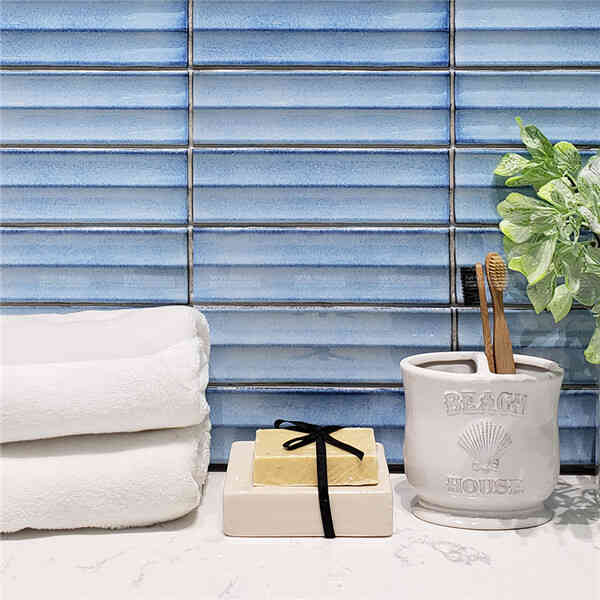 Kiln Blues
We purpose is that if something inspires your mind, put it in tile design immediately! Whether it be a favorite color combination or pattern designs, the options for subway wall tiles are endless. Using the kiln surface, unique bamboo style 3d finish and horizontal pattern, we can create an accent wall for your dream home.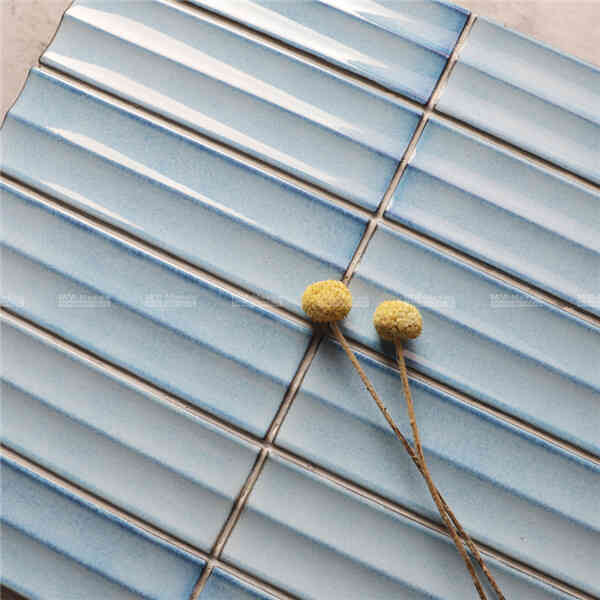 Classic Sophisticated Backsplash
One of the best things about bamboo style subway tile is a wide range of patterns possible. Just like this kitchen backsplash, the horizontal straight stack on the wall lend a modern appearance and a stylish, ocean blue palettes on the backsplash is a jolt of energy.
For more kitchen design ideas, browse our blog: Coffee Shops with Amazing Scallop Backsplash >>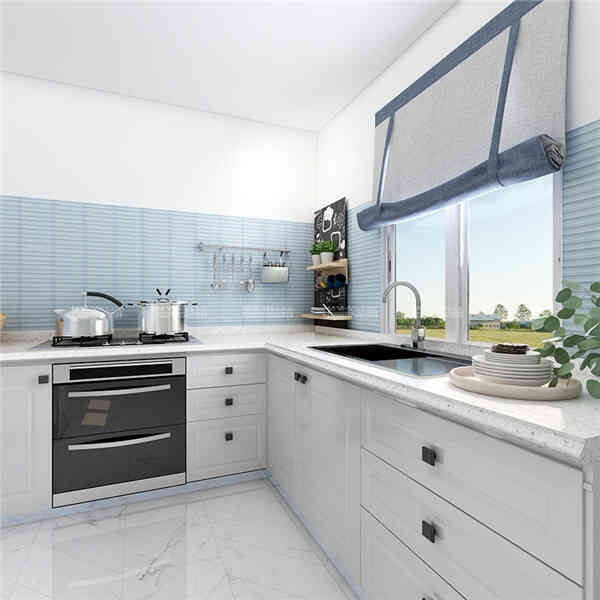 Transform Your Laundry Room Into The Cozy Vibe
The vertical straight set pattern in this laundry room walls below adds height to this space in a contemporary way. Brisk blue color and creative bamboo style make the laundry room look larger and brighter. We all like how this 3d bamboo finish and handmade style subway tile continues right through the walls and brings trendy modern to this soothing space.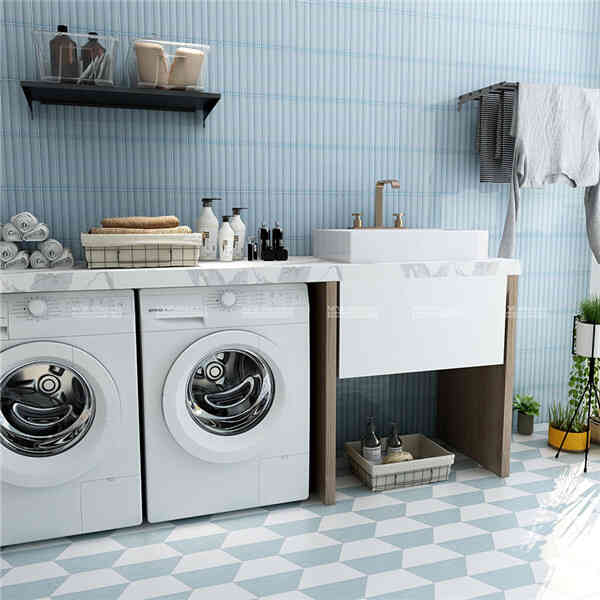 Black Glazes Mix Different Shapes
Wall and floor tiles don't have to be in the same shape. In fact, we always recommend getting creative when it comes to this exciting tile design. Instead of the common surface design, let your personality shine with an ombre of different glaze palettes and shapes for our new black collection.
For more latest tile design, visit our blog: The Glamour Of Oval Porcelain Mosaic Tile >>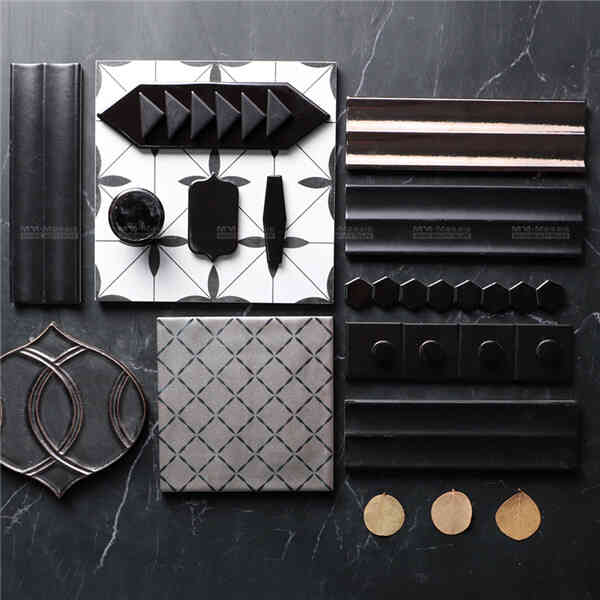 Herringbone Mix Metallic Glazes
Whether you're at commercial space or home, walls are the suitable space to experiment with bold design. We love this mysterious feeling and characteristic bamboo 3d finish, and what better to make a statement than with a glossy glazed black tile? By simply rearranging these 60x200mm subway tiles into a herringbone pattern it creates a completely different ambient - glamour, modern, sophisticated.
For more herringbone tile designs, visit our blog: 10 Projects That Show Monochromatic White Stand Out >>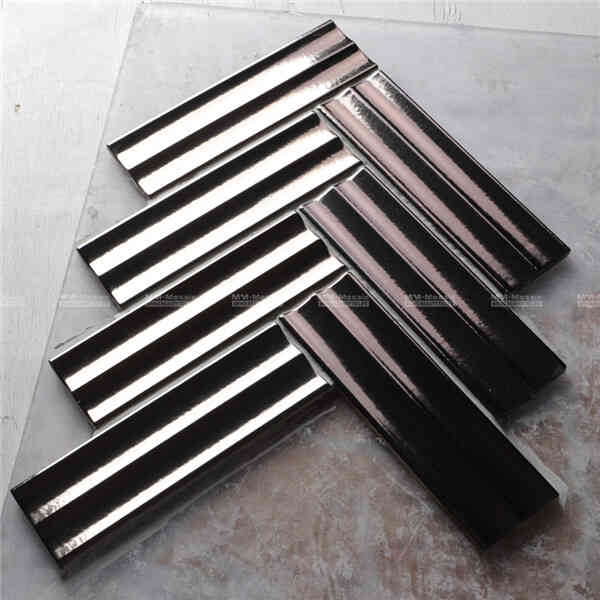 Add An Accent Wall
One thing we love about this bamboo style subway tile and cool metallic black glaze is its versatility in any space. Whether you're wanting deep green, white or neutral gray cabinetry, this glaze tone will fit right in and accent all the perfect parts of your space. Did you know that black hue is one of our most welcomed glaze palettes?
Here is another feature wall in commercial office design, checking out this blog now: How To Design Herringbone Mosaic Tile Accent Wall In Office >>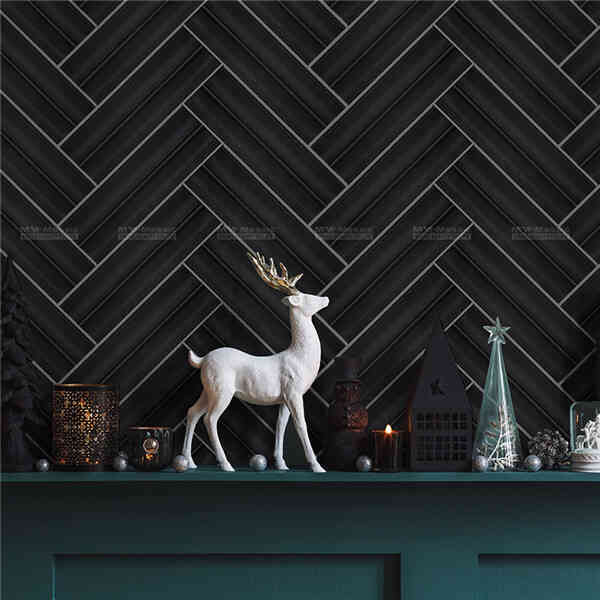 Create An Unique Bamboo Style
Give your shower space the perfect feature wall charm with our new arrival black bamboo style porcelain mosaic tile series. The attractive handmade appearance, chic kiln surface and five palettes options make these wall tiles a timeless design for any bath space or back splash.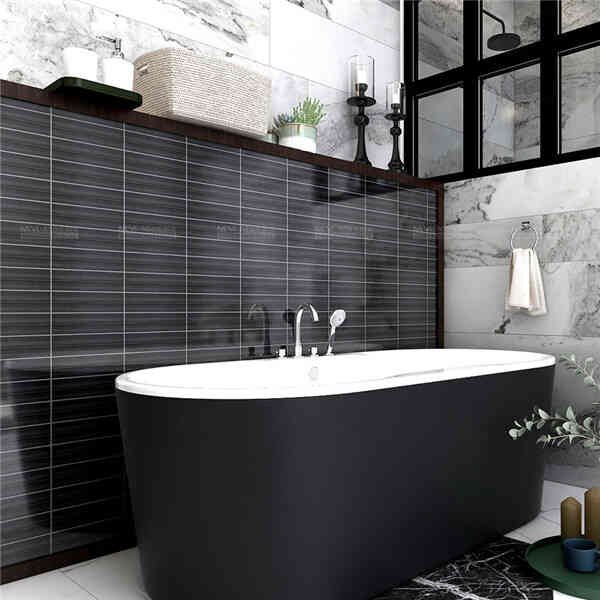 Embrace The Herringbone
If you're really looking to think outside of the normal thought, our black glaze might the perfect color for your kitchen backsplash design. Not usually seen as a classic color choice for wall tile, this deep black tone is a bold, modern and pleasing choice for a feature wall, kitchen back splash, laundry room or even entryway accent wall.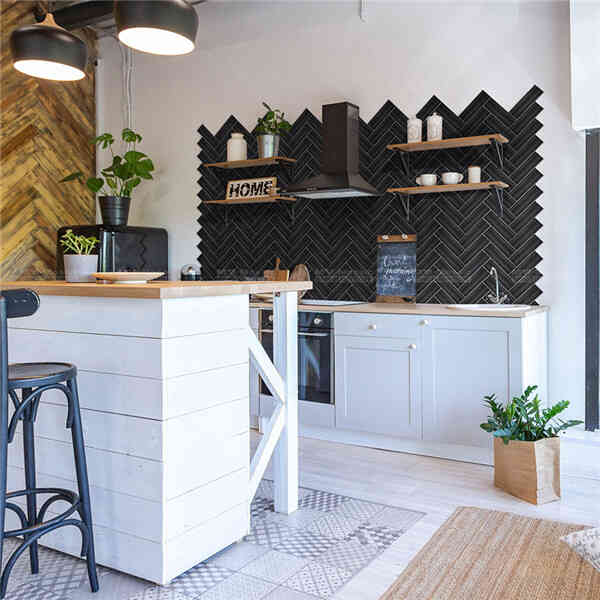 Get inspired?
Do MM-Mosaic new subway tile inspires your future interior design? We're preparing various colors and two different surfaces for your choice and why not contact us to order tile samples to touch and love our tiles immediately? Keeping on paying attention to our blog, we will give more trendy tile design news for you.