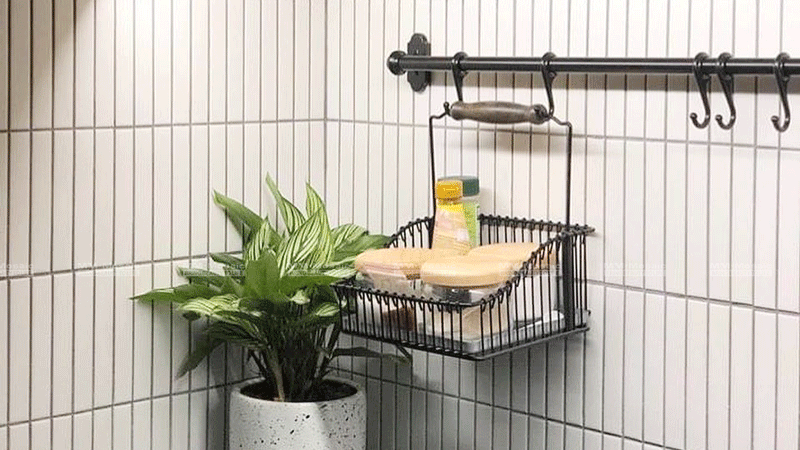 Looking for some inspirations for your home decoration? Why not go the simple way with the classic and stylish white? The palette white is the underestimated hero of contemporary interior space. Whether you're browsing the blog online, reading the trendy magazine, or visiting some beautiful spaces in person, it's not difficult to see why. Here are 10 projects that show the monochromatic white outstanding. We're going to tell you to get creative by mixing styles, textures, and shapes; maximizing light with doors and windows; as well as grounding an otherwise ethereal space with natural things. Let's read below:
1. Warm It Up With Wood Cabinetry
We're huge believers in the kitchen backsplash. It's such a simple update and will create your whole kitchen space look much more cleaner and organized. Once you have the same backsplash like this project show, you'll never want to see or install another palette again. Kitchen walls are an ideal place to add pure and simple tiles. While working with a pattern such as little herringbone, make sure to look into wood cabinetry. This will balance your white backsplash and provide the perfect place for your plates and bowls.
Get more accent wall ideas with our blog: Voguish Mosaic Designs Inspired By Vietnam Store >>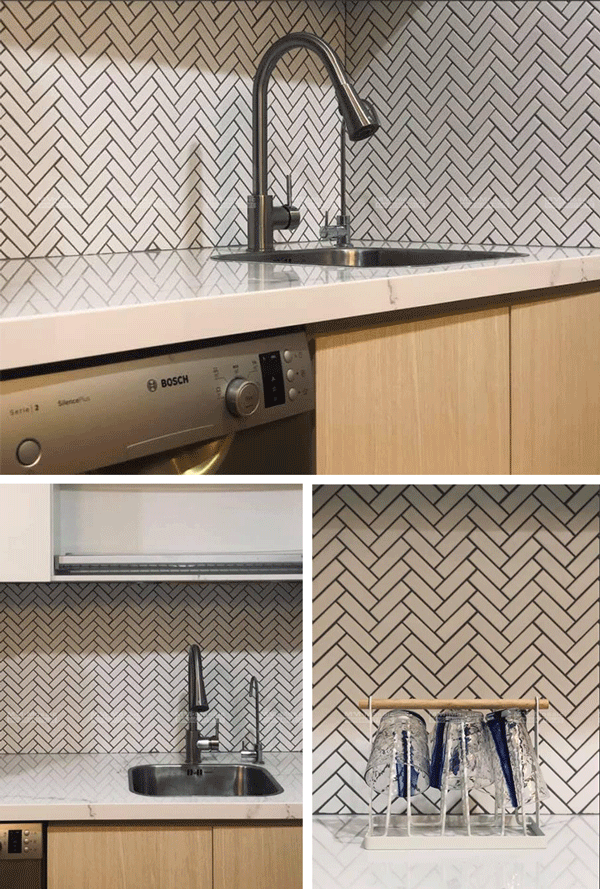 Featured Product: Strip CZM209B-D

2. Stylish Chevron Look
Push the dreamlike mood of chevron with our minimalist white glaze color. This smooth glaze and pattern combination will turn any space into a Scandinavian style. When it comes to white chevron, you might think of minimalists. However, chevron doesn't have to be only for them. Everyone can embrace their maximalism style and go bold by using plain colors for your porcelain mosaic tile. Our whites are full of smooth touching and make the perfect choice for a modern kitchen backsplash with a special twist.
For more tiled kitchen space inspirations, visit our blog: How Moroccan Fish Scale Plays With 6 Commercial Space >>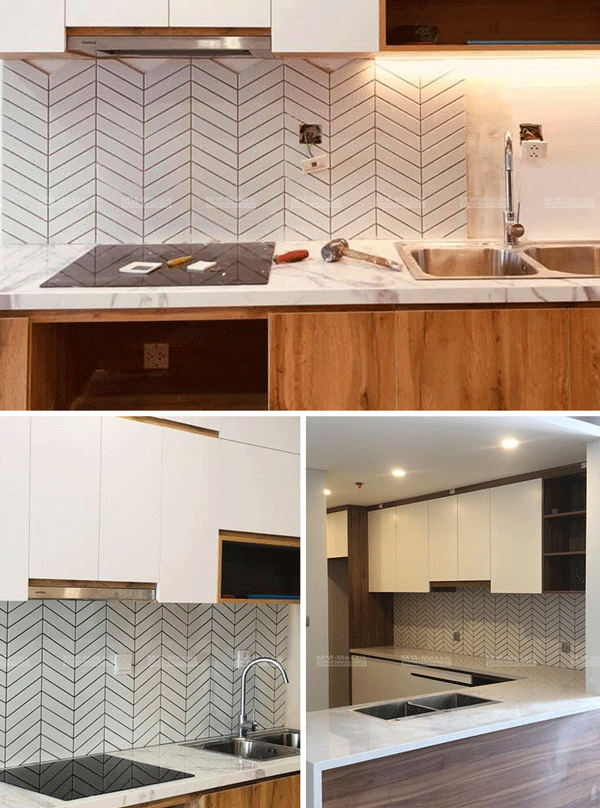 Featured Product: Fishbone White CZM242B

3. Bring in Green
There are few things we adore more than a backsplash space that adds personality to the kitchen! We love choosing seductive, understated, or eyeful tones for this tile project. The example below shows how simple herringbone tile can completely sparking. The saturated green cabinetry contrasted with the bright white wall is both dramatic and exquisite at the same time.
Find a few more backsplash designs with our blog: How Green Glaze Plays in Cafe Shop and Rest Room >>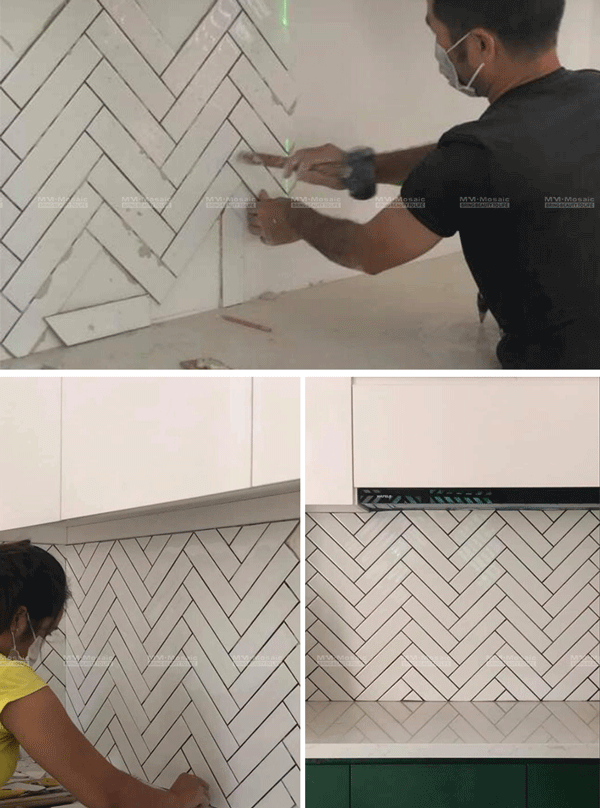 Featured Product: Fishbone White CZM242B

4. Clever White Backsplash
Ready to go to the vivid walls? We adore 97x97mm rectangle shape for a trendy tile statement, and this open kitchen space did not disappoint. Though it is a common backsplash, it gives us all of the contemporary vibes. Our talented interior designer Jane accomplished this by improving the vivid backsplash with natural pattern marble countertop, natural wood cabinetry, and bright light.
See more stunning projects with our blog: Pink Palette Finger Stackbond Mosaic Makes Dreamy Wedding Dress Shop >>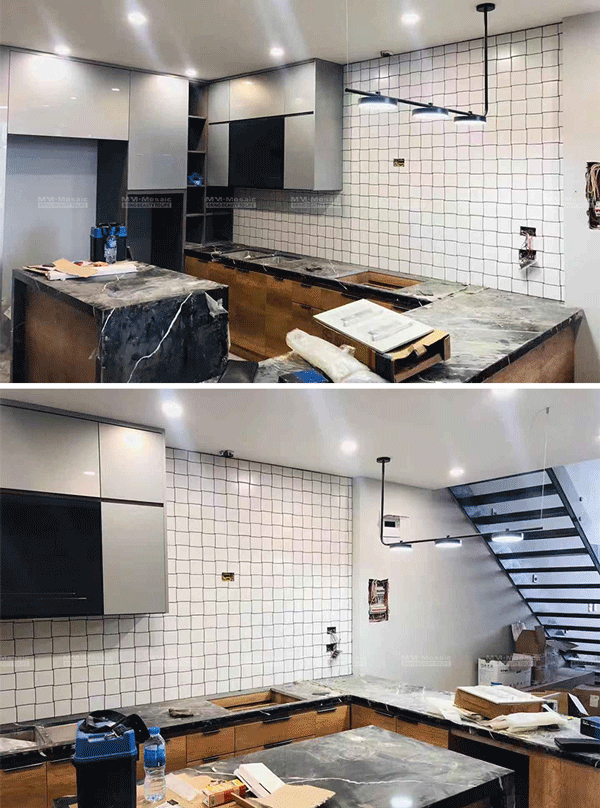 Featured Product: Rectangle CZM287BT

5. Chic Home Bar Space of Kitchen
This bar space if proof that there's no need to get interest to have a stunning tile installation. For this simple bright white arabesque backsplash, we only used one glaze color, plain white. This glaze combines well with a glossy finish which creates an unparalleled appearance. All these elements are the perfect choice to complete this cozy space.
For more bar interior designs here: 7 Attractive Bar Wall Tiles Inspirations >>
Featured Product: Big Arabesque CZM230D

6. Secretly White Corner
The wall white strips bring our attention to the backsplash, which shows the focus of the kitchen. Everything has been meticulously chosen to fit the theme, along with the greenery that really makes a difference for this corner and broke the black-white tones. Instead of a boring space, you might get something original and tranquil visually striking.
Learn more knowledge about home decor with new elements, browse our blog: How To Decor Your Home With 11+ Peel And Stick Mosaic Tiles >>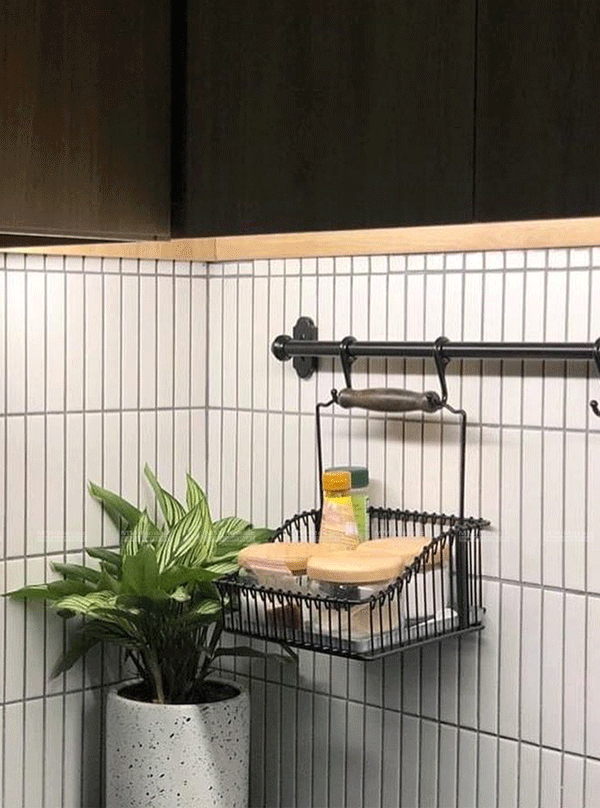 Featured Product: Subway Tile CZT201MDQ

7. Unique Wall With Diamonds
When the pattern is as strong as diamond, you don't need to overuse the palette combination. This backsplash is the greatest example of how sometimes less is more. Just use homochromous white color also well. When it comes to our creative shapes and nice glazes, each mosaic tile is full of unique depth and personality that will remind you every day how perfect our mosaic tile is.
For more on diamond tile projects with our blog: 7 Decorating Ideas To Make The Most Of Diamond Tiles >>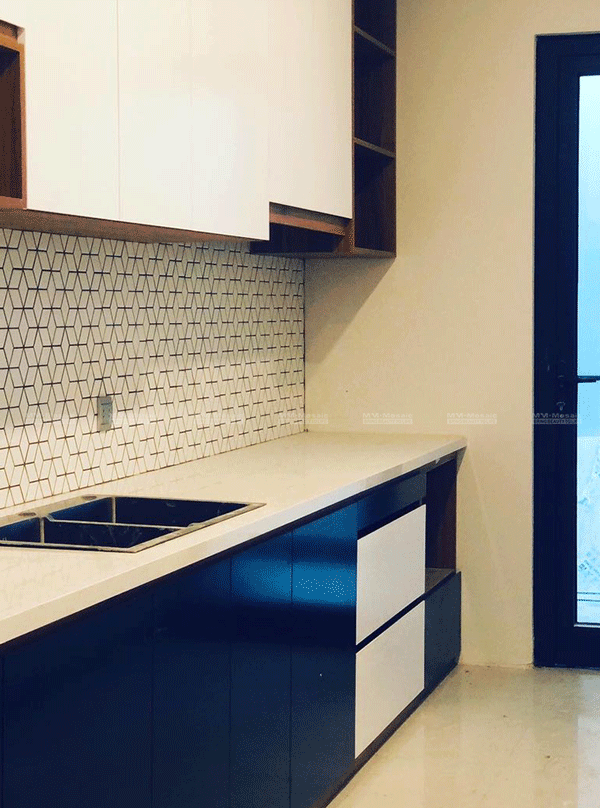 8. Get Bold With Contrasting White And Black
Want to make the kitchen look extra sharp? Why not try the visual impact of color for little extra sparkling? It's a great way to start incorporating the white backsplash with the cool black tones of cabinetry, cooking range, and other side black walls.
For more chic interior tiles, visit our blog: Daisy Flower Porcelain Mosaic Tiles Add Chic Style To Space >>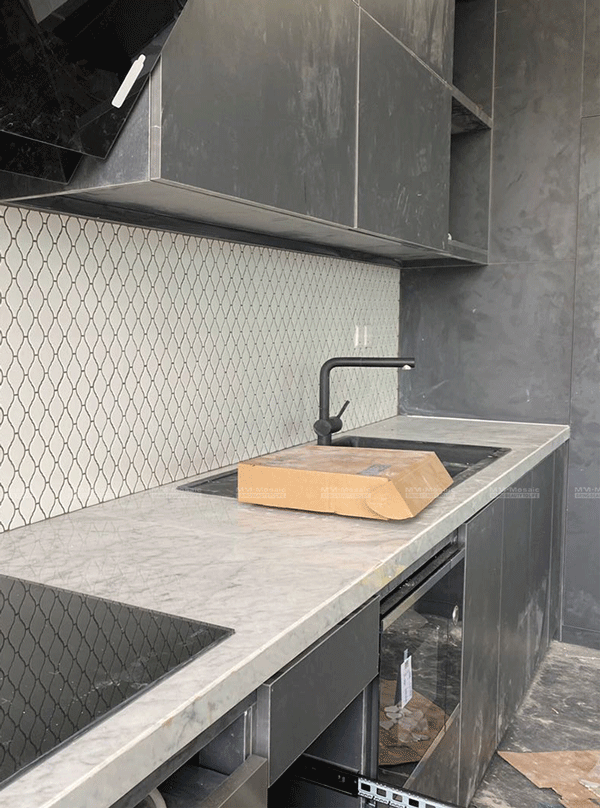 Featured Product: Vase CZG240Y

9. Go Triangle
These pure white 4-inch triangle beauties come out of the glaze. With smooth touching and glossy silky surface, these mosaic tiles are invincible. We've seen this white glaze and characteristic triangle pair well so we determined to make them readily available on our online shop. Check out our Triangle Series!
For more on our favorite triangle projects, click our blog: Is Triangle Porcelain Mosaic Tiles Suitable for Bedroom Wall >>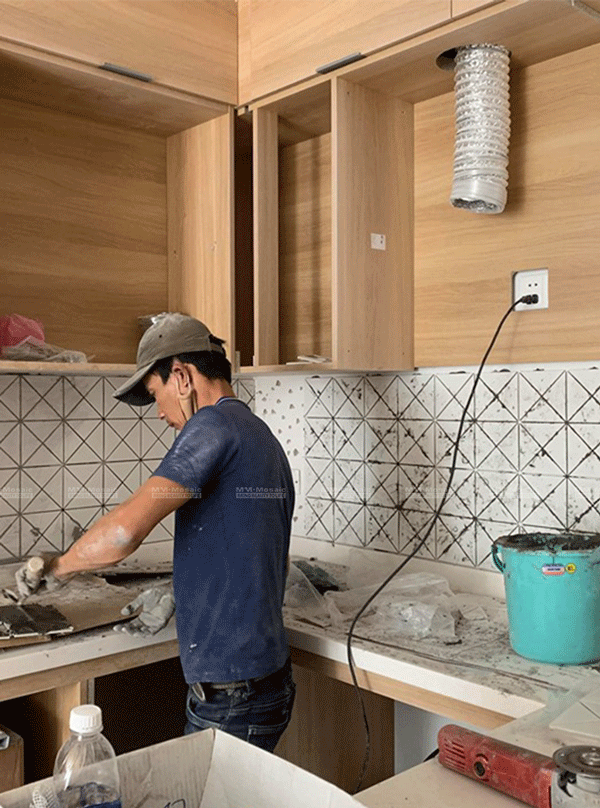 Featured Product: 4'' Triangle CZM241B-A

10. Consider Funny Shape
Arabesque mosaic tile has always been a fan favorite. It makes a wonderful and funny tile installation white maintaining a permanent and complicated style. It looks wonderful as a backsplash and accent wall, often giving a Moroccan contemporary feel to space.
See the rest of this stunning hotel project with our blog: Creative Vietnamese Backsplash Inspired By Shield Shape Mosaic >>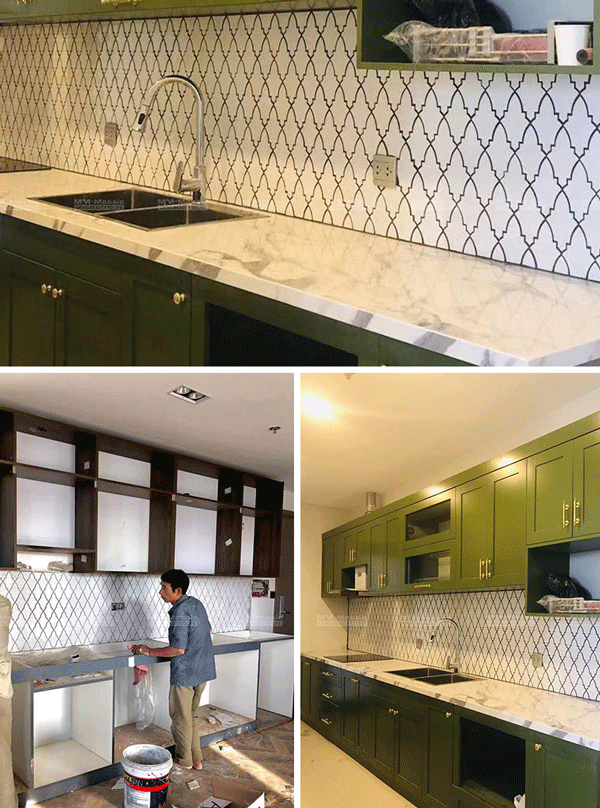 Featured Product: Shield Shaped CZG702Z

Get Inspirations
Are the above 10 projects inspired by your future interior project? Are you fall in love with our white tone? Order tile samples and you can touch different shapes or surfaces to feel the beauty of our tiles. MM-Mosaic always love to hear any creative ideas!