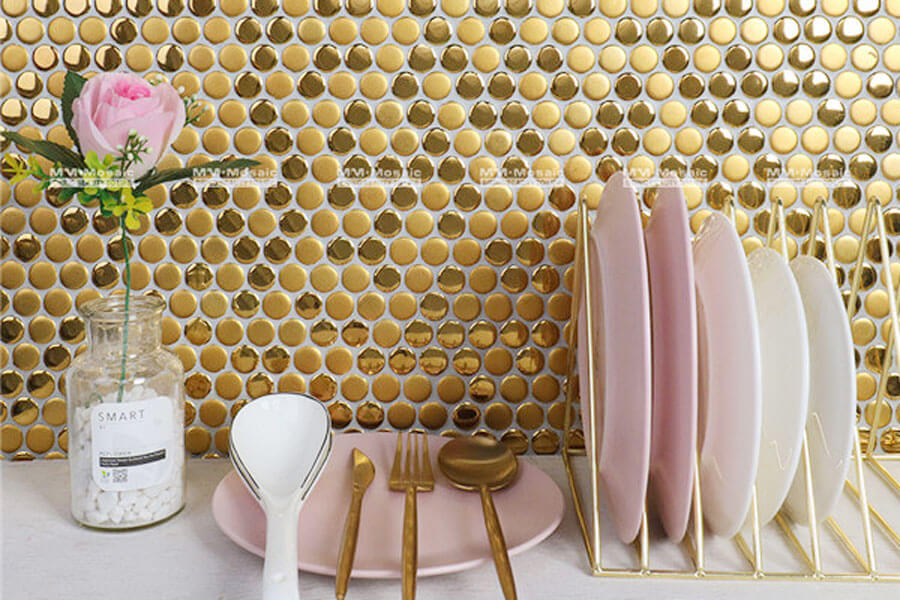 Recently, golden tones are taking over in the interior design zone and maybe you haven't noticed. We couldn't be happier that we happen to be working on the golden series porcelain mosaic. When it comes to gold series, we can't wait to show its outstanding features, from lovely penny round shape to traditional square, our gold collection comes out of the high-temperature furnace with personality, creative glossy mix matte surface and various shapes that leaves us to surprise every time. Here are six characteristic mosaics of our new arrival golden series:
Before Choosing
Our collection of gold mosaic has two alternative finishes: special design glossy mix matte and high gloss. Every surface has own special aesthetic and reflects light discriminatively.
Glossy Mix Matte finish has a miraculous effect which is between matte and glossy, giving a touch of matte, meanwhile, showing a slight shine when caught by the light.
The glossy surface is so cool! Not only reflect the most light and liven up the whole space but offer a smooth feel and allow the gold tones to pop.
For more tips on choosing suitable trendy materials, check out this blog "Seasonal Trends: Approaching Autumn Touch Kitchen Backsplashes Mosaic"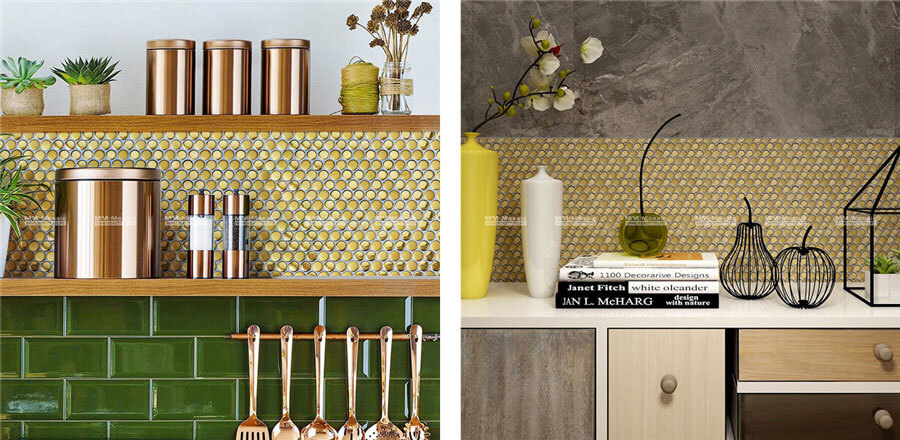 Variation Between Glossy and Matte
Why did we say that our gold series are marvelous things? Many porcelain mosaics have only one type of surface in each sheet. From the chips shape select to the glossy and matte chips arranged, to the temperature control at which they are fired in the kiln, our mosaics unique surface is dependent on each perfect working procedure. The arrangement of each sheet is different, meaning that the effect of the glossy mix matte surface is slightly different from one to the next. This individuation is what creates amazing interior spaces full of beauty that you just can't get from large size tiles.
For more on creative shape porcelain mosaic, click our blog "How to Utilize the 87X305X9MM Feather Shape Tile"
The Golden Tones
1.Lovely Penny Round vs Cute Cookie Circle
With a unique feel of glossy mix matte finish, these round mosaics shine are more special than most. The round shape is our purest of gold series due to its perfect smooth radian. Choosing the 19mm lovely one or 48mm cookie circle? There is no definitive answer. However, for many customers projects show, the smaller space you have, the stunning effect of the bigger size porcelain mosaic will appear.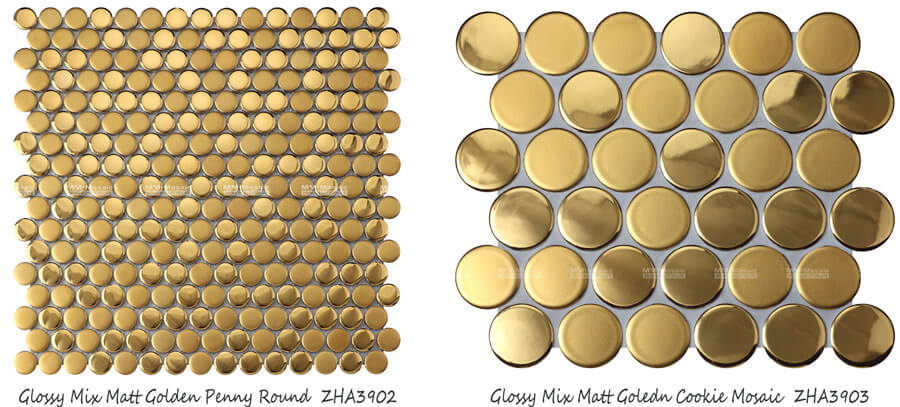 2.Classic square
Think more about mosaic shape and size when considering how the mosaic will look. Take this traditional square mosaics for example, the 25x25mm one has a special golden dot surface process while the 48x48mm one has a smooth and high gloss finish effect. Frankly speaking, 48x48mm size is often brighter than the 25mm one because it has a more glossy finish and bigger surface area to reflect. Conversely, the smaller one can offer the touch feeling of the golden dot.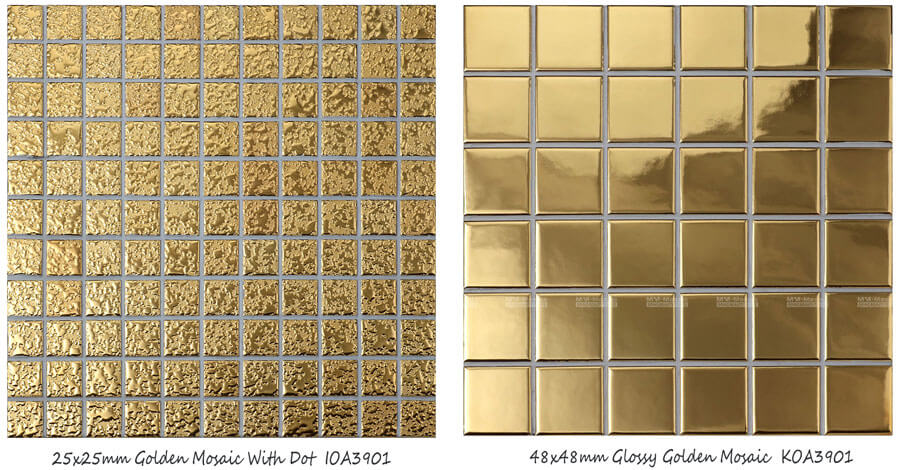 3.Brick Bond Or Stack bond?
The main difference between the brick bond and stack bond is length. One is 23x48mm size and the other is 22x145mm size. What's more, the paving way of the 22x145mm one is full of neat feeling, which brings out a sense of order and neatness to interior space. Why not contact us just now? For samples to see and touch the difference between them.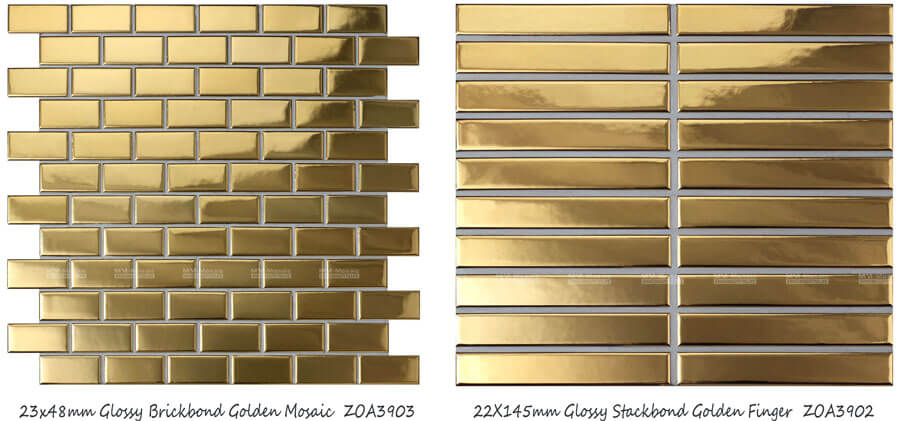 Get Inspirations?
As a tile manufacturer, we want to make sure you love our new arrival series and also interested in hearing what inspires your future project. Did this bling golden collection give you any inspirations? Comment at below or email us now.