Peel and Stick Mosaic Tile, with no grout or mortar needed, will be a DIY dream come true. More and more young people will fall in love with these convenient tiles which ideal for fresh kitchen backsplashes, making living room accent walls and etc. Reading on our blog for more design and shapes of Peel and Stick Tile:
What is Peel and Stick Tiles?
Like contemporary mosaic tile, Peel and Stick mosaic tile can be used in any spaces. But they're less difficult to install than the contemporary one, which needs hours of time and lots of other supplementary material such as concrete, tile grout, and etc. For this new wall tiles, all you have to do is measure the areas of space, and then peel off the backing, and stick the tile sheet to the walls. So easy!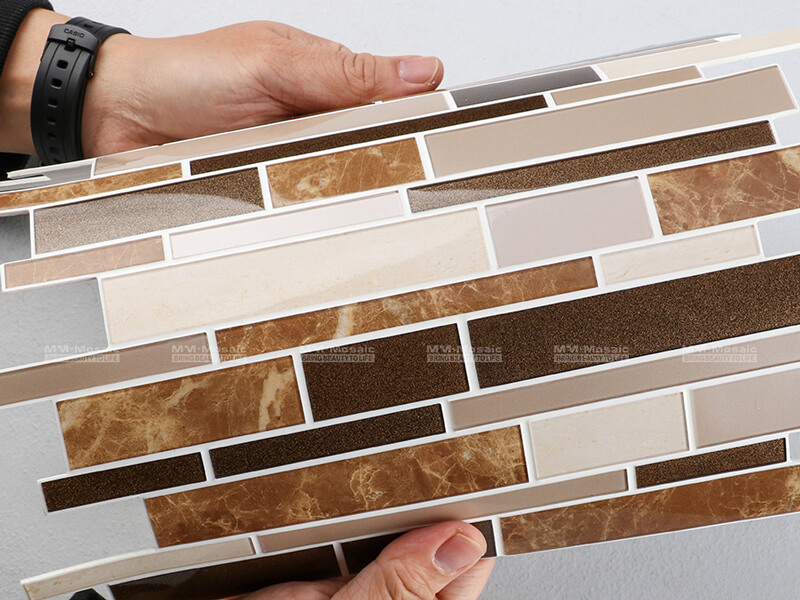 Funny, Creative, and Easy to Install
These Peel and Stick mosaic tiles will give you that funny and creative look you yearn for getting away from any time-consuming headache of laying porcelain tiles or mixing up cumbersome concrete. These newly tiles are practically PVC and silicone panels that match up seamlessly, with marble or wooden pattern that gives the look of individual tiles. All of them are made of moisture-resistant and mildew proof PVC material that doesn't release harmful substances and are water, high temperature, and wear-resistant, therefore, this wall tiles can be both used in kitchen backsplashes, shower walls, etc.

Bring Back Strip
Classic strip mosaic will create your own serene while combining with peel and stick materials, it brings a pop backsplashes to your kitchen. Made of PVC and silicone, trendy backsplash materials like peel and stick tiles are going to get even bigger in 2020. Not only are these materials are convenient to install than ceramic mosaic tiles, but they also help bring a sense of freshness to your home. The natural theme will be the welcomed palette in interiors this year, therefore this brown blend tone can be taken into consideration as your wall decor.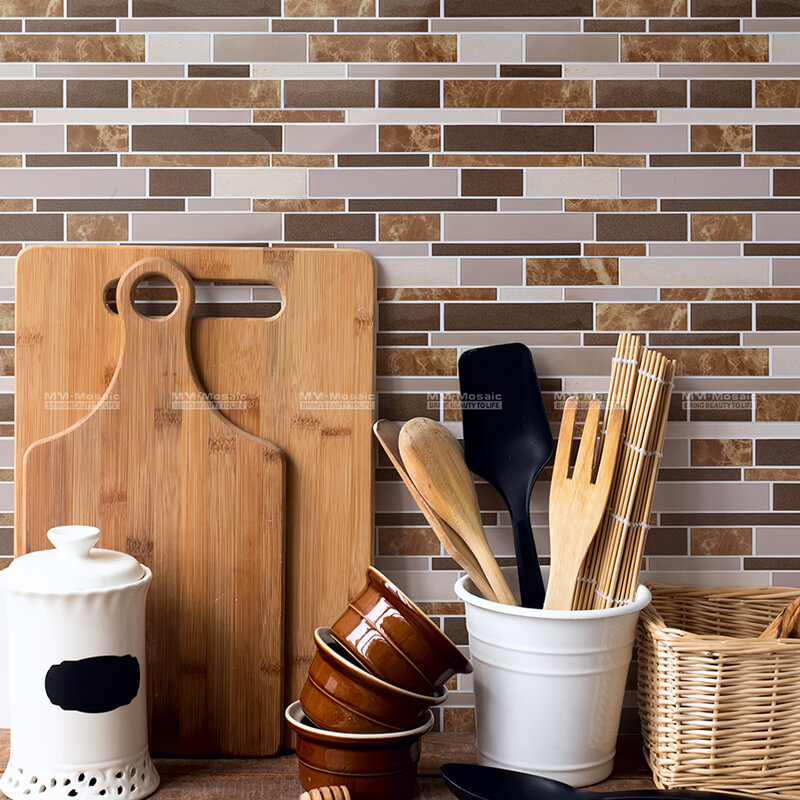 Featured Product: Peel And Stick PVC Finger Mosaic Tile ZOD6002-PS
Go Bold and Breezy
Kitchen Backsplashes are the traffic space. The house owners see them from the minute they wake up for their breakfast and all the way through the day to those late-night kitchen space. It has to look great. It can't be too in-your-face or you'll quickly tire of it. But if it's too boring, why you didn't have the courage to choose fresh materials?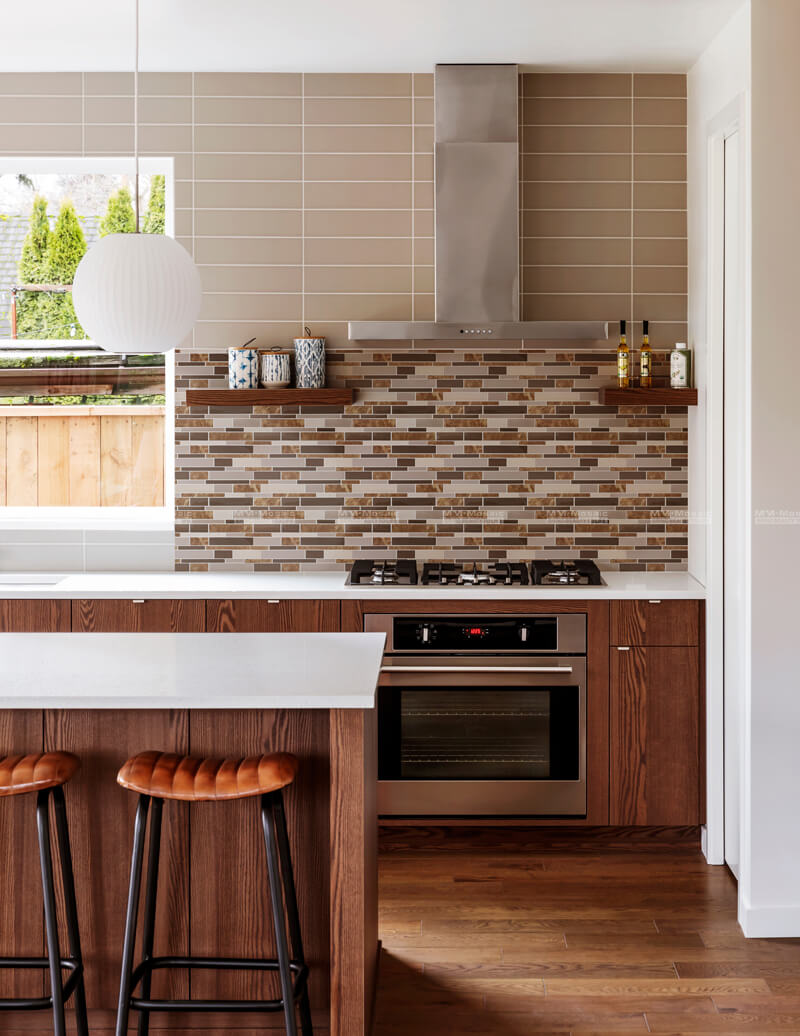 So you love glass mosaic tile backsplashes and want to change it with the season's change. No problem! This backsplash was created using the materials called PVC and silicone. While it looks like the real glass mosaics, it's easy to remove! When season change, you can choose natural palette as autumn tone, white blend as winter hue, blue mix as a summer color, and warm as spring palette.
See more interior designs of backsplash with our blog: Approaching Autumn Touch Kitchen Backsplashes Mosaic >>>
Play With Chevron
If you just can't give up a common subway tile, but you want something a little more unusual, Chevron-style wall decor might be a wonderful solution. A simple but unique shape, Chevron shaped tile can be found in our new Peel and Stick Collection. Available in two different colors: brown mix white Carrara texture, light pink mix wooden texture. They're a selection of wall decor that would be perfect for both commercial and residential spaces.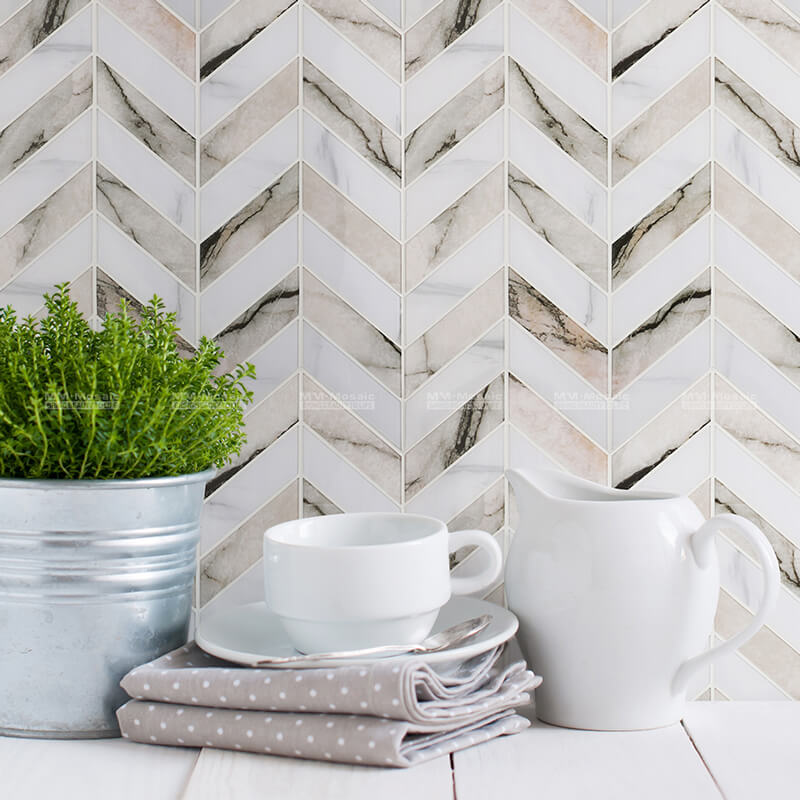 Featured Product: Peel Ans Stick PVC Chevron Mosaic Tile ZOD6007-PS
The Comeback of the Formal Dining Space
For years open floor designs have gradually become a trend, however, expect to see more and more interior designers embrace the formal dining space in 2020. A formal dining area doesn't have to be totally closed off from the rest of the home, but it should bring a distinct and bright, like this one below.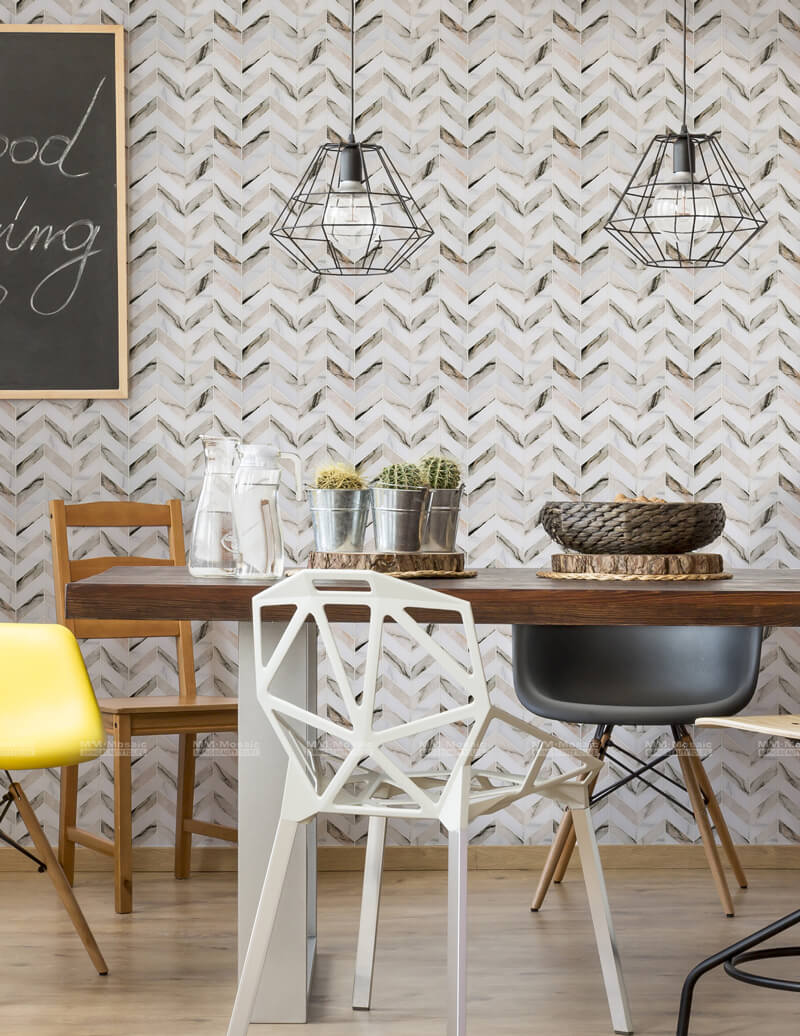 An actual formal dining room gives the family members a space to entertain that feels removed from other spaces in the house and helps encourage family gathering time. Adding dramatic and beautiful wall decor like peel and stick tiles below, you will get a perfect space for family mealtime.
Love Chevron shape? Might Herringbone can appeal to you, visit this blog to feel its glamour: How To Design Herringbone Mosaic Tile Accent Wall In Office >>>
Adding Marble Texture Into Chic Hexagon
Contemporary hexagon shape has a calm and meditative feel, but the eye still needs some funny things to engage. A simple shape pair with Carrara pattern peel and stick tile can be all it takes to bring a little visual energy to your interiors. Moreover, one of the best ways to blend your walls seamlessly with the look of the rest of your kitchen is to simply extend it. The marble pattern is always the pop materials for wall decor, so using it for your home walls is an easy choice for creating a charming look.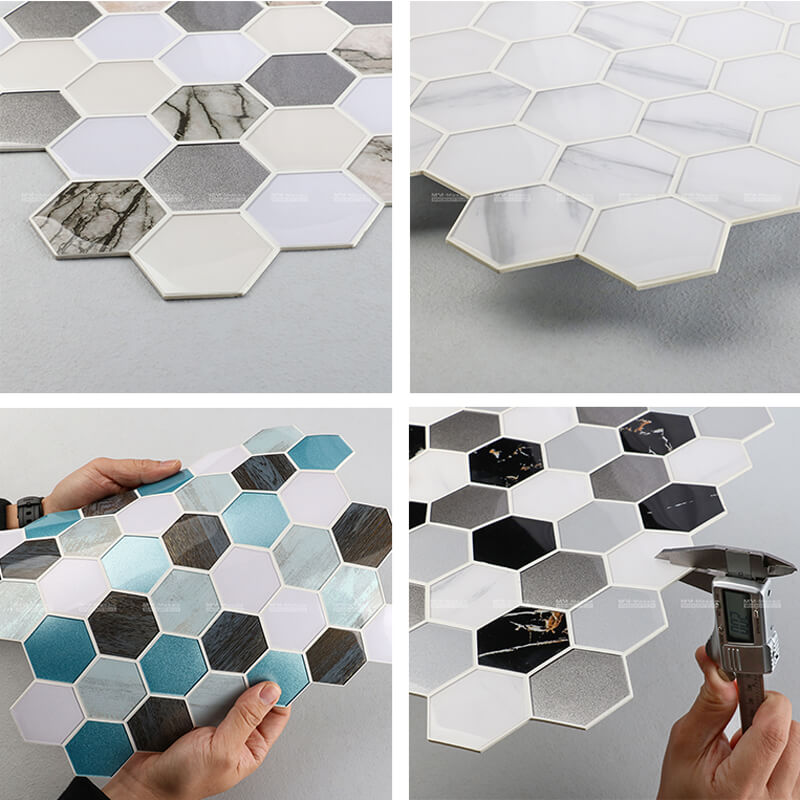 Featured Product: Peel and Stick Hexagon Mosaic Tile Collection

Our new peel and stick tiles are lighter than real marble stone mosaics, with a wide range of palette, pattern and easy to install, suitable for DIY lovers and those who like to change wall tiles regularly.
Light Up It
Palette and pattern are two of the major elements of any space, and your living room accent wall is the best place in your house to engage in both. But if you have no idea where to install your bright color peel and stick tiles, living room back wall can be a subtle help instead of an eye-catching scene-stealer. If your living room furniture is mostly light fresh and simple tones, use a similarly light palette that will pop against the minimalist backdrop without going overboard.
Obsessed with Hexagon? Check out this blog for more hexagon tiles design: Style Collection - Ice Crackle Mix Glossy Hexagon Mosaic Tile >>>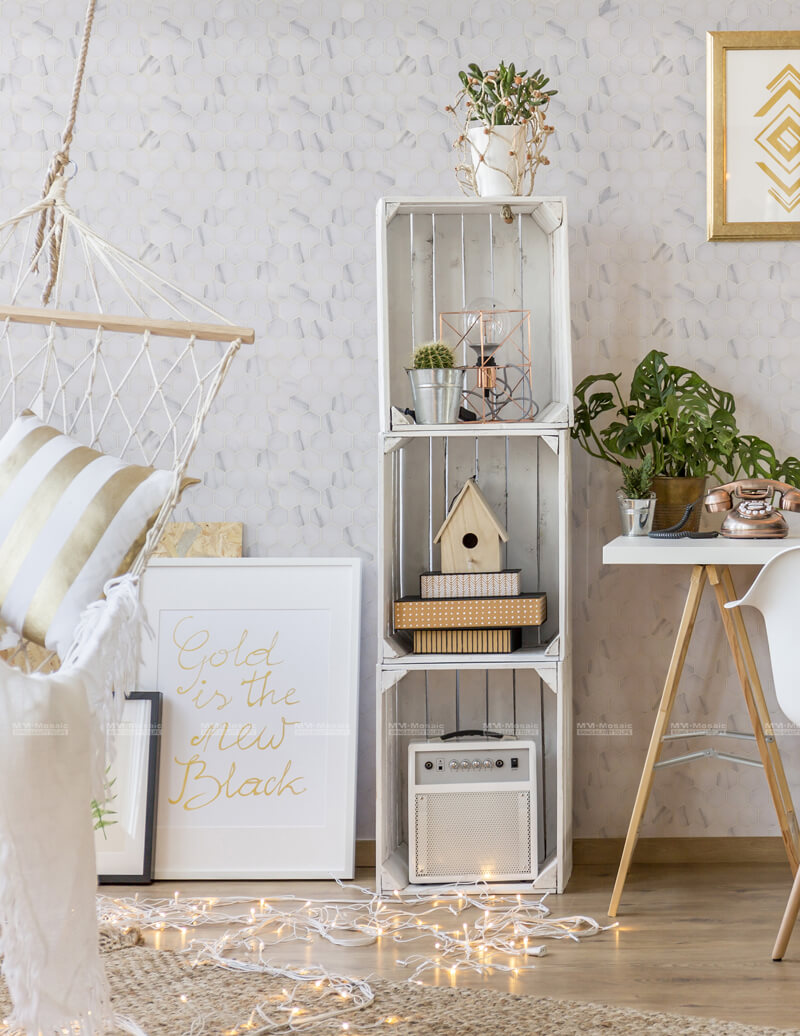 Get Inspired?
If you're looking for reliable peel and stick tile supplier from China, MM-Mosaic might be your ideal tile manufacturer, we not only provide the various wholesale wall tile such as ceramic mosaic tile, glass mosaic tiles, mosaic murals, waterjet mosaic tile, peel and stick tile but offer ideas for commercial or personal home renovation project. Contact us for high-quality Peel and Stick mosaic tile samples to feel and touch in person now!
If you're interested in checking out other new arrival building materials such as waterjet mosaic tile, visit our blog: 5+ New Waterjet Mosaic Tiles For Luxury Decor >>>