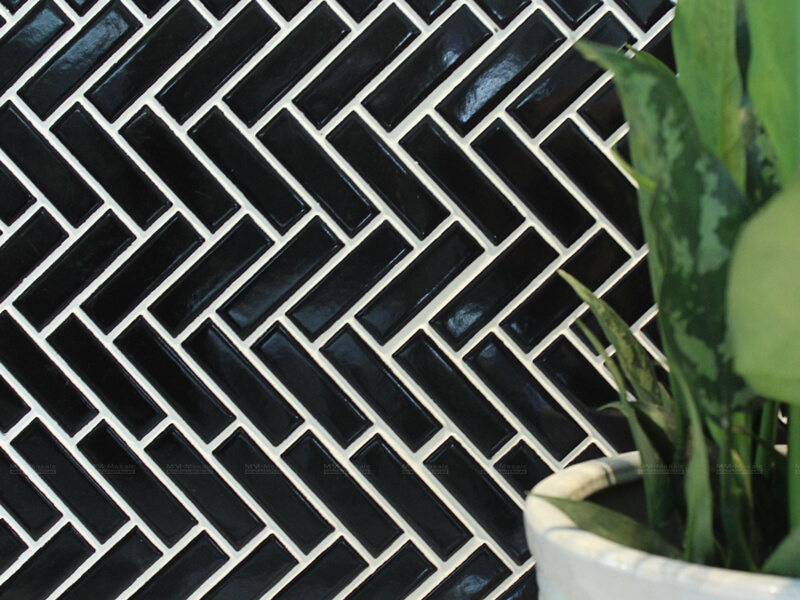 Versatile herringbone mosaic tile is one of our welcomed tile patterns, and for countless reasons! Not only minimalist, glamour, neat and orderly but imaginative enough to catch everyone's eye all the time. This abundant style provides something for any residential and commercial space, moreover, looks great in a wide range space in-home or office. What's more, the all-black tone works well in any spaces, such as backsplash or shower. Cool and never out of style, why not incorporate black into the wall decor?
We're so glad to share our new MM-Mosaic Office Space Project! For this project, we're having a look at this commercial office areas to add a black herringbone mosaic tile wall. Let's fall in love with our glazed tiles.
Glossy Black Herringbone In Office Space

In the interior design world, sometimes simplicity is the best and herringbone mosaic performs well. Keep it minimal by only using a cool palette just like this office wall below. For the left room, we only tile them as small space and install many wooden cabinets around this wall, which is a good space to place office documents. This black herringbone works well with the natural wood tone and it doesn't stand out, which balances the entire room style.
For the right room, we choose to tile them a large space. Two-thirds of areas for black herringbone wall decor and one-third of areas for the wooden cabinetry. Though we're all for color, in this space, we can't help but fall in love with the cool black palette. There's no better place than the conference room to experiment with a solemn hue. The all-black accent wall is absolutely appealing. While choosing all one glazed palette, try to get something different on the design and overall flow of mosaic tiles. Tiling these 21.5X71.5mm herringbones in the fresh pattern makes this wall seem like goes on for miles. The more is better!
Love this space? More commercial design inspirations, visit our blog: How Moroccan Fish Scale Plays With 6 Commercial Space >>>
Embrace Herringbone Decor

There are few things we love more than choosing herringbone in interiors. We choose 1''x3'' subway black mosaic tile in a herringbone pattern, which is both glamour and modern way to layout a tile pattern. For the color we chose all-black, this way there was a glossy finish and steady color to complement the natural wood cabinetry in this office.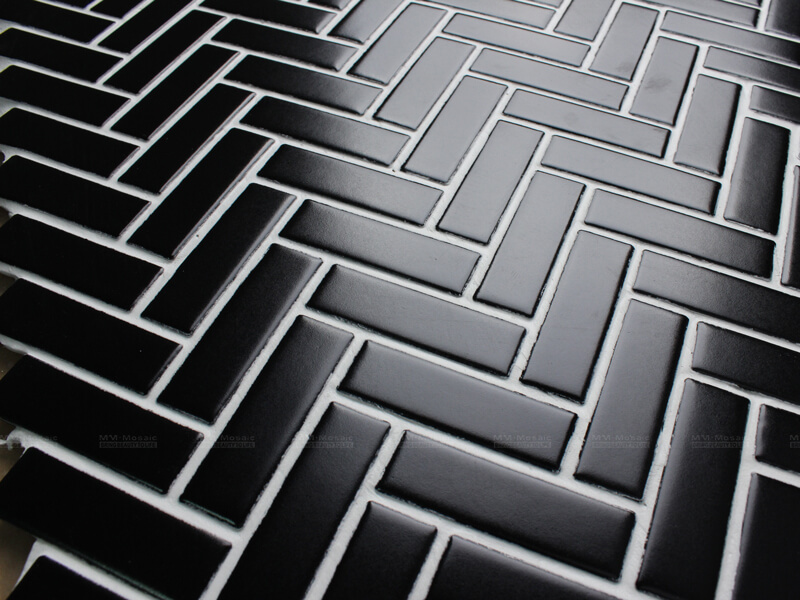 Featured Product: 1''x3'' Herringbone Mosaic Tile, Black, CZG108B-D
Adding Cool Palette

Bring on the minimalist style by adding a cool tone to your wall tiles. The glossy finish and details of the herringbone tiles are sure to have all guests floored when they come into your living room. Amazing? The glazed mosaic tiles are easy to clean and long-lasting. Therefore, it's wonderfully suited to be added to the center space of your home. Get more ways to use herringbone tile with our blog: Pink Tone Space With Ceramic Herringbone Tile >>>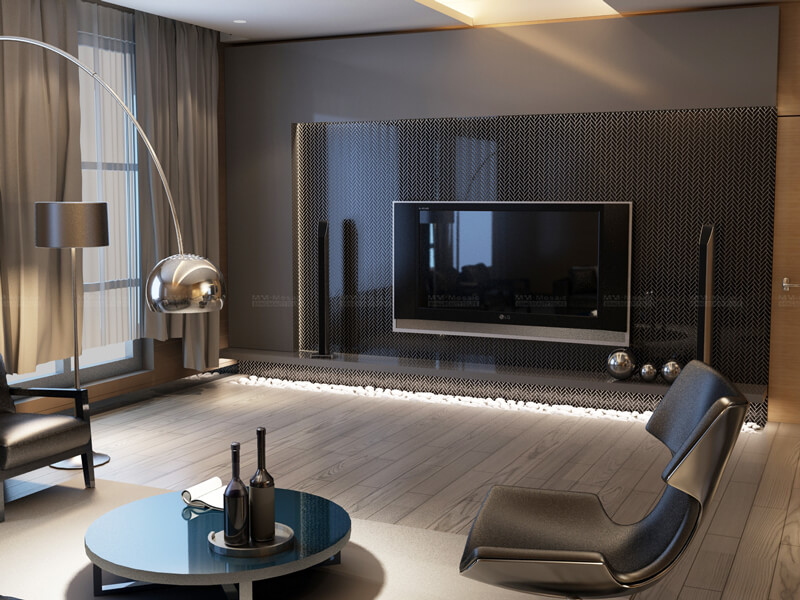 Deep Black, Bright Glossy

What better space for this glossy mosaic tiles than a kitchen backsplash? Adding some interesting to your kitchen space by installing a distinctive tile palette. The glazed glossy black in kitchen space takes the fun herringbone and turns it into an outstanding display that all will like. Despite it's unusual color in backsplash, black is one of our most popular palettes, providing that choosing a stain resistance color might be the smart choice.
For more kitchen backsplash interiors, check out our blog: Coffee Shops with Amazing Scallop Backsplash >>>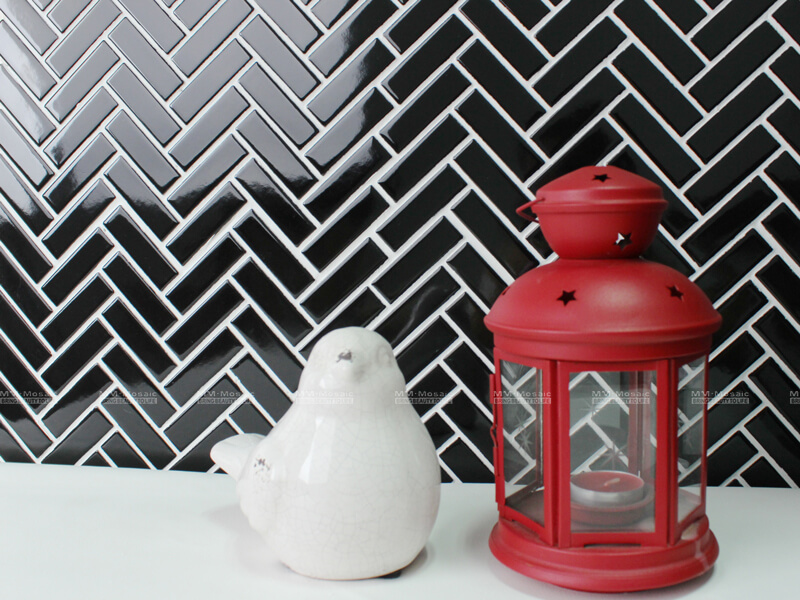 Black Herringbone Can Be Pop

The common shower space always with so much interior design potential! Does this accent wall project inspire you ready to renovate your spaces immediately? We love this dark and glossy finish take on the bathroom. And we always support more space to tile them which can show a more beautiful glazed mosaic tile.
More shower space design ideas visit our blog: How to Realize This 13 Small Bathroom Inspirations >>>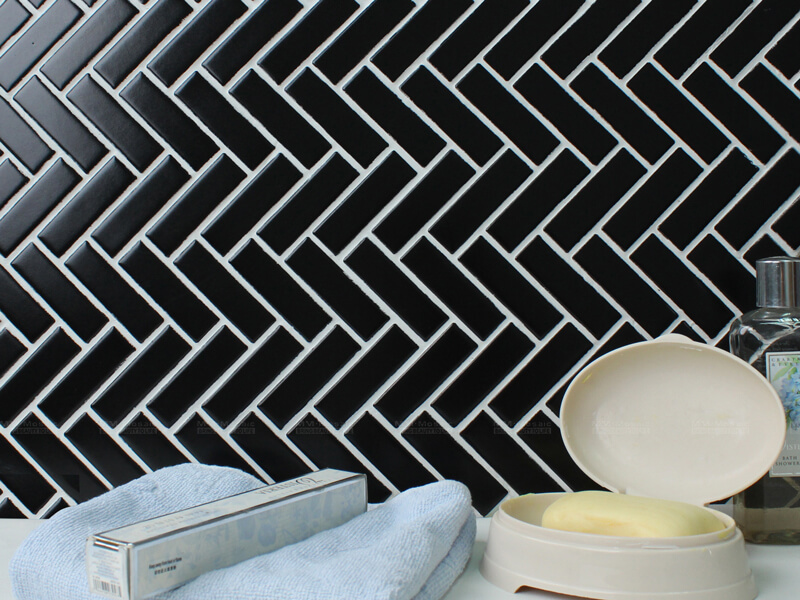 Tiling Process
The herringbone tile comes on back-mesh design for easy to install. Therefore, you can hire some workers to finish the installation or do it by yourself. Due to this convenient and humanized design and our installation guide, this tiling process is going on quickly! If you're a DIY fan, this blog might help your job: How to Tile Your Backsplash with Porcelain Mosaic >>>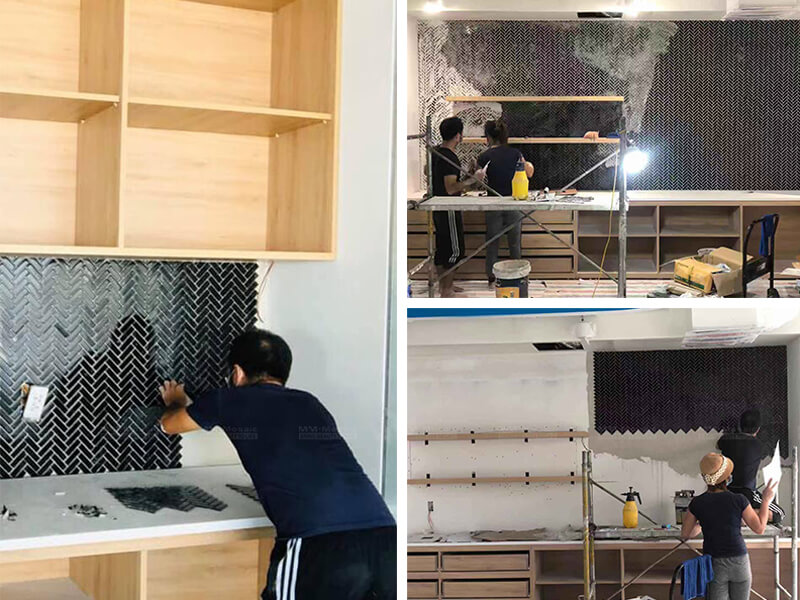 The Result
Simple doesn't have to mean monotonous when you're choosing our black herringbone glazed mosaic tile. This glossy glazed surface means each tile has a unique hue while reflecting the light different directions. The smooth surface effectiveness adds to the overall vivid atmosphere design of this office space.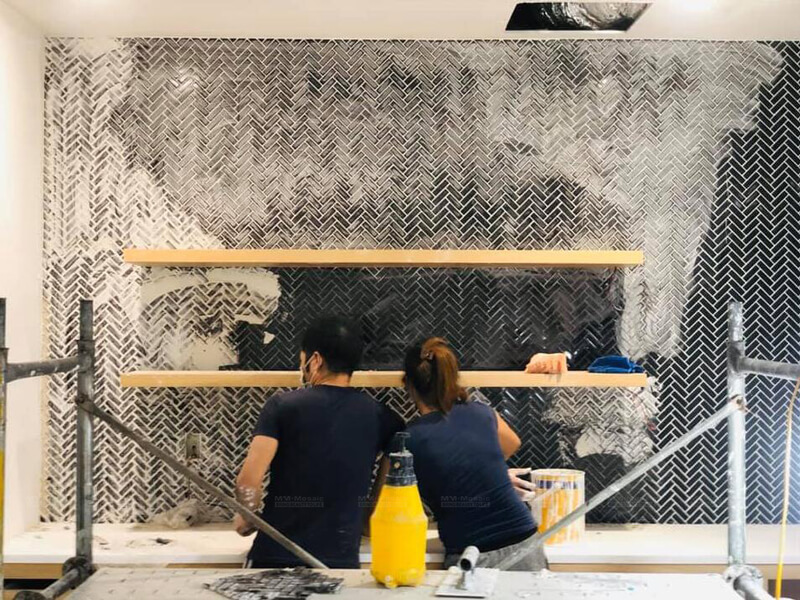 Get Inspired?
Why not order herringbone mosaic tile samples to touch and see how beautiful it is? We're so happy to share creative projects every time and would also like to know what inspires your further project! As an experienced tile manufacturer, MM-Mosaic has a wide range of tile including ceramic mosaic, glass mosaic tile, waterjet marble mosaic and so on, which will suit any style of interiors. We'll continue collecting more attractive residential or commercial projects for our readers.