Cutting down your cooking space has nothing to do with saving on style or function. In fact, making meals in a minimalist kitchen means different things to different people. For some, it is all about having a lot of concealed storage space, so countertops are free of stuff. Some people embrace minimalism as a decor aesthetic punctured by simple, flat-front cabinetry and luxurious marble countertop islands. We think the idea is all about is making a chic and tidy space with budget essentials. Even those attracted to maximalist style have their own particular take on the simplified cooking space. However, do not let other people's personal choices confuse your style. We're here to share a wide range of styles that summarize the minimalist kitchen.
1 A Minimalist Dining Set
Clean lines and comfortable accents define this minimalist open kitchen. A light beige quartz countertop and a luxury kitchen backsplash add elegance. Cabinets and accents in pure white lend a natural feel to the kitchen. Fixtures and furniture like the wooden chair and flower pattern waterjet marble backsplash feel both modern and glamour. In some designs, the trick for creating a clean and tidy kitchen is tons of storage - here this kitchen takes the form of modern, flat-front cabinetry.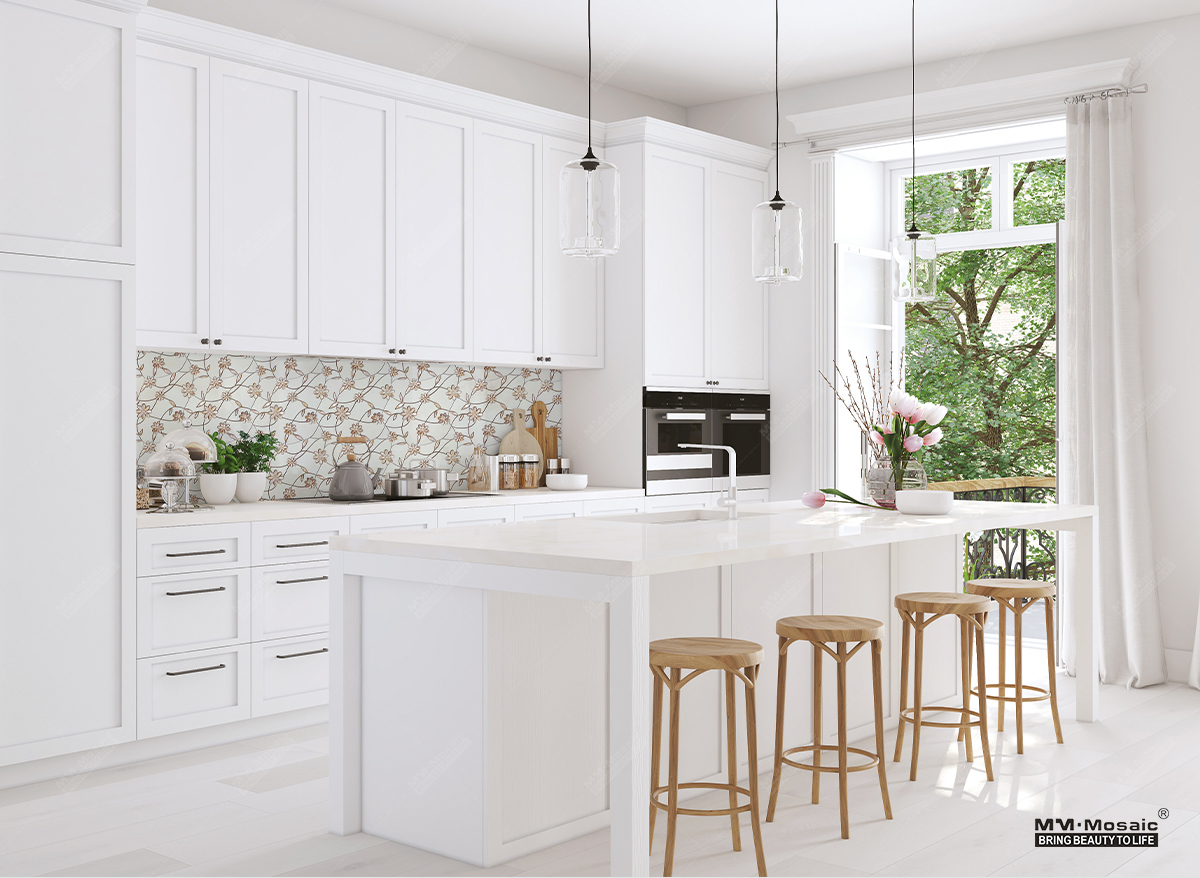 Featured Product: Waterjet Marble ZOD4016
2 Simple Color and Natural Textures
Minimalist cooking areas are all about making less feel like more, according to our designer Jane. Her version of the aesthetic is all about keeping surfaces free of extraneous stuff by providing kitchen tools and countertop appliances a specific space inside cabinets. She also finds that having a white kitchen with a few simple pops of color and wood tones makes the illusion of calm.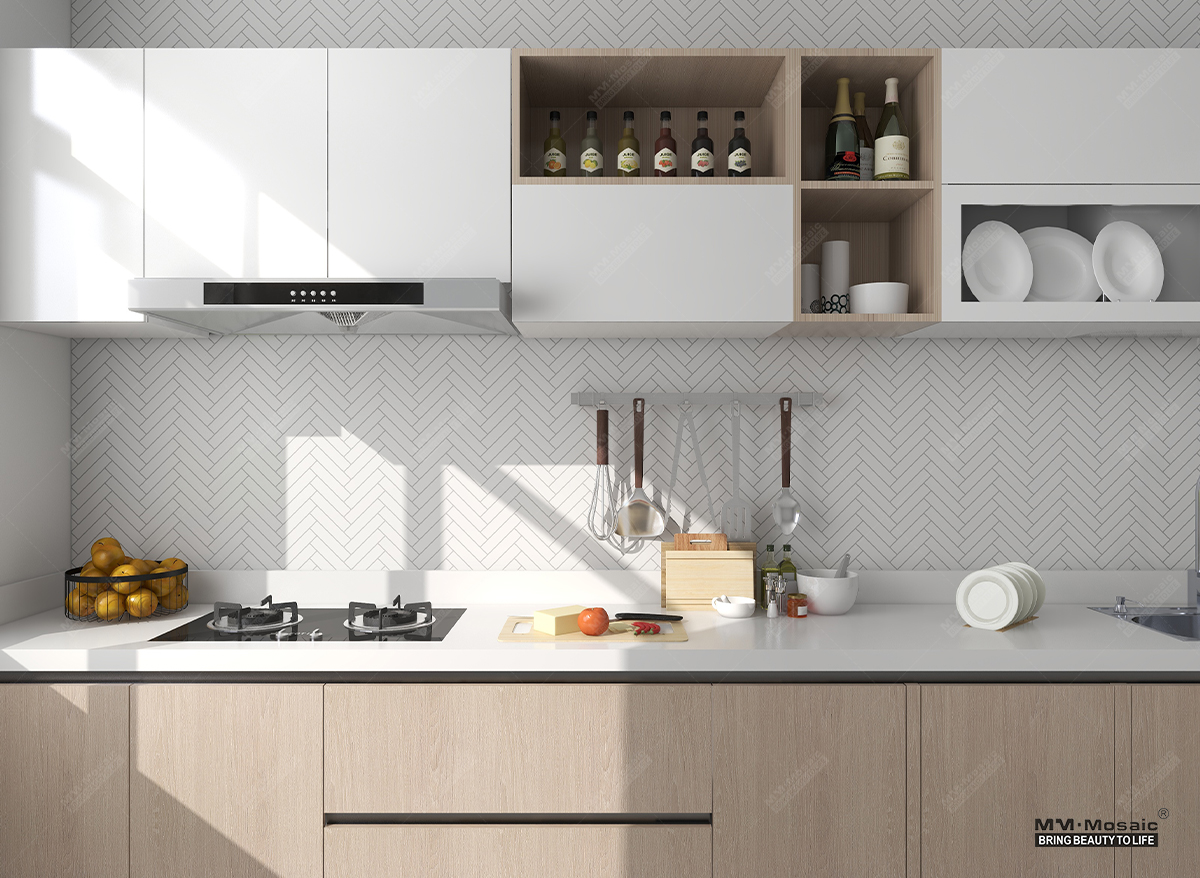 Featured Product: Herringbone ZMA1201
3 Maximalist Mix Minimalist
You can undoubtedly pair moody tones, natural wood textures, and cozy styles into a pared-down kitchen, as shown below. The backsplash features a Moroccan bubble style mini arabesque shape, glossy glazed surface, and retro color. Therefore, the backsplash toes the line between minimalism and maximalism. But what keeps the arabesque tiles from feeling visually overwhelming is the wooden pattern cabinet on the top of the range. Its wooden pattern keeps the whole space feeling uncluttered. What's more, natural wood accents epitomize the minimalist atmosphere and the materials take the visual heft off the kitchen features.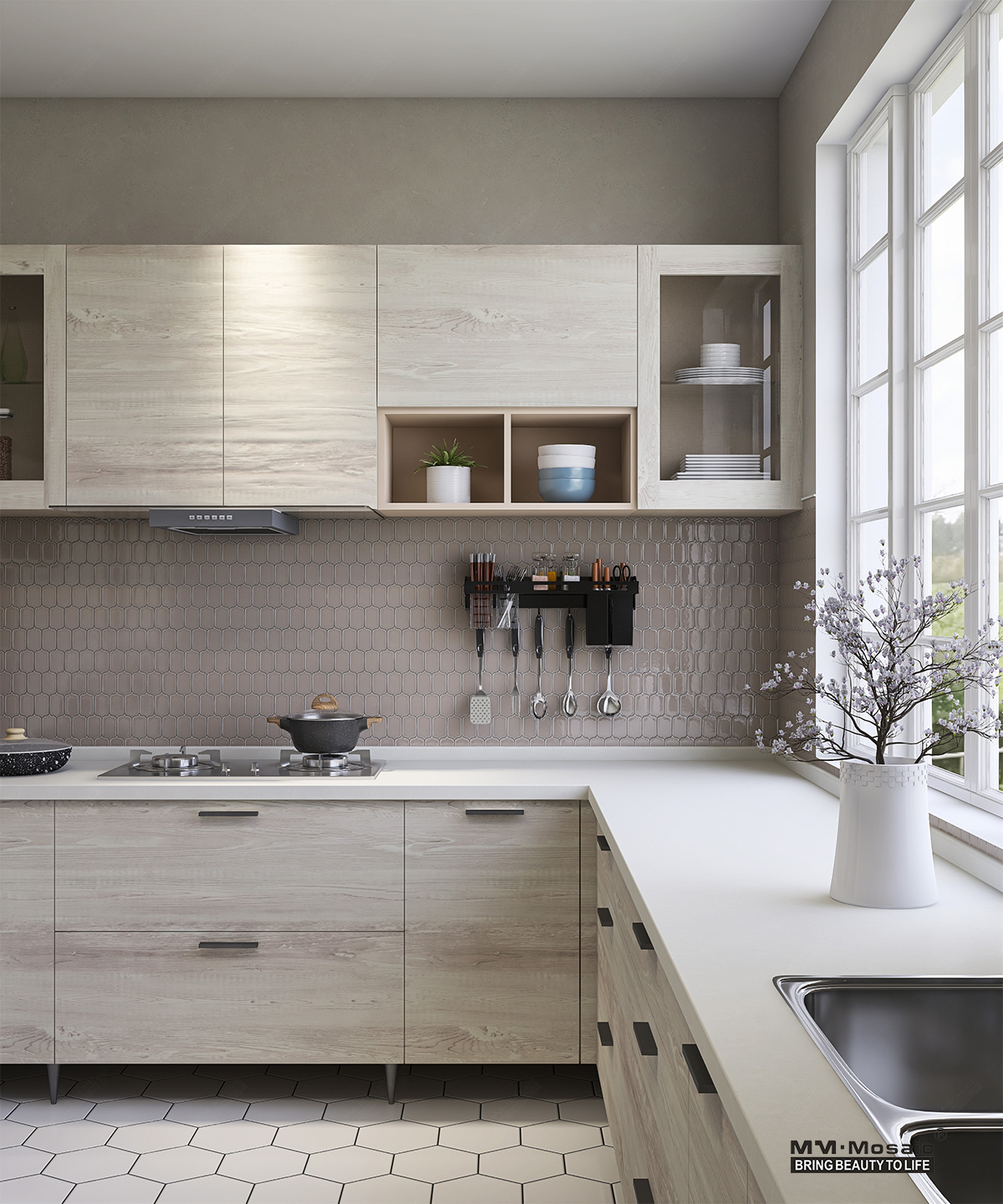 Featured Product: Moroccan bubble style mini arabesque tiles ZGD9301
4 A Baking Enthusiast's Favorite
The reason why many people love minimalist kitchens is that the design aesthetic packs an enduring style. This natural kitchen design illustrates the point. Black fitting features combined with a high-end white marble countertop add both beauty and function to the food prep areas. Moreover, the new picket shape recycled mosaic tile comes in a natural wood grain made with ink-jet printing tech. A stunning built-in bread roaster would make any baking lover drool.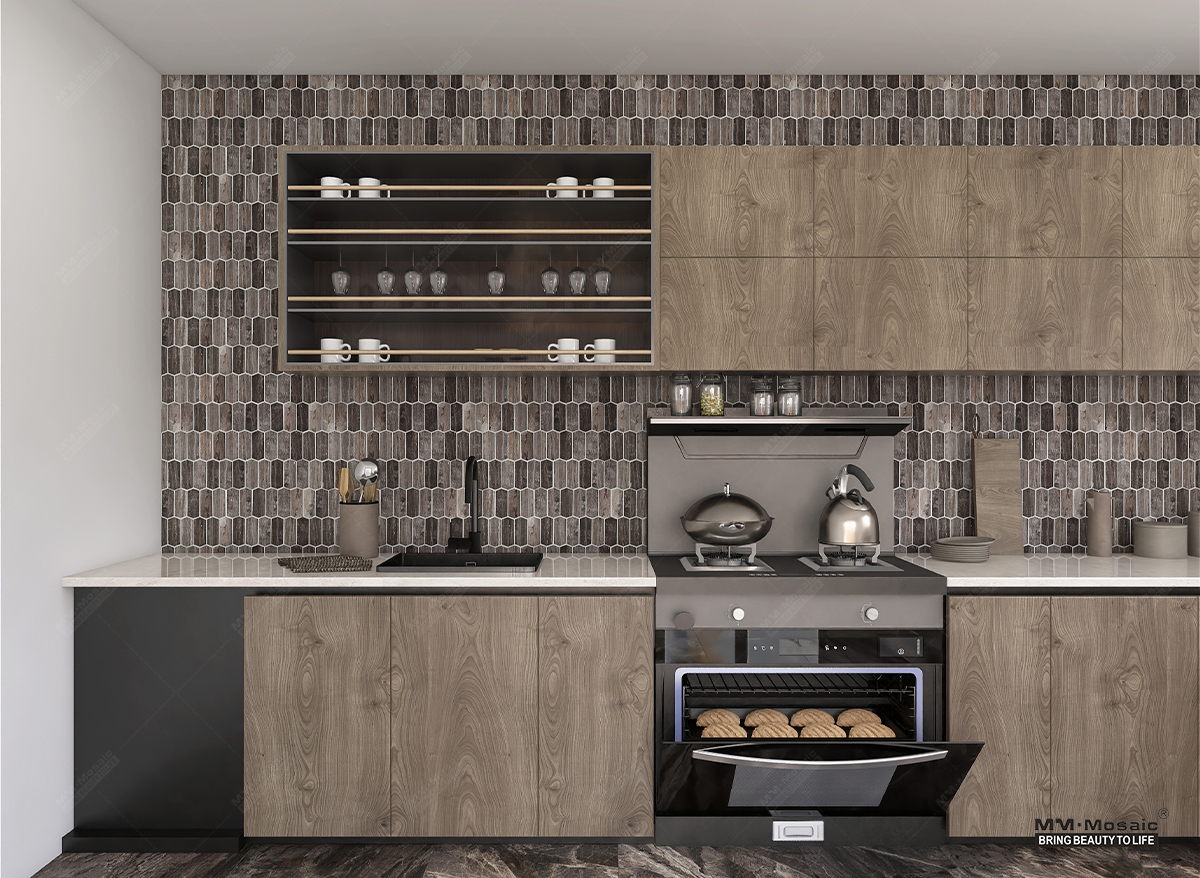 Featured Product: Inkjet Recycled Glass GZOC6906
5 Small Space with Plenty of Personalities
When it comes to a creative minimalist kitchen, the backsplash is an important space. A simple and stylish leaf pattern mosaic tiles look like the shape of wheat. These wheat pattern mosaic tiles work perfectly to install a kitchen backsplash. By the way, in an age when white color schemes rule the kitchen, gray cabinets might seem risky. But look where creativity and courage can take you. The gray hue cabinets work well with the rich and elegant countertop.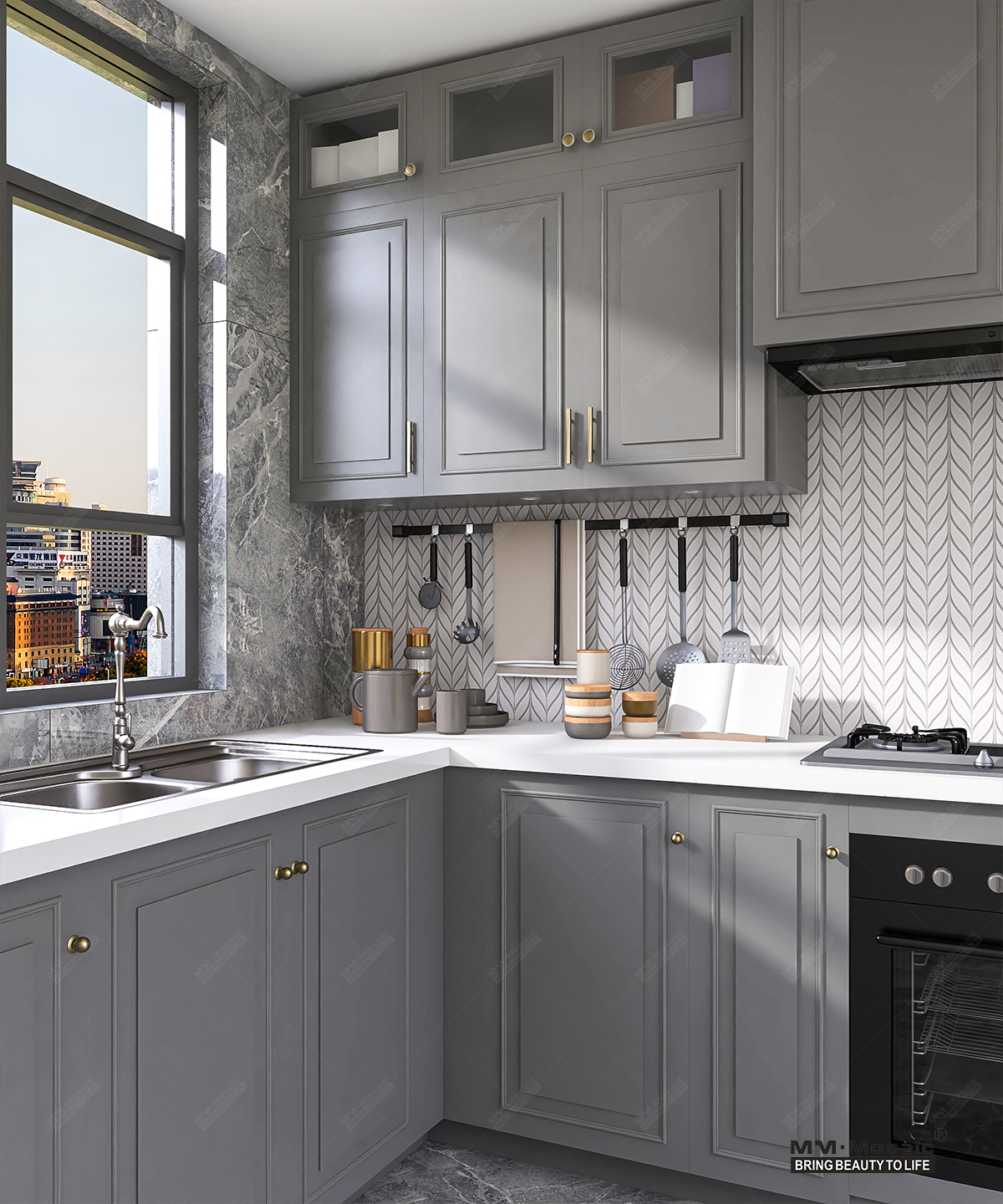 Featured Product: Leaf Shaped ZMF3201
6 Makes Meals the Center of the Show
This contemporary and warm kitchen with an olive cabinet means large storage space. The cooking areas like this one create a fresh canvas for making meals at the house by keeping appliances and tableware out of sight. Note the two rectangular-shaped cabinets below the countertop. They're handy dish drawers.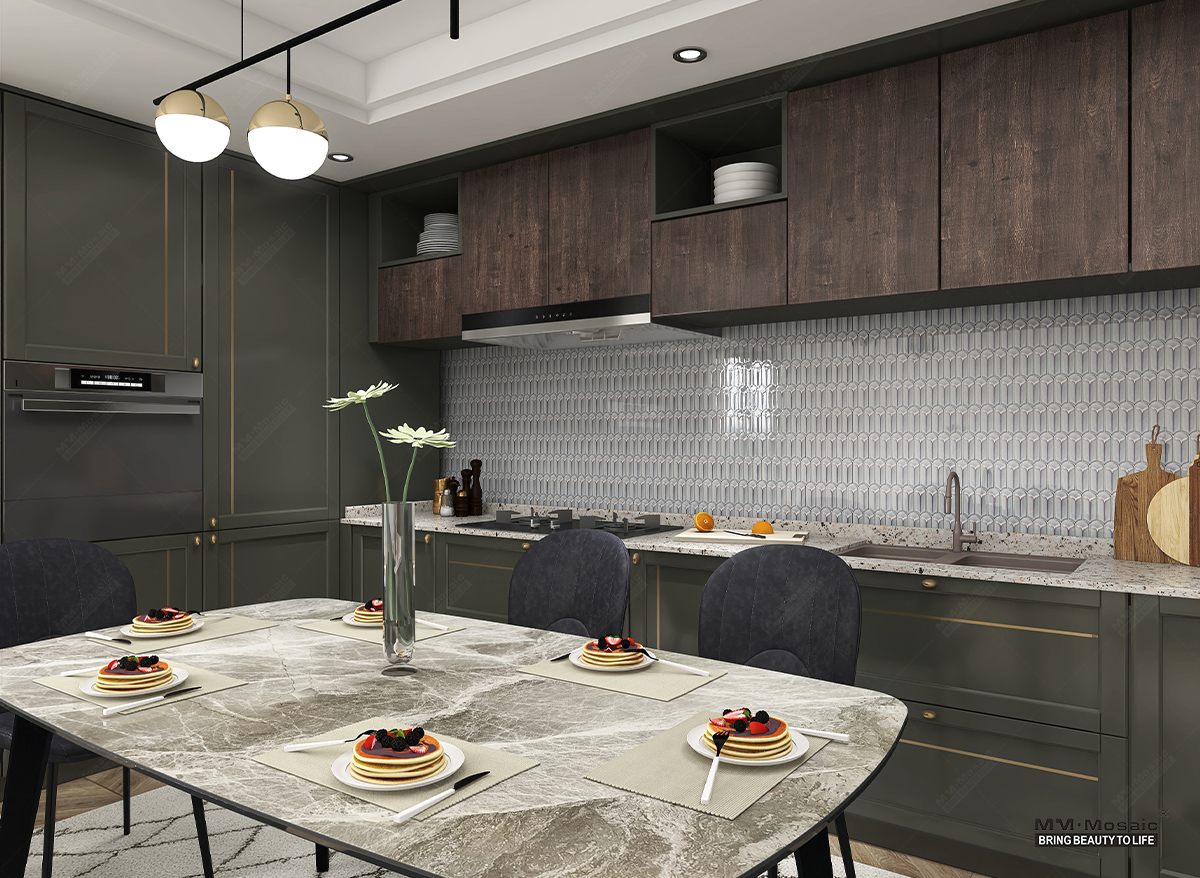 Featured Product: 3D Plumage ZOB2203
7 Creates a Built-In Dining Table
Our professional interior designer Jane outfitted this minimalist and large kitchen. Black cabinetry, white quartz countertop, and stainless steel appliances make a sleek surface with a contemporary vibe. Further elevating the kitchen is the built-in dining table designed for both formal dinners and daily meals.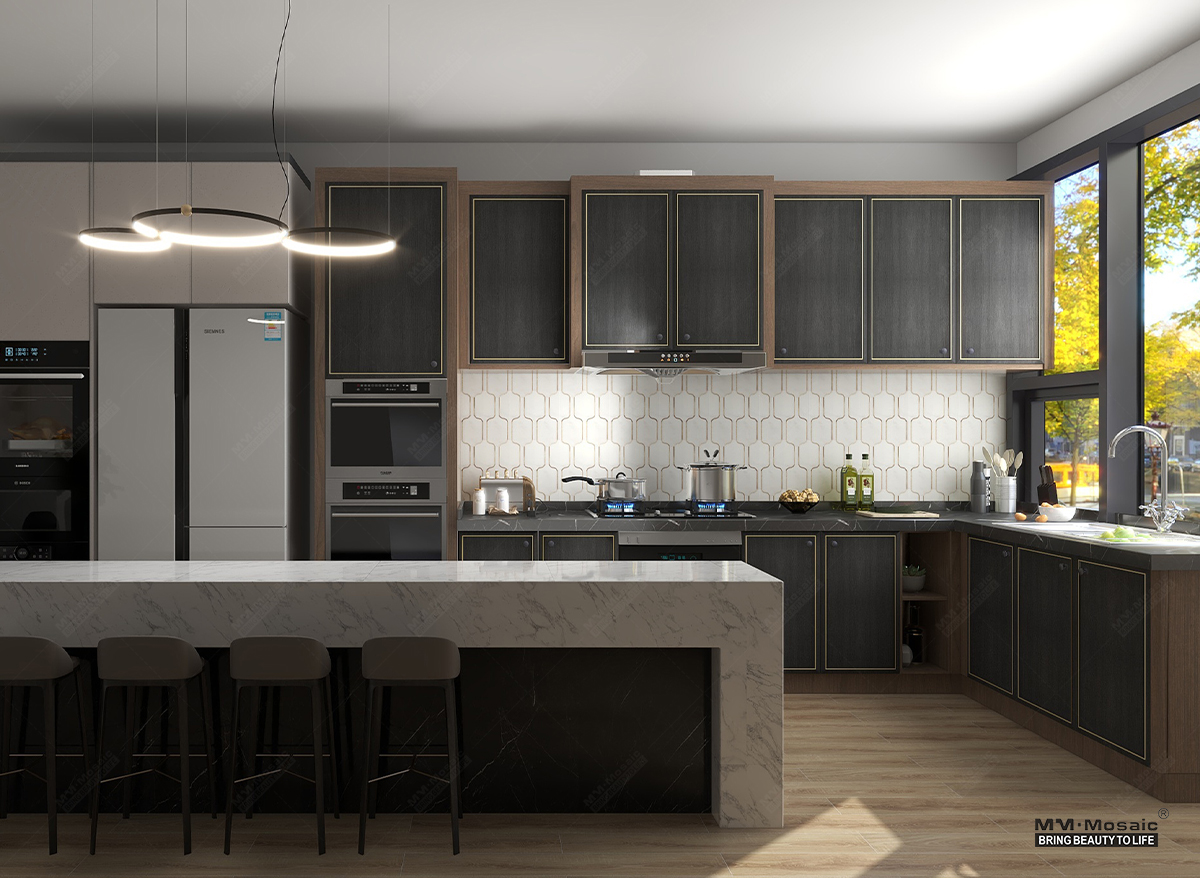 Featured Product: Waterjet Marble ZOD4015
8 Minimalist Style That Brings Traditional
Two words sum up this farmhouse-style cooking space: open and airy. While the comfortable kitchen is rooted in minimalism, it also feels traditional because of a few key features - a black glazed herringbone backsplash and a unique design natural white dining table. Stainless steel fixing and black pendant lighting decorate the natural minimalist space.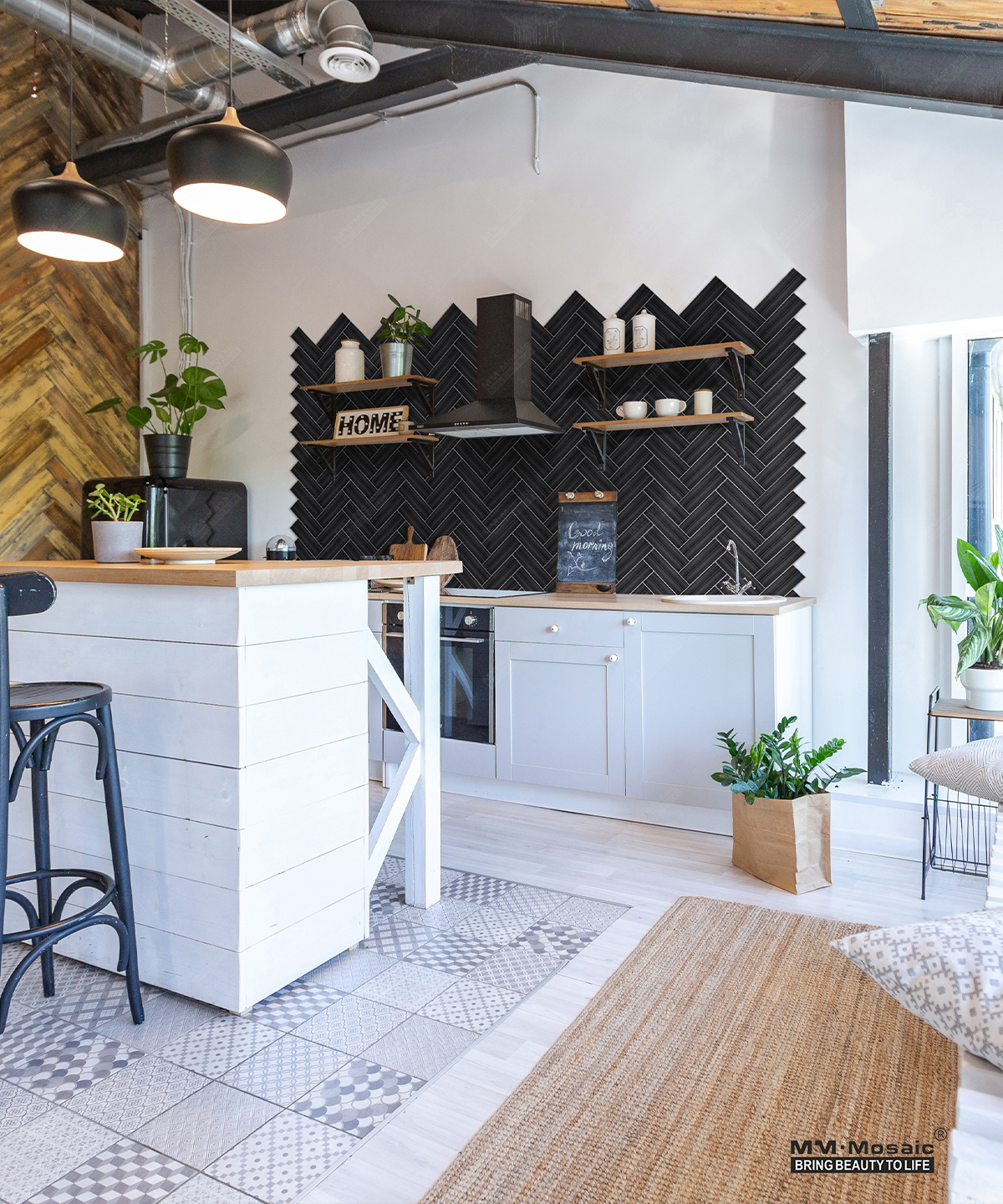 Featured Product: 3D Cube Subway ZOD9601
9 Appealing Man-Style Kitchen
Mysterious or dark colors totally work in a minimalist kitchen. Max, our interior designer, combined wooden cabinetry with gray wall porcelain tiles to create a man-style and high-end kitchen. The white backsplash features 32.5x145mm strip herringbone porcelain mosaic tiles that make a statement in this minimalist design.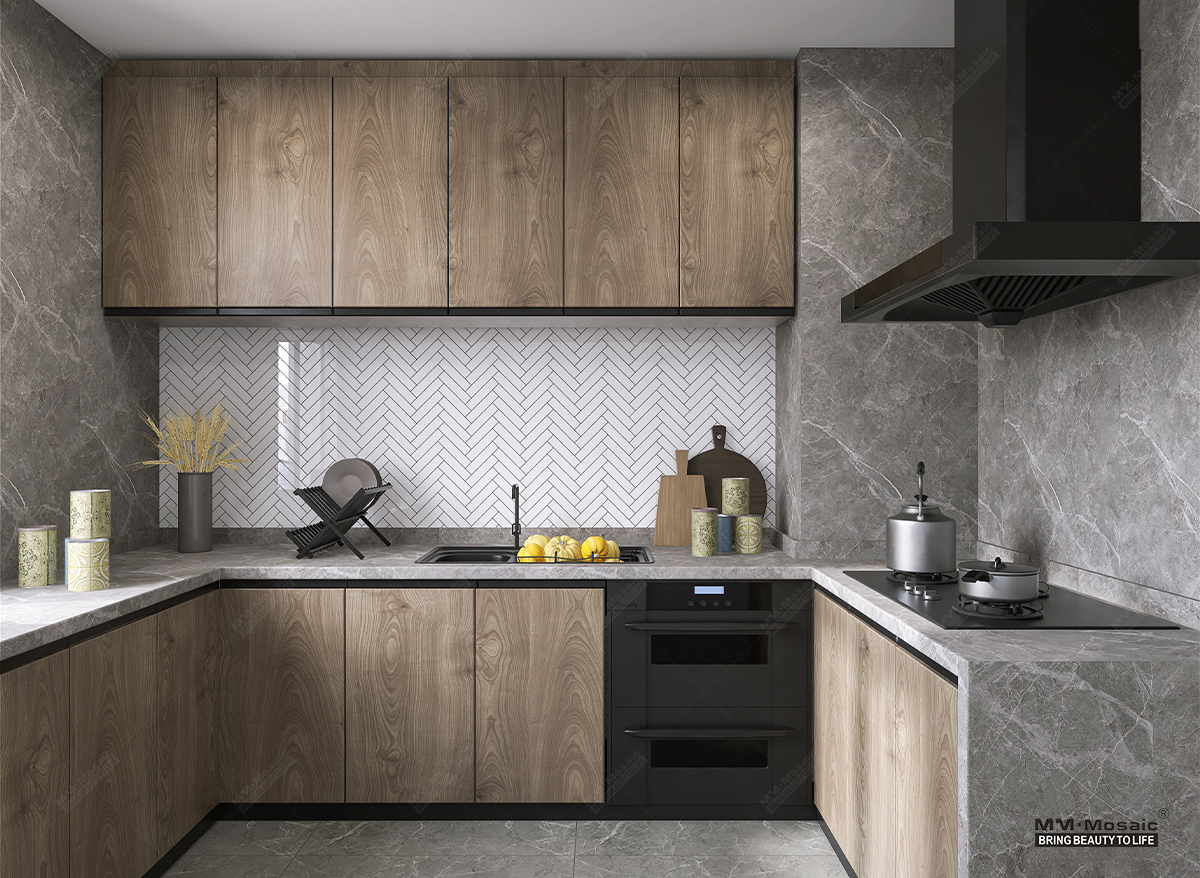 Featured Product: Herringbone ZGA1201
10 Practical and Attractive Kitchen
Jane designed this clean and neat kitchen to fit the needs of our client. The goal was to maximize square footage for actual use - an important feature of minimalist kitchens. The two rectangle countertops bring plenty of space for both food prep and cleaning up. Toward the back by range is the main cooking space with plenty of space for cutting up food. Many cabinetry means only small appliances used daily take up the countertop.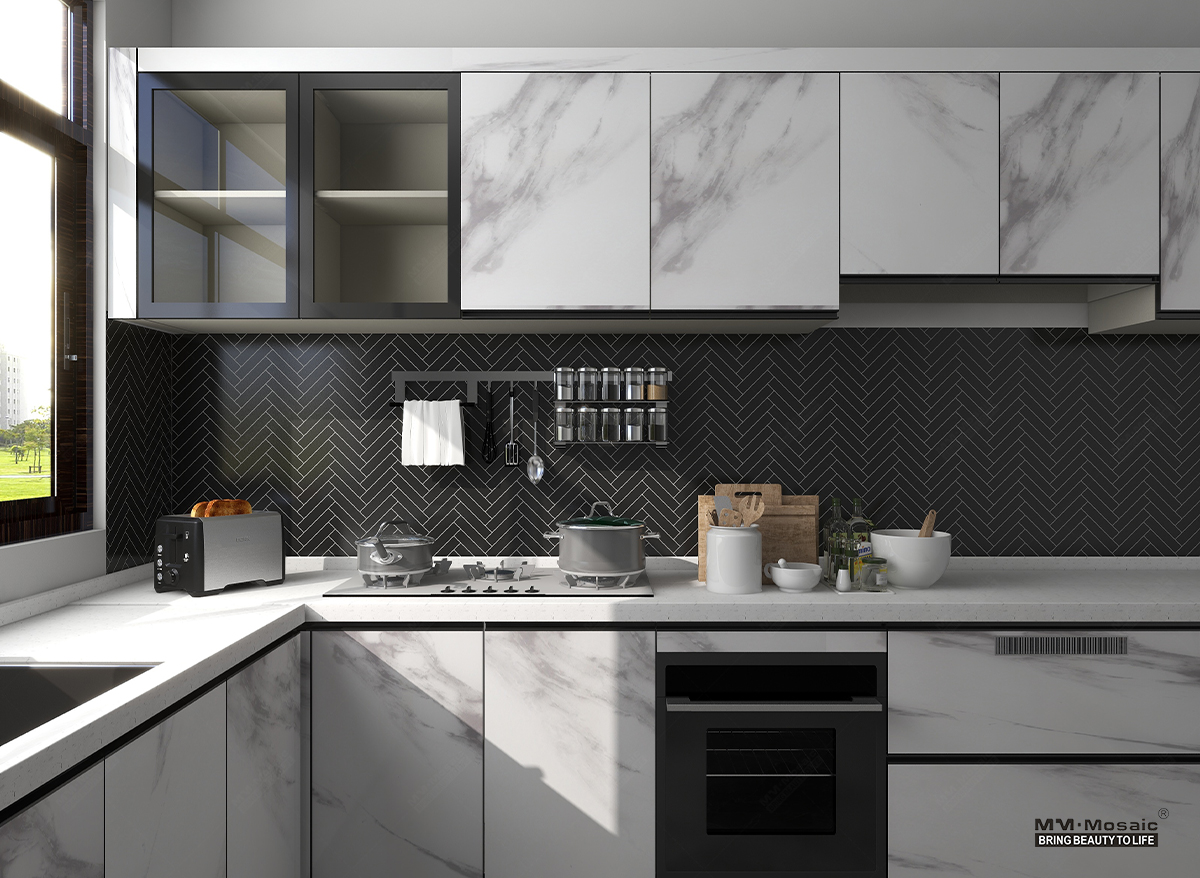 Featured Product: Herringbone ZMA1101
11 Meet Your Taste
A large cabinetry design gives this kitchen minimalist appeal. Interior design experts say the perfect kitchens are suited to the homeowner's taste. According to our client's need, we use the Inkjet pattern penny round glass mosaic tiles, featuring the 48mm jumbo round shape and matte glazed finish. The result is an anything-but-boring and minimalist kitchen with just the right backsplash design.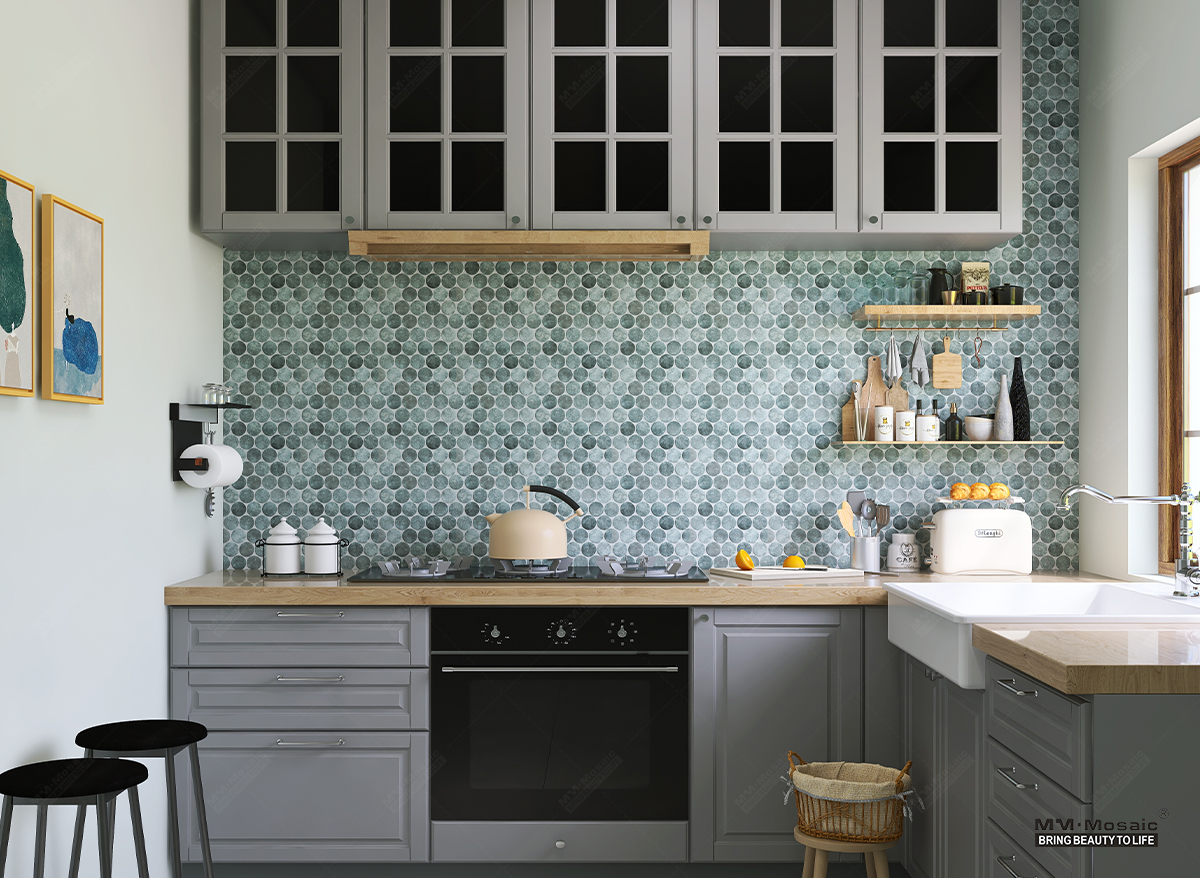 Featured Product: Inkjet Recycled Glass GZOC6916
12 Thoroughly Trendy Minimalist Kitchen
While remodeling this minimalist kitchen, interior designer Max kept clean lines top of mind. To keep things visually pleasing, he paired a creative picket shape and durable materials. The kitchen backsplash is lined with a crystal point-like long hexagon design with contrasting gray grout. Wooden gray tone dining table will be the focus in this minimalist space.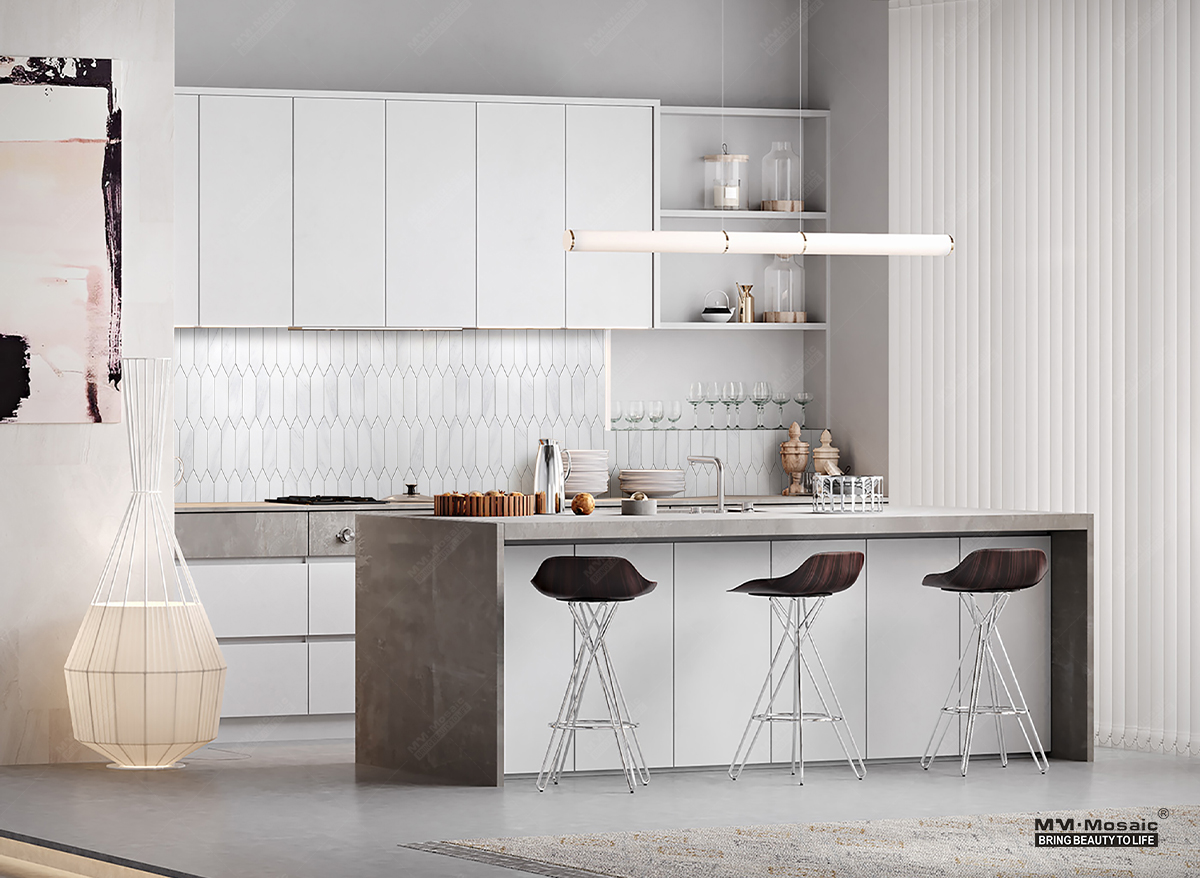 Featured Product: Long Hexagon CZO954Y
13 Wood Elements for Warming up a Kitchen
Our client wanted a minimalist kitchen, which meant plenty of storage space for concealing clutter. At the end of this kitchen island but not shown in the photo, there is a large pantry for small appliances and platters. A marble pattern peel and stick backsplash tile combined with a wooden texture countertop creates a clean surround that does not overwhelm. The black color cabinets bring a pop of natural vibes.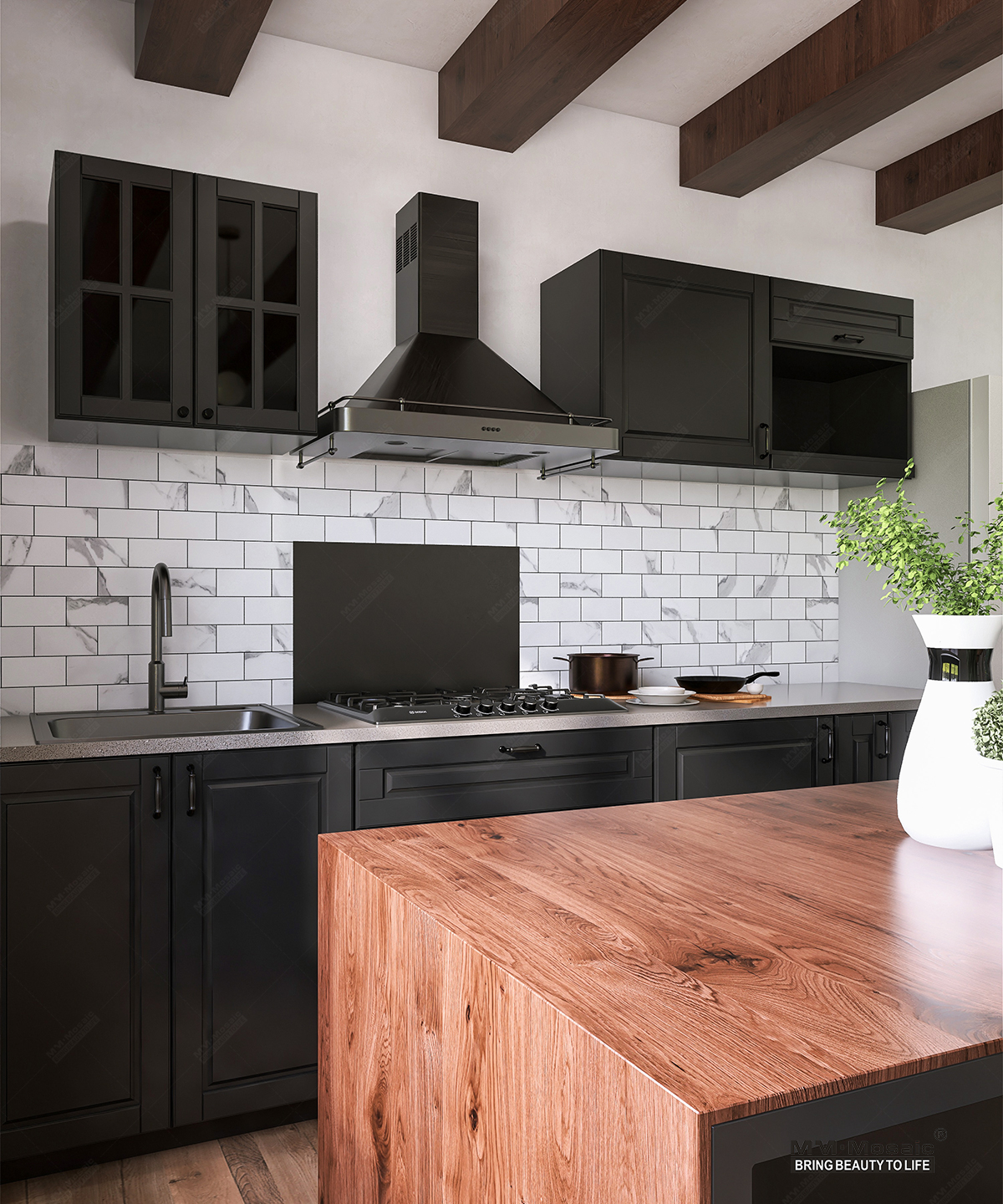 Featured Product: PVC Composite Subway ZOM8022
14 Clean Line Shows Minimalist
Obsessed with this all-white minimalist kitchen! White tone cabinetry adds dimension to this cooking space. The glazed subway tile beautifully reflects light throughout the space. The white marble countertop is a neutral bridge between the clean line subway tile and white cabinetry. The black cabinet hardware plays well with the black kitchen range.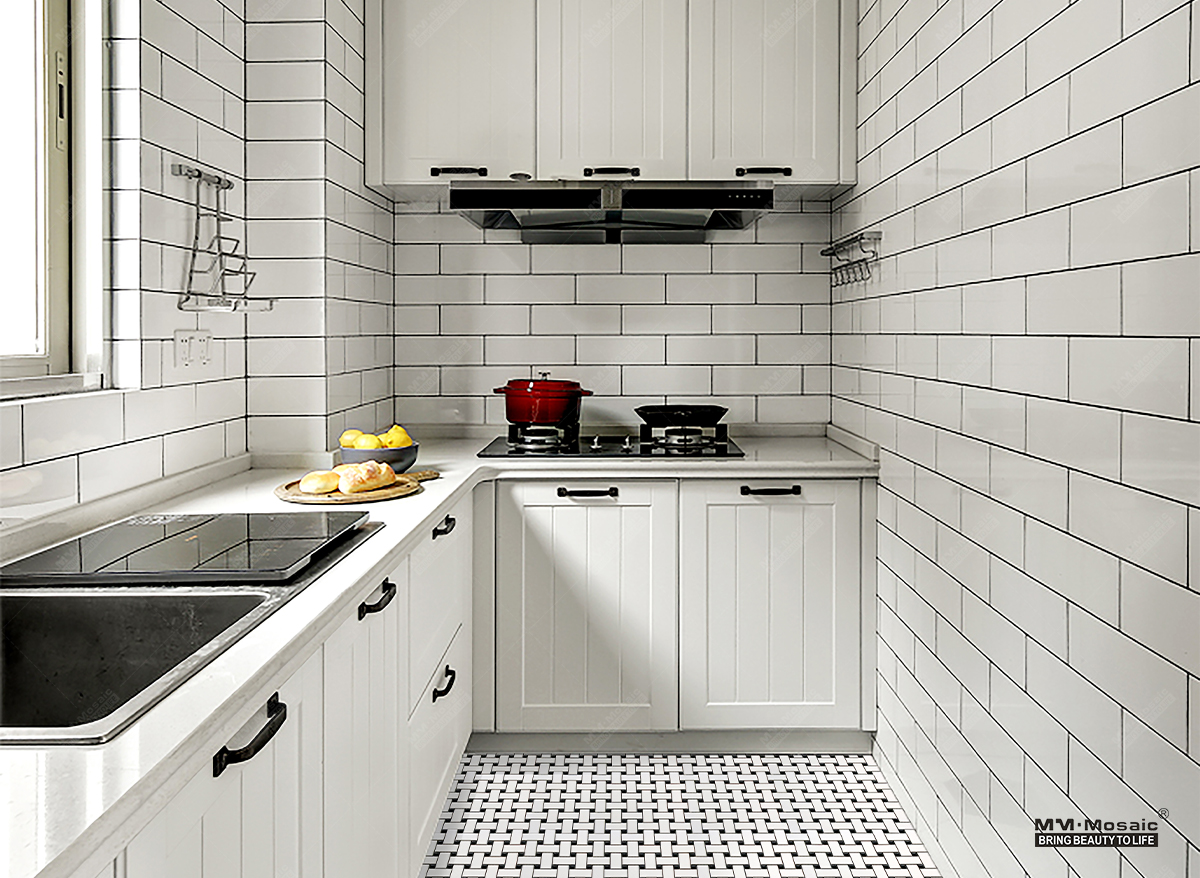 Featured Product: European Style WZG201JH
Get Inspired?
Inspired by our kitchen renovation projects? Love our tiles? Order tile samples to see and touch in person right now! Follow mm-mosaic next blog and we will continue to share the trendy design ideas, and we would like to hear about your future project. Contact us and tell us your bold thoughts!