When we countdown to the new year 2021, we are looking back on the shining point of 2020. We all know that 2020 is been a difficult year, however, we have been so inspired by all of the trendy, wonderful interior design that has happened among all of the challenges 2020 has brought. We are collecting some of our favorites here but for more, check out our chic Pinterest Board that has even more creative inspirations from this challenging 2020.
Now! From shower to kitchen backsplash look ahead to see the top 10 residential interior projects of 2020 that will hopefully inspire your future designs.
#10 - You Look Good
One of the more overlooked spaces in your home is the entryway flooring but having a tiled entrance can make all the difference in your house. Durable and easy to clean, our mini penny round tiles are the ideal material for your entryway floor. "YOU LOOK GOOD" will awake up your every day in the morning and welcome home while coming back home after work.
For more ideas of this project, visit our blog: Why Penny Round Mosaic Can Keep Your Entryway Fantastic >>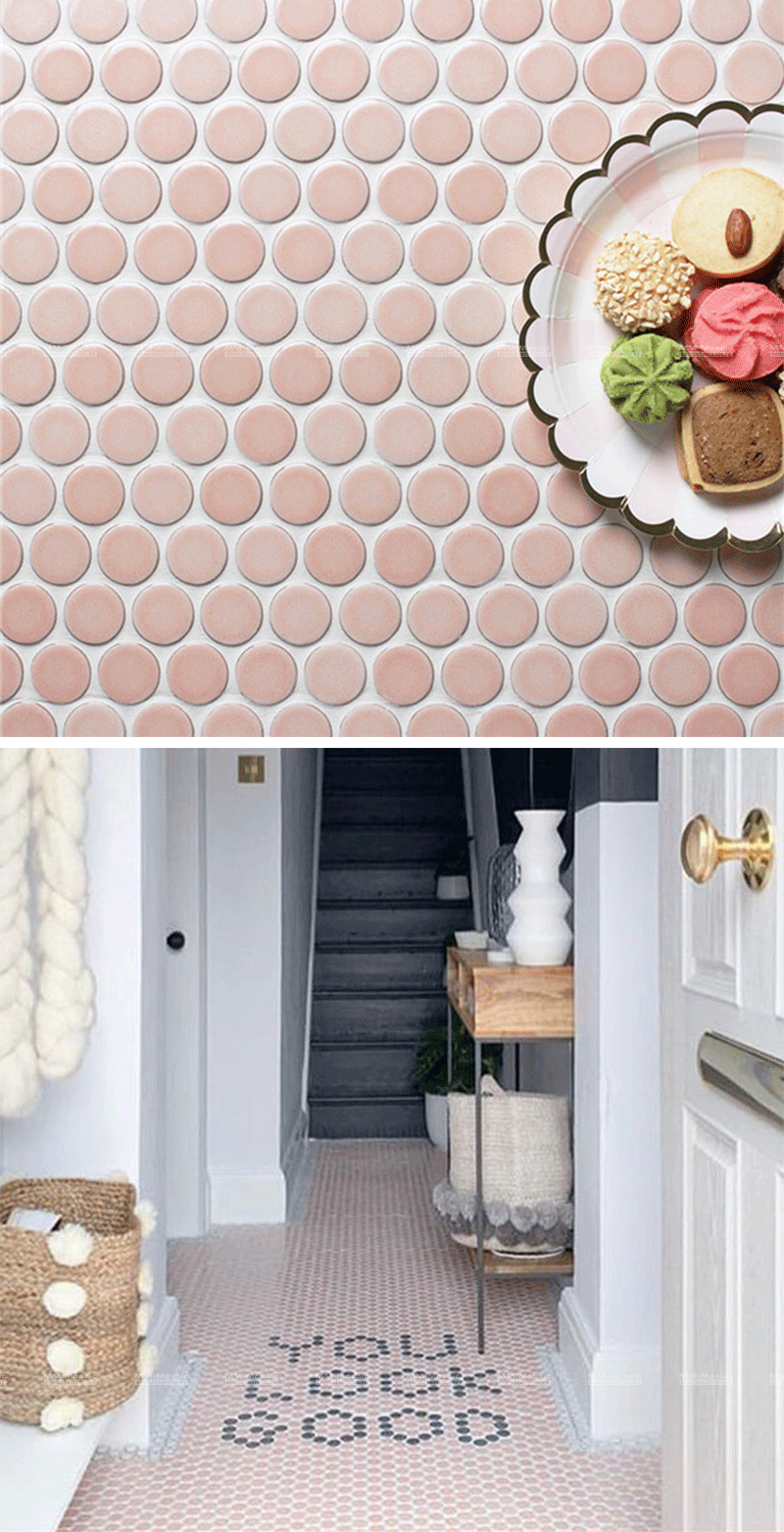 Featured Product: Penny Round CZO421A, Pink
#9 - Fish Scale at Bar Countertop
Go bold with your Fish Scales is a great way to offer a subtle countertop to your interior space while enhancing the bar space design. These emerald glaze Fish Scales have a heavy ice crackle pattern glossy smoothing surface that reflects the warm light beautifully, especially in this bar countertop.
For more details on this project with our blog: How Mosaic Goes From Bathroom To Bar Counter >>

Featured Product: Crackle Fish Scale CZB621X, Green
#8 - 2'' Black Triangle Tile Inspo
Another classic layout variation for our 2'' Triangles is the square pattern. This traditional arrangement creates a truly incredible and appealing look, and the bathroom wall design possibilities are endless! Whether using a solid color, like below, or a variety of patterns, you can play around with these triangles to create the tile of your dreams.
For more ways to use Triangle tile, visit our blog: Is Triangle Porcelain Mosaic Tiles Suitable for Bedroom Wall >>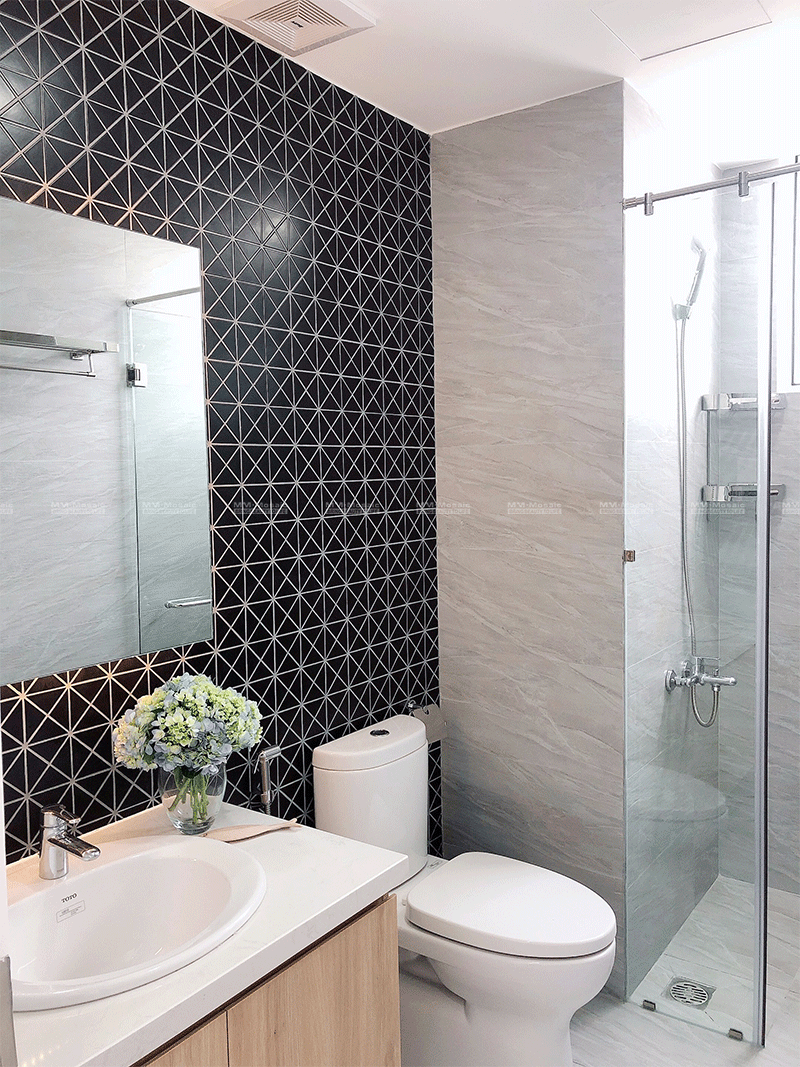 Featured Product: 2" Triangle CZM126B, Black
#7 - Moroccan Fish Scale in Bathroom
Adding a pop of palette to a vintage clean bathroom is always satisfying, let alone when you can improve the design style by utilizing our Blue Moroccan Fish Scales. This classic blue bathroom is the perfect way to showcase such a strong appearance when keeping it classy. Vintage blue is right!
For more ways to use our blue glaze, visit our blog: 11+ Mosaic Tiles To Bring Pantone's Classic Blue Into Your Space >>

Featured Product: Crackle Fish Scale CZB618X, Dark Blue
#6 - Turquoise Finger
Make a statement in your kitchen backsplash with our exquisite turquoise fingers. This stunning backsplash creates a perfect background for the wooden cabinetry and open kitchen design. Feel like you're cooking meals with this incredible kitchen design.
For more chic tile shape designs, visit our blog: Style Collection - The Glamour Of Oval Porcelain Mosaic Tile >>

Featured Product: Strip CZO949A, Turquoise
#5 - Diamond Shape Tile As Backsplash
Backsplashes are meant to be the center of attention. So, why not give them the attention they deserve? This highlight is now the centerpiece of not only the kitchen but the entire home as you can see it from the living room.
For more ideas of diamond tiles, visit our blog: Style Collection - Crystal Glazed Diamond Shape Porcelain Mosaic >>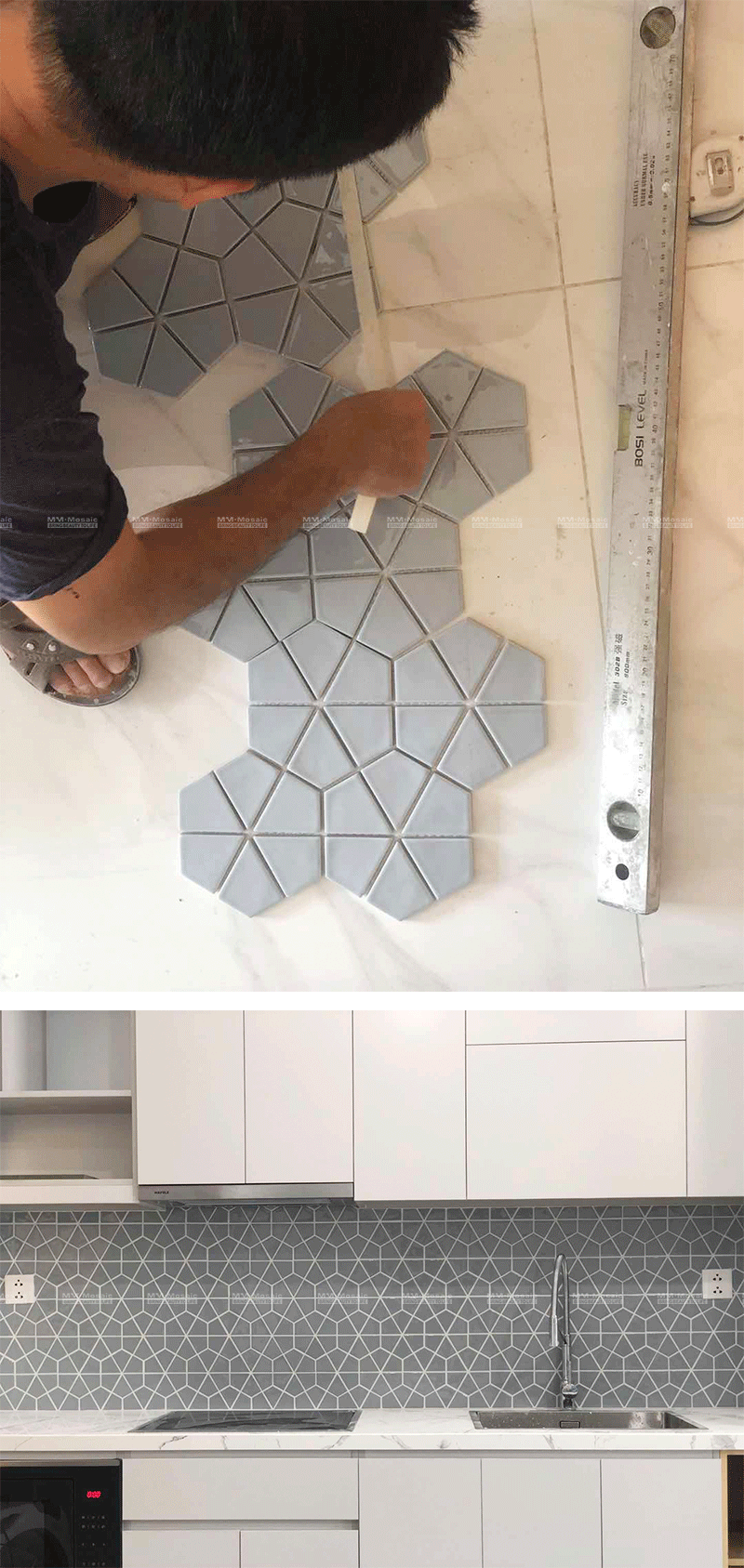 Featured Product: Flower Pattern, Matte Gray
#4 - Classic White Herringbone
When guesting friends and family members into your home, there is not a more beautiful and inviting way than glazed white herringbone tile. Here we have a unique herringbone pattern that adds an element of interest without being overwhelming. Consider our white glazed porcelain mosaic as the new welcome backsplash.
Here are herringbone tiles featured wall project, check out our blog: How To Design Herringbone Mosaic Tile Accent Wall In Office >>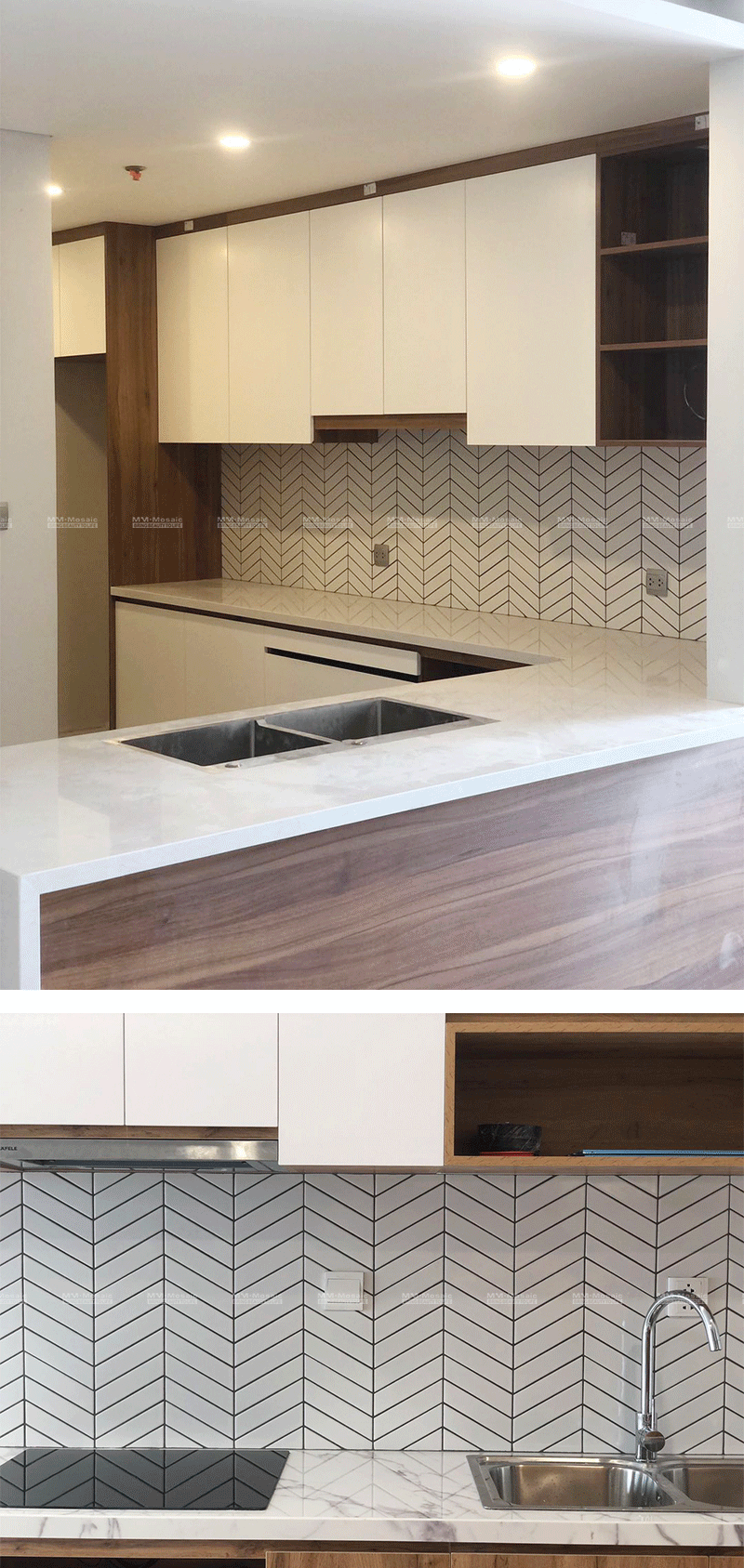 Featured Product: Fishbone White CZM242B, White
#3 - Chic Things About Shield Shape
This understated shield white backsplash deserves to be in third place. The special shield shape is a unique and trendy way to add dimension and personality to this clean and eye-catching kitchen. The matching design with a marble countertop and green cabinets is the perfect hue to let the tile shine. We are in love with this ever so beautiful design.
For more interior designs, visit our blog: 7+ Festival Interior Projects For The Coming Holiday >>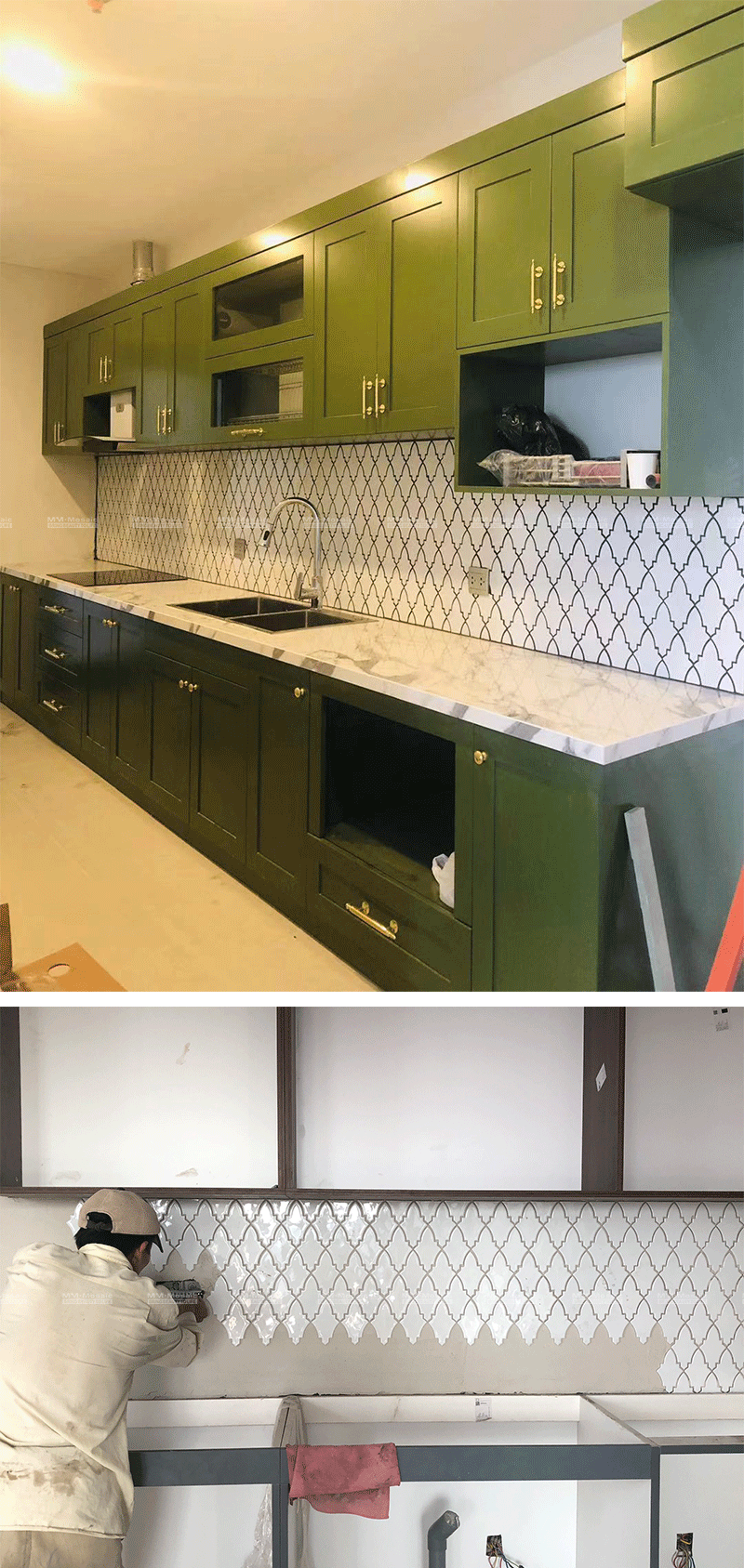 Featured Product: Shield Shaped CZG202Z, White
#2 - Grey Hue Fan Shaped Tile Backsplash in Antique
Gray tone, minimalist, and simple palette will show your particular taste. When you don't know what to tile your kitchen backsplash go for Moroccan Fish Scales right? We adore this antique style. Not only does it offer peaceful styling options for your whole home, but it's also an ideal way to get the most out of your tile backsplash.
Learn more about kitchen backsplash design ideas with our blog: 10 Projects That Show Monochromatic White Stand Out >>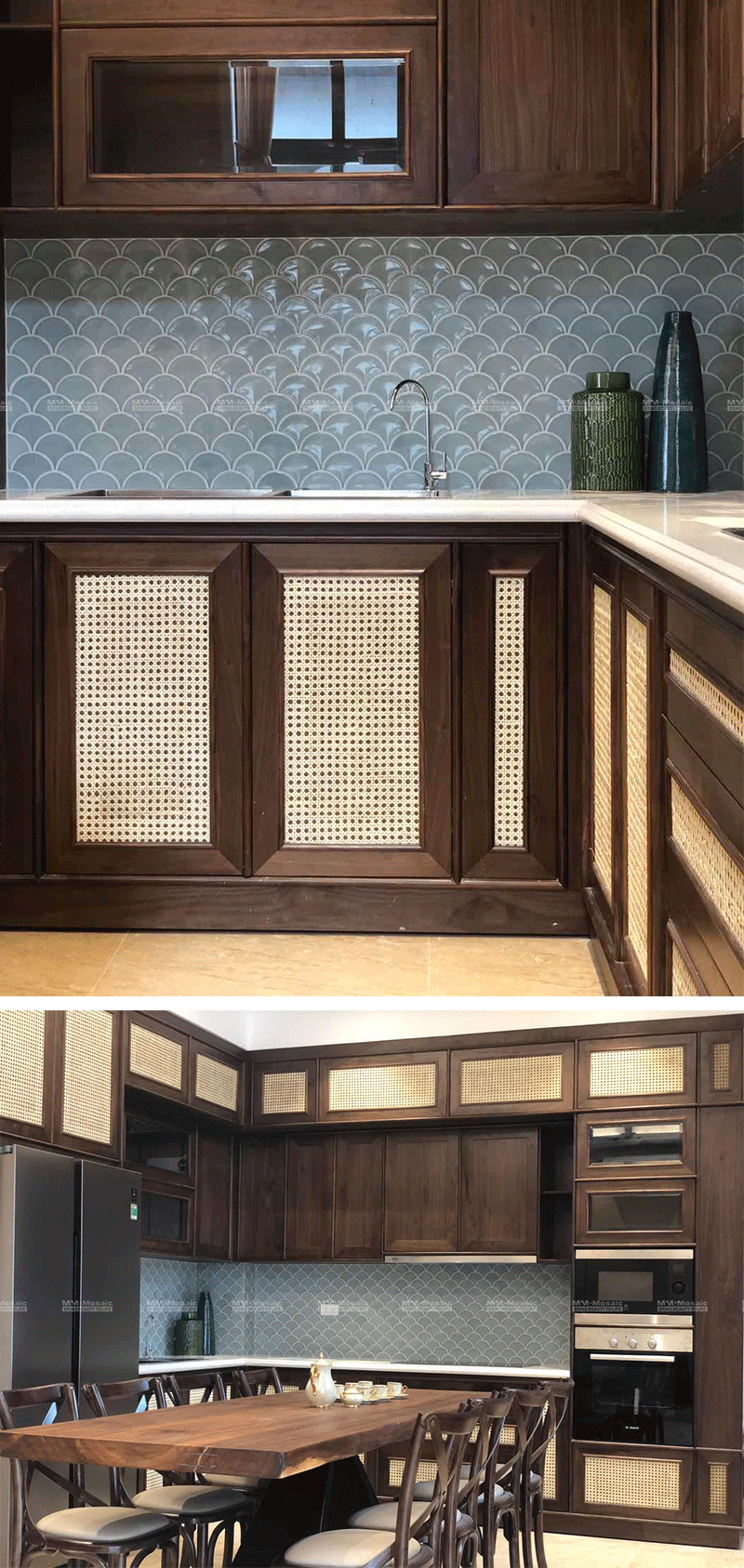 Featured Product: Fan Shape Porcelain Mosaic Tile
#1 - Pure White Stacked Subway Tile Kitchen
Here we see a contemporary modern classic in this simple white stacked subway pattern kitchen backsplash. The modern chic design of the subway tile, natural green cabinetry, wooden fittings add the farmhouse feel. Who wouldn't want to have a drink at this wood table?
For more details of this project, visit our blog: White Stacked Subway Tile For Kitchen Backsplash >>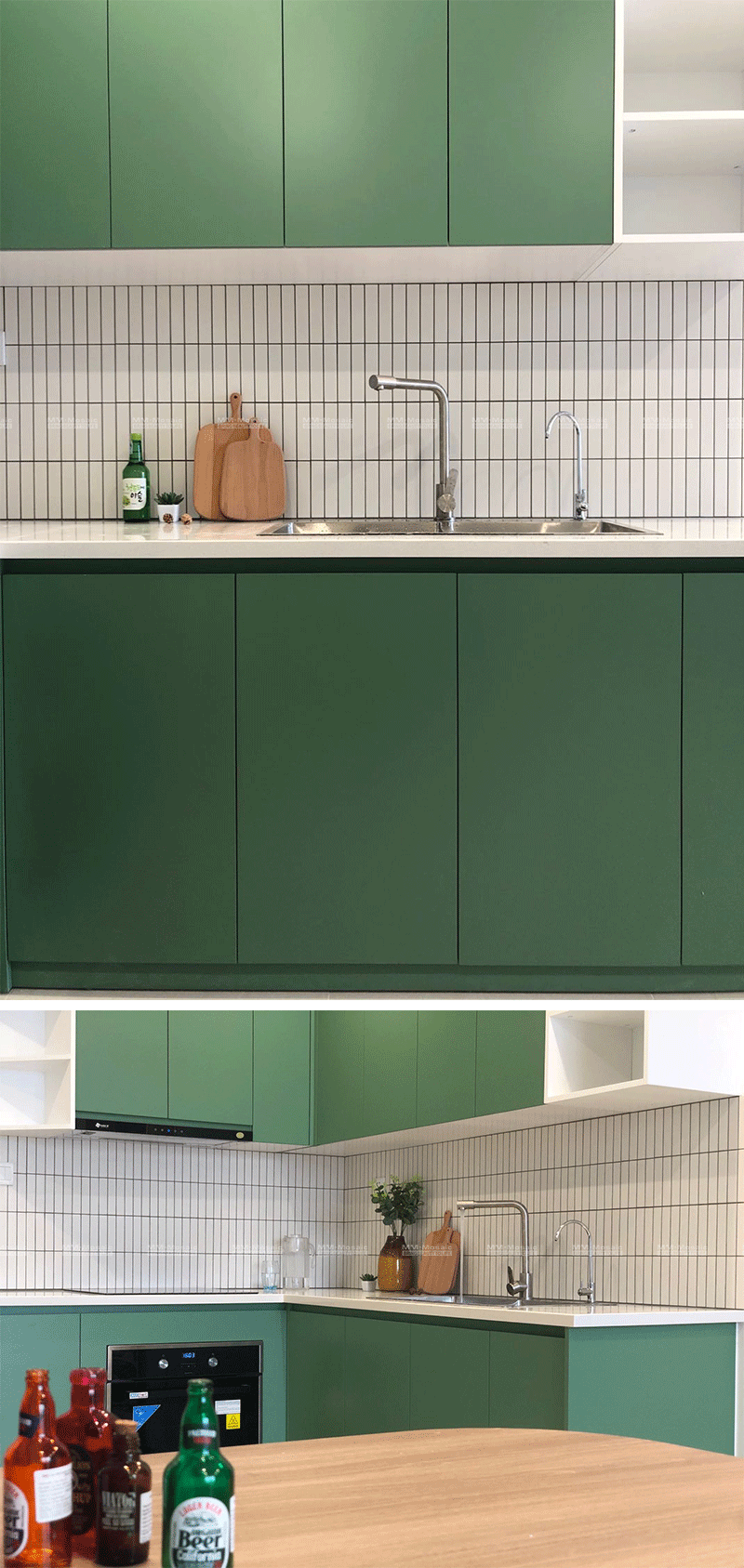 Featured Product: Brickbond White CZM243B, White
Get Inspired?
Inspired by our interior projects? Love our tiles? Order tile samples to see and touch in person right now! Follow mm-mosaic next blog and we will the top commercial project of 2020, and we would like to hear about your future project. Contact us and tell us your creative ideas with us!