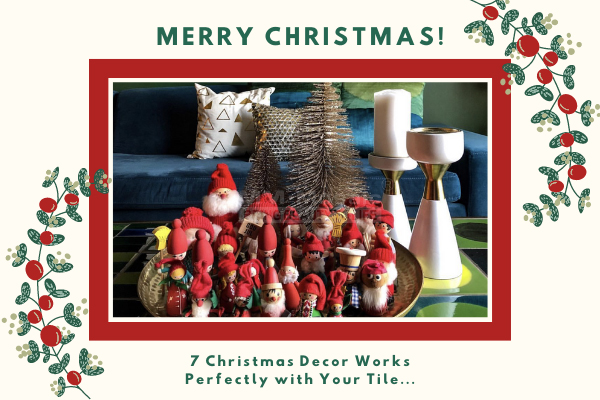 The most memorable moment of the year will be here before you know it, and there is no better way to get yourself in the Christmas spirit with some beautiful Christmas decorations. After all, it's outstanding what some garland, wreaths, and mistletoe can do to your space, whether you're decorating your home or commercial space.
Stores and companies have gone creative with Christmas decorations over the years, therefore, there are various choices to combine with any house or theme. However, before you begin shopping, you should always think of your tile, here are 7 ideas to help inspire you to combine your Christmas decor with your tile.
1 Put in a Sprig or Two
Bringing a tree back home or setting up an artificial evergreen is time-intensive. But if your work schedule is filled to the brim, don't worry - a luxuriant tree isn't essential for a cute Christmas effect around your space. Grab a few evergreen sprigs and put them into your mirror frames or vases for a boost of Christmas cheer.
Look like the sprigs? We mean our lovely Kit Kat Tile! The dark green finger tile is combined with a cute sprig to create a timeless yet Christmas vibe. Get more details of the Kit Kat Tile project, visit our blog "Kit Kat Tile: 6 Palettes to Rock the Look"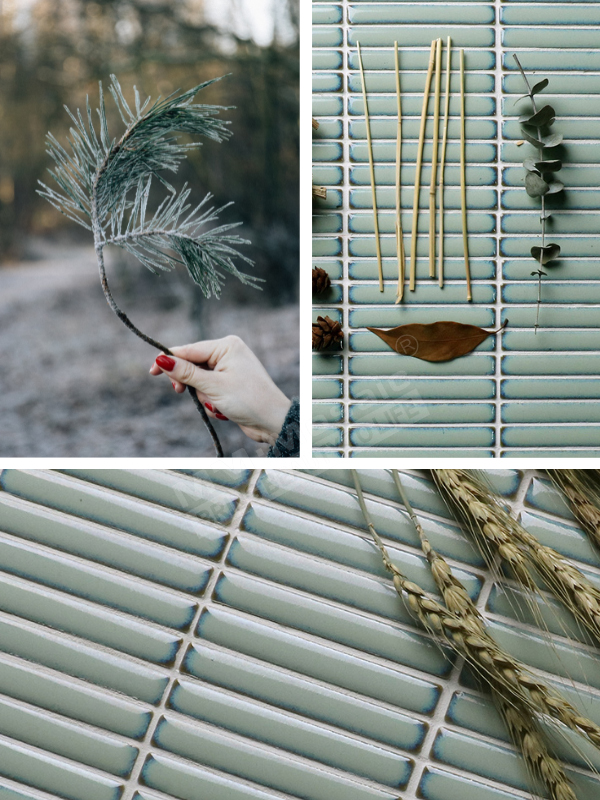 2 White Paper Snowflakes
You can't bring the real ice snowflakes into your home because they might melt and disappear. Handmade paper snowflakes might be a wise option, and it can bring out the reminiscence for many around Christmastime. However, rather than depending on the 2D fold and cut versions from childhood, you can look for more ideas from the Internet or magazine to make exquisite 3D paper snowflakes as well as artfully hang them on the wall.
Beautiful paper snowflakes play well with the simple white glazed wall tile, to see more white hue wall tile projects, visit our blog "Trends: 8 Ways to Awaken White Ceramic Mosaic Tile"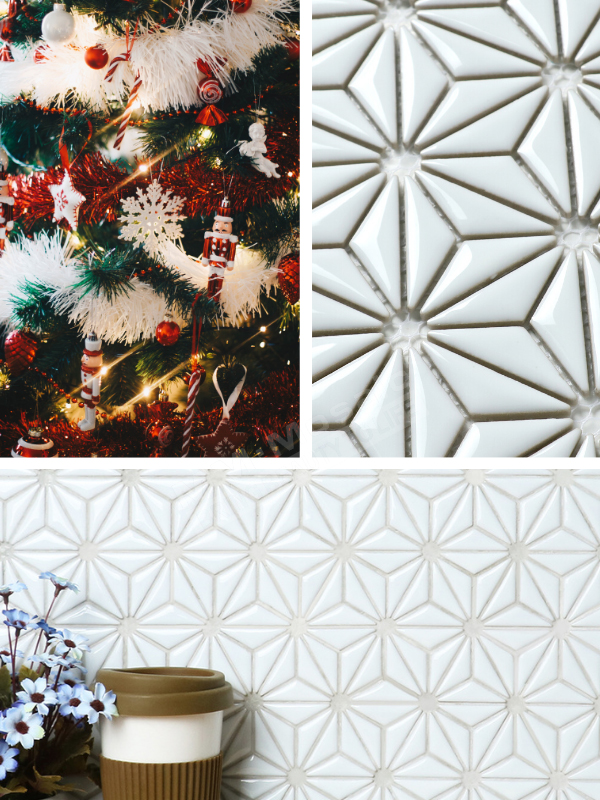 Featured Product: Flower CZG204CD
3 Take Out Your Wreath
Your exquisite wreath is a necessary decor item used every Christmas. As the heat of summer approaches, make sure you bring some color or greenery to your home. Wreaths are outstanding hung up on doors and cupboards, but they also double as the perfect table centerpiece. Stay the same, or add a large white candle for a glowing attention-grabbing bit of decoration. It creates the greenery that's traditionally expected around Christmas and shows wreaths off in a refreshing way.
Dark green wall tile will pair well with these natural and chic sprigs, to see more dark green tone interior design ideas, visit our blog "Interior Trends: 16+ Dark Green Palette Refreshes Your Space"
4 Focus on the Mantel
The quintessential and typical Christmas spot in any interior space is the mantel. It's where candlesticks add a little sparkle, the space where logs crackle beneath, and the place Santa shows up with gifts in tow. Christmas decorations that have a mantel and are in a time crunch must funnel decor and attention in your mantel space for the most impact.
Checking out this mixed material backsplash! It not only combines well with your Christmas decor but also enhances your mantel style. Compared to similar materials like stone or wood, a glass mosaic has a few remarkable strengths. One of the most prominent advantages is that non-porous, which means any liquid won't be absorbed. Moreover, non-porous makes them hard to stain and easy to clean even if something splashes on them. Another endearing advantage is that it reflects light. Adding the warm vibe to your space, for more details of this backsplash here "Style Collection: 300X310mm Linear Glass Mix Stainless Steel Mosaic Tile"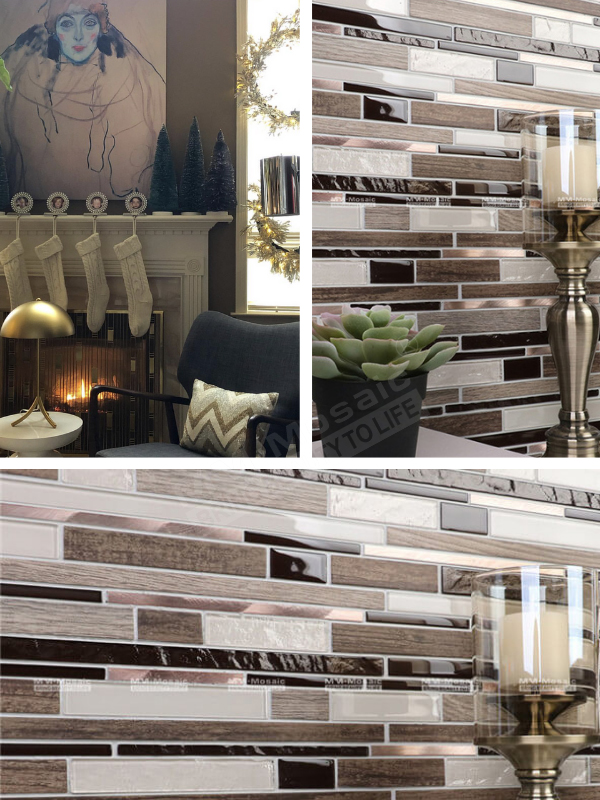 5 Light Your Space Up
Only ornaments? It's too monotonous. A simple set of warm lights on a Christmas tree can still look polished and thorough. Focus on spreading this light out evenly so that your decorated beautiful Christmas tree looks intentionally minima. For an extra mild atmosphere, charming lights on a tree are perfect while complemented with white candles and mood lighting on a cozy Christmas night indoor.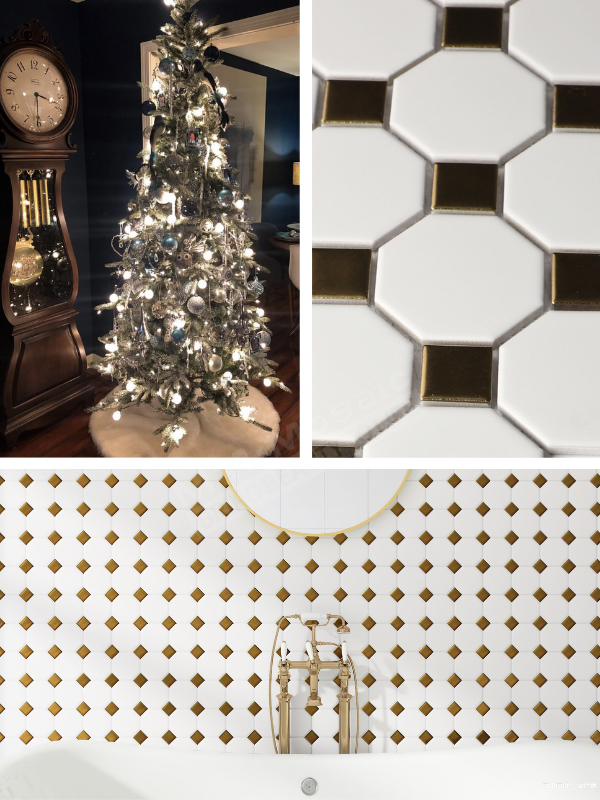 Featured Product: 2" Octagonal White Gold ZOA1202
6 Decor the Open Shelves
Open shelves, or any kind of shelf really, are the wonderful blank canvas for placing Christmas decor. Withdraw some of your all-year staples and replace them with golden bulbs, small size artificial Christmas trees, and holiday sculptures. It's an instant way to make space for decorations while there's no time to do much else, moreover, it will look like you have spent lots of time curating them. Even if it only takes you 15 minutes!
How to remodel the accent wall within the shortest time to pair with your open shelves? Visit our blog and you might get more ideas "PVC Mosaic Tile of the Patterns: 5 Styles to Inspire"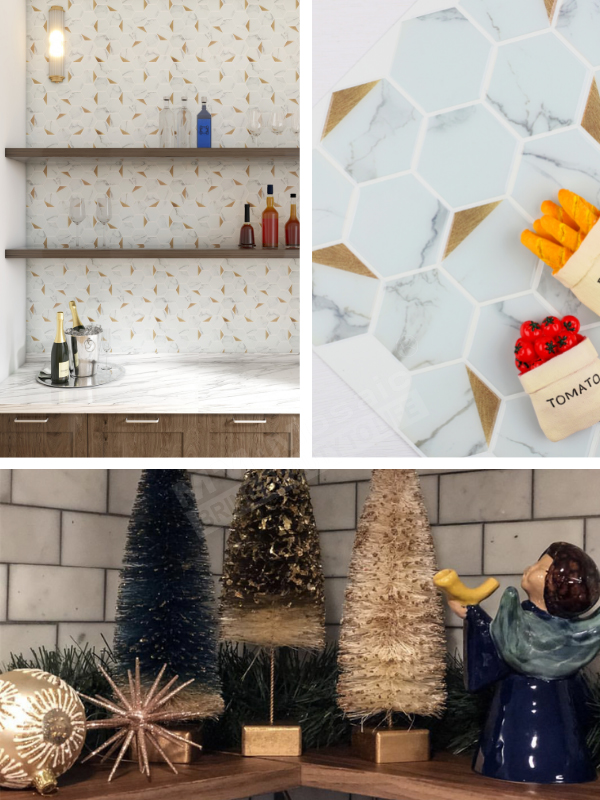 7 Match Your Color Palette
As we know, Christmas decorations don't just begin and stop at classic red and green. Think of other wintery tones, like silver, snow-white, cool black, and geometric textures that will remind your family members of cozy cabins or snow forest. You can incorporate these all-around your bedroom, whether it's on too of a table, hung on the wall, or put on the floor.
Tile mysterious all-black geometric triangle backsplash might enhance your bedroom style, for more ideas with our blog "Is Triangle Porcelain Mosaic Tiles Suitable for Bedroom Wall"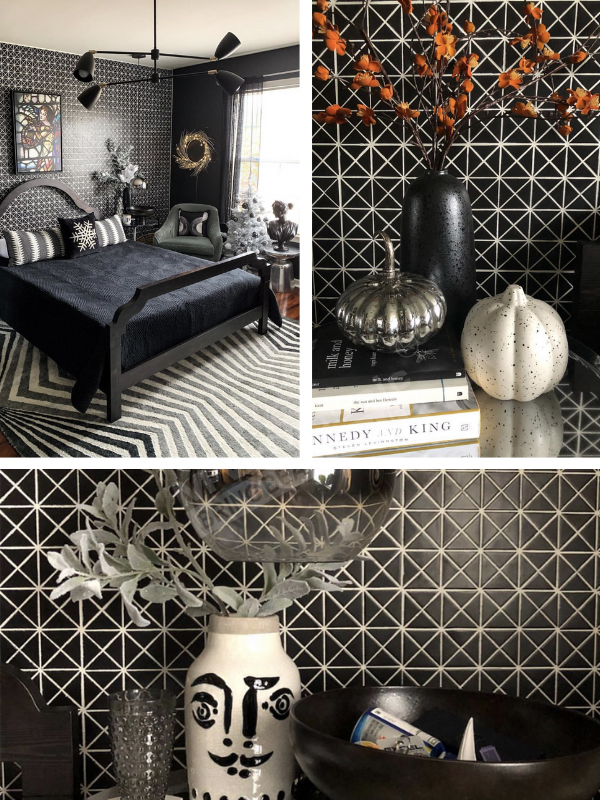 8 Santa, Santa, Santa
Christmas decorating is a piece of cake while you have a low budget on Christmas decor. Rather than adding a full-size tree in different rooms or assembling complicated and large wreaths, scope out many mini Santa that you can put on a decorative plate and place them in the living room center table. It brings strong Christmas vibes!
Customized a tabletop mosaic art and it will combine well with your Santa! For more mosaic design ideas, visit our blog "Trends: Chic Mosaic Arts Decor Your Space"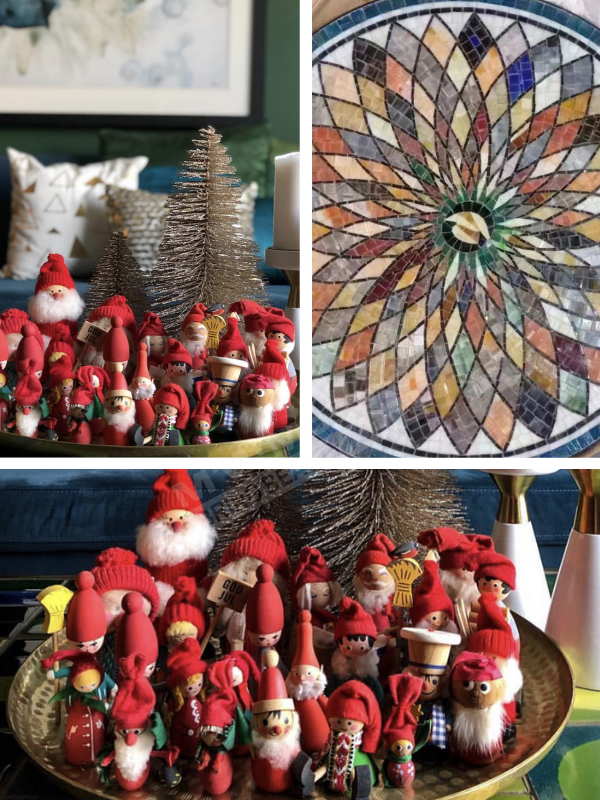 Get Inspired?
Merry Christmas! Let's decor your space now! Order tile samples to see and touch here! In addition to being a source for beautiful high-quality tiles and mosaic arts, MM-Mosaic has a team of professional interior designers that are ready to assist with all of your interior design needs. Our services provide multiple layouts and design choices that suit your personal style and budget for any space. You will work with a team of designers and project managers to help you truly love where you live.