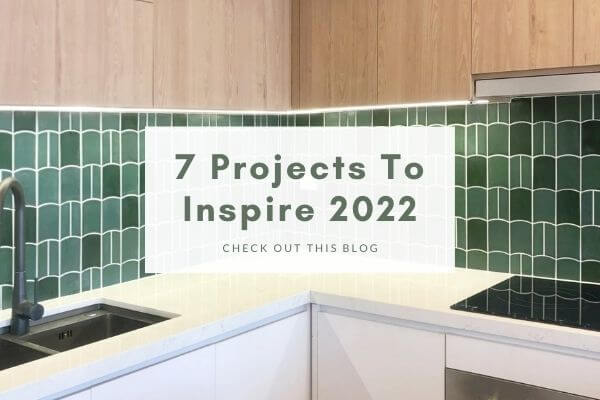 Need a spark of inspiration to get you through 2022? As the main architectural focal point in your space, wall and floor are a great chance to highlight your personal style. We are so pleased to see that the tile design has already ready in 2022. We believe in warm tones, simple kitchens, tranquil walls, and much more for this coming year. Continue reading to see 7 projects to inspire 2022.
1. Roll Out the Pink
Coming in hot in this new year is a warm tone. This wedding dress shop owner-designed space is hot off the press so we took that as a sure sign of things warming up in the tile design. In our view, this dreamy pink glaze runs the show in this store. For those with romantic spirits, kiln pink glaze is perfect for a welcoming and vibrant vibe. This glamour color is timeless and trendy.
The warm tones aren't the only trend on the rise in the tile world in 2022 but the warmth of the handmade thing and story behind it are certainly making an imprint in this year. Store owners love to see the clay properties peek out at you, the surface variation in the glaze, and the unique features of the handmade tile bring a human warmth to the store.
For more on this project, visit our blog "Pink Palette Finger Stackbond Mosaic Makes Dreamy Wedding Dress Shop"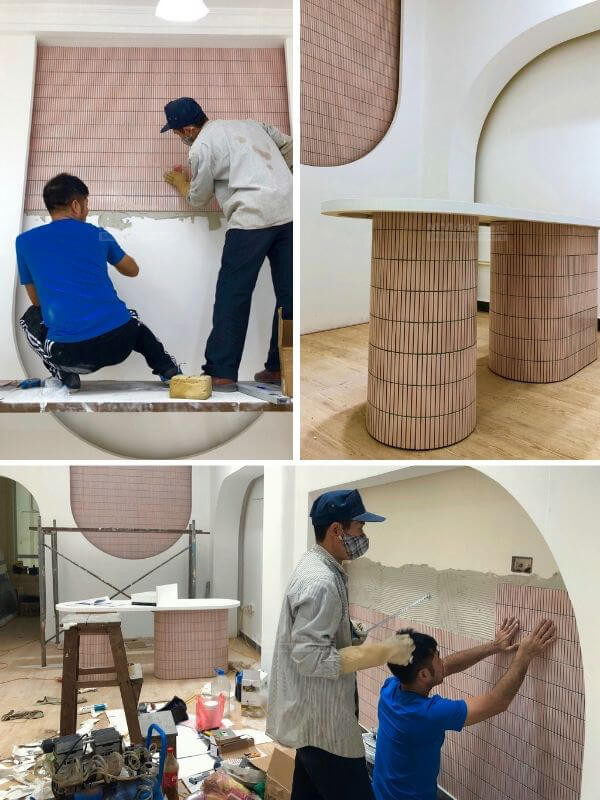 Featured Product: 12x92 Premium Glazed Finger Stackbond Mosaic Tile Collection
2. Adding the New Things
The chic handmade mosaic tile in itself is an ode to the olden days. We prefer to think our tile has the same honest glamour, meticulous detail, and quality craftsmanship that you see from tile across the world dating back hundreds of years. We combine this unrivaled classic charm with our own modern style. We adore coming up with new glazes, shapes, patterns to stay trendy in the tile world when still staying true to the roots of this handmade craft skill.
Stunning kitchen backsplash! That's so good we have to share. This project is near and dear to our hearts because Jane is all for redecorating kitchen backsplash while staying true to the integral beauty of the kitchen. We design a new and unique handmade tile with Jane to do just that for her kitchen. Green blend tone combined with handmade tile is the perfect way to add new things into the old shape. Can you imagine making delicious meals while enjoying this oasis?
For more handmade tile designs, visit our blog "15+ Tunnel Series Tiles Make Your Space Pop"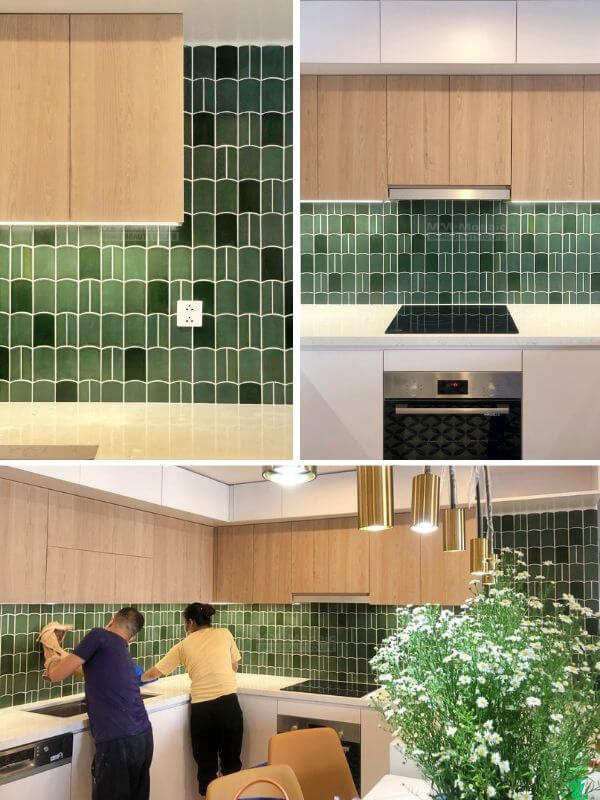 Featured Product: Irregular Tunnel Series, Custom Pattern
3. Simple is Timeless
The white glaze color is without a doubt one of the most popular surfaces for a space. Whether it's a kitchen backsplash, a bathroom vanity wall, a shower, or an entryway accent, white tile brings an airy vibe and a clean look. But white tile comes in many different shapes and choosing the right one for your space takes careful consideration. This backsplash remodels project uses simple white glaze finger tiles and stacked patterns to create a minimalist look.
For more on finger tile projects, visit our blog "Kit Kat Tile: 6 Palettes to Rock the Look"
4. Vibrant Shower
This tranquil tone shower made the inspiration list for not only one, but two reasons. For the first reason, we believe that the kitchen tone will increase. With more time spent at home than ever this past year, people will tend to take a relaxing bath for a long time. In turn, we're seeing more and more vibrant, tranquil showers because if your bathroom vibe is relaxing, your mood will be, too.
Second, we're forecasting a rise in Kit Kat Tile. These lovely and chic finger shape tiles are climbing to the top of the tile charts and we also love them. Plus, the dark green glaze makes these Kit Kat Tiles shine even more!
For more details of this shower project, visit our blog "Kit Kat Tile Makes Fun in The Bathroom"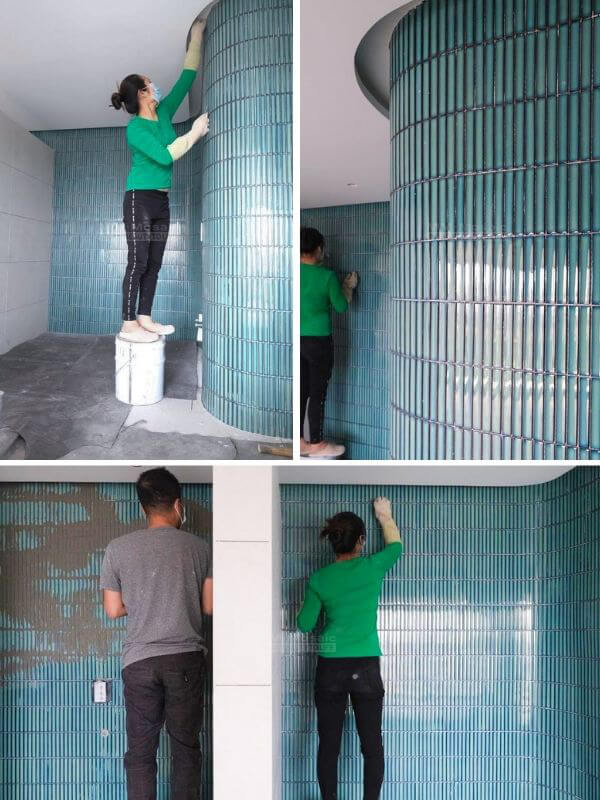 Featured Product: 20x145mm Kit Kat Porcelain Mosaic, Green, CZO703Z
5. Countertop with Tile
When you can't go to the ocean, why not bring it in? With so many people quarantining in their space this year, it's inevitable that people are bringing the beauty of the Ocean into their spaces. We have a sweet spot for Ocean elements and handmade tile so we thought why not combine these two things? Our crackle pattern blue fish scale tiles are the perfect way to add a natural ocean vibe to your countertop design. Due to these beauties being a custom choice, our experienced designers will work with you on glaze color and pattern.
For more on this project, browse our blog "How Mosaic Goes From Bathroom To Bar Counter"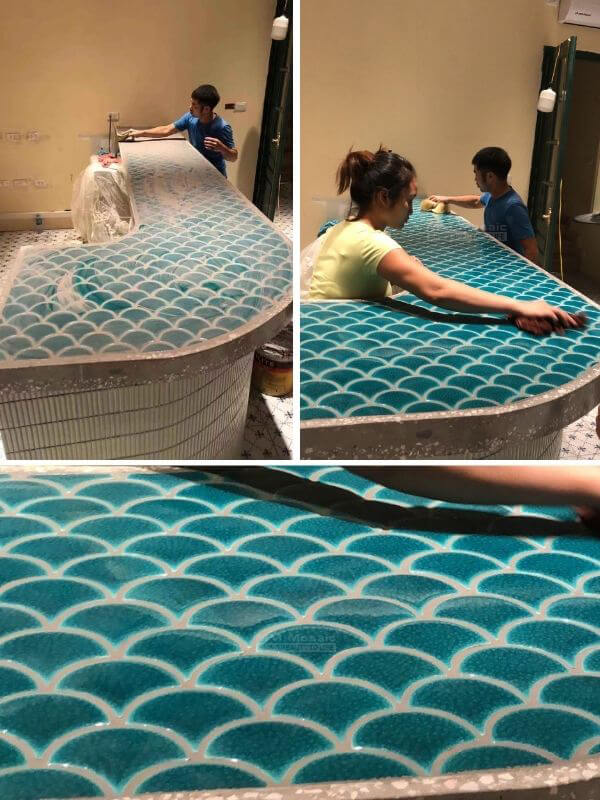 Featured Product: Heavy Crackle Fish Scale CZB621X
6. Pale Green Brings Eased Mood
With the tense and uneasy 2021, we have had, it's no surprise that some people are turning towards pale colors to ease their mood. We would like to see more pale green Fish Scale popping up in 2022 for kitchens, showers, entryway walls, or wherever your want. This kitchen backsplash project has us dreaming of a summer afternoon rest that seems long overdue. From pale blues, light pinks, and baby yellows, our various color scheme has it all.
Know more about trendy Fish Scale projects, visit our blog "10 Moroccan Fish Scale Ideas for Your Next Remodeling"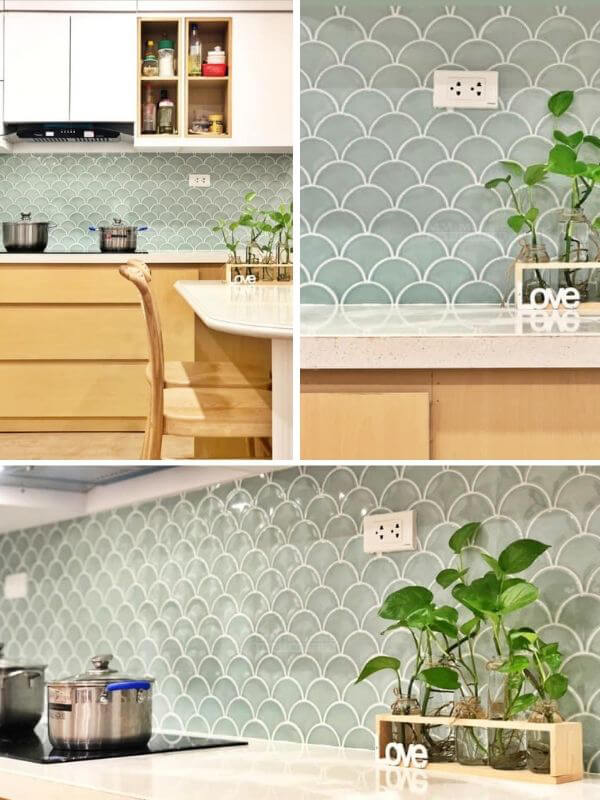 7. Custom Your Pattern
Put a hexagon on your entryway floor - as in Hexagon tiles, of course. Make an unparalleled and personal statement with the color contrast of black and white hexagon tile, arranged here in an abstracted customized pattern. This look is ideal for achieving a modern and aesthetic floor for your floor remodel plan.
Get more pattern ideas, visit our blog "Hexagons & Penny Rounds with Custom Pattern"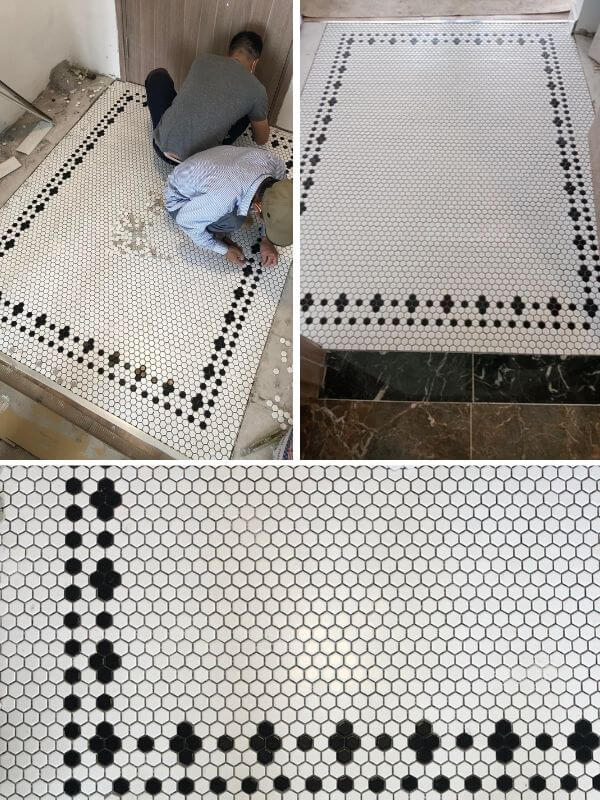 Get Inspired?
Ready to plan your space remodel project? Order free tile samples online right now! To see and touch our handmade tile in person, you might fall in love with our beauties. If you need some help or helpful suggestions, Simply call MM-Mosaic, and we will get back to you immediately.