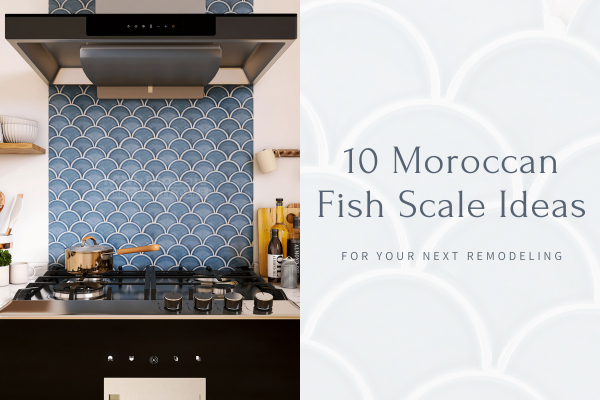 Creative and funny Fish Scales are one of our most popular tile shapes and for great reason. Its highly effective and versatile fan shape is an interior designer's dream. From entryway floors to outdoor swimming pools, our appealing Fish Scales bring just the right amount of design, when offering countless possibilities. Read further to check out some of our favorite ceramic fish scales ideas and installations.
1 Simple Fish Scale Floor
Porcelain floors are a must due to their durability and easy maintenance, so why not make them stand out? By pairing simple white glaze colors, you can combine fish scales with natural wood furniture to create a grand entrance. This entryway floor uses a pure and minimalist white glaze to create a cozy and airy Moroccan Fish Scale floor tile design, ready for any and every season.
For more white mosaic tile ideas, visit our blog "Trends: 8 Ways to Awaken White Ceramic Mosaic Tile"
Featured Product: Fan Shape CZM351X
2 Entryway Accent
If you're looking to make a statement with tile, this deep color Fish Scale wall is a beautiful and perfect option. Adding a unique glaze color of a pure entryway accent is always satisfying, let alone when you can enhance the design by utilizing our Fish Scales. This horizontal pattern fan shape entryway accent is the ideal way to showcase such a strong look while keeping it classy.
To learn ways on how to design a chic entryway, visit our blog "Why Penny Round Mosaic Can Keep Your Entryway Fantastic?"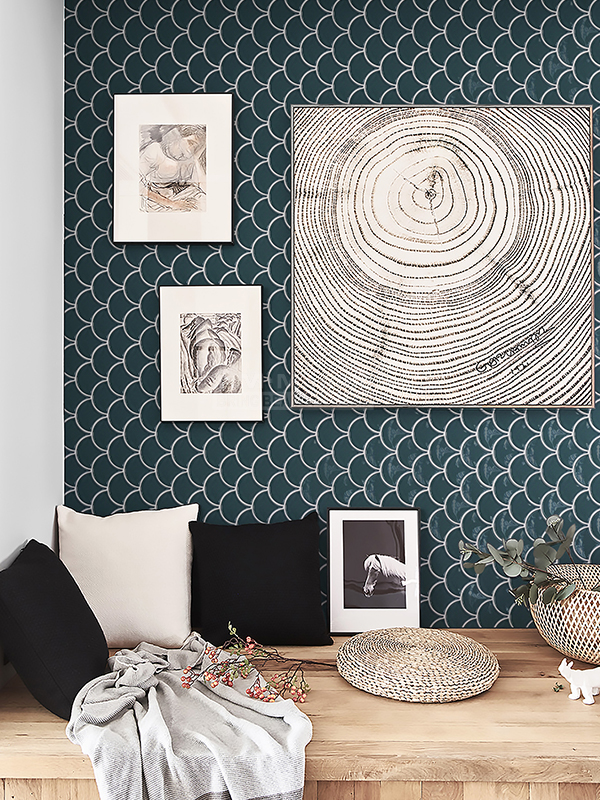 Featured Product: Client Customized Glazed Color
3 Gray Fish Scale meets Pink Paint
For those who think bigger is better and love outstanding color contrast, this vertical pattern living room wall is perfect for you! The vertical pattern uses our ice crackle gray Fish Scale tile laid out in this special and mosaic way. This wall design combines perfectly with our pink paint and gives off the best color contrast feeling.
For more ways to use color with our blog "How to Combine Warm Hues With Cool Tones in Mosaic Interior Design"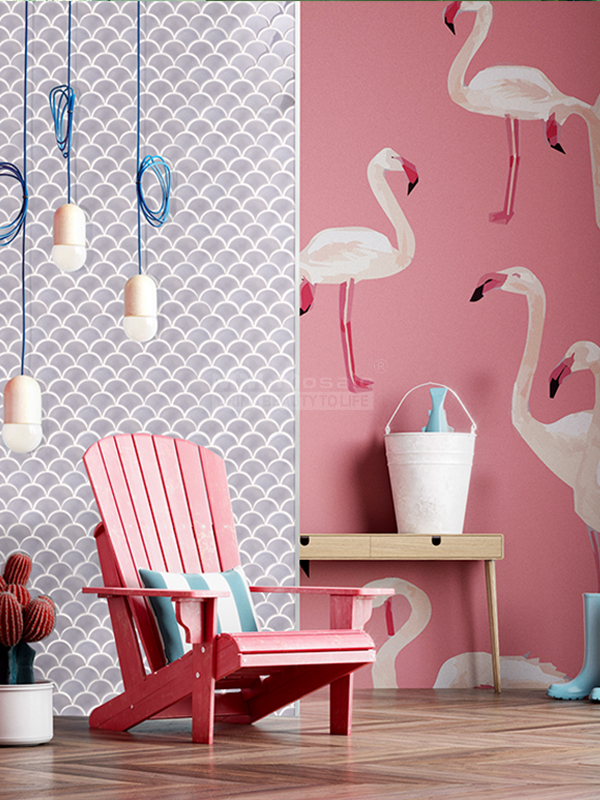 Featured Product: Crackle Fish Scale CZB319X
4 Tiled Home Bar
Black glaze mosaic tile alone can be a statement piece, but including other neutral colors adds a touch of flare. This black tone bar accent wall tile is a perfect example of how black tile and white grout lines can turn a simple wall into a work of art. The unique combination of black Fish Scale tiles and white grout line amps up the whole design and visual feel. Note the natural wood open shelf with the bar accent wall. Doesn't this wood element balance the overall design?
For bar project inspiration, visit our blog "Get Points: 7 Attractive Bar Wall Tiles Inspirations"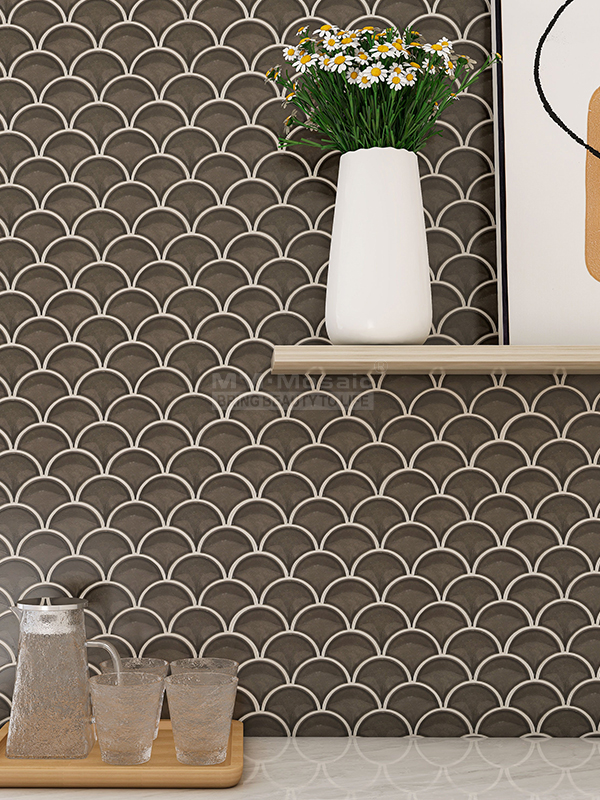 Featured Product: Fish Scale ZGA2901
5 Refreshing Countertop
How do add interesting things to the table countertop? Simplicity at its finest! The first way you can transform the countertop with green tile is by keeping things refreshing and attractive by sticking to one solid hue glaze color. The second way is you can add a unique ice crackle pattern to the tile surface and choose a geometric tile shape such as Fish Scales to bring some personality as well as decorate with pops of tile finish design.
For more details of this project, visit our blog "How Mosaic Goes From Bathroom To Bar Counter"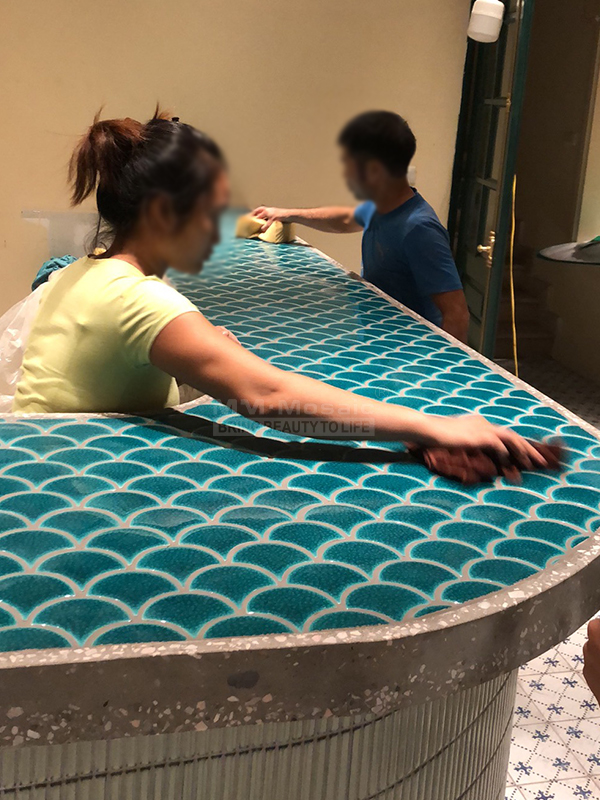 Featured Product: Heavy Crackle Fish Scale CZB621X
6 Dream Kitchen Backsplash
Going dream blue tone with your Moroccan Fish Scales is a perfect way to provide a subtle backdrop to your kitchen when improving the overall design. These famous blue fish scales have a glossy surface that assesses the light beautifully, particularly in a kitchen backsplash or bathroom wall.
For more kitchen backsplash inspirations, browse our blog "Trends: 14+ Minimalist Kitchens to Inspire Your Next Project"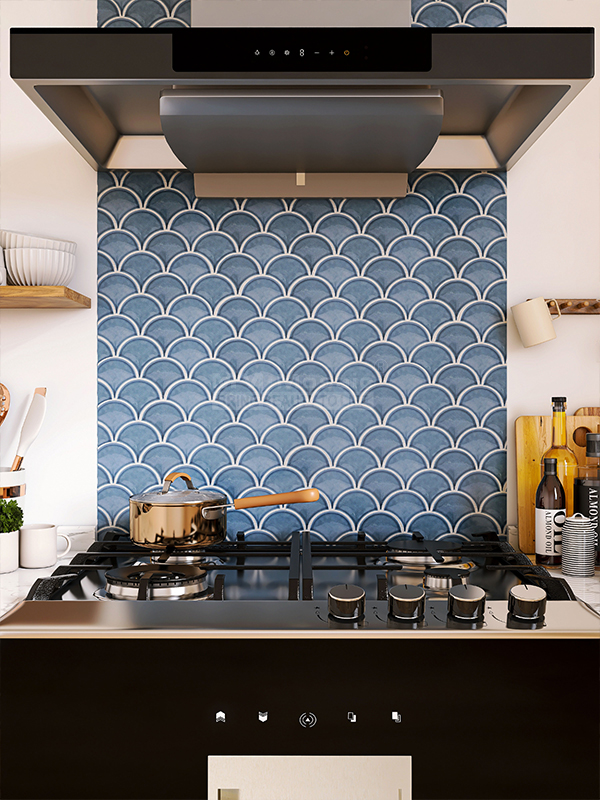 Featured Product: Fish Scale ZGA2602
7 Chic Sapphire!
Who says you can't pave your bathroom vanity wall with sapphire? These dreamy blue fish scales are the ideal centerpiece for this adorable bathroom wall decor. Going with a bold design for your private bathroom space is a perfect way to keep it looking dreamy without going over the top. We love homeowners opt for a natural wood washstand to tie the whole bathroom. Like the below shown:
For more blue tone interior design inspiration, check out our blog "11+ Mosaic Tiles To Bring Pantone's Classic Blue Into Your Space"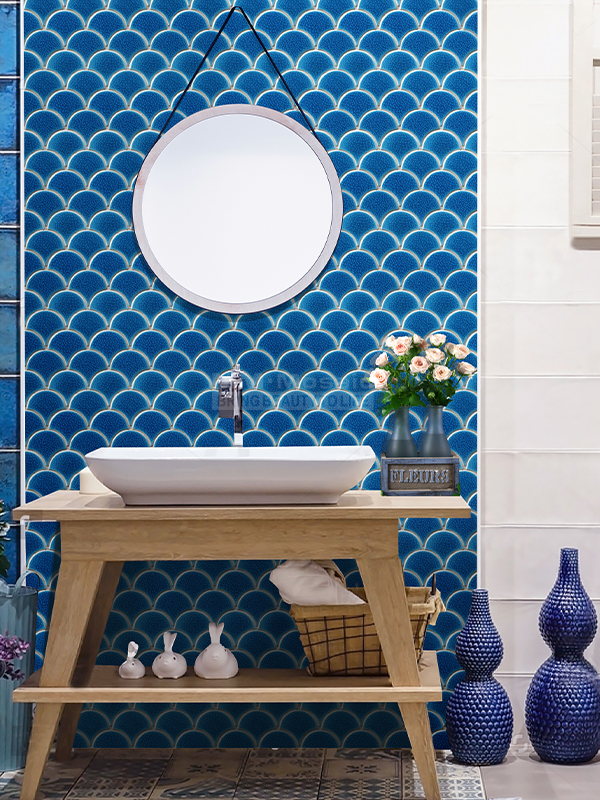 Featured Product: Heavy Crackle Fish Scale ZOB2603
8 Mint Ombre
While most designers think to use pops of glaze colors for the bathroom, mint is a great way to keep things eye-catching and breezy. This mint Fish Scales bathroom wall piece proves that a mint tone goes a long way with tile, and the fan shape is just as worthy as any other.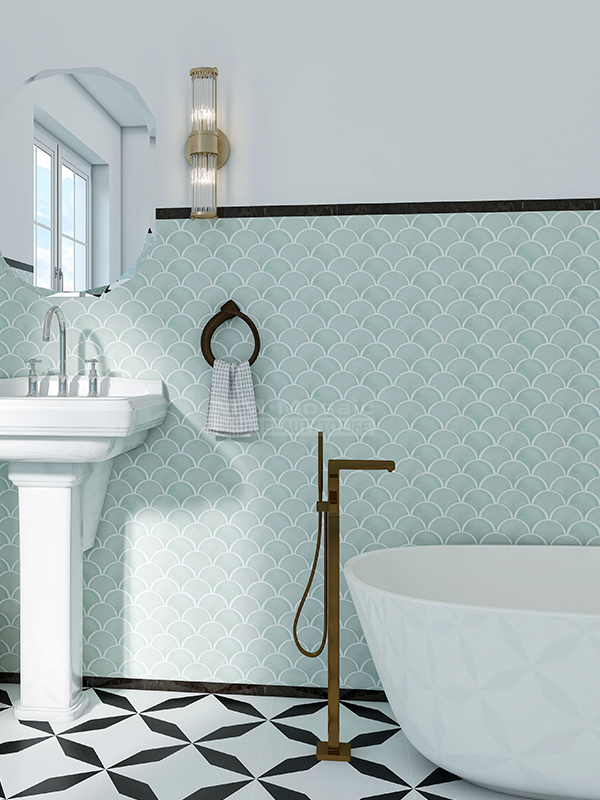 Featured Product: Fish Scale ZGA2601
9 Fresh Backyard Pond Wall
There is a reason to choose green - you know it will never get old! But just because something is all-green, doesn't mean it needs to lack in personality. One of our favorite tile shape options for an outdoor pond design is Fish Scale. This tile shape has stood the test of time and brings an instant fresh and cozy feel to any space. Our Fish Scales are not only perfect for any interior space project, but also ideal for swimming pools, spas, or backyard ponds.
For more funny tile shapes, visit our blog "Kit Kat Tile: 6 Palettes to Rock the Look"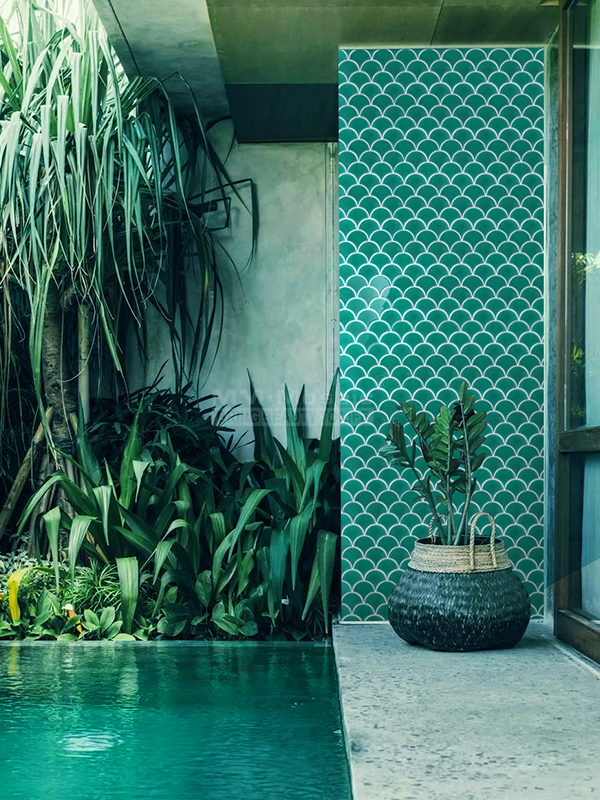 Featured Product: Crackle Fish Scale CZB718X
10 Deep Blue Fish Scale Tiled Cafe Shop
This charming backsplash can be found in Vietnam. The sophisticated deep blue tones of our fan shape tile worked perfectly with their design inspiration for the space. According to the talented photographer, our client Mike, their color palette was inspired by the open ocean. We are so excited that tile can bring a story, concept, and place.
Loving these projects? For more details here "How Moroccan Fish Scale Plays With 6 Commercial Space"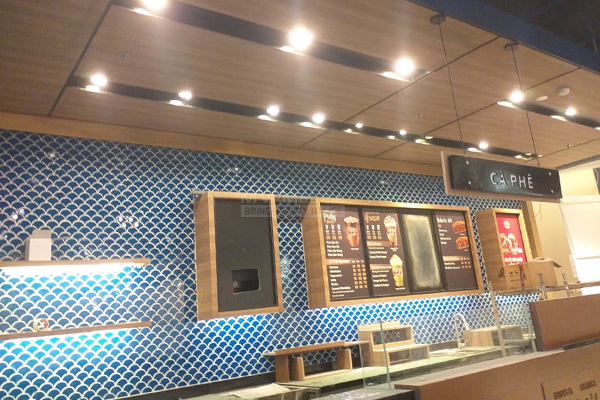 Featured Product: Crackle Fish Scale CZB613X
Get Inspired?
Moroccan Fish Scale tile is just as timeless! Sometimes a unique tile shape is all you need to thoroughly change a style. For the above inspirations, fan shape tiles are perfect for any space, and they become masterpieces! Ordering Fish Scale Tile samples to see and touch right now, you might fall in love with them. MM-Mosaic is excited to hear your ideas for the future project!