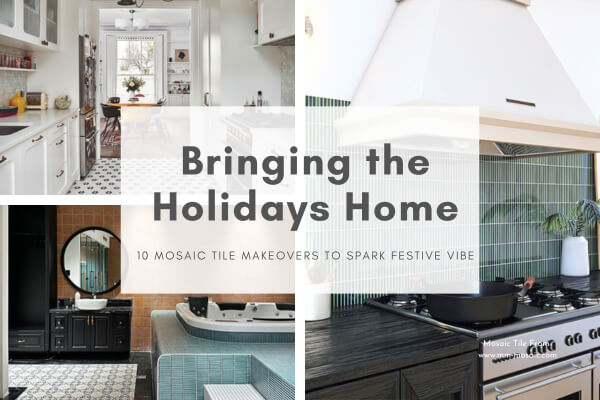 As the holiday season approaches, what better way to prepare your home for festivities than with creative mosaic tile projects? From a cheerful yellow herringbone backsplash that sets the holiday mood to a welcoming Denim Blend island backsplash for hosting guests, we've got your vacation home transformation covered. So get ready for an enchanting journey that adds an extra touch of magic to your holiday celebrations.
#1 Yellow Herringbone Backsplash
Transform your kitchen into a lively countryside retreat by adorning it with a vibrant yellow herringbone tile backsplash. The lively and rich tones that characterize this design conjure images of cozy mountain cabins, providing the ideal backdrop for your festive feasts and gatherings. The warm and inviting ambiance it creates will surely enhance the holiday spirit in your home.
For more herringbone tiles here!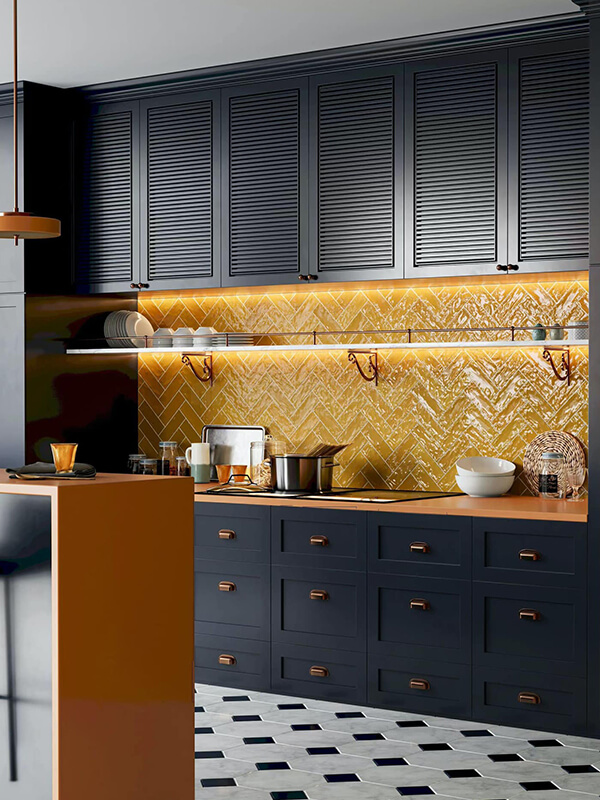 Featured Product: 65*200mm Wavy Handmade Tile ZGL7501
#2 Emerald Green Walls
Enhance the ambiance of your entryway by adorning the walls with emerald green leaf-shaped tiles, infusing an aura of natural elegance into the space. The lush greenery that envelops these exquisite tiles creates a striking focal point, offering a splendid tribute to the opulence and vibrancy of the season. As you step inside, this vibrant display welcomes you with a touch of nature's grace and the spirit of the season.
For more leaf-shape tile project ideas, visit our blog "Project | Tranquil Dark Green Leaves At Cafe Shop Entrance"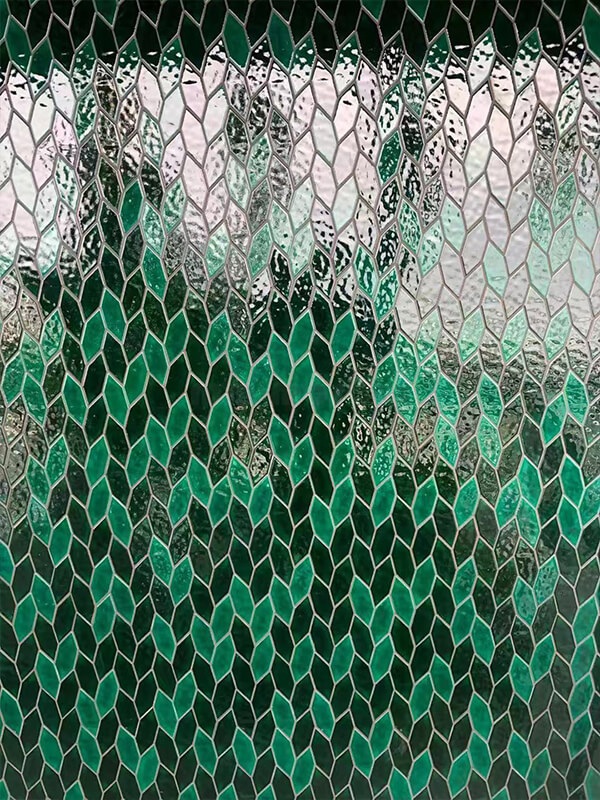 Featured Product: Picket Leaf Shape ZBC5001
#3 Coastal Fish Scale Cafe Backsplash
Transform your café shop into a coastal holiday retreat with the enchanting allure of the ice crackle pattern, transitioning gracefully from deep blue to pristine white Moroccan fish scale tiles. The captivating gradient effect orchestrates a serene and tranquil atmosphere, evoking the soothing essence of a winter escape by the seaside. As your patrons step inside, they are greeted by the gentle ambiance reminiscent of a serene winter coastal getaway, where the world's worries melt away.
Look for fish scale tile here!
For more details on this cafe shop remodel, visit our blog "Project | Voguish Mosaic Designs Inspired By Vietnam Store"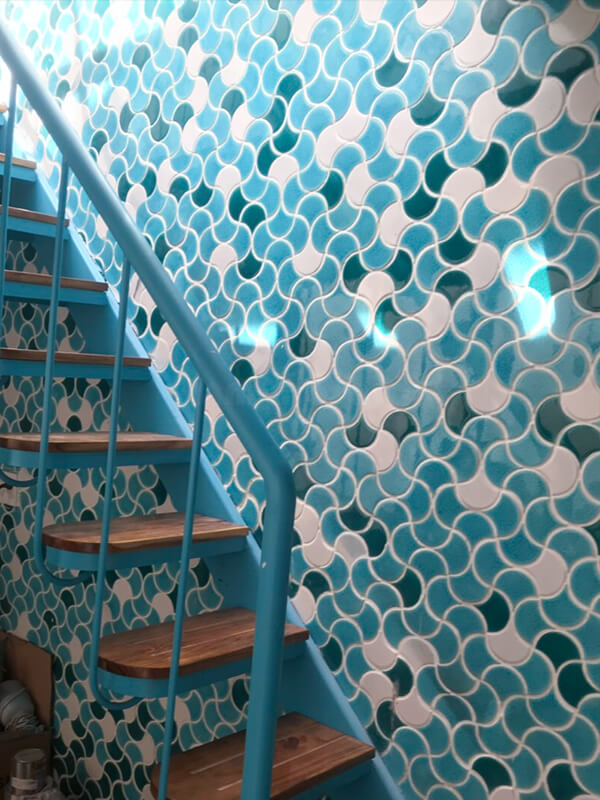 #4 Winter Diamond Kitchen Backsplash
If you're a passionate and romantic chef, picture your kitchen as a culinary sanctuary adorned with kiln-fired gray diamond tiles. This unique blend evokes the essence of a snowy landscape, which is why we've affectionately named it "Winter Diamond."
This elegant and refined design adds an exquisite touch to your kitchen, akin to the picturesque scenery of a serene winter's day. The cool and cozy gray hues of these diamond tiles come together to create a sense of timeless sophistication. As you prepare for your holiday feasts, you'll find yourself immersed in the festive spirit while surrounded by the charm of these Winter Diamond tiles.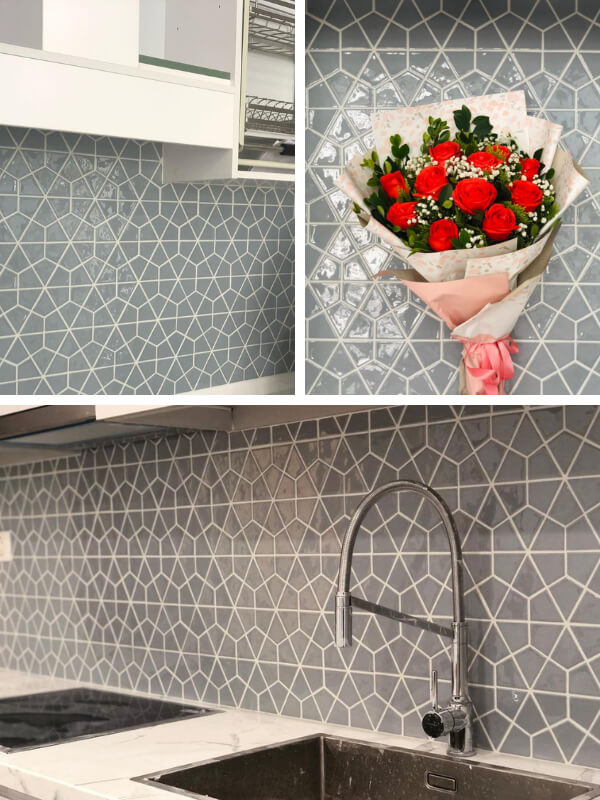 #5 Dark Green Backsplash with Kit Kat Tile
Create a lush and natural ambiance in your kitchen by incorporating dark green kit kat tile for your backsplash. This kit kat tile infuses an air of sophistication, making it the perfect canvas for crafting your holiday culinary masterpieces.
The deep green tones of these tiles are reminiscent of the bountiful greens of the season. They evoke the rich and welcoming atmosphere of a countryside retreat, transporting you to a festive haven right in your own kitchen. Whether you're whipping up traditional holiday dishes or experimenting with new recipes, the dark green kit kat tile provides a backdrop that not only complements your culinary creations but also elevates the overall holiday experience in your home.
For more emerald green kit kat tiled projects, visit our blog "Kit Kat Tile for Office Leisure Space"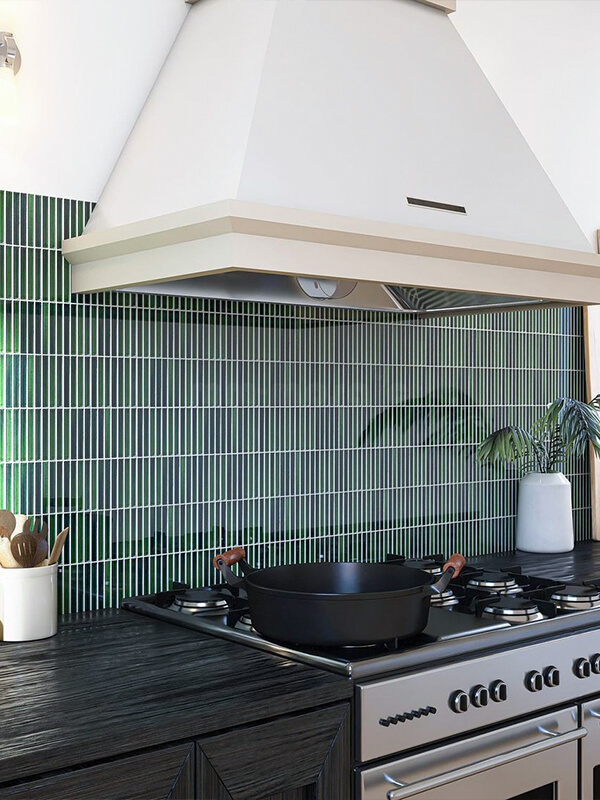 Featured Product: 12*92mm Finger Kitkat Dark Green ZOB1728
#6 Earthy Tone Scallop Tile as Backsplash
Transform your at-home cooking into a festive delight with our retro-inspired open kitchen. At the heart of this charming space is the understated scallop tile in deep brown, a perfect complement to the autumn and winter ambiance. This unique design channels a sense of nostalgia and tranquility, setting the perfect holiday spirit for your culinary endeavors.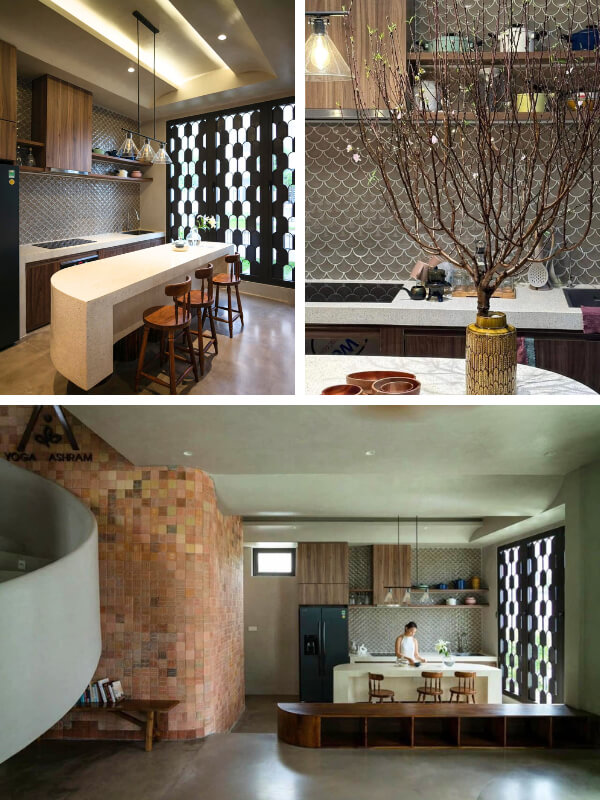 Featured Product: Fish Scale Grey ZGA2304
The deep brown of these scallop tiles is reminiscent of the earthy hues of the season. It radiates warmth and comfort, creating a cozy atmosphere that makes you feel like you're in the heart of a charming countryside kitchen. Cooking for the holidays becomes a joyous affair as you work amidst this tastefully retro design, providing you with the perfect environment to craft those festive culinary delights. Whether you're preparing a classic holiday roast or trying out innovative recipes, the scallop tiles in deep brown add an extra layer of charm and character to your kitchen, making your holiday feasts truly special.
For more ways to Autumnal atmosphere interior design, visit our blog "10 Autumn Vibe Handmade Tiles to Inspired Your Space"
#7 Festive Fall Terracotta Bathroom Wall
Imagine stepping into your bathroom, beautifully adorned with these terracotta square tiles. The rich, earthy hues evoke a sense of comfort and nostalgia, reminiscent of festive gatherings and holiday traditions. The terracotta tiles create a welcoming ambiance that makes your bathroom an inviting oasis for relaxation and self-care during the bustling holiday season.
Find out Terracotta tile style with our blog "Earthy Warmth & Rustic Charm: Terracotta Subway Tile"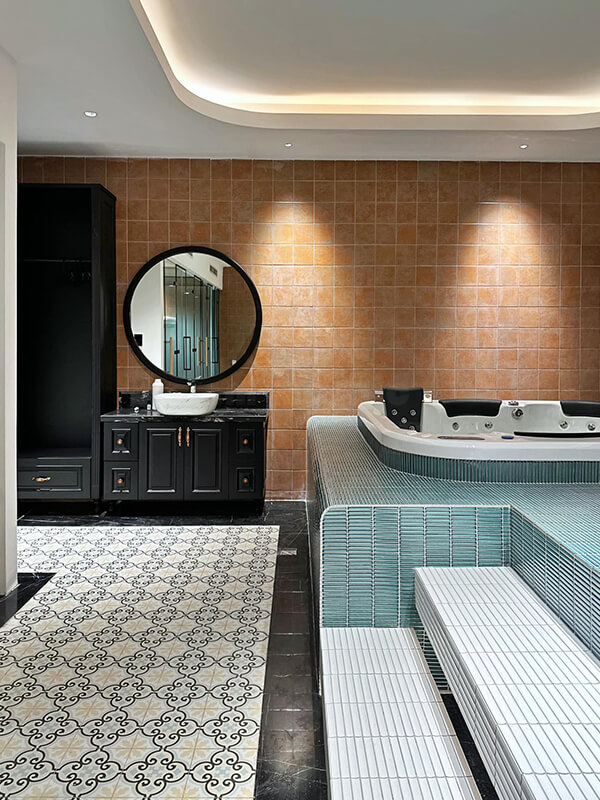 #8 Denim Blue Fish Scale Tile Backsplash
Not only does this denim blue fish scale tile backsplash contribute to the visual appeal of your kitchen, but it also sets the stage for a productive holiday season. It's the ideal backdrop to showcase your culinary skills and share the joy of the holidays through the delightful dishes you prepare.
By incorporating this elegant backsplash into your kitchen, you're creating an atmosphere of warmth, creativity, and holiday cheer. The deep blue tones infuse the space with a sense of coziness, making your kitchen the heart of your home during the holiday season. With this backdrop, your holiday culinary endeavors will shine even brighter, making every meal a special occasion.
For more fish scale tile projects, visit our blog "Fish Scale Project: Blends or Homochromy"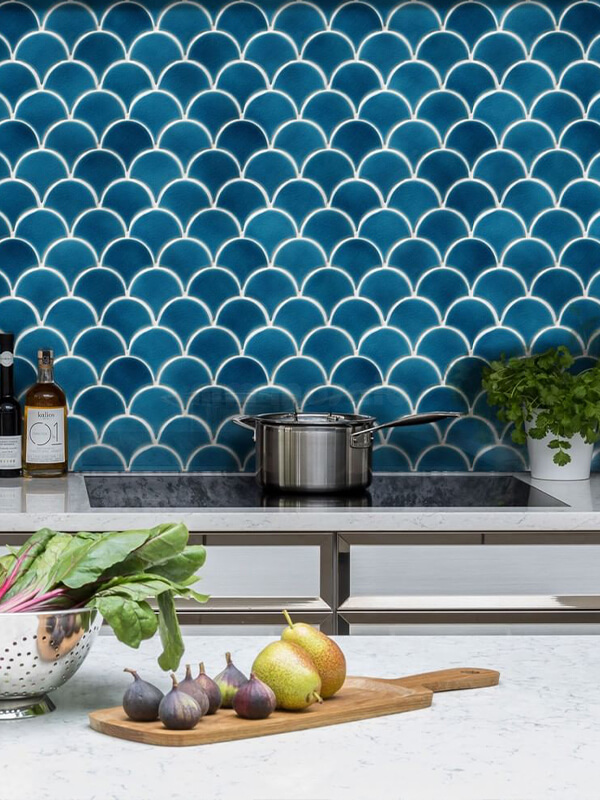 #9 Black and White Flower Pattern Hexagons
Your craftsman bungalow kitchen, adorned with the black and white flower pattern hexagon mosaic tile, becomes a hub of activity and celebration during the holiday season. Whether you're preparing a traditional holiday feast or experimenting with new recipes, this backsplash will be your trusty companion, lending an air of sophistication to your culinary endeavors.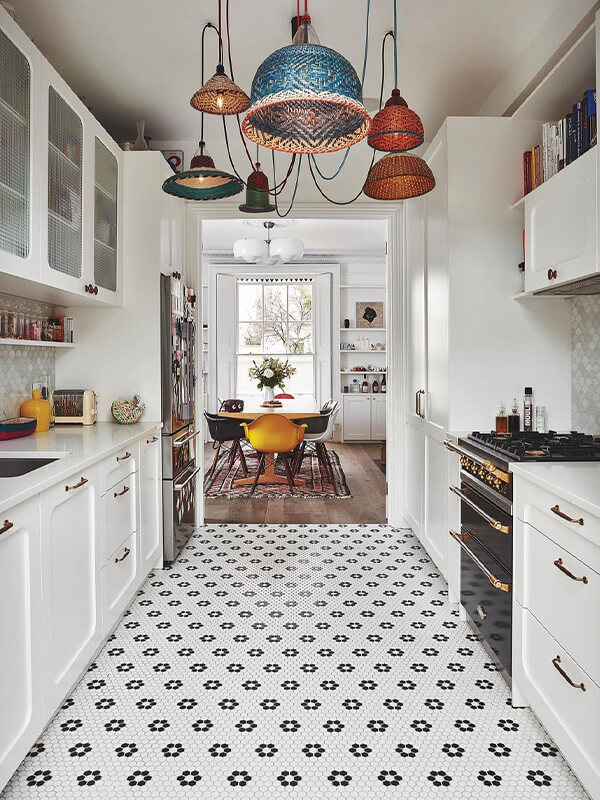 Featured Product: 1" Hexagon ceramic mosaic tile CZG053Y
Incorporate this exquisite backsplash into your craftsman bungalow kitchen decor and celebrate the holidays in style. It's more than just a tile; it's a conversation starter, a design statement, and the heart of your home's festive spirit. Embrace the past while making new memories in a kitchen that's as timeless as it is inviting.
For more black and white hexagon tile ideas, visit our blog "6 Black and White Hexagon Projects to Inspire You"
#10 Denim Blend Island Backsplash
After a day filled with festive preparations, there's no better way to unwind than in your kitchen, complemented by the Denim Blend kit kat tile. Invite friends to join you for a drink and relish in the comfort and style of your surroundings. The backsplash, inspired by the timeless appeal of denim, becomes the perfect backdrop for creating memories, sharing stories, and savoring the joy of the holiday season.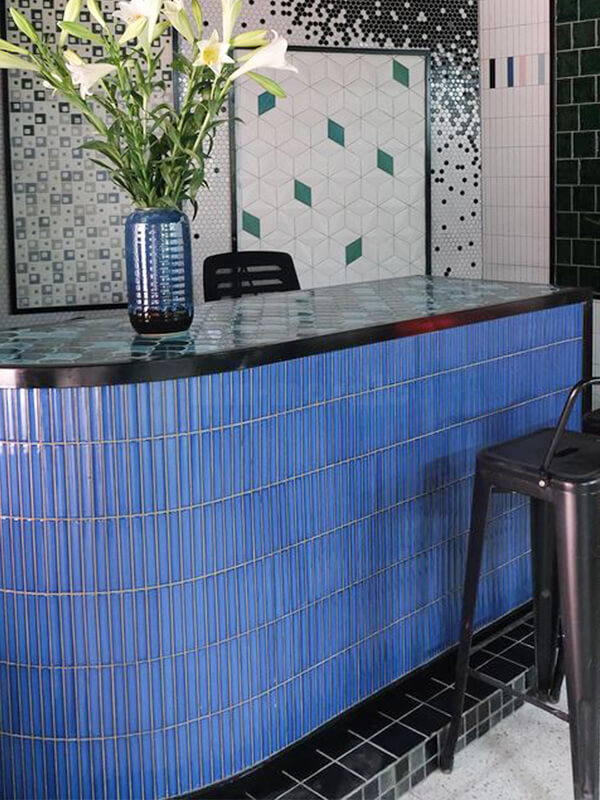 Featured Product: 20*145mm dark blue ceramic kit kat tile
The Denim Blend kit kat tile offers a harmonious mix of denim-inspired hues that captivate the senses. It's as if you're stepping into a world where the rugged charm of denim meets the elegance of design. The varying shades of blue create a dynamic visual experience, reminiscent of the many shades and textures found in your favorite pair of jeans. It's an invitation to relax and enjoy the holiday season with a sense of style and comfort.
To see more island backsplash ideas, visit our blog "9 Island Backsplash Ideas with Kit Kat Tiles"
These tile projects are more than just home renovations; they are stories written in tile, narratives woven into your living space, and chapters that you create. Your holiday home is your canvas, and with our tiles, you can paint a picture of festive warmth, tranquility, and style.
As a 17-year-experienced mosaic tile factory, MM-Mosaic welcomes you to explore these tile possibilities. Request samples, and let's transform your holiday haven into a place where memories are made. Let the magic of the season come alive in your beautifully tiled home. Happy Holidays! Contact us to order tile samples to see and touch right now!