Flower design tiles are one of the most popular tile pattern in many residential and commercial decoration project, which works perfect to add big features and style to any spaces. It is a great pick to create an artistic and classic look that are universally loved. While today we are excited to share our newest design on flower tile patterns, which is inspired from the natural daisy flower, with endless pureness and elegance. Read on and see how fascinating the new pattern is and find ways to use this product to make your space shine!
Daisy Flower Design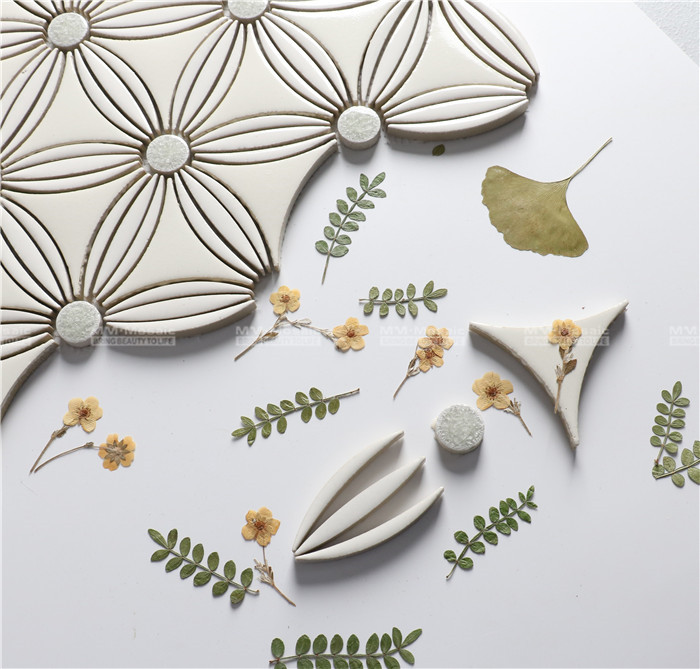 Featured product: daisy flower mosaic tile ZOE3902
As you can see, this new product comes in a pattern looks like a daisy flower, which is composed of more than 3 shapes, to achieve this beautiful pattern. The flower heart is made up of a small penny round chip, which features a glazed ice-crackle finish that gives a delicate touch. And the leaf part consists of irregular triangle and strip, smooth and solid lines. The surface pattern is made of premium porcelain material, which is highly durable and long lifespan, low water absorption rate that is workable in wet areas like bathroom and shower space. It has high-gloss finish, this will makes your cleaning work easier. The tile white color can fit different interior styles, bringing a touch of elegance and never go outdated.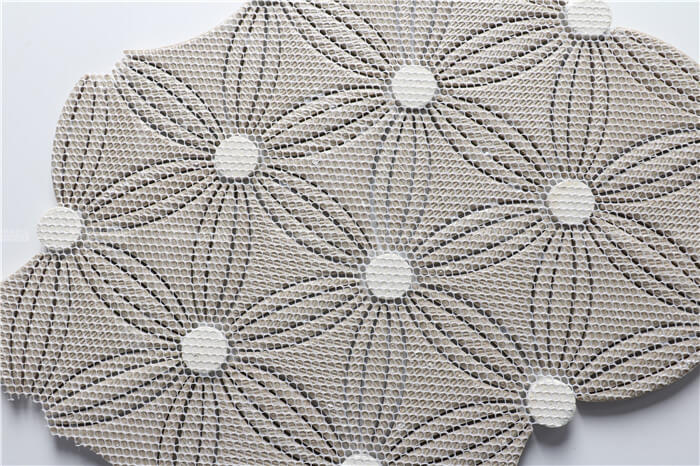 Mesh mounted on back, make your installation much more simpler.
Following are some wonderful projects cases that can prove this daisy flower mosaic tile will go a long way and stand the test of time, see how they spruce up your home.
1. An Exclusive Backsplash for Kitchen
Mosaic tiles are always trendy for kitchen backsplash remodel, if you are tired of traditional white subway tiles, why not choose this lovely daisy flower pattern. Like the kitchen space below, the daisy flower ceramic mosaic tile backsplash has become the focal point in the space, it easily catch people's eyes even you just tiling a small area with this tile. It is paired perfectly with the white cabinets, wooden countertop and black-white tiling floor, structuring a modern and cozy room for you. If you are a coffee lover, you must fall in love with this coffee nook and will have a great time in every coffee time, right?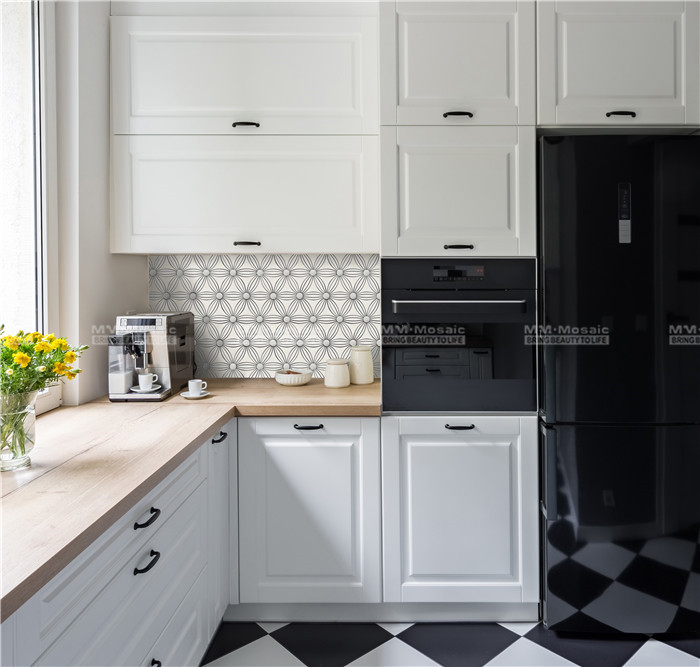 Find more backsplash accen tile ideas with our blog " 8 Top Recommended Kitchen Tile Backsplash Ideas " >>
2. A Modern Shower Area
We are huge believers in this shower design below! Using lots of dark greens and whites builds a fantastic modern shower space, the saturated deep greens contrasted with the bright white space is both eye-catching and sophisticated at the same time, you would like to sing aloud at each bath time. The wall background design is absolutely striking, all furniture comes in simple lines for minimalist style, and the daisy flower tiling half wall add characters and liven up this entire bathroom. Note that you don't have to tiling the whole wall, a half-height tiling wall is always a great choice if you're looking to use less tile. It looks fancy and adds timeless beauty to any spaces.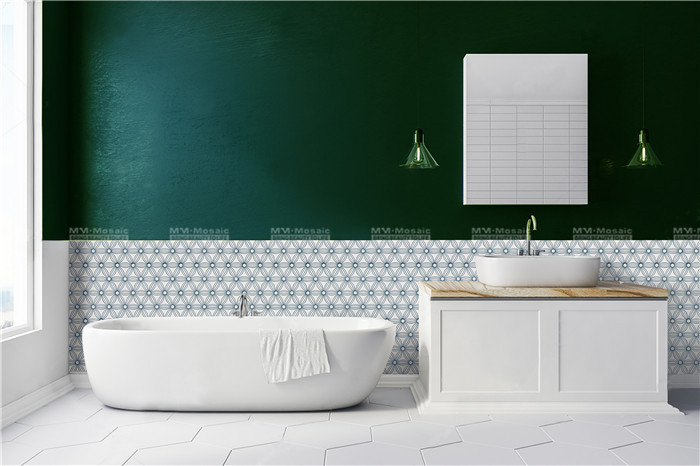 Find more shower space ideas with our blog " Get Point: Why This 14 Outdoor Shower Ideas Will Change Your Life? " >>
3. A Comfortable Living Room
Ready to remodel your living room? If your living room is large enough and want something different, you would like the project below. We adore simple style for our trendy living room statement, and the case below did not disappoint us. The feature wall done with concrete and daisy flower porcelain mosaic makes a statement to the room. The mix of industrial style and chic style creates a unique look, while it doesn't feel strange. Never wrong to keep your living room minimalist and clean, which makes you comfortable and relaxed, more important, it will make a great impression to your guest.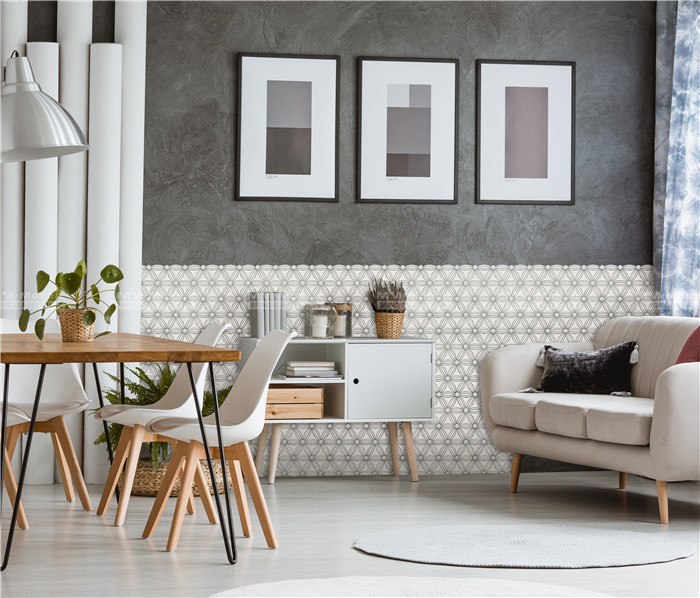 Find more living space ideas with mosaic tile, to see our blog " 8 Shocking Ways That Mosaic Tiles Will Make Your Living Better " >>
If you have got inspiration from the above projects with our daisy flower mosaic tiles, and want to take it into your next interior design project, please feel free to contact us. This surface pattern provides 2 optional colors in neutral tone, sample can be sent to you for quality check.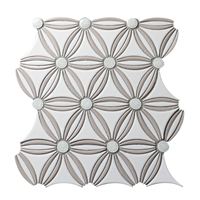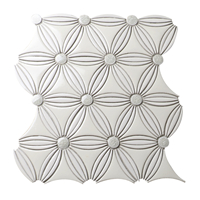 MM-Mosaic is specialized in supplying high quality porcelain mosaic wholesale tiles for over 10 years, we have cooperated with many distributors, retailers, wholesaler, interior designers ans architects with consideration service and quality products. We are looking forward to hear from you now!