Longer daytime and warmer nights are perfect for entertaining and relaxing in your own house interior space. But if your kitchen cabinetry, living room furniture, or bathroom mirror does not feel very inviting, it might be time to invest in appealing wall decor. Furthermore, the attractive wall tiles for your interior space can make time spent at home more enjoyable. So whether you are you going to decorating your house or just simply renovating a space, these ideas will help you make the most of our latest wall tiles:
1. Always Make an Open Kitchen
This is our number one piece of advice for any tiled kitchen - install an open kitchen space! It not only lets you show off your beautiful backsplash tile, but it makes your entire space look brighter and larger. Not only that, but it's easier to maintain than an enclosed kitchen, for example, you can change your old cabinetry or refrigerator easily due to having a larger space to move. And do we need to go on? We believe it's more of a commitment, but it's really so worth it! Your chic diamond tile will thank you!
Know more about kitchen backsplash design ideas with this project: Creative Vietnamese Backsplash Inspired By Shield Shape Mosaic >>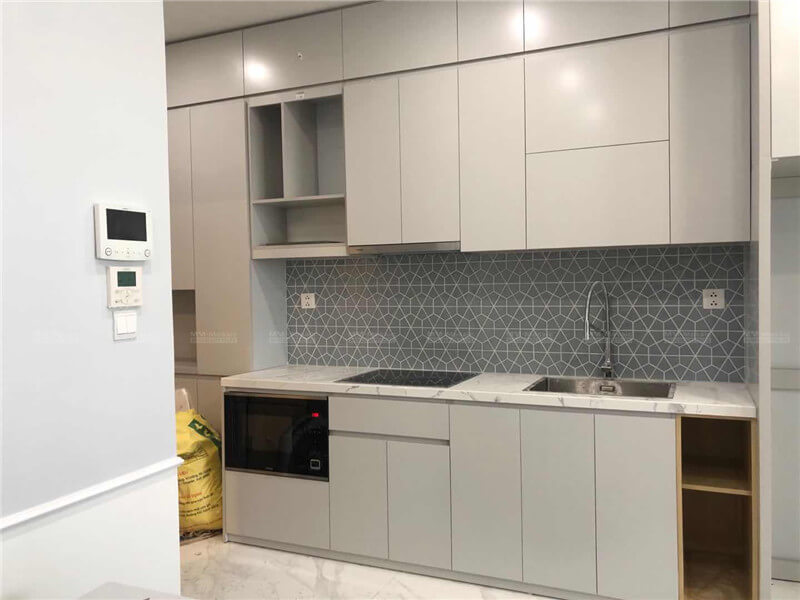 2. Follow a Style or Tone
Making most of the diamond tile and entirely remodel by following a style! Whether it's a style like vintage or bold or a tone like all blue - by styling the whole space corporately your backsplash tile will more attractive even brighter! One of the most popular tones with the backsplash? Neutral! Like this project show, we choose the gray tone diamond tiles, therefore we use the simple white cabinetry, marble countertop, and floor tiles to combine it!
Want more palette inspiration for your home? We've got many spaces! See more with our blog: 16+ Dark Green Palette Refreshes Your Space >>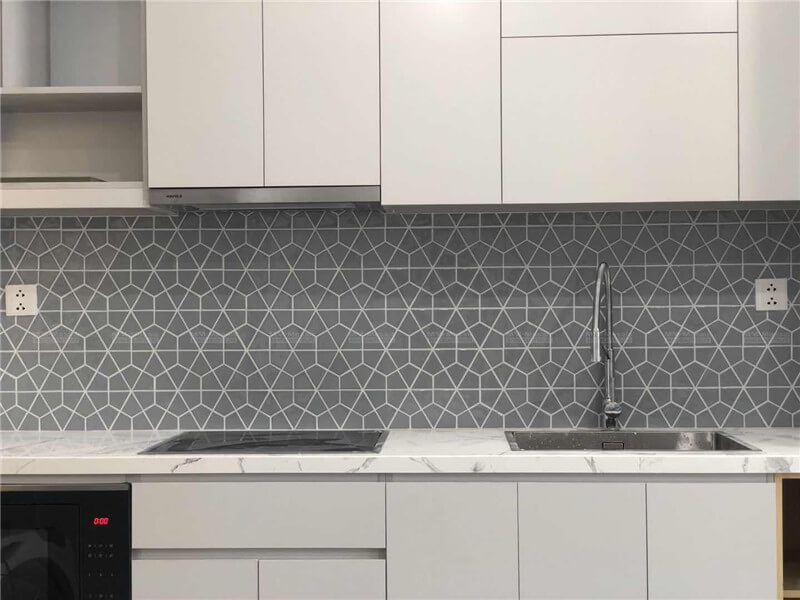 3. Let Your Tile Fashion
Searching for an easy way to make the most of the diamond tile? It doesn't get easier than this. Simply allow your kitchen space to be a blank board for the diamond tile to pop against. This looks marvelous in a bright tones kitchen, but any neutral like dark gray would do well!
For more ideas to redecorate your home at this summertime with our blog: 20+ Trend Home Decor Ideas That Wake Up Summer Time >>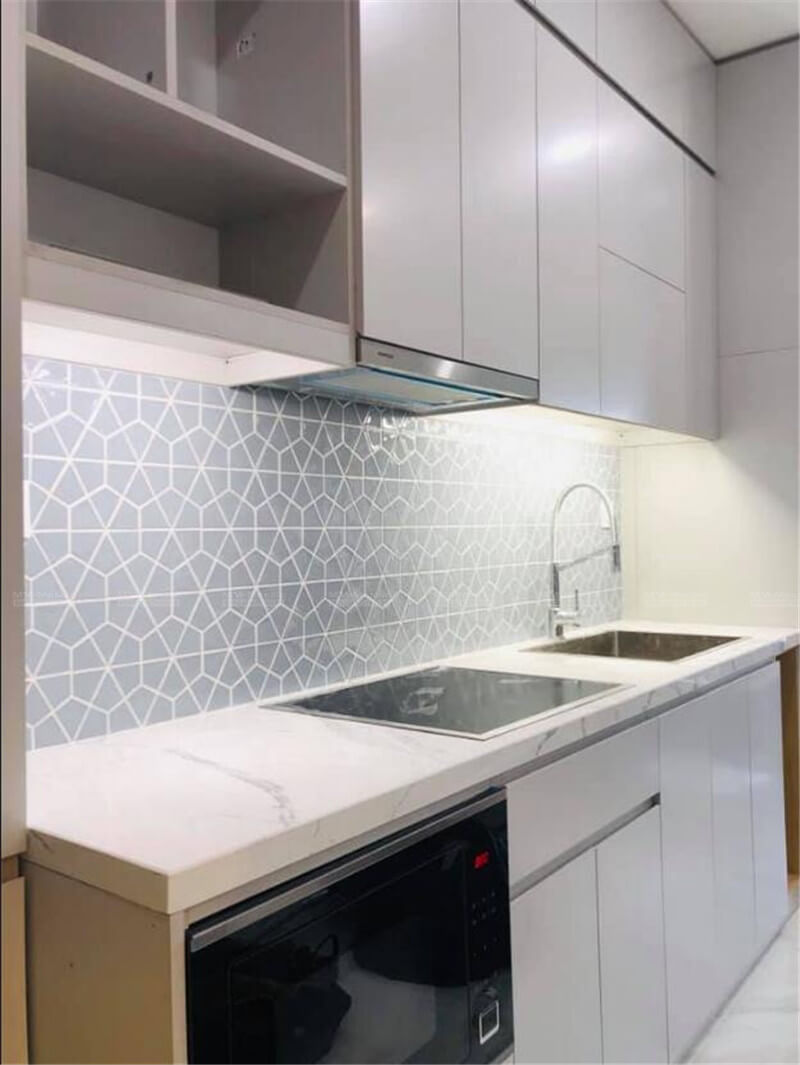 4. Consider Your Switch Socket Sizes
Might be you should take this important detail into consideration while installing a backsplash! Do you agree to leave any place for the plastic switch socket? When you may just be ready to be done with your renovation by the time you're considering the significant step, it's well worth your time! So whether you're well-designed or do something minimal like this project, we believe that have joy with this detail will make something different.
Like the gray coloring in the diamond tile below? That what we call glaze finish. See more beautiful glazes with our blog: Crystal Glazed Diamond Shape Porcelain Mosaic With Glazes >>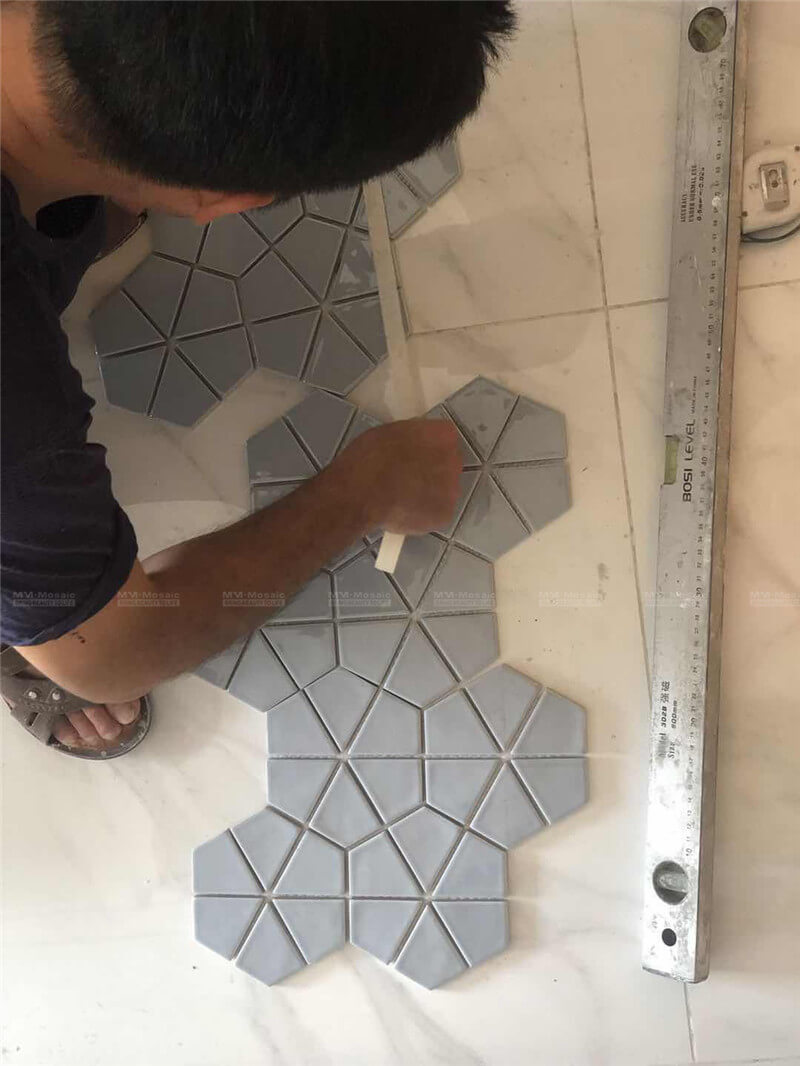 5. Let It Goes a Long Way
Sometimes all you need to make a statement is a simple minimalist white color palette. This classic blue cabinetry and large mirror are combining well with our white diamond tile! And we couldn't love it more. By the way, it's so functional to install our diamond tile in this space, it's convenient to clean and often makes a nice focal point for a bathroom.
Find more bathroom glaze ideas with our blog: How Green Glaze Plays in Cafe Shop and Rest Room >>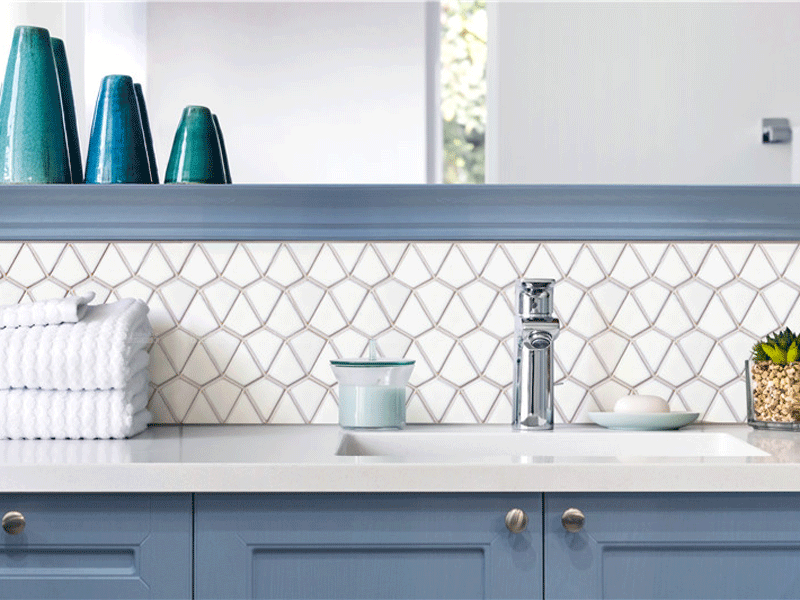 6. Installing Open Shelving
We support open shelving in today's kitchen design. Not only does it provide wonderful styling options for your home, but it's also a stunning idea to get the most out of the diamond backsplash. By installing open shelving with tile behind it, you make sure that whatever is displayed on the shelves will make an impression and look eye-catching with the diamond tile. This idea will also help open up your kitchen area creating more visual space and a modern aesthetic.
For more backsplash design inspirations with our blog: How Moroccan Fish Scale Plays With 6 Commercial Space >>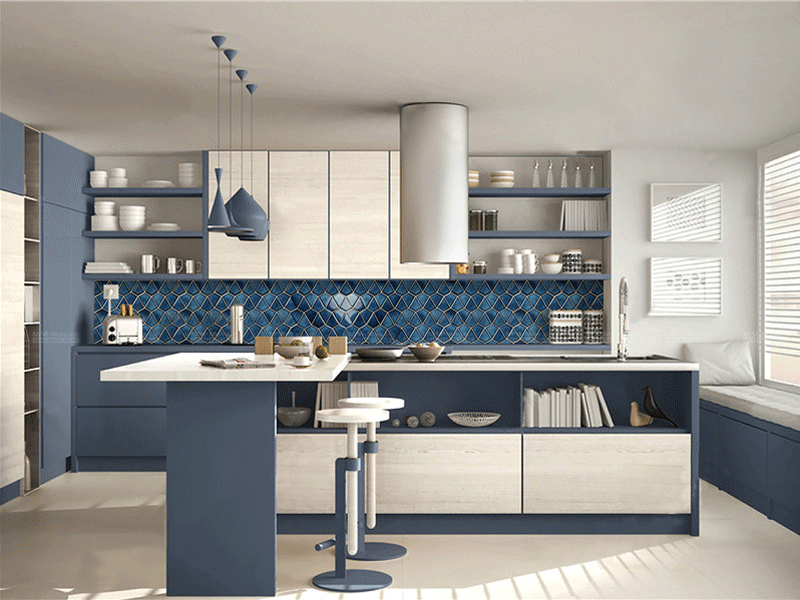 7. Match Colors
Design a room around a palette is a wonderful way to bring an awesome style to your renovation. Whether you're interested in one of our glaze colors or want us to match a tile color to your space's color, this design idea will make you look like an expert in the design world. It makes your tiles extend beyond the original boundary, link together the whole space for a memorable design.
Learn more about match color space with this project: Voguish Mosaic Designs Inspired By Vietnam Store >>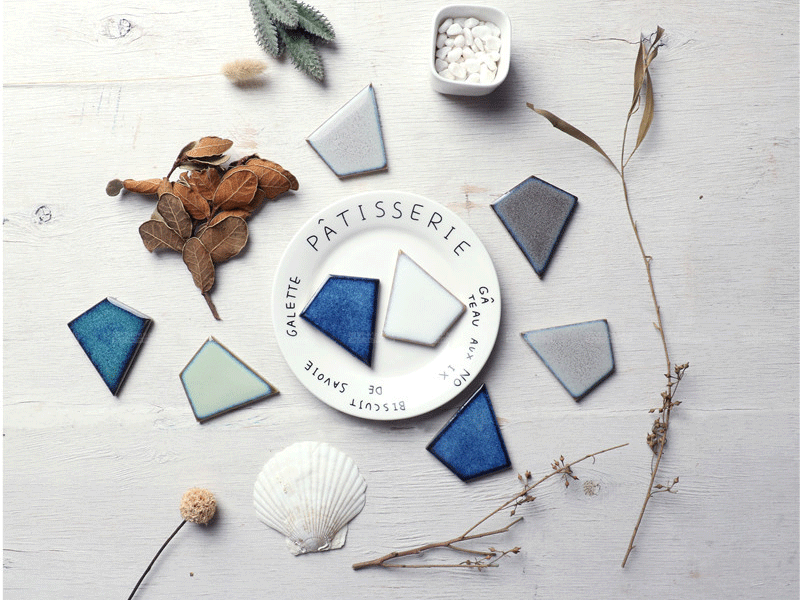 Do you love our diamond tiles? Why not contact us to order tile samples to see and touch in person. We believe that you will fall in love with our beautiful glazes! MM-Mosaic would also love to hear what inspires your future projects! Let's share more inspirations with us right now!
Any Ideas? Let's take a more trendy glazes home!