Someone might find that many of our tile colors can relate to various natural colors: sky blue, tree green, solid teak and so on. And you can imagine a beautiful picture with chic glazed colors. Therefore, we're always inspired by natural palette and we believe that porcelain mosaic tiles are great mediums to express anything that that nature has to offer in color. With hot summer right around the corner, we wanted to celebrate natural hues, but in classic MM-Mosaic palette series, we choose colors with a cool and fresh feeling.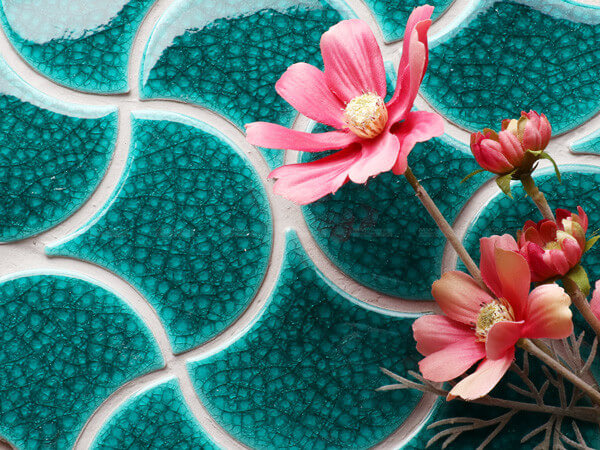 Here are 8 interior spaces we love with natural tone colors: vibrant green, cinereous, mint palette, cloud blue, ocean navy, and black. Each room features an ice-crackle glazed surface that is named after its ideas in the natural thing. Keep on reading and seeing how to welcome the summer season with refreshing tones!
Vibrant Green Coming
How pleasant that shaded yourself under a big green tree! There is nothing we look forward to more in hot summer than seeing a vibrant green meadow and many large trees around your home. It's time to check out our first color: chic green! If you've been attending to our tile glazed, you might see plenty of teal green palettes. This is a color that brings a cool and incomparable look that can attract various aesthetics.
Want to see more green inspirations? This blog might tell you more: Green Handmade Leaf Shape Mosaic Tiles Give Big Feature >>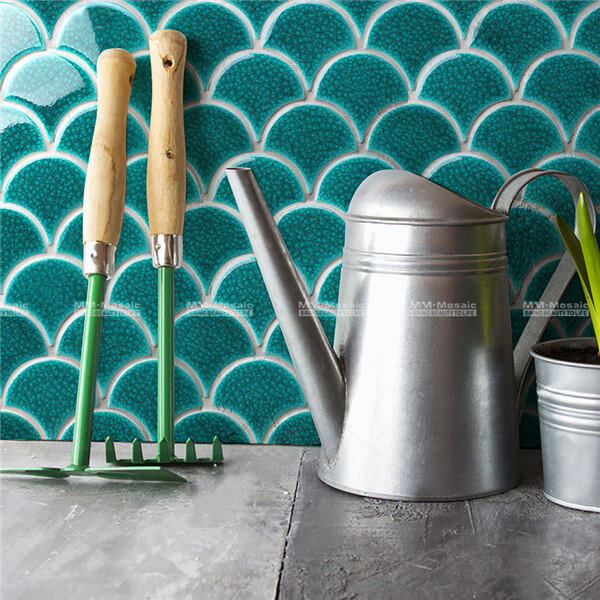 Featured Product: Heavy Crackle Fish Scale Porcelain Mosaic In Wave Pattern ZOB2703
Relaxing in Here
When you have enough space to work with, be bold with your color and shape choice, and choose a unique scallop shape. A bright color can increase character to your all-white bathroom and make it appear larger when a dynamic scallop shape might make your eye-catching staying longer on this feature wall. Leaving an organic edge at the top is better than cutting the border straight, and the scallop shape will create a wonderful and finished edge.
Love this unique fish scale shape? Browse our blog for another style Fish Scale: 5 Ways to Use Small Fish Scale in Home Decor >>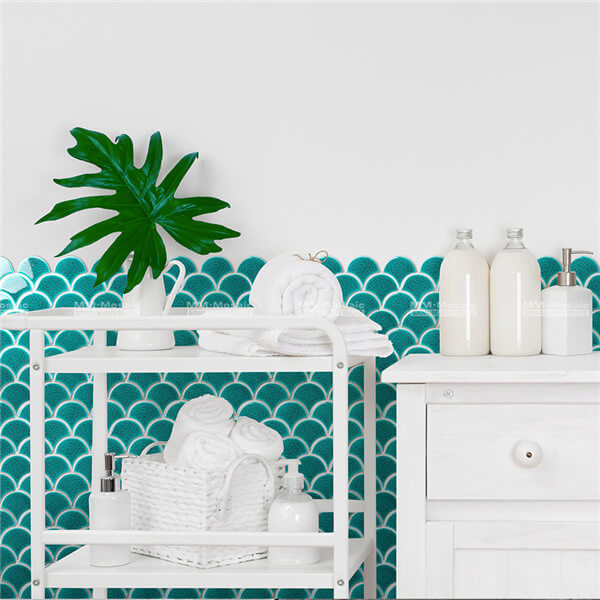 Lively Bathing Space
Wouldn't you feel invigorated just taking a bath in this beautifully vibrant bathroom? Seeing a fresh green fish scale while washing your face every morning is a nice thing. If you prefer to cutting the top edge of the tile and going for perfectionism, this bathroom might appeal to you. Rustic brass tones of light fitting, modern metal frame washstand, and green walls. These all work together to make a great space, refreshing bathroom in which to welcome every day.
Here're bling bling fish scale waiting for you: How About Mix Metallic Print with Moroccan Fish Scale Shape >>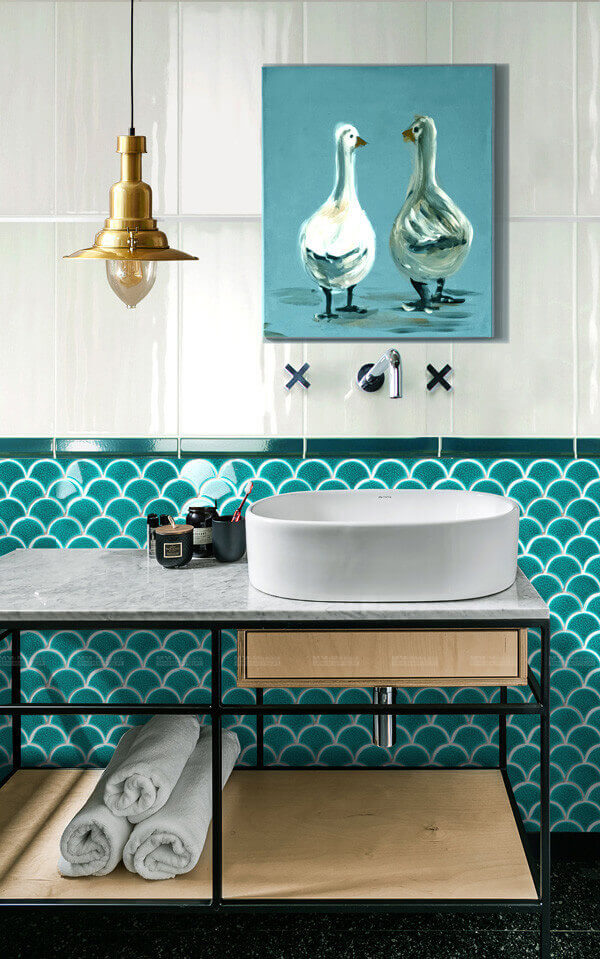 Go Refreshing and Green
The kitchen backsplash is one of the great places in the home to express colors, texture, and shape. Whether the tone of the fish scale is green, blue or steel gray and the possibilities are endless! If you mind overwhelming the kitchen with all green tones, your backsplash can be a good space to add a little green palette. Like that: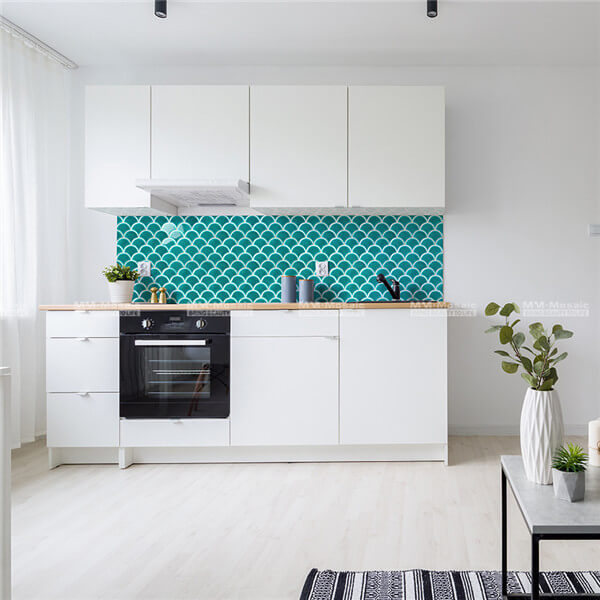 Be Modest with Gray
There's something about the palette gray that just express modest feeling. This minimalist tone gives us all the peaceful vibes of a summertime touching with the soil. With single ice-crackle texture, cool smooth touching and understated tone, the gray ceramic fish scale create a different vibe from vivid green for spaces.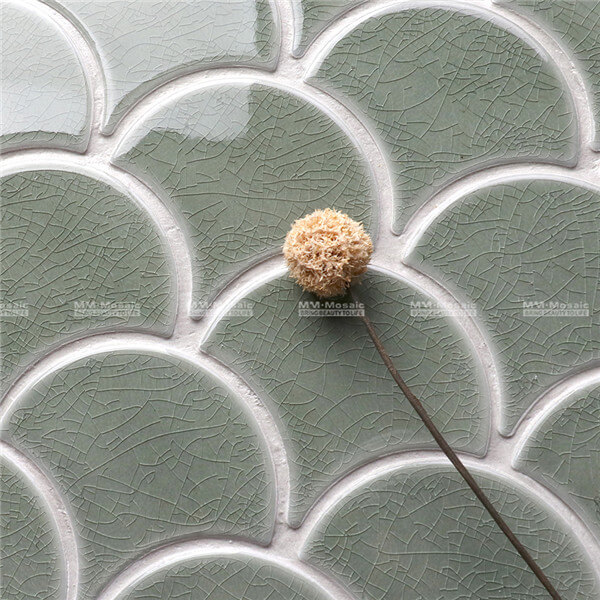 Feature Product: Ice Crackle Fish Scale Porcelain Mosaic In Wave Pattern ZOB2702
Create an Understated Back Splash
One of the best ways to mix your backsplash seamlessly with the whole look of your kitchen is to simply extend it and choose the similar palette. Natural wood furniture performs well with the understated gray color, and the two gray lampshades echo the overall design.
For more understated kitchen design, check out with our blog: Creative Vietnamese Backsplash Inspired By Shield Shape Mosaic >>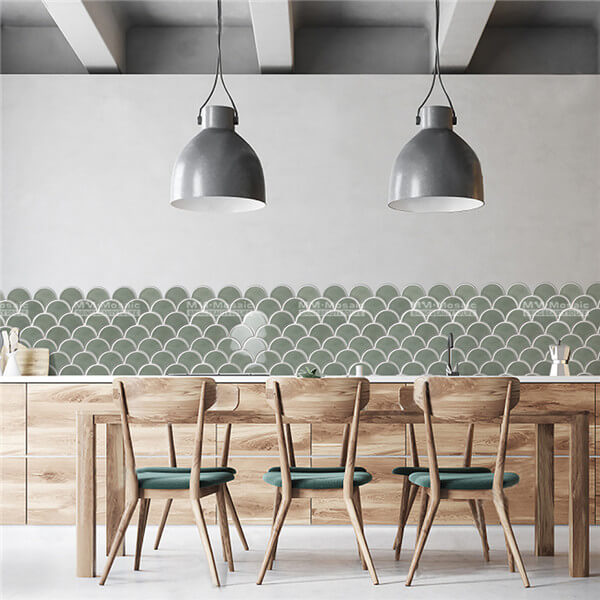 Obsess with Ocean Navy
We draw deep inspiration from the mysterious ocean, and what better shape to express this tone that Moroccan fish scale shape? Checking out this special heavy ice-crackle texture, glamour dark blue palette and flowing fish scale shape. One of the tile colors is called summer ocean, which we think is so appropriate for showing summertime that gives your space a natural and cool atmosphere.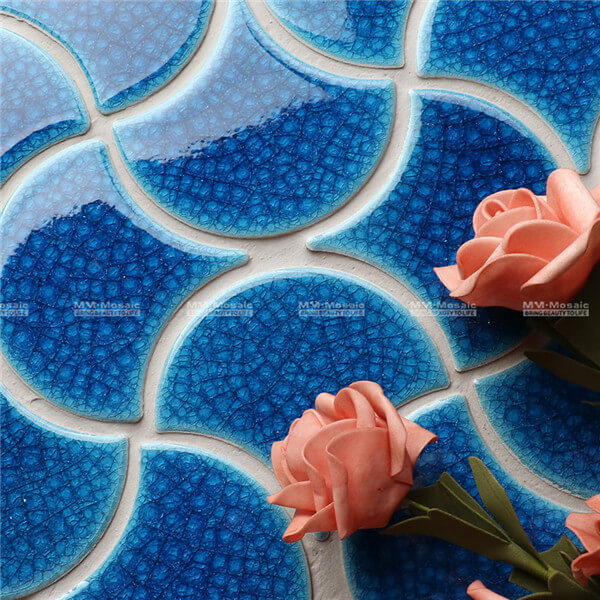 Featured Product: Heavy Crackle Fish Scale Porcelain Mosaic In Wave Pattern ZOB2603-B
Play with Ice Crackle Texture
Few people know that ice-crackle textures can play an important role in how bathrooms look to us and how we feel about them. The design ways in the shower are n different and, in fact, the bathroom wall gives us various opportunities to play with these ice-crackle finishes types than some other spaces. By partnering this Moroccan Fish Scale with the shower wall and wooden washstand, just like this room shows:
For more wave pattern fish scale ideas, visit our blog: 4+ Moroccan Fish Scale Interior Space Inspirations >>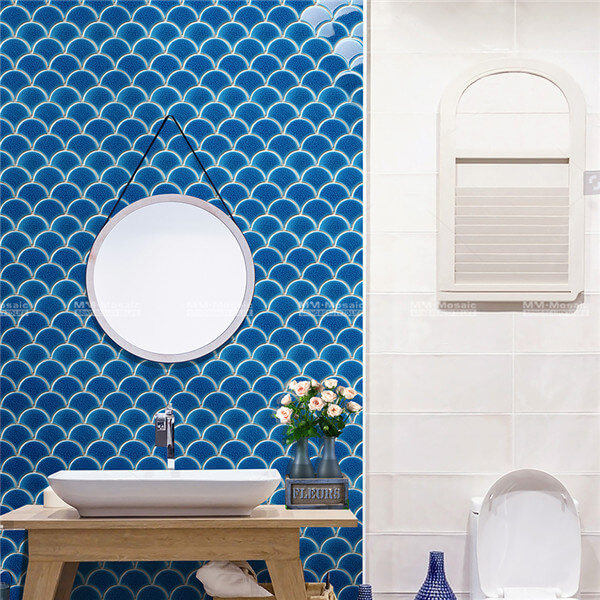 Classic Black Tones
Checking out this chic texture, all-black fish scale combines modern and classic features for a unique characteristic look. A beautiful smooth glazed surface and Moroccan style fan shape blend perfectly into the charming mosaic tile.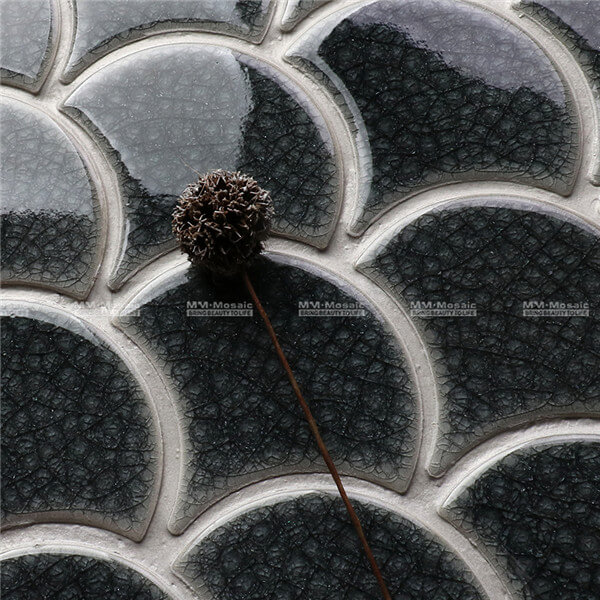 Featured Product: Heavy Crackle Fish Scale Porcelain Mosaic In Wave Pattern ZOB2301
Black Bathroom with Fish Scale
You can cut the monotonous walls with a heavy ice-crackle fish scale, as in the trendy bathroom by our designer. This reduces the overwhelming common concrete wall and gives the bathroom a characteristic style. Note the pure white big washbasin and silver fitting that's installed on the washstand, increasing the understated feeling.
More creative fish scale project, visit our blog: How Moroccan Fish Scale Plays With 6 Commercial Space >>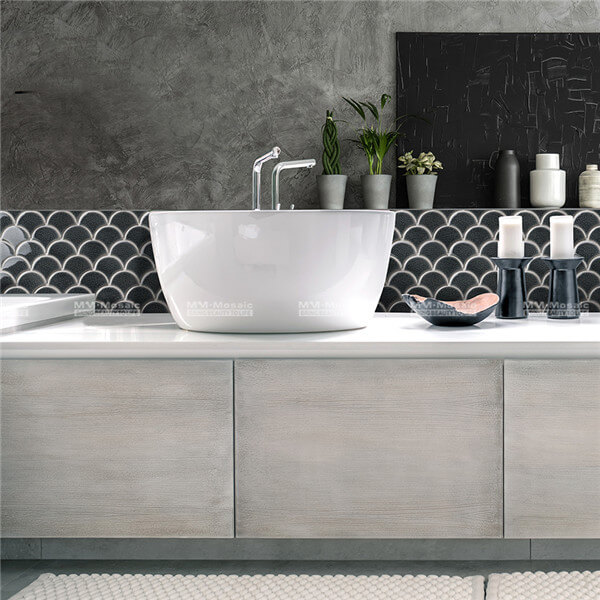 Mint is Cozy
We know everyone wants their kitchen space to be stylish and modern. This breezy mint green backsplash adds the perfect splash of the palette. By only installing the light green fish scale, the kitchen doesn't feel overly boring or simple. We all love this mint tone in the summertime, which really makes the whole space cooler.
Checking out for more fresh green hue spaces with our blog: 16+ Dark Green Palette Refreshes Your Space >>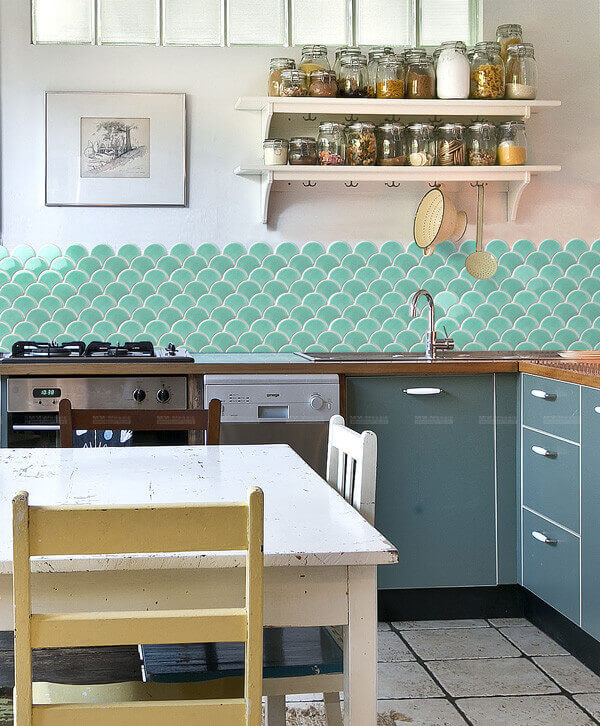 Add Just the Little Blue
We can't hide the excitement that this stunning bathroom design. This particular classic blue hue, which is somewhat tranquil while also being a bit vibrant, performs well with this bathroom's elegant white bathtub, a natural wooden ladder, and personalized washbasin.
If you're a blue fan, this blue tone interior design blog might inspired you: 11+ Mosaic Tiles To Bring Pantone's Classic Blue Into Your Space >>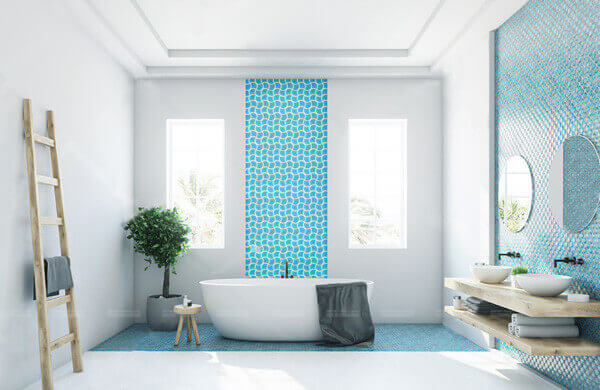 Get Inspired?
Love this bright glazed Fish Scale? We're so glad to hear your future ideas of the interior renovation projects and very happy to hear what inspires your plan. Why not order some exquisite fan shape tile samples to feel and touch in person. MM-Mosaic will share trendy interior design news with you!