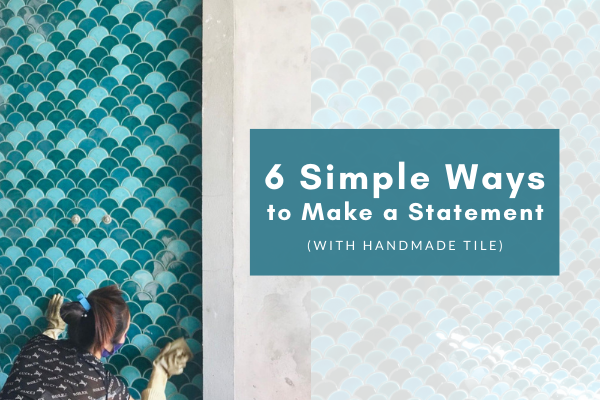 Bold patterns, unique palettes, and stunning custom gestures are the essence of simple design. This skillfully decorated interior design style has a "more is perfect" philosophy and is full of characteristics. Handmade tile is a personal and simple way to add this high dynamic style to any home or business. Keep on reading to see 6 ways you can make an impressive and simple statement with handmade tile.
1. Elegant Backsplash
Nothing says elegant quite like this chevron tile backsplash! This consummately crafted chevron kitchen backsplash checks all the boxes when it comes to the coveted mysterious and dreamy style. Known for its clean lines, cool black color hues, glaze smooth touch feel, and high-quality materials, this kitchen backsplash setup is screaming elegant. Plus, we love the special black glaze surface!
For more on a black statement wall, visit this project blog "Project | How To Design Herringbone Mosaic Tile Accent Wall In Office"
2. Floor to Ceiling Fish Scales
More is perfect, and this coffee shop front area proves it! Floor to ceiling fish scale tile installations is one of our favorite ways to create a beautiful and personal space. If you love handmade tile as much as we do, then this stylish and modern tile design concept is the suitable one for you. This Vietnam cafe shop proves how appealing this fish scale tile decor can be.
For more Moroccan style fish scale tile project ideas, browse our blog "Projects | How Moroccan Fish Scale Plays With 6 Commercial Space"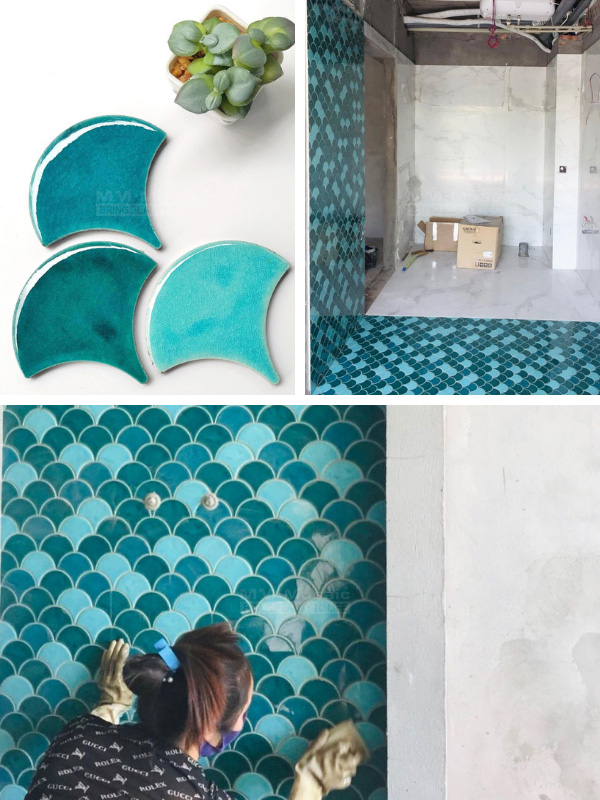 3. Unique Patterns
Next up on our list is this dark green accent wall. What makes this merged trend different is that it essentially melds the refreshing dark green color with the creative personal pattern. Therefore, the ideal way to take your business space and turn it into a minimalist and fascinating wonderland is by using unique patterns and classic tile shapes. This could be using handmade tile with different tile patterns and chic glaze colors.
For more on this coffee shop project, visit our blog "Project: How Green Glaze Plays in Cafe Shop and Rest Room"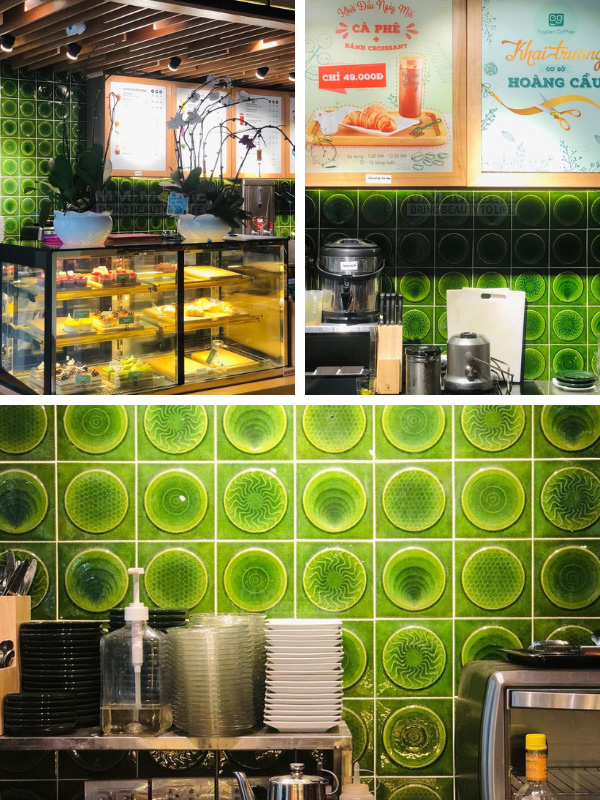 4. Mix and Match Glazes
Mixing tile glazes together is a simple way to create a modern and custom personal design. Our Fish Scale tile is one of our most popular signature tile shapes, that combines our dark black colors, crackle ocean blue palettes, and Bohemian dark green hues. These three tile glazes are a match made in heaven that fit wonderfully together to create a stunning statement wall. Why not go bold with the blended color arrangement or create an amazing look like this one.
Know more about blend color Fish Scale projects, visit our blog "Project | Voguish Mosaic Designs Inspired By Vietnam Store"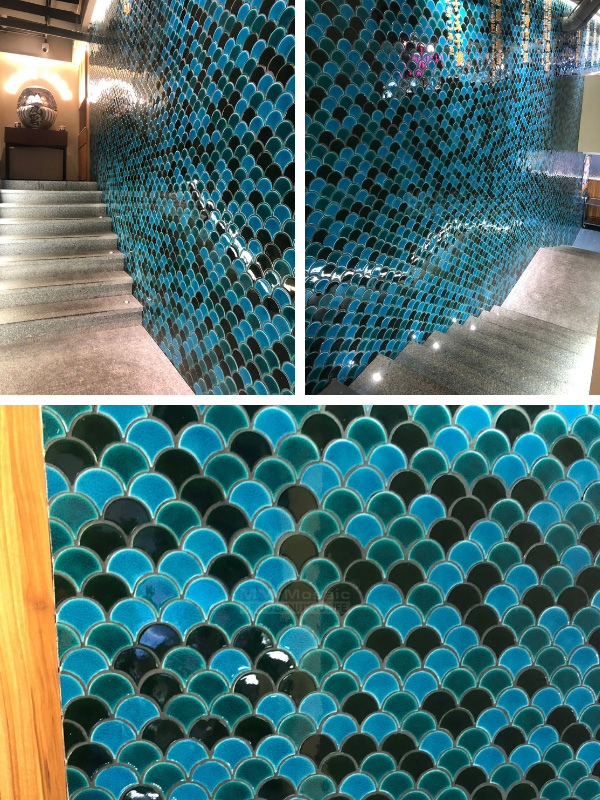 5. Countless Green Leaves
Natural and refreshing colors are a significant factor in Minimalist style. Here at MM-Mosaic, we have a variety of glaze colors on our tile color palette that would be an ideal fit for this style. From dark mountain greens and mysterious emerald green to fresh grass aqua like this accent wall, the options are endless to create your perfect and personal statement wall.
For more details on this project, visit our blog "Project | Tranquil Dark Green Leaves At Cafe Shop Entrance"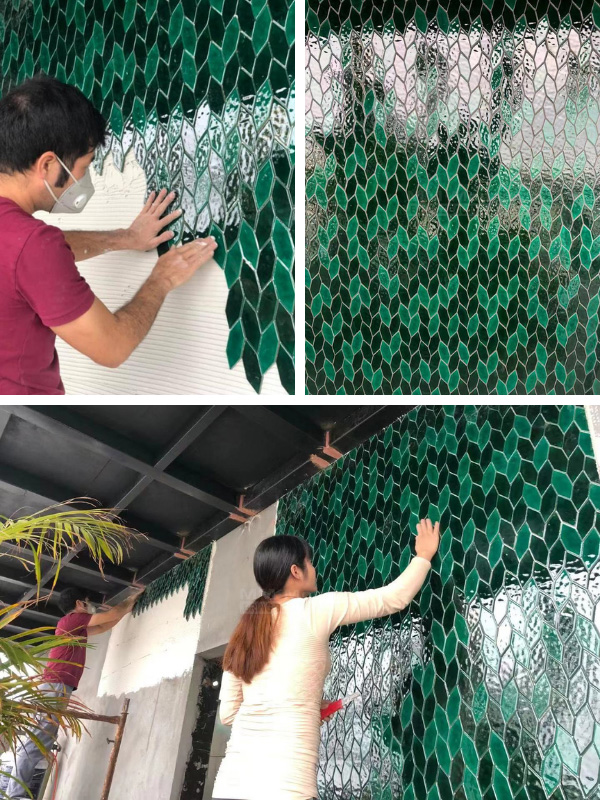 6. Custom Tile Styles
If you have a fearless minimalist tile design you have been dreaming about and do not see in this blog, let us know! Something that sets us apart from others, is our ability to make custom tile designs that suit any space, whether home or business. A simple Kit Kat Tile shape, eye-catching straight lines, and a bold mosaic masterpiece. One thing we like about this project is the use of tile glaze. Just shy of various glazes, this palette mixes an abundant colorful hue that adds to the complexity of the accent wall.
To see how you can go custom, visit our blog "Trends: Chic Mosaic Arts Decor Your Space"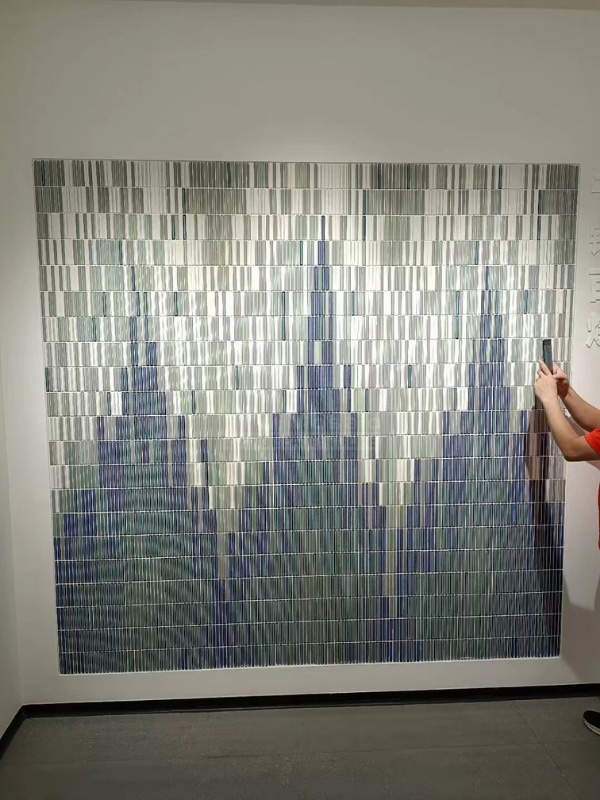 Get Inspired?
Whether you are looking to add Handmade Tile to your entryway accent, shower, or kitchen backsplash, MM-Mosaic is here to help you along the way. Why not tell us your design ideas and visions, and we will get the kiln fired up and ready to go. Order tile samples to see and touch right now! You might fall in love with our exquisite handmade tiles and we're so happy to hear what inspires you.