December 22nd means it's just already in the cool winter weather, but for house projects that means it's time to prepare for the holidays! Like the coming Christmas or the New year. From the kitchen backsplash where you prepare dinner to the living room where you welcome friends into your house, we put together a list of 7 of our favorite projects that will get you excited for the coming holiday:
1.Minimalist Hue in Entryway
We are loving the movement towards smaller long oval tile shapes and these lovely ovals are just too beautiful! Aside from being beautiful, they are also beneficial in making small entryway space appear larger. It makes an optical illusion that the more oval wall tiles your eye sees the more surface area it attributes to the wall space. Cute long oval tile is a more exquisite approach to stacked tile due to the gray grout lines are closer to the gray oval tiles, seeming less rough and more harmonious.
For more oval tile designs, visit our blog: The Glamour Of Oval Porcelain Mosaic Tile >>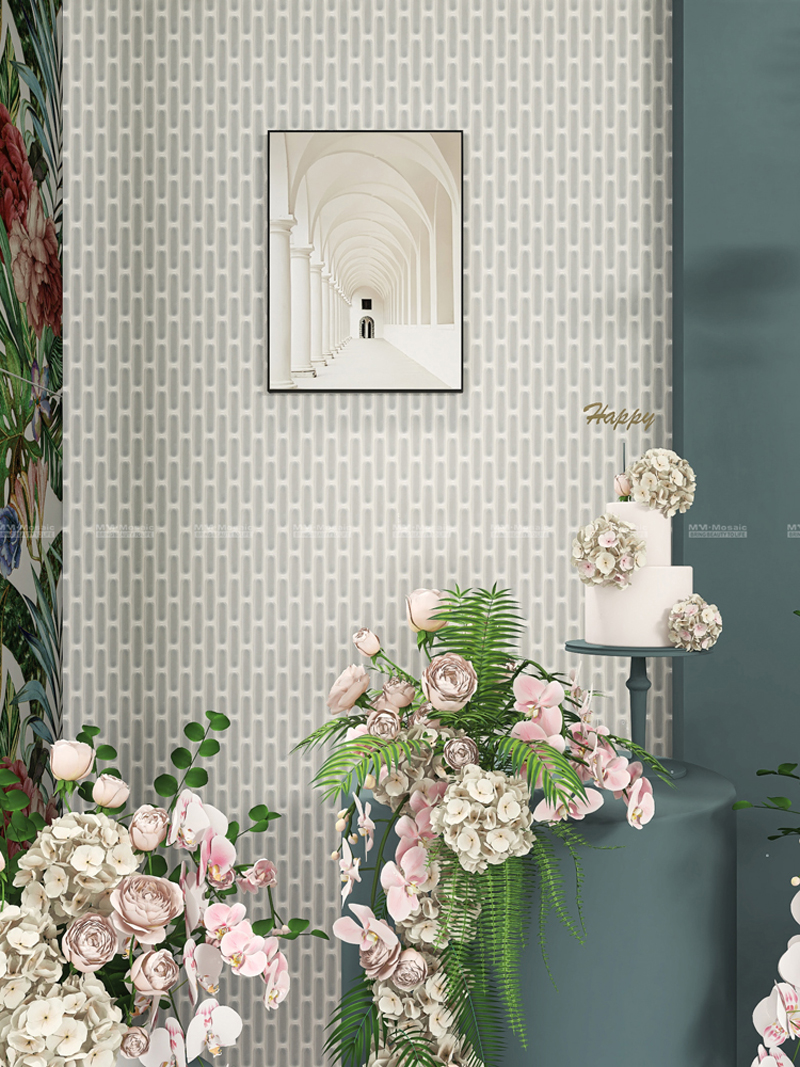 Featured Product: Long Oval ZOB1310, Gray
2.Let It Snow White
These stacked pure white arabesques in this contemporary kitchen are a breath of winter ambient and can you believe all of those tiles are the same snow-white glaze color? This kitchen backsplash project is one of the personal favorites due to it shows how stacked arabesques can show off all the perfect variation in our porcelain mosaic tile. This space makes for a wonderful winter home with its snow tones and clean style yet popular tone.
Get more Christmas to snow white decor ideas with our blog: Christmas Inspired Appealing Tile Trends >>
Featured Product: Vase CZG240Y, Pure White
3.Festive Atmosphere of The Bar
The bar space is the ideal place to make a statement for the holiday parties. It's simply dressed up with festival fruit, unique wine glasses, lovely greenery, and delicious wines. Whether you're hosting a Christmas or New Year party at home, a unique triangle tiled bar is the perfect way to improve a touch of glamour to your interiors. One of our favorites is this showroom bar project because it proves that different colors mix a creative pattern design of triangles can transform the small bar area.
For more tiled bar interior designs, visit our blog: 7 Attractive Bar Wall Tiles Inspirations >>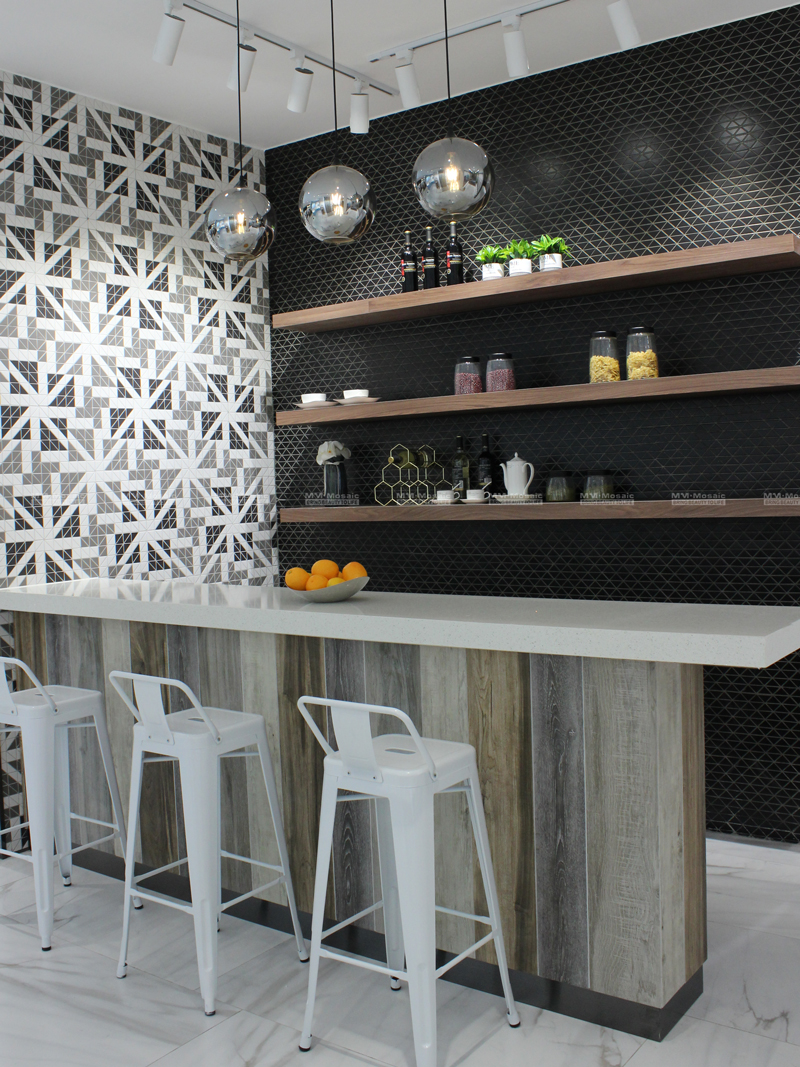 Featured Product: Glazed triangle design, Black, Gray, White
4.Cheer For Green
These unique dark green squares with a special pattern design is a chic way to add dimension and character to this clean and deep impressive washing area. The matching wooden edge round mirrors with wood texture countertop and natural stone washing basins are the perfect palette to let the green wall tile sparking. And can we talk about the unique design of green wall tiles? You can find that at least four different patterns, different combinations will give your different visual aesthetic feeling.
For more on this project, visit our blog: How Green Glaze Plays in Cafe Shop and Rest Room >>
Featured Product: Customized Pattern, Dark Green
5.Appealing Featured Wall
Our Tunnel Series tiles, create the most perfect moody design goals. These tunnel shape beauties have a smooth stain surface and an attractive sheen while caught just right by the light. Can you imagine a more bathroom project compliment to this black glaze tunnel shape wall tile than this gray marble pattern porcelain tiles? This combination is giving us some major winter travel desire.
For more featured wall designs, visit our blog: Ice Crackle Pattern And Bamboo Style Subway Tile In Interiors >>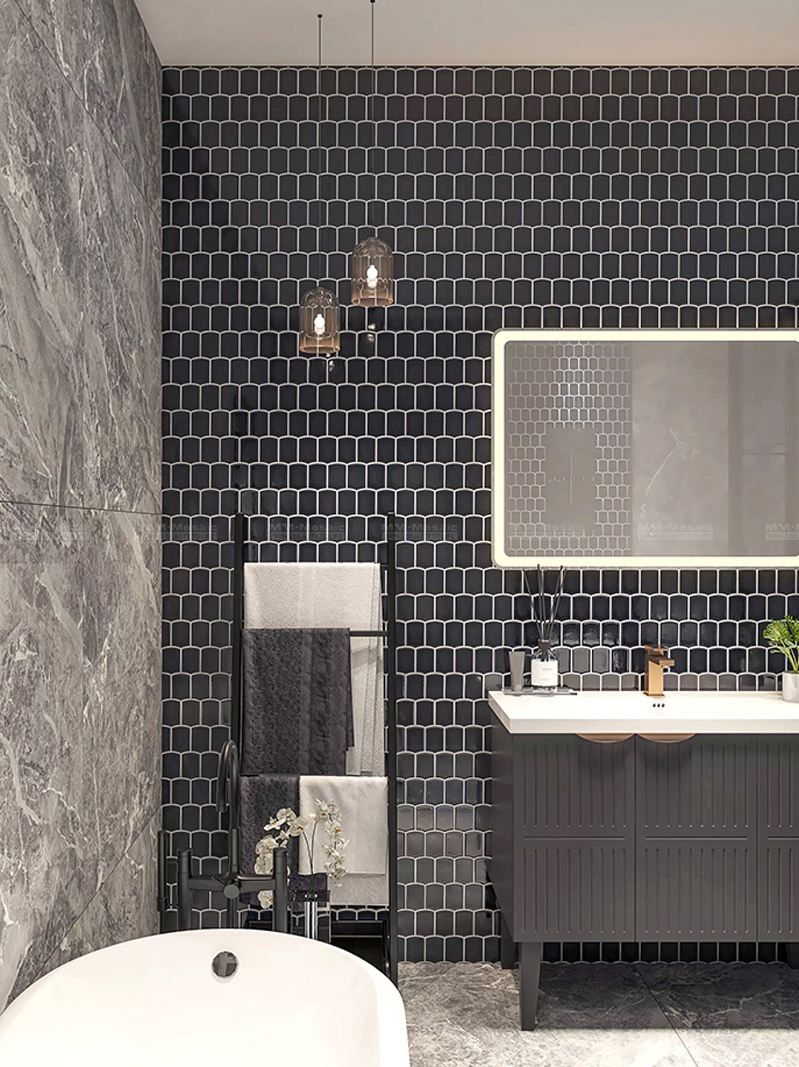 Featured Product: Tunnel Series, Glaze Black
6.Winter Backsplash
With more of a timeless and chic feel, this winter feeling kitchen is another lesson in a simple design. Our 3D mini star triangle porcelain mosaic tiles for this kitchen backsplash are the individual accent to the unique appearance and inviting look of the black triangle tile and 3D touch feeling. The floor-to-ceiling open glass door design let more winter sunshine come in this kitchen. Black matte floor tiles, black dining chairs, and table, black backsplash that balances the winter style kitchen.
For more kitchen design ideas, visit our blog: 10 Projects That Show Monochromatic White Stand Out >>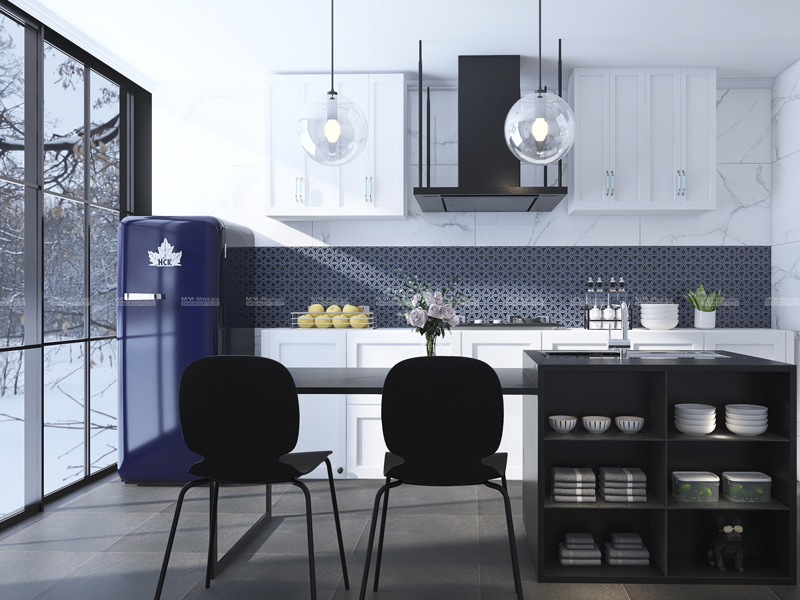 Featured Product: Concave Triangle ZOB1103, Black
7.Dreamy Blue Laundry Room
When you walk into winter style dreamy blue tone washroom, you might do not want to leave! The charming blue colors in this laundry room make us think of a relaxing blue winter sky. From the stacked bamboo style subway tile to the blue mix white floor tiles, every detail in this laundry room is screaming for attention. The blue subway tile is what brings the whole space together, in our opinion - its dreamy blue tones make it hard to look away.
Want to know more bathroom design ideas here: How to Realize This 13 Small Bathroom Inspirations >>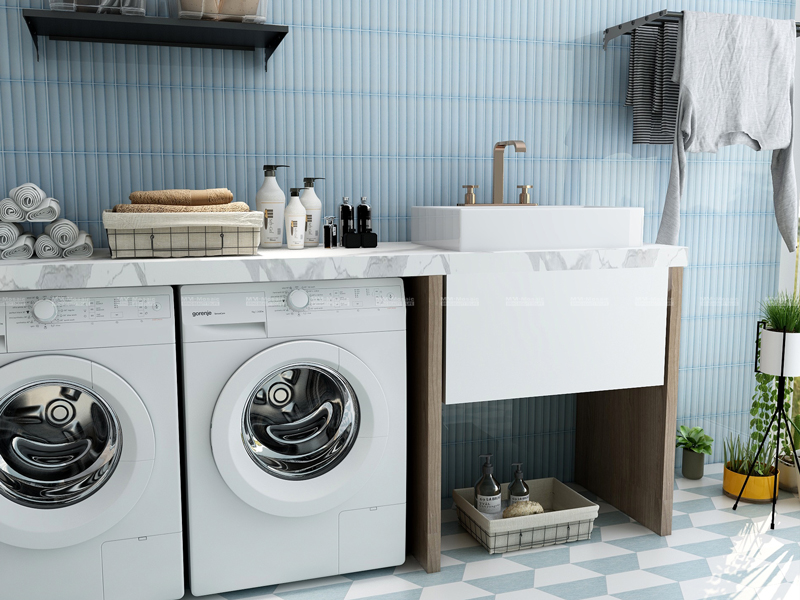 Featured Product: 3D Cube Subway ZOD9601, Lake Blue
Get Inspired?
Love our project ideas? Why not order tile samples to see and touch in person? MM-Mosaic will be your interior design partner all the time and we're excited to hear what inspired your future projects! Contact us to share your ideas with us immediately!