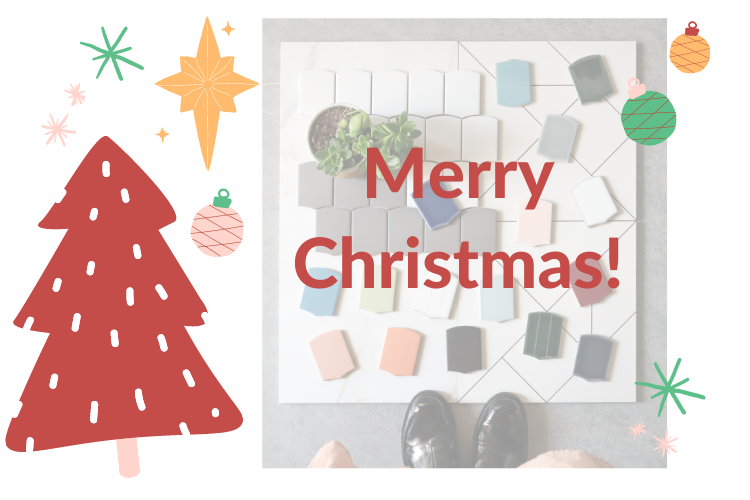 We wish you a merry Christmas, We wish you a merry Christmas... These chic tile designs will give you merry Christmas! We not only pull together tile color schemes that will give you romantic festival ambient but add merry elements into each handmade tile. Here are 9 appealing Christmas-inspired tile trends and projects that sure to put you in a different Christmas 2020.
1.Snow White
Our shield snow-white glaze has enough characteristics to present the winter season palette! Let's touch this pure white and flawless backsplash. Here is one of our favorite: Shield Shape. This special shape has so many beautiful arrangements. Look at this finished install project! How attractive the tile is on its own.
Love this project? There are more details in this blog: Creative Vietnamese Backsplash Inspired By Shield Shape Mosaic >>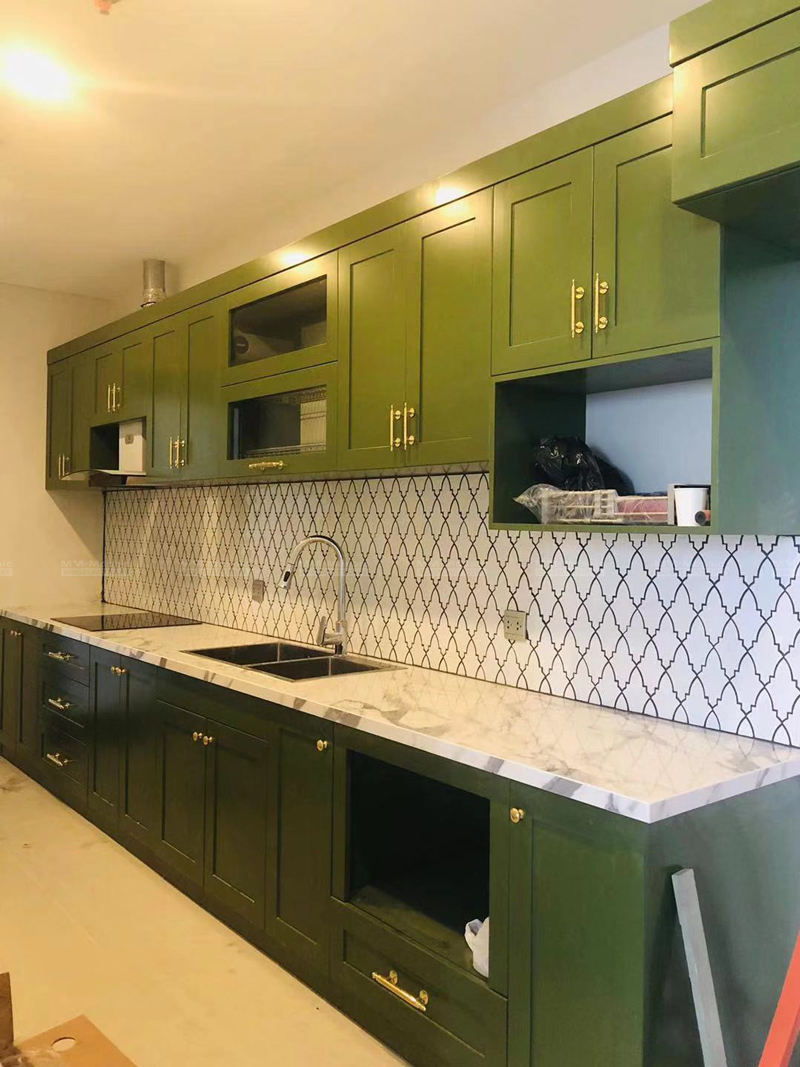 Featured Product: Shield Shaped Tile, CZG202Z
2.Winter Cool
Don't be afraid of this palette! Paving with the glossy glaze throughout a layout of mini star concave triangles. Creative and unique will add funny vibes to your feature walls. This new shape is one of our favorite things which is inspired by our plane triangle series. When someone wants to decor the black tones Christmas this year, the mini star might be your great choice!
For more details of mini star tiles, visit our blog: Style Collection - Premium Glazed 3D Mini Star Porcelain Mosaic >>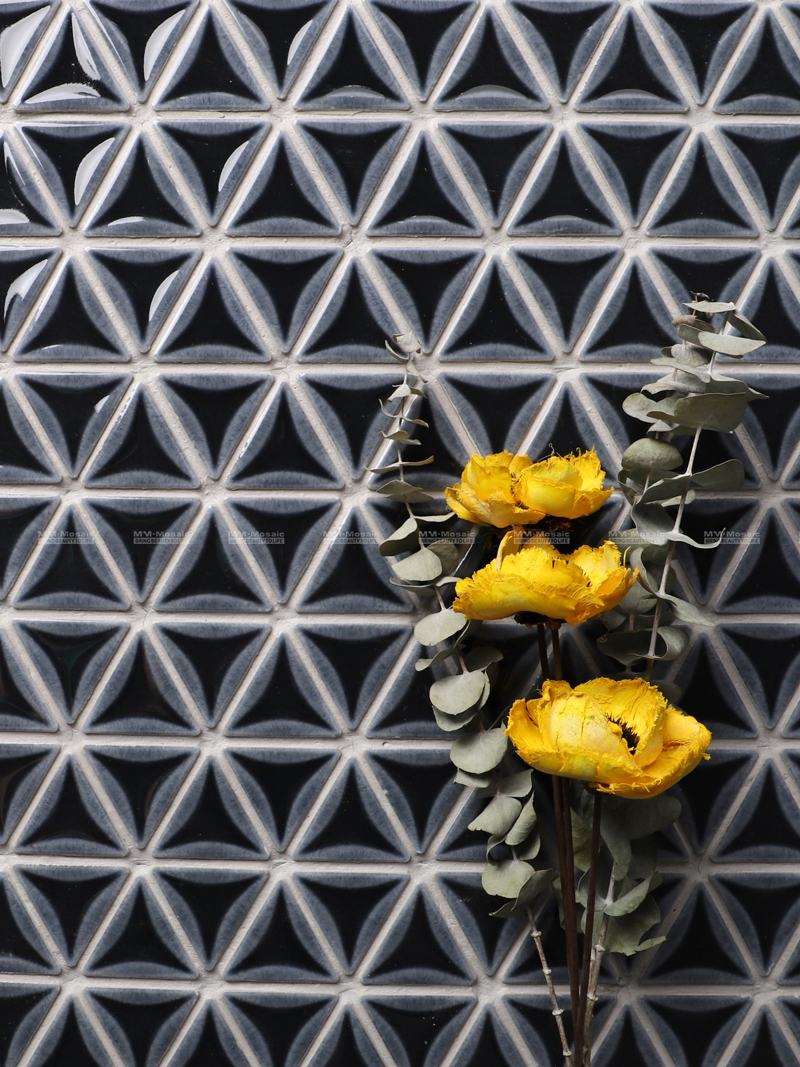 Featured Product: Concave Triangle Tile, ZOB1103
3.Classic Platinum
When it comes to talking about Christmas tile trendy color, Classic Platinum must be mentioned. Want that appealing antique platinum look while still remaining distinctive? Our new collection - Waterjet Marble Series. Bold brass elements mix understated marble, fish scale shape, and unique pattern. We love the way this tile works with the open kitchen backsplash. Just need to decor a little platinum Christmas tree, you will finish the job!
What better way to use this waterjet marble tile? Learn more about it with our blog: 5 New Distinct Design With Waterjet Marble Mosaic Tiles >>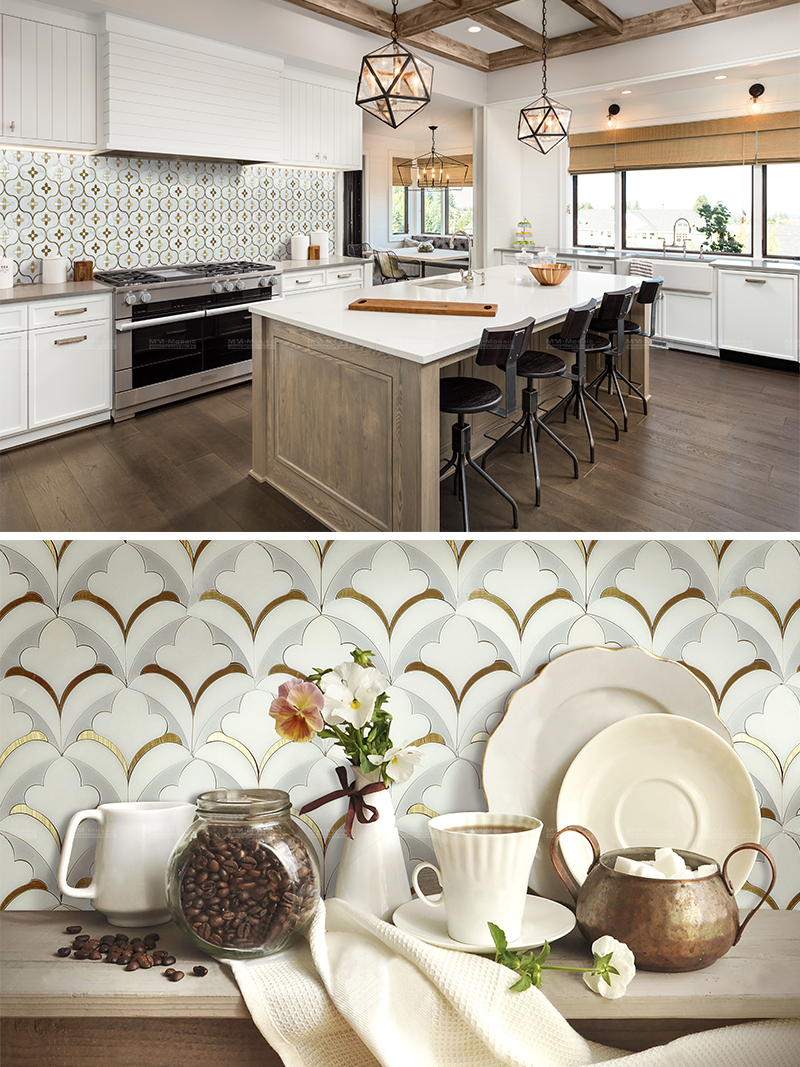 Featured Product: Waterjet Marble, Fan Shaped Tile, ZOD4004
4.Warmth Flame
Maybe you need an accent wall with a warm tone to spend this Christmas. There's something about the palette light yellow that just exudes happiness. This stunning color gives us all the pleasant ambient, which just like the light color of a candle flame. The wooden pattern on the tile combines well with the entire home. Who wouldn't want to stay and have a good Christmas?
Want to see more great interior designs? This blog will have you inspired: 10 Projects That Show Monochromatic White Stand Out >>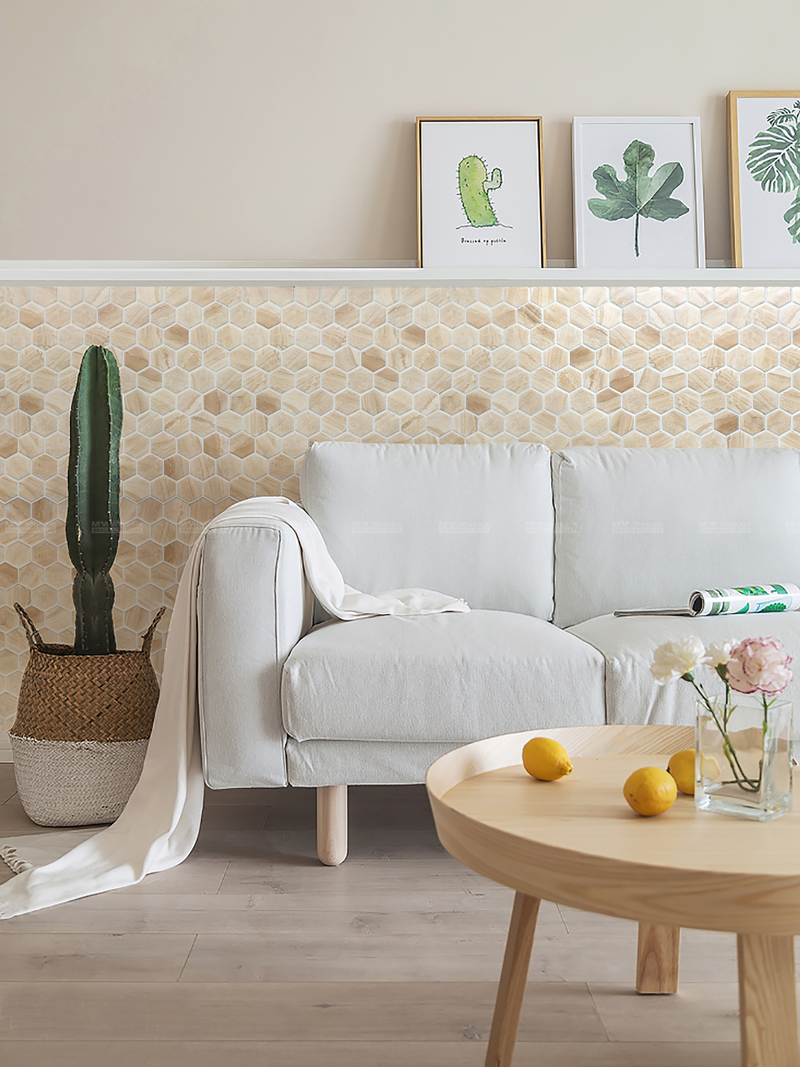 Featured Product: Travertine Look, CZO926Y
5.Christmas Red
There's nothing we look forward to more in Christmas than the expected gifts and the Santa Claus who grants any wish. Time to visit one of these bold colors: red! If you take the time to look at our entire color palettes, you will see a slight color variation. These glazes create a bold and awesome look while appealing to various aesthetics. Oval shape with red color, it looks like sweet Christmas candy.
Too see more Oval Tile inspirations, visit our blog: Style Collection - The Glamour Of Oval Porcelain Mosaic Tile >>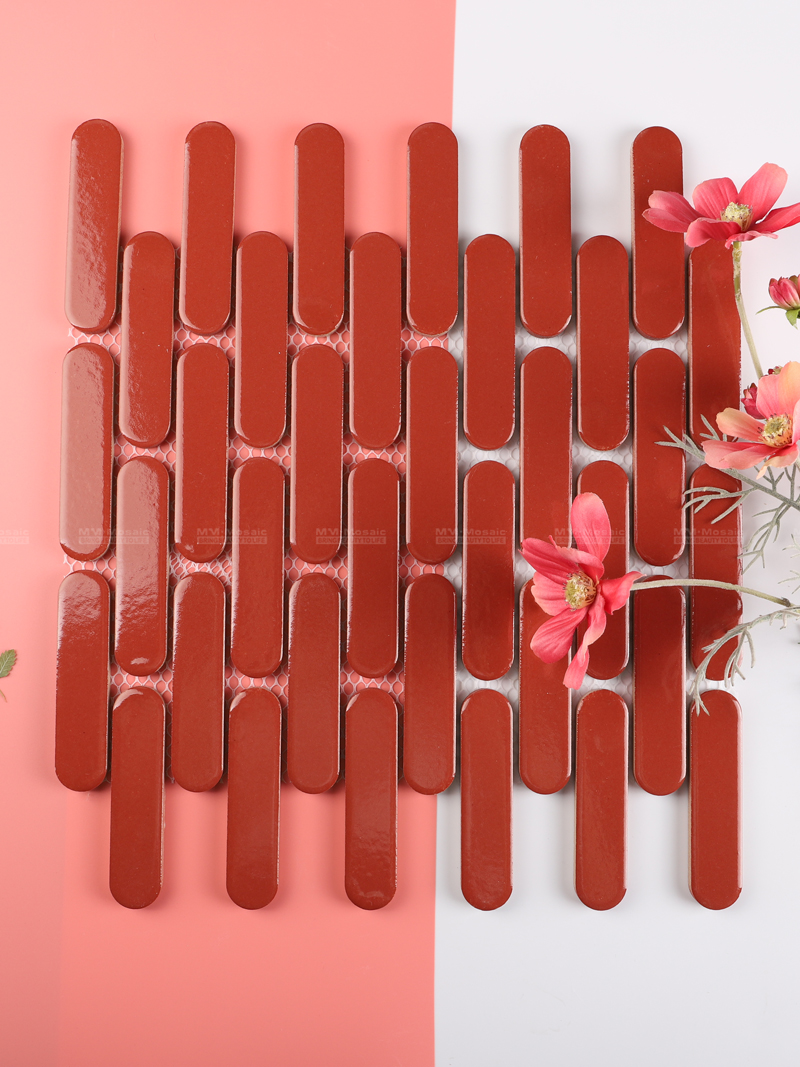 Featured Product: Long Oval, ZOB1401
6.Green Pine
We'll put many little shields on your feature wall. Our green pine palette glaze is the perfect natural color that's both contemporary and earthy - giving off all the tree hues. There are two patterns of surface design and if you pay close attention to the glaze, you might see a lot of teal and turquoise hues. This glaze has an understated variation, especially when the sun shines down.
Get more green tone tile ideas with our blog: Interior Trends - 16+ Dark Green Palette Refreshes Your Space >>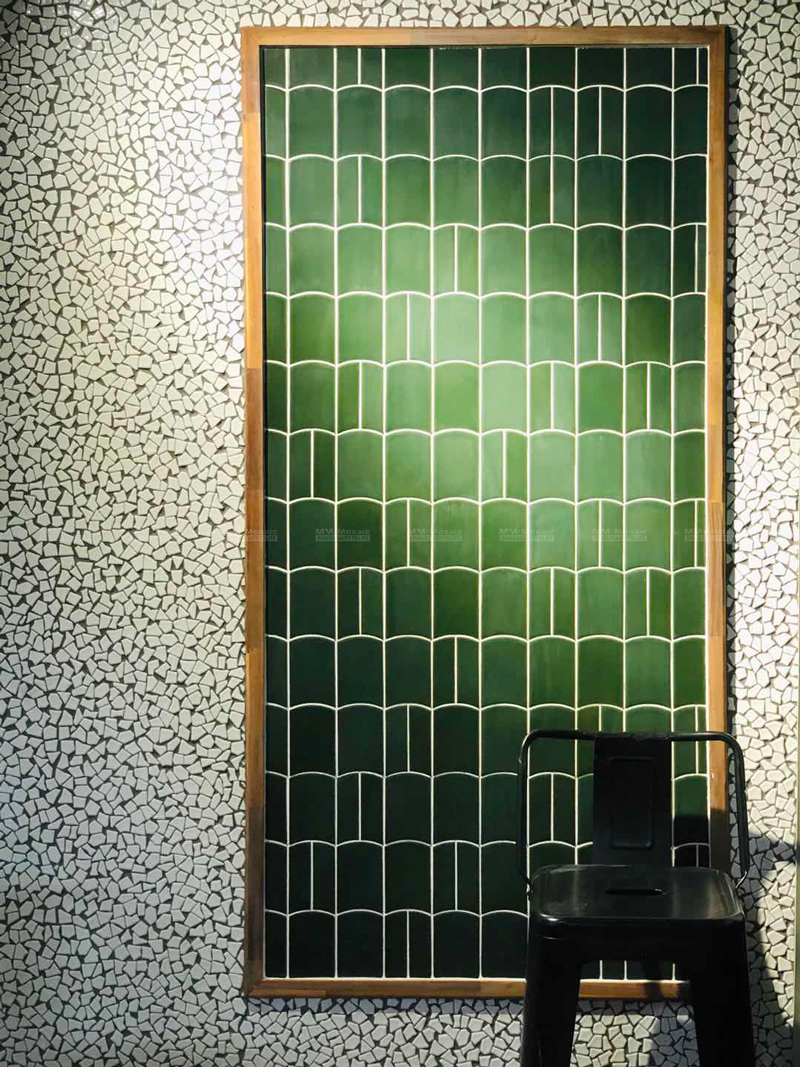 Featured Product: Tunnel Series, Glaze Green
7.New Navy
While decorating your Christmas home, don't forget the 2020 Pantone color - classic blue. This palette has a significant influence on this year's interior design, both tile design and furniture, even festival decor. How about a mini fish scale navy color feature wall like this project? This look is ideal for achieving a classic vibe for your kitchen backsplash, shower, or entryway decor.
For more ways to decor home with Pantone Classic Blue this Christmas, visit our blog: 11+ Mosaic Tiles To Bring Pantone's Classic Blue Into Your Space >>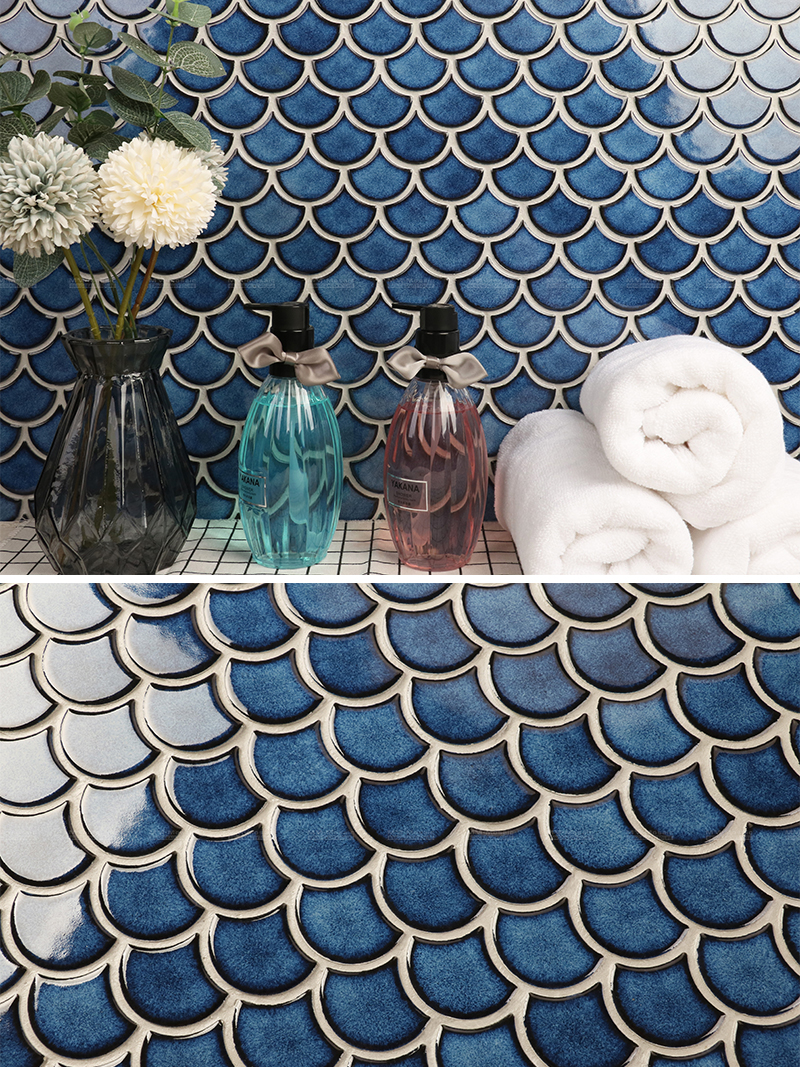 Featured Product: Mini Fish Scale, ZOB1603
8.Silver Elements
Jingle bells, jingle bells, jingle all the way... Large oversize silver jingle bells are a great way to add to your Christmas cheer. We adore it when clients put our tile in their feature walls. For a trend that's filled with minimalist and Scandinavian style. Silver-tone feature wall mix large jingle bell is the perfect combination.
For more inspirations of silver wall tiles, visit our blog: Style Collection - How Silver Tones Integrate Into Interior Space >>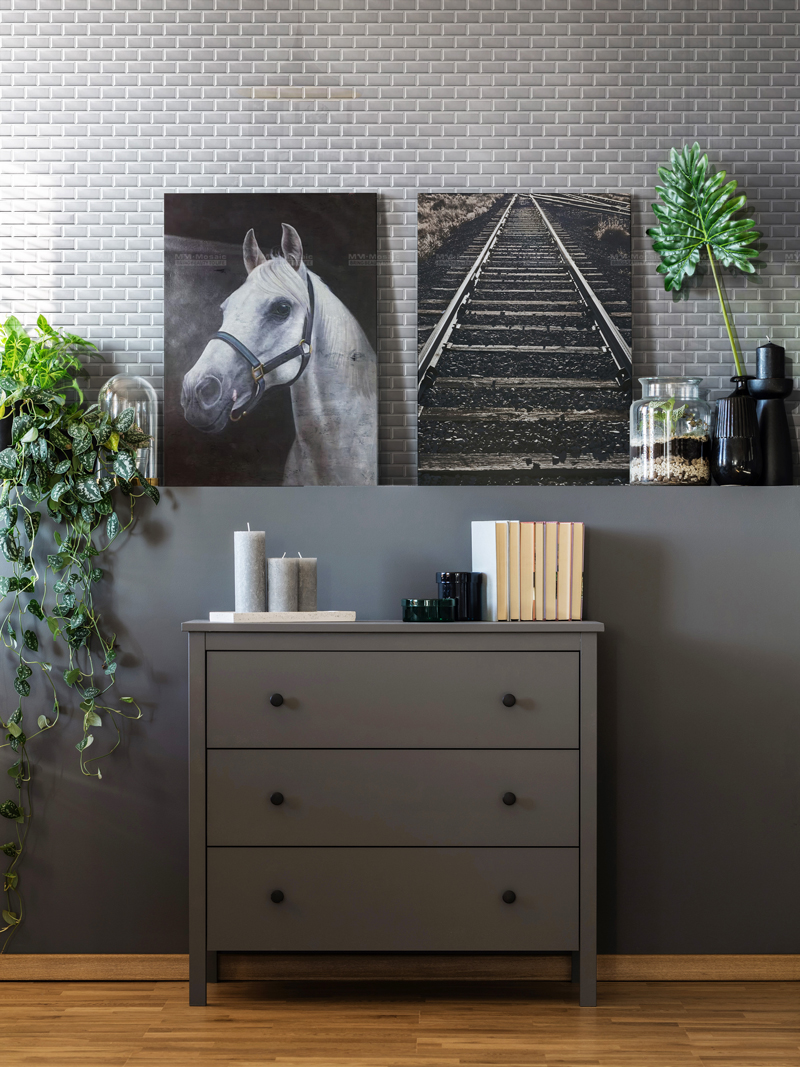 Featured Product: Silver Brickbond, ZOA3904
9.Farmhouse Style
Open wooden cabinets, bamboo style herringbone handmade tile, and eye-catching greenery make this open kitchen a dream space. Instead of installing the kitchen tiles on the whole wall, we choose a simple backsplash with organic edging like this project shown below. Complement the tile with farmhouse style decor to complete the look and take your home to remodel to the next level. Taking advantage of this Christmas decor, you might get a new and trend house!
Learn about how to use this special Subway Tile, visit our blog: Style Collection - Ice Crackle Pattern And Bamboo Style Subway Tile >>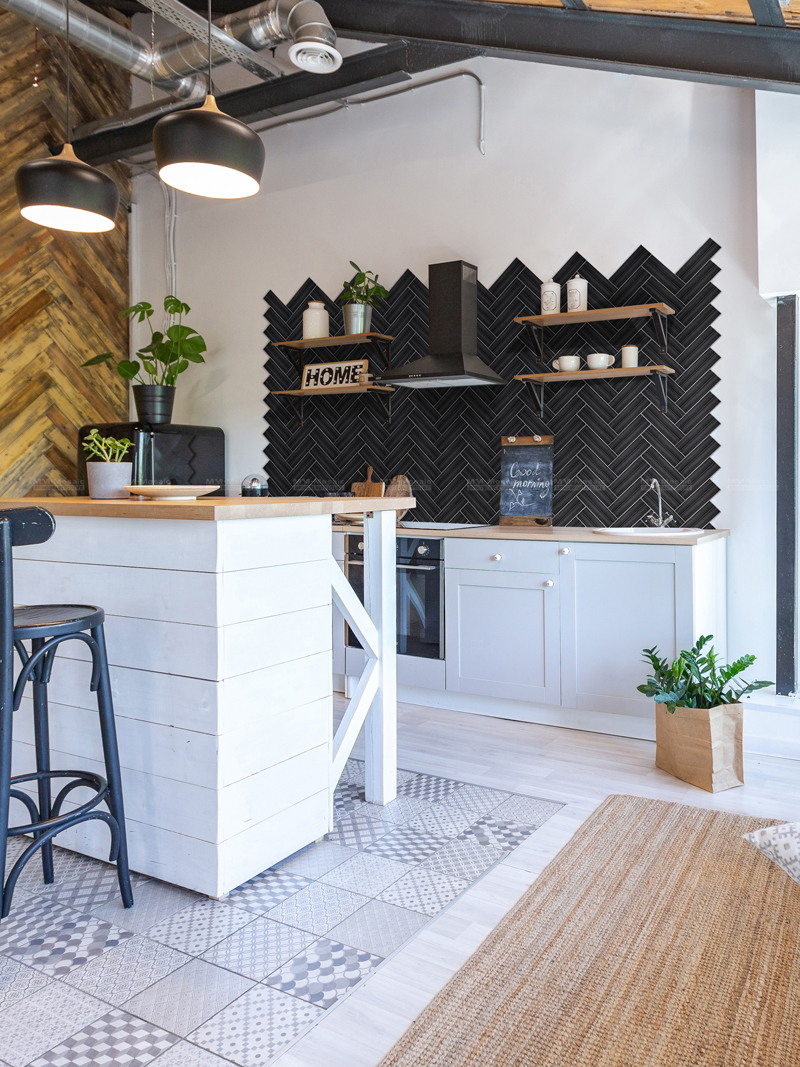 Featured Product: 3D Cube Subway, ZOD9903
Get Inspired?
Are you get any inspiration for your Christmas home decor? MM-Mosaic all hope to hear your festival decor ideas and future home remodel project. Love our new tiles? Why not contact us to order tile samples? You might fall in love with our high-quality tiles.