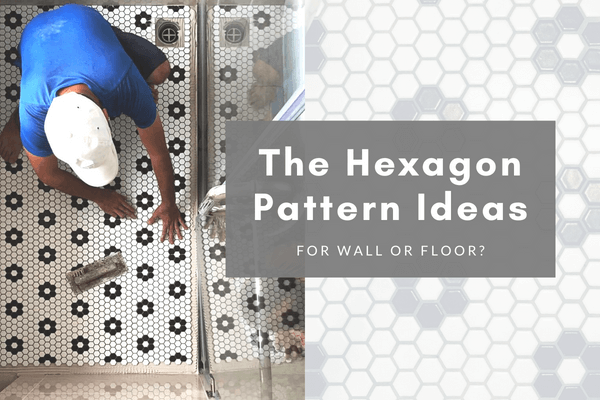 How about bringing the natural character of honeycomb into your space with hexagon tile? This six-sided tile shape has been surging throughout the interior designer club, making a fresh geometric take to walls, floors, and more. Read on as mm-mosaic lists the top hexagon tile styles seen today, and how to incorporate this amazing and everlasting trend into your interior design projects...
1. Awaken Retro
Using mosaic chips to make a big entrance into the interior design world in the 1990s, mainly installed on bathroom floors or kitchen backsplashes. Due to close grout lines, these floor mosaics promote better slip resistance that offers a firm grip. Nowadays, some custom pattern trend is being revived into a modern bathroom remodel with ceramic mosaics in classic neutral color palettes. The development of technology and craftsmanship, allows these mosaics to be re-mounted to make one-of-a-kind designs that are uniquely characteristic to those who inhabit the space.
1. Hexagon
Our Vietnam client put a hex on her entrance floor - as in Hexagon tiles, of course! Make a bold statement with the palette contrast of black and white mosaic chips, arranged here in an abstracted custom chic pattern. This floor look is perfect for achieving a stunning and appealing floor for her remodel plan.
Featured Tile: Hexagon CZG054Y
Also for the bathroom floor! So amazing pattern and we all love this design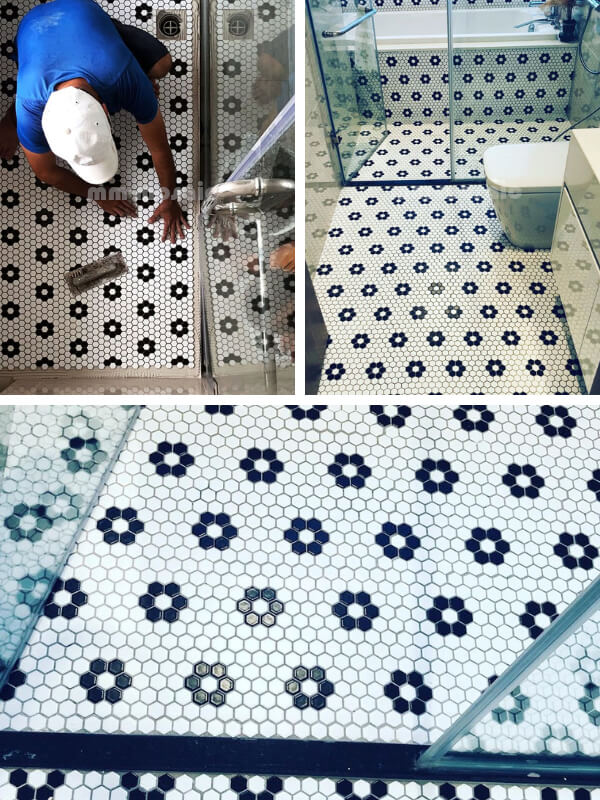 Featured Tile: Hexagon CZG053Y
2. Penny Round
YOU LOOK GOOD...Make a statement with the beautiful mosaic tile, figuratively and literally, by saying something special and personal to Jane's home. Mosaic tiled typography is a wonderful and inspiring way to communicate to those who enter her home, our penny round mosaic tile is the perfect material for custom tile lettering.
Learn more about this floor project on our blog "Why Penny Round Mosaic Can Keep Your Entryway Fantastic?"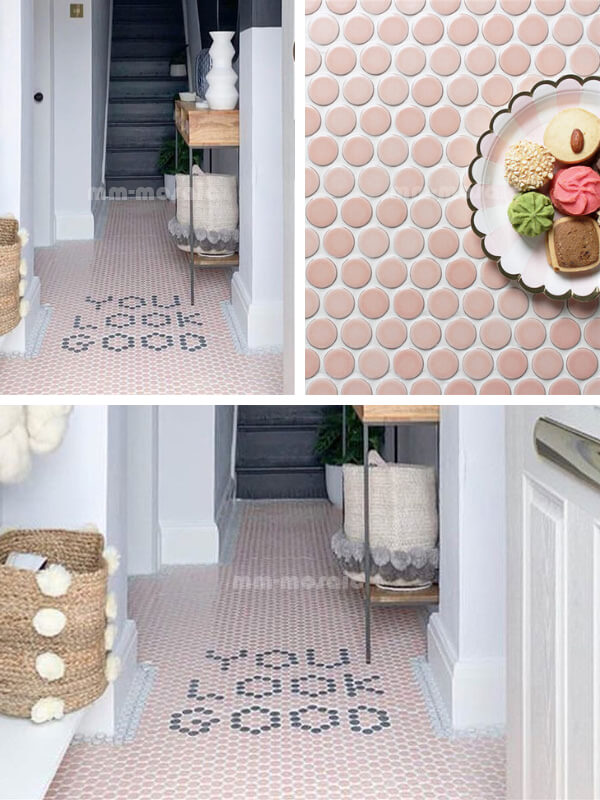 3. Square
Restore your floor to a retro glory with the traditional look of the square matte white with a black custom pattern designed by our professional designers Max and Jane. This square mosaic pattern floor creates a high contrast look from the outside waistline to the inside custom mosaic pattern. Square shapes give these ceramic mosaics a sharp and clean appearance when the matte surface feels soft against your feet.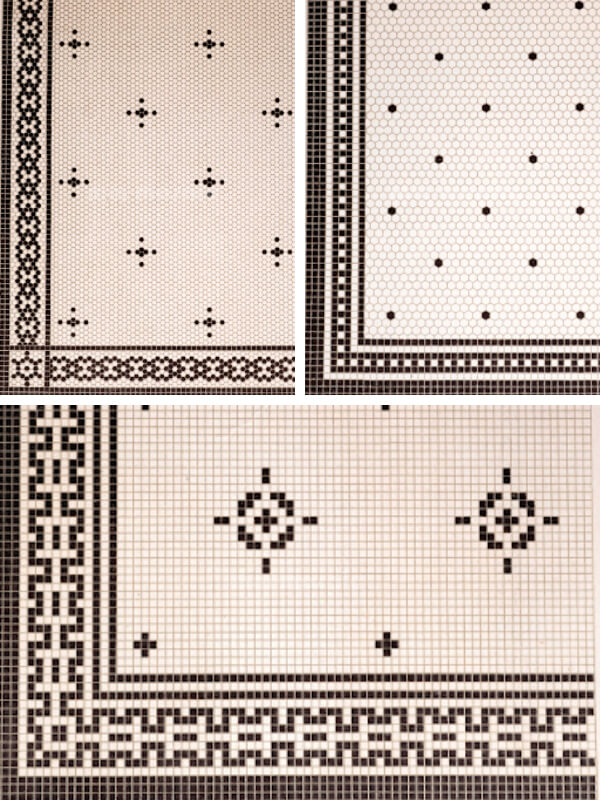 4. Custom
Create the look of classic penny round tile with hexagon tile for painting floors. This mosaic tile floor design is perfect for decorating an amazing bathroom floor or entryway floor. It also includes extra honeycomb shapes to help you add extra detail to any project such as flower patterns, lettering, polka dots, and custom style. Looking for this design on a large scale? Check out our online catalog here.
2. Chic Backsplash Decor
When someone wants to make a statement without being too colorful, this black glaze is one of our favorite glazes. Rather than being tedious, we all think this is the perfect backsplash for a kitchen filled with natural sunlight and airy vibes. How you decorate and remodel the kitchen around your tile can help make or break the dull decor you are going for.
Get neutral palette kitchen backsplash to remodel ideas with our blog "Project: Stars Shine on Kitchen Backsplash"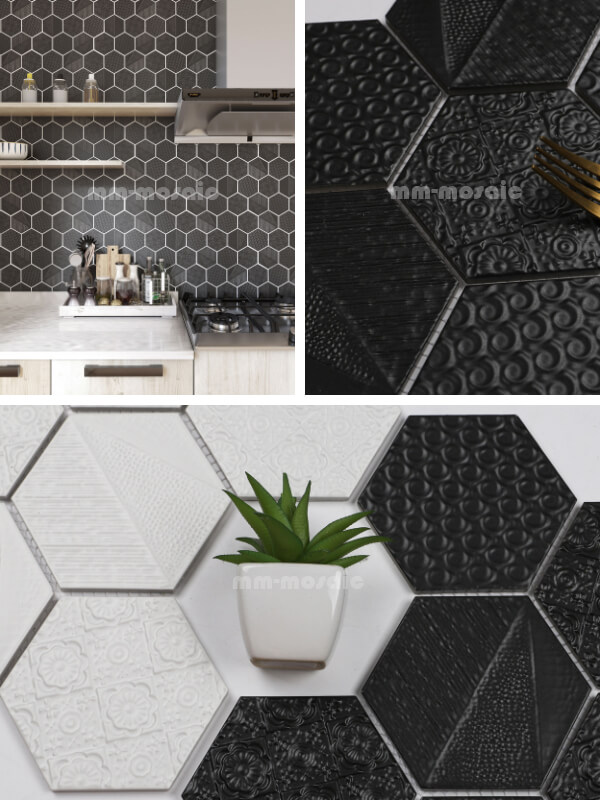 Featured Tile: Mould Surface Jumbo Hexagon ZOA2102
3. Focus on Patterns
Take a small balcony space and make it grand with hexagon floor handmade tiles. Geometric pattern hexagon tile reflects a Nordic aesthetic in a unique pattern, while star-burst lines allow for a multitude of interior design possibilities. The endless installation options take power rooms, entryways, balconies, and laundry rooms from drab to fab by bringing large individuality right underneath your feet.
For more ideas about this chic hexagon tile here "Style Collection: 200X230MM Ray Pattern Candy Glaze Hexagon Tile"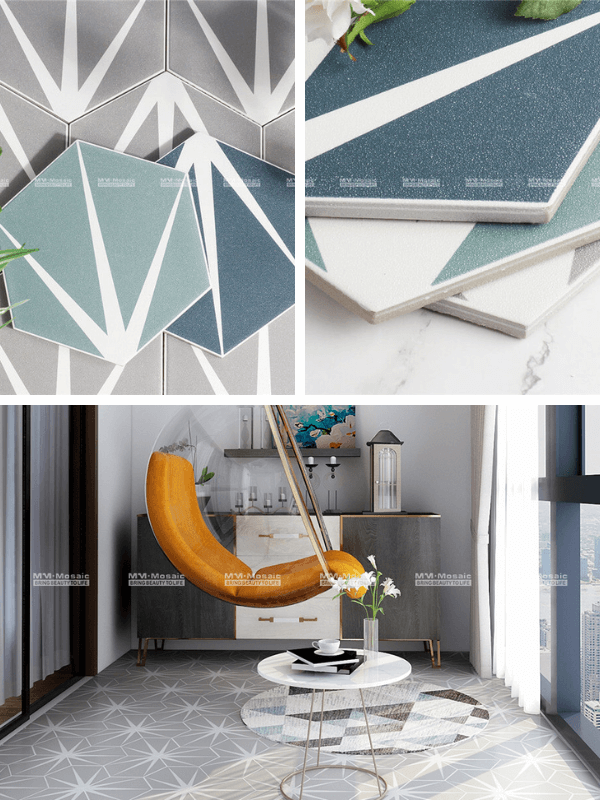 Featured Tile: Hexagon Tile ZOF1902
4. Aesthetic 3D Style
Hexagon shapes have the ability to change any space into a work of art - including your bathroom wall decor! Refreshing, natural, and bright. 3D hexagons bring some geometric flair and add interest to an understanding of interior design schemes. Inspired by the sweet macaron colors, the classic hexagon shape is retained but gives a striking and newfangled look that completely refreshes the traditional hexagon image. More than that, the refreshing emerald green matches well with this heat summer holiday, which makes you cooler.
For more ideas on this tile, visit our blog "Style Collection: Sweet Macaron Glazed Matt 3D Hexagon Porcelain Mosaic"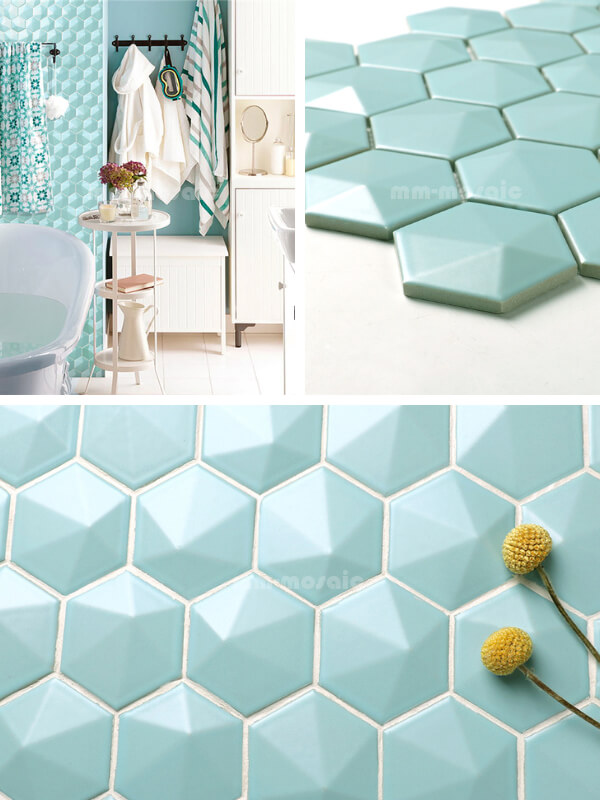 Featured Tile: 3D Hexagon CZM711D
5. Classic and Large
Add beautiful storage containers to keep your kitchen clean and attractive, just like your kitchen tile. If you are like most of us, you have plenty of spice bottles in your kitchen. Avoid clutter with storage options that you will want to use every day while making meals. We prefer to install floating open shelves - how beautiful does that look with a classic hexagon backsplash?
For more classic palette kitchen backsplash projects, browse our blog "Projects: 6 Trendy Backsplashes Awaken Your Kitchen"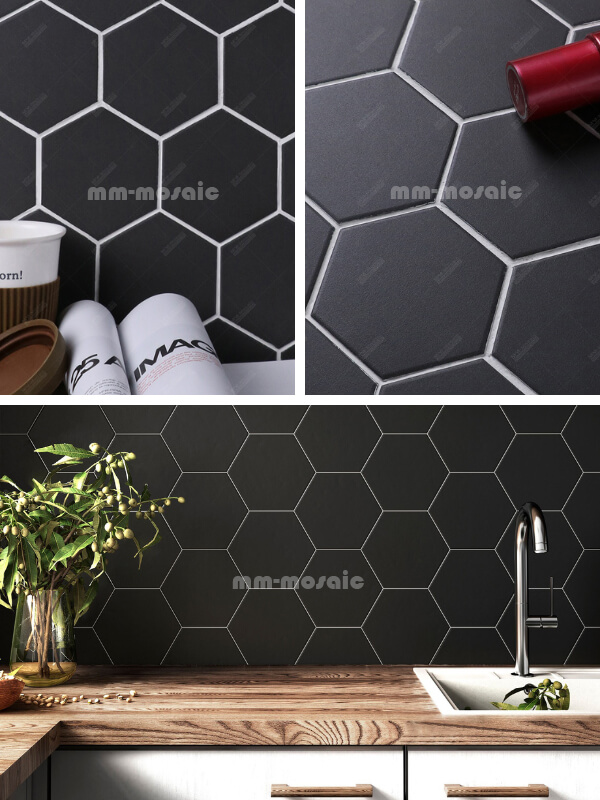 Featured Tile: Hexagon CZO114B
6. Special Diamonds
As we all know that diamonds might be a girl's beloved things, but our diamonds can be every interior designer's beloved wall decoration! This bold tile shape is gaining ground in the interior design club and with good reason. Gathering six diamonds, you will get a new tile shape - Hexagon.
Get more ideas from our project "Projects: 7 Decorating Ideas To Make The Most Of Diamond Tiles"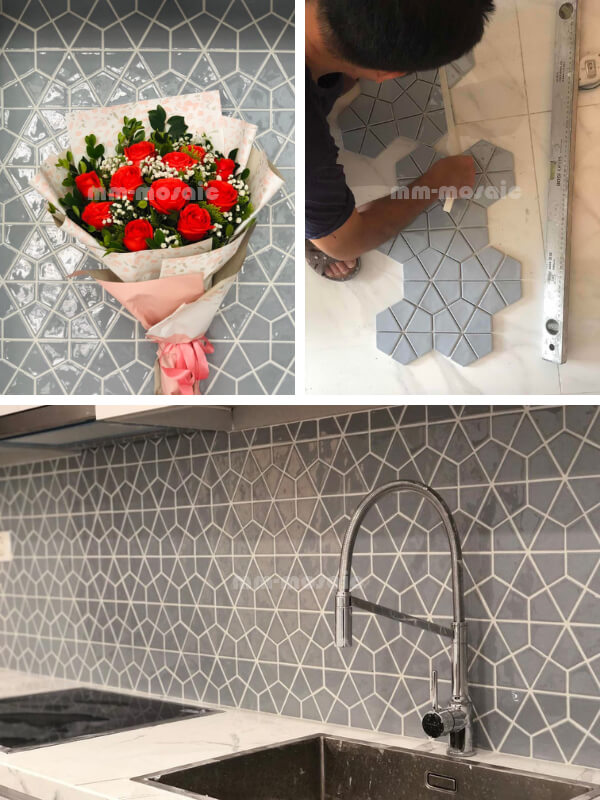 Featured Tile: Flower Pattern ZOB1204-B
There is so much to love about this kitchen backsplash, but we especially love how it uses a simple pure white tile backsplash to stand out. The geometric pattern makes the backsplash feel minimalist and charming, while the white cabinets and black countertop give the overall look a more modern look.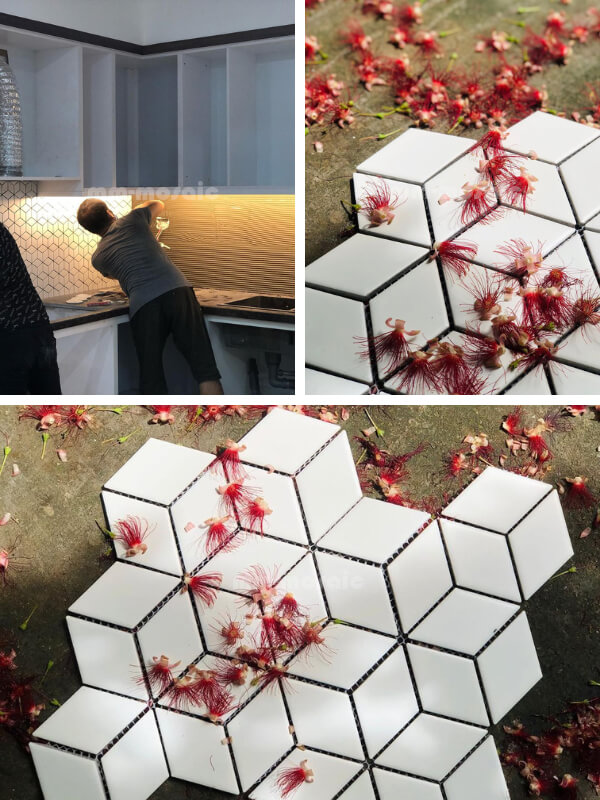 7. Welcome to the Jungle
Getting inspiration for this Vietnam hotel swimming pool space came naturally. Combining just the right elements of color and shape, along with the poolside tropical plant, gives this hotel swimming pool area the perfect Southeast Asia Tropical Style. Our pool tile with emerald green glaze creates the ideal palette while complimenting the nature-inspired hexagon shapes.
Know more about the Jungle pool project, with our blog "Swimming Pool Project: Ice-Crackle Green Tile Makes Tropical Pool"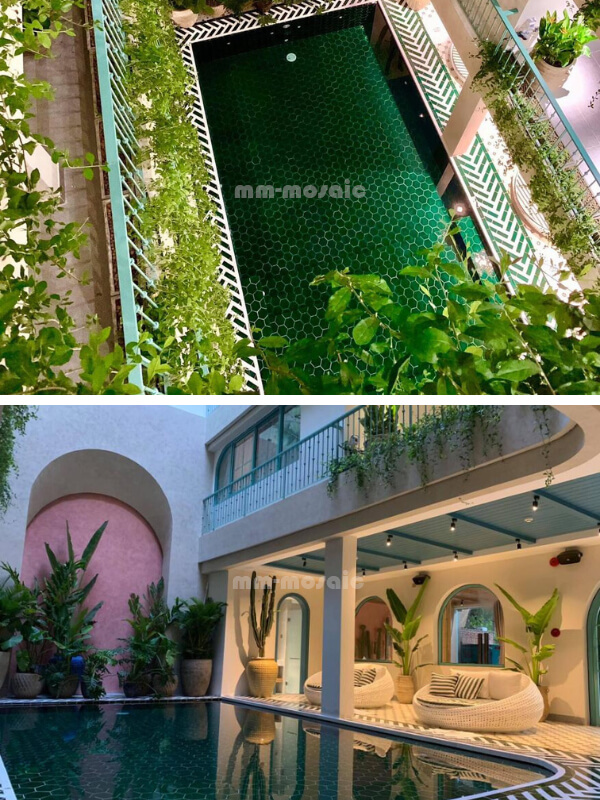 8. Beautiful Bars
The bar space can be the perfect place to add a honeycomb pattern of luxury to your space. This hexagon peel and stick tiles are the ideal material for this bar wall and compliment the warmth of the open floating wooden open shelving. Who wouldn't like to come home after a long day to this amazing home bar? Also perfect for a commercial bar.
Are you interested in peel and stick tile, free self-adhesive tile samples are available here.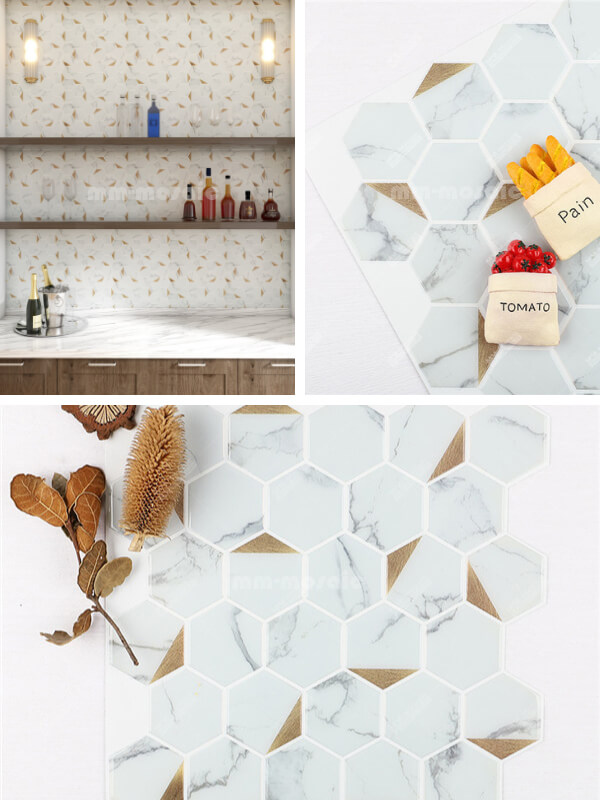 Featured Tile: Peel And Stick Carrara ZOF9908
Get Inspired?
The gorgeous geometry of our hexagon tile provides countless unique design options. They are inspirational, bold, and simply splendid. We think this classic tile shape is written all over your next remodeling project. Whether you need to remodel your kitchen backsplash, add a statement wall to your entryway area, create a stunning shower, or install a personal floor tile design. MM-Mosaic has what you need! Order tile samples to see and touch this chic hexagon tile, and you might fall in love with them!